September, 13, 2014
9/13/14
12:43
PM ET
CHICAGO -- A rash of injuries on the offensive line and at wide receiver prompted the
Chicago Bears
to make a handful of roster moves in advance of Sunday night's road game against the
San Francisco 49ers
.
Sources confirmed the Bears waived quarterback
David Fales
and released veteran cornerback
Kelvin Hayden
and veteran fullback
Tony Fiammetta
.
The Bears announced following Friday's practice that Fales (shoulder) and Fiammetta (hamstring) had been officially ruled out for Week 2.
Hayden was a healthy inactive in Chicago's 23-20 overtime loss to the
Buffalo Bills
in the season opener.
The expectation is the Bears will look to fill some of the open roster spots off the practice squad. With
Brandon Marshall
(ankle) and
Alshon Jeffery
(hamstring) questionable, and
Josh Morgan
(groin) doubtful, the Bears could choose to promote one, or more, of their current practice squad wide receivers: Josh Bellamy, Greg Herd,
Chris Williams
and Rashad Ross. Practice squad center/guard Taylor Boggs is a candidate to help with depth on the offensive line after starters
Roberto Garza
(high-ankle sprain) and
Matt Slauson
(high-ankle sprain) were both declared out for the 49ers game.
September, 1, 2013
9/01/13
6:41
PM ET
NASHVILLE, Tenn. -- More notable than the guys from Titans training camp who are on the initial list of practice squaders is the one who isn't:
Rusty Smith
.

But Jim Wyatt of The Tennessean tweeted that Smith is
expected to accept
the Titans' offer and join up.
Smith cleared waivers unclaimed, and while his feelings might have been hurt, an offer to join anyone else's practice squad probably wouldn't have wound up better for him.
The Titans do really like him, they just decided they didn't need three quarterbacks on the roster. And they don't. Functionally, he will still hold the No. 3 role and if
Jake Locker
or
Ryan Fitzpatrick
is hurt and can't suit up, the Titans will sign Smith to their roster and dress him for a game.
If there was another practice squad chance, he might have had weaker quarterbacks in front of him at No. 1, No. 2 or both. But he'd have had to move and he'd have had to learn a new offense and won over a new coaching staff.
There could have been more reward, but there certainly would have been more risk.
Once he signs, the Titans will have filled six of their eight practice-squad spots, all with players who were with them in camp.
That list:
DT Stefan Charles
FB
Collin Mooney
WR Rashad Ross
LB Jonathan Willard
CB Khalid Wooten
All of the players were with the Titans during training camp this season. Four of them were undrafted rookies while Wooten was a seventh-round draft pick.
Ross' selection speaks especially highly of him, because the Titans have a deep group of receivers and kept six on the 53-man roster.
August, 31, 2013
8/31/13
6:30
PM ET

Most significant move:
Marc Mariani
came back from a vicious broken leg suffered in the preseason in 2012. A shoulder injury suffered in the preseason opener cost him the rest of camp and the preseason, and the Titans put him in injured-reserve Saturday, ending his season. He might have been ready as soon as Week 3, but the Titans clearly didn't like the uncertainty. They could have waived him injured, exposing him to a claim. In that scenario,
St. Louis Rams
coach Jeff Fisher, who was instrumental in the Titans drafting the receiver/returner out of Montana in 2010, might have wanted him. But the Rams or anyone else would have had to have added him without getting to examine the injury, and Mariani's not under contract beyond this year so a new team could have been at risk for picking up a year's salary and getting nothing out of him. If he wasn't claimed, he would have reverted to Tennessee's IR. By putting Mariani directly on IR, he is assured of his $575,000 base salary this season but won't play anywhere. The move means
Darius Reynaud
is the returner. He showed himself to be only the team's fifth-best running back during camp, but sticks to handle punts and kickoffs.
Wildcard:
If
Rusty Smith
clears waivers, the Titans will want the fourth-year quarterback back on their practice squad. He's not been on the active roster for nine games in any of his first three seasons, so he retains his practice squad eligibility. If Smith is claimed, the Titans will need to find a young quarterback for the spot, who they can work to develop as insurance and who will be able to offer an option as the No. 2 if
Jake Locker
or
Ryan Fitzpatrick
suffers an injury that results in any missed time. One team that won't claim Smith -- his hometown
Jacksonville Jaguars
.
What's next:
I could see the Titans shopping for a veteran safety as they sift through cuts. Seventh-round pick
Daimion Stafford
is on the roster now, but the Titans are heavy with strong safeties and light at free safety. They'd probably like better balance and Stafford could ultimately land on the practice squad. With 10 defensive linemen plus strongside linebacker
Akeem Ayers
in line to play a good share of end, the last pure end --
Keyunta Dawson
-- is hardly a lock at this point. Only one injured Titan, rookie linebacker
Zaviar Gooden
, is likely to miss the season opener at Pittsburgh.
Tennessee Titans cuts:
S
Al Afalava
, T
Daniel Baldridge
, TE
Brandon Barden
(injured), DT
Stefan Charles
, DT
Zach Clayton
, TE
Jack Doyle
, LB
Gary Guyton
, DT
DaJohn Harris
, S
Corey Lynch
, FB
Collin Mooney
, DE
Nigel Nicholas
, RB
Jalen Parmele
, WR
Rashad Ross
, LB
Tim Shaw
, QB
Rusty Smith
, LB-DE
Scott Solomon
, G
Kasey Studdard
, WR
Dontel Watkins
, LB
Jonathan Willard
, CB
Khalid Wooten
, C-G
Fernando Velasco
Placed on Injured-reserve:
WR/returner Marc Mariani.
August, 25, 2013
8/25/13
1:36
AM ET
NASHVILLE, Tenn. -- If you're going to post two duds and a stellar game in the preseason, it's best if the stellar game comes in Week 3, the traditional dress-rehearsal week.

That's what the
Tennessee Titans
got Saturday night at LP Field in a
27-16 victory
over the
Atlanta Falcons
.
The defense gave up too much on the Falcons' first three drives but held strong in the red zone and surrendered a total of six points. The run defense still has room to improve, allowing 4.5 yards per carry to
Steven Jackson
in the first half.
But things got better overall as the game went on, with five sacks of
Matt Ryan
and much better shedding of blocks, hitting and tackling.
The headline, however, was provided by young quarterback
Jake Locker
.
He finished up the first half plus one series with a very solid line: 11-for-13 for 133 yards and a touchdown with a 134.9 passer rating. He was sacked three times and lost a fumble. He threw the ball well and had people catching the ball better for him but for a drive-killing
Taylor Thompson
drop of a pass thrown a touch behind the tight end.
The mandatory preseason disclaimer: It was a meaningless game against a team that went deep into the playoffs last season but was only 24th in overall defense and 23rd against the pass. Now, two of the Falcons' top three cornerbacks are rookies --
Desmond Trufant
and
Robert Alford
.
Locker's bad moments came on the move or under pressure.
On a third-and-7 from the Titans' 35, he didn't seem quite aware enough and should have been sacked but shrugged out of a blitz. He rolled right and turned to run for a pretty easy first down. But linebacker
Joplo Bartu
hit him -- and the ball -- as he went down and jarred it loose; safety
Thomas DeCoud
recovered it.
Beside the fumble, Locker was helpless on two sacks -- one that came from super-quick pressure past right tackle
David Stewart
, one on which he was pinned in on both sides and taken down as the middle closed in.
In the third quarter, the first-team offense's lone drive stalled when Locker saw pressure and put his head down rather than feeling the pressure and trying to do something against it.
The positive far outweighed the fumble and the sacks, however.
"This is the first week that we've actually put in a game plan. We'd been running base stuff the first two weeks," offensive coordinator Dowell Loggains said. "So I think that probably helped a little bit. It helped open up the play-action a little bit and helped Jake.
"I was probably too conservative early on, and once I let him go, he played really well."
It was a very encouraging night for the quarterback. If the Titans could freeze him right here and put him in practice on Wednesday, Sept. 4, in preparation for the season opener at Pittsburgh, I think they might.
I've done some reporting and I've learned, exclusively, that such freezing is not an available option.
[+] Enlarge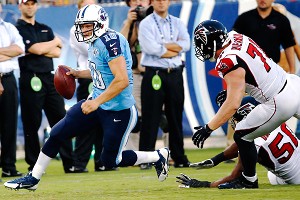 AP Photo/John RussellTitans QB Jake Locker ran three times for 22 yards in addition to his 133 yards through the air.
Some other thoughts:
Run defense still an issue:
Jackson took 10 first-half carries 45 yards.
Defensive tackle
Jurrell Casey
, who's healthy and playing very well, didn't like learning those numbers.
"We want to hold guys to 2 yards a carry. One or 2 yards a carry," Casey said. "We don't want to give up nothing more than that because then it makes it too hard, a game where they can just pound it down your throat. In order to get to the quarterback, you've got to stop them on the run on first and second downs."
See more about the run defense in
this video
.
Even having allowed more rushing yards than they'd like, the Titans' pass rush was excellent, with five sacks of Ryan and six overall. Casey had 1½;
Derrick Morgan
,
Mike Martin
and
Kadarron Anderson
had one each.
Moise Fokou
,
Karl Klug
and
Kamerion Wimbley
each had half a sack. Nice distribution.
Double barrel:
Chris Johnson
looked solid in gaining 65 yards on 11 carries with a nice 20-yard sprint to the right sideline on the Titans' first touchdown drive.
Earlier, on the Titans' second possession, Johnson got the ball on first and second down, gaining 7 yards and then 2. Tennessee sent
Shonn Greene
on to replace Johnson, and Greene did just what the Titans brought him in to do: find 3 yards to convert the third-and-1.
I asked Johnson if he envisioned that being the way things are going to work.
"I don't know," he said.
Another not-smart hit by Bernard Pollard:
In the Titans' first preseason game, Pollard put his head down and hit a Redskin heading out of bounds. That got him a $10,000 fine. In the Titans' second preseason game, he twice got beat on third-and-long, failing to make tackles in situations when he should have. Against Atlanta, on the Falcons' very first drive, he unnecessarily jumped in late on a tackle of
Julio Jones
and drew another personal foul penalty.
Ankle sprains:
The Titans announced that both receiver
Nate Washington
and running back Greene didn't finish with the first team because of ankle sprains. Washington said his was actually a right foot injury that wouldn't cost him time unless the Titans were super cautious; Greene said his was really existing ankle soreness and not serious.
Good red zone defense after allowing the Falcons to get there too easily:
The Falcons marched into the red zone on their first three drives but wound up with three field goal attempts and only six points.
"They got down there way too easy," Casey said. "We let them get explosive plays -- big passes, things like that. We can't allow that. When they got down there, we did our job by not letting them get in the end zone. That was one of our goals this week -- stopping them in the red zone, and we did that."
Making a case:
Receiver
Michael Preston
is not going to outrank any of the five receivers ahead of him, but he could be making himself a guy the Titans have to keep as a sixth, and I am hard-pressed to believe he is not one of the team's 53 best football players.
Preston had three catches for 68 yards from
Ryan Fitzpatrick
, with a 56-yard bomb setting up
Justin Hunter
's short TD catch before he hauled in a 6-yard touchdown catch of his own later on.
I wrote about
Preston at work
on Friday.
"He's a really good player. He's been doing that day in, day out at practice," Loggains said. "He made a big statement for his case to be on this football team again tonight."
Verner and Turner:
Cornerback
Alterraun Verner
and center
Rob Turner
started and did nothing that should dent them as the favorites to be named the starters at their respective spots.
Verner was flagged for two penalties against Jones -- a pass interference on a short pass into the middle and an illegal contact on a longer throw. I thought the first one was a good play on a ball Ryan threw a bit behind Jones. Later, Jones beat Verner, who didn't touch him near the line, on a 42-yard play up the right side. Jones is going to make plays against a lot of corners.
And while
Tommie Campbell
came in early enough to have a couple chances against Jones and wasn't victimized in a similar way, he didn't do anything that should change the Titans' leanings.
Battle vs. Parmele:
I thought
Jackie Battle
was getting a bit too much hype heading into the game. He was running better than
Jalen Parmele
, but special teams will be a huge factor in one of them winning the No. 3 running back job. I was told before the game, however, that he's close to Parmele on special teams. Battle got a game-high 13 carries for 41 yards. Parmele didn't get one. Advantage Battle.
Referee change:
Ed Hochuli was the ref in the first half, but by design, the game turned over to Wayne Mackie in the second half. He's typically a field judge. The league is looking for opportunities to get people experience. Mackie communicated well when he had to use his microphone.
But Mackie was buzzed to review Alford's interception of Fitzpatrick on a throw intended for Hunter. There was absolutely no reason for replay assistant Roger Ruth to buzz Mackie to review that play except to give him practice at it.
And whether the league needs to get a guy game experience or not, two teams, a crowd and a TV audience should not be subject to an unneeded challenge for such purposes.
Pending cuts?
The first round of cuts come Tuesday, when the Titans have to get from 90 to 75. Healthy guys who don't play in the third preseason game are typically being kept from getting hurt, because a team can't cut an injured player.
Healthy Titans who didn't play in this game were receiver
Justin Hilton
, defensive end
Nigel Nicholas
, guard
Oscar Johnson
, tackle
Barry Richardson
, tight end
Martell Webb
and receiver
Rashad Ross
. It'll be a surprise if any of them are on the roster Tuesday evening.
July, 26, 2013
7/26/13
10:29
PM ET
NASHVILLE, Tenn. --
Some observations from Friday evening's Tennessee Titans training camp, the first open to fans...
In 7-on-7 work with no linemen:

Tight end
Taylor Thompson
angled away from a defender and was open about 15 yards from the line of scrimmage, but
Jake Locker
missed him with a wobbly ball that sailed too long.
Undrafted rookie receiver
Rashad Ross
was well-covered by corner
Tommie Campbell
, but quarterback
Rusty Smith
zipped a short pass completion to him anyway.
From his own 15-yard line, Locker looked for receiver
Michael Preston
but his terrible pass found cornerback
Coty Sensabaugh
, who picked off
Ryan Fitzpatrick
on Thursday.
In team periods:
Locker rolled left, against his arm, a few times by design. On one, he did very well to square his shoulders and hit
Craig Stevens
. On another he hit
Justin Hunter
, but cornerback
Blidi Wreh-Wilson
had it so well sniffed out he would have leveled the rookie receiver if allowed.
Locker threw a deep ball over
Nate Washington
's head up the right sideline. After he bounced one to
Kenny Britt
, Locker hit
Damian Williams
on a very nice pass down the middle for roughly 20 yards.
Defensive tackle
Jurrell Casey
showed great lateral movement and got nearly to the sideline to end one breakout running play by
Jalen Parmele
. Later Casey managed to knock the wind out of
Shonn Greene
after tracking him on a dump off pass closer to the line of scrimmage and the center of the field.
You can already see stretches where the Titans are working to mimic the sort of no-huddle, high-speed offense they will sometime have to defend. With a new batch of offensive players quickly taking over for the group that just ran routes and blocked, the defense had to race to get back into position for a snap.
On a "now" pass, the quarterback throws immediately to a receiver split wide who hasn't really moved off the line of scrimmage. The ball has to arrive in a way that the receiver can run with it immediately. Locker threw one left to
Kendall Wright
, but Wright had to bend at the waste to pull it in from too low. That doesn't lend itself to the play working.
Line of the day, from Britt to safety
Bernard Pollard
: "Your name's Bernard, you ain't THAT tough."
Receiver
Marc Mariani
let a Fitzpatrick pass bounce off his hands that was picked off by linebacker
Tim Shaw
.
Campbell does look very confident and was in good position a lot. On another play, where Locker had someone in his face as he checked down short over the middle, Campbell closed and batted down a pass thrown for Hunter.
Backup kicker
Maikon Bonani
has a gigantic leg. But during the field goal period he had one atrocious miss, shanking his ball low and left and missing the wide screen set up well behind the goal posts.
I wanted to note one play in particular: Fitzpatrick lined up in the shotgun and the defense couldn't get lined up. Multiple players were shouting calls, waving each other around and didn't know what to do or where to line up. It's a play where Fitzpatrick has to get his guys set -- maybe one was late, but I didn't see it -- snap it quickly and take advantage of the defensive confusion. Instead, however, Fitzpatrick waited a long time and the defense found some semblance of organization. He wound up throwing a short incompletion that may have been a throwaway. The defense can't win that play but did.
"Yes, we'd want him to snap it," Mike Munchak said afterwards. "I don't know if he was waiting for the defense or waiting for one of our guys. Generally, in a game we'd go. In a practice, I think he was making sure, because we weren't in a hurry-up mode. The offense should have an advantage there, yes."