NFL Nation:

Ravens-Falcons 111110
November, 12, 2010
11/12/10
1:20
AM ET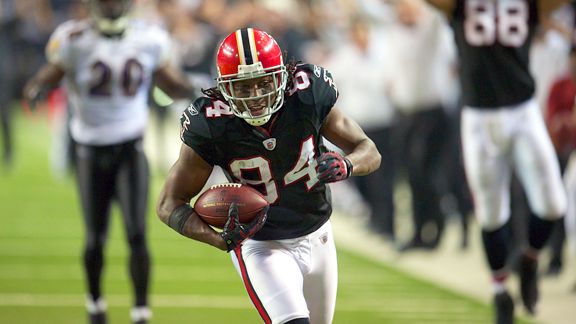 Dale Zanine/US PresswireRoddy White scored the winning touchdown for the Falcons with 20 seconds left.
ATLANTA -- Since the summer, there have been television commercials running in the Atlanta area with actor Samuel L. Jackson saying it's time for the Falcons to "Rise Up.''
In slightly different words and an entirely different voice, coach Mike Smith has been telling his team the same thing for much of the season.
Not sure if it was the message from Jackson or Smith or a combination of the two. But it doesn't matter; the
Atlanta Falcons
finally rose up. Then they did it again.
After dominating for more than three quarters Thursday night, the Falcons squandered a big lead and had to rely on a last-minute touchdown drive to defeat the
Baltimore Ravens
26-21
at the Georgia Dome.
"If you like football and you like an intense football game, that was one of them,'' Smith said. "With 65 seconds to go in the ball game, no one on our sideline blinked.''
That's partly because there was no time to blink. Anything less than a win would have been disastrous for a team that had built an early lead. Instead, there were celebrations in the Georgia Dome and fans chanting "Super Bowl.'' The Falcons are 7-2 and firmly in control of the NFC South.
But it wasn't easy.
Roddy White
, who earlier in the fourth quarter had dropped two balls that looked very catchable, caught a touchdown pass from
Matt Ryan
as the Falcons reclaimed a game they seemed to have well under control.
This wasn't the wire-to-wire perfect game by the offense, defense and special teams that Smith has been begging the Falcons to play in recent weeks. But against a very good opponent and on a national stage, it was good enough.
In a battle with his 2008 draft mate
Joe Flacco
, Ryan rallied the Falcons down the field after the Ravens had taken the lead with just over a minute left. The Falcons may have caught a break when the Ravens were called for pass interference as Atlanta looked to be trying just to get into field goal range.
Ryan, who took his team to the playoffs as a rookie, might have taken the next step in his career by leading a big-time drive against a big-time defense. On White's touchdown catch, the play initially was supposed to go to tight end
Tony Gonzalez
, but he ended up being well covered. White got tangled up with cornerback
Josh Wilson
, who fell down and left White wide open.
This time, there was no drop. He caught the ball and dashed into the end zone.
[+] Enlarge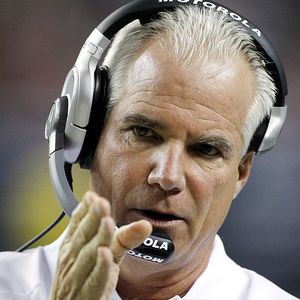 AP Photo/John BazemoreEven when his Falcons fell behind for the first time all night, coach Mike Smith had confidence. "With 65 seconds to go in the ball game, no one on our sideline blinked.''
"It just says volumes about the maturation process of our quarterback,'' Smith said. "He had the wherewithal when his primary guy was taken away, he went to the secondary guy. The ball is going to go where the defense tells it to go. That's the way the system is designed. Fortunately, Matt and Roddy hooked up and we didn't have to kick the field goal.''
Ryan appeared well on his way to the next level as he led the Falcons to a 10-0 halftime lead. Using a no-huddle offense for most of the first half, Ryan helped the Falcons hold onto the ball for 21 minutes, 14 seconds.
"We've been in that no-huddle offense for three years,'' Ryan said. "We felt confident and we felt that would help keep what Baltimore did vanilla. I think that's the most we've ever used it. We were pretty effective doing it.''
Offensive coordinator Mike Mularkey's game plan was to throw the ball a lot and that didn't change in the second half. The Falcons didn't get conservative on offense as their defense, which had been so strong in the first half, allowed Flacco to throw for three second-half touchdowns.
Flacco hit
Todd Heap
with a 9-yard touchdown pass with 1:05 remaining to put Baltimore ahead, 21-20, for the first time all night. Over the next 45 seconds, Ryan engineered a seven-play drive that covered 80 yards and he hit White with the 33-yard touchdown with 20 seconds left.
"Roddy is disciplined in what he does and he ran his route,'' said Ryan, who attempted a career-high 50 passes.
Ryan completed 32 of them for 316 yards, three touchdowns and finished with a 101.8 passer rating. He also hit White with a 4-yard touchdown pass with 11:34 remaining in the fourth quarter to put the Falcons ahead 20-7. But Flacco led two quick touchdown drives to give Baltimore the lead.
"We've been in these situations before,'' Ryan said. "We were confident. We only needed to get three points, but we got six.''
After the victory in a short week, the Falcons now get the weekend off. Smith said the Falcons won't practice again until Monday. They don't play again until Nov. 21 at St. Louis.
"The best part about our football team is we're resilient in what we do,'' Ryan said. "We never give up.''
That became obvious as the Falcons extended their home winning streak with Ryan as the starter to 14 games. That, and a little improvement from the defense, could put the Falcons in very good shape come playoff time.
They're not there yet, but they're the first NFC team with seven wins and they need only two more to have three consecutive winning seasons for the first time in franchise history. But the Falcons have their eyes on more than just a winning season.
"I know one thing about this group of guys,'' Smith said. "They do not give up. They are resilient.''
That resilience is paying off.
"I am proud of every man in that locker room because of what they did tonight,'' Smith said. "They played a very good Baltimore team and they stayed there until the very end.''
If the Falcons keep doing that, they might be playing at the end.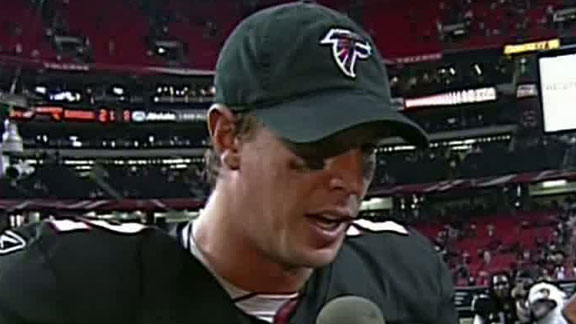 November, 11, 2010
11/11/10
11:48
PM ET
Here are some early thoughts on the
Atlanta Falcons
'
26-21 come-from-behind victory
over the
Baltimore Ravens
:


What it means:
It means the Ravens drop to 6-3 on the season and come very close to making a big statement on the road. The Falcons are one of the NFL's best teams at home the past several seasons and needed a late touchdown catch by receiver
Roddy White
to hold off the Ravens. There will be a lot of debate of whether White pushed off Ravens cornerback
Josh Wilson
on the play. We will get Baltimore's reaction on the play in from the locker room. Many saw this as a possible Super Bowl preview and both teams put on a good show. Neither Atlanta nor Baltimore should feel any worse about its playoff chances after this entertaining and competitive game.
What I liked:
Baltimore showed grit by fighting back in the fourth quarter and having a chance to win. After falling down 13 points late, the Ravens didn't lay down and took a 21-20 lead with 1:10 left after two touchdown passes by quarterback
Joe Flacco
. Linebacker/defensive end
Terrell Suggs
was at his best. Suggs recorded two sacks, and it was his first multi-sack game of the season.
What I didn't like:
With a little more than a minute left, Baltimore had a chance to close out the game but the defense allowed Atlanta to drive down the field for the game-winning touchdown. The controversial touchdown catch by White at the end will stand out. But a slow start in the first half was the reason Baltimore spent the entire second half fighting from behind.
What's next:
After a tough loss, the good news is Baltimore has 10 days to prepare against the lowly
Carolina Panthers
(1-7). The Ravens have a good chance to get back on the winning track and avoid their first two-game losing streak of the season. They are currently in second place by a half-game in the AFC North behind the
Pittsburgh Steelers
(6-2).
November, 11, 2010
11/11/10
11:45
PM ET
ATLANTA -- I'm off to do interviews and will be back with more analysis later. But, meantime, here's a quick Rapid Reaction on Atlanta's
26-21 victory
against Baltimore.


What it means:
The Falcons played their most complete game of the season. They showed resilience by bouncing back after surrendering a late touchdown and the lead for the first time all game. Atlanta continued to show its ability to win in the Georgia Dome. That could come in handy come playoff time. Speaking of that, the Falcons are 7-2 and firmly in control of first place in the NFC South.
Heroes:
Matt Ryan
and
Roddy White
. The dynamic duo hooked up on a touchdown pass with 20 seconds to save the game.
Near goats:
White and
Harry Douglas
. Each receiver was unable to come up with catchable passes late in the game. White, who came into the game without having dropped a pass this season, dropped two balls that looked very catchable.
Good-luck sign:
When wide receiver
Brian Finneran
lines up at safety at the end of a game, you know the Falcons are winning. At 6-foot-5, Finneran's out there only to knock down any Hail Mary passes.
What's next:
The Falcons will travel to St. Louis to play the Rams on Nov. 21.
November, 11, 2010
11/11/10
9:56
PM ET
ATLANTA -- The
Atlanta Falcons
lead the
Baltimore Ravens
, 10-0, at halftime.


Here are some notes at intermission:
November, 11, 2010
11/11/10
9:50
PM ET
ATLANTA -- At least for one half, the
Atlanta Falcons
have been playing the type of game Mike Smith wanted.
They're playing well on offense, defense and special teams. They hadn't put all three things together in their first eight games and Smith has been telling that to the Falcons recently.


Apparently, they got the message. The Falcons lead 10-0 at halftime.
Some other halftime observations.
November, 11, 2010
11/11/10
7:26
PM ET
November, 11, 2010
11/11/10
6:59
PM ET
November, 11, 2010
11/11/10
6:29
PM ET
ATLANTA -- One thing I'll be keeping a close eye on in the Georgia Dome today will be who's on the field the first time the Falcons kickoff.
After giving up two big kickoff returns to the
Tampa Bay Buccaneers
on Sunday, the Falcons realized they had some problems with their coverage units. I think that's going to lead to some changes.
Kroy Biermann
was a regular on special teams before becoming a full-time starter at defensive end this season. The Falcons took Biermann off the coverage unit, but I think there's a good chance he'll be back on the coverage unit tonight.
You could see a few other Atlanta starters adding some additional work on special teams.
November, 11, 2010
11/11/10
5:13
PM ET
ATLANTA -- I just got set up in the Georgia Dome where prime time is still a few hours off. But "Prime Time'' is staring at me. The Falcons have a nice program made up to commemorate Deion Sanders' induction to the Ring of Honor tonight.
That should be one of many highlights in tonight's game between the Falcons and Ravens. AFC North blogger James Walker and I will be bringing you all the news, notes and analysis.
I'll be back with the inactives before kickoff. I know there have been some rumors out there that Atlanta receiver
Roddy White
won't play. I'll tell you right now, there is no truth to those rumors. Coach Mike Smith and White have been saying all week that the receiver will play. I just checked with a team official who said that plan has not changed.

NFL SCOREBOARD
Sunday, 2/2
WEEKLY LEADERS