NFL Nation:

Ravens-Patriots 011010
January, 10, 2010
1/10/10
4:24
PM ET
The
New England Patriots
crashed hard Sunday.


The
Baltimore Ravens
went into Gillette Stadium and pounded the Patriots like Keith Moon used to treat his drum kit.
New England lost 33-14
and never really was in the game.
Baltimore made it look way too easy. Running back
Ray Rice
zipped 83 yards for a touchdown on the first play from scrimmage to trigger a 24-point first quarter.
Patriots quarterback
Tom Brady
was abysmal with four giveaways. The NFL's Comeback Player of the Year was 23-of-42 for 154 yards and two touchdowns. He threw three interceptions and lost a fumble on one of three sacks.
Hard to say how much of a difference a healthy
Wes Welker
would have made. Welker is Brady's compass, but the slot receiver couldn't help from his seat in owner Robert Kraft's suite, a pair of crutches nearby.
Maybe Brady feels little more comfortable and doesn't press so much with Welker on the field. But the Ravens were so thoroughly dominant, it's difficult to dispute the result would've been different.
Welker's slot replacement, rookie
Julian Edelman
, had six receptions for 44 yards and two touchdowns. But
Randy Moss
was a non-factor with five catches for 48 yards. New England tight ends
Benjamin Watson
and
Chris Baker
combined for two catches for 5 yards.
The Patriots had fewer yards, fewer first downs, more turnovers, more penalties and a shorter time of possession.
The Ravens passed for only 34 yards, but they still held the edge in total yards because they rushed for 234. Rice had 159 and two touchdowns.
Willis McGahee
ran for 62 yards and a touchdown. The Patriots rushed for 64 as a team.
January, 10, 2010
1/10/10
2:56
PM ET
The early beatdown the
Baltimore Ravens
have administered to the
New England Patriots
was epic.
The Ravens posted the first four scores, taking a 24-0 lead before the end of the first quarter. The Patriots managed to get into the end zone and trail by 17 points at halftime. Did I mention this game is taking place in Gillette Stadium?
ESPN Stats & Information broke out a few numbers to put this game in perspective.
The last time the Patriots were down by at least 24 points at the end of a first quarter was November 1979 against the Denver Broncos.
A Bill Belichick-coached team never has allowed 24 points in the first quarter, regular-season or playoffs.
The Patriots haven't allowed more than 20 points in a home playoff game since 1978, when the Houston Oilers beat them 31-14.
The Patriots were 8-0 at home this year. The most points they allowed in a game was 24 to the Buffalo Bills back on opening night.
The last team to lead 24-0 after one quarter of a playoff game? The 1999 Jacksonville Jaguars led the Miami Dolphins 24-0 and cruised to a 62-7 victory.
Something to consider: The worst home playoff loss in NFL history was 34 points, when the Minnesota Vikings beat the New Orleans Saints in 1987. Twenty-four points would be tied for eighth.
If the Patriots were to win, overcoming a 24-point deficit would tie the second-largest margin in postseason history. The Bills hold the record with a 32-point rally to beat the Oilers in 1992.
January, 10, 2010
1/10/10
1:53
PM ET
ESPN Stats & Information scurried through the box scores to learn the last time the
New England Patriots
have allowed the first two scores of a game was October 2008.
Researchers are digging to find out the last time the Patriots surrendered the first four.
The Gillette Stadium crowd is booing the Patriots, who are losing 24-0 to the
Baltimore Ravens
with time left in the first quarter.
The Patriots hadn't allowed 20 or more points in a home playoff game -- that's an
entire
game -- since 1978.
Wowzers.
Ray Rice
ripped off an 83-yard run on the first play from scrimmage, and Gillette Stadium has been stunned silent ever since.
After three possessions,
Tom Brady
has completed two of his six attempts for 3 yards. He has lost a fumble and thrown two interceptions.
January, 10, 2010
1/10/10
12:48
PM ET
The NFL assigned referee Gene Steratore to Sunday's playoff game between the
Baltimore Ravens
and
New England Patriots
in Gillette Stadium.
A few notes about Steratore and his crew from the 2009 regular season:
Their 176 penalties tied for the second-fewest among all 17 NFL crews.
Don't expect many yellow flags late in the game. Steratore and his men called an NFL-low 37 penalties in the fourth quarter, and one in overtime.
Much has been made about Ravens linebacker Ray Lewis' criticism of NFL officials for treating Patriots quarterback Tom Brady like a porcelain doll in Week 4. Steratore detected roughing the passer just three times this year, tied for third-fewest.
They called defensive pass interference only nine times (tied for third fewest) and offensive pass interference four times.
Defenses shouldn't get too grabby. Steratore's crew called nine defensive holding penalties, in the upper third.
The only calls that Steratore's crew called into the double digits were offensive holding (34), false start (31) and defensive offside (13).
January, 10, 2010
1/10/10
12:37
PM ET
CINCINNATI -- You'll notice that the word in all caps to the left doesn't look anything like FOXBOROUGH, Mass.
That means I'm not in Gillette Stadium for Sunday's playoff game between the
Baltimore Ravens
and
New England Patriots
. I was on the scene for the
New York Jets
' first-round victory over the
Cincinnati Bengals
.
We'll see if the AFC East can go 2-0.
I'll be filing dispatches from my hotel on the bank of the Ohio River. But ESPN has a team of reporters in Gillette Stadium. Of course, you need monitor the updates and observations
Mike Reiss and Chris Forsberg will be posting at ESPNBoston.com
. Senior writer Len Pasquarelli will be writing on the Ravens-Patriots, too.
Also, and perhaps most importantly,
you can join our live in-game chat
. I will join Reiss, Forsberg and Scouts Inc. analyst Jeremy Green.
Here are the inactives from Foxborough, dispatched via Cincinnati:
Baltimore Ravens
New England Patriots
January, 8, 2010
1/08/10
4:07
PM ET
AFC
:
Ravens-Patriots
:
Graham
|
Walker
»
Jets-Bengals
:
Graham
|
Walker
NFC
:
Cowboys-Eagles
:
Mosley
»
Packers-Cardinals
:
Sando
|
Seifert
Three nuggets of knowledge about Sunday's Ravens-Patriots wild-card playoff game:
Julian Edelman will do enough to help the Patriots cope with Wes Welker's injury.
I'm not going to debate analysts who've played the game about Welker's importance to the Patriots' offense. I selected him as my AFC East MVP. But I do believe too much is being made about his telepathy with
Tom Brady
. Yes, there will be a dropoff in chemistry from Welker to rookie Julian Edelman. A few more balls will hit the turf. But Edelman did manage to catch 10 of the 15 passes thrown his way Sunday. He's OK.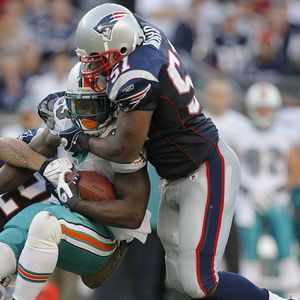 David Butler II-US PRESSWIREPatriots linebacker Jerod Mayo didn't play in Week 4 against the Ravens but will be patrolling the middle Sunday afternoon.
When remembering the Week 4 matchup, consider that Patriots linebacker Jerod Mayo didn't play.
The Ravens outgained Patriots 363-319. Ravens running back
Ray Rice
carried 11 times for 103 yards. You would expect those numbers to go down with Mayo on patrol in the middle of the defense. Last year's defensive rookie of the year suffered a knee injury on opening night and wasn't able to play in their first meeting.
Patriot tights ends are an X factor.
Benjamin Watson
and
Chris Baker
haven't contributed much to the box score all season. Then again, with a players such as Welker and
Randy Moss
in the lineup, there aren't a lot of passes to distribute around. In the three games Welker was unavailable (counting Sunday, when he went down in the first quarter), Watson and Baker combined for 11 of their 43 receptions and for 134 of their 518 yards. Calculate that pace over a full season, and Patriots tight ends grab a much more palatable 59 catches for 715 yards this year.
January, 8, 2010
1/08/10
10:29
AM ET
Make it a point to check out Tedy Bruschi's preview of Sunday's playoff game between the
Baltimore Ravens
and
New England Patriots
in Gillette Stadium.
"Bruschi's Breakdown" is
a must-read every week
at ESPNBoston.com, even if you're not a Patriots fan. His analysis and the way Patriots reporter Mike Reiss presents it make you feel smarter for reading.
Bruschi offered this take on how the Patriots' victory over the Ravens in Week 4 foretells what might happen Sunday:
I think we have a very good idea of how this game is going to go if you look back at that first game. Even though it was a long time ago, I think you can take some of the key indicators from the first game and anticipate some of them having a good chance to repeat themselves.
One thing I noticed was that the Patriots really started to attempt to establish a running game, and it helped set up favorable second- and third-down situations. The best example of that came at the end of the first quarter, when it was fourth-and-1 at the Ravens' 3-yard line. Sammy Morris met Ray Lewis in the hole, head to head, and got the first down. The quarter ended and after recovering from a false-start penalty, Tom Brady scored on a sneak through the middle of the defense from the 1. I believe that was a message not only to the Ravens but to themselves -- they were not only establishing the run and able to pick up a yard in critical situations, but they were also telling the Baltimore Ravens, one of the toughest teams in the league, that we can play that game also.
But the Patriots won't have
Wes Welker
for the rematch. Here's what Bruschi had to say about that:
Offensively, I don't think you count on Edelman like you counted on Welker. If your order of importance was Randy Moss/Wes Welker, or Wes Welker/Randy Moss, I think now that order changes to Randy Moss, Kevin Faulk and coming in tied for third would be Edelman and Benjamin Watson. Other players must be utilized.
[Offensive coordinator] Billy O'Brien has to find ways to get Faulk out of the backfield. They've shown they can get Faulk in empty formations or through various check-downs or the screen game. Watson will run his usual routes but possibly will be targeted more than in the past. I'm still hoping for that infamous tight end screen.
Now go read the whole thing.
Go.
Now.
January, 6, 2010
1/06/10
7:23
PM ET
There's a chance
Wes Welker
's unhinged left knee will be ready for the start of the 2010 season.
Just don't count it.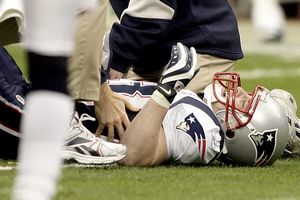 Otto Greule Jr./Getty ImagesPatriots wide receiver Wes Welker's injury will probably keep him off the field through the summer.
"If people are expecting him to get back on the field and be Wes Welker, you've got to cut him some slack," ESPN injury expert Stephania Bell said. "It's going to take him a while."
While it would take possession of Welker's medical chart to give a convincing forecast for his return, Bell believes we have enough information to hazard a guess.
She estimated the
New England Patriots
slot receiver could be practicing by September and looking Welkerish by October.
Bell based her prognosis on the report Welker tore his anterior cruciate and medial collateral ligaments and is assuming no other significant tissue damage because of the non-contact nature of the injury.
In particular, she is going on the supposition Welker didn't suffer the so-called "terrible triad," which includes a meniscus tear in addition to the ACL and MCL. That would prolong the process considerably.
Bell, a physical therapist who specializes in athletes and performance artists, noted most MCL injuries can heal on their own with a leg brace for four to six weeks. After the knee regains its range of motion, then the ACL can be surgically repaired, in Welker's case by about the end of February.
How Welker plays the game will make his recovery more difficult. The last stages of recovery involve lateral movement, deceleration and the ability to cut.
"It's conceivable he could be practicing in August, but it's still a stretch," Bell said. "But because of the type of player Welker is, his strength has been the quick burst of speed and ability to change of direction.
"Unfortunately, those are the toughest things to get back after this kind of injury. Those movements are the most stressful on an ACL/MCL injury."
January, 5, 2010
1/05/10
8:17
AM ET
What happens when you extract 123 receptions from the
New England Patriots
' offense?
We're going to find out Sunday afternoon, when they host the
Baltimore Ravens
without slot receiver extraordinaire
Wes Welker
.

Welker
"We're going to evolve a little bit as an offense now," Patriots quarterback
Tom Brady
said Monday on Boston sports radio station WEEI. "It was a very Wes Welker-oriented offense."
Welker suffered two torn left knee ligaments in Sunday's regular-season finale against the
Houston Texans
. Forget the playoffs. He'll be fortunate if he's ready to play next fall.
Welker led the NFL in receptions and gained 1,348 yards despite missing two games in September. He averaged 8.9 catches a game. Those are some blatant numbers, but he means more than that.
His presence impacts everybody else on the field.
"You can't replace him," Brady said. "There's no doubt about that. There's nobody that can substitute in for Wes and think that they're going to be Wes. He is everything you ask for.
"We've got to move on, and we've got to go out there and play, and everyone I think in different areas has to pick it up. I have to play better, Julian [Edelman] has to play better, Randy [Moss] has to play better. The offensive line, running backs, tight ends; we all have to do more. I think that's the commitment we have to make to one another."
ESPN Stats & Information illustrated Welker's influence by comparing how well the Patriots performed in his absence.
It must be noted Brady still was getting comfortable with his surgically repaired left knee when Welker was sidelined by a knee injury in Weeks 2 and 3. But the comparisons are stark.
When Welker was in the lineup this year, Brady completed 68 percent of his attempts, threw 27 touchdowns and 11 interceptions and had a 102.9 passer rating.
Minus Welker, Brady completed just 56.3 percent of his attempts, threw one touchdown and two interceptions and posted a 68.9 rating.
Brady's tosses to Welker have been described as extended handoffs, an extension of the Patriots' run game. But Welker opened-up downfield opportunities. Brady completed 59 percent of his throws 10 yards or farther with Welker in the lineup, but only 37 percent with Welker sidelined.
Welker helped Moss, too. Brady and Moss connected on 59.6 percent of 109 targets with 11 touchdowns when Welker was playing. They connected on 40.0 percent of 30 targets with zero touchdowns without Welker.
January, 4, 2010
1/04/10
7:36
AM ET
Three things to know about Sunday's Ravens at Patriots wild-card playoff game:


1. Julian Edelman must sustain his Wes Welker impersonation.
The Patriots lost their MVP when Welker suffered a left knee injury Sunday against the Texans. Edelman, a rookie who played quarterback at Kent State, won't be able to replace Welker. But Edelman could mitigate Welker's absence enough to keep the Patriots' offense effective. Edelman had a rather Welker-like performance Sunday with 10 receptions for 103 yards. When the Patriots beat the Ravens in Week 4, Welker was coming off an injury that sidelined him for two games and caught six passes for 48 yards. Edelman had one reception for 12 yards.
2. Ravens passing offense shouldn't be a major threat.
The Patriots have been most vulnerable this season against prolific passers. In their five most-recent defeats, opposing quarterbacks aired it out against the Patriots' secondary.
Peyton Manning
,
Drew Brees
,
Matt Schaub
, even
Kyle Orton
and
Chad Henne
. The Dolphins, with one of the league's better running offenses, had Henne throw 52 times to beat the Patriots in Week 13. Ravens quarterback
Joe Flacco
is capable of a big day, but the Ravens are more comfortable on the ground. They ranked 18th in passing offense, but fifth in rushing offense.
3. A balanced attack worked well before.
The Patriots defeated the Ravens in Week 4 with a remarkably evenhanded offense. The Patriots ran 30 times and passed 32 times. Within those plays, the ball was spread around liberally. No running back had more than seven carries for 25 yards.
Tom Brady
completed passes to nine targets: four receivers, four backs and one tight end.