NFL Nation:

Ravens-Patriots 100409
January, 10, 2010
1/10/10
12:48
PM ET
The NFL assigned referee Gene Steratore to Sunday's playoff game between the
Baltimore Ravens
and
New England Patriots
in Gillette Stadium.
A few notes about Steratore and his crew from the 2009 regular season:
Their 176 penalties tied for the second-fewest among all 17 NFL crews.
Don't expect many yellow flags late in the game. Steratore and his men called an NFL-low 37 penalties in the fourth quarter, and one in overtime.
Much has been made about Ravens linebacker Ray Lewis' criticism of NFL officials for treating Patriots quarterback Tom Brady like a porcelain doll in Week 4. Steratore detected roughing the passer just three times this year, tied for third-fewest.
They called defensive pass interference only nine times (tied for third fewest) and offensive pass interference four times.
Defenses shouldn't get too grabby. Steratore's crew called nine defensive holding penalties, in the upper third.
The only calls that Steratore's crew called into the double digits were offensive holding (34), false start (31) and defensive offside (13).
January, 8, 2010
1/08/10
4:07
PM ET
AFC
:
Ravens-Patriots
:
Graham
|
Walker
»
Jets-Bengals
:
Graham
|
Walker
NFC
:
Cowboys-Eagles
:
Mosley
»
Packers-Cardinals
:
Sando
|
Seifert
Three nuggets of knowledge about Sunday's Ravens-Patriots wild-card playoff game:
Julian Edelman will do enough to help the Patriots cope with Wes Welker's injury.
I'm not going to debate analysts who've played the game about Welker's importance to the Patriots' offense. I selected him as my AFC East MVP. But I do believe too much is being made about his telepathy with
Tom Brady
. Yes, there will be a dropoff in chemistry from Welker to rookie Julian Edelman. A few more balls will hit the turf. But Edelman did manage to catch 10 of the 15 passes thrown his way Sunday. He's OK.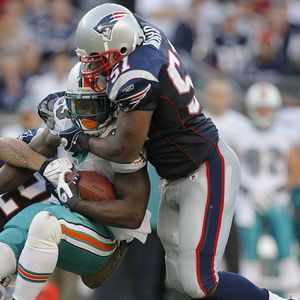 David Butler II-US PRESSWIREPatriots linebacker Jerod Mayo didn't play in Week 4 against the Ravens but will be patrolling the middle Sunday afternoon.
When remembering the Week 4 matchup, consider that Patriots linebacker Jerod Mayo didn't play.
The Ravens outgained Patriots 363-319. Ravens running back
Ray Rice
carried 11 times for 103 yards. You would expect those numbers to go down with Mayo on patrol in the middle of the defense. Last year's defensive rookie of the year suffered a knee injury on opening night and wasn't able to play in their first meeting.
Patriot tights ends are an X factor.
Benjamin Watson
and
Chris Baker
haven't contributed much to the box score all season. Then again, with a players such as Welker and
Randy Moss
in the lineup, there aren't a lot of passes to distribute around. In the three games Welker was unavailable (counting Sunday, when he went down in the first quarter), Watson and Baker combined for 11 of their 43 receptions and for 134 of their 518 yards. Calculate that pace over a full season, and Patriots tight ends grab a much more palatable 59 catches for 715 yards this year.
January, 4, 2010
1/04/10
7:36
AM ET
Three things to know about Sunday's Ravens at Patriots wild-card playoff game:


1. Julian Edelman must sustain his Wes Welker impersonation.
The Patriots lost their MVP when Welker suffered a left knee injury Sunday against the Texans. Edelman, a rookie who played quarterback at Kent State, won't be able to replace Welker. But Edelman could mitigate Welker's absence enough to keep the Patriots' offense effective. Edelman had a rather Welker-like performance Sunday with 10 receptions for 103 yards. When the Patriots beat the Ravens in Week 4, Welker was coming off an injury that sidelined him for two games and caught six passes for 48 yards. Edelman had one reception for 12 yards.
2. Ravens passing offense shouldn't be a major threat.
The Patriots have been most vulnerable this season against prolific passers. In their five most-recent defeats, opposing quarterbacks aired it out against the Patriots' secondary.
Peyton Manning
,
Drew Brees
,
Matt Schaub
, even
Kyle Orton
and
Chad Henne
. The Dolphins, with one of the league's better running offenses, had Henne throw 52 times to beat the Patriots in Week 13. Ravens quarterback
Joe Flacco
is capable of a big day, but the Ravens are more comfortable on the ground. They ranked 18th in passing offense, but fifth in rushing offense.
3. A balanced attack worked well before.
The Patriots defeated the Ravens in Week 4 with a remarkably evenhanded offense. The Patriots ran 30 times and passed 32 times. Within those plays, the ball was spread around liberally. No running back had more than seven carries for 25 yards.
Tom Brady
completed passes to nine targets: four receivers, four backs and one tight end.
October, 5, 2009
10/05/09
1:39
PM ET

Posted by ESPN.com's Tim Graham
This might be some sort of record.
In early balloting Monday afternoon,
Buffalo Bills
coach Dick Jauron is pulling down a 4 percent in the latest
SportsNation head coach approval ratings
.
That's dead last in the NFL and the worst number in the two years SportsNation has conducted the polls.
Four percent.
Genghis Khan wasn't that despised. Idi Amin was embraced more by his people. Spencer Pratt is adored by comparison.
Four percent.
Jauron's rating is 20 points lower than when Richard Nixon left office.
Bills fans loathed the guy last year, but his lowest rating for 2008 was 8 percent. So he was twice as popular then.
The Bills were manhandled 38-10 by the winless
Miami Dolphins
on Sunday. Dolphins coach Tony Sparano, a darling last year, so far has skyrocketed from 43 percent to 75 percent with the victory.
New England Patriots
coach Bill Belichick led all AFC East coaches Monday afternoon at 85 percent after knocking off the
Baltimore Ravens
.
New York Jets
coach Rex Ryan suffered his first loss and slipped from 92 percent to 76 percent in the early voting, which generally holds up through the week, give or take a couple of percentage points.
So Jauron actually could go lower than
4 flippin' percent
.
October, 5, 2009
10/05/09
12:56
AM ET

Posted by ESPN.com's Tim Graham
Rodney Harrison doesn't play favorites.
The blunt-talking former
New England Patriots
safety sided with
Baltimore Ravens
linebacker
Ray Lewis
when it came to calls that went the other way in a 27-21 Patriots victory in Gillette Stadium.
Lewis was incensed that Ravens linebacker
Terrell Suggs
was called for roughing the passer for brushing past
Tom Brady
's legs in the second quarter. A third-and-10 situation from the Baltimore 42-yard line turned into a first down at the 27-yard line. The Patriots scored a touchdown two plays later to take a 17-7 lead.
Brady essentially benefited from the so-called "Brady rule" that protects quarterbacks from being hit from the waist to below the knees.
Mike Freeman from CBSSports.com wrote a column on
Lewis' postgame eruption
.
"That's not football," Lewis said in the visitors locker room. "And that's the embarrassing part about it. Two great teams going at it, let them go at it. But you can't stop drives like that, you can't throw flags and say 'Oh, you touched the quarterback.' Put flags on them. Put a red buzzer on them so if we touch them, they're down."
Lewis said Brady gleefully remarked on the field that the call was "a cheap one."
"You do a double take," Lewis said. "It's embarrassing that [the Patriots] even know it. They even know, 'If you get close to me, guess what? I can look for a penalty.' Did that win or lose the game? No, but it damn sure helped them get 14 points. People work too hard for that. And the embarrassing part about it is you see it constantly, constantly every week: emphasis on protecting the quarterback. We're men, we put our pants on the same way. I got kids just like Brady got kids. Every man has kids. Treat them with that same respect.
"It's embarrassing for us to even keep a game going like that, give them momentum, after they go three-and-out. We stop them, see a flag for a personal foul and Brady's laughing? That ain't no personal foul if you're still smiling. Bottom line."
Harrison agreed with Lewis.
"Horrible call," Harrison said. "You can't make this call.
"Tom Brady, if you're listening, take off the skirt and put on some slacks. Toughen up."
Harrison triggered a feud
with
Terrell Owens
after calling the
Buffalo Bills
receiver "a clown" last week on "Football Night in America."
October, 4, 2009
10/04/09
8:29
PM ET
| | |
| --- | --- |
| | |
| | AP Photo/Elise Amendola |
| | New England quarterback Tom Brady took the plunge but got right back up Sunday, much to the relief of Patriot Nation. |

Posted by ESPN.com's Tim Graham
FOXBOROUGH, Mass. -- The
New England Patriots
felt like kids again.
"Billy [O'Brien] thought we could try to sneak it,"
Tom Brady
said.
"Tommy Boy,"
Randy Moss
said, "started it off with that quarterback sneak on the first touchdown, and that's what really got us started."
The play, and the one before it, were symbolic of where New England is after four weeks.
The Patriots are feeling spry after two straight victories that should remind everyone they still have it. New England held on to win a fabulous contest that wasn't decided until the Ravens were stopped on fourth down at the Patriots' 14-yard line.
Patriots playcaller Billy O'Brien told Tommy Boy Brady to go ahead and punch the ball into the end zone himself in the second quarter, a plunge that Moss referred to as the tone-setter in Sunday afternoon's
27-21 victory
over the
Baltimore Ravens
.
The win certainly wasn't child's play, but what we saw Sunday was the steadying of a franchise underpinned by its star quarterback's reconstructed left knee.
Brady led the Patriots on long drives (14 plays for a touchdown, 15 plays for a field goal) and short drives (two six-play drives for touchdowns). He ran it (another scramble went 7 yards for a first down) and threw it: 21-of-32 for 258 yards and one touchdown, his first of the season to Randy Moss.
The knee, we can safely say, no longer is an issue.
That's why Bill Belichick signed off on that quarterback keeper, and Brady didn't think twice about running it.
"Head to head with
Ray Lewis
," Brady said with a grin. "I certainly wasn't thinking that, going to bed last night and looking forward to today."
The sneak certainly wouldn't have been called in the preseason, when the Patriots still were learning how stable those two reattached knee ligaments would be. On Sunday, it seemed natural.
"I don't think I've ever lacked for confidence in anything," Brady said. "I'm out there because I feel like I can help the team win and to lead us. That's what I try to do every week."
Once was daring enough, but carrying the ball two plays in a row?
A play earlier, Gillette Stadium held its collective breath when Brady tucked the ball and ran to the right for 5 yards, sliding feet-first to narrowly escape getting decapitated by Lewis' right shoulder.
"Tom is a competitor and tough as hell," Patriots running back
Sammy Morris
said. "Tom is really tough. He's going to do what he's got to do to help us win the game.
"He's the 12 that we expect."
Gillette Stadium exhaled when Lewis came a millisecond away from detonating Tommy Boy. Patriots fans breathed a sigh of relief when they watched him plunge into the end zone from a yard out.
Brady's afternoon had to be comforting to Patriot Nation. There was some skittishness merely a couple weeks ago, but all is well as long as Brady's well.
They didn't deserve to beat the
Buffalo Bills
on opening night, but they did. The Patriots' offense was disoriented and failed to score a touchdown in a 16-9 loss to the
New York Jets
in Week 2.
Jets rookie quarterback
Mark Sanchez
played better than Brady that day, but the two-time Super Bowl MVP has rebounded with a pair of superb performances against two more young guns --
Matt Ryan
and
Joe Flacco
-- who could achieve similar status some day.
The Patriots have notched back-to-back victories over high-quality opponents to make their sputtering 2009 start look fluky, not the harbinger of a season that rounds the bend and trails them away from expectations of annual superiority.
Brady was noticeably more comfortable against the Ravens than he had been recently. Maybe it was because go-to slot receiver
Wes Welker
was back after missing two games with a knee injury. Maybe it was because receiver
Joey Galloway
was told not to suit up after months of looking lost.
The Patriots went into the Ravens game 28th in the league in red zone efficiency. They had scored touchdowns only 30.8 percent of the time they made it inside an opponent's 20-yard line. They scored touchdowns three of the five times they entered that territory Sunday.
"We've been shooting our own selves in the toes," Moss said. "We did some good things out there."
Brady and the Patriots' offense are coming around, just in time to face their old coordinator. Josh McDaniels has his
Denver Broncos
at 4-0.
A victory in Denver would give the Patriots three straight against unbeaten teams.
The Patriots can't be undefeated this year, but with Tommy Boy getting back to his 2007 form, it looks like he's turning back the clock.
October, 4, 2009
10/04/09
4:38
PM ET

Posted by ESPN.com's Tim Graham
FOXBOROUGH, Mass. -- Any notions of the
New England Patriots
toppling from the ranks of contenders should be hushed.


In a tremendous game that ended with a fourth-down defensive stand in the red zone, the Patriots reasserted themselves Sunday with a
27-21 victory
over the previously unbeaten
Baltimore Ravens
in Gillette Stadium.
Skepticism was plentiful two weeks ago, when the
New York Jets
denied
Tom Brady
's offense entry into the end zone to win 16-9 at the Meadowlands. The result was seen as a changing of the guard.
Maybe the Patriots, with all of their defensive changes and an obvious lack of offensive synchronicity, just didn't have it anymore.
They still have it. They rebounded from their Week 2 loss to beat the
Atlanta Falcons
and then followed up with another compelling performance over the Ravens, who entered Sunday ranked among the top seven in total offense, rushing offense, passing offense, total defense and rushing defense.
The Ravens did, however, rank tied for 17th in pass defense. Brady showed progress yet again in his steady recovery from reconstructive knee surgery. The Patriots deactivating receiver
Joey Galloway
helped make the offense look more cohesive than when he's on the field.
Brady completed 21 of 32 passes for 258 yards and a touchdown to
Randy Moss
.
Patriots slot receiver extraordinaire
Wes Welker
played for the first time in three weeks and had a team-high six catches for 48 yards.
Ravens quarterback
Joe Flacco
left 10 points on the field with a pair of errant throws in the second quarter. One was underthrown to
Derrick Mason
for a would-be 38-yard touchdown. Another was intercepted by
Leigh Bodden
on the Patriots' 9-yard line.
Mason had six catches for 77 yards and a spectacular touchdown catch on the opening drive, but was held to one catch for 11 yards the rest of the game.
October, 4, 2009
10/04/09
3:06
PM ET

Posted by ESPN.com's Tim Graham
FOXBOROUGH, Mass. -- Sometimes, the scoreboard can be misleading. Not this time.
In a battle of AFC contenders, the
New England Patriots
have been the better team through the first 30 minutes and lead the
Baltimore Ravens
17-7 at halftime in Gillette Stadium.
The Patriots have played well in most phases of the game and are capitalizing on Baltimore's mistakes. Ravens quarterback
Joe Flacco
has made two second-quarter boo-boos that turned surefire points into bupkis.
Flacco underthrew receiver
Derrick Mason
, who broke past cornerback
Leigh Bodden
's jam for what should have been a 38-yard touchdown pass. Patriots safety
Brandon Meriweather
tipped the pass away.
The Ravens should have tacked on at least a field goal at the end of the second quarter, but Flacco threw an interception to Bodden, who made a scintillating sideline grab.
New England also has benefited from untimely Baltimore penalties.
Tom Brady
has sprayed the ball around to six targets, completing 9 of 14 passes for 117 yards. Brady also ran for a touchdown -- just the sixth of his career -- and
Sammy Morris
scored from 12 yards out.
October, 4, 2009
10/04/09
2:58
PM ET
October, 4, 2009
10/04/09
2:43
PM ET

Posted by ESPN.com's Tim Graham
FOXBOROUGH, Mass. -- A frightening moment here in Gillette Stadium:
Baltimore Ravens
left tackle
Jared Gaither
was strapped to a gurney and rolled off the field after lying on the turf for about 15 minutes in the second quarter. Gaither's facemask was unfastened from his helmet, which was left on.
Replays showed the crown of
Gaither's helmet rammed
into quarterback
Joe Flacco
's back while pass blocking.
Gaither did have movement in his hands as he lay on the field.
I'll share an update when the Ravens release one.
Rookie right tackle
Michael Oher
has been flipped to the left side.
October, 4, 2009
10/04/09
11:43
AM ET

Posted by ESPN.com's Tim Graham
FOXBOUROUGH, Mass. -- The
New England Patriots
' defense spent the past few months getting younger.
Yet they could be on the verge of adding a 40-year-old.
ESPNBoston.com's Mike Reiss reports the Patriots gave
Junior Seau
a physical this week,
while the 12-time Pro Bowl linebacker was in the area
to film an episode of "Sports Jobs with Junior Seau." Seau was working as a Washington Capitals equipment manager for a game against the Boston Bruins at TD Garden.
Ever been in a hockey locker room when the pads are soaked in sweat? And he was washing jock straps. No wonder Seau is considering a return.
Seau had previously said he wanted to return to the Patriots, but not until November or December.
"This body can give you six games, but that's about it," Seau said two weeks ago on Sirius NFL Radio.
Seau said at the time he is working out four days a week.
"They understand that if they need any help going further into the postseason or in the midst of December, which is a crucial time ... I'll be able to look at it and we'll assess that as that happens," Seau said.
The Patriots could use some help on defense, but linebacker
Jerod Mayo
was back on the practice field in a limited capacity Friday, less than three weeks after suffering a sprained knee in the first half of the season opener.
Seau returned to the Patriots in December and played in their last four games. He started the last two, making 10 tackles in the finale.
October, 3, 2009
10/03/09
1:00
PM ET
| | |
| --- | --- |
| | |
| | AP Photo/David Duprey |
| | Many NFL players, like the Bills' Donte Whitner, show their support for breast cancer awareness by wearing pink. |

Posted by ESPN.com's Tim Graham
The moment his father called a family meeting,
Ryan Denney
knew something was wrong.
The Denney clan had gathered in their hometown of Thornton, Colo., for a happy occasion in March 2008. Brett Denney, a defensive end for Brigham Young University and little brother to
Buffalo Bills
defensive end Ryan Denney and
Miami Dolphins
long-snapper
John Denney
, was getting married.
The wedding was Saturday. The meeting was called for Sunday morning at their parents' home.
"I had a bad feeling," Ryan Denney said.
There, in the living room, patriarch Craig Denney delivered the sobering news to his children. Their mother had breast cancer. Two lumps had been found. Both were malignant.
"People were tearing up. It was quiet," Ryan Denney said recently in front of his stall in the Bills' locker room. "You need a minute to take it all in.
"Then our first reaction was 'What can we do to try and fight it? What are the options?' Fortunately, it was early enough that there was a good plan of attack."
Surgeons removed the lumps and some lymph nodes. She endured four months of radiation. But Sheri Denney survived.
"It's a touchy subject," Ryan Denney said, "but for us it's been very positive."
So often, breast cancer isn't discovered soon enough. Reminders to get mammograms are critical.
The NFL will use its influence -- and acquiesce some of its manliness -- to support National Breast Cancer Awareness Month in a highly visible way during this weekend's games.
As part of a campaign called "A Crucial Catch: Annual Screening Saves Lives," players will wear pink in an effort to drive home the importance of yearly mammograms for women 40 and older.
Players will wear pink cleats, pink wristbands, pink gloves, pink ball caps. Captain patches will be pink. So will the towels quarterbacks tuck into their waistbands. Coins used before the games will be pink. The padding around the goal posts will be pink.
"I'm more than comfortable with my manhood to wear pink shoes," Dolphins outside linebacker
Joey Porter
said. "I know we're going to auction them off and send the money from the proceeds of that. So whatever I can do to help in that situation is good. And I think it's a good cause."
New York Jets
quarterback
Mark Sanchez
is expected to wear pink cleats and throw spirals into receiver
Jerricho Cotchery
's pink gloves.
New England Patriots
running backs
Laurence Maroney
and
Fred Taylor
also have signed up for the pink gloves.
Others expected to wear pink cleats this weekend are quarterbacks
Brett Favre
and
Drew Brees
, receiver
Chad Ochocinco
and defensive end
Osi Umenyiora
.
"I think it's a great statement by the league and by the players and all of us that are putting our support behind something that hopefully can be better for everybody going forward," Patriots coach Bill Belichick said.
"I don't think I'll be in a pink hoodie, though, no."
Bills safety
Donte Whitner
won't be on the field Sunday because of a thumb injury, but he has clamped onto a pink mouthpiece since training camp. He does so to honor his grandmother, Rosetta, who died from lung cancer in March.
NBCAM.org, the Web site for National Breast Cancer Awareness Month, states an estimated 40,170 women will die from breast cancer this year, but there are about 2.5 million breast cancer survivors in the U.S.
The objective of "A Critical Catch" is to raise awareness and urge regular checkups. The flashes of pink amid all the testosterone-clouded action certainly will stand out.
"The NFL is a national stage," Ryan Denney said. "A lot of people will tune into the game, mostly men. But maybe those are the guys that need to be made aware if they have a wife, a mother, a loved one that they can ask 'Hey, mom, have you been checked out lately?' "
NBCAM.org cites two of the most common reasons women don't get checked are because their doctors don't mention it or because it simply never dawned on them.
Sheri Denney learned she had cancer because a friend badgered her into going along to a mammogram screening.
The fear that cancer might be discovered often causes women to procrastinate on getting a mammogram or to avoid one completely.
"That was one of the reasons my mom was hesitant to go get tested: The only thing you're going to find out is that you have a problem," Ryan Denney said. "So if you don't get tested, you don't have a problem.
"You hate to think that in six months or two years down the road she gets sick and goes in to the hospital. Then it's maybe too late."
NFL SCOREBOARD
Sunday, 2/2
WEEKLY LEADERS