February, 14, 2011
2/14/11
1:00
PM ET
With the offseason in full swing, let's take a look at one major question facing each NFC West team as it begins preparations for the 2011 season:

ARIZONA CARDINALS
What happens to the offensive line?
We've been
asking
,
answering
and
asking
some
more
questions about the Cardinals'
quarterback situation
for months. Let's tap a few brain cells to discuss the guys up front.
Center
Lyle Sendlein
and right guard
Deuce Lutui
are without contracts for 2011. Left guard
Alan Faneca
might retire. Right tackle
Brandon Keith
is coming off hamstring and knee injuries that shortened his first season as a starter. The Cardinals do not have fresh talent in reserve. They have drafted only one offensive lineman in the first four rounds since Ken Whisenhunt became head coach in 2007. Twenty-seven teams have drafted more. As much as the team trusts assistant head coach Russ Grimm to get the most from its offensive line, Arizona could use fresh young talent for him to groom.
The Cardinals went through the 2010 season with the NFL's oldest offensive linemen, counting backups. That wouldn't matter so much if left tackle
Levi Brown
were meeting the Pro Bowl expectations that came with his status as a top-five overall selection in the 2007 draft. Brown was underwhelming at right tackle to begin his career and a liability at left tackle last season. His salary balloons in 2012, so this could be his last season in Arizona.

ST. LOUIS RAMS
Can the defense take the next step?
The Rams allowed 328 points last season, tied for the third-lowest total since the team moved from Los Angeles for the 1995 season. They allowed seven rushing touchdowns, their lowest total since 1999 and down from 50 combined over the previous two seasons. But with starting defensive linemen
James Hall
and
Fred Robbins
turning 34 this offseason, and with questions at linebacker, the Rams' defense will not automatically go from competitive toward dominant.
Hall will be looking to become the 14th player since 1982 (when the NFL began tracking sacks as an official stat) to collect 10 sacks in a season at age 34 or older.
The others
: Trace Armstrong, Chris Doleman, William Fuller, Kevin Greene, Rickey Jackson, Ed "Too Tall" Jones, Tony McGee, Steve McMichael, John Randle, Warren Sapp, Bruce Smith, Michael Strahan and Reggie White.
Robbins is coming off one of his finest seasons. He joined
Keith Traylor
,
Jeff Zgonina
and
Ray Agnew
among defensive tackles to set
career highs for sacks
at age 32 or older in the free-agency era (since 1993).
Getting similar production and continued good health from two older players is no given. The Rams also need to find help at outside linebacker after losing 32-year-old
Na'il Diggs
to a torn pectoral muscle 12 games into the 2010 season. The Rams are set at middle linebacker with
James Laurinaitis
, but they could stand to upgrade around him.

SAN FRANCISCO 49ERS
How well can Jim Harbaugh coach up a quarterback?
When the 49ers' new coach needed a quarterback at Stanford, he recruited one. Andrew Luck set records and led the Cardinal to national prominence. Recruiting isn't a significant part of the equation in the NFL, so Harbaugh will have to settle for the best quarterback he can draft or otherwise acquire. He might even have to give
Alex Smith
a shot.
The 49ers will need Harbaugh to do what his recent predecessors could not: get good production from limited or flawed talent at the most important position.
Rich Gannon was well-established as an NFL quarterback when Harbaugh arrived as his position coach in Oakland for the 2002 season. The pairing reflected well on all parties. Gannon set career highs for completed passes, attempts, completion percentage, passing yards and passer rating. Gannon was already a good quarterback and the Raiders were already a good team, so it's tough to measure Harbaugh's impact.
Gannon is long since retired. Harbaugh is back in the NFL for the first time since the two were together on the Raiders in 2003. The 49ers don't have a legitimate starting quarterback under contract. Harbaugh has been meeting with Smith and keeping open his options. The stakes are high in the short term because the 49ers have enough talent elsewhere on their roster to compete for a playoff spot.
Outside expectations for Smith are so low that Harbaugh could appear heroic if he could get even a 9-7 record out of the 49ers with Smith in the lineup.

SEATTLE SEAHAWKS
How much more roster turnover lies ahead?
The Seahawks were fearless in overhauling their roster during their first year under general manager John Schneider and coach Pete Carroll.
The team added
Marshawn Lynch
,
Leon Washington
,
Chris Clemons
,
Stacy Andrews
,
Tyler Polumbus
,
Kentwan Balmer
,
Kevin Vickerson
,
Robert Henderson
and
LenDale White
, though Seattle parted with Vickerson, Henderson, White and 2009 regulars
Deion Branch
,
Julius Jones
,
Owen Schmitt
,
T.J. Houshmandzadeh
,
Josh Wilson
,
Lawrence Jackson
,
Rob Sims
,
Darryl Tapp
,
Deon Grant
and
Seneca Wallace
. The Seahawks watched a couple other starters,
Nate Burleson
and
Cory Redding
, leave in free agency.
If those were the moves the Seahawks felt comfortable making right away, I figured there would be quite a few to come after the team's new leadership watched players for a full season. And there still could be, but similar wheeling and dealing could be impractical or even impossible if the current labor standoff continues deep into the offseason.
Teams cannot make trades without a new labor agreement. They cannot know for sure whether or not a salary cap will come into play as part of any new deal. It's just tough to act as decisively as Seattle acted last offseason without knowing the rules. That's a disadvantage for Seattle and other teams with much work to do this offseason.
December, 27, 2010
12/27/10
10:13
AM ET
ST. LOUIS --
Fred Robbins
' sixth sack of the season Sunday gave the
St. Louis Rams
' veteran defensive tackle a career high at age 32.
It also highlighted the significant contributions St. Louis is getting from two defensive linemen thought to be past their primes.
Defensive end
James Hall
, 33, collected 1.5 sacks Sunday, giving him 10.0 for the season.
Hall joins a short list of players to reach double-digit sacks at that age since sacks became an official stat for the 1982 season.
The others
:
Trace Armstrong
,
Rob Burnett
,
Richard Dent
,
Chris Doleman
,
William Fuller
,
Kevin Greene
,
Rickey Jackson
,
Leslie O'Neal
,
John Randle
,
Warren Sapp
,
Bruce Smith
,
Michael Strahan
,
Jason Taylor
and
Reggie White
.
Robbins, signed in free agency from the
New York Giants
, joins
Keith Traylor
,
Jeff Zgonina
and former Ram
Ray Agnew
among defensive tackles to set career highs for sacks at age 32 or older in the free-agency era (since 1993). The Rams are not particularly deep at defensive tackle. Their defense would have a hard time holding up without Robbins, in my view.
The team needs to draft fresh talent at the position. In the meantime, Robbins is providing the steady play Rams coach Steve Spagnuolo sought when he reconnected with Robbins, a player he coached with the Giants.
Robbins has also set a career high with seven passes defensed.
May, 7, 2010
5/07/10
4:15
PM ET
In honor of the
Oakland Raiders
dumping quarterback
JaMarcus Russell
three years after they drafted him No. 1 overall, I've put together a list of each AFC East team's biggest busts.
These are my picks, and they're open for debate. Add your picks in the comments section below.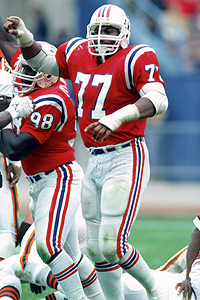 George Gojkovich/Getty ImagesNew England drafted Kenneth Sims with the first overall pick in 1982.
Buffalo Bills
1. Walt Patulski, defensive end
(first overall, 1972): Who? Exactly the point. He played four uninspiring years for the Bills and one more for the St. Louis Cardinals.
2. Mike Williams, tackle
(fourth overall, 2002): A good case can be made for Williams to be at the top of this list. He spent four mediocre seasons at right tackle, not even making it over to the blindside.
3. Tony Hunter, tight end
(12th overall, 1983): In arguably the greatest first round in NFL draft history, the Bills managed to find a dud two slots ahead of the pick they used on
Jim Kelly
. Hunter lasted two seasons in Buffalo, starting 12 games and catching 69 passes.
4. Terry Miller, running back
(fifth overall, 1978): It's tough to replace O.J. Simpson, but the Bills thought they had their man with Miller. He rushed for 1,060 yards and seven touchdowns as a rookie. Over his next -- and final -- three seasons combined, he rushed for 523 yards and one touchdown.
5. Perry Tuttle, receiver
(19th overall, 1982): In two seasons with the Bills, he managed four starts and 24 receptions. Taken one slot after him was Mike Quick.
Miami Dolphins
1. Eric Kumerow, defensive end
(16th overall, 1988): Three seasons, zero starts, five sacks.
2. Billy Milner, tackle
(25th overall, 1995): He lasted two NFL seasons, starting nine games at right tackle as a rookie. In his second season, the Dolphins traded him to the
St. Louis Rams
for
Troy Drayton
. The Rams cut Milner, who retired.
3. Sammie Smith, running back
(ninth overall, 1989): He showed promise here and there, rushing for 831 yards and eight touchdowns in his second season. But he was hated by Dolfans for his costly fumbles.
4. Jason Allen, defensive back
(16th overall, 2006): He has made a dozen career starts and contributes most of his time to special teams.
5. Yatil Green, receiver
(15th overall, 1997): I nearly listed Ted Ginn here, but he added value as a return specialist and actually won a game for the Dolphins last year. Green's career lasted eight games.
New England Patriots
1. Kenneth Sims, defensive end
(first overall, 1982): Sims played a full season just once in his eight seasons and played three games or fewer three times. He recorded 17 sacks
2. Eugene Chung, offensive lineman
(13th overall, 1992): Chung started 14 games as a rookie and all 16 as a sophomore, but that was all. Chung played three games in 1994 and was gone.
3. Chris Singleton, linebacker,
and
Ray Agnew, defensive tackle
(eighth and 10th overall, 1990): I couldn't pick one without the other. The Pats traded the third overall pick to the
Seattle Seahawks
for these two. The Seahawks took future Hall of Famer
Cortez Kennedy
. In between Singleton and Agnew, the Dolphins drafted potential Hall of Fame tackle
Richmond Webb
.
4. Hart Lee Dykes, receiver
(16th overall, 1989): Two seasons, 18 starts, 83 receptions, seven touchdowns, out of football.
5. Andy Katzenmoyer, linebacker
(28th overall, 1999): A neck injury was at issue, but he left the team without permission and was cut after his second season. He made 14 starts.
New York Jets
1. Blair Thomas, running back
(second overall, 1990): Over four seasons with the Jets, he rushed for five touchdowns.
2. Johnny "Lam" Jones, receiver
(second overall, 1980): He finished his career with 138 receptions for 2,322 yards and 13 touchdowns.
Art Monk
might've been the better choice.
3. Dave Cadigan, guard
(eighth overall, 1988): He spent six seasons with the Jets, but he totaled 13 starts through his first three seasons. The
Minnesota Vikings
found Hall of Fame guard
Randall McDaniel
with the 19th pick.
4. Reggie Rembert, receiver
(28th overall, 1990): A triple whiff. The Jets couldn't sign Rembert and were forced to deal him. They sent him to the
Cincinnati Bengals
for offensive lineman Scott Jones and linebacker
Joe Kelly
. Rembert finished his career with 36 catches and one touchdown.
5. Alex Van Dyke, receiver
(31st overall, 1996): I considered
Vernon Gholston
here, but went with Van Dyke based on his 26 career catches and three receivers taken soon after him.
Amani Toomer
,
Muhsin Muhammad
and
Bobby Engram
did OK.