September, 2, 2010
9/02/10
11:21
PM ET
Some bullet-point thoughts on the Colts' 30-28 preseason loss to Cincinnati on Thursday night.
The Colts sat 32 players.
The kick and punt return candidates didn't seem to do a whole lot to differentiate themselves. Devin Moore took two punts 4 yards and Brandon James took one punt 2 yards. Those two and Ray Fisher all had averages between 17.5 and 25 yards on kickoffs.
James and Tom Brandstater certainly had nice statistical nights, linking up for three touchdowns and a 2-point conversion in the final 20 minutes of the game.
Indy gave up a 93-yard touchdown run to Cedric Peerman and didn't get a run longer than Javarris James' 12-yarder.
Even playing a large share of guys who will be cut by Saturday, the Colts played pretty clean. They committed just three penalties worth 30 yards, while Cincinnati had 11 for 99.
August, 20, 2010
8/20/10
8:04
AM ET
Sometimes geography and TV schedules make seeing a preseason game impossible. In New Orleans, I was unable to see the Indianapolis-Buffalo game. But from highlights, write-ups and statistical review, here are some bullet-point thoughts on the Colts'
34-21 loss
to Buffalo on Thursday night in Toronto.


Impressive:
Disappointing:
Dwight Freeney and Antoine Bethea were among the players who slipped off of C.J. Spiller during the rookie's 31-yard touchdown run.
The Colts stutter-started with early penalties against Ramon Humber and Tony Ugoh and a Manning tipped-ball interception that was returned for a touchdown.
Just one sack, from Eric Foster.
Three lost fumbles, including one from Ray Fisher who's trying to win a return job.
Not that they care, but ... this was Indy's 21st loss in its last 25 preseason games.
AFC East wizard Tim Graham was there to look at things from a Buffalo perspective. Here are
his notes
and
his column
on Spiller.
May, 5, 2010
5/05/10
1:58
PM ET
In honor of
Tim Graham's idea
to honor Cinco de Mayo with five random thoughts, here are five random thoughts on the AFC South:
1) I wonder how much Pete Metzelaars will carry over Howard Mudd's thinking about offensive linemen, and how much he will stray from it. Mudd was way down on
Tony Ugoh
, who may get a whole new second chance after Mudd's retirement. Metzelaars replaces a legendary assistant, but is going to have leeway to put his stamp on things. Four of five incumbent starters are back, but I feel like only one is absolutely assured of being in the same spot: center
Jeff Saturday
.
2) There are a lot of great Twitter guys in the AFC South rookie classes, but I think the Texans'
Ben Tate
(
@BenTateRB
) is the early leader for his combination of quality and quantity. He's shown confidence and a lot of respect at the same time in what I've read, reaching out to several NFL guys to introduce himself or connect. If he's the productive running back the team expects, adding his personality to that is going to make him very popular in Houston very quickly.
[+] Enlarge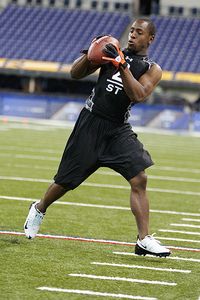 AP Photo/Michael ConroyThe Texans are hoping that pint-sized speedster Trindon Holliday can spark their return game.
3) The ability of the Texans, Titans and Jaguars to close the gap on the Colts could come from new special-teams sparks. I'm anxious to see
Trindon Holliday
,
Damian Williams
and
Scotty McGee
at work. The Colts downplayed their own attempts to address the return spots, by
Ray Fisher
may be an answer. How those four stack up comparatively could have a correlation to the standings.
4) Titans sixth-round quarterback
Rusty Smith
could create a lot of buzz in training camp. He's the fourth guy now, but will wind up third unless he implodes. I saw him in a very limited window at a small, all-rookie practice. But between that and what the Titans have said about him, I expect people who love a drop back, pocket passer with a big arm (I admit I do) are going to fall in love with him. And if or when
Vince Young
struggles, a faction will emerge that prematurely asks about Smith's potential to get on the field.
5) Pot Roast's backside is a concern. Jaguars defensive tackle
Terrance Knighton
had an impressive rookie year and can really stop the run. He's hard to move, but also has to be able to move. And his backside was huge at Jaguars' minicamp last weekend. He's listed at 325. I think they'd like him to be 325. I feel certain he's well above 325.
April, 24, 2010
4/24/10
7:05
PM ET
After talking about how he
wouldn't devote
a pick to a guy who was primarily a returner, Bill Polian spent pick No. 246 at the end of the seventh round on Indiana corner Ray Fisher.
Surely the Colts expect he can play on defense, but he's got a kick returner background and will certainly get in the mix there.
"I bring a lot of excitement," Fisher said. "I know I can bring a lot of excitement to Indianapolis. I'm not saying they don't have great players, but they haven't had that big, impact kick returner, and I think I can bring that to the team."