February, 13, 2014
Feb 13
10:00
AM ET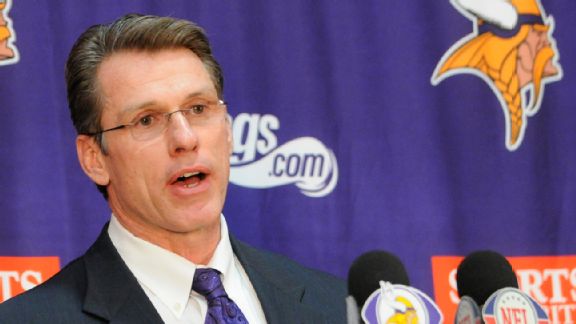 AP Photo/Jim MoneThe success of the next Minnesota Vikings quarterback may determine the legacy of general manager Rick Spielman.
MINNEAPOLIS -- In his 17 years as a member of NFL front offices, through a career that's spanned three teams and taken him through two convoluted power structures,
Minnesota Vikings
general manager Rick Spielman might never have had more influence over a team than he does right now.
Vikings ownership scrapped its disjointed "triangle of authority" structure in 2012, elevating Spielman from vice president of player personnel to general manager and giving him full control over personnel decisions. The Wilf family decided not to give coach Leslie Frazier a contract extension after a surprising 10-6 season in 2012 and fired him after a 5-10-1 season in 2013. Spielman got to pick his own coach for the first time in his career, hiring well-respected former
Cincinnati Bengals
defensive coordinator Mike Zimmer, and heads into the 2014 draft with four of the top 100 picks, including the No. 8 overall selection.
Spielman could use that pick to take the highest-drafted quarterback in Vikings history. If he does, he could also be making the selection that defines the rest of his tenure as the Vikings' GM.
The biggest hole in Spielman's résumé with the Vikings -- which includes an otherwise commendable record on first-round picks, a shrewd trade for DE
Jared Allen
, and what appears to be a good return on dealing WR
Percy Harvin
-- is his inability to find a long-term solution at quarterback. Spielman came to the Vikings shortly after the team had used a second-round pick on
Tarvaris Jackson
, and didn't have to devote a high pick in the draft to a QB until the end of
Brett Favre
's two-year run triggered a youth movement in 2011. And now the Vikings appear to be acknowledging that the decision to pick
Christian Ponder
12th overall in 2011 was a mistake.
"I haven't got it right yet. We've worked as hard as we could to try to get that right," Spielman said after the Vikings fired Frazier on Dec. 30. "I wish that you could get a quarterback [easily], and it's not. It's maybe the most difficult position to fill, but we're going to do everything and use every resource we can to try to get that corrected."
Spielman will have veteran offensive coordinator Norv Turner helping him this time, and the GM might rightly conclude that the best decision is to take a defensive player in the first round, come back to draft a quarterback later and let him develop without the expectations (and guaranteed money) that often drive a first-round pick into action right away. But the Vikings would have to bring
Matt Cassel
back on a new deal or go another route if they want to have a veteran quarterback on their roster next year, and trading for a player like
Kirk Cousins
or
Ryan Mallett
would cost the Vikings at least a midround pick while offering few guarantees. More than ever, it's incumbent upon Spielman to get it right at a position he's struggled to fill since his days in Miami.
During his five seasons with the Dolphins, Spielman initiated the first of his two trades for
Sage Rosenfels
, a move he'd repeat with the Vikings. Spielman had a hand in the acquisitions of
Ray Lucas
and
Brian Griese
, and in 2004 -- his only season as the Dolphins' full-fledged GM -- Spielman dealt a second-round pick to Philadelphia for
A.J. Feeley
, only to watch the quarterback fail to hold the starting job as the Dolphins slipped from 10-6 to 4-12.
The Dolphins' 2004 season went awry in part because running back
Ricky Williams
went AWOL before the season, but a clear direction at quarterback might have helped the offense weather the loss of its best player. And for all of the Vikings' defensive issues -- and running back
Adrian Peterson
's nagging injuries -- along the way in their fall from 10-6 to 5-10-1 in 2013, there's a convincing argument to be made that the team could have won a mediocre NFC North if it had stability at quarterback. Frazier seemed to be making that point on his way out of town, leaving some strong hints that responsibility for the quarterback situation -- and who started games there in 2013 -- should be borne by more people than just him.
Frazier, of course, is gone now, and Spielman got his chance to build a more seamless football department by picking his own coach. He has outlived his gaffe on Ponder, and he has more than $20 million of cap space with which to mold the roster this spring. Ownership seems firmly behind him, and as the Vikings move toward the opening of their new stadium in 2016, their direction is firmly under Spielman's control.
But the stigma of his misses at quarterback still follows him around, and if he can't get the position right this time around -- especially if he makes what turns out to be a bad investment with the eighth overall pick -- he likely won't get another chance to change his reputation. General managers can often survive at least one coaching change, but the best ones extend their careers by finding quarterbacks.
To his credit, Spielman seems to know he needs to fix the position. All that's on the line is all he's built for himself in his time with the Vikings.
"I have confidence we'll get this quarterback situation resolved. I really do," he said on Dec. 30. "What that answer is right now, I'm not going to have those answers until we get the coach in place. And when we sit down and delve into what we have at this position -- what is potentially out there in free agency? What is the draft class? Those answers will all come in time."
April, 18, 2011
4/18/11
3:09
PM ET
HBO will share Ray Lucas' story on the next edition of "Real Sports," which will debut Tuesday night.
[+] Enlarge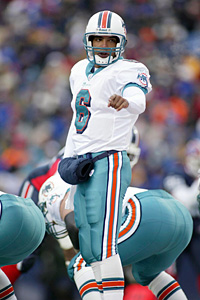 US Presswire file photoRetired QB Ray Lucas has struggled with an addiction to painkillers since leaving the NFL.
Over the past couple months, I've relayed
Facebook updates of Lucas' addiction to prescription painkillers
and his attempt to get clean at a facility in West Palm Beach, Fla. The former New England Patriots, New York Jets and Miami Dolphins quarterback had been giving a brutally frank glimpse into his experience.
"Real Sports" correspondent Armen Keteyian met with
Lucas to talk about Pain Alternatives, Solutions and Treatments (PAST)
, the New Jersey medical group that performed neck surgery on Lucas in September and helped him through rehab.
In a transcript excerpt provided by HBO, Lucas admitted he considered killing himself before he hooked up with PAST. He thought about driving off the George Washington Bridge and into the Hudson River below.
"I was thinking 'Go on the GW, make a right in the middle.' You know what I'm saying?" Lucas said. "Just screw it. I didn't want to kill myself in the house because the girls would be there."
Lucas became addicted painkillers while trying to cope with injuries accumulated over eight NFL seasons. He was a gritty quarterback who wasn't afraid to run out of the pocket and challenge defenders.
"I'm bankrupting my family because I needed the medicine," Lucas said. "I mean there was times when I was going to shave and I couldn't shave because I didn't like who I was staring back at. I wanted to punch him right in the face."
Lucas described how he would appear to be just fine as a television analyst for SNY. He was able to
conceal his problem well enough to recently win an Emmy Award
for his work.
"I would stop taking the pills the night before," Lucas said, "but when I got off the [SNY] set, and going to get my truck and drive home, I was taking about a handful, 15, 16 pills at a time.
"You know, 450 pills a month is not a game, that was my life. That was my life every friggin' day. And the only time I got out of bed was to go do my TV show, the only time. So family life, was none. Father, wasn't there. Husband, not there."
February, 9, 2011
2/09/11
11:40
AM ET
A public confession wasn't enough for
Ray Lucas
. He wants people to know the wicked details of what it's like to deal with addiction.
[+] Enlarge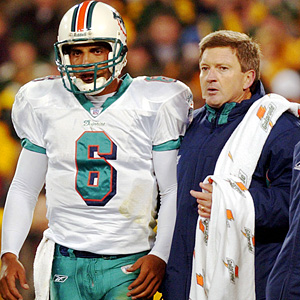 AP Photo/Andy ManisFormer NFL QB Ray Lucas played in 53 games over six seasons. He threw 18 touchdown passes and 17 interceptions for a career passer rating of 74.3.
Lucas developed an addiction to painkillers while coping with injuries suffered while playing for three AFC East teams. He has checked into a rehab facility in West Palm Beach, Fla., and is posting a
daily journal of his recovery on Facebook
.
Lucas had neck surgery in September in an attempt to alleviate chronic pain. Before the operation, New York Daily News reporter Michael O'Keefe wrote about
Lucas' plight in a story headlined "King of Pain."
After six seasons with the
New England Patriots
,
New York Jets
and
Miami Dolphins
, Lucas battled intense headaches, back spasms, sciatica, depression and an addiction that drained his NFL bankroll.
September's neck surgery was performed by
Pain Alternatives, Solutions and Treatments (PAST)
. The New Jersey medical group reportedly has done nearly $2 million in pro bono surgeries for uninsured former athletes. Treatment also includes chiropractic care, counseling and -- at least in Lucas' case -- drug recovery.
Lucas spent Super Bowl week in the Metroplex. The ESPN 1050 and SNY-TV host worked Radio Row, conducted interviews about the big game, and shared his thoughts on assorted NFL issues.
He then went straight to Behavioral Health of the Palm Beaches for treatment. He traveled with PAST director Jennifer Smith and former
Tampa Bay Buccaneers
center Randy Grimes, who has gone through painkiller recovery. An ESPN-commissioned study showed
retired NFL players misuse painkillers at a rate of 4-to-1
compared to the general public.
Lucas took a lot of hits because of his scrambling style of play. He wasn't drafted out of Rutgers, but Bill Parcells kept him around as a special-teams player for the Patriots in 1996. Lucas migrated with Parcells to the Jets and had his most memorable year. In 1999, he went 6-3 as a starter and completed 59 percent of his passes for 14 touchdowns and nine interceptions. He also rushed for 144 yards and a touchdown.
Lucas has provided four Facebook updates so far. Here they are, unedited (aside from a profanity):
Saturday:
"At the airport in Dallas with Randy Grimes & Jen Smith heading to BHOP to start treatment for my pain killer addiction that was caused by my NFL injuries . I am s------- in pants. I can't beleive it is time. Monday I was ready to go but now that I have to go I can't leave cause Randy Grimes will tackle me & i and my wife would kill me . Ready to board. Follow my journey through the process on FB . More later ."
Saturday:
"I arrived in Fla.Randy tells me not to be nervous but that is impossible I am in the car on my way to BHOP/Seaside. Nervous about everything, my palms are sweating. This weather will be good for my body. Got a text from my mom she & my family are relieved I am here. I am on my way to start my life over. Can't believe all the FB responses already its a good sign & the support is needed."
Monday:
"The end of day 2 detox. The symptoms of detox are taking hold ,I am in a lot of pain & everything hurts.This gets me scared. This place is amazing, having another player, Randy Grimes, who has been through it by my side is a difference maker. Today in a session for the first time in my life I was dealing with the emotional impact of my departure from the NFL .This is the start of the fight & I AM WILLING TO FIGHT!"
Tuesday:
"Day 3 of detox was filled with a lot of anxiety. I was moved from the detox unit into the Seaside condos to start full days of various therapy sessions, group meetings & other treatment. I am nervous & feeling on edge. I met my therapist, it was a very emotional time a lot of feelings coming to the surface . I am drained. More later. Thanks everyone for the support."
January, 17, 2011
1/17/11
12:17
AM ET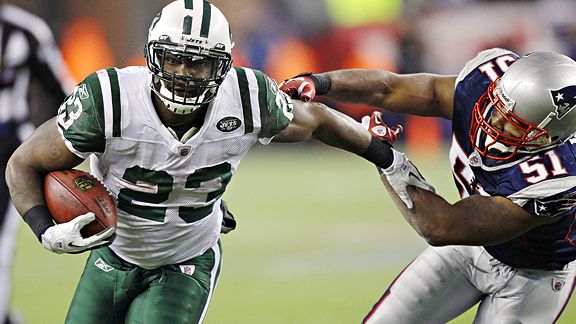 AP Photo/Stephan SavoiaShonn Green and the Jets gained fewer yards than the Patriots on Sunday, but still ran all over the AFC's No. 1 seed.
FOXBOROUGH, Mass. -- Music was blaring when the
New York Jets
swung open the steel door to the visitors locker room in Gillette Stadium.
"On to the Next One" by Jay-Z and Swizz Beatz was an appropriate anthem. The Jets had done away with the
New England Patriots
in such
a shockingly easy manner
Sunday night. Next up, the
Pittsburgh Steelers
at Heinz Field for the honor of representing the AFC in the Super Bowl.
The Jets trailed by a field goal for less than six minutes in the first half and led by two scores for most of the game. They eliminated the top-seeded and preordained Patriots from the playoffs 28-21 and avenged that mortifying 42-point loss six weeks earlier on "Monday Night Football."
As reporters filed into the locker room, Jets safety
James Ihedigbo
's voice could be heard above the cocksure lyrics and thumping bass.
"They all doubted us!" Ihedigbo yelled over and again. "They all doubted us!"
Yes, we most certainly did. I'm most definitely included.
There will be a crow shortage in butcher shops across the country. I'm eating mine with a little Caribbean jerk sauce as I write this. It's a bit gamey.
With conviction, I wrote and said on television and radio throughout the past week the Jets would not win. Like so many of you, I was
certain the Patriots would smack them around
. Sure, I gave conciliatory analysis on how the Jets
could
win: dominate on the ground, dominate on third downs and Jeff Gillooly kneecapping
Tom Brady
during the national anthem.
But as I mentioned in my weekly AFC East chat,
people in their right mind couldn't predict the Jets
to win Sunday after watching them get razed in Week 13.
Not even Jets icon Joe Namath could bring himself
to pick the Jets.
"There was nobody in this room that picked us," Jets outside linebacker
Jason Taylor
said. "Except us."
But Taylor also acknowledged how difficult it would have been for outsiders not to side with the Patriots.
"They beat the crap out of us," he said.
That Week 13 loss was so awful that
Jets coach Rex Ryan held a funeral for the game ball
out on the practice field.
Saturday night on ESPN 1050 in New York, Bonnie Bernstein and I made fun of her co-host, former Jets quarterback
Ray Lucas
, for being a homer and forecasting a Jets victory.
Really, Ray? A sane human being? I could sense Rutgers purging his transcripts while he spoke such kookiness.
No team in NFL history had lost by at least
35 points in the regular season and then won a rematch
in the playoffs. In each of the previous five instances, the losing team lost by at least two scores in the rematch.
Even so, the Jets wouldn't be denied. They
backed up their boastful claims and profane insults
and walloped the Patriots in their own building.
"We beat them the first game, check. They came back and beat us, check," Jets linebacker
Bart Scott
said. "We came in when it counted the most, checkmate."
As Scott spoke, Ihedigbo kept at it: "They all doubted us, Bart!"
"We just let you guys build them up, let them read those things," Scott continued, "and
Wes Welker
can go kick rocks."
The Jets won, as many prognosticators said they
perhaps could
, by running well (120 yards) and converting third downs (46 percent compared with the Patriots' 36 percent).
"You all probably thought I was arrogant and just talking out the side of my face," Scott said of the bold proclamations the Jets made during the week. "Look at our roster, look at their roster. We got better players all across the field.
"Perception isn't reality all the time. I guess the cream rised to the top."
[+] Enlarge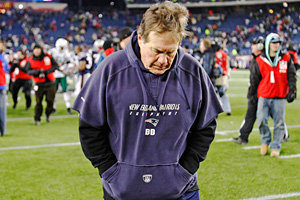 AP Photo/Michael DwyerNew England coach Bill Belichick's Patriots dropped two out of three to the rival New York Jets this season.
Freak injuries didn't befall Brady, but he did have another pedestrian postseason game. He has lost three in a row, dating back to his lone Super Bowl loss.
Ryan highlighted Brady's recent mediocrity while preparing for the game. He showed the Jets that Brady was fallible by broaching the stats from the Patriots' previous three postseason games. Brady averaged 5.1 yards per attempt, had more interceptions than touchdowns and a 66.8 passer rating.
Before Brady completed five of seven attempts for 59 yards and a touchdown against the Jets' prevent defense on the final drive of the game, he was averaging 3.2 yards less per attempt than he did in the regular-season and had a 78.8 passer rating, 32 points below his regular-season number.
The Jets sacked him five times.
Shaun Ellis
got him twice.
"This was the quarterback that couldn't be touched," Scott said. "You guys talk about how great he's playing, but you know what Rex pulled out for us were his last three playoff games and what his record was and what his ranking was then.
"You guys didn't look deep enough into the notes. That's what we leaned on. We knew we had more playoff experience than that team. We knew that when the pressure was on those young guys wouldn't be able to play at a high level. We've been there, done that."
The Patriots also made some in-game blunders. On their 38-yard line, Patriots safety Patrick Chung botched a direct snap on a fake punt with 1:06 left in the first half. Four plays later, Jets quarterback
Mark Sanchez
connected with
Braylon Edwards
for a 15-yard touchdown and 14-3 halftime lead.
Patriots coach Bill Belichick refused to discuss the fake punt.
"You got the guru on the other side," Scott said sarcastically. "You talk about how great he is. Maybe you guys'll start giving our coach some credit for knowing what he's doing.
"I love my coach. Let me tell you something: I would die for that man."
Sanchez was efficient in a stadium where he'd never won before. In fact, Sanchez had one touchdown and seven interceptions in his prior Foxborough visits. Sunday, he completed 16 of his 25 attempts for 194 yards and three touchdowns.
The Jets' defense was strong despite their offense having the ball nearly 10 minutes less than the Patriots. The Patriots ran 78 plays to the Jets' 54, a ratio that would seem to favor Brady. But the Patriots converted only five third downs, two in the first half.
Subtract 11-yard runs from receivers
Brandon Tate
and
Julian Edelman
and the Patriots averaged 3.5 yards a carry.
The Jets were the better team in every phase of the sport. They walked the walk. Sanchez, not Brady, took a snap out of the victory formation and took a knee to run out the clock.
The Patriots will clean out their locker stalls this week.
"The people that say bad things about us, who doubt us, who think we're clowns just running around and talking," Jets outside linebacker
Calvin Pace
, "they don't know the character of the guys in this room.
"It was us against the world, coming in here. But we did it. We're on to Pittsburgh."
November, 18, 2010
11/18/10
4:21
PM ET
Buffalo Bills
fans thought they had it rough, trying to find a semblance of quarterback stability since their Hall of Fame quarterback retired in 1996.
With
Tyler Thigpen
about to become the
Miami Dolphins
' third starting quarterback of the season, it's time to dust off that long list of quarterbacks to have started since
Dan Marino
hung up that weird boxing-boot cleat after the 1999 season.
Thigpen will be the 15th quarterback to start a game for Miami since Marino retired.
Only twice in those 11 seasons has a quarterback started all 16 games. Those "perfect seasons" came seven years and 11 new starting quarterbacks apart. The Bills at least had
Drew Bledsoe
starting 48 straight games from 2002 through 2004.
This will be the fourth season in which at least three quarterbacks started for the Dolphins since Marino retired.
2000:
Jay Fiedler
(15),
Damon Huard
(one)
2001: Fiedler (16)
2002: Fielder (10),
Ray Lucas
(six)
2003: Fiedler (11),
Brian Griese
(five)
2004:
A.J. Feeley
(eight), Fiedler (seven),
Sage Rosenfels
(one)
2005:
Gus Frerotte
(15), Rosenfels (one)
2006:
Joey Harrington
(11),
Daunte Culpepper
(four),
Cleo Lemon
(one)
2007: Lemon (seven),
Trent Green
(five),
John Beck
(four)
2008:
Chad Pennington
(16)
2009:
Chad Henne
(13), Pennington (three)
2010: Henne (eight), Pennington (one)

NFL SCOREBOARD
Thursday, 9/11
Sunday, 9/14
Monday, 9/15
WEEKLY LEADERS