December, 7, 2011
12/07/11
3:18
PM ET
I was a baseball beat writer many ages ago and, recently, I was reminded of a story that applies to a rare occurrence we saw last weekend in the NFC North.
In a late 1990s game, then-Baltimore Orioles left fielder B.J. Surhoff came to bat with the bases loaded. He was facing a young, hard-throwing relief pitcher whose name I have long since forgotten. The pitcher couldn't throw strikes and quickly fell behind. Facing a full count, the pitcher was one ball away from walking in a run.
Everyone in the ballpark figured the next pitch would be a fastball, a pitcher's best chance for throwing a strike or getting contact or somehow avoiding a walk. Surhoff was sitting dead red, as the seamheads like to call it, and almost fell down while swinging early on an improbable change-up.
Furious, Surhoff stormed into the Orioles dugout. As then-manager Ray Miller told us later, Surhoff yelled to the pitcher: "Learn how to play the game!"
[+] Enlarge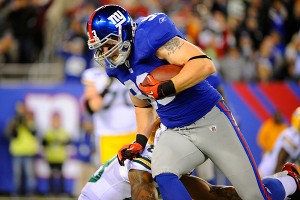 Rich Kane/Icon SMIChase Blackburn intercepted a pass intended for Greg Jennings. The turnover led to a Giants TD.
Yes, sometimes ignorance beats veteran smarts. That's pretty much what happened on the interception
Green Bay Packers
quarterback
Aaron Rodgers
threw in the second quarter of last Sunday's game against the
New York Giants
.
Trust me. I'm not trying to be a Rodgers apologist in this instance. He does in fact make mistakes, but in this case, the interception occurred mostly because Giants linebacker
Chase Blackburn
-- who had just re-signed with the team earlier in the week -- was out of position relative to the coverage.
Some of you might have seen ESPN analyst Eric Mangini break down the play earlier this week on "NFL Live." Rodgers confirmed Mangini's analysis during
his ESPN 540 radio show
this week.
Upon arriving at the line of scrimmage, Rodgers identified the Giants in a classic Tampa 2 defense with Blackburn as the middle linebacker. That meant Blackburn would have responsibility for the deep middle of the field. Given the Packers' play call, Blackburn would have responsibility for Packers receiver
Randall Cobb
, who was running a post route down the middle of the field.
Rodgers couldn't see Blackburn as he backpedaled from center, but said he "figured" Blackburn would chase Cobb downfield. Receiver
Greg Jennings
was the next read, and based on how the Packers' play call matched up to the Giants' defense, Jennings would be open.
But Blackburn was either thinking along with Rodgers, and risking a deep completion to Cobb if he was wrong, or just wasn't quick enough to get into position. Instead of following Cobb downfield, Blackburn stopped and undercut Jennings. That's why he was in position to make what appeared to be an easy interception.
Rodgers ultimately took the blame for making the throw, his fifth interception in 408 attempts this season. He called it a "deadly quarterback sin" to make a "semi-blind throw."
As amateur observers, we all wonder sometimes how a veteran quarterback can throw the ball directly into an opponent's hands. In this instance, at least, we know why -- with big hat tips to Mangini and Rodgers.
October, 13, 2010
10/13/10
5:13
PM ET
EDEN PRAIRIE, Minn. -- Here's an interesting question now that
Brett Favre
has overtly connected his recent inaccuracy to the onset of elbow tendinitis: Who would make the decision to pull him from the lineup if it continues to impact his performance?
With most players, the issue wouldn't be relevant. NFL coaches routinely make lineup and personnel changes, usually with an iron fist and with little or no input from players. But Favre's streak of 289 consecutive games played, as well as the subjective nature of this injury, puts the Vikings in a potentially awkward situation.
Let's backtrack a bit. Favre
said Monday night
that he wouldn't use tendinitis as an excuse after completing only 14 of 34 passes in a 29-20 loss to the
New York Jets
. By Wednesday, however, he was willing to state the obvious: "You're not going to make every throw," he said, "but I would have made some of those throws [if the elbow was healthy]." He said he began feeling pain in the arm during the fourth quarter of the game.
Rest is the only cure for the condition, and Favre did not practice Wednesday. Asked if he would consider taking a game off, Favre said: "Sure." But let's be real for a moment. Would a player who hasn't missed a game since 1992 actually volunteer to step aside? More importantly: Should it his call? Or will it be left to coach Brad Childress, who came under heavy scrutiny late last season for considering an in-game change, to make that decision?
Many moons ago, I covered the Baltimore Orioles at the end of Cal Ripken's streak of consecutive games played. None of his managers, even the notoriously strong-willed Davey Johnson, was willing to halt history. Ultimately, the streak ended on the final day of the 1998 season, when Ripken told then-manager Ray Miller that he was ready.
Wednesday, I asked Favre how he thought the question should be managed. Should he instigate a change?
"That would probably see maybe a little more logical," he said, "that [after] 20 years and having played through a lot of things. ... Unless you can't even throw a spiral, and they say, 'Alright Brett, I know you want to play, [but] I want to do right for the team.'
"I don't know for sure in answering that question, but I would think Brad and [offensive coordinator Darrell Bevell] would trust in me if I felt like [I could still play]. ... [If it's] one or two throws a game, you can say OK. But if I felt like there is more than that on a consistent basis where, 'Boy, he [usually] makes that throw,' I should be able to address that with them. And I believe I would."
At this point, it's a non-issue. In fact, Childress has consistently refused to blame the condition for any poor throws. He noted that Favre grabbed his elbow several times during Monday night's game, but called it a "tick" rather than a sign of discomfort.
"I didn't see a funny motion," Childress said. "I didn't see any kind of clutching motion or anything like that. I know he may have repositioned his brace on his elbow and went to it a couple times. We used to think that Donovan [McNabb] had something wrong [when he played for the
Philadelphia Eagles
]. He used to bend over like his stomach hurt, like he was being poked. It was just kind of a tick, if you will, that different people have."
Childress said that he is "always taking in information and taking in what's best for the greater good." Will the greater good ever be reached by giving Favre time off to rest his elbow? The better question is this: Will Favre ever let that happen?