February, 2, 2013
2/02/13
7:02
PM ET
It's easy to get lost in the shuffle when you played during the golden age of the NFL's most celebrated franchise. Dave Robinson was an elite playmaking linebacker on some of Vince Lombardi's best
Green Bay Packers
teams, but it took 38 years after his retirement before he was recognized as such by the Pro Football Hall of Fame.
Robinson will be enshrined as part of the 2013 class thanks to the Hall's senior committee, which nominated him and Curley Culp (a
Detroit Lions
defensive lineman in 1980-81) last summer.
As we discussed earlier in the week,
a nomination from the seniors committee generally is viewed as an attempt to right a previous wrong, and 25 of the past 30 nominees have been elected by the larger selection committee.
Robinson was one of the first linebackers with the speed an athleticism to cover the emerging tight end position. He had 21 interceptions in 10 seasons with the Packers, including 12 during the period from 1965-67, an NFL-high for linebackers. In Packers history, the only linebackers with more interceptions are John Anderson and Ray Nitschke.
By my count, Robinson played with 10 other Packers players who ultimately made the Hall of Fame and was coached by an 11th, Vince Lombardi. That's just an incredible number. At various times during his career, he played alongside Nitschke, cornerback Herb Adderly, defensive end Willie Davis, safety Willie Wood and defensive tackle Henry Jordan. Can you imagine a defense with seven Hall of Famers? Wow.
Overall, Robinson is the 22nd member of the Packers organization to be elected to the hall of Fame. Congratulations on an honor that was no doubt worth the wait.
August, 4, 2012
8/04/12
11:07
AM ET
CANTON, Ohio -- Sights and sounds from a magical first 30 hours in Canton for festivities relating to the upcoming 2012 Pro Football Hall of Fame enshrinement ceremony:
Batting 1.000

[+] Enlarge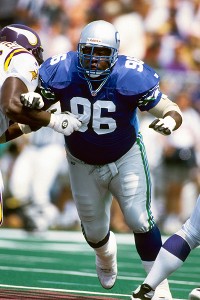 US PresswireNo doubt, Seattle's Cortez Kennedy was one of the most dominant defensive players of his era.
Cortez Kennedy was the person I hoped to see first Thursday night after unloading bags for check-in at the McKinley Grand Hotel. He was the 2012 enshrinee I'd covered years ago and gotten to know while presenting his case to the other Hall selectors. Having the retired Seattle Seahawks great step from the hotel's entrance before I could get my bags to the curb foreshadowed good fortune.
A trip to the hotel bar a couple hours later found the place mostly empty except for a couple reporters from Minnesota. I sat down with them and soon discovered Hall of Famer John Randle, Kennedy's teammate on the 1990s All-Decade team, seated across the way. Two-for-two and three full days in Canton still to come.
I'm not much of a drinker -- a six-pack lasts a year in our house -- so when tequila shots appeared unexpectedly on our side of the bar, visions of "
Frank the Tank
" from Old School came to mind.
My hesitance must have been easy to spot. Randle rose from his chair and looked my way.
"Hey, you in?"
Enjoying the ride(s)
Trip One to the elevator produces a five-story ride with Thurman Thomas and his wife, Patti.
Leroy Kelly, Elvin Bethea and Roger Wehrli are along for the ride on a subsequent trip.
By then, my wife, Kim, and our two sons, Derek (10) and Cade (7), have arrived via red-eye flight from Seattle to Cleveland. We'd decided to make this a family trip, a mini-vacation for them, upon learning months earlier that Kennedy had earned enshrinement.
"We were just in the elevator with Gale Sayers!" Derek announced upon entering our room.
Heading to the Hall
The lobby was packed with Hall of Famers, most wearing their gold jackets, as they assemble for bus rides (police escorts included) to the Hall for a dedication ceremony. Buffalo Bills owner Ralph Wilson Jr. will be there when NFL commissioner Roger Goodell and Hall officials cut red ribbon for the new Pro Football Research and Preservation Center in Wilson's name.
Another chance meeting with Kennedy produces a lucky break. He graciously invites me to ride along in his car, along with Mark, an off-duty police officer from Las Vegas and Kennedy's friend since 1994.
The weather is already sizzling when we arrive, but it doesn't get much cooler than this: Hall of Fame corner Lem Barney, who averaged five picks per season for 11 years with the Detroit Lions, practically intercepts us as we get out of the car. He shakes Kennedy's hand. Mark and I get handshakes, too. Kennedy follows the red carpet to the special seating area for Hall of Famers.
All in the family
Mark and I wind up sitting next to Patti Thomas, Thurman's wife, in the front row of the general-seating area. Sayers and Joe Greene sit across the rope divider about six feet away. She's moved when Wilson, 93 and a World War II veteran, delivers a speech marked by self-deprecating humor after initially needing assistance to stand.
The Hall experience can be as much for the families as for the enshrinees themselves.
"I'm his wife and I'm blown away," Patti Thomas said. "These guys that you grow up watching ... my brothers come. They are huge sports fans. They're like kids in a candy shop. They've met 'em all and they're still like that, over and over again. Ninety-five percent of the guys are very outgoing. It's been an amazing thing. What a huge blessing."
Ray Nitschke Luncheon
From the Hall, it's off to the annual initiation luncheon, a chance for the new class to socialize with existing Hall of Famers in a private setting. Goodell is there, as are Hall officials, Class of 2012 presenters and some selection committee members. There are no wives or family members. And when lunch is served, enshrinees head into their own private room. No one else is allowed inside.
A microphone gets passed around, but the current class only listens. What happens beyond that, no one can say for certain.
"Thurman has so much fun when we come," Patti Thomas said. "He tells me his favorite thing of all is the Ray Nitschke Luncheon because it's only Hall of Famers, just the guys in there. And he said that is the coolest event because it's just us. Nobody else is allowed to come in there and he loves it."
A Butler and a dentist
Former Pittsburgh Steelers cornerback Jack Butler waited 50 years for enshrinement, a record. His son and presenter, John, would give a guy the shirt off his back. John Butler did just that Friday. When one of the Hall of Famers showed up with the wrong shirt -- all were supposed to wear official blue Hall polos -- the younger Butler gave up his.
While the Hall of Famers were enjoying their privacy and camaraderie at the Nitschke luncheon, John Butler and Willie Roaf's father, Clifton, a retired dentist, sat down at the table I'd chosen in our less exclusive luncheon room.
What an honor it was for me, a first-time visitor to Canton, and the two other Hall selectors seated at our table.
I'd approached Jack Butler in the hotel lobby earlier in the day, congratulating him on his enshrinement. With Ted Hendricks, James Lofton and several other Hall of Famers gathering nearby, the elder Butler said "it's starting to have a meaning to it all."
"It's amazing, just incredible," John Butler said. "You think about it in the past, we would look at his numbers, ever since I was a kid, and say, 'Wow, his numbers match up.' But it's not like an expectation he'll get in. When it happens, it's overwhelming."
Gold Jacket Dinner
[+] Enlarge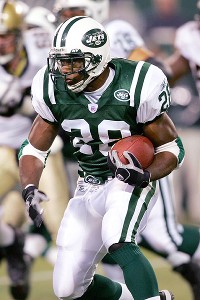 Linda Cataffo/NY Daily News Archive/Getty ImagesBeing steady in his career and patient with his rushing attack earned Curtis Martin a Hall of Fame induction.
Kennedy, Roaf, Butler, Dermontti Dawson, Chris Doleman and Curtis Martin received their gold jackets during an emotional ceremony at the local civic center Friday night.
Our family purchased tickets and arrived with a group featuring Greene, Dave Casper, Tom Mack and others.
"Is that the ghost-to-the-post guy?" Cade, our youngest, asked later.
That was him. Of course, Casper accomplished much more for the Oakland Raiders than his famed overhead grab for a 42-yard gain against Baltimore on Christmas Eve 1977. A 7-year-old raised on NFL Films drama might not know that yet.
Dozens of previously enshrined Hall of Famers took their turn walking an aisle through guest tables before greeting the 2012 class on stage. My wife heard our oldest, Derek, gasp when Marshall Faulk's name was called.
The boys craned to see Warren Moon make his entrance.
The video highlight packages are what got me.
Dawson pulling from his center position and flattening the same defender twice on one play. Doleman forcing fumble after fumble with blind-side hits on quarterbacks. Kennedy beat the center and then dragging the guard into the backfield to stop a runner in his tracks. Roaf collapsing one side of the formation with devastating power. Martin setting up his runs with patience and accelerating away from trouble. Butler picking off passes, scoring as a receiver and lighting up opponents (I feared Goodell might fine him retroactively).
There were poignant moments, too. The elder Roaf hugged his son and wouldn't let go. When he finally walked away, leaving his son to sport his new jacket alone on the stage, Clifton Roaf squeezed the bridge of his nose between finger and thumb, as if to stop the tears.
The after party
Once the Gold Jacket Dinner broke, Hall of Famers and their families returned to the hotel for a reception.
My kids headed straight for the ice cream sundae bar, of course.
Not to worry, a nearby bartender offered. Bill Parcells, presenter for Martin, had done the same thing. A weekend such as this one makes all of us feel like kids.
November, 21, 2011
11/21/11
4:30
PM ET
The buildup to our NFC North Thanksgiving Feast is going to short, intense and full of distractions. This week would have been busy even without Thursday's matchup between the 10-0
Green Bay Packers
and the 7-3
Detroit Lions
, so as of this moment I'm declaring
complete and total pandemonium in the ring
.
[+] Enlarge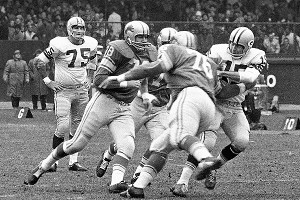 AP File PhotoDetroit's Darris McCord, 78, and Roger Brown, 76, sack Green Bay's Bart Starr on Nov. 23, 1962. The Lions dealt Vince Lombardi's Packers their only loss of a championship season, sacking Starr 11 times.
As we monitor the
Chicago Bears
'
quarterback transition
and
the health status
of the
Minnesota Vikings
' star running back, we'll start our Packers-Lions coverage with the story of a rematch nearly 50 years in the making.
If you qualify for AARP membership, or if you watched Bob Costas' weekly essay Sunday night on NBC, you know the Packers and Lions played a Thanksgiving game under similar circumstances in 1962. The Packers entered the game undefeated at 10-0, but the Lions handed them their only loss of the season.
Many people consider the 1962 Packers
the best team in franchise history
and one of the best in the history of pro football. It had 10 future members of the Hall of Fame, including fullback Jim Taylor, right tackle Forrest Gregg, quarterback Bart Starr, linebacker Ray Nitschke, cornerback Herb Adderley, defensive end Willie Davis, center Jim Ringo, halfback Paul Hornung, safety Willie Wood and defensive tackle Henry Jordan.
But on November 23, 1962, the Lions handed them a decisive 26-14 defeat. They sacked Starr 11 times and intercepted him twice.
Monday, the Lions made several members from that team available via conference call. On that day, recalled Hall of Fame linebacker Joe Schmidt: "We were all out to prove to the world that we were as good or better than Green Bay."
(Sound familiar?)
History tells us the Lions were hardly slouches in those days. They won the NFL title in 1957 and won the Runner-Up game in 1960 and 1961. But after opening the 1962 season 3-0, the Lions lost to the Packers in a game that has gone down in franchise lore.
Jerry Green of the Detroit News
recalled that game in detail this season. The short version: Leading 7-6 with less than a minute to play, the Lions called a pass play. Receiver Terry Barr slipped, and Adderley intercepted Milt Plum's pass to set up Hornung's game-winning field goal.
Tempers flared in the post-game locker room, and defensive tackle Roger Brown said Monday that the Lions had a "vendetta" against the Packers in the Thanksgiving rematch. Added Schmidt: "We always felt down deep that we were a better football team."
The Lions were well-versed in Packers' coach Vince Lombardi's offense, and defensive coordinator Don Shula worked with Schmidt to recognize each play.
"They basically ran six or seven plays off a couple different formations," Schmidt said. "By the formation, I could call a slant to where they were going to run. Our defensive line penetrated them so severely that their offensive line lost their poise."
Said Brown: "We were determined to get to Bart Starr. I don't think the German Luftwaffe could have stopped us that day."
The parallels for this year's game are interesting, if not completely relevant. The Packers are again 10-0, of course, and the Lions are quite eager to demonstrate they are, as Schmidt said, just as good. Like the 1962 team, today's Lions are built around a nasty defensive line. I'm not sure if
Kyle Vanden Bosch
,
Ndamukong Suh
and company will register 11 sacks Thursday of Packers quarterback
Aaron Rodgers
, but they'll be trying.
It's worth noting that the Packers rebounded from that 1962 loss to finish 13-1 and win the NFL title. The Lions finished 11-3 and made another trip to the Runner-Up game. If nothing else, it's nice to have a game this season that means something to everyone -- the teams, both sets of fans and the playoff race.
July, 1, 2010
7/01/10
11:30
AM ET
Notable players:
Fullback Jim Taylor, right tackle Forrest Gregg, quarterback Bart Starr, linebacker Ray Nitschke, cornerback Herb Adderley, defensive end Willie Davis, center Jim Ringo, halfback Paul Hornung, safety Willie Wood, defensive tackle Henry Jordan.
[+] Enlarge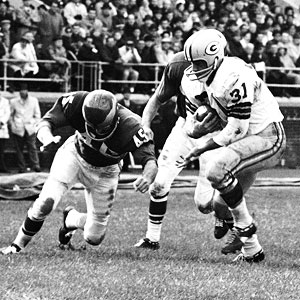 AP Photo/Bill IngrahamIn their 49-0 win over the Eagles, Jim Taylor and the Packers gained a total of 628 yards.
Analysis:
There are notable players, and then there are the best of the very best. All 10 players listed above have been inducted into the Pro Football Hall of Fame. In other words, nearly half of the
Green Bay Packers
' 1962 regular lineup were among the best of their era. That type of talent collection could never be replicated in today's era of superstar contracts.
Under Hall of Fame coach Vince Lombardi, this Packers team shut out two of its first three opponents and won its first four games by a combined score of 109-14. It went on to finish the season 13-1, leading the NFL in both points scored and fewest points allowed, and won the league championship with a 16-7 victory over the
New York Giants
. There hasn't been another one-loss season in Green Bay ever since.
The Packers have won 12 titles in their history, including five under Lombardi, but the 1962 team was a powerhouse unto itself. If you've read David Maraniss' biography of Lombardi, you understand why: This edition of the Packers recorded a pair of 49-0 victories and
set an NFL record
for highest average point differential in its games (19.1 points). Here are some other notable marks:
In the second 49-0 drubbing, this one at Philadelphia, the Packers gained -- yes -- 574 more yards than the Eagles (628-54).

The 49-0 victories are the two biggest shutouts in team history.

The 1962 Packers scored 53 touchdowns, the second-most in team history despite a 14-game season at the time. Its 36 rushing touchdowns remain an NFL record.

The defense led the NFL with interceptions (31) and fewest passing yards allowed (2,084).
The season's running performance was the grist for Lombardi's epic "Run To Daylight" with Bill Heinz. While Hornung is often remembered as the Packers' top back, in 1962, Taylor led the team with 1,474 yards and an amazing 19 touchdowns.
The Giants were hell-bent on revenge in the championship game, having lost to the Packers 37-0 the year before. The game was in New York, but the Packers controlled the game throughout in 17-degree weather at Yankee Stadium. The Giants' only score came on a blocked punt. (Check out this
NFL Films video
on that game. Cool stuff.)
Most impressive win:
It's hard to overlook an NFL title game, but beating any team 49-0 and outgaining it by 574 yards is a stunning demonstration of dominance.
Did you know?
Nitschke was the MVP of the championship game but might have had a bigger impact on the league a few hours after the game. As the story goes, Nitschke appeared on the television show "What's My Line?" wearing his trademark black rimmed glasses. A film producer named Ed Sabol bought the rights to that appearance for $3,000. Sabol's company eventually became known as NFL Films.
Honorable mention:
1966:
Won Super Bowl I after finishing the regular season 12-2. Its two losses, to San Francisco and Minnesota, came by a total of four points.
1996:
Led the NFL in points scored and fewest points allowed, the only team to do so in the past 36 years, and won Super Bowl XXXI.
1929:
Clinched the Packers' first NFL Championship, this one based on final standings, with an undefeated record (12-0-1).