NFL Nation:

Ray-Ray Armstrong
July, 20, 2014
Jul 20
3:30
PM ET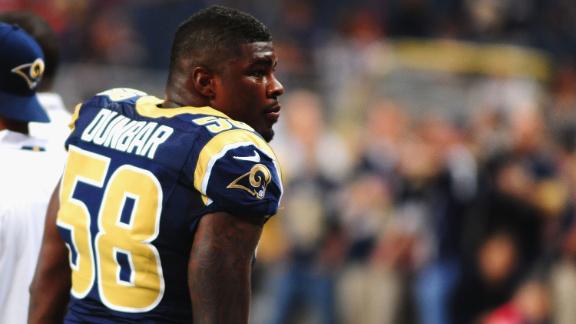 For the second consecutive season,
St. Louis Rams
linebacker
Jo-Lonn Dunbar
has made headlines for the wrong reasons near the start of training camp.
Reports from
The Associated Press indicate
that Dunbar was involved in a fight outside a Miami nightclub early Sunday morning. Dunbar got into an altercation with NBA free-agent forward
Donte Greene
outside Dream Nightclub, according to Miami Beach Police Detective Vivian Thayer, who said both men were arrested and will face charges of battery and disorderly conduct.
Dunbar
With further details unavailable at this time, this could be nothing deeper than a fight between a couple of athletes. But in Dunbar's case, it's not this incident that is alarming so much as the unsightly pattern that has begun to form when it comes to him and off-field incidents near the start of training camp.
The Rams have seemingly made it through the scariest part of the offseason without any serious issues, and while a fight doesn't really qualify, it does add another negative mark on Dunbar's record as the team opens camp this week.
Last year, Dunbar entered camp as a presumptive starter at outside linebacker, but those plans took a U-turn when the NFL suspended him four games for violation of its policy against performance-enhancing substances. A clearly irritated coach Jeff Fisher made it clear he was unhappy with Dunbar, and instead of keeping him on the roster during the suspension, the Rams released him and signed veteran linebacker
Will Witherspoon
.
Dunbar re-signed for the rest of the 2013 season after serving the suspension but came back to reduced snaps with
Alec Ogletree
handling three-down duty alongside
James Laurinaitis
. Dunbar finished with 39 tackles in 12 games and 10 starts.
Despite the underwhelming season, in March the Rams brought Dunbar back on a two-year deal worth up to $3.5 million with hopes that reuniting him with defensive coordinator Gregg Williams, who coached Dunbar in New Orleans, could get him back on track.
While more information needs to be gathered and the legal process still has to play out, Dunbar is obviously not doing himself any favors as he attempts to hold down the starting job opposite Ogletree. As it stands, Dunbar is projected to remain the starter, but second-year linebacker
Ray-Ray Armstrong
has impressed coaches enough to get more opportunities to contribute and was already poised to push for an expanded role in 2014.
Whether or not Dunbar faces any further punishment from the team or the league, it's fair to wonder if Armstrong could now get an even closer look when camp opens.
October, 11, 2013
10/11/13
1:00
PM ET
EARTH CITY, Mo. -- Like everyone else who plays, follows or coaches the
St. Louis Rams
, special teams coordinator John Fassel is frustrated with the continued penalties that his group racks up weekly.
Fassel's frustration is probably greater than anyone's, given what he sees that others may not. While acknowledging that his group has to be smarter with some of its decisions, Fassel said when he reviews the tape of the 17 accepted penalties that have gone against the Rams special teams, he doesn't exactly see eye to eye with the officials.
"There's some things we've got to do to be smarter, but there's always some that you look at it and you just say, 'that's not a penalty,'" Fassel said.
Special teams penalties have become something of a hot topic in St. Louis the past few weeks as the Rams head toward potential record-breaking numbers in the category. Earlier this week,
we detailed
what those infractions have cost the Rams in terms of field position and how they've added up to across-the-board frustration for all parties involved.
Fassel shed a little more light on the matter Thursday when he spoke to the media and was clearly aware of the frustration outside the building as well. That isn't to say that Fassel isn't doing what he can to emphasize the need to be careful but he also doesn't want them to change their mentality too much, lest they become less effective in other areas such as punt and kick coverage, where they rank among the league's best.
Rookie linebacker
Ray-Ray Armstrong
leads the team with four special teams penalties for 40 yards. While some of his penalties have been legititmate calls in the eyes of Fassel and coach Jeff Fisher, his breakneck approach to special teams is what makes him effective in covering punts and kicks. So while Fassel would like Armstrong to be more aware, he doesn't want him to change too much.
The same applies to most of the special teams regulars, a group largely comprised of rookies and second-year players, many of whom have never played special teams consistently.
"I'm never going to tell that guy to calm down," Fassel said of Armstrong. "I think that's his strength. But gosh, a lot of these guys it's new to and maybe they haven't done it the last couple years in college. So, it's a different game this wide open field, everybody's fast. It's part of playing catch up and smart really at the point of attack, which is where the block in the backs, the clips, all those things happen. We had a few of them, but we've also been pretty good, getting better at it, which again I get the privilege of watching the tape on Monday and seeing what really happened. It's just young guys playing fast. They're playing hard. Can't ask any more of them in that regard. We've just got to keep really putting the extra emphasis on being smart because they're obviously watching us for whatever reason."
Without saying it, I think Fassel may have touched on an interesting point that we mentioned in our story from Wednesday. Sometimes things can perpetuate themselves because a reputation is earned some way or another. Since the Rams finished second in the league in special teams penalties last year and have piled them up early this season, it's entirely possible that officials are now looking even harder for calls on them this year.
I reviewed the six penalties from the Jacksonville game and it's hard to disagree with Fassel on a few of the calls. The illegal block on Armstrong, the fair catch interference on
Brandon McGee
and the two offsides calls against cornerback
Janoris Jenkins
were pretty obvious. But a holding call against
Chase Reynolds
was fairly ticky tack (though Reynolds did put his hands on the back of the jersey) and the hold on
Daren Bates
appeared borderline at best.
Earlier this season, Fisher voiced displeasure with the penalties called on his team in a loss to Atlanta on Sept. 15. In that game, the Rams accrued seven penalties (total, not just special teams) and Fisher said he only agreed with two of those calls.
Since, the Rams have cleaned up the penalties on offense and defense, committing eight on each side of the ball. That total ranks as the seventh fewest in the league on offense and tied for ninth fewest in the NFL on defense.
That just leaves special teams where the Rams insist they don't plan to change the mentality of the players but instead will focus on raising awareness and hoping that fewer of the questionable calls go against them.
"We're talking about it," Fassel said. "We're practicing it and it has been an issue. I'd love to tell you exactly how I really feel I just don't want to get in trouble because a couple time we've had as good of blocks I've ever coached in my career that have been called. That's not an excuse. There's been some times where we have committed penalties like most teams in the league -- the block in the backs, holdings on the line of scrimmage. A couple of them got me a little pissed off Monday morning."
August, 30, 2013
8/30/13
11:09
AM ET
As the bulk of their starters sat out Thursday night's preseason finale against Baltimore, it was a busy night for many of the Rams rookies. Here's a look at how much the each member of the draft class played, and how they fared in their opportunities.
WR Tavon Austin, first round, No. 8 overall:
Austin didn't sit out completely like the rest of the projected starters, but made no more than a cameo with eight snaps on offense and one on special teams. He was targeted three times and made three catches for 26 yards. The only punt return he dropped back for was booted out of bounds.
LB Alec Ogletree, first round, No. 30 overall:
One of the busiest rookies, Ogletree played 25 defensive snaps and four on special teams. He finished with two tackles in unofficial pressbox statistics. Ogletree needed all the reps he could get during this preseason and played more snaps than any defender during the exhibition slate.
S T.J. McDonald, third round, No. 71 overall:
McDonald played a dozen snaps and another on special teams as one of the few regulars to make the start. He made one tackle in unofficial pressbox statistics. Progress was evident in McDonald's first preseason, and he nailed down a starting spot.
WR Stedman Bailey, third round, No. 92 overall:
Bailey continued to get steady work, playing 22 snaps on offense and four on special teams. Bailey had three targets and made two catches for 38 yards. He was a bit shaky on the balls he caught, more so than he had been throughout preseason, but still managed to haul in a couple catches. He showed some willingness on special teams, leading the charge on punt coverage once.
OL Barrett Jones, fourth round, No. 113 overall:
Jones continued to get extensive work as the Rams try to get him up to speed, playing 57 snaps on offense and six more on special teams. Jones seemed to be a bit more comfortable than he's been in the previous three games. He's going to make the roster, no doubt about that, but it will be interesting to see if the Rams feel good enough about his state of readiness to part ways with
Tim Barnes
, who plays a similar role.
CB Brandon McGee, fifth round, No. 149 overall:
McGee is nursing some sort of unknown injury and didn't play Thursday night. Last week against Denver, McGee played one play on special teams and none defensively. It doesn't appear that he's got a serious ailment, but until we know the extent of it, his status for Week 1 remains in doubt.
RB Zac Stacy, fifth round, No. 160 overall:
Seemingly healthy and ready to go for the first time in the preseason, Stacy got his first extensive work of the exhibition season. He played 25 snaps on offense, finishing with 37 yards on 11 carries, including a 1-yard touchdown run. There wasn't a ton of room to work, but Stacy's short-yardage and goal-line ability might be enough to garner chances in those situations when the regular season comes.
Undrafted Rookie Roundup:
Two undrafted rookies that have made positive impressions all along showed up again Thursday night -- running back
Benny Cunningham
and linebacker
Ray-Ray Armstrong
. … Cunningham played 18 snaps on offense, 12 on special teams and was the sharpest of the team's backs. He had eight carries for 76 yards and likely solidified a roster spot. … Armstrong was active again at linebacker and on special teams, playing 30 snaps on the former and 20 on the latter. He had another big hit and finished with a tackle and pass defended. … End
Gerald Rivers
made one final push to make the final roster, leading the team in tackles with six and tossing in a sack, three tackles for loss and a hurry in a defense-high 61 snaps. … It remains to be seen whether it will be enough, but cornerback
Darren Woodard
was sticky in coverage again on his 57 snaps before he left the game with an apparent hamstring issue. If nothing else, Woodard showed enough in the final two preseason games to merit practice squad consideration.
August, 27, 2013
8/27/13
4:45
PM ET
EARTH CITY, Mo. -- The Rams reached the league-mandated 75-player roster limit as they announced the final two moves needed Tuesday afternoon.

Offensive lineman
Ryan Lee
and linebacker
Jabara Williams
were the final two cuts to reduce the roster from 77 players to 75. Lee was let go with the designation of waived/injured after he suffered an undisclosed injury late in last week's game against Denver.
Neither move comes as a surprise, but Williams' release is indicative of the progress made by a trio of undrafted rookie linebackers in camp. Williams was a former seventh-round pick of the Rams in 2011 and showed enough promise in that preseason that a segment of fans were outraged when he was released after two regular-season games to make room for offensive lineman
Mark LeVoir
.
Chicago claimed Williams and he appeared in five more games before returning to the Rams' practice squad on Nov. 21 of last year.
Williams battled some injuries during this camp but he'd been surpassed by the intriguing trio of
Ray Ray Armstrong
,
Daren Bates
and
Jonathan Stewart
around the same time of his injury.
As it stands, the Rams have eight linebackers on the roster, including
Jo-Lonn Dunbar
, who will not play in the first four games because of a violation of the league's performance-enhancing substance policy. Given the exemption the Rams have for Dunbar in the first four weeks, they could theoretically carry all eight of the remaining linebackers, but it seems more likely that they'll opt to trim at least one more in the final round of cuts.
Armstrong has been one of the team's most pleasant surprises and is a near lock to make the roster at this point. Bates would seem to have the inside track on the final linebacker job because of his special-teams ability.
The final round of cuts is scheduled for Saturday when every team must trim to 53 players by 6 p.m. ET.
August, 17, 2013
8/17/13
12:17
PM ET
EARTH CITY, Mo. -- The Rams and Packers kick off tonight at 8 ET at the Edward Jones Dome.


St. Louis is coming off a 27-19 loss in the preseason opener at Cleveland and makes its home debut for 2013.
Hometown fans hoping to see the Rams unveil some of the new weapons they acquired in the offseason will likely leave disappointed as all indications are that the team will again stick to the vanilla game plan it used last week.
With that in mind, here are five things that are worth keeping an eye on as the Rams host Green Bay.
Right tackle redux:
Projected starting right tackle
Rodger Saffold
suffered a dislocated left shoulder two plays into the opener in Cleveland. He hasn't practiced all week and won't play against the Packers.
Joe Barksdale
, who replaced Saffold last week, has taken almost all of the work with the first-team offense in practice this week and will make the start in Saffold's place.
Barksdale fared pretty well in Saffold's stead last week and the chance to start could give him some valuable reps for a group of backup offensive linemen that doesn't have much in the way of experience.
Behind Barksdale, the Rams don't have much in the way of tackles.
Chris Williams
, who started last week at left guard, could get a look at right tackle. The same can be said for rookie
Barrett Jones
and
Brandon Washington
, both of whom are projected to play on the interior but have filled in at right tackle this week.
Spread it around
: The majority of the starting offense played just 14 snaps last week, leaving for another week the long anticipated first looks at tight end
Jared Cook
and receiver
Tavon Austin
. Neither caught a pass against the Browns as Austin was targeted once and Cook did not get a look.
Starting wideout
Chris Givens
stole the show last week with three catches for 82 yards and will again be involved, but the Rams would like to at least get the likes of Austin and Cook an opportunity or two to contribute.
Going deeper:
All week, Rams coach Jeff Fisher has made it known that the first units will play a little longer on both sides of the ball. Part of that is to get the primary starters a few more reps than they had last week, but the other reason is he wants to get some of his younger players who are down the depth chart a chance to play with the top units.
Namely at running back and receiver, don't be surprised if youngsters such as
Zac Stacy
,
Terrance Ganaway
,
Benny Cunningham
,
Brian Quick
and
Stedman Bailey
see a few snaps with the first-team offense.
Looking at linebackers
: Veteran
Will Witherspoon
is all but certain to step into the starting role in place of suspended starter
Jo-Lonn Dunbar
. Dunbar is eligible to play but Fisher made it clear he wants to use the main workload to prepare the players who will start on the season on Sept. 8.
Witherspoon is a known commodity as he enters his 12th season in the league. Rookie starter
Alec Ogletree
will also look to bounce back from a rough start last week in Cleveland.
What might be more intriguing in this area is the hunt for talented depth that can serve as reliable backups for the starting group.
Josh Hull
is the only backup linebacker with any game experience but the Rams have some intriguing options that figure to get work with the No. 2 defense.
The three undrafted rookies --
Ray Ray Armstrong
,
Daren Bates
and
Jonathan Stewart
-- have flashed potential during camp and proved to be potential long-term contributors on special teams. It seems likely at least one of those three will make the active roster and tonight's game serves as the next chance to make a strong impression.
Corner three
:
Cortland Finnegan
and
Janoris Jenkins
are pretty well entrenched as the starters at cornerback.
Trumaine Johnson
entered camp as the likely third corner in nickel packages after he finished the 2012 season as the team's third corner.
Johnson is probably still in the lead to fill that role again this year, but rookie
Brandon McGee
seems to be at least stating his case for the job.
McGee got some reps with the first-team defense as the third corner in practice this week and it's worth monitoring to see if he gets a shot to do it in the game. Considering Fisher's statement that he wants to give some different young guys a chance to play with the first team, it's entirely possible McGee will at least get a few reps in that role.

NFL SCOREBOARD
Thursday, 9/4
Sunday, 9/7
Monday, 9/8