February, 24, 2011
2/24/11
3:50
PM ET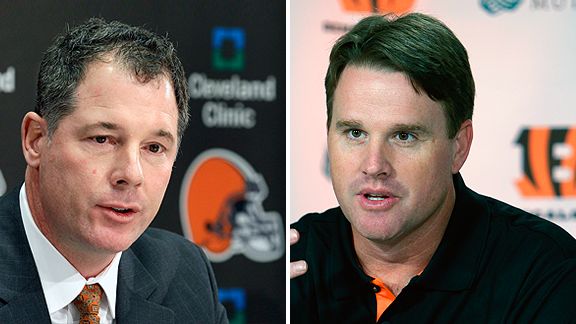 AP PhotoPat Shurmur, left, and Jay Gruden are two of the new faces in the AFC North.
The offseason has just begun, but the coaching carousel has been spinning for all four teams in the AFC North.
Often the struggling teams make significant coaching changes, and that was the case with the
Cincinnati Bengals
(4-12) and
Cleveland Browns
(5-11). But playoff teams like the
Baltimore Ravens
(12-4) and even the Super Bowl runner-up
Pittsburgh Steelers
(12-4) also experienced some turnover on their staff.
Here is a look at each change and what it means for the division:

Cleveland Browns
In:
Head coach Pat Shurmur, defensive coordinator Dick Jauron and a new staff.
Out:
Former head coach Eric Mangini, former defensive coordinator Rob Ryan and former offensive coordinator Brian Daboll.
What happened?
Mangini entered this past season on the hot seat and went 5-11 for the second consecutive year. There were a lot of philosophical differences between Mangini and Browns president Mike Holmgren. So when the team wasn't winning, it made for an easy decision to go in a different direction. Enter Shurmur, who was a surprise hire for Cleveland. Shurmur has no prior head-coaching experience and wasn't on the radar of other teams. The Browns have pretty much cleaned house and hired a new staff, which includes Jauron and veteran defensive assistant Ray Rhodes.
Analysis:
Last year, Holmgren was dumbfounded by some of the things the Browns were doing, particularly on offense. But Holmgren and Shurmur share many of the same views, which will give Holmgren more say in what goes on, and I think being on the same page is important for any team. The Browns are one of the few teams this year that will change both their offense
and
defense. Cleveland will go to a West Coast offense under Shurmur, who did not hire an offensive coordinator and will call the plays. The Browns also will switch to a 4-3 defense, which is something they haven't run since 2004. Shurmur is taking on a lot of responsibility as a rookie head coach and de facto offensive coordinator, which raises some concerns. Cleveland hopes veteran coaches like Jauron and Rhodes will take care of the defense, giving Shurmur one less thing to worry about. In terms of personnel, the Browns have a lot of work to do. They need better receivers on offense if they plan to pass more and playmakers at defensive end to run a 4-3 scheme.

Cincinnati Bengals
In:
Offensive coordinator Jay Gruden, receivers coach James Urban.
Out:
Former offensive coordinator Bob Bratkowski, former receivers coach Mike Sheppard.
What happened?
Changes were inevitable for Cincinnati's coaching staff this season. There was a lot of unrest among players internally who didn't like the scheme on offense. The Bengals entered the season with playoff aspirations but had an abysmal four-win campaign. Quarterback
Carson Palmer
was so unhappy that he demanded a trade after the season. Receivers
Terrell Owens
publicly criticized the coaching staff several times and starting tailback
Cedric Benson
said he was not returning if Bratkowski was still the offensive coordinator. Bratkowski was let go and later hired by the
Atlanta Falcons
, and Sheppard went to the
Jacksonville Jaguars
. Gruden, a former UFL head coach and the brother of former NFL coach Jon Gruden, was hired as offensive coordinator, and Urban was taken as receivers coach from the
Philadelphia Eagles
.
Analysis:
Cincinnati will be the second team in the division implementing a West Coast offense. Gruden also says he wants to make sure Cincinnati has a power running game, which is needed in this division. When the Bengals were at their best in 2009, they ran the football effectively and played tough defense. Cincinnati went away from that last year and had an awful season. How Gruden's offense translates from the UFL to the NFL remains to be seen. Cincinnati also has to handle a lot of personnel issues. Will Palmer retire? If so, who will be the new quarterback? Should the team trade
Chad Ochocinco
? Will Benson return? Cincinnati will have a very busy offseason trying to figure out these questions before putting together its new offense.
February, 23, 2011
2/23/11
7:50
AM ET
With the offseason in full swing, let's take a look at one major question facing each AFC North team as it begins preparations for the 2011 season:
CINCINNATI BENGALS
Should the Cincinnati Bengals give into Carson Palmer's trade demands?

After eight underachieving seasons in Cincinnati,
Palmer wants out
and everyone from his agent
to teammates
to his realtor believe Palmer is absolutely serious. So how should the Bengals handle this situation?
Cincinnati is consistently one of the NFL's more downtrodden franchises and has been through this before. In the past, players such as
Takeo Spikes
,
Corey Dillon
and
Chad Ochocinco
have expressed the desire to get out of Cincinnati and couldn't leave on their terms.
But Palmer's situation is different for two reasons. First, he's the franchise quarterback, the most important player on the team. Second, he's threatened to retire if he's not traded, which is something Spikes, Dillon and Ochocinco never did. These two factors up the ante tremendously in terms of putting pressure on the Bengals.
If Palmer, 31, holds firm on his demands, that leaves
Dan LeFevour
and
Jordan Palmer
as the other quarterbacks on Cincinnati's roster. The Bengals cannot start the 2011 season with either of those players under center. As more time goes by with uncertainty, it becomes more likely the Bengals must
do something to get quarterback help
in the draft or free agency.
In my opinion
, the Bengals should trade Palmer while they can still get decent value for him. Cincinnati will be rebuilding for the next two years anyway -- with or without Palmer -- and there are plenty of teams in need of a good quarterback.
But the
Bengals are standing their ground
, hoping Palmer will have a change of heart. That's a dangerous assumption with free agency potentially starting next month and the NFL draft coming in April.
BALTIMORE RAVENS

Are concerns about Baltimore Ravens quarterback Joe Flacco legit?
As we continue the subject of quarterbacks, we move over to Baltimore. Flacco is getting drilled this offseason by media and fans for not leading the Ravens past the divisional round. Baltimore entered last season as a Super Bowl favorite and by those standards the team -- and particularly the offense -- underachieved.
Now people are starting to doubt Flacco. He has struggled in the playoffs, recording just one passer rating above 90.0 in seven career postseason games. It's no secret an organization is tied into the success and development of its quarterback. But are the expectations of Flacco, in his third season, too high too soon? The answer is, yes.
Flacco has become a victim of his own early success. He advanced to the AFC title game as a rookie and has had expectations of getting to the Super Bowl thrust upon him since.
Last season, Flacco set career-highs in passing yards (3,622), touchdowns (25) and passer rating (93.6) for the Ravens (12-4). But it's the second-round loss to the
Pittsburgh Steelers
that stands out in most people's mind.
Flacco likely must
get past rival
quarterback
Ben Roethlisberger
of Pittsburgh for the Ravens to take that next step. But there is no shame in losing to the eventual AFC champions in the postseason.
Young quarterbacks such as
Matt Ryan
,
Mark Sanchez
and
Josh Freeman
are viewed in a much more favorable light in their cities. Flacco has had as much career success and put up equal or better numbers than all of them. He deserves a break.
PITTSBURGH STEELERS
What will the Steelers do at cornerback?

As their Super Bowl XLV loss to the
Green Bay Packers
proved, the Steelers must add quality depth in the secondary. The Packers,
New England Patriots
and
New Orleans Saints
provide the blueprint of how to beat Pittsburgh's vaunted defense: spread the Steelers out with multiple receivers.
The Steelers simply don't have enough good cornerbacks to defend three- and four-receiver sets. This also takes Pittsburgh's strongest players-- its linebackers -- off the field in favor of players such as
William Gay
and
Anthony Madison
.
Now that linebacker
LaMarr Woodley
received
the franchise tag
, veteran cornerback and pending free agent
Ike Taylor
is Pittsburgh's No. 1 priority. Taylor is Pittsburgh's best corner, but he's also 31 and the Steelers must gauge how much money and how many years to give to him.
The draft will also be important. Previous draft picks at corner such as
Keenan Lewis
,
Joe Burnett
and
Crezdon Butler
have not panned out for the Steelers, who typically address this position in the middle rounds. It's time Pittsburgh invests a high draft pick at this position to increase the probability of finding a future starter.
Do not be surprised if Pittsburgh retains Taylor in free agency and spends its first- or second-round pick on a cornerback in April to fix this issue.
CLEVELAND BROWNS
Are the Cleveland Browns fine without an offensive coordinator?

Pat Shurmur of the Browns has a lot on his plate this year. Not only is he a first-time head coach, but Shurmur is also taking over the role as offensive coordinator in his first season with Cleveland.
Is this a good idea?
After a brief search, the Browns decided to leave the position vacant. Shurmur is a former offensive coordinator for the
St. Louis Rams
and didn't want to give up those responsibilities after becoming a head coach.
A head coach's first responsibility is to manage all 53 players. But Shurmur clearly will give more special attention to his players on offense. That's a major reason the Browns hired experienced defensive coaches such as Dick Jauron and Ray Rhodes to manage the other side of the football.
President Mike Holmgren and general manager Tom Heckert have both done a good job so far in Cleveland. But I have reservations about creating this type of setup with a rookie head coach on a rebuilding team.
March, 5, 2010
3/05/10
2:22
PM ET
I've counted 43 unrestricted free agents with Pro Bowls on their résumés.
Four are in their 40s, 15 others are at least 35, 21 more are at least 30 and the other three -- specialist
Kassim Osgood
, safety Roy Williams and running back
Willie Parker
-- are 29.
Some of them broke into the league under head coaches Dan Henning, Tom Flores, Bruce Coslet, George Seifert, Lindy Infante, Dom Capers, Pete Carroll (the first time), Ray Rhodes (in Philadelphia), Mike Holmgren (in Green Bay) and Dick Vermeil.
Great crop.
The restricted market could be more interesting, but even then, it's tough to justify parting with first- and second-round choices for players seeking lucrative long-term contracts.
January, 8, 2010
1/08/10
2:23
PM ET
[+] Enlarge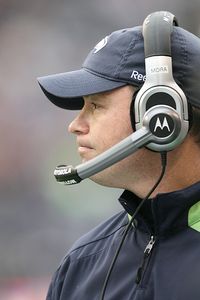 Otto Greule Jr/Getty ImagesJim Mora is the first Seattle coach to last only one season.
Following a legend can be rough.
Ray Rhodes found out when he tried to replace Mike Holmgren with the Packers. Rhodes lasted one season. The team managed to finish 8-8, but quarterback Brett Favre was floundering and Rhodes' leadership style came into question.
Jim Mora became the next Rhodes when the Seattle Seahawks, fresh off a 10-year run with Holmgren,
fired him Friday
after one season.
The organization is making a statement that the Seahawks need a complete makeover after putting together 4-12 and 5-11 seasons, the latter under Mora. A franchise that valued continuity in naming Mora to the job ahead of time has now decided a complete makeover is in order. There's no use in sticking with the wrong plan, the organization seems to be saying.
The Seahawks are a little tough to figure right now. That is understandable to a degree. Owner Paul Allen has been undergoing cancer treatments recently. He certainly has more important things on his mind. His top Seahawks executive, CEO Tod Leiweke, had advocated Mora's continued employment during the early December news conference to announce Tim Ruskell's resignation as general manager. What was Leiweke supposed to say in that situation? Exactly.
Ruskell was the one primarily responsible for landing Mora and installing him as coach-in-waiting. Ruskell's resignation foreshadowed potential trouble for Mora, although the general feeling was that every head coach should have more than one year to establish his program.
Allen, famous for co-founding Microsoft, is basically hitting control-alt-delete to trigger a forced system restart. The move makes Mora the first coach in Seahawks history to last only one season. Tom Flores lasted three. Dennis Erickson lasted four. Jack Patera lasted six and change. Chuck Knox led the team for nine seasons.
Did Mora deserve to be fired? We could make that case after a 5-11 season that saw the team getting worse in some areas. Was firing him fair? Not really. Most head coaches should get more than one season.
Those are not necessarily the most important questions here.
The key question is whether the Seahawks can hire someone demonstrably better, and whether the next coach can field a superior staff.
Finding the next GM should become easier now that it's clear the next GM will have input in hiring the head coach. The Seahawks can now move forward with their front office and coaching staff in chronological alignment for the first time in the better part of a decade. That is important as long as the Seahawks hire the right people.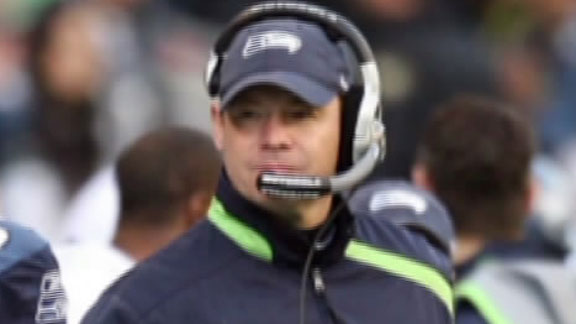 December, 27, 2009
12/27/09
1:44
PM ET
When Mike Holmgren left the
Green Bay Packers
, successor Ray Rhodes lasted only one season. The team fired him after the Packers lost three of their final four games to finish 8-8.

Cowher
The expectations Holmgren established in Green Bay had raised the bar for whichever coach followed him. Rhodes' successor, Mike Sherman, enjoyed five consecutive winning seasons. The Packers fired him when the streak ended with a 4-12 record in 2005.
Is current Seahawks coach Jim Mora the next Ray Rhodes? Firing Rhodes after one season wasn't fair. But the Packers felt as though the team wasn't heading in the right direction under Rhodes. Firing Mora after one season would not be fair. The Seahawks shouldn't make a move unless they can find someone demonstrably better.
Bill Cowher comes to mind
. He would be better than just about anyone the Seahawks could hope to hire. The early speculation says Carolina and Tampa Bay are the most likely suitors for Cowher if the former Steelers coach returns to the NFL in 2010, as expected. But if the Seahawks could land Holmgren a decade ago -- and the feeling around team headquarters was surreal when it happened -- why not Cowher?
October, 19, 2009
10/19/09
5:03
PM ET
Posted by ESPN.com's Kevin Seifert
You never like to see people put in an impossible position to succeed, but that's my overwhelming feeling after seeing longtime NFC North/Central friend Sherman Lewis named Washington's
new playcaller
.
Lewis has been the offensive coordinator in Green Bay (1992-99), Minnesota (2000-01) and Detroit (2003-04). For all the good things he did during his career, especially in Green Bay, many people would agree that play-calling wasn't one of them.
Packers coach Mike Holmgren called plays during most of Lewis' tenure there. Lewis' brief role as a playcaller under Ray Rhodes in 1999 did not go well, as
Jason Reid of the Washington Post
points out. And a few of you might remember that in 2001, then-Vikings coach Dennis Green once stripped Lewis of play-calling duties in the middle of a game at Chicago.
And as crazy as it sounds, those situations were much more conducive to success than what Lewis is stepping into now. Taking over an offense after two weeks as a consultant -- and as a result of a front office ultimatum to head coach Jim Zorn -- is a recipe for disaster. I just hope Lewis doesn't catch the brunt of the blame in Washington if (and when) this experience turns sour.
October, 15, 2008
10/15/08
8:22
AM ET
Posted by ESPN.com's Kevin Seifert
Who would have thought the Detroit Lions would be the most newsworthy team in the NFC North? Not I, said the fly. Tuesday was their busiest day yet as they shelved quarterback Jon Kitna and traded receiver Roy Williams. We should start with Kitna's comments to Mitch Albom of the Detroit Free Press.
Kitna confirmed what many have thought all along: That he does have a back injury but it's not season-ending. Kitna said he was treated as a "cancer" because he pointed out some of the Lions' offensive flaws, that the team wouldn't let him travel to Minnesota last weekend and that he couldn't talk Rod Marinelli into letting him play.
Here's the summary quote:
"I'm not whining. Nobody wins when that happens. But this is factual. Not long ago, I had a talk with Rod concerning my health and my overall fate with the team, and basically the things I had to say, he didn't want to hear. On Friday they said you're not going on the trip [to Minnesota] even though I was perfectly healthy on Friday, which is the norm with back spasms for me. ...Then they said they were gonna look at three possibilities. One, wait a couple weeks to see how my back responds. Two, put me on IR. Three, try and trade me."
Again, this isn't the first time a team has put a player out to pasture. In some ways, the Lions deserve credit for making a forceful, if cold-blooded, football decision. It would have been the more obvious choice if they actually had a viable replacement on the roster, but few would disagree that Kitna's best days are behind him.
Bob Wojnowski of the Detroit News called it a "tough move, but the right one" and gave credit to the team for making progress at the end of the day. Free Press columnist Drew Sharp, meanwhile, credited new Lions general manager Martin Mayhew for fleecing Dallas on the Williams trade: "It's nothing short of miraculous that the Lions got a first-round draft choice for a player they really didn't want beyond this season."
Mayhew played his hand well, writes John Niyo of the Detroit News. Mayhew downplayed the possibility of trading Williams as late as Monday afternoon but said he had a firm offer on his desk when he returned to his office after meeting with Detroit reporters. In the end, Mayhew got as much as the Lions reasonably could have expected if they had put a first- and third-round franchise tag on Williams in the offseason.
Now, the Lions won't have to worry about an injury or downturn in production affecting Williams' value: "The uncertainty of what his value would be going forward dictated that we make that move today," Mayhew said.
That should give you a good taste of the reaction to Tuesday's events. We'll bring you more as the news dictates. For now, here's a jaunt around the rest of the NFC North:
NFL SCOREBOARD
Thursday, 12/5
Sunday, 12/8
Monday, 12/9