September, 5, 2013
9/05/13
2:15
PM ET
EARTH CITY, Mo. -- Late in his rookie season, Rams receiver
Chris Givens
had something of a revelation.
Surrounded by a group of wideouts not much older than himself with no clear-cut top target for quarterback
Sam Bradford
under contract beyond the 2012 season, Givens realized that one of the most important roles in the offense was there for the taking.
"I really have been waiting on an opportunity like this since I can remember," Givens said. "I am really just excited to be able to go out and perform on a stage like this with an opportunity like this because it's something I have always wanted."
To get what he's always wanted, Givens has had to give up things he's always known.
By his own admission, Givens wasn't much different from most 22-year-olds entering the NFL. He was immature and not quite ready to take on the responsibilities that go with the profile of the job.
[+] Enlarge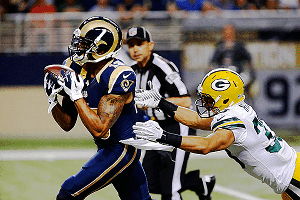 AP Photo/Seth PerlmanRams WR Chris Givens said he's "stepped up his game" this season. And he's not talking about just his on-field work, either.
Givens said he made a lot of "childish" decisions as a rookie and had trouble saying no when people asked him for things. It wasn't until after a one-game suspension cost him a game and a check against San Francisco on Nov. 11 that Givens began to see what could slip away if he didn't grow up in a hurry.
"Really I just worked on things off the field and really just tried to simplify my life as much as possible so that I could focus on football," Givens said. "I felt like if I could improve myself as a person then my football game would just fall right in line."
It wasn't just lip service. Givens began leaning on a mentor, former Rams defensive back Aeneas Williams, who is now a pastor at a local church. Williams helped show him how to focus on his spiritual side and let the pieces fall into place.
Givens also took it upon himself to begin using the word "no" on a regular basis, perhaps the hardest lesson to learn for any young person coming into sudden wealth and fame.
As Givens explains it, he said it took a bit to realize that it's impossible to please everyone and he had reached his NFL dream by putting in the hard work needed. The way he sees it, anyone asking for a handout could simply do the same thing and then wouldn't need to ask for help.
"It's definitely a hard thing to do because you love those people so much and you care about them. But when you get to a certain age, it was time for me to start thinking about me and what was best for me," Givens said.
Upon his return to Rams Park for the offseason program, Givens' offseason maturity was quickly evident to the coaching staff.
Givens' focus for improvement wasn't limited to what he could do off the field. He also put in work to make himself a more complete receiver.
As a rookie, Givens put together a solid season, emerging as a dangerous deep threat and showing the ability to work in the short areas with good catch-and-run skills. His biggest deficiency came in the intermediate areas, running what Isaac Bruce would call "herky jerky" routes that made it hard for Givens to consistently get separation.
Givens, who also added some muscle to his 198-pound frame, set about correcting that with the help of guys like Bruce, Torry Holt and receivers coach Ray Sherman. He even worked out with his fellow receivers and Terrell Owens in Los Angeles once or twice over the summer.
All of those things led to a strong preseason and training camp that have many believing Givens is a breakout candidate in 2013 and a potential No. 1 wideout for an offense that hasn't had one since the days of Holt and Bruce.
"I think he's bigger, he's stronger, he's faster," Sherman said. "He's a little more aware of what's going on around him. He's got a better idea of how to run certain routes whereas before he was just kind of feeling his way and finding his way now he has a better understanding."
Sherman has put Givens to work on refining the smaller details of the game during the summer, things like techniques for coming out of breaks, how to release from the line against certain coverages, taking the proper number of steps in a certain route or staying straight in his stem on others.
"I'm a lot more crisp, tighter," Givens said. "My breaks could be a little wild because I wasn't used to the speed and having to come out of my breaks as fast as I did so I just kind of rushed. I am taking my time, understanding my talents and knowing what I need to do to get open."
The way the Rams have rebuilt the offense into what figures to be a more pass-first philosophy should serve Givens well and help him build on the 42 catches, 698 yards and three touchdowns he posted as a rookie.
In an ideal world for St. Louis, Bradford will be able to spread the ball around to all of his receiving options. But any quarterback likes having one or two guys he can always count on. It's a role Givens has long yearned to have.
Entering his second year in coordinator Brian Schottenheimer's scheme and with a strong preseason in his rear view, Givens' chance is here. His time is now.
"I'm a lot further ahead than I was last year at this point," Givens said. "I have a better grasp of what's going on, so that made it easier for me to come out here and be comfortable. I have stepped my game up this year."
August, 4, 2011
8/04/11
12:15
PM ET
Alan Lowry, Steve Walters, Ray Sherman and Fred Graves are all good coaches. But Titans receivers under them have been an issue since the team moved to Tennessee.
Did those guys underachieve as coaches, have insufficient talent, or both? And are expectations of receivers unreasonable in a run-based offense?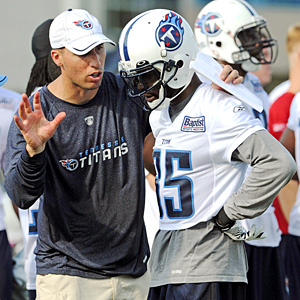 Don McPeak/US PRESSWIREDave Ragone is a former quarterback who has never coached receivers before.
All that is up for debate.
But new receivers coach Dave Ragone, a former quarterback who's never coached receivers before, looks to be breathing a different sort of life into his guys so far. He's far younger and more energetic than the four coaches who preceded him, and he's showing a creative flair in coaching his guys. After one practice, receivers wrapped their arms around the goal post support, catching balls on the other side of it. Clever.
I think such change is very healthy. But I got excited when Graves arrived and had his guys catching bricks too, so my enthusiasm may be momentary.
Ragone also brings a cannon of a left arm.
"He's got a Jugs machine tied to his arm," second-year wideout
Marc Mariani
told
The City Paper's David Boclair
. "He takes pride in that. He thinks he can out-throw us and break our facemask or whatever."
Balls are on receivers quick in practice periods when the coach is throwing, and they have to react quickly and show good hands. On the first day of practice he drilled a ball on the first throw of a period right off
Nate Washington
's facemask. Washington had to wipe it off before getting back in line.
Boclair accurately notes a major difference from receiver work during the Jeff Fisher regime:
"Seemingly every catch is accompanied by a whack from some sort of pad. Many throws are preceded by multiple cuts around a cone or a peak from behind a tackling dummy. Often, there's little time to find the ball and react to it.

"'More than anything else, I hope what we do in those drills translates [to game situations] and helps them when they're actually running their routes,' Ragone said. 'If they can't see how it works and how it can help them, then it's not going to be worth it to them.

'That's more my goal … explaining why it makes sense.'"
I'll revisit the idea of a quarterback coaching receivers after I visit with both Ragone and
Frank Reich
of the Colts.
For now, Ragone is definitely a guy to watch.
January, 31, 2011
1/31/11
5:59
PM ET
When Ray Sherman left the
Tennessee Titans
staff, he was viewed as a coach with a bit of wanderlust: He always thought the next job he got would be better, and might position him for the big step to a head coaching job.
Sherman was on Jeff Fisher's staff in 2005 and 2006, hardly a monumental time for receivers with the team. He was on the Oilers' staff in 1988 and 1989 as well. So Bud Adams knows him from two stints.
Now he's a candidate for the Titans' head coaching vacancy (somehow Adam Schefter tweeted that Chris Mortensen is reporting it).
Sherman interviewed with the Cowboys, fulfilling their requirement under the Rooney Rule to discuss a head coaching vacancy with at least one minority. Skeptics will say he's a token interview in Nashville, particularly if Mike Munchak is hired quickly as Fisher's replacement. Munchak interviewed Monday.
John Wooten is chairman of the Fritz Pollard Alliance, an organization that works with the NFL promoting diversity among front office executives, coaches and scouts.
He said he spoke with Titans general manager Mike Reinfeldt Monday to let him know of the group's "ready list." Sherman is one of seven remaining minorities the group promotes as ready to be head coaches. Three others from the earlier version of the list – Leslie Frazier, Ron Rivera and Hue Jackson – have attained head coaching jobs.
Wooten said he'd love to see Giants defensive coordinator Perry Fewell and Packers assistant head coach/inside linebackers coach Winston Moss get a look from the Titans. Moss cannot interview until after the Packers play in Super Bowl XLV Sunday.
I know Jim Wyatt's conversation with Bud Adams that
I cited in this morning's RTC entry
indicated the owner sees things happening quickly. Maybe they will.
But general manager Mike Reinfeldt and senior executive vice president and general counsel Steve Underwood are sorting out the pool and doing the interviewing.
They are deliberate guys who emphasized Friday that they would take as long as they need to. That makes me think we learn the new coach later rather than sooner.
Of course, this franchise has not been in this position for some time, its lead by an eccentric owner and anything can happen.
As for minority presence: of the four assistants that are gone from Fisher's 2010 staff, running backs coach Craig Johnson and receivers coach Fred Graves, are African American.
Now only two of the 14 assistants who are under contract to the team are minorities -- secondary coach Marcus Robertson and defensive assistant/quality control coach Rayna Stewart.
Whoever the new head coach is, he will have to consider diversity as he pieces together his staff.
January, 18, 2011
1/18/11
11:15
AM ET
By
Matt Mosley
| ESPN.com
Former
Dallas Cowboys
wide receiver
Patrick Crayton
was never shy about speaking his mind. And last week, the Chargers receiver popped on "The Ben & Skin Show" on to 103.3 ESPN Radio to talk about a variety of topics,
including the work
of rookie
Dez Bryant
.

Bryant
"They let him get away with a lot of stuff. A lot of stuff," Crayton said of Bryant. "Hopefully whoever they bring in as receivers coach, and they say [Jason] Garrett is a disciplinarian, won't let him get away with so much stuff. He'll get locked down and hopefully be the next
Michael Irvin
."
Crayton's not a fan of Garrett's, as you might have gathered from that little jab. But it's interesting what he said about Bryant, who was reportedly late to several meetings during the season and didn't exactly commit the playbook to memory. Former Cowboys scout Bryan Broaddus, who now works for 103.3, recently wondered aloud (on the air) whether Dallas might listen to trade offers for Bryant. ESPNDallas.com's Calvin Watkins posed that question to someone in the Cowboys' front office.
"I would think about it," said the source.
I think Bryant has way too much upside for the Cowboys to think about trading him, but it's interesting that someone at Valley Ranch is at least open to the possibility. Even if a team offered a top-15 draft pick for Bryant, are we convinced the Cowboys would turn two first-round picks into gold?
One look at this defense shows you how the Cowboys haven't exactly owned the first round of the draft. Cornerback
Mike Jenkins
is coming off an awful season, defensive end
Marcus Spears
is probably headed out the door via free agency and outside linebacker
Anthony Spencer
disappeared in 2010. On the other side of the ball,
Felix Jones
has not emerged as one of the top backs from his first-round class.
We've always known Bryant was a top-10 talent who slid in the draft because of character concerns, so let's not act like it's a huge surprise that he's not the first guy to arrive at every meeting. Garrett sent wide receivers coach Ray Sherman packing, in part, because he gained a reputation for coddling some of his more outspoken players. Now that Garrett's in charge, it's incumbent on him to make sure that Bryant continues to mature as a player and person.
It's not like this offense has enough firepower to consider trading a playmaker of Bryant's caliber.
January, 4, 2011
1/04/11
3:00
PM ET
By
Matt Mosley
| ESPN.com
The
Dallas Cowboys
and
Miami Dolphins
have enjoyed a good working relationship since Bill Parcells and Jeff Ireland set up shop in South Florida. Parcells hired former Cowboys assistant head coach Tony Sparano to become the head coach in Miami in 2008 and the team immediately went to the playoffs.
Now, Cowboys owner Jerry Jones will interview Dolphins assistant head coach/secondary Todd Bowles for his head coaching vacancy Wednesday,
according to ESPN's Adam Schefter
. Parcells always thought Bowles had what it took to be a head coach when the two worked together with the Cowboys, and that made an impact on Jones.
Jones was set to interview Cowboys wide receivers coach Ray Sherman on Tuesday, and it's likely that Bowles will be the only other candidate to receive an interview. I still expect the Cowboys to announce Jason Garrett as the head coach this week, possibly as soon as tomorrow.
Bowles had an excellent relationship with the players during his time with the Cowboys and it wouldn't surprise me if he becomes the defensive coordinator. Garrett wasn't ready to commit to Paul Pasqualoni on Monday, in part, because he doesn't yet have the authority to commit to him.
January, 2, 2011
1/02/11
4:05
PM ET
By
Matt Mosley
| ESPN.com
The NFL Network
reported Sunday morning
that the interim tag has been removed from Jason Garrett's job title with the
Dallas Cowboys
. The Cowboys have denied that report, but ESPNDallas.com's Calvin Watkins is reporting
that Garrett's the leading candidate
for the full-time role.
As of Sunday morning, team owner Jerry Jones had not interviewed Cowboys wide receivers coach Ray Sherman, which would satisfy the Rooney Rule. I think most of us realize that Jones has been rooting for Garrett to win the job, and outside of a major setback against the
Philadelphia Eagles
today, that's what will happen.
Garrett took over a 1-7 team that had quit on coach Wade Phillips and has led the Cowboys to a 4-3 record. With the Eagles resting
Michael Vick
and several other starters Sunday, it wouldn't surprise me if Garrett picked up his fifth win as interim coach. But something tells me that Jones will wait a couple weeks to make some public announcement about Garrett.
His team may not be playing in the North Texas Super Bowl, but Jones could still generate some headlines by naming Garrett the head coach that week. Garrett certainly had a setback against the Cardinals on Christmas night, but I don't believe that loss was a deal-breaker.
He'll be named head coach soon enough, but I'd be surprised if the announcement comes down this evening.
February, 25, 2010
2/25/10
2:18
PM ET
By
Matt Mosley
| ESPN.com
INDIANAPOLIS -- Just had a nice visit with former Cowboys director of scouting Jeff Ireland, now the general manager for the
Miami Dolphins
. We discussed a number of topics, including Florida quarterback
Tim Tebow
and Baylor center
J.D. Walton
, who is projected to go in the second round of April's draft.
[+] Enlarge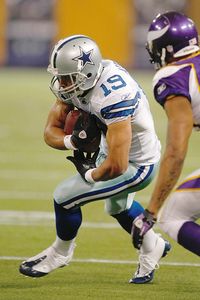 Scott Boehm/Getty ImagesMiles Austin recorded 81 receptions for 1,320 yards and 11 TDs last season.
But of more interest to our Cowboys audience, Ireland talked about a former undrafted wide receiver named
Miles Austin
. Obviously, the Cowboys had no clue that Austin would eventually become a Pro Bowl receiver when they signed him in '06. But Ireland told me Thursday that Austin had the size and speed that suggested he might have a chance to make the leap from Monmouth to the NFL.
Former Titans wide receivers coach Ray Sherman (now with the Cowboys) and former Dallas scout Brian Gaine (now assistant director of player personnel for the Dolphins) were the only two people who showed up for Austin's pro day at Monmouth. Bill Parcells loved the fact that Austin was from his old Bergen County neighborhood, but it's not like anyone was standing on the table in the draft room on behalf of the wide receiver. I asked Ireland to tell me who should get the most credit for the Cowboys signing Austin.
"It's always a process," said Ireland, refusing to take the bait. "I was part of that process, but the area scout was also involved. In scouting, you bring things to the bridge and then the group helps you cross that bridge."
Would the Dolphins be interested in signing Austin, a restricted free agent, to an offer sheet? Obviously, Ireland's not going to answer that question, but I can almost assure you the answer's no. There's an unwritten rule between teams that have enjoyed close relationships. Bill Parcells and Ireland probably have too much respect for Cowboys owner Jerry Jones to make a play for Austin. And even if that relationship didn't exist, it's hard to imagine the Dolphins being willing to give up a first- and third-round pick for a player who's had one huge season.
Ireland has a hard and fast rule in scouting: "Stay away from projection players." In other words, he's not going to start throwing third-round picks at players from Monmouth who have great size just because Austin's career has taken off. Do you think West Virginia quarterback
Pat White
was a projection player?
I think the Dolphins projected him as a Wildcat quarterback, but some people would question where they took him in the draft. Back with some Tebow talk in a bit.
May, 13, 2009
5/13/09
12:02
PM ET
Posted by ESPN.com's Matt Mosley
Cowboys wide receiver Roy Williams will face huge expectations in '09 based on the draft picks the Cowboys gave up to acquire him last season. He was supposed to be the perfect complement to Terrell Owens, but he instead ran around looking lost in the second half of the season. His 19 catches for 198 yards in 10 games were embarrassing in Dallas.
But according to everyone at Valley Ranch, Williams has been one of the team's most committed players this offseason. During the recent rookie minicamp, receivers coach Ray Sherman couldn't stop bragging on how Williams is becoming more of a complete player. And for the Cowboys to have a chance at making the playoffs, Williams has to at least be a threat on the outside.
Rookies, Vets on the Hot Seat
ROOKIES ON THE HOT SEAT
• AFC: N | S | E | W
• NFC: N | S | E | W

VETS ON THE HOT SEAT
• AFC: N | S | E | W
• NFC: N | S | E | W
_blank">W
I can't think of anyone in the division who will face more scrutiny -- outside of the quarterbacks of course. Even former quarterback Troy Aikman has questioned the Williams trade, saying it could by "one of the biggest busts" in league history if it doesn't work out. I think Williams will be better this season, but it's hard to project where that puts him. He's had one Pro Bowl season in the league. Other than that, he's had a very pedestrian career so far.
Honorable mention: I think all eyes will be on Eagles left tackle Jason Peters. Was he worth a first-round draft pick? Well, we're about to find out. Can he return to the form of '07 or will he look like the player who was beaten for way too many sacks in '08? I think he'll be excellent in Philly, but he's still firmly on the hot seat.
January, 6, 2009
1/06/09
9:49
AM ET
Posted by ESPN.com's Mike Sando

Kent Somers of the Arizona Republic looks back at opportunities the Cardinals missed the last time they faced the Panthers.
Also from Somers: The Cardinals are embracing the underdog role heading to Carolina.
More from Somers: Anquan Boldin's injury status remains unclear.
Still more from Somers: Jets general manager Mike Tannenbaum is headed to Arizona to interview Cardinals assistant coach Russ Grimm.
Darren Urban of azcardinals.com revisits the Cardinals' final possession against the Falcons. Offensive coordinator Todd Haley had long since decided against a conservative approach in that situation.

Chrissy Mauck of 49ers.com wonders what lies ahead for 49ers receiver Bryant Johnson, who is scheduled to become a free agent. A hamstring injury derailed Johnson in 2008.
Ron Kroichick of the San Francisco Chronicle says Ted Robinson is eager to become the 49ers' radio play-by-play announcer in part because the job requires less travel. Known for his versatility, Robinson will have a chance to dive deeper into the NFL than he has in the past.
Matt Maiocco of the Santa Rosa Press-Democrat says the 49ers have benefited from coaching at the Senior Bowl in past years, but they won't get the chance in 2009.
Also from Maiocco: Robinson appreciates the fact that radio play-by-play announcers connect with fans of a team.
Matt Barrows of the Sacramento Bee takes a closer look at Scott Linehan as a candidate to become the 49ers' offensive coordinator. The fit appears right on the surface.
Ann Killion of the San Jose Mercury News says the 49ers need to hire Tom Rathman for their offensive staff. She says Rathman makes sense for the 49ers because he represents a smashmouth style with ties to the Bill Walsh era.

Clare Farnsworth of the Seattle Post-Intelligencer says the Seahawks expect to receive permission from the Bucs to interview Tampa Bay linebackers coach Gus Bradley.
Danny O'Neil of the Seattle Times says Bradley came to the Bucs more than two years after current Seahawks president Tim Ruskell left the organization.
Eric Williams of the Tacoma News Tribune wonders if the Seahawks can regain their edge in the NFC West. Arizona has won four of the last five games between the teams.

Jim Thomas of the St. Louis Post-Dispatch looks at Vikings defensive coordinator Leslie Frazier's candidacy to become Rams coach. He also checks in with Cowboys assistant Ray Sherman, who says the Rams are in position for a quick turnaround.
Bryan Burwell of the St. Louis Post-Dispatch says the Rams will conduct a respectable coaching search now that they have football people asking the tough questions. But with big-name candidates apparently unavailable, the Rams are likely to hire a lesser-known coach.
January, 5, 2009
1/05/09
9:21
AM ET
Posted by ESPN.com's Mike Sando

Dan Bickley of the Arizona Republic emphasizes the positive in looking at the Cardinals heading into their divisional-round game at Carolina.
Kent Somers of the Arizona Republic says the Panthers surprised the Cardinals in Week 8 by loading up against the run. Arizona enjoyed a big day in the passing game.
Also from Somers: Recent history gives the Cardinals hope going on the road for the divisional round. Wild-card teams have made it to Super Bowls recently.
More from Somers: Anquan Boldin's injury could affect a chunk of the Cardinals' game plan.
Bob Young of the Arizona Republic wonders why the Cardinals tend to leave their retractable roof closed even when the weather is perfect. I can think of two reasons. One, Kurt Warner prefers the roof closed, and he let team president Michael Bidwill know about it. Two, bright sunshine can blind a small number of fans in part of the stadium.
Bob McManaman of the Arizona Republic takes a quick look at the Panthers.
Darren Urban of azcardinals.com says the Cardinals prefer the underdog role.
Billy Witz of the New York Times checks in with the most disrespected Cardinal of them all, Edgerrin James.

Brian McIntyre of Scout.com breaks down the Seahawks' defensive participation by scheme and player. Brian Russell played all but one snap on defense, by his count. And there were several plays when Seattle had only 10 defenders on the field. Oops.
Also from McIntyre: A look at offensive participation and personnel use. Ironman Floyd Womack played a higher percentage of offensive snaps than any Seattle player.
John Morgan of Field Gulls says poor quality at the top of the 2009 NFL draft means the Seahawks are less likely to find an impact player there. I had this conversation with a scout Sunday. He couldn't think of a dynamic pass-rusher worthy of the fourth overall pick, unles the Seahawks took a chance on Wake Forest linebacker Aaron Curry.
Clare Farnsworth of the Seattle Post-Intelligencer says the Seahawks could hire Rod Marinelli. Meanwhile, longtime tight ends coach Jim Lind is expected to retire.
Eric Williams of the Tacoma News Tribune says the Seahawks tried to hire Marinelli twice when Mike Holmgren was head coach, but the Bucs denied permission each time.
William Tomisser of Seahawk Addicts breaks down the Seahawks' situation at running back. Maurice Morris, Julius Jones and T.J. Duckett combined for solid numbers, even if the perception was that Seattle didn't get top production from the position.

Jim Thomas of the St. Louis Post-Dispatch says the Rams have shown "at least some level of interest" in Jim Fassel, Russ Grimm, Jim Schwartz, Mike Munchak, Steve Spagnuolo and Jason Garrett. Winston Moss has already interviewed. The team has received formal permission to interview Todd Bowles, Leslie Frazier, Rex Ryan and Ray Sherman.
Drew Olson of onmilwaukee.com lists Mike Nolan and Jim Haslett as potential candidates to become defensive coordinator for the Packers. Both worked with current Packers coach Mike McCarthy.

Chrissy Mauck of 49ers.com lists the team's players scheduled to become free agents.
Matt Maiocco of the Santa Rosa Press-Democrat looks at the 49ers' rushing production by play direction. The team ranked fifth among NFL teams in yards per carry up the middle.
Matt Barrows of the Sacramento Bee says a power running game can help a team succeed without having a top-flight quarterback.
January, 1, 2009
1/01/09
2:17
PM ET
Posted by ESPN.com's Mike Sando
The Rams' list of coaching candidates now includes Vikings defensive coordinator Leslie Frazier, Dolphins secondary coach Todd Bowles, Ravens defensive coordinator Rex Ryan, former Giants coach Jim Fassel, Cowboys receivers coach Ray Sherman, interim Rams coach Jim Haslett and Packers linebackers coach Winston Moss.
That is the latest from Chris Mortensen via James Walker's recent report. Five of the seven candidates listed above have defensive backgrounds. Haslett and Fassel are the only ones with NFL head-coaching experience.
Organizations often look for head coaches whose approaches differ significantly from that of the previous head coach. Former Rams coach Scott Linehan was a former offensive coordinator with no previous experience as an NFL head coach. We're now seeing the Rams look at candidates primarily with defensive backgrounds.
The Rams anticipate making significant changes even if they retain Haslett, who continues to work as interim coach under a contract that expires in mid-February.
NFL SCOREBOARD
Sunday, 2/2
WEEKLY LEADERS