December, 19, 2013
Dec 19
10:00
AM ET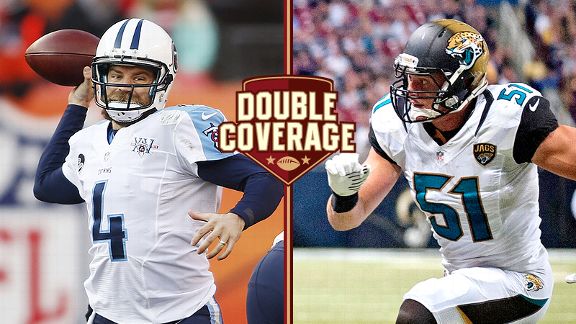 USA Today SportsPaul Posluszny and the Jags are aiming for a season sweep of Ryan Fitzpatrick and Tennessee.
JACKSONVILLE, Fla. -- Maybe
Delanie Walker
shouldn't feel so bad now.
The Titans tight end said he was embarrassed after the Jaguars won 29-27 in Nashville on Nov. 10 to pick up their first victory. Since then, the Jaguars are 3-2 with victories over Houston (twice) and Cleveland. The Titans are 1-4 with a victory over Oakland.
There seems to be much more stability in Jacksonville, too, because of the uncertain status surrounding Tennessee coach Mike Munchak.
Jaguars reporter Michael DiRocco and Titans reporter Paul Kuharsky break down Sunday's matchup at EverBank Field.
DiRocco
: Some Titans players were pretty vocal about being embarrassed due to becoming the first team to lose to the Jaguars. Is that something that still stings, and how have they rebounded from that loss?
Kuharsky
: It definitely left a mark. They are only 1-4 since then. It kind of set a bar for how bad they can be and re-established their propensity to lose to teams that are really struggling. The Jaguars are on an upswing since that game, and the Titans are on a downward spiral. If Tennessee losses to the Jaguars again, the Titans will be in line to finish in third place in an awful division, which is well short of their goals and expectations. The Titans are a better team than they were last year. But losing closer isn't a really big difference in the really big picture.
Let's turn that around. How has life changed for the Jaguars since that Nov. 10 breakthrough?
DiRocco
: I could go into a lot of stats that show how much better the Jaguars are playing, but that's not what's really important. The past six games have been more about the validation of the process, establishing the foundation of the franchise's rebuild, and confidence in the new regime. Coach Gus Bradley never wavered from the plan that he and general manager David Caldwell established. His message stayed the same throughout the eight-game losing streak to start the season: trust in the process, work hard, and focus on improving and not victories, and the victories will eventually come. Because that has happened, the players appear to have completely bought into what Bradley and Caldwell want to do, and there's a confidence in the locker room that the franchise is headed in the right direction.
We talked about
Jake Locker
the last time these teams met, but that was before he suffered a season-ending injury to his foot. How does that change the Titans' outlook on him and are they in the market for a quarterback in the offseason, too?
Kuharsky
: Locker is certain to be on the 2014 Titans. His fourth year isn't that costly and it's guaranteed. But they can't execute a spring option for his fifth year that would line him up for over $13 million. A lot of his fate depends on whether Munchak is back as the head coach. It's possible they go forward with Locker,
Ryan Fitzpatrick
and just-signed
Tyler Wilson
as their quarterbacks. It's also possible they'd draft a new guy, and depending on how high of a pick he could land in competition to start. I think it's less likely they chase a free agent like
Jay Cutler
if he comes free, but they have to assess all the possibilities. How can they completely commit to Locker based on his injury history?
One side effect of the Jaguars' surge is they aren't going to be in position to draft the first quarterback taken. What's your sense of what Bradley and Caldwell want in a quarterback and do you expect one to arrive in the first round?
DiRocco
: Offensive coordinator Jedd Fisch said something interesting last week. He said he wants his QB to scramble around, take off running to get yards and take some chances throwing the football. To me, that sounds like a pretty accurate description of Johnny Manziel. I'm not sure how that reconciles with the ideas of his bosses. Bradley comes from Seattle, which has the mobile
Russell Wilson
. Caldwell comes from Atlanta, which has the considerably less mobile
Matt Ryan
. My sense is that Bradley and Caldwell probably lean more toward the Wilson end of the spectrum. People think that eliminates Teddy Bridgewater, but that's not the case. He's not a runner but he can run if needed. If he's around, I'd expect them to take him. If not, then I would still expect them to go quarterback. It's their most glaring need.
You mentioned Munchak's job status. What's your take on whether he will be back next season -- and should he be?
Kuharsky
: He's shepherded improvement, but his team lacks an ability to finish. He's 0-4 in the worst division in football, 1-9 in the past two years. His teams have lost to the previously winless Jags in 2013 and the previously winless Colts in 2011. He's 4-18 against teams with winning records when the Titans played them and 2-19 against teams that finished the season with a winning record. To me, three years is a sufficient sample size to know what you've got and those numbers are the most telling thing on his resume. Keep him and they deal with all the limitations connected to a lame duck coach. I don't know what Tommy Smith, the head of the new ownership, will do. But the fan base overwhelmingly wants change, if that's worth anything. People still pay for tickets because they've got investments in personal seat licenses they do not want to throw away. But a lot of people are staying home on Sundays now.
Cecil Shorts
is done and
Maurice Jones-Drew
is uncertain. How can the Jaguars threaten on offense without their two best weapons?
DiRocco
: They were able to put up 20 points and post their second-highest yardage total of the season, including a season-high 159 rushing, in last Sunday's loss to Buffalo. Running back
Jordan Todman
stepped up big time and ran for 109 yards (Jones-Drew cracked 100 only once in the first 13 games) and tight end
Marcedes Lewis
was more involved in the passing game than in previous weeks (four catches for 54 yards and a touchdown). But I'm not sure that is sustainable. Teams will certainly concentrate on stopping Lewis and make quarterback
Chad Henne
move the ball with three receivers who have a combined 75 career catches. Todman doesn't scare anyone, either. The Jaguars will have to be creative on offense (they've run gadget plays the past three weeks) and capitalize on every opportunity they get.
April, 7, 2011
4/07/11
12:00
PM ET
»
NFC Draft Watch
:
East
|
West
|
North
|
South
»
AFC
:
East
|
West
|
North
|
South
Each Thursday leading up to the NFL draft (April 28-30), the ESPN.com NFL blog network will take a division-by-division look at key aspects of the draft. Today's topic: history in that spot.
Denver Broncos

The Broncos' top pick is No. 2 overall. Here are the previous seven players taken in that spot, with their NFL team in parentheses:
2010:
DT
Ndamukong Suh
(Lions)
2009:
T
Jason Smith
(Rams)
2008:
DE
Chris Long
(Rams)
2007:
WR
Calvin Johnson
(Lions)
2006:
RB
Reggie Bush
(Saints)
2005:
RB
Ronnie Brown
(Dolphins)
2004:
OL
Robert Gallery
(Raiders)
ANALYSIS:
This is the Broncos' first top-five pick since 1991 when they took linebacker
Mike Croel
at No. 4. The Broncos would love to have the success Detroit had last year with the pick. Suh looks like a unit changer and Denver needs a similarly dominant defender. Detroit is the only team to have great success at No. 2 in the past seven years. Along with Suh, Johnson is a fabulous player. There are some good players on this list, though, with no flat-out duds. The Rams hope to see progress in Smith and Long, who made strides in 2010.
San Diego Chargers

The Chargers' top pick is No. 18 overall. Here are the previous seven players taken in that spot, with their NFL team in parentheses:
2010:
C
Maurkice Pouncey
(Steelers)
2009:
LB
Robert Ayers
(Broncos)
2008:
QB
Joe Flacco
(Ravens)
2007:
CB
Leon Hall
(Bengals)
2006:
LB
Bobby Carpenter
(Cowboys)
2005:
LB
Erasmus James
(Vikings)
2004:
DE
Will Smith
(Saints)
ANALYSIS:
This is an interesting group. It shows teams can find franchise players at No. 18, but they can also make a major mistake with the pick. Flacco was a tremendous value for Baltimore in 2008. Pouncey looks like he'll be at center in Pittsburgh for the next decade. Smith has also had a terrific career and was a solid pick at No. 18. James was a terrible pick, Carpenter wasn't worth it and the jury is still out on Ayers. The Chargers know they have to pick smart. They took linebacker
Larry English
at No. 16 in 2009 and are waiting for a payoff. It's interesting that there are four defensive ends/linebackers on this list. That's exactly the position the Chargers will be looking for with the No. 18 pick.
Kansas City Chiefs

The Chiefs' top pick is No. 21 overall. Here are the previous seven players taken in that spot, with their NFL team in parentheses:
2010
: TE
Jermaine Gresham
(Bengals)
2009:
C
Alex Mack
(Browns)
2008
: T
Sam Baker
(Falcons)
2007:
S
Reggie Nelson
(Jaguars)
2006
: RB
Laurence Maroney
(Patriots)
2005
: WR
Matt Jones
(Jaguars)
2004:
DT
Vince Wilfork
(Patriots)
ANALYSIS:
The Kansas City Chiefs are not used to drafting this low. Kansas City has picked in the top five the past three years. However, Kansas City general manager Scott Pioli is plenty familiar with having the No. 21 pick. He was with New England when it had the choice in 2004 and 2006. Pioli has seen teams both score and whiff with the pick. Wilfork was a tremendous choice while taking Maroney was a blunder. However, the pick has paid solid dividends in recent years. This doesn't appear to be a bad spot to be in.
Oakland Raiders

The Raiders' top pick is No. 48 overall. Here are the previous seven players taken in that spot, with their NFL team in parentheses:
2010:
QB
Jimmy Clausen
(Panthers)
2009:
S
Darcel McBath
(Broncos)
2008:
TE
Fred Davis
(Redskins)
2007
: LB
Justin Durant
(Jagaurs)
2006:
DB
Cedric Griffin
(Vikings)
2005:
LB
Odell Thurman
(Bengals)
2004:
LB
Dontarrious Thomas
(Vikings)
ANALYSIS:
It's interesting that a quarterback was taken at this spot in 2010. Clausen was the third quarterback taken last year. If a quarterback such as Washington's
Jake Locker
or Arkansas'
Ryan Mallett
takes a similar tumble, we could see a quarterback taken at No. 48 again. This pick has been hit-or-miss, so it could be worth taking a gamble. Oakland picked at No. 47 two years ago and is still waiting for safety
Mike Mitchell
to develop. Last year, Oakland took defensive lineman
Lamarr Houston
at No. 44 and he had a terrific rookie season. In 2007, Oakland took standout tight end
Zach Miller
at No. 38. The Raiders know they can find talent in the second round.

NFL SCOREBOARD
Sunday, 12/22
Monday, 12/23