October, 2, 2013
10/02/13
11:55
AM ET
GREEN BAY, Wis. -- The
Green Bay Packers
didn't sign another kick returner to replace
Jeremy Ross
, who was released last week.
But now there's an intriguing prospect on the practice squad.
Though it doesn't solve the Packers' return problems for Sunday's game against the
Detroit Lions
, the signing of rookie receiver Reggie Dunn to the practice squad on Monday might help the return game in weeks to come.
The 5-foot-9, 178-pound Dunn was a first-team All-Pac 12 kick returner at the University of Utah last season, when he averaged a whopping 51.3 yards per return on 10 kickoffs, four of which he returned for touchdowns (including two in one game against Cal). What's more, he might be the fastest player in the Packers' locker room. He said that during his pro day workout, he ran the 40-yard dash in 4.22 seconds and again in 4.26 seconds.
Dunn, who spent the preseason with the
Pittsburgh Steelers
after signing as an undrafted free agent, worked out for the Packers on Monday morning and was signed to the practice squad shortly thereafter.
"Hopefully as the weeks go by, I can impress some of the coaches and show I can be a help to the team and help the team win games," Dunn said. "But as of right now, I'm on the practice squad. I just got here. The only thing I can do is work hard every day, try to bond with some of the guys and work hard and play my role on the practice squad."
[+] Enlarge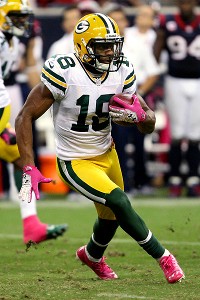 Troy Taormina/US PresswireRandall Cobb hasn't returned kickoffs since last season, when he averaged 25.3 yards per return.
At this point, with the Packers ranked dead last in the NFL in kick return average, they might be willing to try anything.
But where does that leave the Packers for Sunday's game against the Lions? That's been the question since the Packers cut Ross after he fumbled a kickoff against the
Cincinnati Bengals
in Week 3.
The Packers will have to decide whether to use receiver
Randall Cobb
on returns. Cobb, who has three special-teams touchdowns the past two seasons combined, has not been the primary return man since late last season, when Ross took over.
"The return game is something that really will take the week to work through," Packers coach Mike McCarthy said this week. "We have some candidates. Whether Randall will do it or won't do it, we'll let the week play that out. It's a focus. It's been a focus since we made the change."
For what it's worth, Cobb was listed as the No. 1 kick returner and punt returner on the team's latest depth chart released on Tuesday.
However, given Cobb's importance on offense -- he leads the team in receptions (21) and receiving yards (290) -- and the fact that the Packers have only four receivers on their roster, they might be hesitant to put him back on full-time return duty.
That would leave rookie running back
Johnathan Franklin
as the most likely candidate to return kickoffs and rookie cornerback
Micah Hyde
as the possible punt returner.
"Nothing's changed so far," Cobb said. "I'm still practicing the same way I've been practicing, the way I've practiced all through OTAs, all through training camp, as a returner. We don't know for certain what the deal's going to be. In this business, anything can change. It's a lot of time before the game, so we don't know what it's going to be when the time comes. As of right now, I've got to prepare myself for me being that guy."
August, 30, 2013
8/30/13
12:08
AM ET
Some thoughts from the
Pittsburgh Steelers
'
25-10 loss
to the
Carolina Panthers
in Thursday's preseason finale:
The only way Derek Moye doesn't make the 53-man roster is if the Steelers keep just four wide receivers. The 6-foot-5, 210-pounder clearly separated himself from the other receivers vying for a spot behind Antonio Brown, Emmanuel Sanders, Jerricho Cotchery and Markus Wheaton. Moye caught two passes for a team-high 55 yards Thursday; he received bonus points for chasing down Josh Norman from behind after the Carolina cornerback intercepted a Landry Jones throw and had nothing but green grass in front of him. Moye's hustle saved a touchdown and the Panthers settled for a field goal.
Jones played the entire game and finished with a thud after a great start. The former Oklahoma star looked masterful in directing an eight-play, 80-yard touchdown drive on the Steelers' opening possession. Jones looked like the rookie he is after that. He completed just 13 of 32 passes for 149 yards and three interceptions. The last pick came on his final pass of the game and, the Steelers have to hope, the foreseeable future. Wide receiver Justin Brown fell down on the play, but Jones still looked a long way from being NFL-ready. If injuries force Jones -- the No. 3 quarterback -- to play, the Steelers are in trouble anyway.
The toughest roster decisions the coaches and front office have to make might come at linebacker. Undrafted rookie Alan Baxter again put consistent pressure on the quarterback, and he will be tough to cut. But do the Steelers like him enough on special teams to keep a fifth outside linebacker? There appear to be at least four solid candidates for two backup spots at inside linebacker, and it probably comes down to special teams when sorting through those players.
If veteran Brian Moorman had to beat out Drew Butler, I think the latter hangs on to his job as punter. Neither one stood out during preseason play, and Butler is younger. He is also the incumbent.
Felix Jones ran well, gaining a game-high 56 yards on 14 carries and presenting the coaches with a tough decision at running back. Jones is probably the odd man out if the Steelers keep four running backs on their 53-man roster as well as fullback Will Johnson. But the former first-round pick could have convinced Pittsburgh to keep another running back while rookie Le'Veon Bell recovers from a mid-foot sprain.
I don't think Curtis Brown is in trouble as far as making the team, but the former third-round pick didn't help himself at Carolina. He was beaten twice for touchdowns by Ted Ginn Jr., who torched the Steelers with 149 receiving yards.
Wheaton saw his most extension action of the preseason, and the rookie third-round draft pick produced mixed results. He dropped three passes, including one that Jones put right on his hands. But Wheaton also showed why the Steelers are so high on him. He blew past a Panthers defensive back in the first half and would have caught a long touchdown pass had Jones not put too much air under the ball.
I know fans were screaming when Reggie Dunn fielded a punt inside the Steelers' 5-yard line and got tackled for a safety after he went backward while trying to reverse field. But Dunn isn't going to make the team anyway, and the undrafted rookie was just trying to make a play. The Steelers were intrigued by his speed, but one thing worked against Dunn from the start: the frequency of touchbacks in the NFL has de-emphasized kickoff returners.
What will the 53-man roster look like? I will take a shot at projecting it Friday in a post that will be up before noon. I expect the Steelers to make some cuts Friday afternoon, and they could do as they did in 2011, when they made the majority of their roster moves a day before the 53-man rosters had to be finalized.
May, 19, 2013
5/19/13
10:00
AM ET
The
Pittsburgh Steelers
will have competition at running back and outside linebacker this year, although I believe rookies
Le'Veon Bell
and
Jarvis Jones
will win those jobs. The most wide-open battle in Pittsburgh is in the return game.

The release of
Chris Rainey
in January forces the Steelers to find another kickoff returner, and the promotion of
Antonio Brown
and
Emmanuel Sanders
to the No. 1 and No. 2 wide receiver spots, respectively, likely means Pittsburgh will go with a new punt returner.
As the Steelers get ready to take the field for the first of three voluntary minicamps this week, you could make the case for around 10 players to compete over bringing back kicks and punts. But, when looking closely at the candidates, I see four as serious contenders to become the new returners.
On kickoff returns, running back and free-agent addition
LaRod Stephens-Howling
has to be considered the favorite. His role as a returner decreased the past two seasons in Arizona, but he averaged 25.7 yards and scored three touchdowns on kickoffs in his first two seasons in the NFL.
The one returner who could unseat him is undrafted rookie
Reggie Dunn
from Utah. He set the NCAA record for career 100-yard returns (five) and single-game 100-yard kickoff returns (two).
"He is an exciting player. He ran in the 4.3s on his pro day," Steelers general manager Kevin Colbert said of Dunn at a recent fan forum with season-ticke holders. "We're excited because the speed (is something) you can't teach. You have to give that young man the opportunity to prove what he can or can't do on the field."
Colbert said he's anxious to see how Dunn can handle punts. According to Colbert, Dunn didn't return many punts in college because Utah had others who were "quite honestly, better during his time there."
The other players who should get the opportunity to return punts are rookie sixth-round pick
Justin Brown
and
David Gilreath
. Brown averaged 13.5 yards per punt at Oklahoma and scored a touchdown. Gilreath, who holds the Big Ten for career kickoff returns, also ranked sixth in the Big Ten with an 8.8-yard average on punt returns before going undrafted in 2011. Last season, he returned two punts for a total of eight yards.
There's not as much mystery at returner around the AFC North. The Ravens kept
Jacoby Jones
and the Bengals re-signed
Brandon Tate
, but
Adam Jones
and
Onterio McCalebb
will push Tate. The Browns are expected to replace Pro Bowl returner
Josh Cribbs
with
Travis Benjamin
on punts and
Dion Lewis
on kickoffs.