NFL Nation:

Reggie Herring
April, 27, 2013
4/27/13
1:45
PM ET
After grabbing a strongside linebacker in the third round, the
Houston Texans
went with a weakside linebacker in the fourth:
Trevardo Williams
from UConn.

The Texans will now ideally have
Whitney Mercilus
and Williams on the weakside with
Brooks Reed
and
Sam Montgomery
on the strongside.
Williams is an athletic guy who was productive for the Huskies.
Like Montgomery, he will be making the conversion from college end to NFL linebacker under defensive coordinator Wade Phillips and linebacker coach Reggie Herring.
NFL Draft Scout raves about Williams' abilities at the snap.
"Explosive athlete with natural edge-rush ability. Extremely quick get-off to go with flexibility that makes him a consistent threat to round the edge on every play. Big-time closing burst in space. Exhibits an impressive lateral quickness when countering back to the inside from the edge. May have the best pure get-off of anyone edge rusher in this year's class. Relentless motor to the whistle. Exhibits acceleration to track down the stretch play from the backside."
The Texans still need to address inside linebacker.
April, 27, 2013
4/27/13
12:46
AM ET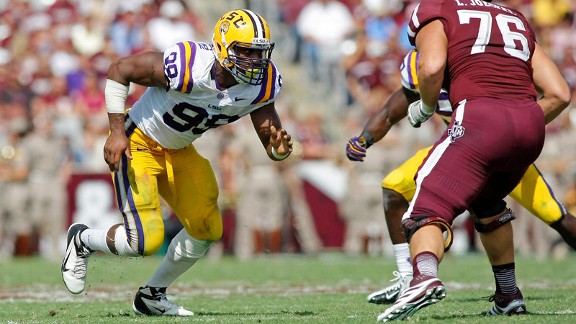 Brett Davis/USA TODAY Sports"I'm sure with the right coaching I will be fine," Sam Montgomery said of questions about his effort.
During his time at the NFL scouting combine,
Sam Montgomery
addressed concerns about the consistency of his effort as a college player.
The problem is that he admitted there were concerns about his effort as a college player.
He's now a member of the
Houston Texans
, who Friday used their second third-round pick, 95th overall, on Montgomery, the LSU defensive end.
If there is an effort issue, it will fall on defensive coordinator Wade Phillips and linebackers coach Reggie Herring to get week-to-week and snap-to-snap effort from Montgomery. He seems to be a more complex character than they discussed.
At the combine, Montgomery said he didn't play all-out because weak opponents allowed for some respite.
"You know, some weeks when we didn't have to play the harder teams, there were some times when effort was not needed," Montgomery said in Indianapolis. "But when we had the big boys coming in, the Bamas or the South Carolinas, I grabbed close to those guys and went all-out.
"Of course, this is a new league, the NFL, and there are no small teams, small divisions. It is all Alabamas and LSUs every week. It's definitely something I have to get adjusted to, but I'm sure with the right coaching I will be fine."
In a conference call with Houston media, Montgomery said his best quality is his relentlessness -- contradicting the idea that he didn't give his all against teams like North Texas, Idaho and Towson.
Herring suggested that Montgomery got caught up in entertaining the media, given that he likes to talk, and that his film didn't show a lack of effort -- something general manager Rick Smith has said he cannot accept from a player.
"If anything, the young man is guilty of being a bit na´ve," Herring said.
A scout I asked about Montgomery didn't reply with an effort question.
"He plays very hard," he said. "Good pick."
The Texans plan to start Montgomery out as a strongside linebacker, so their first four picks have addressed three areas of concern.
DeAndre Hopkins
should be the No. 2 receiver,
D.J. Swearinger
could play a lot as a nickel or dime safety, tackle
Brennan Williams
could win the right-side job from the recovering
Derek Newton
and Montgomery should be part of a rotation.
Houston hopes he'll be part of a three-man gang, along with
Brooks Reed
and
Whitney Mercilus
, that splits up the work at outside linebacker.
Last season, when the Texans drafted Mercilus in the first round, they said the same thing about using him with
Connor Barwin
and Reed.
But Reed's playing time only really dipped when he missed four games hurt. Barwin, who's since gone to Philadelphia as a free agent, played 93.8 percent of the defensive snaps last season. Even with four starts, Mercilus was on the field only 46.6 percent of the time.
The Texans will have to learn how well Montgomery can drop and cover, something he wasn't doing as a college defensive end in a 4-3 scheme under LSU coordinator John Chavis.
"He's big, strong, powerful, explosive individual," Herring said. "The one thing that he will have to learn is that he will have to learn to drop a little bit and things that he hasn't done as a defensive end at LSU -- understanding that they don't cultivate OLBs in college, so we have to pull from the defensive end position.
"Basically, you have to give and take with their ability to drop out in space, something they haven't done. That remains to be seen. That's something we'll have to work on. As far as playing the run and having pass rush skills and having the play strength that's above average in college, he has a foundation to be a good outside backer for us."
One thing that might have hastened the draft drop by Montgomery, once rated as a first-round prospect, was his inclusion on a list of 10 players by LSU strength and conditioning coach Tommy Moffitt.
Moffitt posted the names for scouts and said they were athletes who "miss workouts and
always have an excuse
."
"They lack the self discipline and motivation to take care of their responsibilities," the sign on an office door in the Tigers' facility said. "I will not answer questions regarding their performance numbers or character, as they care only about themselves."
ESPN.com scout Matt Williamson said he likes the idea of Montgomery as a strongside linebacker in Phillips' system.
"They really play a 5-2, so strongside 5-2 defensive end/outside linebacker," Williamson said. "Supposedly had some
awful
interviews at combine, though."
Williamson is the second person in one night who mentioned that to me.
Clearly, Montgomery's interview with Houston was fine, but a guy who bombed in multiple other opportunities seems concerning.
Perhaps what Montgomery said about playing with
Antonio Smith
hints that he can qualify as wacky to some, wacko to others.
Montgomery said he knows Smith, the Texans defensive end who calls himself the "ninja assassin."
"I'm willing to take the ninja's teaching," Montgomery said, "and make ninjasonic out of it."
January, 8, 2012
1/08/12
2:55
PM ET
On the heels of a great day for the
Houston Texans
comes a scary development.
Per John Clayton, Texans defensive coordinator Wade Phillips
will interview Friday
for the vacant head-coaching job in Tampa Bay.
Phillips had undergone a spectacular career renaissance in Houston. Fired as head coach in Dallas during the 2010 season, he's shaped a 3-4 scheme and influenced personnel decisions for Houston and overseen the team's climb all the way to No. 2 in the NFL defensive rankings.
He's a leading candidate for any assistant coach of the year award, and got my vote in a Pro Football Weekly/Pro Football Writers of America ballot I submitted on Saturday.
The Texans went two games without him late in the regular season after he had kidney and gallbladder surgery, losing both with linebackers coach Reggie Herring filling Phillips' post. He's still not fully recovered, and players spoke after Saturday's win over Cincinnati of wanting to succeed for him.
"From the scheme to his attitude and just his mindset, that's really just taken over this defense," linebacker
Brian Cushing
said. "To see him there, still not 100 percent, but out there and battling every day, you can tell he's hurting still. Just how much he misses football and wants to be out there for the guys, we just want to play well for him."
Phillips has a strong connection to Houston, and this would be a difficult gig for him to walk away from. But he has said his aim is to get a top job again.
Saturday he wasn't letting on that anything was in the works, he was just reveling in a big day.
"It's really special for the city," Phillips said after the 31-10 win over the Bengals that earned the Texans a trip to Baltimore. "I'm a Houstonian and I think it's great for the city and that's the way I feel. I mean, I'm a fan, too, and it's great for all of us."
December, 16, 2011
12/16/11
1:30
PM ET
╗
NFC Final Word
:
East
|
West
|
North
|
South
╗
AFC
:
East
|
West
|
North
|
South
Five nuggets of knowledge about Week 15:
Blitzing Cam Newton:
The Texans have thrived when sending five or more pass-rushers. According to ESPN Stats and Information, Houston blitzes on 52.1 percent of drop-backs, second only to New Orleans. They allow a 48.2 completion percentage, only 5.5 yards per attempt, and have recorded 20 of their 24 sacks. Newton has thrown seven touchdowns and three interceptions in such circumstances. But he's also taken 18 sacks, as many as any quarterback in the NFL. Linebacker coach Reggie Herring will work as the defensive coordinator with Wade Phillips recovering from kidney and gallbladder surgery. But Phillips drew up the plan, and the Texans should be doing what they've been doing.
[+] Enlarge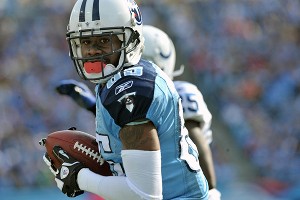 Jim Brown/US PresswireTitans receiver Nate Washington had two TD receptions against the Colts on Oct. 30.
Rematch:
The Titans beat the Colts in the first matchup 27-10 on Oct. 30 in Nashville.
Nate Washington
caught two touchdown passes and
Patrick Bailey
blocked a punt that
Jason McCourty
recovered for a score.
Curtis Painter
attempted 49 passes in that game. I think the Titans would be thrilled if
Dan Orlovsky
dropped back anywhere near that often, as he's mistake-prone, and the more Indianapolis has to rely on him the better the chance at interceptions, sacks and fumbles. Defensive end
Dave Ball
and tackle
Karl Klug
could be primed to force a turnover or two. Tennessee has not swept the Colts since 2002, the first year of realignment.
Serious scoring defense:
During their seven-game winning streak the Texans have allowed fewer than 20 points a game. According to the Elias Sports Bureau, the last team with such a streak was the 2005 Bears, who held eight consecutive opponents under 20 points during an eight-game win streak. Carolina has topped 20 points in 10 of its 13 games, and has averaged nearly 31 points a game over its past four.
Rest and recovery:
There is not a lot that can happen for the Jaguars to change things in their last two games. But they've got a weekend off now after Thursday night's beat-down in Atlanta. They finish with division games at Tennessee and against Indianapolis. So we'll see how Mel Tucker can get a battered team ready for familiar opponents and if the Jaguars are able to get
Maurice Jones-Drew
the yards he needs to secure a rushing title.
Tidbits:
Since Washington became a regular in 2006, his 14.9 yards per catch is the seventh-highest average in the NFL. …
Arian Foster
is 43 yards shy of 1,000 yards rushing, and
Ben Tate
is 180 yards shy of 1,000. When they both get there, they'll become just the seventh set of teammates to hit the mark in the same season. … Texans receivers have dropped 11 passes, tied with Minnesota for fewest in the NFL this season. … Newton's 39.2 red zone completion percentage is the third-worst in the league.
December, 14, 2011
12/14/11
10:45
AM ET
Spinning off a Houston Chronicle story this morning, I
wrote about the possibility
of Texans defensive coordinator Wade Phillips getting in the mix for another head-coaching job.
The Texans just announced that Phillips is taking a leave of absence from the team "due to a scheduled surgical procedure later this week."
He's expected to return later this year.
In that context, the original headline on my earlier post could have read insensitively. I apologize for the unfortunate timing on that.
Hopefully Phillips won't be out long. He's been a huge factor in the team's No. 1 defense. But the Texans have been overcoming key losses all season. They've won without
Arian Foster
, without
Mario Williams
, without
Andre Johnson
and without
Matt Schaub
.
Now we'll see if they can win without the coach of their defense.
Linebackers coach Reggie Herring will call the defense with Phillips away. Herring coached with the Texans from 2002-03, then rejoined the Texans before this season as a top lieutenant for Phillips.
Phillips is slated to talk to the Houston media after practice and we will look to bring you more then.
November, 9, 2011
11/09/11
1:54
PM ET
At the midpoint of the 2010 season, Wade Phillips was out of work after being forced out as the head coach of the
Dallas Cowboys
.
At the midpoint of the 2011 season, he's being touted by virtually everyone as the most influential coordinator/assistant coach in the league.
As the
Houston Texans
defensive coordinator, Phillips has guided a team that was 30th in defense last season to a 29-spot gain. Through nine games, the revamped Texans defense is first in the league.
[+] Enlarge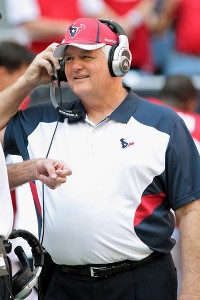 Troy Taormina/US PresswireTexans coordinator Wade Phillips gives his players credit for being the NFL's No. 1-ranked defense.
"A year ago about now I didn't have a job, after eight games I didn't have a job, he said with a laugh when I asked him to compare head-coaching life to coordinating. "It's what I do. It's football coaching and I try to do the best I can wherever I am and I've been lucky to be in a lot of good situations …
"It's head coach of the defense, that's the way that I've always looked at it. I've had autonomy most of the time, as far as head coaches letting me run it. The head coach has control and I am a good soldier on whatever he wants done … It never has mattered either way, really. I'm coaching and that's what I love to do. I'm around the players, I'm hopefully helping them get better. That's what I've always tried to do whether I am head coach or coordinator."
And Phillips certainly isn't reading the clips that are naming him assistant of the year at the halfway point. He's deflecting attention and credit.
"It still comes down to them, it's what kind of players you have," Phillip said. "Part of it is utilizing the talents that you have, the guys who can play inside linebacker, putting them in the right place and give them opportunities to make plays, playing different techniques with different guys. That's the coaching part of it. The X's and O's are important, the calls are important and all of that stuff.
"But it comes down to the players. I've been lucky to be with a lot of good players over the years and that makes me look good."
Phillips also praised the work of line coach Bill Kollar, linebacker coach Reggie Herring and defensive backs coach Vance Joseph.
Kollar was the lone position coach holdover from the defensive staff Gary Kubiak had last season with Frank Bush as coordinator.
Herring and Joseph were connected to Phillips and hired on his recommendation. And Phillips had major input into player acquisition as the Texans added veteran defensive backs
Johnathan Joseph
and
Danieal Manning
and drafted heavily on defense, starting with end
J.J. Watt
and linebacker
Brooks Reed
.
Those coaches and players have been key elements to the Texans' rise to defensive prominence.
Stay tuned for more out of my conversation with Phillips.
August, 16, 2011
8/16/11
10:58
AM ET
HOUSTON -- Yes, they brought in a top-flight defensive coordinator, drafted well and signed some good-looking free agents.
Still, the Texans have been the breakout pick so often in recent years and have come up short that it's completely fair to ask, even with those changes, why should people believe? Why should they buy this team?

"I couldn't sell it to anybody," said
Chris Myers
, the team's underrated center. "We're doing what we do here in camp. If you're a Texans fan, you're a Texans fan. Our offense is the same offense that we've had and we're going to try to make it better. Our defense has brought in who we think can change it, take it in the right direction and make us that complete team.
"That's the pitch. If you're going to buy it, you're going to buy it. If not, we're still rolling."
To find their way to the playoffs for the first time since the franchise began play in 2002, the Texans need to find the consistency they've lacked on many levels -- start to finish in a game, week to week over the course of the season.
That defensive coordinator, Wade Phillips, has a great record of turning defenses around. Gary Kubiak carries questions as a head coach, but not as an offensive mind.
It's a now or never deal for Kubiak, and he's got a lot of talent on his roster that knows it.
Receiver
Andre Johnson
, one of the league's top players, says the team's spent the past few preseasons talking about breaking through. This time he wants less talk and more action.
THREE HOT ISSUES
1) How quickly can Phillips shape the defense?
He's coming off a poor term as head coach in Dallas, but his track record as a coordinator is excellent.
[+] Enlarge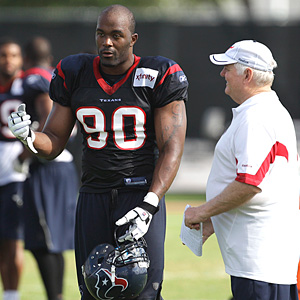 AP Photo/David J. PhillipMario Williams is adjusting to life as a stand-up linebacker in Wade Phillips' scheme.
Players on the Texans' defense say he's funny, yet pointed. He's already infused the group with confidence, and he quickly identified things that amounted to easy fixes.
Mario Williams
' false step should disappear, for example, and
Kareem Jackson
is unlikely to be seen in press coverages.
"Wade Phillips and [linebackers coach Reggie Herring] have brought a credibility and a confidence to the system that they run," said end-turned-outside-linebacker
Connor Barwin
. "I feel like it carries over to us. You know if you do what you're coached up to do that it's going to work."
The change from a 4-3 to a 3-4 isn't as extreme as some imagine, because Phillips' 3-4 doesn't demand a gigantic space-eating nose tackle, and it doesn't ask linemen to be responsible for two gaps. The linemen are really playing roles akin to what they did in the previous system, with Williams now standing up as an on-the-line backer on the weak side.
Creating that matchup as often as possible is key, and Williams should be the centerpiece of the retooling.
Though Williams didn't look comfortable in the preseason opener, end
Antonio Smith
thinks offenses will really struggle with Williams and his bull rush.
"It has not been stopped in camp yet," Smith said. "Since he decided to do it, I ain't seem him lose. You know what you need to do to beat a person. I think that throughout this camp, he's figuring out how to use that. He's added it into his bag of tricks and he's going to figure out how to use it along with his other moves."
Matt Schaub
and Johnson have both talked about how many more balls are contested and broken up in a typical practice. That difference suggests the new philosophy's growing on a unit that's needed not just players like
Johnathan Joseph
and
Danieal Manning
but also the sort of direction Phillips is providing.
2) Will Arian Foster be able to have another big season on the ground?
It wasn't long ago that
Steve Slaton
ran for 1,282 yards. He's disappeared since the 2008 season, however.
Foster said that what he did over 16 games last season proved him capable and that the notion of a fluke is ridiculous. But for the Texans' offense to get better, he'll have to follow up his 1,616-yard season and rushing title with another big showing.
"When you come out and have a season like that, then everybody wants to see what you're going to do the next season," Johnson said. "I think that is important for him, to come out and show people that he is the guy that he was last year.
"I think he'll do it, there is no doubt in my mind. Because he works hard and he plays with a chip on his shoulder."
Houston's play-action can be spectacular with Foster running as he did in 2010. His style is perfectly suited for the team's blocking scheme, which encourages him to cut once and take all he can get.
Another big year will go a long way toward setting the Texans' course.
3) Do enough guys have killer instinct?
The Texans' slow starts and inability to finish were major issues last season. Better personnel and coaching will need to be accompanied by a killer instinct this franchise has too frequently lacked.
[+] Enlarge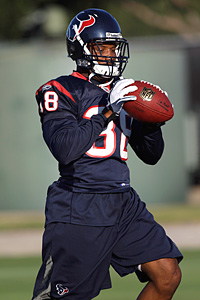 AP Photo/David J. PhillipThe Texans are counting on Danieal Manning to bring some veteran leadership to the defense.
"You could put it that way," tight end
Owen Daniels
said. "There's definitely never been a lack of effort. I think it's been missed opportunities at finishing games. ... We need to find something different this year in order to close out those games."
A guy like Johnson, soft-spoken but intense, certainly has a personality you can win with. But are the Texans, in total, too low key? I think it's a fair question.
"You've got to have that [killer instinct]," said Manning, one of the key newcomers. "... If you believe, all this other stuff is going to come into play: working together, supporting your man, pushing him, making him work hard, holding him accountable. All that stuff goes hand in hand. I've never seen a championship team that didn't believe, that didn't finish."
BIGGEST SURPRISE
When they grabbed him during the 2010 season, I don't think the Texans expected much from veteran cornerback
Jason Allen
. But the secondary was better with him than it was without him. Now, with a fresh start, he's mounting a serious challenge to Jackson, the 2010 first-round draft pick. The team would be well served to go with Allen if things come out roughly even. Jackson's seasoning would be better for now as a role player.
BIGGEST DISAPPOINTMENT
Antwaun Molden
looks the part as a 6-foot-1, 200-pound corner. But the team has finally stopped talking up the fourth-year man from Eastern Kentucky. He's not sturdy enough and doesn't show enough gumption to be a factor in a group where he's had a chance to add some depth. He had an interception in the preseason opener, but only after he committed a penalty that washed it away.
OBSERVATION DECK
Joel Dreessen is consistently underrated. Dreessen can block and, while not as dynamic as Daniels, has a knack for finding open spaces and presenting himself to Schaub. The Texans have a lot of quality tight ends. Look for the team to put three tights on the field at times, when they can operate as a heavy package or shift Daniels, Dreessen, James Casey or Garrett Graham into space, depending on the defensive personnel. Anthony Hill is the blocker of the bunch.

After facing questions about durability, Schaub's played two full seasons. Now the questions are about play in the clutch. He needs to eliminate moments like the one where he threw an overtime pick-six against Baltimore last season.

I expect the Texans to look closely at receivers when the league cuts down rosters. Dorin Dickerson currently looks to be fourth in line, but I saw him fighting some passes in practices and he's still relatively new to the position. Jeff Maehl heads the undrafted group but didn't look great either. Receiver depth is an issue.

Inside linebacker Darryl Sharpton could be the best non-starter on the roster come opening day. He's in a tough spot behind DeMeco Ryans and Brian Cushing, though injuries are often in play with Cushing.

Myers is a key cog in making the Texans' offensive line work, and he could be taking his place right alongside Jeff Saturday as an indispensable center in the division.

The team could be an injury away from trouble at end and safety.

Trindon Holliday's speed is not enough for him to overcome his size as even a situational receiver. Plus, he seems easily hurt. The return jobs are open if the team wants to avoid using Jacoby Jones as the punt returner and Manning as the kick returner.

Undrafted rookie Brett Hartmann beating out veteran punter Brad Maynard is a definite possibility.

Count me among those not convinced that Matt Leinart can't play. If this team needs a few spots starts, I bet he can do OK. One of the NFL's quarterback-needy teams was foolish not to add Leinart to the mix. He's better than a lot of guys with a chance to start some games this season.

Lawrence Vickers is better equipped to work as the fullback than Casey, and he should get far more frequent opportunities to lead the way for Foster.
May, 5, 2009
5/05/09
10:45
AM ET
| | |
| --- | --- |
| | |
| | AP Photo/Tony Gutierrez |
| | The Dallas Cowboys' practice field bubble lies on the ground after it collapsed following a storm in Irving, Texas, on Saturday. |
Posted by ESPN.com's Matt Mosley
IRVING, Texas -- As the skies over the Dallas Cowboys' Valley Ranch headquarters grew ominous Saturday afternoon, the obvious decision was to hold practice indoors. As is the custom during a rookie minicamp or any other practice, a member of the Cowboys' public relations staff escorted reporters past the outdoor practice fields toward the club's 80,000-square-foot indoor facility, where players and coaches had already gathered.
There was no indication that in less than an hour, many of them would be fearing for their lives. What follows is an attempt to piece together what happened in those chaotic moments after winds of up to 70 mph treated an enormous structure as if it were a toy. In conversations with reporters, video journalists and members of the Cowboys' organization, we've tried to reconstruct some of Saturday's events. Because club employees have been told not to speak to the media, they've been granted anonymity for this story.
Cowboys Facility Collapse
• VIDEO: Footage from collapse
• PHOTOS: The collapse
At about 3:15 p.m. local time Saturday, heavy rains began pounding the fabric-covered indoor facility at Valley Ranch. People who are used to being in the facility during rainstorms immediately recognized a louder roar than usual. A group of reporters and cameramen from four local TV affiliates was in its normal position near the south end zone while players went through team drills. As the rain continued to pelt the facility, Todd Archer of The Dallas Morning News remarked to public relations assistant Jancy Briles, "I wonder what this thing's wind resistance is?"
In a few moments, he would have his answer. The first major sign of trouble was the violent swaying of lights high above the field. At that moment, several people in the building became concerned that one of the lights -- about 3 to 4 feet in diameter -- might drop on a player or coach. Fox 4 cameraman Larry Rodriguez looked up and spotted Cowboys videographer Sam Cromley 40 feet above the field on a hydraulic lift.
"Sam's platform was waving back and forth like a flag," Rodriguez said. "And pretty soon after that, the whole building started to shake. It felt like you were in a ship."
The team's director of videography, Robert Blackwell, ordered Cromley to come down, but it was too late. As the roof and walls began to fold like an accordion, Cromley remained on the platform and basically rode it down to the ground. In some of the video footage captured by local TV affiliates, you can hear Cowboys assistant linebackers coach Dat Nguyen yelling, "Sam, Sam, Sam" as he rushed over to help Cromley escape from underneath the facility's vinyl covering.
Nearby, one offensive lineman could be seen wrapping his arms and legs around one of the few poles that hadn't fallen. He apparently thought a tornado had hit the building, and he was holding on for dear life. For some, the most haunting thing was the initial sound they heard when the building began to implode.
"To me, it sounded like bubble wrap," said Rodriguez, who suffered a laceration on his hand that required nine stitches. "You could just hear everything popping and snapping around you."