NFL Nation:

Reggie Miller
January, 21, 2014
Jan 21
2:15
PM ET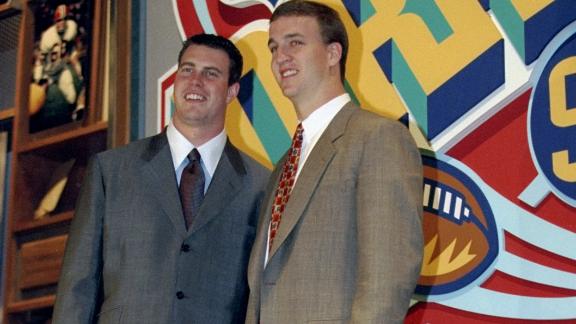 INDIANAPOLIS – No
Peyton Manning
. No winning at least 12 games for seven straight seasons. No two Super Bowl appearances. No Lucas Oil Stadium. Possibly no
Andrew Luck
, either.
That's what would have happened if the
Indianapolis Colts
had decided to select Ryan Leaf over Manning back in 1998.
Agent Leigh Steinberg wrote in his book, "The Agent: My 40-Year Career Making Deals and Changing the Game," that Leaf skipped a meeting with the Colts prior to the 1998 draft so that they would not draft him at No. 1 overall, allowing him to drop to the
San Diego Chargers
at No. 2.
Life wouldn't be so glamorous in Indianapolis if the Colts had taken Leaf. There probably would have been a lot of babysitting by the Colts with Leaf.
He had four poor seasons in the NFL and he's currently serving a five-year prison term from burglary and drug possession charges and probation violations from charges in Texas.
Manning surpassed Reggie Miller as the primary sports figure in Indianapolis and he'll play in his third Super Bowl in less than two weeks with the Denver Broncos.
Former Colts general manager Bill Polian said on "Mike & Mike" on Tuesday that after doing their due diligence researching the two quarterbacks it was an easy decision to select Manning.
"What we heard on the football side that we would have been better off with Peyton," Polian said on the show. "There was a lot of information that led us toward Ryan was nowhere mature enough to handle the job."
Steinberg said that former Chargers general manager Bobby Beathard went along with the idea that Leaf skip out on meeting with the Colts. Beathard was also on "Mike & Mike" where he denied that because they "absolutely wanted to draft Peyton."
Polian told a story where he crossed paths with Beathard at one of Leaf's workouts and the former Chargers general manager walked by Polian, slapped him on the arm and said, "you're going to really love this kid," trying to trick him into selecting the former Washington State University quarterback so Manning could slide to No. 2.
"Ryan was the talented guy with the tremendous upside, but there were red flags we were concerned about," Billy Devaney, who was in San Diego's front office in 1998, said on "Mike & Mike." "Peyton didn't have any holes in him."
It didn't take long for everybody, especially the Colts, to realize that.
December, 18, 2013
12/18/13
9:00
AM ET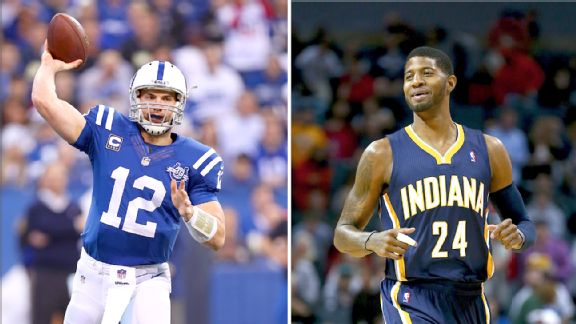 Getty ImagesAndrew Luck, left, and Paul George are the biggest sports stars in Indianapolis.
INDIANAPOLIS -- Indianapolis is part of the 34th-largest metropolitan area in the country. It's a small-market city in the Midwest that is considered rather vanilla. It lacks the bright lights of New York. It doesn't have the sandy beaches of Miami or Los Angeles. It's a big deal in Indianapolis when Justin Timberlake is sitting courtside at Bankers Life Fieldhouse.
But located in the heart of downtown, and just a long
Andrew Luck
pass apart, are two venues where two of the best young players in their respective sports play. They're two players who have caused eyes from around the country to focus on Indianapolis' two professional sports teams in a way that hasn't happened since Reggie Miller was launching 3-pointers for the
Indiana Pacers
and
Peyton Manning
was picking apart defenses for the
Indianapolis Colts
.
[+] Enlarge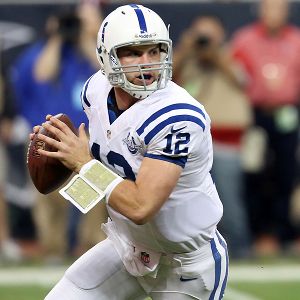 Thomas B. Shea/Getty ImagesAndrew Luck has led the Colts to the playoffs in consecutive seasons.
Paul George
of the Pacers and Luck of the Colts are two who represent the state well. They're both under 25 and they both have their teams in a good position for years to come.
"It's cool that this city has two up-and-comers that are restoring what used to be here with Reggie and Peyton," George said. "There are not many cities that can say that. The Colts have been good for a while outside of that one year, which helped them get Andrew, and we've worked way up to where we believe we're starting to get respect finally."
USA Today ran a story Dec. 9 ranking the
winningest sports cities
in North America.
The city sitting on top?
Not New York or Miami.
Indianapolis.
The Pacers, a win away from reaching the NBA Finals last season, have been on a mission to knock the
Miami Heat
off their throne as NBA champions. They won their first nine games of the season and have the best record in the Eastern Conference at 20-4 heading into Wednesday's showdown against the Heat. Luck has led the Colts to their first AFC South title in three years.
"To have young studs at the top of their field in the NBA and NFL, it's a tribute to Indy being a true sports town," Colts linebacker
Robert Mathis
said. "It started out as a basketball state, we were able to nudge them a little bit and get football on the Hoosiers' mind, and now the Pacers are back."
"

A lot of people in the country will be looking at Indianapolis for a long time because we have two people in key positions in our sports franchises that the nation will be talking about.

"

-- Indianapolis Mayor Greg Ballard on Andrew Luck and Paul George
The Pacers have been looking for a franchise player since Miller gave a final wave to his 18-year Hall of Fame career more than eight years ago.
The 23-year-old George has stepped up to fill that void by becoming one of the NBA's premier all-around players and an MVP candidate. George, an All-Star last season, is averaging 23.8 points, 5.8 rebounds and 2.0 steals while defending the opposing teams' best perimeter player each game.
Luck's task was even tougher. The 24-year-old was selected to replace Manning, the person responsible for leading the Colts to two Super Bowls and having Lucas Oil Stadium built, less than two months after the team released Manning. All Luck has done is lead the Colts to the playoffs in his first two seasons.
"They both represent Indianapolis very, very well," Indianapolis Mayor Greg Ballard said. "You can't just win in Indianapolis and in Indiana, you have to win the right way otherwise it's not accepted. I'm not sure they would be as well received in the city or the state without strong character traits. A lot of people in the country will be looking at Indianapolis for a long time because we have two people in key positions in our sports franchises that the nation will be talking about."
Don't ask George or Luck to talk about themselves, though. They'd rather praise their teammates because they wouldn't have their success without them, according to Luck.
George declined to do a one-on-one with ESPN earlier this season. He would agree to the interview only if the entire starting five took part. Luck has been beat up like a punching bag by defenses because of poor blocking by the offensive line. But he refuses to point the finger at that group. His reasoning for it is that he needs to get rid of the ball quicker or take a step up in the pocket to avoid the rush.
[+] Enlarge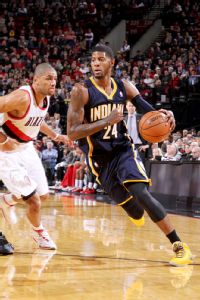 Sam Forencich/NBAE/Getty ImagesPaul George and the Pacers currently sit atop the Eastern Conference.
"I think one, I was taught to have a respect for the game, for sports growing up," Luck said. "Football is the ultimate team sport. It's so cool that the quarterback has to rely on a 315-pounder who has an incredibly different skill set. Any time one person does well, you know there are 10 other guys doing their job. It's such a team sport, so why not make it about everybody else?"
The path the two took to get where they are couldn't be any more different.
Luck was the can't-miss No. 1 overall pick, the best quarterback coming out of the draft since Manning in 1998. The thought that there was even a debate over whom to take between Luck and
Robert Griffin
III is laughable today.
George was a relatively unknown player out of Fresno State who was projected to be selected late in the first round or early in the second when he first put his name in the 2010 draft. Pacers fans had hoped that
Gordon Hayward
, an Indianapolis product, would be available when the team picked at No. 10. Team president Larry Bird avoided having the state upset at him when the
Utah Jazz
selected Hayward at No. 9, making it an easy decision to select George over North Carolina's
Ed Davis
.
Both teams made the right choice and both teams, along with the rest of the country, know they have a bright future.
"Paul George is emerging as a superstar, an MVP candidate, and Andrew Luck, anybody with a brain knows he'll be an MVP in the future," Colts punter
Pat McAfee
said. "Winning now is awesome, but to have that certainty of winning in the future is good for both franchises and for the city. I think it'll attract people to our city."

NFL SCOREBOARD
Thursday, 9/4
Sunday, 9/7
Monday, 9/8