NFL Nation:

Reggie Torbor
December, 3, 2010
12/03/10
4:00
PM ET
»
NFC Final Word
:
East
|
West
|
North
|
South
»
AFC
:
East
|
West
|
North
|
South
Five nuggets of knowledge about Week 13:
[+] Enlarge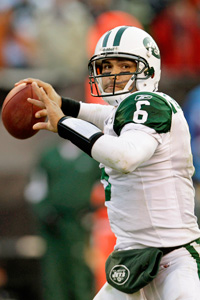 AP Photo/Tony DejakMark Sanchez likes to throw deep, but the Patriots have been more vulnerable on shorter routes.
When it comes to drawing up a passing strategy to win Monday night, the New York Jets would be wise to keep it short and simple.
Mark Sanchez
likes to throw deep. Only five quarterbacks have thrown more passes 21 yards or deeper than Sanchez has. But ESPN Stats & Information notes the
New England Patriots
' pass defense has been suspect on throws shorter than 15 yards. Opponents are posting a 98.9 passer rating, ranking the Patriots 27th in the league. But on passes 15 yards or longer the Patriots rank 12th in allowing a 74.4 passer rating. Patriots rookie cornerback
Devin McCourty
has a league-high five interceptions on throws that travel at least 15 yards.
With so many injuries, the Buffalo Bills might not be able to hang tough for long.
The Bills have been remarkable in their competitiveness over the past two months. The Bills looked putrid through their first five games, so I explored
what would happen if they played a UFL team
. Since then, they are 2-4, with all of their losses by a field goal and three of them coming in overtime. But the Bills' iffy defense suffered two more casualties this week. Starting right defensive end
Dwan Edwards
and starting linebacker
Reggie Torbor
were placed on season-ending injured reserve, giving less experienced players more responsibilities. They must contain some serious offensive firepower Sunday in the Metrodome.
Miami Dolphins receiver Brandon Marshall has been the year's most disappointing acquisition.
Marshall on Thursday spoke of his restlessness and bemoaned his lack of production. He said, "I've been too boring this year" and asked reporters for help in coming up with ways to show his emotions without drawing penalties -- as he has his previous two games before missing last week with a hamstring injury. "Say something. Spark some controversy. It's too calm." Marshall has one touchdown reception. Bills undrafted rookie
Donald Jones
has that many.
Steve Johnson has taken over the lead in drops, but Wes Welker is right behind him.
Johnson's awful afternoon against the
Pittsburgh Steelers
placed him atop the drop list ESPN Stats & Information tracks throughout the season. He now has nine on 99 targets. But there are established receivers high on the chart. Welker is tied for second with seven drops on 90 targets. Jets tight end
Dustin Keller
has six on 70 targets. Marshall has five drops on 95 targets. Patriots tight end
Aaron Hernandez
has five on 50 targets.
Lee Evans
of the Bills and
Jerricho Cotchery
of the Jets have four drops apiece. Only the
Detroit Lions
and
Indianapolis Colts
have dropped more passes as a team than the Patriots with 27. The Jets, Bills and Dolphins rank ninth, 11th and 12th, respectively. That's a lot of drops for one division.
Indianapolis is not New England's hottest rival.
In our Double Coverage debate this week
, AFC North blogger James Walker and I argued which rivalry was better, the Jets and Patriots or the
Baltimore Ravens
and Pittsburgh Steelers. One of Walker's main planks was the Jets aren't the Patriots' biggest rivals and proclaimed the Colts were. Here's what ESPN analyst and former Patriots linebacker
Tedy Bruschi
had to say:
"Throughout my career, with all the rivalries -- Steelers, Colts, Jets --
I always felt it more coming from the coaches during Jets week
. That's all the way back to Bill Parcells' years, when Al Groh was here, the whole drama of [Bill] Belichick being the 'HC of the NYJ' for one day and when Eric Mangini was here. You could feel the tension and motivation that coaches had to win this game when it was against the Jets. This may go back to when the coaches had ties. They coached you harder. When they were in front of you in defensive meetings, there was urgency in their voices. You knew it was Jets week and the coaches would lead the way. Colts, Steelers, we knew, and we really wanted to establish ourselves as the tough guys in the league against them. But this, against the Jets, was more of an organization versus another organization, and we really felt that."
September, 30, 2010
9/30/10
4:04
PM ET
The
Miami Dolphins
have a problem defending tight ends.
They struggled throughout 2009 to contain them, and they're off to a rougher start this season.
[+] Enlarge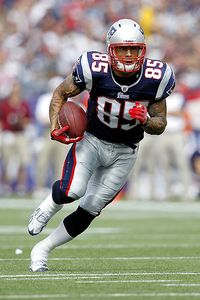 AP Photo/Paul Spinelli The Dolphins face Patriots tight end Aaron Hernandez on Monday night. He's averaging 70.3 receiving yards per game.
Tight ends accumulated a nice stat line against Miami last year: 68 receptions for 993 yards and four touchdowns.
Through three games, even with the Buffalo Bills not throwing a single pass to their tight ends on opening day, that position is on pace to catch 69 passes for 1,099 yards and 11 touchdowns against the Dolphins.
That's an All-Pro campaign.
"We've got to do a little bit better job," Dolphins coach Tony Sparano said.
Next up are a pair of rookies who've already established themselves as dangerous targets.
The Dolphins will have difficult matchups Monday night with
New England Patriots
tight ends
Aaron Hernandez
and
Rob Gronkowski
.
Each is capable to doing damage.
Hernandez is more of a pure receiver, averaging 70.3 receiving yards per game. That ranks him fourth among all tight ends behind only
Jermichael Finley
,
Antonio Gates
and
Dustin Keller
and ahead of
Dallas Clark
.
Gronkowksi is the bigger red-zone threat. He has a pair of touchdowns, tying him for third in the league. On the Patriots, he has one fewer touchdown than
Randy Moss
and
Wes Welker
.
"They've done a very good job," Patriots quarterback
Tom Brady
said. "Both are very young in age. I think one of them is 20 (Hernandez) and one just turned 21 (Gronkowski). So for young players, it's pretty neat to find them playing such a great role on our offense.
"With each week, I think they are gaining a little more confidence in what they're doing through the experience that they're having, and we're relying on them every week to be playmakers for us."
The Patriots were one of the few teams who didn't get in on the tight end passing party last year.
As gaudy as the aforementioned 2009 tight end stats versus the Dolphins looked, the Patriots actually improved the averages.
Benjamin Watson
and Chris Baker combined for only five receptions and 55 yards in two games against Miami.
Tight ends tearing apart the Dolphins in the middle of the field -- think of Clark's seven-catch, 183-yard night -- were a major reason they made so many offseason defensive changes. The Dolphins fired coordinator Paul Pasqualoni. They released linebackers
Akin Ayodele
and
Reggie Torbor
and safety
Gibril Wilson
because they were responsible for so many big plays.
Keller exploited the Dolphins on Sunday night. He helped the Jets post a big road victory with six catches for 98 yards and two touchdowns in the first half. The Dolphins did shut him out after the intermission, but that wasn't soon enough.
Sparano knows he'll have problems again Monday night.
"It's difficult, no question about it," Sparano said of Hernandez and Gronkowski. "I think you can try a lot of ways, but with the Patriots you've got to kind of pick your poison a little bit. You can go out there and maybe try to double one of those guys, but then you could expose yourself with Randy or with Wes or with any of those people. You've got to be a little bit careful."
September, 12, 2010
9/12/10
12:18
PM ET
ORCHARD PARK, N.Y. -- Here are the inactives for Sunday's game between the
Miami Dolphins
and
Buffalo Bills
in Ralph Wilson Stadium.
Most notable is
Chad Pennington
officially assuming the No. 2 role ahead of
Tyler Thigpen
and the stand-down order to outside linebacker
Ikaika Alama-Francis
, who might have started but woke up sick in the morning.
Miami Dolphins
Buffalo Bills
September, 11, 2010
9/11/10
12:32
PM ET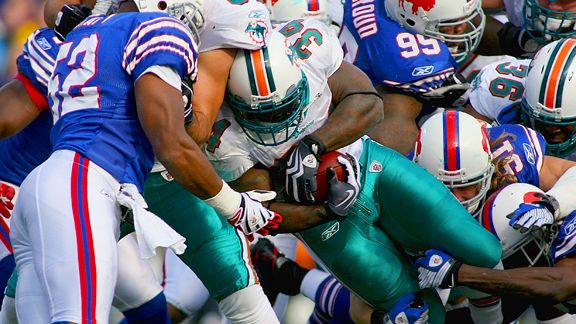 Rick Stewart/Getty ImagesAt 33 and with a relentless running style, Ricky Williams should be slowing down, but the Dolphins running back is convinced his unconventional lifestyle and training methods keep him going strong.
DAVIE, Fla. -- Upon walking into
Ricky Williams
' house, nothing indicates an NFL player lives there.
Quite the contrary. I'm not sure what the opposite of football is, but the items in his home might represent it.
Instead of seeing his Heisman Trophy on display, guests are greeted at the door by a statue of Ganesha, a Hindu deity known as the Remover of Obstacles, which comes in handy when Williams' gregarious 4-year-old daughter Asha barricades herself in front of the door to prevent visitors from leaving.
Williams' home features a conservatively classy decor accented with reminders that the owner, among the baddest ball carriers of the past decade, takes an "unfootball" approach to life and his remarkable career.
On the bookshelves in his meditation room are such titles as "The Complete Book of Spells: Ancient and Modern Spells for the Solitary Witch," "Moonchild" and "The Inner Planets: Building Blocks for a Personal Reality" mixed in with textbooks on holistic medicine, esoteric psychology, theology, the occult and philosophy. A statuette of Guan Yin, the Buddhist goddess of mercy, is perched on one shelf. An image of Jesus is on another.
Williams does yoga, has an acupuncture chart on his wall, prefers ambient music, burns incense every night and is a vegetarian who consumes as little as 1,000 calories a day during training camp. Football players are supposed to gnaw on animal bones, hit the clubs and crank music that tests the limits of an Escalade's subwoofer.
That's why Williams typically keeps his unconventional beliefs to himself. He knows they carry stigmas and suspects his teammates won't be overly tolerant.
"Pretty much everything I do," Williams said, "they think is weird. A lot of what I do, I don't do it in front of them because I don't want to weird them out."
Williams believes his metaphysical lifestyle and unorthodox training methods have helped him defy expectations in what would be a common running back's dotage. He's 33 years old and has remained relentless for the
Miami Dolphins
.
"It's the damndest thing," Dolphins coach Tony Sparano said in training camp, "but when I watch the guy run out here, your eye tells you to keep watching for the arrow to go down and for the drop-off. But I haven't seen it."
Williams is coming off a season in which he led the Dolphins with 1,121 rushing yards and 11 touchdowns, second-most of his career. He posted a 4.7-yard average, his second highest.
You get the sense watching Williams drive his shoulder into a would-be tackler rather than veer out of bounds in a meaningless preseason exhibition that he might know a secret or four.
He hopes that someday his celebrity and résumé will convince people to try something that challenges mainstream normalcy.
Williams will eagerly share his insights with those who seek him out. But in general, he displays his beliefs only at home and with those who are open-minded.
Buffalo Bills
linebacker
Reggie Torbor
considers Williams among the top three most influential people he has met in football. Torbor spent the past two seasons with the Dolphins and would engage in deep, philosophical discussions with Williams on team charter flights.
[+] Enlarge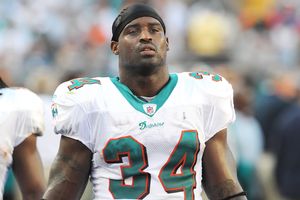 Al Messerschmidt/Getty ImagesIf Ricky Williams repeats his production from last season (1,121 yards), he'll surpass 10,000 career rushing yards.
"You get the picture painted before you meet him that he's crazy," Torbor said. "Couldn't be further from the truth. Just different, but different isn't always worse.
"Just talking to him, man, it just opens things up. It's kind of like the horse with the blinders coming off. He just sees things from a different light."
When Williams retires from football, he wants to be what he described as a modern-day shaman. He's working on his pre-med degree at Nova Southeastern University and intends to finish at the University of Texas and then become a doctor of psychiatry who practices holistic healing.
"In primitive cultures, the shaman was the physician, was the psychiatrist, was the counselor, all those things," Williams said. "Healing happens on every dimension. It's physical. It's emotional. It's mental. It's spiritual. So I want to be able to provide that service to my patients."
In particular, Williams wants to practice craniosacral therapy, an alternative medicine that's viewed with skepticism by the mainstream medical community. Doctors claim positive results come from a placebo effect.
Williams swears by craniosacral therapy, saying it increases his confidence. He first experienced it while recovering from a broken arm with the Toronto Argonauts four years ago. Their training staff suggested he try it.
In July, he tweeted "I feel like I have a complete advantage over others" because of craniosacral therapy. Olympic swimmer Natalie Coughlin, who won six medals in 2008, is another proponent.
Williams invited me into his home to experience craniosacral therapy in his meditation room.
Dr. Lisa Upledger, wife of chief advocate Dr. John Upledger
, performed the therapy. It's a general body maintenance that consists of gently manipulating the head and neck to enhance function of the central nervous system.
"When I look at football players getting knocked around like they do, I just see all these impacts and bodies realigning and compromising," Lisa Upledger said. "These guys are able to get up because the adrenaline's up. The endorphins are high. They shrug this stuff off. It doesn't hit them until later.
"But even if I say it helps them improve .5 percent, which might be nothing, and add up those therapies over the course of the season, then maybe they feel 10 percent better by the end of the year. I think a guy functioning at that level might feel that it's the difference between winning and losing."
While Lisa Upledger performed the therapy on my head, Williams acted on a previous conversation we had about sports-related trauma around my right hip. I'd suffered a minor fracture in high school and a torn quadriceps eight years ago.
He braced my lower back with his left arm under my waist and placed his right hand on the knot of scar tissue for a half hour. While my CST experience seemed open to interpretation afterward, I did experience greater range of motion in my hip and leg.
Williams believes energy can flow from one person to another through touch and that a trained professional can channel healing powers into a receptive patient.
"When you put your hands on someone, as you become more sensitive you can really feel their rhythm," Williams said. "You can also sense there's blockages to the flow of energy or tension or tightness. That's the way I look at things."
Even with so many players popping up on injury reports, Williams won't force upon his teammates such a bizarre remedy as healing hands. The boldest glimpses he'll provide at the Dolphins facility are yoga poses to loosen up, something he wouldn't have dared to show three years ago.
Sometimes, though, desperation will coax a teammate to experiment.
"I'll only offer if I see they're in a lot of pain," Williams said. "And at that point, it's their livelihood and they say 'I'll try anything. It can't hurt.' As it goes, if they notice that it's helping they'll be more receptive.
"But I think the concept is so foreign it's difficult to be receptive to it. Even if it works, it challenges a lot of their beliefs. That can be frightening at times. So I think it's difficult for them to stay receptive to it."
Performance is Williams' best testimonial for being open to unusual methods.
He's borderline elderly for a position that relies on speed, strength and alertness while absorbing punishment. Williams' running style should have him worn to a nub by now.
Yet Williams is showing no obvious signs of deterioration.
"I really believe that I'm onto something and the transformation I experienced can benefit a lot of people," Williams said. "I figure if they see me doing it and that it has helped me -- they can see more wins, more yards, more touchdowns -- then they'll be more motivated to open their minds a little and try it."
September, 10, 2010
9/10/10
4:11
PM ET
»
NFC Final Word
:
East
|
West
|
North
|
South
»
AFC
:
East
|
West
|
North
|
South
Five nuggets of knowledge about Week 1:
[+] Enlarge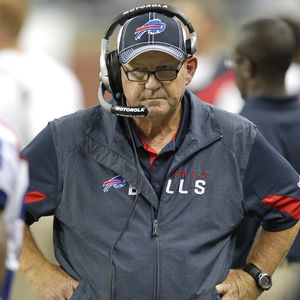 AP Photo/Paul SancyaThe Dolphins can't be sure what to expect from new Bills coach Chan Gailey.
Game plans will be an exercise in speculation.
There's always a healthy dose of mystery heading into opening weekend. Teams withhold much of their playbooks throughout the preseason, creating wonder about how a new player will be utilized or how much coaching philosophies might have changed since the year before. Whoever guesses best likely will win Sunday's matchup between the
Miami Dolphins
and
Buffalo Bills
in Ralph Wilson Stadium. New Bills coach Chan Gailey has installed his offense and has switched the defense to a 3-4. The Bills also will show their full backfield for the first time.
Fred Jackson
and
Marshawn Lynch
return from injuries sustained in the preseason opener. With them out, rookie lightning bolt
C.J. Spiller
was limited to tailback duties. Where will Spiller line up now? Could be anywhere. The Dolphins, meanwhile, have new defensive coordinator Mike Nolan. Gailey has been watching
Denver Broncos
film and trying to project how Nolan will use the Dolphins' roster.
The New England Patriots defense could be in for a long afternoon.
The Patriots better have something up their sleeves for the
Cincinnati Bengals
. Otherwise,
Chad Ochocinco
and
Terrell Owens
will have plenty to crow about. How will the Patriots contain the Bengals, who have placed an emphasis on their passing game? They added T.O. and drafted tight end
Jermaine Gresham
in the first round to help quarterback
Carson Palmer
. The Bengals have a strong enough rushing attack to keep any defense honest. Straight up, the Patriots appear to be at a disadvantage against the pass. The Patriots have the NFL's least experienced cornerbacks in
Darius Butler
and rookie
Devin McCourty
. As for a pass rush, the
Patriots haven't had an effective one for a couple of years
.
Don't dismiss the possibility of a big game from Darrelle Revis.
The All-Pro cornerback had one week of practice to get ready for Monday night's opener against the
Baltimore Ravens
. He missed training camp and all four preseason games during his contract dispute. But that doesn't mean Revis will be rusty. Remember when the Jets signed cornerback
Ty Law
off the street in November 2008 for a Thursday night game against the Patriots? Law was 34, and they lined him up against
Randy Moss
. In the first half, Moss had zero receptions. He finished with three catches for 23 yards, and it took a pinpoint
Matt Cassel
rollout pass and a sensational sideline grab to beat Law for a 16-yard touchdown. Revis isn't 34 years old, and he wasn't signed off a free-agent scrap heap just before Thanksgiving. Revis kept himself in shape while AWOL, working out with a fellow Aliquippa, Pa., native named Ty Law.
If you have Ronnie Brown or Ricky Williams on your fantasy team, start them.
Heck, fourth-stringer
Lex Hilliard
might be a decent option against the Bills' run defense. The Bills' transition to a 3-4 defense hasn't made them noticeably better against the run, and they ranked 30th last year. The Bills were on the smallish side to begin with, and they're dealing with injuries at linebacker. Starting outside linebacker
Reggie Torbor
and backup inside linebacker
Antonio Coleman
won't play. Top inside linebacker reserve
Kawika Mitchell
was placed on season-ending injured reserve Friday. Newly acquired inside linebacker
Akin Ayodele
will be deactivated until he learns the system. On top of all those circumstances, Buffalo boasts a formidable secondary. Motivation for Miami to throw will be low.
Left guard, not quarterback, could turn out to be the Jets' weakest link.
All eyes will be on
Mark Sanchez
on Monday night. So they might not see the peripheral blurs attacking him in the pocket. Left guard is among the chief concerns. The Jets featured a mimeograph offensive line over the past two seasons. That's 33 games of continuity for one of the best units in the league. But the Jets cut Pro Bowl left guard
Alan Faneca
, and his potential replacements have been shaky.
Matt Slauson
won the job by default over disappointing rookie
Vladimir Ducasse
. As head coach Rex Ryan acknowledged in "Hard Knocks," there's not a lot of faith in either of them to keep Sanchez off his back.
September, 10, 2010
9/10/10
1:54
PM ET
ORCHARD PARK, N.Y. --
Miami Dolphins
fans have been eager to see what kind of aerial fury their team will unleash.
The first chance to see how the Dolphins intend to conduct their offense will be Sunday against the
Buffalo Bills
in Ralph Wilson Stadium.
Bills outside linebacker
Reggie Torbor
chuckled when asked what to expect from the Dolphins. He has a little intel, having played every game for the Dolphins over the past two years.
"Everybody's so caught up in
Brandon Marshall
and
Chad Henne
," Torbor said, "but if you don't stop their run game, you can put whoever you want on Marshall because Henne's just going to turn around and hand the ball off. That's the way they play football.
"They'll pound you and pound you. And when they think you've had enough, they'll pound you some more."
There are various reasons to expect the Dolphins will emphasize the run Sunday. The Bills have an opportunistic secondary the Dolphins might not have to test.
Ronnie Brown
and
Ricky Williams
against the Bills' front seven looks favorable enough.
The Bills have switched to a 3-4 defense under new defensive coordinator George Edwards, a Dolphins assistant the past five years.
Kyle Williams
is an undersized nose tackle. The Bills have many linebackers who were drafted or previously signed to play a 4-3, meaning they're smaller and sleeker than you'd see in a traditional 3-4.
And they're a bit banged up. Torbor isn't a wise bet to play. He missed practice Wednesday and Thursday with a chest injury. The Bills placed inside linebacker
Kawika Mitchell
on season-ending injured reserve Friday with a bad foot.
"The O-line is physical," Torbor said of the Dolphins. "In this day and age, people go so much zone scheme. They believe in blowing people off the ball. I guess you can't make a tackle if you're lying on your back.
"Then you have the physical running backs that complement that. They don't have 200-pound scatbacks back there. It's not enough to beat the O-line and beat the fullback. You still got to bring down Ronnie Brown and Ricky Williams."
Torbor, released by the Dolphins in May, didn't get a chance to learn much from new defensive coordinator Mike Nolan. But he can speak about the impact new inside linebacker
Karlos Dansby
can make for Miami. Torbor and Dansby were teammates at Auburn.
"He's a game-changer," Torbor said. "He's the type of guy who will not make many plays, it seems like. But about middle of the second quarter, third quarter, all of a sudden -- boom! He does that week in, week out. He's just known for it."
August, 31, 2010
8/31/10
10:03
AM ET
On the day the
New Orleans Saints
held their Super Bowl parade, long before the free-agency period opened and the draft took place,
Scouts Inc. analyst Gary Horton examined the top three needs
of every NFL team heading into the offseason.
Now that we've gone through offseason workouts, minicamps, training camps and three preseason games, let's take a look at each AFC East need and determine whether it was addressed.
Buffalo Bills
1. Outside linebacker:
At the time of Horton's analysis, he didn't know
Aaron Schobel
would retire. Schobel would have been Buffalo's best pass-rusher in its new 3-4 defense. The Bills signed free agent
Reggie Torbor
and are hoping a group that also includes
Chris Kelsay
,
Chris Ellis
and
Aaron Maybin
will suffice.
Need addressed? No.
2. Left tackle:
The Bills chose to stick with
Demetrius Bell
. The Bills still haven't drafted a tackle earlier than the fifth round since 2002. Of the two they did draft, fifth-rounder
Ed Wang
is hurt and seventh-rounder
Kyle Calloway
already has been released. The Bills did sign
Oakland Raiders
free agent
Cornell Green
to play right tackle.
Need addressed? No.
3. Quarterback:
The Bills did next to nothing at quarterback, drafting long-term project
Levi Brown
in the seventh round and letting
Trent Edwards
,
Ryan Fitzpatrick
and
Brian Brohm
shoot it out. Edwards won a not-so-open competition.
Need addressed? No.
[+] Enlarge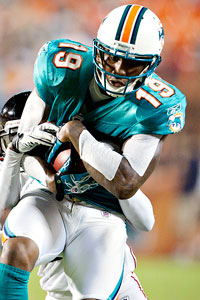 Jonathan Brownfield/US PresswireThe acquisition of Brandon Marshall filled a huge void in the Dolphins' passing game.
Miami Dolphins
1. Wide receiver:
Did the Dolphins address this need? Hmmm ... Let's see ... Oh, wait. That's right. They traded for
Brandon Marshall
, who has recorded triple-digit receptions in three straight seasons. Marshall was one of the most enormous transactions of the offseason.
Need addressed? Yes.
2. Free safety:
The Dolphins drafted
Reshad Jones
in the fifth round, but sophomore
Chris Clemons
has held down the position admirably. It won't be tough to outplay last year's starter,
Gibril Wilson
.
Need addressed? Yes.
3. Nose tackle:
The situation actually got worse and worse after Horton formed his analysis.
Jason Ferguson
was suspended eight games for violating the NFL's policy on performance-enhancing drugs. The Dolphins re-signed Ferguson, but then he retired. The Dolphins didn't draft a nose tackle, choosing to convert defensive end
Randy Starks
instead. Starks is undersized for a traditional 3-4 nose tackle, but Dolphins coach Tony Sparano has claimed Starks' speed has upgraded the position.
Need addressed? Yes.
New England Patriots
1. Outside linebacker:
Horton wrote "This defense must generate pass-rush pressure from its outside linebackers, but the Pats are devoid of playmakers and have virtually no depth at this position." They've gotten shallower with the release of
Adalius Thomas
, who started their playoff game.
Tully Banta-Cain
and
Derrick Burgess
are back and penciled in as the starters. The Patriots drafted pass-rusher
Jermaine Cunningham
53rd overall, but he has been too hurt to get on the practice field.
Need addressed? No.
2. Wide receiver:
Wes Welker
was looking at a potentially long rehab at the time Horton wrote his offseason preview.
Randy Moss
' age also was a concern. But Welker's recovery has been quick. Moss has looked phenomenal. Emerging youngsters
Julian Edelman
,
Brandon Tate
and third-round draft pick
Taylor Price
should be more than enough.
Need addressed? Yes.
3. Defensive end:
Little did Horton know how badly the Patriots would need help here. Left end
Ty Warren
is done for the year because of a hip injury. Right end
Jarvis Green
split for the
Denver Broncos
. The Patriots signed free agent
Gerard Warren
and have moved last year's super reserve,
Mike Wright
, into the starting lineup.
Need addressed? No.
New York Jets
1. Defensive end:
Horton's concern was with the age of incumbents
Shaun Ellis
and
Marques Douglas
. Ellis is back. Douglas was a free agent who departed for the Dolphins. The Jets didn't draft any defensive linemen and didn't sign any notable free agents there. They did move
Vernon Gholston
from outside linebacker to defensive end.
Need addressed? No.
2. Safety:
Compared to the Jets' banner acquisitions,
Brodney Pool
was a blip. The
Cleveland Browns
gave up on him because of recurring concussions, but the Jets' medical staff found his problem was related to migraine headaches. He's a multifaceted safety with a nose for the ball, interception four passes in 10 games last year.
Need addressed? Yes.
3. Wide receiver:
The Jets practically stole
Santonio Holmes
from the
Pittsburgh Steelers
for a fifth-round draft choice. Holmes was the MVP of Super Bowl XLIII and was coming off a 1,248-yard season. But character issues, underscored by a four-game suspension to start the season, made him a bargain.
Need addressed? Yes.
August, 28, 2010
8/28/10
10:13
PM ET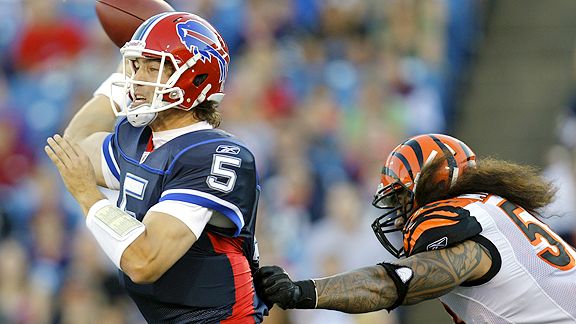 AP Photo/ David DupreyTrent Edwards has the starting quarterback job locked up after another solid preseason performance.
ORCHARD PARK, N.Y. -- Thoughts from the press box at Ralph Wilson Stadium, where the
Buffalo Bills
beat the
Cincinnati Bengals
on Saturday night
35-20
:
If there was any doubt before -- or if Bills fans were in denial and still clinging to hope Brian Brohm would win the gig -- Trent Edwards is Buffalo's quarterback.

On the first possession, Buffalo had minus-12 yards aside from a pass interference penalty. The Bengals sacked Edwards the only time he tried to pass. But Edwards rebounded on the second drive, methodically taking the Bills down the field. He completed all five of his passes for 48 yards and connected with Roscoe Parrish for a 12-yard touchdown.

Edwards' stat line: 13-of-17 for 153 yards and one touchdown with no interceptions. He had a 122.9 quarterback rating.

C.J. Spiller had another brilliant game. He ran 12 times for 52 yards and two touchdowns and two receptions for 33 yards in a half of work. He had a 20-yard run and a 26-yard reception.

As mentioned in my notes column following the Bills' victory over the Indianapolis Colts last week, Spiller is going to have a lot of negative-yardage runs because of his style and the Bills' offensive line. He had runs of minus-7 and minus-11 yards. But he's a threat to break away every single time.

The Bills showed off a little Wildcat. Spiller took a direct snap and ran 6 yards for a first down. In case you were wondering, Edwards remained on the field, split wide right. In the fourth quarter, rookie running back Joique Bell also took a direct snap and ran for 4 yards.

Parrish is one of those players fans always want to see more of, but size always seemed to be an impediment to increased involvement. Think Leon Washington with the New York Jets. Maybe new Bills head coach Chan Gailey has been able to figure something out. Parrish caught all four balls thrown to him for 56 yards and a touchdown.

Maybe the Bills were showcasing Ryan Fitzpatrick for a potential trade (hello, Arizona?). Otherwise, Brohm can't like the fact he quarterbacked only two series late in the fourth quarter. Brohm threw one pass, an incompletion.

Buffalo's secondary didn't have the same success against Carson Palmer that it did against Peyton Manning. Palmer completed all but two of his 11 passes for 95 yards and two touchdowns for a 142.2 rating.

Second-year outside linebacker Aaron Maybin, the 11th overall draft choice last year, may have gotten some traction. He didn't start even though Reggie Torbor was out with an undisclosed injury. Chris Ellis started instead. But Maybin did force J.T. O'Sullivan into an intentional grounding call with some heavy pressure in the third quarter and sacked Jordan Palmer twice in the fourth quarter.

James Hardy, a second-round draft pick in 2008, didn't make much of an impression in his bid to stay on the roster. He had one catch for 30 yards (great pass from Fitzpatrick) and a drop. That was all.

Undrafted rookie receiver David Nelson had another strong game: two receptions for 34 yards, including a 20-yard touchdown.

Third-year cornerback Reggie Corner looked like he might be on the roster bubble in a deep defensive backfield. He helped himself in the fourth quarter by intercepting Jordan Palmer and dashing 20 yards for a touchdown.

Reserve cornerback Ellis Lankster, meanwhile, had another rough night. Quan Crosby beat him for a 44 yard pass play one series after Corner's touchdown. Lankster broke up a pass on fourth-and-goal from the 6, but he got away with pulling on Dezmon Briscoe's collar. Lankster was called for illegal hands to the face to wipe out an Arthur Moats 9-yard sack.

The Bills strength in recent years has been their special-teams play. Special teams coordinator Bobby April bolted for Philadelphia, and the transition to Bruce DeHaven has not been smooth. Their kickoff coverage unit has been awful. The Bengals averaged 32.7 yards per return and rarely started a drive insider their own 30-yard line.
August, 28, 2010
8/28/10
5:57
PM ET
ORCHARD PARK, N.Y. -- If the
Buffalo Bills
' starters have a decent performance here Saturday night, they'll produce the AFC East's best showing in a third preseason game.
The third preseason game is the most realistic. Starters play into the second half. The
New York Jets
and
New England Patriots
stuck with their starting offenses into the fourth quarter.
But none of the AFC East teams have looked good in their third exhibitions. The Jets' offense sputtered against the
Washington Redskins
. The Patriots' defense struggled to stop rookie
St. Louis Rams
quarterback
Sam Bradford
. The
Miami Dolphins
had problems on both sides of the ball versus the
Atlanta Falcons
.
That leaves the Bills, who will host the
Cincinnati Bengals
in Ralph Wilson Stadium, where it couldn't be a more gorgeous day. It's 77 degrees with nary a cloud to be seen.
What to look for:
February, 5, 2010
2/05/10
12:55
PM ET
FORT LAUDERDALE, Fla. -- If you're looking for insight on what kind of transition the
Buffalo Bills
will go through as they morph into a 3-4 team under defensive coordinator George Edwards, you can do a lot worse than talk to
Miami Dolphins
linebacker
Channing Crowder
.
"George is like my second father," Crowder said Friday morning along Radio Row in the Super Bowl media center. "The coolest coach in the NFL."
Crowder knows Edwards well. They went through a 3-4 transformation together with the Dolphins, where Edwards was linebackers coach the past five seasons.
Edwards left the Dolphins in January to be the defensive coordinator at the University of Florida, Crowder's alma mater. Crowder shook his head at the idea of Edwards leaving the Gators after three weeks.
"I guess he thought the opportunity in Buffalo was better," Crowder said. "I was upset about the Florida thing, but with the love I have for George Edwards and knowing the type of coach he is, I'm happy for him. Buffalo got a great coach."
The Bills operated out of a Tampa 2 system under head coach Dick Jauron and interim coach Perry Fewell.
Crowder sketched out Edwards' philosophy as one that emphasizes stuffing the run above all else, with pass-rushing the second priority.
"That's all he talks about, stopping the run and then try to get pressure on the quarterback," Crowder said. "He preached that to us the whole time. So, to Buffalo fans, that's what he'll do."
Crowder said Dolphins linebacker
Reggie Torbor
already had been on the phone with Bills linebacker
Kawika Mitchell
to give an Edwards testimonial. Mitchell and Torbor won the Super Bowl together with the
New York Giants
.
How big of a project will it be to switch to a 3-4? Crowder didn't think it would be difficult.
Nick Saban, who preferred a 4-3 defense, brought Edwards to the Dolphins and drafted Crowder. When Saban split for Alabama, Edwards remained on Cam Cameron's staff and continued to coach a 4-3.
But when Bill Parcells took over as football operations boss after the 2007 season, the Dolphins switched to a 3-4.
"I didn't know anything about a 3-4," Crowder said. "He taught me everything. I didn't know about taking on linemen. For me, it was always 'See ball, get ball' my whole career. That's basically what a 4-3 is. Stay in your gap, find the ball and take off running.
"He got me to the level where I can be a starting 3-4 inside linebacker in the NFL."
Crowder foresees defensive tackle
Marcus Stroud
playing the five-technique position, an outside defensive tackle. The Bills will need to identify the all-important 3-4 nose tackle.
"That nose position," Crowder said, "I don't know if they have that guy. That five can destroy one side of an offensive line. Then you need that big nose to plug the middle.
"It's a different defense, different schemes. There are different blocking techniques. It's a learning curve, but I believe with the talent they have at linebacker, they'll be OK.
"I can guarantee their defense will be better."
November, 7, 2009
11/07/09
9:52
PM ET
Posted by ESPN.com's Tim Graham
The
New England Patriots
' chances of victory over the
Miami Dolphins
have improved even more.
The Dolphins have downgraded underrated nose tackle
Jason Ferguson
and inside linebacker
Channing Crowder
from doubtful to out for Sunday's game Gillette Stadium.
A battered, inexperienced defense generally isn't the blueprint to beat
Tom Brady
.
A significant amount of experience has vanished from Miami's defense the past two weeks. Top cornerback
Will Allen
went down with a season-ending knee injury in Week 7, forcing the Dolphins to start two rookie cornerbacks (
Sean Smith
and
Vontae Davis
).
In last week's victory over the
New York Jets
, the Dolphins took it a step further and gave safety
Chris Clemons
his first NFL start in place of
Gibril Wilson
. That gave the Dolphins a secondary comprised of three-quarters rookies.
Miami will miss Ferguson the most. He's not a star nose tackle like
Kris Jenkins
for the Jets or
Vince Wilfork
for the Patriots, but he's in their mold. Ferguson anchors the Dolphins' 3-4 defense and is a solid run-stopper who can occupy multiple blockers.
Backup defensive tackle
Paul Soliai
, who was in coach Tony Sparano's doghouse over weight issues and a general lack of commitment last year, is coming off the best game of his career. Soliai was credited with six tackles, a pass deflection and the forced fumble
Jason Taylor
returned for a touchdown against the Jets.
Soliai will need to be a force again to compensate for Ferguson.
Crowder will miss his second straight game with a shoulder injury.
Reggie Torbor
should start again.
Crowder's absence doesn't mean as much to the Dolphins as the casual fan might think. His mouth has made him more relevant than his play this season. He's a decent tackler but has zero sacks, zero passes defensed and zero forced fumbles.
Plus, the dropoff to Torbor isn't that considerable. The season the
New York Giants
won the Super Bowl, Torbor started their final five regular-season games and all four in the postseason, including that gargantuan upset to deny the Patriots a perfect season.
The Patriots, however, have their share of injuries. They've already ruled out left tackle
Matt Light
, running backs
Sammy Morris
and
Fred Taylor
, receiver
Julian Edelman
and defensive end
Jarvis Green
.
October, 25, 2009
10/25/09
5:25
PM ET
Posted by ESPN.com's Tim Graham
MIAMI --
Drew Brees
looks very un-MVP-like.
The
Miami Dolphins
are giving Brees fits here at Land Shark Stadium. The
New Orleans Saints
quarterback has thrown two interceptions, one that sailed long to Dolphins safety
Tyrone Culver
and nearly returned for a touchdown, and another that was tipped at the line by blitzing safety
Gibril Wilson
and caught by linebacker
Reggie Torbor
.
The Dolphins turned both interceptions into touchdowns and
lead 24-3
with 8:55 to go in the first half. Brees has 22 yards passing.
Ricky Williams
, who scored on back-to-back carries, punched it in one play after Culver's interception to put the Saints behind on the scoreboard for the first time this year. Williams also scored on a career-long 68-yard dash one Dolphins snap later.
July, 29, 2008
7/29/08
8:31
AM ET
Posted by ESPN.com's Tim Graham
Buffalo Bills
Miami Dolphins
New England Patriots
New York Jets

NFL SCOREBOARD
Thursday, 9/18
Sunday, 9/21
Monday, 9/22
WEEKLY LEADERS