NFL Nation:

regular season
June, 19, 2013
6/19/13
5:34
PM ET
New England Patriots
star tight end
Aaron Hernandez
is facing his second bout with legal issues in as many days. New York attorney David Jaroslawicz
confirmed to ESPN's Ed Werder
that a lawsuit was filed Wednesday on behalf of Alexander S. Bradley, who claims he was shot in arm by Hernandez in February.
The timing of this lawsuit couldn't be any worse for Hernandez. Massachusetts police just
searched his home
and rental car earlier this week during an investigation for a homicide of a 27-year-old Boston man. Hernandez is not believed to be a suspect, a source told the USA Today.
But this latest lawsuit claims Bradley, who has been a friend of Hernandez for several years, got into an argument with the tight end in Miami back in February. The lawsuit claims Hernandez shot Bradley in the arm and the bullet traveled up to his head and damaged his eye. Bradley reportedly required surgery to fix the damage.
These are certainly interesting times
for Patriots tight ends
-- and not in a good way. Pro Bowl tight end
Rob Gronkowski
just had back surgery, and his status is questionable for Week 1. In addition, Hernandez now has two legal issues to face with training camp starting in about five weeks.
November, 17, 2012
11/17/12
4:41
PM ET

The
New England Patriots
are expected to be without dynamic tight end
Aaron Hernandez
for the third straight game.
Barring any last-minute changes, a source tells the AFC East blog
that it's "unlikely"
Hernandez will play Sunday against the
Indianapolis Colts
. This confirms a report Friday by the NFL Network.
Hernandez continues to be bothered by a severe ankle sprain he suffered in Week 2 against the
Arizona Cardinals
. He returned briefly for two games, but probably came back too soon.
New England leads the NFL in total offense and can afford to rest Hernandez and get him healthy for the stretch run. After putting up career numbers in 2011, Hernandez has just 17 catches for 143 yards and two touchdowns this season.
This is a big game for New England. The Patriots are 6-3 and can create further distance in the AFC East. The Colts are also 6-3 and need this game to tighten their grip on a wild-card spot in the AFC.
August, 31, 2012
8/31/12
11:21
PM ET
Click
here
for a complete list of
Miami Dolphins
' roster moves.

Most significant move:
Dolphins general manager Jeff Ireland, head coach Joe Philbin and the rest of his coaching staff warned their wide receivers that they needed to step up. This is Miami's weakest area, and week after week, receivers dropped balls and failed to make plays. Still, it was surprising that Miami cut two receivers of significance:
Clyde Gates
and
Roberto Wallace
. Both were on the bubble, but at least one was expected to make the cut -- especially on a receiver-deprived team. The Dolphins also released fellow receivers
Chris Hogan
,
B.J. Cunningham
and
Jeff Fuller
. The Dolphins said in the spring that they liked their receivers group; clearly, those opinions changed after training camp and the preseason.
Onward and upward:
Miami made two free-agent additions to help the team's depth at linebacker this offseason:
Jamaal Westerman
and
Gary Guyton
. Both players had starting experience and had played in the AFC East. But neither fit well with Miami's new 4-3 defense. The Dolphins decided to cut their losses and not take either on their 53-man roster. There's a good chance other teams will be looking for veteran linebackers, and due to their experience, both have a chance to land elsewhere.
What's next:
Miami should be one of the busiest teams in free agency and scanning waivers. The Dolphins are rebuilding and need a lot of upgrades and depth. Wide receiver and safety are two positions Miami certainly will have its eye on. The Dolphins have a long way to go to make their roster into a contender. Rookie quarterback
Ryan Tannehill
needs some assistance in his first season. So expect more changes in Miami before its Week 1 game against the
Houston Texans
.
August, 30, 2012
8/30/12
8:30
AM ET
The
Miami Dolphins
wrapped up their 2012 preseason with a
30-13 loss
to the
Dallas Cowboys
. Miami finished winless in the preseason for the first time since 1989.
Here are several notes and observations:


What I liked:
Dolphins rookie quarterback
Ryan Tannehill
was efficient in limited playing time. He made safe throws and finished 5-of-7 for 35 yards. Miami led 3-0 when Tannehill exited the game. He looks fairly ready for the regular season. Backup running back
Daniel Thomas
also ran well. The second-year tailback, who is in Dolphins coach Joe Philbin's doghouse for tardiness, gained 31 yards on five carries. It appears Miami's running game should be the best part of its offense.
What I didn't like:
The Dolphins have few playmakers and little depth. The backups were throttled by Dallas' reserves, which is a trend we saw throughout the AFC East division this preseason. Dolphins No. 2 quarterback
Matt Moore
finished his miserable preseason, completing just 4 of 12 passes and another interception. This time Moore's turnover was a pick-six. The receiver position is still an issue. No one has really stepped up to claim the top spots heading into the regular season.
Fields is ready:
Miami punter
Brandon Fields
already is in midseason form. Fields' punts were booming Friday. He had an average of 50.2 yards on six punts. With a young offense, Fields could be needed a lot this year.
What's next:
The Dolphins will travel in their regular-season opener to face the
Houston Texans
. It's a tough game for Miami, which is rebuilding with a rookie quarterback, to hit the road and face a playoff-caliber team in its home opener.
August, 27, 2012
8/27/12
12:43
PM ET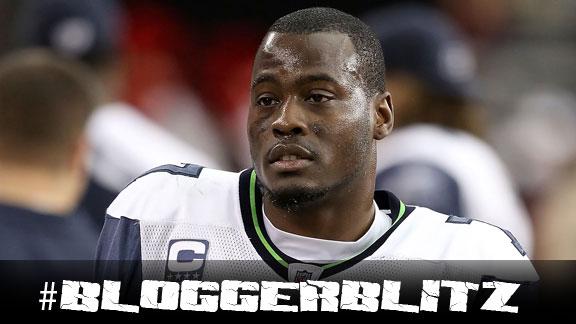 Rarely do roster moves at quarterback have little impact. It's the most important position on the field, and the starter and backup have crucial roles in the stability of an offense.
But there is something about cutting
Vince Young
and trading for
Tarvaris Jackson
that feels like the
Buffalo Bills
are spinning their wheels. What is the difference between Young and Jackson? Is either player really an upgrade over the other? They are similar in playing style, age and, in my opinion, talent.
I'm not sure what the Bills see in Jackson that would persuade them to not only release Young but also give up a draft pick and restructure Jackson's contract to acquire him. It's not that Young was great this preseason. (He wasn't.) It's just the difference between the two players doesn't seem worth the additional cost.
Jackson will bring many of the same things to the table that Young did. Jackson is a mobile, veteran backup with starting experience.
Perhaps the Bills just weren't comfortable with Young behind starter
Ryan Fitzpatrick
. I'm sure Buffalo had its reasons. But on paper I don't see much of a difference between Young and Jackson. They are essentially the same player.
August, 26, 2012
8/26/12
2:00
PM ET
Three things to watch in the New York's Jets' "dress rehearsal" game against the
Carolina Panthers
Sunday night at 8 p.m. ET.


1. Offensive touchdowns.
It's
been a rough ride
this preseason for the Jets' offense. New York holds the distinction as the only NFL team yet to score a touchdown this summer. The Jets' offense, particularly the starters, needs to get that monkey off their back and score at least one touchdown against Carolina. Much of the issue has been the offensive line. There haven't been many running lanes and quarterback
Mark Sanchez
is getting little pass protection. The Jets need to start getting their act together offensively in this preseason game.
2. Holmes' return.
New York's offense clearly needs a boost on offense, and No. 1 receiver
Santonio Holmes
can provide it. Holmes expects to make his preseason debut Sunday after missing the first two games with a rib injury. The former Super Bowl MVP is the only reliable wide receiver the Jets have. Holmes also can take a lot of pressure and coverage away from the other receivers.
3. Last glimpse of Tebow.
Jets head coach Rex Ryan already made the decision that
Tim Tebow
will
get the starter treatment
. Tebow will not start at quarterback in the preseason finale. Instead, Tebow will rest with most of the starters next week against the
Philadelphia Eagles
. Therefore, this is the final tune-up for Tebow before the regular-season opener against the
Buffalo Bills
.
August, 21, 2012
8/21/12
10:00
AM ET
New England Patriots
second-year quarterback
Ryan Mallett
got a surprise start over
Brian Hoyer
on ESPN's "Monday Night Football." Patriots coach Bill Belichick decided to rest many of his key veterans, including starting quarterback
Tom Brady
.

But this brings up to our latest poll question: Has Mallett surpassed Hoyer on New England's depth chart?
Mallett did pretty well against the
Philadelphia Eagles
' starting defense, completing 10-of-20 passes for 105 yards and a touchdown. What's even more impressive is Mallett didn't have top weapons like receiver
Wes Welker
and tight ends
Rob Gronkowski
and
Aaron Hernandez
. The stage didn't seem too big, as Mallett led the Patriots to an 11-0 lead early in the second quarter.
Hoyer struggled and completed 5-of-17 passes for 55 yards and a lost fumble. He has more experience than Mallett but not the physical tools. Should the Patriots still be more comfortable with Hoyer as the backup if Brady gets injured?
Using our SportsNation poll, vote on who should be New England's No. 2 quarterback entering the regular season. You can also share your thoughts in the comment section below.
August, 20, 2012
8/20/12
11:29
PM ET
The
New England Patriots
rested many of their key players against the
Philadelphia Eagles
on "Monday Night Football." The Eagles won the game,
27-17
.


Here are some notes and observations:
Healthy scratches:
Monday's marked the second of three games the Patriots play in a 10-day span. That is why New England coach Bill Belichick chose to rest many of his veteran players, including quarterback
Tom Brady
, receiver
Wes Welker
, defensive tackle
Vince Wilfork
and tight end
Rob Gronkowski
. The Patriots are the reigning AFC champions and do not need much preseason work.
What I liked:
It was a decent showcase for Patriots backup quarterback
Ryan Mallett
. He received a surprise start over
Brian Hoyer
Monday and took advantage of the opportunity. Mallett showed off his big arm and completed 10 of 20 passes for 105 yards and a touchdown against Philadelphia. Mallett held his own against Philadelphia's first-team defense in the first half. He also played some in the second half. Hoyer struggled, going 5-for-17 for just 55 yards and a lost fumble.
What I didn't like:
The running game wasn't nearly as impressive as last week.
Shane Vereen
got the start after a stellar preseason opener. But Vereen didn't do much, recording just 20 yards on 10 carries.
Stevan Ridley
also had mediocre numbers, rushing for 25 yards on 10 carries. The running lanes clearly were not as big without the threat of Brady, Gronkowski and Welker in the passing game.
Spikes produces:
Linebacker
Brandon Spikes
showed why New England projects him to start this season. Spikes was productive and had four tackles, including a big hit in the first quarter on Eagles Pro Bowl running back
LeSean McCoy
. Spikes can be a factor for New England if he can only stay healthy. He's been in and out of training camp this summer.
What's next:
The Patriots have a short turnaround. They will play the
Tampa Bay Buccaneers
on Friday for their annual "dress rehearsal" in preparation for Week 1 of the regular season.
September, 7, 2009
9/07/09
1:41
PM ET

Posted by ESPN.com's James Walker
In an effort to create a competitive advantage,
Cleveland Browns
head coach Eric Mangini
isn't revealing who his starting quarterback
will be this week.
With two drop-back passers, I wonder if the
Minnesota Vikings
are really all that concerned.
Most people expect
Brady Quinn
to be the starter. And although the Vikings, who have a very good defense, will now spend a portion of practice preparing for
Derek Anderson
, an educated guess is they're studying the same film everyone else saw when Quinn created separation in this quarterback derby during the preseason.
But with the regular season set to begin, here is the biggest question: At what point does Mangini's ultra-secretive approach hurt the Browns more than the opponent?
It's one thing for the media and fans not to know Cleveland's starting quarterback. But as of Monday, neither does Quinn, Anderson or the rest of the players.
According to Mangini, he will tell Quinn or Anderson who starts in the "near future." Cleveland takes the field in less than six days. The clock is ticking.
For a safe, conservative coach like Mangini, this is a very high-risk, high-reward move.
If the Browns beat Minnesota Sunday, Mangini will be praised. But if the Browns lay an egg and the starting quarterback struggles in their season debut, expect a lot of blame to rest on the way Mangini handled his quarterbacks in Week 1.