February, 16, 2010
2/16/10
1:00
PM ET
By
Matt Mosley
| ESPN.com
»
AFC Free Agency
:
East
|
West
|
North
|
South
»
NFC
:
East
|
West
|
North
|
South
An early look at the free-agent situation in the NFC East.
Note
: These projected lists reflect notable unrestricted free agents for each team. The NFL will not issue an official list of free agents until the signing period begins March 5.
Dallas Cowboys
Unrestricted free agents:
G
Montrae Holland
Key figures:
The Cowboys don't have a huge interest in retaining Holland, a man who's never really challenged for playing time. But Dallas has a long list of restricted free agents because of the likely scenario of an uncapped 2010 season. Wide receiver
Miles Austin
is obviously the biggest name on the list. The Cowboys would like to get a long-term contract done, but Austin's going to be asking for big money after his breakout season. For now, the Cowboys will likely sign Austin to the highest tender, which would pay him roughly $3 million in 2010. There's also a chance Dallas will try to work something out with restricted free agent
Marcus Spears
. Owner Jerry Jones has been very complimentary of Spears' work in '09, so we'll see if he receives an extension. It will also be interesting to see whether the Cowboys reward safety
Gerald Sensabaugh
for a fine '09 season. He's seeking a multiyear extension. But with the potential of a lockout in 2011, negotiations are up in the air.
New York Giants
Unrestricted free agents:
QB
David Carr
, LB
Danny Clark
, P
Jeff Feagles
, DT
Fred Robbins
[+] Enlarge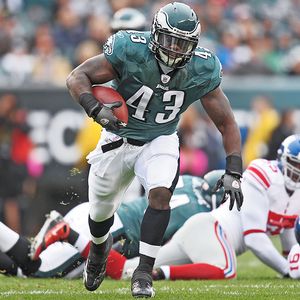 Drew Hallowell/Getty ImagesFullback Leonard Weaver rushed 70 times for 323 yards and two TDs in 2009.
Key figures:
The Giants would like an upgrade at the backup quarterback position, but it's not like there are a bunch of reliable candidates floating around. It will be interesting to see how much progress
Rhett Bomar
makes this offseason. Coach Tom Coughlin loves what Clark brings to the locker room, but the player looked slow in coverage and he's a progress stopper at this point in his career. It's time to let him move on. Feagles can punt until he's 50 -- and he might give it a try. Robbins was benched late in the season, so the writing's on the wall with him. His production has tailed off the past two seasons because he's been asked to stay on the field too much.
Philadelphia Eagles
Unrestricted free agents:
DE
Jason Babin
, S
Sean Jones
Key figures:
The man who's missing a major payday (for a fullback) is
Leonard Weaver
. He was an All-Pro for the Eagles and he would be an unrestricted free agent if not for the uncapped season in 2010. The Eagles now hold the hammer in negotiations -- and they've been known to use it at times. Babin is a decent pass-rush specialist, but he sort of faded down the stretch. Jones is a capable backup, but he should not be in the starting mix. Philadelphia would be wise to work something out with restricted free-agent guard/center
Nick Cole
. He's a versatile player who bailed out Andy Reid when the
Stacy Andrews
experiment didn't pan out in '09. And no matter his status as a restricted free agent, it's time to get something done with
Jason Avant
. He's quietly carved out a very important niche in this offense.
Washington Redskins
Unrestricted free agents:
LS
Ethan Albright
, OT
Levi Jones
, DE
Phillip Daniels
, C
Casey Rabach
, P
Hunter Smith
, G
Mike Williams
, DE
Renaldo Wynn
, P
Todd Yoder
Key figures:
Cornerback
Carlos Rogers
is a restricted free agent, but he's looking for a new destination. It will be interesting to see what Mike Shanahan and Jim Haslett choose to do with Rogers. Will they try to get him back on the right path or see if they can deal him for a mid-round draft pick? This unrestricted list doesn't have a lot of juice. Rabach could certainly help a team at center, but he didn't set the league on fire in '09. It's probably time to move on without aging players such as Wynn and Daniels. I enjoyed the Williams weight loss story, but it's hard to imagine him being part of the rebuilding process at Redskins Park.
This we'll be the dullest free-agency period in years, but we'll be here to cover all the non-action.
June, 4, 2009
6/04/09
1:02
PM ET
Posted by ESPN.com's Matt Mosley
In my official role as the Redskins whisperer, I'm often allowed to line up (brief) phone interviews for the blog. You guys asked for second-year wide receiver Devin Thomas, so that's who we delivered. And on Wednesday, he answered a few of your (thoughtful) questions.
| | |
| --- | --- |
| | |
| | Geoff Burke/US PRESSWIRE |
| | Devin Thomas says he's become smarter about his preparation for practice and games. |
Now it's time to unveil what else Thomas told me during our rollicking visit that touched on fascinating topics such as his Google searches (for himself) and his day trips through Shenandoah Valley. For those of you interested in football, we also touched on Thomas' disappointing rookie season. OK, let's get to it. Please enjoy Thomas' fireside chat with the Beast:
[Always start with a softball] MM: So how are OTAs going?
DT: Pretty good. [Jason] Campbell and I hooked up for a touchdown on a double move today, so that was a nice feeling.
MM: Who did you burn?
DT: A young guy [safety Michael] Grant. We got him on the double move, but he still ended up making some plays.
MM: How beneficial is it for you that you can compete against guys like DeAngelo Hall and Carlos Rogers in practice?
DT: It's huge being able to go up against some of the top competitors in the league at that position. And they give me instant feedback. They'll tell me what tendencies they're picking up on and how I can do certain things better. All three of them -- Fred [Smoot], D-Hall and Carlos -- have the same abilities, so there are some good battles to be had.
MM: What did you make of Jason Campbell's offseason?
DT: I pretty much talked to him through the entire thing. And we just kept working hard together. When things got boiling [with the pursuit of Jay Cutler], I sent him a text to let him know I was with him. He's a self-motivator, and his mind he was still the Redskins quarterback. That wasn't changing unless they were going to ship him off -- and it never happened. People have been playing my abilities, too. Jason and I will have the same little grudge this season. We'll have a little chip on our shoulder, so we'll want to showcase what we've been working on.
MM: Why did you seem to have a tough time making the adjustment from college to this level? You and Malcolm Kelly both seemed to have some issues in training camp.
DT: It was just trying to get comfortable in the daily situations. I showed up in pretty good shape, but you really have to take care of your body. I had to learn the hard way to balance my speed in practice because I went out and pulled a hamstring early on. I can stay out there longer because I'm smarter about how I prepare. I'm a speed guy, so I was basically trying to fly around people all the time in practice. Santana [Moss] has helped me learn how to balance my speed a lot better. He also talked to me about setting up defensive backs. I can be looking inside with my eyes and suddenly explode outside. In college, you could sort of run past everyone. It's different here.
April, 16, 2009
4/16/09
4:34
PM ET
Posted by ESPN.com's Matt Mosley
By this time next Thursday (it's officially 3 p.m. ET), I'll be boarding a flight to New York for the NFL draft. Through the magic of live-blogging, my plan is to take you to Radio City Music Hall with me. With that in mind, it's time to address Five Burning Draft Questions in The Beast:
1. Will Redskins owner Dan Snyder select USC quarterback Mark Sanchez?
Mosley:
With the 13th pick overall, the Redskins should only take Sanchez if they've truly given up on
Jason Campbell
. And based on their recent attempt to land
Jay Cutler
, some of you probably think Washington has already turned its back on Campbell. Well, I think we have a split vote on that one at Redskins Park. And unfortunately for Campbell backers (me), head coach Jim Zorn can't win a contest against the formidable duo of Snyder and Vinny Cerrato. It was Zorn who moved quickly to reassure Campbell even while desperate attempts were being made to land Cutler several doors down.
Snyder and Cerrato met with Campbell, but that was simply window dressing. The club decided to take Campbell's trade value for a spin -- and it didn't like the results. After investing all this time (and a first-round pick) in Campbell, it's looking like the Redskins are ready to start all over with Sanchez, who dazzled scouts and innocent bystanders at his recent pro day. I think Snyder-Cerrato are suffering from a condition we're calling "RyanFlacconitis," which has caused front office types around the league to mistakenly think that pretty much any rookie quarterback with a solid background (Matt Ryan and Joe Flacco) can lead them to the playoffs. The best result for Redskins fans would be for Sanchez to go off the board before No. 13. I may be in the minority (shocker), but I'd love to see what Campbell could do in his second season with Zorn. Who knows? Maybe the Redskins let Sanchez learn for a season behind Campbell. On second thought, that will never happen.
2. What will the Giants and Eagles do at wide receiver?
Wouldn't you like to know? I thought the timing of
Ken Whisenhunt's "we're all ears
on
Anquan Boldin
" comment was pretty interesting. Did it just happen to immediately
follow a report
that a
Braylon Edwards
to the Giants trade was imminent? I think not. If the Browns truly want to move Edwards, they may have lost a little leverage. Now that the Cardinals have gone public, Giants general manager
Jerry Reese
could play their situation against any potential Browns' offers. As Scouts Inc.
stalwart Matt Williamson pointed out Wednesday on the NFC West blog
, the Eagles appear to be a better fit for Boldin than the Giants. Boldin would the perfect complement to speedsters
DeSean Jackson
and
Kevin Curtis
. In New York, he might not be quite as effective. But if Reese thinks he can get a better deal from the Cards, then more power to him. Heard Boldin do a local radio show in Dallas recently and he indicated once again that he loves his teammates, he just doesn't care for management. If the Giants end up with Edwards and the Eagles trade for Boldin, I might have to redo my NFL schedule analysis. Surely no one wants that to happen.
3. What will the Cowboys do with the No. 51 pick?

Let's be honest. Not having a first-round pick makes the draft far less interesting. It's also made talk radio in Dallas much more of a challenge. In my Dallas Morning News days, I would've had seven mock drafts by now. But with the proliferation of mock drafts -- my pastor has one -- I've decided to take a year off. But anyway, the Cowboys aren't going to feel pressured to take any specific position at No. 51. The only way they take a quarterback is if Josh Freeman ends up in a free-fall. I'm hearing the Cowboys are in love with Western Michigan safety Louis Delmas, who is one of the best free safeties in this draft. He's 5-11, 202 pounds, but scouts say he plays much bigger than that. He's a tough run defender and his athletic ability (4.5 in the 40 and 37-inch vertical) is pretty impressive. The Cowboys signed Gerald Sensabaugh in free agency, but I think Delmas would be starting by midseason -- if not before. The other safety they really like is Darcel McBath out of Texas Tech. Excellent ball skills (eight interceptions) and he grew up in nearby Gainesville, Texas. Jerry Jones loves the homegrown kids. I'm not saying McBath's going at No. 51, but he's certainly a name to remember. In terms of receivers, the Cowboys think Brian Robiskie could be an effective receiver in the league for the next 10 years. If he's there at No. 51, they'd have a hard time passing him up.
4. Don't the Redskins need a pass-rusher?

Could all this talk about Mark Sanchez be a huge smokescreen? If so, t
he Washington Post has bitten hard. That's why I think there's definitely some interest in Sanchez, but it won't happen in the end. The 'Skins desperately need a right tackle and a defensive end. I certainly respect the work of grizzled veterans such as Phillip Daniels, Andre Carter and the immortal Renaldo Wynn. That said, Redskins fans are suffering from a condition widely known as "Haynesworth fever." There's a thought that you pay the guy $41 million in guaranteed money and he suddenly makes old men young again. Folks, Phil Daniels isn't going to return from a serious knee injury and suddenly have 10 sacks. The Redskins need to surround Haynesworth with talent in order to get their money's worth. That's why Snyder has to forget about a quarterback and find a way to get his hands on Brian Orakpo. Yes, I know some scouts struggle with recommending University of Texas kids because they've been pampered so much, but Orakpo is the real deal. I've been watching him manhandle Big 12 blockers for years. Snyder and Cerrato have to find a way to move up and get him.
5. So what do the Eagles do with those two first-round picks?

Well, you could always send that No. 28 pick over to the Cardinals for Anquan Boldin. I don't think the Cardinals will come close to getting a Roy Williams deal, which is to say they won't get a first- and third-round pick for Boldin. And I think Boldin is much better receiver than Williams. Of course, there's always the chance the Eagles actually make those first-round picks. If Ole Miss offensive tackle Michael Oher is there at No. 21, that's the direction Andy Reid will go. At No. 28, drafting Oklahoma State tight end Brandon Pettigrew wouldn't surprise me at all. So what about running back, you ask? Well, I don't think the Eagles have to take someone in the first round -- especially when there are guys like Rashad Jennings out there in the second or third rounds. You can find productive backs in later rounds. Ask the Cowboys and Giants about that. And I seem to recall a man by the name of Westbrook who wasn't taken in the first round. This flies in the face of what Philly writers are saying, but you have to go out on a limb every now and then -- or every day for that matter.
If you have questions regarding this column, please feel free to utilize the Mailbag. I'm planning to spend a lot more time reading your mail in the coming days. Thanks for your continued support of The Beast.
April, 3, 2009
4/03/09
9:30
AM ET
Posted by ESPN.com's Matt Mosley
Teams needs: Defensive end, offensive tackle, linebacker, guard
| | |
| --- | --- |
| | |
| | Joe Robbins/Getty Images |
| | One player the Redskins are looking at is Tennessee defensive end Robert Ayers. |
Dream scenario: The Redskins were ready to mortgage their 2009 and 2010 drafts in order to land Jay Cutler. But it wasn't enough. Now, they'll stay at No. 13 overall and try to find more help on defense. Tennessee defensive end Robert Ayers is a player the Redskins have fallen in love with since he had a breakout performance during Senior Bowl week. He has a little baggage (a 2005 arrest), but he's coming off an excellent 2008 season in which he made 15 stops behind the line of scrimmage and took over several games. The Redskins desperately need help at left end, and Ayers would be a Day 1 starter. Phillip Daniels and Renaldo Wynn are serviceable, but at this point in their careers you don't want to lean on them heavily. There's also a chance that Vinny Cerrato tries to trade out of that 13th pick and make a run at Ayers or even offensive tackle Michael Oher. The Redskins don't have much ammunition in the draft (five picks), so a trade could put them in a better situation. Actually, the dream scenario is Brian Orakpo slipping to 13, but that's a stretch. There's some thought that the Raiders might take him at No. 7. Also keep your eye on LSU defensive end Tyson Jackson
Plan B: The Redskins are high on USC linebacker Brian Cushing. They need to surround Albert Haynesworth with disruptive players, and Cushing has the build (255 pounds) and the athleticism to be an effective pass-rusher. And don't forget that the Redskins aren't exactly stacked at strongside linebacker.
PollCenter: On the Clock

What is the Washington Redskins' biggest positional need? VOTE
Scouts Inc. take: "After going with skill in the first three rounds of the draft last season, I expect the Redskins to stay on offense if and only IF one of the offensive tackles happens to be on the board. I think Ole Miss OT Michael Oher will be the pick if he is there. Alabama offensive tackle Andre Smith is also a possibility. The Redskins also need to address their pass rush so if defensive end Everette Brown from Florida State or Penn State defensive end Aaron Maybin were available they would be considered. The bottom line is they need to address their line play on both sides of the ball, but I think they would go OT over DE. Regardless, the Redskins are in a very good spot and will find a very good player who will fit a huge need on their roster." -- Jeremy Green, Scouts. Inc.
Who has final say? Ultimately it's owner Dan Snyder, but executive vice president of football operations Vinny Cerrato is running the room. If the Redskins trade out of the pick, Cerrato will be the reason why.
Now On the Clock: Denver Broncos, April 5.
Previous On the Clock: New Orleans Saints. The team-by-team series.
March, 9, 2009
3/09/09
10:48
AM ET
Posted by ESPN.com's Matt Mosley
The Washington Redskins could reunite defensive ends Phillip Daniels and Renaldo Wynn in '09, according to David Elfin of the Washington Times. Since Jason Taylor was released this week, the Redskins have been a little more focused on signing the 36-year-old Daniels. He was scheduled to start last season, but suffered a left knee injury in training camp, which prompted the club to sign Taylor.
Daniels is saying that the Redskins have approached the 34-year-old Wynn, who played a bit part for the Giants last season. The plan would be for Wynn and Daniels to rotate at left end.
But with all due respect to those players, it's not like they'll be feared by opposing quarterbacks. We'll see right away just how valuable defensive tackle Albert Haynesworth is. If the season started now, he'd be surrounded by far less talent than he had in Nashville.
The good news for Redskins fans is that Washington could land an elite pass-rusher with the No. 13 pick in the draft. Much, much more to come.
NFL SCOREBOARD
Thursday, 10/23
Sunday, 10/26
Monday, 10/27