NFL Nation:

Return to Atlanta
January, 15, 2011
1/15/11
6:04
PM ET
ATLANTA -- We're live here from the Georgia Dome, where in just a few more hours the
Green Bay Packers
will kick off their divisional playoff game against the
Atlanta Falcons
.
While we're waiting, it's worth pointing out what
Gabes22
passed along in the previous post
. I've since verified the information.
Gabes22: Something I just figured out. If Green Bay beats Atlanta today, and Pittsburgh beats Baltimore, Green Bay can overtake the NFL lead in all-time playoff winning percentage. It would bring Green Bay up to .6279, bring Pittsburgh up to .6274, and drop Baltimore to .600.
As I type this, the Steelers trail the Ravens 21-7 in the second quarter of their divisional game at Heinz Field.
I'll have a few more posts, including any pregame roster news that might arise, before joining NFC South colleague Pat Yasinskas in our NFL Countdown Live chat. Back in a bit.
January, 14, 2011
1/14/11
11:42
AM ET
Getting inside the Friday injury report a day before Packers-Falcons:
Green Bay Packers:
Linebacker
Frank Zombo
has been declared out. Safety
Atari Bigby
(groin) is questionable but has a good chance to be available. Offensive lineman
Jason Spitz
would have returned to practice Friday if the Packers had held one, and for that reason he is listed as questionable. Fullback
Korey Hall
(knee) is questionable, but seems to have a decent chance of being available. All other members of the 53-man roster should be available.
Atlanta Falcons
: Cornerback
Brian Williams
(knee) is doubtful. The Falcons listed six players as questionable, but all of them participated in Friday's practice and appear on track to be available Saturday.
January, 14, 2011
1/14/11
10:00
AM ET
As we wind down our week of coverage heading into Saturday's divisional playoff game at the Georgia Dome, it's worth pulling together two related concepts we discussed independently this week.
As
we noted Monday
, the Packers utilized a three-back set on offense 20 times during the regular season, accounting for nearly 60 percent of the times it was used by all 32 NFL teams this season. Then, in Sunday's wild-card playoff victory against the
Philadelphia Eagles
, the Packers averaged 7.6 yards on the eight plays they ran out of that set.
So on one hand, the Packers have demonstrated an ability and willingness to use one of the oldest and most conservative formations in the game: the wishbone, or an inverted wishbone in some cases. But on the other hand, they have also
used the high-octane, rarely-seen five-receiver set
more than any NFL team as well.
(For those who have been asking, ESPN Stats & Information limits the definition of this set to occasions when five actual wide receivers are on the field, not when some of those split out are running backs or tight ends.)
The Packers used this spread formation 30 times during the regular season, employing special-teams mainstay
Brett Swain
as the fifth receiver. The other 31 NFL teams combined to use it 16 times.
These 50 plays represent a small percentage of the Packers' overall offensive approach this season -- 5 percent of the 1,000 plays they ran this season, to be exact -- but they require far different responses from opposing defenses.
Jason Wilde of ESPNMilwaukee.com
delved into that issue in further detail, quoting receiver
Greg Jennings
saying that opponents are almost always at a personnel disadvantage from a coverage standpoint when they see five receivers on the field.
It's especially relevant for Saturday's game, considering the Packers used the five-receiver set on 14 of their 59 plays in the first game with the Falcons this season. If nothing else, it's pretty rare when, in an age of schematic specialization, an NFL team pulls in two widely disparate ideas into a single season's worth of game planning.
January, 13, 2011
1/13/11
12:15
PM ET
In their Week 12 meeting at the Georgia Dome, the
Green Bay Packers
held the
Atlanta Falcons
well below their season averages in points (20), yards (294) and first downs (19). Packed within the game, however, was a revealing strategy that directly impacted the Falcons' victory.
Quarterback
Matt Ryan
threw only four incompletions in the entire game, the result of a concerted attempt to exploit the Packers' short-range defense. Of his 28 attempts, 21 traveled 10 yards or fewer in the air, according to ESPN Stats & Information. As the chart shows, Ryan was nearly perfect on those passes.
Add those numbers to a powerful performance from tailback
Michael Turner
, who ran for 110 yards on 23 carries, and you see the Falcons won with a conservative but highly efficient approach. It paid off particularly on their final drive, when Ryan completed four passes -- for a total of 20 yards -- to get in position for
Matt Bryant
's game-winning 47-yard field goal.
Packers players have expressed disappointment in their tackling during that game, and this week coach Mike McCarthy said "it was clearly one of our worst" tackling efforts of the season. According to ESPN Stats & Information, Turner averaged 5.8 yards per carry even when the Packers dropped eight (or more) defenders into the box.
[+] Enlarge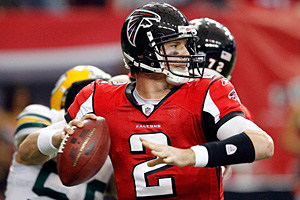 AP Photo/John BazemoreMatt Ryan had only four incompletions in Atlanta's Week 12 matchup with Green Bay.
"We didn't tackle very well," McCarthy said. "They ran the ball extremely well with their big people on the field. That's something we need to do a better job of."
You could blame the Packers' tackling in that particular game, but overall that has not been a big issue for them this season. So did the Falcons simply overpower them? You could certainly make that argument, at least in the running game. With Turner churning out yards no matter what defensive alignment he faced, Ryan didn't have to take many risks.
"They won last time and were successful doing it," Packers defensive end
Ryan Pickett
told reporters in Green Bay this week. "You would think they would do something similar. We're looking forward to it. We'll be much better this time than we were last [time]."
It's unrealistic to believe the Falcons will take that exact game plan into Saturday night's affair. All games stand on their own merits. Regardless, it will be interesting to see what Packers defensive coordinator Dom Capers will do to prevent Ryan from settling into another comfort zone.
In Week 12, Capers sent at least five pass-rushers on nearly 40 percent of Ryan's dropbacks. But he completed 10 of 12 passes in those situations, and for the season, Ryan threw 14 touchdown passes and only four interceptions when opponents sent extra pressure against him.
We've spent some time this week discussing
the balance of the Packers' offense
, the
carrot fate has dangled in front of them
and their
past issues with instant replay
at the Georgia Dome. But to me, herein lies the Packers' biggest challenge in Saturday night's game. It's hard to imagine them winning if Ryan coolly deals the way he did in Week 12.
January, 12, 2011
1/12/11
1:00
PM ET
Did the
Green Bay Packers
suddenly, and nearly by accident, discover a running game in the 18th week of their season? Or was
James Starks
a one-game fluke who will fade into the background as quickly as he exploded onto the scene?
So goes one of the primary questions this week as the Packers prepare for Saturday night's divisional playoff game against the
Atlanta Falcons
. If you recall, the Packers all but abandoned their running game in the teams' Week 12 matchup at the Georgia Dome. In a 20-17 loss, the Packers got only 26 yards on 11 carries from their running backs. Quarterback
Aaron Rodgers
(51 yards) was their leading rusher, and the Packers used a five-receiver set on 14 of their 59 plays.
Although the Packers amassed 418 total yards in the game, their limited running game hurt them on two red-zone possessions in the first half. Of course, you know where this is going. If Starks can provide anything close to the 123-yard performance he produced Sunday against the
Philadelphia Eagles
, well. ...
"That's all we've been hearing," Packers cornerback
Charles Woodson
said. "That we can't advance without a running game. ... If we can have that, along with Aaron [Rodgers], Greg [Jennings], [Donald] Driver, Jordy [Nelson],
James Jones
and those guys, watch out."
So after we get past the novelty of Starks' performance against the Eagles, what do we make of it? I asked Matt Williamson of Scouts Inc. for some perspective.
"It wasn't a fluke," Williamson said. "He has ability and probably would have been a second-round pick if he had been a 'clean prospect' coming out of college. ... There is no doubt that he is the most talented runner on that team and has fresh legs. He shows vision, power and explosion. I didn't think Philly played the run very well or tackled well, but he got at least what was blocked consistently -- if not more. To me, that is all you can ask and he is capable of doing it."
Starks has played in four games this season, including the playoffs, and has two of their top four rushing performances. The chart speaks equally to his skills and the Packers' relative failure to replace injured starter
Ryan Grant
. Packers coach Mike McCarthy has already said Starks will get his share of opportunities Saturday against the Falcons. What he does with them will be fascinating.
Technically, the Falcons had the NFL's 10th-best run defense during the regular season. But probably because they were playing from behind so often, Falcons opponents attempted an average of 22.9 running plays against them per game, the second-fewest in the NFL this season. Within those relatively few plays, the Falcons allowed an average of 4.6 yards per carry -- the sixth-highest in the NFL.
In other words, teams ran on the Falcons this season when they tried. Before Sunday, you wouldn't have counted the Packers as a team that would even try.
If nothing else, Starks will force the Falcons to expand their defensive preparation. It will also add more of a threat to the Packers' play-action game, one that was successful all season despite their shaky running game.
Indeed, Rodgers averaged one touchdown pass for every 10 play-action passes he threw during the regular season, according to ESPN Stats & Information (eight in 80 attempts.) That was double the rate of his other 395 attempts.
OK. Enough with the numbers. What does this all mean? Here's where I land: With a one-dimensional offense, the Packers were within three points of the Falcons in November. With the Starks we saw against the Eagles, they have a balance that gives them the potential to finish what they started in Week 12.
NFL SCOREBOARD
Sunday, 2/2
WEEKLY LEADERS