NFL Nation:

Revis Jets agree 2010
September, 7, 2010
9/07/10
10:57
AM ET
ESPN "First Take" debate maven Skip Bayless took on Sirius Satellite host Bomani Jones about whether the
New York Jets
or cornerback
Darrelle Revis
won their resolved contract dispute.
Jones sided with Revis.
"He gets $32 million guaranteed," Jones said. "He avoids going to training camp, and we're going into a lockout with an uncertain labor situation, and he will get the money that he wanted to hold out for. He didn't have to do it for a full year like his Uncle
Sean Gilbert
did before [with the
Washington Redskins
in 1997]. ... I can't see how he's anything but the winner."
Bayless viewed the situation much differently.
"Darrelle Revis lost badly here," Bayless said. "When the GM of the Jets [Mike Tannenbaum] says 'It was a great deal for Darrelle but a responsible deal for the Jets,' that's advantage: team. And remember: If it was all about holding out for
Nnamdi Asomugha
kind of money, I think he lost terribly.
"The fact that Rex Ryan flew down and talked to Darrelle in Miami had to really set off his agents. I can't believe they signed off on that because I think it gave the team a big advantage."
September, 6, 2010
9/06/10
1:41
PM ET
There are multiple ways to quantify
Darrelle Revis
' importance to the
New York Jets
.
You can, of course, look at the dollars the Jets are giving the star cornerback with his new contract.
AccuScore had another idea. The sports computation service wanted to find out how much influence Revis would have on the Jets' chances to win the AFC East or earn a wild-card berth.
Based on 10,000 season simulations, AccuScore predicts the Jets have a 36.0 percent chance of winning the division and a 51.5 percent chance of making the playoffs with Revis.
A coin flip to make the playoffs? AccuScore's hard drive must not like that
Mark Sanchez
data.
Anyway, AccuScore pegged the Jets chances without Revis: 26.2 percent for the division title and 37.8 percent for the playoffs.
That's a major drop. How much would you pay for a player who would improve your odds of success by 10 to 15 percent?
September, 6, 2010
9/06/10
10:45
AM ET
ESPN analyst and eight-time Pro Bowl receiver Cris Carter spoke with "SportsCenter" on Monday morning about the importance of
Darrelle Revis
reaching an agreement with the
New York Jets
before the season opener.
"If you look at the Jets and their relevance in the National Football League for the last 40 years, I mean, when have they been relevant besides that day that Joe Namath gave them?" Carter said.
Carter claimed Revis will be ready to go when the Jets play the
Baltimore Ravens
on "Monday Night Football" at the Meadowlands.
"He will be in great game shape because he's a professional and that was never, ever questioned," Carter said. "He's always been a guy that loved to train and loved to work out. He loves the game.
"And he's not a big person. He's a skill guy. So a lot of those things, we as skill guys can still do from home, get someone to throw, a lot of guys to run routes for him compared to big people we have seen come into camp. If
Brett Favre
can do it, as complicated as quarterback is, Darrelle Revis definitely can do it."
September, 6, 2010
9/06/10
2:37
AM ET
Everybody associated with the
New York Jets
-- their players, their management, their fans -- can exhale now.
And the rest of the AFC East may feel free to curse.
All-intergalactic cornerback
Darrelle Revis
is back. Fittingly, he'll end his 36-day holdout and get back to work on Labor Day.
[+] Enlarge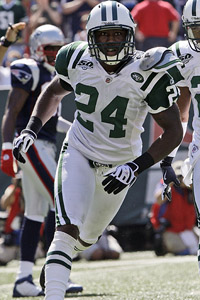 AP Photo/Frank Franklin IIDarrelle Revis is ending his holdout and heading back to the Jets.
Late Sunday, just before midnight, the Jets found sweet relief from a contract dispute that had tainted their summer. After knocking heads for seven months, the sides had a breakthrough in negotiations and quickly came to an agreement on a new four-year contract.
"I think I had to medicate the head coach," Jets general manager Mike Tannenbaum said of Rex Ryan's reaction to the deal being struck.
The Jets weren't banking on Revis to be in uniform when they open their season on "Monday Night Football" against the
Baltimore Ravens
at the Meadowlands -- or any other week.
The Jets spent the offseason loading up for a Super Bowl run, and the front office convinced itself Revis wouldn't be on the team.
"Until it was done," Tannenbaum said on a conference call that began after 1 a.m. Monday morning, "I really didn't think he was going to be here. ... There was no reason to think he would be."
Tannenbaum admitted he had been abusing his Netflix subscription lately to stave boredom. Negotiations with Revis' agents stalled. He had little to discuss about Revis and vanishing hope.
There were fundamental differences. Revis wanted to be the NFL's highest-paid cornerback, but the standard established by the
Oakland Raiders
with
Nnamdi Asomugha
distorted the market. Besides, Revis had three years left on his current contract.
"I really wasn't optimistic," Tannenbaum said. "It was really, collectively, a hard set of dynamics. I'm an optimist by nature, but, gosh, this was really hard."
But Revis is their best player, one of the NFL's best at
any
position. How could they be taken seriously as Super Bowl contenders without him?
They probably couldn't, and the Jets knew it.
That's why Ryan and owner Woody Johnson flew to South Florida on Saturday to meet face-to-face with Revis. Also present were Revis' mother, Diana Gilbert, and his uncle,
Sean Gilbert
, a former defensive lineman who sat out an entire year in a contract clash with the
Washington Redskins
. The fact Sean Gilbert was advising his nephew was added reason for pessimism.
Tannenbaum called the South Florida meeting pivotal to striking a deal.
"There's no question that without that step we wouldn't be standing where we are right now," Tannenbaum said.
Revis will show up at the Jets facility Monday to sign the deal. Financial terms haven't been disclosed yet.
But fans probably don't care much about that anymore outside of curiosity over what they were forced to fret over while Revis missed training camp and all four preseason games.
"This is an intermediate step to what we hope will be an entire career of Darrelle as a Jet, for him to retire as a Jet, for him to hopefully go to the Hall of Fame one day as a Jet, to go in our Ring of Honor," Tannenbaum said. "This is the next step in that process."
Now the Jets don't have to find out how their defense will look without him. There were theories either way.
Some analysts felt the Jets would be fine without him
, that they'd receive sufficient cornerback play from
Antonio Cromartie
, first-round draft choice
Kyle Wilson
and
Dwight Lowery
. Others, including ESPN analyst
Darren Woodson
, thought
the Jets would suffer and not even make the playoffs
.
"Now we can put it behind us," Tannenbaum said, "and move on to Baltimore."
And we can go to bed.
September, 6, 2010
9/06/10
1:03
AM ET
As you would expect from the NFL's best cornerback,
Darrelle Revis
did one hell of a job going into deep cover.
Revis practically vanished during his contract dispute with the
New York Jets
.
Reporters tried to track him down
in New Jersey and his hometown of Aliquippa, Pa., with no success. He didn't even tweet for nearly six weeks.
Revis finally popped his head up shortly after midnight Monday morning to revel in his new agreement, tweeting for the first time since Aug. 26.
Revis24

To my family, neil, & john I love u guys I'm comin home baby!!! Revis Island LET'S GO.
--
this quote
was brought to you by
quoteurl
Neil Schwartz and Jonathan Feinsod are Revis' agents. He later tweeted an apology for what transpired. Revis missed every rep of training camp and all four preseason games.
Revis24 it not has only been hard on u guys but it has for me too. I just want to tell yall that I'm sorry for this process ... http://tmi.me/14DRO
--
this quote
was brought to you by
quoteurl
As long as he locks down receivers for the next few months, I don't think Jets fans will require an apology.
September, 6, 2010
9/06/10
12:45
AM ET
The
New York Jets
have reached agreement with cornerback
Darrelle Revis
on a new contract that will make him fabulously rich and get him on the field in time for opening night.
Jets coach
Rex Ryan traveled to Florida to speak with Revis on Saturday
. Their meeting apparently went well.
The Jets have confirmed the deal, but aren't saying much more. Revis is scheduled to be at the Jets' facility Monday to make it official.
Details to come shortly.
September, 6, 2010
9/06/10
12:25
AM ET

Revis
New York Daily News beat writer Manish Mehta and ESPNNewYork.com's Rich Cimini reported late Sunday night
New York Jets
coach
Rex Ryan traveled to Florida this weekend to meet
with estranged cornerback
Darrelle Revis
.
The Jets open their season on "Monday Night Football" against the
Baltimore Ravens
at the Meadowlands.
Cimini, citing two unnamed sources, adds the meeting took place Saturday and there has been no substantive progress in negotiations.
Revis has three years left on his contract. He's scheduled to make a base salary of $1 million, way below his value. But he also has been paid major bonus money already, collecting about $15 million through his first three seasons.