NFL Nation:

RG III benched
December, 11, 2013
12/11/13
8:45
PM ET
ASHBURN, Va. --
Kirk Cousins
understands the situation. He wants to put together a good performance; he wants the
Washington Redskins
-- and every other team -- to know he can play.
He also knows that
Robert Griffin
III remains the future in Washington.
[+] Enlarge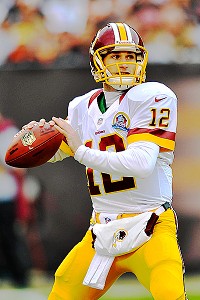 David Richard/USA TODAY SportsKirk Cousins, the Redskins' starting quarterback for the season's final three games, nevertheless embraces his role as Robert Griffin III's backup going forward.
"I've said it since I've been here and I'll say it again, I do believe that Robert is the franchise quarterback here in Washington," Cousins said on the day he was named the starter for the final three games. "He was drafted No. 2 overall. A lot of picks were traded to get him. Common sense would say that this is his team, and I've never wanted to take that away from him or do anything to undermine his role. And I'll say it again even as I start this week, I believe that, at the end of the day, this is Robert's team going forward into next season.
"The reason they are resting Robert is because this is Robert's team and he is the franchise quarterback. You wouldn't rest him if that wasn't the case."
Which is why, after the season, Cousins knows the role he'll once again assume.
"I'm going to continue to try to excel in my role as the backup quarterback to Robert," Cousins said.
And that's why Cousins is a good player to pair with Griffin at this position. There's no doubt Cousins wants a chance to start in the NFL, but he's also a believer in the process. That means as a young player he just wants to work and get better. He did not arrive at Michigan State with trumpets blaring and he wasn't an instant success.
Griffin is used to the spotlight; Cousins doesn't need it. That's not to say Griffin's approach is wrong, but it is to say that Cousins is a good complement to him. Cousins knew all offseason that he was keeping the spot warm for Griffin. You don't hear complaints from him. This isn't about what the next coach (assuming Mike Shanahan is not back) would decide because it's obvious. I can't imagine a new coach telling owner Dan Snyder he wants anyone other than Griffin. But this is about the dynamics in the meeting rooms and locker rooms. Some backup quarterbacks, if wired differently, could cause issues there. Cousins is not that sort.
Both players said all the right things Wednesday.
"Robert is a competitor and I think it is tough for him to have to sit down because what makes him great is that he wants to be out there," Cousins said. "That's one of the things that I admire about Robert and I've learned a lot from him in my role as a backup is that he doesn't back down to a challenge.
"He never flinched as a rookie, which I was amazed at that going into the Superdome against New Orleans Week 1, he didn't seem nervous. He didn't seem like he was afraid in any way, and it showed in his play, and I have admired that and taken that from him and tried to apply it to my game, that I shouldn't flinch either. He wants to be out there but I think he's handling it with a lot of maturity and he's still out there throwing right now because he wants to get better."
It had to be weird for Griffin to stand in practice and watch Cousins take the first-team reps. Cousins knows this and pointed out what he saw from Griffin.
"His demeanor has been positive, in the sense that he's taking the high road," Cousins said. "I think that at the same time it's tough for him, so I don't want to come across like he doesn't care that he's sitting. It matters to him, but he's also going to take the high road and stay positive too, so he's been positive in meetings and affirming of me and my opportunity. I feel like our relationship has always been strong and I think it's gotten stronger since we've gotten to know each other more over the last couple of years."
If Cousins plays well in the next three games it'll make life interesting for everyone in the offseason. Griffin has the higher ceiling. He's the more talented player. But it's human nature if another guy plays well for others to wonder. What will help Griffin is that Cousins won't be the one wondering.
December, 11, 2013
12/11/13
4:18
PM ET
FLOWERY BRANCH, Ga. – The
Atlanta Falcons
don't have to worry about facing
Robert Griffin III
and his ability with the read-option, when healthy. But the Falcons' defense still has to be aware of what new starting quarterback
Kirk Cousins
is capable of doing for the
Washington Redskins
.
Cousins
When these teams met last season, Falcons linebacker
Sean Weatherspoon
knocked Griffin out with a concussion, and Cousins stepped in and completed 5-of-9 passes for 111 yards, including a 77-yard touchdown. But Cousins also had two late interceptions in the Falcons' 24-17 road win.
"You know, Kirk can throw the ball pretty well," Weatherspoon said. "He did a great job last year when he came in; kept them in the game. Ultimately, he was just a rookie, so we sat back on him in some zone coverage when they had to go down the field, ended up getting a couple of interceptions there at the end to close it out.
"We expect him to be prepared. He knows he's the starter this week, and that's always great as a player – when you know early. So he'll be coming in with some confidence. We just look forward to going out there and just doing our job against him."
Cousins pointed out how last year's game against the Falcons represented his first NFL regular-season action.
"Did some good things, but also made some mistakes," Cousins said. "Every chance I've gotten to play – whether in practice or in games – I've learned something from those reps. And I've learned from my mistakes. And I've learned from my successes."
Cousins might not get much protection from his offensive line, but he could get a boost from a strong running game that ranks second in the NFL, led by 1,000-yard rusher
Alfred Morris
.
The Falcons won't have to contend with Griffin's version of the read-option. But they still have to stop the ground game – something they've been unable to do consistently all season.
December, 11, 2013
12/11/13
11:15
AM ET
ASHBURN, Va. -- For weeks,
Washington Redskins
coach Mike Shanahan preached patience with quarterback
Robert Griffin III
. After missing a full offseason following knee surgery, Shanahan knew Griffin needed two things: time and reps.
And now, with Shanahan's job security in question, the
coach did a 180-degree reversal
. He's going to start
Kirk Cousins
instead of the quarterback who remains the future of the organization. Which makes you wonder: Why?
Shanahan said Monday that he was considering this move because he wanted Griffin healthy for a full offseason of development. Griffin has been sacked 24 times in the past five games, but Shanahan emphasized Monday that the second-year starter is healthy. Griffin has not shown the explosiveness he had last season when he rushed for 815 yards, but he also isn't injured. He just needs more time to develop as a pocket passer.
The motives could be deeper than that. Shanahan could be trying to force his own ouster, knowing that owner Dan Snyder would not be happy with this move. Snyder then would be forced to pay Shanahan the remaining money ($7 million) on his contract for next season.
The relationship between Snyder and Griffin has bothered Shanahan for some time. But sources close to Snyder said Tuesday that the owner would not intervene in any coaching decision. Snyder, sources said, was not prepared to fire Shanahan before the end of the season and does not want to come across as having made an emotional decision. Plus, there were reports earlier this week that Snyder was exploring whether he could fire Shanahan with cause and therefore not pay the remaining money on the contract.
Even privately Shanahan has mentioned the growing pains with Griffin and did not drop hints about such a move. But it's also clear that Shanahan likes Cousins and would have been fine had he opened the season with him. However, Shanahan also has known that Griffin was, and remains, the future of the franchise. Still, this feels like a parting shot by Shanahan with a desire to have this be a reason to get fired and collect $7 million.
But now it will get interesting. Griffin's reaction will be closely monitored by teammates -- and everyone else for that matter. Griffin no doubt will understand this and, to him, it will feel like a benching. He wasn't happy that he didn't play in Cleveland last year after tearing his lateral collateral ligament the previous week. There's no way he'd be happy even if the reasoning was just to keep him healthy. He wants to play and prove himself.
The other questions: What happens if Cousins plays well over the next three games? How does that impact how players view the situation? Or a new coach? Griffin has the higher ceiling and has to be given every opportunity to develop. He does need a full offseason. And if Cousins does play well, perhaps the Redskins could recoup draft picks lost in the initial trade for Griffin.
Regardless, there will be a lot to discuss in coming weeks -- and months.

NFL SCOREBOARD
Thursday, 9/18
Sunday, 9/21
Monday, 9/22
WEEKLY LEADERS