April, 7, 2010
4/07/10
1:00
PM ET
»
NFC Approach
:
East
|
West
|
North
|
South
»
AFC
:
East
|
West
|
North
|
South
»
Draft Watch
:
Biggest needs
(2/17) |
Busts/gems
(2/24) |
Schemes, themes
(3/3) |
Recent history
(3/10) |
Needs revisited
(3/17) |
Under-the-radar needs
(3/26) |
History in that spot
(3/31) |
Draft approach
(4/7) |
Decision-makers
(4/14) |
Dream scenario/Plan B
(4/21)
Each week leading up to the NFL draft (April 22-24), the ESPN.com blog network will take a division-by-division look at key aspects of the draft. Today's topic: Draft approach.

Houston Texans
Gary Kubiak was already on board for the fantastic 2006 draft, but the old front office was also there. General manager Rick Smith was hired after that. I don't have a great sense of the Texans' philosophy. The three drafts since feature some hits -- most noticeably
Brian Cushing
-- but more guys who still haven't fully tapped into the potential the team saw in them. They've only taken one defensive back as high as the third round, which is part of why they need a few so badly now. They've only taken one defensive tackle, and he was a fifth rounder.

Indianapolis Colts
Best player available, regardless of need. That's how president Bill Polian strives to operate and that's why the Colts are very unpredictable, especially at the top, when draft days roll around. The Colts still prefer fast and quick to big and super-strong, though they have come to desire more size on their offensive line and interior defensive line. The team's first pick has been offense the last four years, and providing what
Peyton Manning
needs to be successful is usually priority one. This time around that would seem to be offensive line, but Polian won't panic if there is a lineman he loves later and is confident he will be able to land.

Jacksonville Jaguars
General manager Gene Smith has only been on the job for a year, but we still know a good bit about his drafting philosophy. He believes in foundation first, which means offensive and defensive lines. He's looking to hit singles with every pick, not to swing for the fences. He's not afraid to stick his neck out as he did last year, trading his 2010 second-rounder for a third-round pick used on corner
Derek Cox
out of a lesser football school, William & Mary. The Jaguars will strive to get value at every pick while filling out their needs. They will be more likely to trade down than up because of that missing second-rounder and won't force moves (read draft
Tim Tebow
) to please the marketing department or a segment of the fan base.

Tennessee Titans
In the three drafts run by general manager Mike Reinfeldt, the Titans have gotten excited over at least one workout warrior early:
Chris Henry
(bust),
Chris Johnson
(home run) and
Jared Cook
(we don't know yet). The Titans are not afraid to look to smaller programs like Eastern Michigan or Winston-Salem State and some picks in recent years have clearly been favorites of position coaches -- Jim Washburn wanted
Jason Jones
,
William Hayes
and
Sen'Derrick Marks
;
Marcus Robertson
backed
Ryan Mouton
. The team doesn't have big concerns over how other teams or people may value a guy. Sticking their neck out for Johnson made the Titans look great. The jury is still out others like
Michael Griffin
or Jones.
April, 6, 2010
4/06/10
1:03
PM ET
By
Scouts Inc.'s Matt Williamson
| ESPN.com
»
NFC Big Question
:
East
|
West
|
North
|
South
»
AFC
:
East
|
West
|
North
|
South
What can we expect from Vince Young in 2010?
[+] Enlarge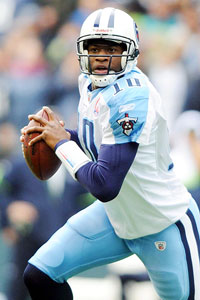 Steve Dykes/US PresswireVince Young threw for 1,879 yards in the Titans' final 10 games of the 2009 season.
When this question was posed to me last year at this time, I felt Young would be an unsuccessful quarterback in 2009 -- and going forward. I just didn't trust him to throw the ball well and accurately enough. Nothing is static in this business, and although I am not ready to say that I am a total believer in Young, my tune has surely changed.
Of course, Young deserves a ton of credit for this improvement, but so does coach Jeff Fisher and the Titans' offensive play calling. I see a lot of half-field reads for Young and obviously Tennessee employs a run-first offensive approach. It also doesn't hurt having the threat of
Chris Johnson
as a runner and outlet receiver to make life much easier on a developing quarterback. The Titans also have one of the very best offensive lines in the league and a young, promising group of pass-catchers.
But back to the original question. Young's supporting cast shouldn't change much in 2010. In fact, those pass-catchers -- namely
Kenny Britt
and
Jared Cook
-- should be further along in their development. Britt in particular should really assert himself this season.
But most important, Young should continue to progress as well. Of course, Young is very dangerous with his legs and he should continue to present a threat in this capacity, but his passing skills improved by leaps and bounds in 2009 since his last stint as a starting quarterback. His ball placement and touch on throws to all levels is vastly improved. Young seems to understand that staying in the pocket to make the throw is usually a better decision than tucking it down and running in the NFL.
But still, this isn't an offense built to come from behind. Young needs to keep the offense on schedule and move the chains. I see him continuing to do just that, but also further refining his passing skills and deciphering defensive schemes.
Sometimes failure is a great thing for a quarterback. They come back and no longer are playing scared or like the weight of the franchise is planted on their shoulder pads. Young did play fast at times last year, but less so than in the past, and those instances probably will continue to decline. He looks like a much more relaxed quarterback.
June, 22, 2009
6/22/09
11:34
AM ET
| | |
| --- | --- |
| | |
| | AP Photo/David J. Phillip |
| | The Texans' Xavier Adibi is putting on weight in a bid to beat out Zach Diles and Cato June for the starting weakside linebacker's job. |
Posted by ESPN.com's Paul Kuharsky
Weakside linebacker might be the most intriguing Houston Texans' training camp position battle.
Second-year man Xavier Adibi, recovering Zach Diles and newcomer Cato June are expected to slug it out for the third starting spot alongside middle man DeMeco Ryans and rookie strongside linebacker Brian Cushing.
"With Adibi and Zach and Cato, we're as strong at that position as we've been since I've been here," coach Gary Kubiak said.
"That position group will have a heck of a battle this training camp," GM Rick Smith said. "That's one I'm looking forward to watching."
Getting more rugged and durable at linebacker was one of the team's offseason priorities.
Adibi was slow to get involved last season and played in just seven games. Diles broke his left tibia in a practice halfway through the season and was lost for the year. Kevin Bentley, Morlon Greenwood and Chaun Thompson filled in. Greenwood's gone now.
At 6-foot-2 and 243 pounds, Cushing was drafted 15th overall to help beef up the Texans at linebacker. He's a versatile player who should be able to rush and cover.
When I heard about Adibi bulking up -- he said he's gone from 220 to 240 -- I recalled comments Jacksonville Jaguars head coach Jack Del Rio made about steady weight gain for young players. Del Rio said when he was an assistant at Baltimore, the plan was for Ray Lewis to gain five pounds a year.
Maybe Adibi will be good to go with a 20-pound leap. Everyone in Houston said it's not a concern. But maybe it will be something we have to monitor.
"I was making sure I didn't put on too much, I didn't want to get to the 245, 250 range," Adibi said. "This is weight that I need just to get through the regular season playing 17 weeks of the NFL. That's one of my goals, make it through the season 100 percent, not miss any games.
"This is what I had to do and I feel good. I feel real good."
Two things that should benefit all the linebackers: A healthy Amobi Okoye at defensive tackle and the addition of veteran lineman Antonio Smith, who will start at end but could kick inside in certain situations.
"Sometimes a linebacker is only as good as his D tackles," Adibi said. "They're keeping blocks off you, they are shooting upfield, they are penetrating, they are causing havoc and that just lets the linebackers roam and make plays."
December, 6, 2008
12/06/08
12:45
PM ET
Posted by ESPN.com's Paul Kuharsky
Houston Texans
Indianapolis Colts
Jacksonville Jaguars
Tennessee Titans
NFL SCOREBOARD
Sunday, 2/2
WEEKLY LEADERS