NFL Nation:

Richard Bartel
March, 9, 2012
3/09/12
6:42
PM ET
A few thoughts on known contract offers for restricted free agents in the NFC West:
Looks like I've finally made it through a blog post without mentioning -- wait, who wrote that headline?
December, 12, 2011
12/12/11
1:34
PM ET
The
Arizona Cardinals
won Sunday despite finishing with only 12 first downs and a 21 percent conversion rate on third down. They won despite losing the turnover battle.
Their 21-19 victory over the
San Francisco 49ers
marked the third time since 1940 a Cardinals team has won a game with two-plus interceptions and zero takeaways,
according to Pro Football Reference
. A combination of stifling defense, poor opposing offense and sensational play from receiver
Larry Fitzgerald
lifted Arizona.
Quarterback
John Skelton
finished the game with a career-high NFL passer rating of 106.5. But with Cardinals receivers gaining 180 yards after the catch, a season high by 84 yards, Skelton emerged from the game with a middling 44.1 out of 100 in Total QBR.
Huge gaps between NFL passer rating and QBR have been fairly common in the NFC West this season. QBR has sometimes downgraded Skelton's teammate,
Kevin Kolb
, and 49ers starter
Alex Smith
even when raw passing stats suggested they played well.
Those quarterbacks' season-long QBR scores are all below 50, which represents average play. Sacks have been a leading factor most of the season.
Cardinals receivers, running backs and tight ends have also gained significant yards after the catch. Quarterbacks share blame for sacks and credit for yards after the catch under the QBR formula, one reason Arizona's scores have lagged.
Fitzgerald made the pivotal plays for Arizona on offense. Among his contributions:
Throwing the key block on Early Doucet's 60-yard scoring reception;
Tracking down 49ers safety Dashon Goldson following an interception return in Cardinals territory, saving a potential touchdown;
Heading off another potential Goldson interception with a leaping grab, followed by an improbable spin move and dash for the end zone for a 46-yard touchdown;
Setting up another Cardinals touchdown by turning a short pass into a 53-yard gain.
The Cardinals, more than any NFC West team, have proven an ability to strike for big plays on a historic scale.
From 1990 through last season, no Cardinals quarterback threw two scoring passes of at least 40 yards in the same game, according to Elias Sports Bureau. Skelton did it Sunday. Kolb did it against Carolina in the regular-season opener. Those games featured the team's highest totals for yards after the catch. That helps explain the gaps between triple-digit passer ratings and roughly average QBR scores in those games.
The chart shows game-by-game and full-season QBR scores for NFC West quarterbacks heading into the
St. Louis Rams
' game against the
Seattle Seahawks
on Monday night. Seattle's
Tarvaris Jackson
now holds the top season-long QBR score for the division after Smith's season-low 9.4 QBR against Arizona dragged him down.
Note:
Check out newly configured
expanded QBR pages
showing breakdowns across multiple categories, including by division. The 49ers' Smith owns the
four highest scores
among NFC West quarterbacks this season.
Quick thoughts on how NFC West passers graded out in
Week 14
according to Total QBR, with NFL passer ratings in parenthesis as a reference point:
John Skelton, Arizona Cardinals (44.1 QBR, 106.5 NFL rating): Skelton completed 19 of 28 passes for 282 yards with three touchdowns, two interceptions, one sack and one fumble (lost). He scrambled six times for 25 yards. Skelton played poorly enough to lose the game, then well enough to win it thanks to tremendous play from the Cardinals' defense and what should stand as one of Fitzgerald's finest games. Skelton showed great improvement from his previous start against the 49ers. He played better than expected against a strong defense, and he did it without taking many practice reps. This was a step forward for Skelton and his efforts to remain a viable No. 2 quarterback. His size and strength gave him and advantage over Kolb when it came to extending plays.
Alex Smith, San Francisco 49ers (9.4 QBR, 62.3 NFL rating): Smith completed 18 of 37 passes for 175 yards with no touchdowns, no interceptions, five sacks and one rush for minus-3 yards. He did not fumble. The 49ers suffered no turnovers, in part because the Cardinals failed to capitalize on a couple prime opportunities, including one on a pass Sam Acho tipped to himself. Smith did little to lift an offense whose troubles extend beyond the red zone. He faced third-and-12 or longer five times. Protection faltered, and Smith wasn't able to find quick outlets against pressure. Coach Jim Harbaugh said the game plan called for more passes than usual. The odds were against Smith and he could not overcome them.
The chart below shows how quarterbacks from games involving NFC West teams fared in Total QBR for Week 14.
The clutch-weight average column reflects game situations, not how well players performed during those situations. Any clutch average above 1.0 reflects a quarterback performing in higher-pressure situations.
December, 5, 2011
12/05/11
12:08
PM ET
Kevin Kolb
needed merely to be average for the
Arizona Cardinals
to realize a significant gain in the standings.
That was my theory heading into the 2011 NFL season.
The team was so bad at quarterback in finishing 5-11 last season, my thinking went, that even mediocre play might get them into the .500 range. Kolb has too frequently been less than mediocre this season, but that changed during the second half and overtime of the Cardinals' 19-13 victory over the
Dallas Cowboys
in Week 13.
Total QBR, which pegs average quarterback play at 50 on a 100-point scale, says Kolb has played near an average level four times this season, including when he posted a season-high 54.0 score Sunday. The Cardinals are 2-2 in those four games. They are 0-4 when Kolb has posted a QBR score significantly worse than average.
So, while an improved defense largely accounted for the Cardinals' victory Sunday, slightly better than average quarterback play was critical, too.
Kolb remains the only projected NFC West starter without a single-game QBR score of 55 or higher. He faces a tough test when San Francisco visits University of Phoenix Stadium in Week 14. Average might not be good enough then, but with three of their final four games at home, the Cardinals still have a chance to approach that .500 range -- right where we thought they might land, albeit by less conventional means.
Quick thoughts on how NFC West passers graded out in Week 13 according to Total QBR, with NFL passer ratings in parenthesis as a reference point:
The chart below shows how quarterbacks from games involving NFC West teams fared in Total QBR for Week 13.
The clutch-weight average column reflects game situations, not how well players performed during those situations. Any clutch average above 1.0 reflects a quarterback performing in higher-pressure situations.
Note in the chart below that Dallas'
Tony Romo
added far more expected points through his passing than any quarterback listed. The negative totals he posted for rushing, sacks and penalties left his QBR score in the mid-50s, however.
November, 21, 2011
11/21/11
1:29
PM ET
Most young, inexperienced quarterbacks are going to struggle on the road against top NFL defenses.
John Skelton
's performance for the
Arizona Cardinals
against the
San Francisco 49ers
in Week 11 undercut even the most guarded expectations. Skelton finished the game with a 10.5 NFL passer rating and
0.9 Total QBR
that ranked among the lowest recorded since ESPN began tracking the stat for the 2008 season.
The performance came at a time when the Cardinals' ability to develop quarterback talent was already inviting tough questions. Injured starter
Kevin Kolb
has struggled and arguably regressed during his first seven starts with the team, while ex-Cardinal
Matt Leinart
has a shot at taking the
Houston Texans
to the playoffs.
The questions we discussed
when the Cardinals acquired Kolb linger:
Was Cardinals coach Ken Whisenhunt a driving force behind Ben Roethlisberger's historic rookie season in Pittsburgh, or mostly a beneficiary of it?
Was Whisenhunt pivotal in restoring Kurt Warner's career by persuading Warner to reform his Mike Martz-coached penchant for the daring? Or did Whisenhunt luck into a Hall of Famer, with former coordinator Todd Haley taking the lead internally?
These questions might not have clear answers. But continued struggles at quarterback will amplify them, particularly if Leinart appears vastly improved under Gary Kubiak in Houston.
Total QBR
, which measures how quarterbacks affect their teams' chances for winning, shows Kolb and Skelton lagging badly. Their scores are in the 30s out of 100, with 50 being average and 65 over a full season representing Pro Bowl-caliber play. Warner was at 66.5 for the 2008 season and 64.5 the following year.
The first chart shows QBR scores for NFC West quarterbacks by week and
for the season
.
Rich Bartel
's low score in Week 5 reflects, in part, the hopeless circumstances he inherited late in the game at Minnesota. There was nothing he could do to improve the Cardinals' win probability in a meaningful way.
Quick thoughts on how NFC West passers graded out in Week 11 according to Total QBR, with NFL passer ratings in parenthesis as a reference point:
Alex Smith, 49ers (69.5 QBR, 81.8 NFL rating): Smith completed 20 of 38 passes for 267 yards with two touchdowns, one interception, no sacks, no fumbles and seven carries for 17 yards. Smith was right when he said the 49ers squandered multiple opportunities in the passing game. The interception he threw came after the game was well in control, however, and there was never a point when the 49ers appeared in danger of losing. Those factors helped Smith post a strong QBR for the second week in a row, the third time in four weeks and the fifth time in seven weeks. Taking no sacks helped his cause. Smith did a very good job putting both hands on the ball when the Cardinals got enough pressure to force a scramble.
Tarvaris Jackson, Seahawks (41.3 QBR, 55.6 NFL rating): Jackson completed 14 of 24 passes for 148 yards with one touchdown, two interceptions, four sacks, no fumbles and two carries for 10 yards. Jackson tossed interceptions on his first two passes, which is no way to start a game. His QBR score was below average, but still much better than the score for his Rams counterpart. Jackson played well enough to win under the circumstances, even if he didn't play well overall. Jackson continued to show a strong rapport with rookie receiver Doug Baldwin, finding him for third-down completions covering 35, 15 and 10 yards -- all for first downs.
Rich Bartel, Cardinals (23.8 QBR, 52.5 NFL rating): Bartel completed 10 of 22 passes for 86 yards with one touchdown, one interception, one sack, no fumbles and one carry for 9 yards. The game felt out of reach by the time Bartel entered to start the fourth quarter. His 23-yard scoring pass to Larry Fitzgerald stands as a career highlight so far. It made no difference in the game, however.
Sam Bradford, Rams (13.7 QBR, 60.5 NFL rating): Bradford completed 20 of 40 passes for 181 yards with one touchdown, one interception, five sacks, two fumbles (both lost) and no rushing attempts. This game marked the third of the season for Bradford with a QBR score between 12-14, and he has yet to post one higher than 55.3 this season. Bradford's QBR last season was 41.0. It featured a 94.7 against Denver, an 80.5 at home against San Francisco and a 69.4 against Washington. Unfortunately for the Rams, Bradford was better when Josh McDaniels was trying to stop him than he's been with McDaniels trying to help him. That is confounding even though injuries have affected the offense quite a bit, including Bradford.
John Skelton, Cardinals (0.9 QBR, 10.5 NFL rating): Skelton completed 6 of 19 passes for 99 yards with no touchdowns, three interceptions, one sack, one fumble (Arizona recovered) and no rushing attempts. Whisenhunt criticized him for missing reads, setting up wrong in the pocket and playing like a rookie. Skelton will likely remain the starter against St. Louis in Week 12 if Kolb's foot and toe aren't sufficiently healed. Otherwise, Kolb gets the start.
The chart below shows how quarterbacks from games involving NFC West teams fared in Total QBR for Week 11.
November, 20, 2011
11/20/11
11:07
PM ET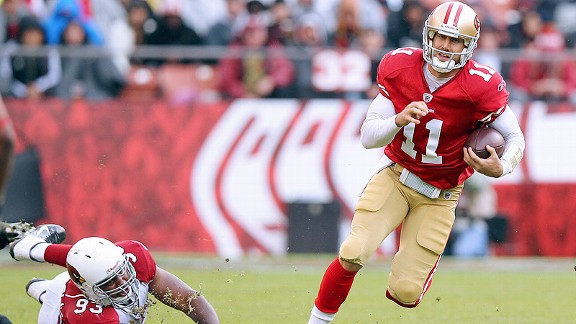 Ezra Shaw/Getty Images"Definitely frustrating," QB Alex Smith said of the 49ers' performance in a win against Arizona.
SAN FRANCISCO -- The frustration
Alex Smith
expressed for the
San Francisco 49ers
' offensive skill players was genuine and appropriate Sunday.
Most of them were just OK. Some, including Smith, struggled through one of their least satisfying performances of the season.
They will have to settle for a 9-1 record and the organization's first winning season since the 2002 team went 10-6 with
Jeff Garcia
,
Garrison Hearst
and
Terrell Owens
. Their
23-7
victory over the
Arizona Cardinals
at Candlestick Park felt as inevitable as any since ... when? This was certainly the least satisfying 49ers victory in a while.
Smith summed up the mindset thusly: "Yeah, we got the win, but definitely frustrated. You don't expect to hit everything [on offense], but we missed too many today."
This game was high in fat, low in fiber, overly spiced (thanks to
Dashon Goldson
's ejection after one of several skirmishes) and lacking in nutritional value. It will have to tide over the 49ers until their Thursday night game at Baltimore, but they already were getting hungry Sunday night. They acknowledged the significance of 9-1 without reveling in it.
"We don't talk about the simple fact that we're a winning team now," tight end
Vernon Davis
said. "We kind of just go with the flow now. We expect to win now. It's a blessing. It feels great to be in this situation."
A look at what else we learned and confirmed around the division after the 49ers and
Seattle Seahawks
coasted to victories over NFC West rivals:
1. The NFC West carrot could dangle a little longer.
San Francisco must step outside the division to measure itself. The 49ers lead second-place Seattle (4-6) by five games with six to play. But with the Seahawks playing their next three games at home against losing teams, the 49ers might have to wait a couple weeks before clinching. Their magic number is down to two.
A San Francisco loss at Baltimore, coupled with a Seattle victory over Washington, would further prolong the inevitable. But a reverse of those results would make the 49ers division champs in Week 12.
2. No quarterback controversy in Arizona
John Skelton
or
Kevin Kolb
? There's no question after Skelton completed 31.6 percent of his passes with three picks before coach Ken Whisenhunt replaced him with
Rich Bartel
to start the fourth quarter.
Kolb will start against St. Louis in Week 12 if he's healthy enough to do so. The Cardinals can say that was going to be the case anyway, but the game Sunday provided Skelton an opportunity to stay in the lineup a little longer. But the second-year pro failed so miserably that Whisenhunt finished his postgame news conference with a career high for quarterback hits.
"They played well," Whisenhunt said of the 49ers, "but we had wrong reads, bad throws, bad decisions. John played like a rookie today and that was tough."
Whisenhunt said the offense played too poorly "especially at the quarterback position to give us a chance against a good football team." He noted that Skelton "hasn't been the fastest starter" and that the defeat felt worse than the final score suggested.
"The very first pass of the game, he takes an incorrect drop and that throws the timing off and it sails it over the receiver's head," Whisenhunt said. "Those are things you can't do. ... Listen, I'm not trying to blame John, I'm not trying to put it all on John. It was a tough day for a lot of us out there."
The only positive for Skelton: His fourth-quarter passer rating for the season remained unchanged at 101.8.
3. Seahawks showing Rams how to rebuild.
The Rams hired Steve Spagnuolo as coach and promoted Billy Devaney to general manager for the 2009 season. No team in the league has used more top-five draft choices than the Rams since then. The Rams landed their franchise quarterback, invested heavily in their offensive line and should be a least a year ahead of Seattle in the rebuilding process.
That they lost at home to Seattle by a
24-7
score confirmed that the opposite is true.
The Seahawks, now in their second season with coach Pete Carroll and GM John Schneider, have done a better job building up their roster. They've gotten better at every position but quarterback. They've been better prepared than the Rams for injuries.
In some cases, injuries to established players (think
Marcus Trufant
) have allowed young talent (think rookie
Richard Sherman
) to shine, brightening the long-term outlook. Even when Seattle missed on players in the draft (think
Golden Tate
), others have picked up the slack, and then some (think
Doug Baldwin
). Two players the team acquired by trade,
Leon Washington
and
Chris Clemons
, were impact players Sunday and have been since their arrival. Free-agent addition
Sidney Rice
completed a pass for 55 yards.
Much work still lies ahead for Seattle, but the Seahawks appear further along than the Rams, who have yet to exceed 16 points in a game this season with
Sam Bradford
behind center.
4. The Cardinals' defense keeps making strides.
Arizona appeared lost on defense early in the season, allowing 932 yards over the first two games. Execution is improving. Effort remains strong.
The Cardinals should expect a multi-sack game from defensive end
Calais Campbell
at St. Louis after the Rams lost another tackle to injury. But with nose tackle
Dan Williams
suffering a season-ending broken arm, coordinator Ray Horton might need to adjust. It's tough running a Pittsburgh-style 3-4 defense without top talent at nose tackle. Is
David Carter
ready for more snaps at the position?
Even before losing Williams, the Cardinals lacked ideal personnel to run Horton's scheme.
Of course, scheme won't matter much for Arizona on defense without better play from Skelton or Kolb. The Cardinals controlled the ball for only 15:44 against the 49ers, their lowest possession total in a game since at least 1981.
No wonder Whisenhunt seemed so ticked off after the game.
5. The 49ers earned the Cardinals' respect.
The 49ers-Cardinals rivalry has produced harsh words and hurt feelings in recent seasons. There's also healthy respect between the best players on each team. Arizona, having already faced Pittsburgh and Baltimore this season, gave San Francisco its due.
"They up there, they can play, they play smart," Cardinals defensive end
Darnell Dockett
said.
Guard
Daryn Colledge
, who won a championship with Green Bay last season, joined
Trent Dilfer
and Brian Billick in comparing the 49ers to the 2000
Baltimore Ravens
.
"They play great team defense, they run the ball well, they control the clock," Colledge said. "That gives you a chance to win."
6. The 49ers need better quarterback play.
Skelton's performance gave the 49ers a low bar to clear Sunday, but for continued success against playoff-caliber teams, the 49ers will need better play from their quarterback.
Smith has defined "elite" quarterback play as consistent performance at a high level. He missed open receivers for touchdown passes that could have blown open this game against Arizona. He also threw a pick in the end zone after scrambling away from a near sack.
"We all understand what we can be when we're rolling and hitting on all cylinders," Smith said. "Definitely frustrating [today]."
September, 2, 2011
9/02/11
12:42
AM ET
Looking back on three things discussed
here
before the
Arizona Cardinals
' preseason
game
against the
Denver Broncos
on Thursday night:


1. Patrick Peterson's impact:
Peterson was in the lineup opposite
A.J. Jefferson
after the Cardinals lost incumbent starting corner
Greg Toler
to a season-ending knee injury. That was no shock. Peterson was the fifth overall choice in the draft, after all. If he wasn't going to start after the team traded
Dominique Rodgers-Cromartie
and lost Toler for the season, what would it take? Of course, Peterson is going t play extensively this season whether or not he starts right away. He gained 10 yards on a punt return against the Broncos and nearly had more, but this game wouldn't feature another big play from him. Peterson had returned an interception 34 yards for a touchdown in the team's previous exhibition game. He didn't register a stat in this one.
2. Quarterback depth:
Kevin Kolb
,
Rich Bartel
and
Brodie Croyle
played for the Cardinals. The offensive line kept them well protected for the most part. Kolb attempted only two passes, getting out of the game early. Bartel completed 12 of 16 passes for 216 yards with two touchdowns and one interception. His passer rating was 130.2. This was a positive step for Bartel, a candidate to open the season as the Cardinals' No. 2 quarterback, ahead of
John Skelton
. Skelton missed this game with an ankle injury. Bartel has played well enough in Skelton's absence to merit strong consideration for the No. 2 role, but Kolb is the only quarterback on the team whose place on the depth chart is entirely secure.
3. Young pass-rushers:
Will Davis
got pressure a few times.
Sam Acho
had three tackles. I was looking to see whether or not
O'Brien Schofield
would make an impact. This was pretty much a throwaway game, however.
Brady Quinn
started at quarterback for the Broncos, completing 4 of 12 passes with a 2.2-yard average per attempt. The Cardinals were leading 26-0 midway through the fourth quarter when I decided to publish this item rather than wait through the remainder of the game. Bring on the regular season, please.
August, 24, 2011
8/24/11
12:55
PM ET
There was a time, way back in 2010, when the
Arizona Cardinals
thought
Max Hall
's leadership qualities and feel for the game might translate to success as a starting quarterback.
Three regular-season starts proved disastrous.

Hall
Now, with Hall suffering from a second injury to his non-throwing shoulder, the team waived him with an injury designation. Hall will revert to injured reserve once he clears waivers. He would also become eligible for an injury settlement if the Cardinals chose to cut ties with him.
Undrafted out of BYU, Hall impressed coaches during practices as a rookie. The Cardinals weren't anticipating needing Hall as a starter, however. But with
Derek Anderson
faltering and
Matt Leinart
no longer an option, the team made Hall its starter for a Week 5 game against New Orleans. The Cardinals, fueled by turnovers, won the game, but Hall absorbed a brutal hit near the goal line and fumbled.
Opponents couldn't wait to come after Hall, rushing him fearlessly. Hall never took all of the snaps at quarterback during his three starts.
John Skelton
finished the 2010 season as the Cardinals' starter, entering this season as the No. 2 quarterback behind
Kevin Kolb
.
Richard Bartel
jumped past Hall into the third spot on the depth chart. With Skelton recovering from an ankle injury and Hall out, the team signed
Brodie Croyle
. I would expect Kolb, Skelton and Bartel to be the top three quarterbacks this season, health permitting.
August, 23, 2011
8/23/11
2:42
PM ET
Injuries to
John Skelton
and
Max Hall
would have significantly affected the
Arizona Cardinals
last season.
Not so much this week.

With
Kevin Kolb
entrenched as the starter and
Richard Bartel
having taken firm grasp of the No. 3 job, the Cardinals aren't panicking while Skelton and Hall recover from injuries this week.
The team has added
Brodie Croyle
, who ran a similar offense under former Cardinals assistant Todd Haley in Kansas City, as
insurance
heading into the third week of preseason. Skelton has an ankle injury. Hall's left shoulder is hurt. It's unclear whether they'll be available against San Diego on Saturday.
The third preseason game is generally when teams play their starters longest. That could leave less time for backups to play anyway this week. Bartel has fared well enough to overtake Hall for the third job. The Cardinals probably wouldn't mind seeing more of him anyway.
Croyle, 28, started 10 games over five seasons with Kansas City. He has eight touchdown passes with nine interceptions for his career.
August, 16, 2011
8/16/11
11:03
AM ET
The
San Francisco 49ers
were the only NFC West team to play just two quarterbacks in their first preseason game.
They are the only team in the division looking for a third quarterback.
How much quarterbacks play during preseason can mean more than how well they seem to play under what are often unusual circumstances with little application to the regular season.
Preseason snap counts are especially precious during this abbreviated NFL offseason. That helps explain why
St. Louis Rams
coach Steve Spagnuolo indicated he might
schedule his starters to play longer
in the second preseason game, making up for time lost. That might also explain why the 49ers weren't going to waste preseason snaps on quarterbacks not yet in their immediate plans.
The charts break out quarterback participation by NFC West team, including non-penalty snaps, quarters, drives and drive results.
The
Arizona Cardinals
'
Kevin Kolb
drove his team to the Oakland 1, where the Raiders stuffed
Beanie Wells
on a fourth-and-goal play.
The second chart breaks down participation for No. 2 quarterbacks in preseason openers. Columns remain ordered by team (Rams, 49ers, Seahawks, Cardinals) for easier comparison with the other charts.
The third chart covers third-string quarterbacks (Rams, 49ers, Seahawks, Cardinals).
Cardinals fourth-stringer
Max Hall
also played in the first week of preseason. He took five snaps and led one touchdown drive.
I've included the final chart breaking down snap percentages by quarterback for those wondering whether their team's starter played too much, too little or the right amount in the opening week.
My impression watching the Seahawks was that Tarvaris Jackson, having played only two series, needed a little more time to get going. While he did play the lowest percentage of his team's snaps among NFC West starters, he logged one more snap than Kolb. Seattle quarterbacks ran more snaps overall, strengthening the perception that Jackson was hardly out there at all.
January, 3, 2011
1/03/11
2:15
PM ET
My weekly look at where NFC West quarterbacks stand (trending arrows indicate general direction, not necessarily a change in ranking from the previous week):


November, 27, 2009
11/27/09
4:00
PM ET
By
Matt Mosley
| ESPN.com
»
NFC Final Word
:
East
|
West
|
North
|
South
»
AFC
:
East
|
West
|
North
|
South
[+] Enlarge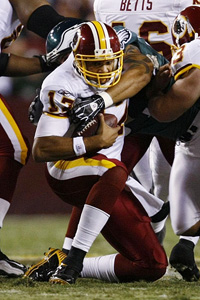 Win McNamee/Getty ImagesQuarterback Jason Campbell has had to adjust while playing behind a leaky line.
Three nuggets of knowledge about the Redskins-Eagles game in Week 12:
The Eagles need more from their pass rush against the Redskins on Sunday.
In the first game against the Skins, the Eagles sacked
Jason Campbell
six times and he was constantly under duress. The Eagles only have three sacks in the past two games and they need their front four to generate more pressure in order to help a banged-up secondary. Sack leader
Trent Cole
(8.5) needs to have a big game against Redskins left tackle
Levi Jones
. It's a matchup that should favor the relentless Cole. The Eagles have allowed five yards per carry over the past two games, but I have a hard time believing that
Rock Cartwright
is going to go off on them. I'd be more worried about him in the passing game.
The Eagles will have some favorable matchups on the outside.
I know the Redskins have the No. 1-ranked pass defense in the league. Skins fans remind me of this all the time -- even though I think those rankings can be misleading. I like to trust my eyes, which allowed me to see
Brandon Marshall
running free behind the Redskins' secondary two Sundays ago. And the fact that
DeAngelo Hall
could miss the game with a knee injury is a major issue. That means that
Fred Smoot
could end up on
DeSean Jackson
from time to time. That's a matchup the Eagles really, really like.
LaRon Landry
better be playing about 30 yards off the line of scrimmage and I'm sure fellow safety
Reed Doughty
will be in retreat mode, too. Jackson and
Jeremy Maclin
only need one play to knock you out, so the Redskins have to be on guard at all times.
What do the Skins have to lose?
I'd like to see Jim Zorn and his playcaller Sherm Lewis loosen up a little in this game. They bogged down in the red zone against the Cowboys last Sunday, in part, because they went conservative for no apparent reason. If you have a chance to take a shot at the end zone before settling for a field goal, then by all means. Believe it or not, this season has actually been good for quarterback Campbell's development. He'll never again play behind an offensive line this bad. In a few short weeks, he's learned how to unload the ball quickly and how to successfully identify hot routes. I thought he played perhaps his best game of the season in a 7-6 loss to the Cowboys. That might sound crazy, but his ability to keep getting up after repeated shots to the chin was pretty remarkable. Keep your eye on this Richard Bartel situation. The Redskins tried to quietly insert a third-string quarterback onto their roster. I think they'd love to take a look at him soon. Maybe not in a divisional game against the Eagles, but you may see the Grapevine, Texas, native out there at some point this season.
September, 12, 2008
9/12/08
1:23
PM ET
Posted by ESPN.com's Bill Williamson

Denver

The Broncos must finally stop Philip Rivers.
Oakland

Javon Walker is close to making his Raiders' debut.
San Diego

The San Diego defense needs to relax a little.
Kansas City

Glenn Dorsey is not satisfied with his NFL debut.
Meanwhile, the Chiefs are planning to take a look at quarterback Richard Bartel. He was on Dallas' practice squad last season. He'd probably fill a similar role in Kansas City if the Chiefs like him.
August, 30, 2008
8/30/08
3:19
PM ET
Posted by ESPN.com's Matt Mosley
After talking to a couple people with the Cowboys, here's a list of the guys who I think will be cut. Coming down the stretch, cornerbacks Evan Oglesby and Alan Ball were in a dogfight for a roster spot. Still don't have a great feel for what will happen there, but a conversation last night led me to believe there was hope for Ball. But he's still getting cut on my list:
The Mosley cuts:
Todd Lowber, WR (not even "Hard Knocks" could save this talented but RAW kid.)
Danny Amendola, WR (prime practice squad candidate.)
Mark Bradford, WR (not familiar with his work.)
James Marten, G (this is the only slight surprise. Marten was a third-round draft choice in 2007.)
Adam Stenavich, G (Adam, we hardly knew ya. He was cut to make room for Larry Allen to retire as a Cowboy.)
Ryan Gibbons, C (no real need for a third-team center.)
Rodney Hannah, TE (did some really nice things late in camp. If you can keep him on the practice squad, do it. Great size and played under an excellent college coach named Art Briles.)
Drew Atchison, TE (nice effort during camp, but not enough.)
Julius Crosslin, FB (never met him.)
Alonzo Coleman, RB (flashed at times in practice and might help on practice squad.)
Keon Lattimore, RB (Ray Ray's going to be upset.)
Junior Siavii, NT (Cowboys hoping to drum up some trade interest. This guy could help someone.)
Marcus Dixon, DE (never could get on the field because of an injury.)
Darrell Robertson, LB (had his moments, but this team's OK at linebacker.)
Tyson Smith, LB (best known for getting lit up by Marion Barber on "Hard Knocks.")
Tearrius George, LB (flashed against the Vikings the other night, but a little too late.)
Erik Walden, LB (If Alan Ball and Evan Oglesby both make the team, something has to give. And even though Walden has some huge supporters at Valley Ranch, I'm afraid he'd be the guy to go.)
Dowayne Davis, SS (It's too bad because he did some serious damage during camp. And I love his name.)
A lot of people have third-team quarterback Richard Bartel getting cut, but as of this morning, he was on the 53-man roster.
NFL SCOREBOARD
Thursday, 10/2
Sunday, 10/5
Monday, 10/6