NFL Nation:

richard crawford
August, 27, 2013
Aug 27
6:35
PM ET
Quarterback
Pat White
remains a long shot to make the Redskins roster. He could, however, get a chance to make someone else's with another strong preseason showing. White will play the entire preseason finale at Tampa Bay.

The Redskins don't have a need to develop another young quarterback, with their top two both in their second year. They like what
Rex Grossman
brings, both on the field and in the meeting room, as a No. 3 quarterback. The Redskins have done a good job calling plays for White, who is comfortable running the ball but inconsistent with his passing -- excellent on slants and digs but high on passes to the outside.
"Pat hasn't been totally consistent in all his drops in the rhythm of the passing game," Redskins offensive coordinator Kyle Shanahan said. "But he's gotten better each week. He can still get a lot better."
White is ineligible for the practice squad, but the Redskins are convinced he'll be on some team's roster this season.
"The more football he's around, the more he works at it, the better he'll get," Shanahan said. "He's as hard on himself as anyone I've been around. … It's just a matter of time that he can be as good as he wants."
In other Redskins news:
August, 27, 2013
Aug 27
9:15
AM ET
Two weeks ago in training camp, rookie
Chris Thompson
struggled to catch punts. He misjudged the flight, reached up awkwardly to his side when trying to corral one and didn't look smooth catching others. He knew it too.
"I was frustrated because I couldn't read the ball that day," Thompson said.
But he received help from the other returners.
Richard Crawford
,
Nick Williams
and
Skye Dawson
all gave him tips on how to catch punts. It's not necessarily an art form, but there is a difference between fielding kickoffs and punts. Thompson occasionally fielded punts during practices at Florida State, but never returned one in a game, just kickoffs.
[+] Enlarge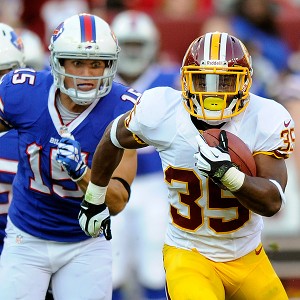 AP Photo/Nick WassChris Thompson knows his versatility can improve his chances of landing a roster spot.
Some of the differences are obvious: Punts are more unpredictable, both in terms of where they're going and how long they'll be. There's also a chance the returner might get drilled upon catching the ball. So instant decision making is important. As a kick returner, the big decision is whether or not to run it out of the end zone -- and coaches often tell them beforehand what they want. The upback can help in that decision, too. For punt returners, it's an in-the-moment decision.
But the ball arrives differently as well. Kickoffs are end over end and easy to read. Punts come off the foot differently and can rotate in more ways.
"You have to be able to read where it's going or if it's going to fall short," Thompson said.
It can take time. But Thompson did a good job of this versus Buffalo. He ran up at least 10 yards to field one punt; drifted back to catch another and moved back and to the side on a third. All were fielded smoothly. It's a start.
"I was actually surprised myself," Thompson said on how well he caught the ball. "Crawford had been doing a great job just helping me out every single day."
Thompson, though, has fumbled twice in the preseason on runs from scrimmage. Ball security and decision making trump speed when it comes to returning punts. Thompson said coach Mike Shanahan told him after his fumble against Buffalo that, "I don't care how good you are, if you put the ball on the ground you're not going to play."
But if Thompson does end up returning punts, then you can credit the other returners, Crawford in particular, for an assist. Thompson knows this could be a way to ensure a roster spot, too. His open-field running style, the ability to be patient yet cut sharply and set up blocks, works well on punt returns. He could get more chances Thursday at Tampa Bay to prove he's a viable option.
"Coaches brought me here not just to be a running back," he said. "I know that's one more thing I can hopefully add to this team."
August, 24, 2013
Aug 24
11:25
PM ET
Highlights from the Washington Redskins' 30-7 win over Buffalo on Saturday, their third straight in the preseason. Somewhere, Don Shula's boys are getting nervous. Or not. Anyway, here you go:

The running game was terrific, but I need to start with the defense. Yes, the Bills have some issues at quarterback. Kevin Kolb was knocked from the game, but he's at best an average quarterback. Still, the Bills want to play at a fast tempo and it's not just about passing the ball; they want to run the ball a lot, too. But the Redskins' defense forced two three-and-outs in addition to a 10-play drive (aided by a third-down penalty on David Amerson). It would have been good to see the Redskins' defense face this attack longer, to get a better feel because it can wear teams down. However, the Redskins handled this attack well and one reason was linebacker London Fletcher. To a man, players talk about how communication and conditioning are key to battling that offense. The Bills typically snapped the ball with 20-23 seconds left on the play clock. Yet the Redskins' D did not look confused or lost. They subbed and were able to use their base and nickel packages. "London is the calming force of the defense," Redskins defensive end Kedric Golston said. "You feed off his confidence and getting the calls. That tempo is trying to catch you with everyone not communicating. That's how big plays happen." By the way, Buffalo managed a first down on only three of 12 series and none in the second half, though when Jeff Tuel is your quarterback for most of the game, that's bound to happen.
It can't be underestimated how important it is to have someone like Fletcher on the field. It doesn't mean mistakes won' t happen; it does mean that they can minimize those mistakes because of his knowledge. "He's a coach out there and even with the short amount of time we had to get up, we were able to get the calls out and get lined up," linebacker Ryan Kerrigan said. I haven't asked Fletcher about this, but there's little doubt that he's watched film of Oregon and of Philadelphia in preparation for the opener, and probably has for a while. There's still no voice in the defensive room that players trust more than Fletcher.
I know one growing trend in the NFL is the use of packaged plays in which the quarterback has the option to either hand off or throw – and only he knows what he's going to do. Buffalo does that; Philadelphia will do some of that. And Saturday, the Redskins scored a touchdown in that situation. They don't do this a lot, but it's certainly not foreign to them. They scored a touchdown two years ago versus Minnesota in this fashion to receiver Jabar Gaffney, and their first drive against New Orleans in the 2012 opener featured several such plays. Anyway, against Buffalo, Rex Grossman spotted the safety in a spot that left him vulnerable – up near the line on the right side. Typically, the safety would have been where receiver Pierre Garcon was headed on his slant. Grossman knew what to do. Watch the offensive linemen on this play– everyone was blocking for a zone run to the right; left tackle Trent Williams went for the linebacker. Grossman stepped that way but threw the slant to Garcon for an easy score. The corner had no shot at making the play – and even gestured to the safety at the end. Don't blame him at all. "I knew we would get a blitz or he would drop out of leverage," Grossman said of the safety. A good call and an easy touchdown.
It's a shame about Richard Crawford on many levels. It leaves the Redskins in a bind for punt returner. I wrote about this elsewhere on the site, but the options are veterans such as Santana Moss and DeAngelo Hall. However, coach Mike Shanahan does not like to use key players in this role, and both would qualify. Besides, Moss has not returned a punt since 2009, and Hall has four returns in five seasons. There's also Aldrick Robinson, who was bad in this role two preseasons ago and didn't show a lot of improvement last summer. Can they really trust him? Skye Dawson has looked better since two disastrous returns in the opener (a fumble and a bad decision to reverse field). Anyway, Crawford is one of the Redskins smarter players; he's always struck me as a future coach because of the way he thinks and understands the game. And he had improved a decent amount this summer – after spending the spring working with Redskins Hall of Fame corner Darrell Green. Mostly, this is about Crawford's returns and I liked how comfortable he was fielding the ball. It looked natural and he (usually) made the first defender miss.
Another option is Chris Thompson. There's much that I like about Thompson and what he offers, and yet there are two major issues that just won't go away: durability and ball security. I was pleasantly surprised how he looked fielding the ball. In practice a week or two ago Thompson did not look smooth at all; he twisted his hands awkwardly catching it on the run to his left and he fought the ball other times. However, he looked much different Saturday. "When I got back there I was pretty calm," he said. It showed. He ran up and caught one on his 31-yard return. He had to backpedal and grab another one and moved to the side. Still, he's only fielded three punts in a game since high school. It's hard to imagine they can trust him with ball security at this point. But they absolutely love his speed and his sharp cuts in the open field. Some of this talk makes him sound like Brandon Banks, though Thompson is loads ahead when it comes to character.
Now, for Thompson's runs from scrimmage. The fumbles are an issue, and it's clear he's still adjusting to running in this offense. Of his 15 carries, none went for more than 9 yards. There were some positive signs: He did not dance around, and when he saw the opening he cut up and took what was there. Liked on a 5-yard run in the fourth how patient he was running to his left, then cutting up and running into the gut of a linebacker, moving him back a yard. He only averaged 2.9 yards per run and I'm curious to see when rewatching the game what sort of holes he really had. I saw good signs. However, those fumbles are killers. He showed resiliency in what he did after the fumbles and that's good. (He actually carried the ball in his left hand on a run to the right, his first after the fumble. Why? Because he's left-hand dominant and felt more secure with the ball in that hand.) But he's fumbled twice in two preseason games. If you're going to do that, you'd better make a few really big plays. Thus far, that hasn't been the case. Can he make the roster? Yes, because the coaches love his speed and he can develop. But he has not yet earned it with his performance (just remember, though, two years ago that Banks had not really earned it either until a big preseason finale).
I liked how rookie tight end Jordan Reed played after a tough debut versus Pittsburgh. In that game, he dropped a pass and struggled as a blocker. Saturday, Reed caught the ball well and blocked even better. Reed competes hard, one reason he's further ahead as a blocker than the coaches had hoped or realized he would be at this stage. On Keiland Williams' 23-yard run it was Reed who cleared an opening by driving a linebacker out of the way. It wasn't his only good block, but it was one good example. He used his hands better and was a little quicker with his feet getting in position. I also like that he makes smooth catches on balls that would be a little tougher for most players of his size at his position. I don't know when he'll make an impact, but I like his potential.
Another guy who deserves credit: safety Bacarri Rambo. Didn't get a chance to talk to him after the game, but you saw one reason why the coaches really like him: The ability to quickly learn. With the tackles it was all about angles rather than desire and after working on it even harder this week, there was a big improvement. Should you be completely comfortable yet with him? No. Even Sean Taylor needed to adjust to this during games; I remember asking Gregg Williams about Taylor's open-field tackling as a rookie. The difference for Rambo tonight is that he didn't hesitate. He was decisive and it showed. He tackled running back C.J. Spiller in the open field. Rambo also tackled Kolb in the open field. OK, Kolb isn't Mike Vick. But what Rambo needed was some confidence in this area, and he received it Saturday. The coaches even gave Rambo extra time when the other starters were out, a smart move. They need him to be solid in this area. One game doesn't make or break anyone – good or bad – but it was a positive step.
The Pat White show continues. Does it mean he'll win a roster spot here? Not unless the Redskins do the unlikely and keep four quarterbacks. And while he's done a nice job running the zone read plays, keep in mind what separated Robert Griffin III on these plays was his ability to provide a triple threat: run, hand off or throw. White hasn't shown he can be consistent throwing the ball from this look. White has improved greatly since we first saw him in spring workouts and if nothing else he's shown that if and when he's cut, it would be wise for someone else to at least take a look. His passing is still inconsistent and while he's good throwing slants – hitting guys in stride – he has trouble on out routes. Before I go crazy on him I'd like to see consistency throwing into different areas and against different looks. But for a guy out of football for three years White has been far from an embarrassment and has provided jolts of energy on the field. He was very patient on his touchdown run, allowing fullback Darrel Young to do his job and then following behind. It's just too bad for the Redskins that White is ineligible for the practice squad. White is behind Grossman; that touch throw to Roy Helu on the wheel route was very, very nice by Grossman. Maybe White gets there someday but he's not close to those types of plays yet. Still, he's improved.
Finally, running back Roy Helu showed once again what he can do in the open field. As a running back there are still times I'm not in love with him. He gets the yards that are available too often whereas Alfred Morris creates more yards for himself. Morris did just that on his first three runs; each one went for longer than it should have because of his vision or his cuts or all of the above. His patience is exemplary. Helu is learning how to run with a little more patience. He didn't always set up blockers. But one of Helu's best runs, a 12-yarder, also coincided with a major negative – a fumble. However, the run was good as Helu pressed the hole well and got the linebackers to overflow to their right. A big cutback lane opened and Helu took advantage. Lucky for him, he recovered his own fumble. On the next play, you saw the dangerous Helu: his footwork was sharp as he was forced to cut a yard or two deep in the backfield because of pressure. Then he made a quick jump cut outside; all tight end Niles Paul had to do was obstruct his man and he did. Helu bounced wide for 17 yards. There's a big difference between Helu and Morris, but both can be dangerous when used properly. If Helu gets 10 touches a game he will provide some big plays. If you put him on the field in passing situations with tight end Fred Davis and receiver Pierre Garcon and use play action… one of them will get wide open. Get a one-on-one matchup with a linebacker, as Helu did, and it can result in a wheel route and long completion. I'm not about to say this will be the most explosive offense ever, but a healthy Helu certainly provides more options and added firepower.
July, 27, 2013
Jul 27
3:06
PM ET
RICHMOND, Va. -- When sixth-round draft pick
Bacarri Rambo
first looked at the
Washington Redskins
' defensive playbook this spring, he was surprised how familiar it looked to him. The Redskins' rookie safety saw a lot of similarities between the Redskins' defense and the defense in which he played at the University of Georgia.
"A lot similar," Rambo said after one of the Redskins' practices Friday. "We run the same 3-4, a lot of the blitz patterns and the coverages are the same, and also we had a linebackers coach from here that was at Georgia the last couple of years I was there, and he taught me a lot."
That coach was Kirk Olivadotti, who left the Redskins after the 2010 season and got the job as linebackers coach at Georgia. The experience of working with Olivadotti is one of several factors that have contributed to a surprisingly high comfort level for Rambo as he's run with the first-team defense here in the early days of training camp.
[+] Enlarge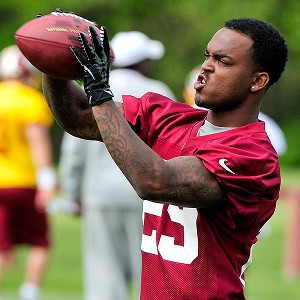 AP Photo/Ron Sachs Redskins coach Mike Shanahan said he's taken notice of rookie safety Baccari Rambo's comfort level within the team's defensive scheme.
"Once I got drafted and got here during the rookie minicamp, I looked over the playobook and saw there were a lot of the same things, just different terms," Rambo said. "It helps me play a whole lot faster."
Redskins coach Mike Shanahan said of Rambo, "you can see he's really relaxed back there," and that's part of the reason he's getting this early chance with the first team. But Shanahan also offered high praise for his other rookie safety, fourth-rounder
Phillip Thomas
. He's obviously a long way from deciding whether either of these guys can start at free safety for him once the regular season starts, but the team's need at the position is such that the rookies are definitely in the mix.
"I think we've got a chance to get better in the secondary," Shanahan said after Saturday morning's walkthrough. "We've got some good young guys with a lot of talent, and now it's how quick they learn it. But I like what I've seen."
Safety is one of the positions Shanahan always says is impossible to evaluate until the pads go on and the preseason games start. So it'll be a while before any final evaluations get made. He also has reliable veteran
Reed Doughty
, whom he knows can start if none of the younger guys is ready in time. The Redskins hope
Brandon Meriweather
is healthy and able to man the strong safety position, but free safety is wide open, which means opportunity for the youngsters.
So, since Rambo's the guy out there right now, let's quickly examine his case. He's a good instinctive player and a sure tackler, which bode well for his ability to handle a last-line-of-defense, center-field type role in the Redskins' defense. Pre-draft evaluations questioned his sideline-to-sideline speed, which could be an issue, and the Redskins don't know yet how he'll play if asked to move up in the box and play the run. Since they like to be able to interchange their safeties, this is something Rambo, Thomas or anyone else with designs on that spot will have to show.
The Redskins are likely to keep at least four safeties -- Meriweather, Doughty, Rambo and Thomas -- and holdovers
Jordan Pugh
and
DeJon Gomes
are in the mix for roster spots as well. They're likely to keep at least four cornerbacks --
DeAngelo Hall
,
Josh Wilson
,
David Amerson
and
E.J. Biggers
-- with
Richard Crawford
and Chase Minnifield in the mix there. So there's still lots to sort out in the secondary, even beyond picking starters. Could Amerson play his way into a starter's role and make Wilson expendable? Can they count on Minnifield to hold up physically? Do they have to keep Crawford on the team as a return man?
Secondary is the position of greatest uncertainty for the 2013 Redskins, which is why it's no surprise to find them mulling the very real possibility of going with a rookie as their starting free safety.
January, 6, 2013
Jan 6
3:40
PM ET
LANDOVER, Md. --
Washington Redskins
left guard
Kory Lichtensteiger
, who missed practice all week with an ankle injury, is nonetheless active and expected to start Sunday's playoff game against the
Seattle Seahawks
here at FedEx Field. This is good news for the Redskins, who likely hope to combat Seattle's defensive speed with the help of cutback runs by running back
Alfred Morris
. As we discussed in
this morning's matchups post
, substituting rookie
Josh LeRibeus
in that spot could have affected the timing of the blocking on the cutbacks and made that more difficult. Of course, if Lichtensteiger is playing with an ankle injury, that could affect things in the run game as well as well as in the pass protection in front of quarterback
Robert Griffin
III. But the Redskins appear satisfied, after watching him work out prior to the game, that he can be effective.
Also active for the game are safety
DeJon Gomes
, who missed last week's game with a knee injury, and cornerback
Cedric Griffin
, who missed the final four games of the regular season due to a drug suspension.
Wide receiver/return man
Brandon Banks
is inactive, as has become custom. The Redskins say
Niles Paul
will return kickoffs and
Richard Crawford
will return punts. Also inactive is quarterback
Rex Grossman
, who was active last week when the Redskins activated three quarterbacks for the first time all season.
I'm here in the press box at FedEx Field, sitting next to the great John Clayton and a few seats over from our fine NFC West blogger, Mike Sando. We'll have plenty for you all day and into the night, and it'd be swell if you could join
our Countdown Live chat
during the game.
Meantime, the full list of inactives:
REDSKINS
SEAHAWKS
Enjoy the game, everyone. Talk to you again real soon.
December, 4, 2012
12/04/12
4:20
PM ET
The NFL announced Tuesday afternoon that
Washington Redskins
cornerback
Cedric Griffin
has been suspended for the final four games of the regular season for violating its performance-enhancing drug policy. The only way Griffin plays for the Redskins again this year is if they reach the playoffs. They currently sit at 6-6, one game behind the first-place
New York Giants
in the NFC East and one game behind the
Seattle Seahawks
for the NFC's final wild-card spot.

However, with starting safeties
Tanard Jackson
(drug suspension) and
Brandon Meriweather
(knee injuries) out for the season, the Redskins' secondary could hardly afford another loss. Griffin has functioned mainly as the team's third cornerback this year, but he sees the field a lot because so many opposing teams use three-receiver sets, and the Redskins like using him on the outside and keeping nominal starter
DeAngelo Hall
on inside receivers when possible. With Griffin out, rookie
Richard Crawford
is likely to see more playing time along with Hall and
Josh Wilson
, and the Redskins' already struggling secondary is likely to suffer for it.
Washington has the second-worst pass defense in the NFL this season, allowing 299 yards per game through the air. The Redskins' improved performance on defense during their current three-game winning streak has been a testament to individual over-achievement and the excellent job defensive coordinator Jim Haslett and the coaching staff have done designing schemes and coverages and adjusting during games to compensate for generally inferior personnel. Besides the two projected starting safeties, the Redskins have been without outside linebacker
Brian Orakpo
and defensive end
Adam Carriker
since early in the season due to injuries, and inside linebacker
London Fletcher
has struggled in recent weeks with an ankle injury. But the Redskins allowed just 16 points Monday night in a key divisional victory over the Giants and have been able to patch it together with what they have. Losing a key piece such as Griffin will only make the job of the coaching staff more difficult from week to week.
If you guys read me regularly, you know how I feel about drug suspensions in the NFL. I think the players generally deserve more scorn and attention than they get for these things. I imagine that Adderall, the unsubstantiated, unverifiable excuse-du-jour for every NFL player that's being suspended for performance-enhancing drugs these days, will ultimately factor into whatever story Griffin presents to the public. But whatever Griffin's story is and whatever the true story is, he's guilty of behavior that's at least irresponsible and likely illegal, and his fans and teammates have good reason to feel as though he has let them down.
October, 11, 2012
10/11/12
2:20
PM ET
The
Washington Redskins
' secondary looked considerably better in coverage in Sunday's loss to the
Atlanta Falcons
than it had in its previous three games. When I broke down the tape via NFL Game Rewind to try and figure out why, I came to the conclusion that the help the defensive backs are getting from the linebackers is the key to their coverage schemes.
Outgunned and outmanned most weeks in the secondary, the Redskins rely on a variety of pre-snap looks and changing coverages to confuse and outwit more talented offensive players. Sometimes they play off the outside receivers and press the slot guy. Sometimes they press all three. They use their inside linebackers in coverage liberally, but they like to line them up so that it's not readily apparent to the defense who's going where. And the key to the whole thing may be the way they use their best pass-rusher, outside linebacker
Ryan Kerrigan
, to help in coverage. He did it a lot Sunday, and one of the plays on which it stood out to me was a second-and-three from the Atlanta 41-yard line with a little over a minute left in the first quarter. It's a play on which Kerrigan disrupts a receiver at the line and still gets into coverage to help break up the eventual throw.
[+] Enlarge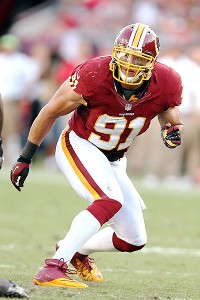 AP Photo/Tom DiPaceWashington has been relying on linebacker Ryan Kerrigan to drop back into coverage.
Pre-snap on the right side of the line, Redskins cornerback
Josh Wilson
lines up over Falcons wide receiver
Julio Jones
. Kerrigan is on that side as well, lined up tight to the line looking as though he'll rush the passer. Instead, he pulls a move he repeats several times during the game -- faking a step inside and then dropping into coverage.
When the ball is snapped, Jones immediately breaks inside across the middle and Wilson drops deep up the field. The key is, as soon as Jones turns inside, he's met by Kerrigan, who gives him just enough of a bump to slow him down. Kerrigan and Jones don't stay together long, but I believe the little bump is significant. At this time, Falcons quarterback
Matt Ryan
is comfortable in the pocket, looking downfield as he goes through his progression. He's looking to his left, and Jones has not yet entered his field of vision. My belief is that Jones might have done so sooner but for the Kerrigan rub, and Ryan might have hit him for a completion that Jones could have turned into a big gain.
Instead, just before Jones would have caught Ryan's eye, the pocket breaks down a bit, forcing Ryan to move his feet and turn his head to the right. I don't think he ever sees Jones. By this point, Kerrigan is deep in coverage, trailing running back
Michael Turner
, who is running a route. Wilson is deep and the Redskins have extra defenders on that side with Ryan apparently committed there.
By the time Ryan makes a hurried throw, Kerrigan is positioned equidistant between Turner and another Falcons receiver (I can't tell who it is) and could break and make a play on either one. He also has Wilson and plenty of other help behind him. Ryan chooses Turner, and the pass is incomplete on second-and-three. The Falcons gain only two yards on the next play and have to punt.
This is just one example of something Kerrigan was able to do in coverage to assist the Redskins' outmanned secondary in covering some of the best wide receivers in the league. There's a third-and-seven play on the previous Falcons possession on which defensive back
Richard Crawford
plays way off
Roddy White
on the right side and Kerrigan again does his, step-forward-then-immediately-drop-back move into coverage. He trails White upfield while inside linebacker
Perry Riley
also swings over to that side, and with Crawford deep they have White triangulated. Kerrigan doesn't stay with White and really doesn't have to. It appears that seeing him there is enough to rattle Ryan into a low, short, incomplete throw.
The flip side of this, of course, is that on plays on which he drops into coverage, Kerrigan can't rush the passer. And that hurts the Redskins' pass rush for obvious reasons. But in Sunday's game, it appears Washington wanted to prioritize coverage on White and Jones and, to some extent, tight end
Tony Gonzalez
(who was often covered one-on-one, and at times by Kerrigan!). The result, with Kerrigan and his fellow linebackers adhering well to their responsibilities in their zones and when asked to help double, was Washington's best coverage game since the season opener in New Orleans. Going forward, it appears the success of their coverages will rise and fall on the help they can give their cornerbacks. And with strong safety
Brandon Meriweather
sidelined for a while yet, the linebackers are the ones that are going to have to offer the bulk of that help.
August, 29, 2012
8/29/12
10:28
PM ET
Just when I thought I was out,
Roy Helu
pulls me back in.
As this preseason has unfolded, the one thing we thought we knew about the
Washington Redskins
' running back situation was that Helu was confirming the coaching staff's fears about his ability to stay healthy. He hadn't been any kind of factor at all since the first preseason game, sitting out practices with sore Achilles' tendons while
Evan Royster
and
Alfred Morris
got starts and
Tim Hightower
made his return from last year's knee surgery. And in the first half of the Redskins'
30-3 preseason victory
over the Buccaneers on Wednesday, it was all Royster.


But then in the second half came Helu, showing that burst through the line he showed when he got his chance last year and rolling up 90 yards and a pair of touchdowns on 15 carries. He even added 34 more yards on two catches, reminding everyone of that receiving ability with which they fell in love last year. I thought he looked good in blitz pickup, too. The result was the upstaging of Royster's 10-carry, 44-yard first half and a further deepening of the muddle that is the Redskins' starting running back picture with a week and a half left before the season opener. To wit:
Is Helu really their most talented back? And if he is, can they count on him to stay healthy? Or will nagging injuries always be an issue? Can they use him as a third-down back, or increase his reps in the second half after one of the other guys has softened up the defense?
Is Hightower healthy enough for a starter's workload 10 months after surgery to repair a torn ACL? And even if he is, has he lost a step?
Does Royster show more as a consistent runner than Helu does, in spite of the latter's explosiveness and receiving ability? And if so, is that the more important factor?
Is the rookie Morris good enough yet in pass protection to get significant reps as the starter if need be?
All we know is that (a) they like Hightower as the starter out of all of these guys if he's healthy and (b) he's not fully healthy right now. So there's no way to know who the starter will be on Sept. 9 in New Orleans until we see who runs on the field. But Mike Shanahan believes he has four good running backs who can succeed in his system, and that's fine by him. I reassert my belief that four different backs will start games for the Redskins this year, which is the same number of backs that started games for them last year, and that whoever it is that gets the ball from week-to-week will be a threat to clear 100 yards. Call the Redskins' running back "Timfred Heloyster."
Here's what else I noticed in the Redskins' final game of the preseason. Warning: It ain't much.
August, 29, 2012
8/29/12
4:00
PM ET
The
Washington Redskins
play their final preseason game of 2012 at 7 p.m. ET on Wednesday against the
Tampa Bay Buccaneers
. While most, if not all, of the Redskins' starters are expected to sit out the game, here's a look at what I'll be watching ...


Most closely:
The secondary. It was rough out there in the first two games, and then
Tanard Jackson
put on a show in the third and made you think maybe they have something at safety. I imagine we'll see some of
DeJon Gomes
at safety and some of
Richard Crawford
at cornerback, especially now that he's being given a great role in the wake of the
Kevin Barnes
trade. Tonight could offer a look at some of the depth at these key positions.
On the other side of the ball:
The fight for the final wide receiver spots on the roster gets interesting with final cuts looming Friday. It could be a big night for guys like
Brandon Banks
,
Aldrick Robinson
,
Dezmon Briscoe
and
Anthony Armstrong
. Lots of people ask about Banks, and it's hard to see what he could do at this point to get on the roster. But I guess you never know.
If I think of it:
The young offensive linemen remain interesting as the Redskins look for some long-term answers along the line. ... Lots of eyes will be on new kicker
Billy Cundiff
, just signed Tuesday to replace
Graham Gano
. Based on the reaction I saw, some people liked Gano and some hated him. Both groups should be interested to see how Cundiff fares.
August, 27, 2012
8/27/12
3:30
PM ET
A year ago,
Kevin Barnes
was the Redskins' nickel cornerback. Today, he is no longer a Redskin. As part of their effort to reduce their roster to 75 players by Monday's 4 p.m. ET deadline, the Redskins have apparently
traded Barnes to the Lions
. (For what, we don't know. Can't possibly be much. Late-round pick is best guess.)

The Redskins didn't like the way Barnes played in the nickel corner role last year, and this spring they moved
DeAngelo Hall
in there and tried Barnes on the outside, where they thought his size made him a better fit. But he got passed on the depth chart by
Richard Crawford
, who played well and also contributed on special teams, and Barnes was about to be cut before the Redskins got the trade offer from the Lions. Crawford is now likely the No. 4 corner after Hall,
Josh Wilson
and
Cedric Griffin
, and there would seem to be little to prevent him from moving up the depth chart.
The Redskins' secondary is a weak spot on their team and a position of flux. They'll have two new starting safeties -- most likely
Brandon Meriweather
and either
Tanard Jackson
or
Madieu Williams
, and a obviously a reworked cornerback corps, and they'll rely on their coverage schemes to disguise weaknesses and move people (such as Hall) around to different roles as situations dictate. But it's also clear that younger guys on the roster -- like Crawford at corner and
DeJon Gomes
at safety -- will have a chance to move up the depth chart if they perform well. The Redskins are looking for people to show them something on the back end of their defense, and Barnes is a guy who didn't show enough.
August, 18, 2012
8/18/12
2:00
PM ET
The
Washington Redskins
will play their second preseason game of the year Saturday night in Chicago against the Bears at 8 pm ET. Here's a look at what I'll be watching...


Most closely:
The protection for Robert Griffin III, and how he handles it if he sees more pressure than he did in the first game against Buffalo. In that game, the Redskins ran an offensive scheme whose sole priority seemed to be the protection of Griffin. They ran quick, short routes, and he made quick decisions and throws. Against the Bears' Cover 2, Griffin might have to go deeper into his progressions and reads, which could expose him to pressure of the still-banged-up line in front of him doesn't hold up long enough. That's fine, as long as he doesn't get hurt, because he's going to see pressure in the regular season and needs to practice handling it. Saturday night could offer a look at some things we didn't get to see Griffin do last week. I'm also interested to see if the line blocks for the run better than it did last week, when it couldn't open holes for
Evan Royster
and
Roy Helu
early in the game.
On the other side of the ball:
The secondary.
Brandon Meriweather
was a washout in Chicago, but the Redskins believe he's a better fit for their coverage schemes and have him listed as their starting strong safety. Will he be fired up to play well against his old team, even in a meaningless game? And who's the starter at free safety?
Madieu Williams
or
Tanard Jackson
? At cornerback, it looks as though they like
DeAngelo Hall
on the inside, but that leaves
Cedric Griffin
or
Kevin Barnes
as a starter on the outside opposite
Josh Wilson
. Can rookie
Richard Crawford
build on his strong first preseason game and make himself a threat to those veterans' playing time?
If I think of it:
Sure, I'm as curious as you are to find out whether Royster or rookie
Alfred Morris
starts at running back with Helu and
Tim Hightower
hurt, but I expect that they'll both play plenty. Also watching to see if we can spot
Santana Moss
this time, whether
Fred Davis
is a passing-game target at all and how the defensive line rotation works.

NFL SCOREBOARD
Sunday, 12/22
Monday, 12/23