NFL Nation:

Richie Brockel
August, 11, 2014
Aug 11
5:45
PM ET
SPARTANBURG, S.C. -- A daily review of the hot topics coming out of the
Carolina Panthers
training camp from Wofford College:
Twenty years ago, for Carolina's inaugural trip to Wofford College for camp, there were 10 consecutive days when the temperature topped 100 degrees. It was an issue. This year it's the lack of heat that concerns coach Ron Rivera. He would have liked a few more hot, humid days to prepare Carolina for what it will face in the opener at Tampa Bay. Many days have been in the 70s. One practice was so cool that Rivera had to wear a jacket. So when the humidity rose toward the end of Monday's practice, you could see players wear down and the intensity decline. Rivera spent longer than normal talking to the team afterwards, reminding "you've got to fight it because that's probably what we're going to face when we go to Tampa Bay.''
Tight end/fullback Richie Brockel demonstrated why he will make the final roster during one-on-one drills with the linebackers. First he handled outside linebacker Thomas Davis and then he held his own against linebacker Chase Blackburn. Rivera said Brockel demonstrates the kind of toughness he wants to see from all his players. "It transfers to the rest of the team,'' he said. Brockel jokingly said he volunteered to play defense.
Rivera says he hasn't settled on a starting offensive line, but it appears set with Byron Bell at left tackle, Amini Silatolu at left guard, Ryan Kalil at center, Trai Turner at right guard and Nate Chandler at right tackle. The position of most concern entering camp was left tackle. Bell started the preseason opener and was there again for Monday's practice in full pads. He left at one point with a minor issue with patella tendinitis, but Rivera insisted that won't keep him out of a game. Garry Williams finished at left tackle and likely will give relief to both tackles when the season begins.
Undrafted rookie running back Darrin Reaves left practice with a knee injury and likely will be held out the next few days. He's impressed with his toughness and hard-nosed running, in some ways more than Kenjon Barner. Also out were defensive end Charles Johnson (hamstring), defensive end Mario Addison (flu), defensive end Kony Ealy (foot) and offensive lineman Derek Dennis (flu).
Wide receivers Tiquan Underwood, Brenton Bersin and Tavarres King began one segment of team drills so the coaches could get an idea of what they can do with quarterback Cam Newton. The staff is looking for a few receivers to consistently step up after the top three of Kelvin Benjamin, Jerricho Cotchery and Jason Avant. Underwood, signed as a free agent, looked good with a catch on the first play. Then he dropped the second pass that hit him in the numbers. If you were setting the 53-man roster today, he'd be around 54 or 55.
The Panthers practice at 9:25 a.m. ET on Tuesday, the final session of camp in Spartanburg before returning to Charlotte, N.C., for the rest of the preseason.
July, 27, 2014
Jul 27
7:15
PM ET
SPARTANBURG, S.C. -- A daily review of the hot topics coming out of the
Carolina Panthers
training camp from Wofford College:
If you were looking for something definitive at the left tackle position after the first practice in pads, sorry. Byron Bell and Nate Chandler both got opportunities there and both did well in giving quarterback Cam Newton time to throw. Bell started off on the left side during 7-on-7 drills and Chandler began team drills there. In one-on-one drills Chandler did a nice job of taking defensive end Charles Johnson to the ground once. The Panthers will continue to use both players there for the next few weeks as they look to replace retired Jordan Gross, who has lost so much weight he could play tight end or wide receiver. Coach Ron Rivera wants to make a decision on the starter after the second preseason game. The Panthers will face some good pass-rushers in Buffalo end Mario Williams and Kansas City linebackers Justin Houston and Dee Ford from a 3-4 set. Williams had 4.5 sacks in Week 2 against Carolina last season with most coming against Bell playing right tackle. Stay tuned. Too close to call, but both are showing potential.
Tight end Greg Olsen was wide open on a touchdown catch down the left sideline. Tight end Ed Dickson made a diving catch on a slant pattern. Tight end Brandon Williams made a nice over-the-shoulder catch deep in traffic. Tight end Mike McNeill made a tough catch in traffic over the middle. Tight end D.C. Jefferson made a solid catch in stride about 25 yards deep. Notice a theme here? The Panthers have more than enough choices to complement Olsen as they go to a two-tight end set. It's a luxury they haven't had since Jeremy Shockey was here in 2011. And I haven't mentioned Richie Brockel, who is listed as a TE/FB. The team kept four tight ends last season, and Rivera says there is a scenario where it could keep five this year. This definitely softens the blow of losing the top four wide receivers from last season.
Rookie wide receiver Kelvin Benjamin made an acrobatic, twisting catch on a high pass from Cam Newton on the first play of 7-on-7 drills. He snagged a somewhat high bullet over the middle on the first play of team drills. He caught a nice out pattern on the first series of another team session. In other words, the 28th pick of the draft is becoming quite comfortable with Newton in a hurry. A lot of this may have to do with the two staying in Charlotte, North Carolina, to work out together while the team was off from June 19 through last Thursday. If they continue to develop this chemistry people may forget Steve Smith, the team's all-time leading receiver who was cut during the offseason.
Philly Brown went to the ground and did what appeared to be 20 pushups after having a punt bounce off his chest early in practice. There were drops by a few other returners as the Panthers attempt to replace Ted Ginn Jr., who signed with Arizona in free agency. Don't think Rivera didn't notice it. "The thing we have to understand is first and foremost we have to catch the ball. I could care less if we fair catch it every time, but we've got to catch it.'' The leader in the clubhouse for the job might be Antoine Cason, who returned punts at San Diego while Rivera was there. It's interesting that speedster Tiquan Underwood hasn't been given a chance there yet, but Rivera said others could be added to the mix that so far includes Cason, Kenjon Barner and Brown. Bottom line, the Panthers will miss Ginn much more here more than they will at receiver.
Carolina holds its first morning practice on Monday after two night practices and a 3:10 p.m. session. Sunday's workout was somewhat sloppy, and Rivera reminded players of that afterwards, telling them he "expected a better practice tomorrow.''
June, 6, 2014
Jun 6
8:00
AM ET
Plethora isn't a word you hear every day at an NFL practice, but it was appropriate the way
Carolina Panthers
coach Ron Rivera used it on Wednesday.
"This year we have a plethora of veteran tight ends to the point we didn't bring in anybody who was a rookie," Rivera said.
The Panthers have six tight ends, to be exact.
[+] Enlarge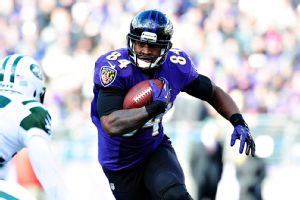 Evan Habeeb/USA TODAY SportsThe Panthers will likely rely on former Ravens tight end Ed Dickson for production in the passing game.
They have a combined 20 years of experience.
By definition, plethora means "an amount that is much greater than what is necessary." And while six may seem excessive, it really isn't considering the Panthers are going to use a lot more two-tight end sets than they did the past two seasons.
"With an extra tight end in the game you can do so many different things," Rivera said. "Depending on who the tight end is, you can line up as a fullback, as another wide receiver or as a wing tight end. It's going to give us a lot more versatility."
The Panthers kept three tight ends on their 53-man roster a year ago in
Greg Olsen
,
Ben Hartsock
and
Brandon Williams
-- four when you count
Richie Brockel
, who plays fullback and tight end.
They could keep as many as five this season between Olsen,
Ed Dickson
, Williams,
Mike McNeill
,
D.C. Jefferson
and Brockel.
Olsen, going into his eighth season out of Miami, is a given. He led the team in receptions last season with 73 for 816 yards and six touchdowns. He's in his prime.
But the only other tight end to catch a pass in 2013 was Brockel, and he had one catch for 12 yards.
That will change with the addition of Dickson, a fifth-year player who caught 25 passes last season and 54 three years ago for the
Baltimore Ravens
. His presence in routes during offseason workouts has been noticeable.
The Panthers also expect more from Williams, a former basketball player at Portland Bible College who surprised many when he made the final roster a year ago. Athletically, at 6-foot-4 and 250 pounds, he's drawn comparisons to Denver tight end
Julius Thomas
.
McNeill was brought in as a free agent from St. Louis to be a blocker. The Panthers believe he is an upgrade from Hartsock, who was not re-signed.
The long shot to make the roster is Jefferson, a seventh-round pick by Arizona in 2013.
But it's clear the Panthers plan to use the tight end more and get back to the way they were in 2011, when they had Olsen and
Jeremy Shockey
during quarterback
Cam Newton
's rookie season.
Newton completed 310 of 517 passes for an NFL-rookie-record 4,051 yards and 21 touchdowns that season. Eighty-two of those for 955 yards and nine touchdowns went to Olsen and Shockey.
Having two tight ends in the game also gives Newton more protection with a revamped offensive line and more flexibility to run with an extra blocker.
"It's a personnel group I believe in," Rivera said. "It poses a lot of problems for your opponents."
Too bad he didn't say plethora of problems.
March, 10, 2014
Mar 10
2:06
PM ET
The
Carolina Panthers
secured two of their own free agents Monday in an attempt to shore up the running game.
Offensive lineman
Garry Williams
, scheduled to become an unrestricted free agent, signed a one-year deal. Tight end/fullback
Richie Brockel
, a restricted free agent, got a two-year deal.
Williams could figure into Carolina's plans at guard and tackle. He was the starter at right guard entering last season but suffered a season-ending knee injury in the opener against Seattle.
He has 21 starts since signing as an undrafted free agent from Kentucky in 2009. His presence at right guard gives Carolina more flexibility if it chooses to give
Nate Chandler
, who was working at tackle before becoming the regular at right guard due to injuries, a shot at replacing left tackle
Jordan Gross
.
Williams also has started 13 games at right tackle, so he could figure into the mix there if the Panthers choose to move starter
Byron Bell
into Gross' spot.
Coach Ron Rivera said at Gross' recent retirement news conference that Bell and Chandler could be in the mix.
Bell also is a restricted free agent, so look for an announcement on him before free agency begins at 4 p.m. ET Tuesday.
Brockel is a big contributor on special teams as well as a factor in the running game when Carolina brings in a second tight end or fullback for blocking.
December, 6, 2013
12/06/13
8:00
AM ET
CHARLOTTE, N.C. -- The text arrived at 5:08 p.m. on Monday. It said: "My wife. 'Sooooooo, how long is this thing going to be around?' So who's the winner?''
Carolina Panthers
center
Ryan Kalil
was kind -- or mischievous -- enough to share the message he and other teammates got from left tackle
Jordan Gross
.
Those who were on the team bus two weeks ago when members of the offensive line decided to grow playoff beards apparently made a lunch bet on when Dana Gross would suggest that her husband's attempt might need to go.
Guard
Geoff Hangartner
didn't believe it would last a week. He had Nov. 30. Tackle
Byron Bell
had Dec. 2. Kalil had Dec. 3. Tight end
Richie Brockel
had Dec. 4. Linebacker
Jordan Senn
had Dec. 6. Quarterback
Cam Newton
had Dec. 7, 8 and 9.
[+] Enlarge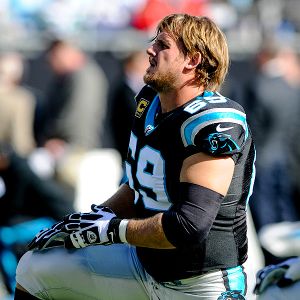 AP Photo/Mike McCarnJordan Gross' beard, such as it is, has been a source of enjoyment for his Panthers teammates.
If it went past Dec. 10, Gross won.
It didn't come close.
Bell won.
Teams in sports often grow beards as a sign of unity. The Boston Red Sox rode them all the way to the World Series. In 2010, the San Francisco Giants created a "Fear the Beard'' phenomenon en route to a World Series title. The New York Islanders started a long-standing tradition of playoff beards in hockey in the early 1980s, when they traded their razors for four Stanley Cups. It's been a tradition since way before there was a "Duck Dynasty."
But what makes Gross' adventure in facial hair unique is this is his first. He's tried to grow beards before, but they'd get so splotchy -- or "crusty," as he and his teammates like to say -- that he'd shave before it had a whisker of a chance to fill in.
This two-week growth might be evidence that it never will happen.
"I can't grow facial hair and these guys all have beards, and so they told me I need to grow my hair and a beard for the playoffs,'' Gross said as the 9-3 Panthers were preparing for a Sunday night NFC South showdown against the 9-3
New Orleans Saints
.
"So, being the team guy I am, I said, 'Sure, I'll be the brunt of all your jokes.'"
Trust me, there have been jokes. Many have come from Gross, who doesn't mind making fun of himself.
But it's obvious Gross never will have a beard in the same class as Kalil, who would look like the Santa Claus in the 1994 remake of "Miracle on 34th Street'' if you dyed his thick, black hair white.
"When this started I said, 'Kalil, what are you doing [for this unity]?'" Gross said. "He said, 'I'm growing my beard longer.' I said, 'Oh, that's real daring. A thick beard to a long beard.'
"So he's growing his beard longer, and I have to grow a whole crusty beard with big spots in it."
A few of Gross' teammates declined to talk about his beard. Running back
DeAngelo Williams
said, "I've already let him know what I think of his beard. We've had that conversation."
It didn't sound like he was a fan.
Kalil apparently is a beard aficionado, having read a book about the advantages of having a beard, a book he shared with Jordan.
"There's actually scientific benefits," Kalil said. "They protect you from UV rays. It's a natural filter to any carcinogens in the air."
It also collects food if you're a messy eater.
As for Gross' beard, Kalil said, "It's all genetics-based, so it's not an effort on his part. But I respect the commitment to it."
Gross laughed. He's just glad the Panthers are good enough this season to warrant a playoff beard.
"I'm not afraid to look crusty if it makes the guys happy and boosts the team spirit," he said.
Then he walked away.
Then Kalil got a devilish look in his eyes and shared the text.
"He's probably going to be upset I told you this," he said. "But it's going to be hilarious."
March, 7, 2013
3/07/13
10:42
AM ET
We've shown you the lists of potential NFC South free agents before. But let's do it again because there have been some minor moves and the free-agency period is getting ready to start Tuesday.
Here's the list of potential free agents for all four NFC South teams:
Atlanta Falcons.
Tony Gonzalez
,
Brent Grimes
,
Sam Baker
,
William Moore
,
Will Svitek
,
Mike Cox
,
Todd McClure
,
Luke McCown
,
Christopher Owens
,
Mike Peterson
,
Garrett Reynolds
,
Lawrence Sidbury
and
Vance Walker
all can become unrestricted free agents.
Michael Palmer
can become a restricted free agent.
Carolina Panthers.
The potential unrestricted free agents are
Derek Anderson
,
Antwan Applewhite
,
Gary Barnidge
,
Dwan Edwards
,
Ben Hartsock
,
Sherrod Martin
,
Captain Munnerlyn
,
Louis Murphy
and
Mike Pollak
.
Richie Brockel
can become an exclusive-rights free agent.
Andre Neblett
,
Nate Ness
and
Jason Phillips
are scheduled to become restricted free agents.
New Orleans Saints.
Jermon Bushrod
,
Jonathan Casillas
,
Chase Daniel
,
Sedrick Ellis
,
Devery Henderson
,
Ramon Humber
,
Elbert Mack
,
Turk McBride
,
Will Robinson
,
Courtney Roby
and
Scott Shanle
can become unrestricted free agents.
Brian De La Puente
,
Justin Drescher
,
Junior Galette
and
Chris Ivory
are scheduled to become restricted free agents.
Eric Olsen
and
Michael Higgins
can become exclusive-rights free agents.
Tampa Bay Buccaneers.
Ronde Barber
,
Dallas Clark
,
Michael Bennett
,
E.J. Biggers
,
Andrew Economos
,
Geno Hayes
,
Roy Miller
,
Roscoe Parrish
,
Sammie Stroughter
and
Jeremy Trueblood
can become unrestricted free agents.
LeGarrette Blount
,
Jacob Cutrera
,
Corvey Irvin
and
Daniel Te'o-Nesheim
are scheduled to become restricted free agents.
October, 23, 2011
10/23/11
11:49
AM ET
CHARLOTTE -- The Panthers and Redskins just announced their inactives for Sunday's game.
For Carolina, quarterback
Jimmy Clausen
, safety
Jordan Pugh
, running back
Mike Goodson
, tight end
Richie Brockel
, linebacker
Omar Gaither
, tackle
Lee Ziemba
and defensive tackle
Frank Kearse
are inactive.
For Washington, receiver
Donte Stallworth
, safety
Oshiomogo Atogwe
, cornerback
Byron Westbrook
, tight end
Chris Cooley
, linebacker
Markus White
, tackle
Trent Williams
and defensive lineman
Darrion Scott
.
NFL SCOREBOARD
Thursday, 10/30
Sunday, 11/2
Monday, 11/3
WEEKLY LEADERS