NFL Nation:

Rick Upchurch
August, 5, 2014
Aug 5
9:20
PM ET
ENGLEWOOD, Colo. -- A daily review of the hot topics coming out of
Denver Broncos
training camp:
A day after running back Montee Ball had an appendectomy, Ronnie Hillman spent a little more time working with quarterback Peyton Manning. Ball is expected to be ready for the Sept. 7 regular-season opener against the Indianapolis Colts, but unlikely to play in any of the team's preseason games. That means Hillman will get most of the work with the starters in the coming weeks. And Tuesday that meant putting in a little extra time with Manning running a red zone route or two while the rest of the team was going through some special teams work.
The Broncos held wide receiver Emmanuel Sanders out of Tuesday's practice because of right thigh strain he suffered in Monday's workout. When the Broncos went to work in a two-tight end set during Tuesday's practice Demaryius Thomas and Andre Caldwell were at the two wide receiver spots. Rookie Cody Latimer did get some work with the starters as well as his usual post-practice work with Manning. Manning hit Caldwell and Latimer for touchdowns in red zone work during the morning practice.
The Broncos have liked the progress of rookie cornerback Bradley Roby thus far. Roby has played, for the most part, in one of the outside spots when the Broncos' starting defense goes to the nickel (five defensive backs). But he has also discovered what plenty of defensive backs around the league already know -- this Peyton Manning guy is no walk in the park. "It can be frustrating because you can be in great coverage and he'll still stick it in there where only the receiver can get it. But it only helps because in the season, those guys aren't going to put it on there like he does. He's a Hall of Famer, one of the greats of all time. So going against him, making plays against him is giving me more confidence to go against other guys." Roby has also shown the kind of play-to-play ability to bounce back and reset quickly after mistakes, something Champ Bailey has always said is one of the biggest items on a rookie defensive back's to-do list to make an NFL career. "It is what it is. Perfect offense beats the perfect defense, especially in this league," Roby said. "You've got to just wipe it off and get the next play in."
Defensive tackle Marvin Austin, who signed a one-year, no-signing-bonus deal with the Broncos to try and kick-start what has been an injury-marred career since the Giants made him a second-round pick in the 2011 draft, took some snaps with the defensive starters Tuesday. Austin, who said Tuesday his back was so painful before surgery that he couldn't "defecate without laxatives," said he feels better physically than he ever has in his NFL career. Austin is on track to be in this team's rotation up front when the regular season begins. As Sylvester Williams put it, "If I could give him a grade right now it would be an A. He's been doing excellent."
The Broncos will have a walk-through Wednesday, but not a full practice with their preseason opener Thursday night against the Seattle Seahawks.
Odds and ends: Broncos Ring of Fame member -- he's going in this season -- Rick Upchurch was at practice Tuesday morning. ... Demaryius Thomas briefly left practice, but returned to finish out drills. .. Tight end Julius Thomas had his elbow checked by training during practice, but stayed in drills.
May, 7, 2014
May 7
3:00
PM ET
The
Denver Broncos
honored their history this week and tied up a few loose ends along the way.
The team selected three more people for its Ring of Fame, and did it with a needed nod to the past. Too often, whether it's the Pro Football Hall of Fame, a team's list of all-time greats or simply somebody's all-everything team in cyberspace, too much attention is paid to the highlight generation, not enough to when the trail was carved in the first place.
So, it was good to see the Broncos add Gene Mingo, Rick Upchurch and Dan Reeves to its list of all-timers.
[+] Enlarge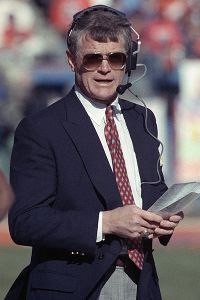 AP Photo/Ron HeflinFormer coach Dan Reeves says late comebacks are his favorite memories from his Denver days.
For some, the Broncos' history starts with Hall of Famer John Elway or even Mike Shanahan's long tenure with the team that included Super Bowl wins in each of the final two seasons of Elway's playing career. So, many of the "omissions" folks want to talk about in the Ring of Fame, or even the Hall of Fame, are often just a discussion of the post-90s Broncos.
So, to see Mingo honored, an original Bronco who played in the team's first five seasons, shows some respect for what came before the Broncos were the Broncos for many people.
Upchurch spent nine years with the Broncos, his last season was Elway's rookie year in 1983, but was good enough to make the league's all-decade team for the 70s as a kick returner. All-decade players are rare, all-decade players not in their team's Ring of Fame are rarer still.
And Reeves' selection shows time has perhaps healed some old wounds, at least enough to honor what was done in his tenure. Owner Pat Bowlen fired Reeves in 1992 after 12 seasons with the team and there are plenty of stories still swirling in the city about the level of friction that did or didn't exist between Reeves, Shanahan and Elway in those years.
Reeves is the first coach in the team's Ring of Fame. He won five division titles and made three Super Bowl appearances in a four-year span. As a player, assistant or head coach Reeves has participated in more Super Bowls -- nine -- than any other player or coach in league history.
"It'll probably be a tremendous emotion, I know that," Reeves said of the Week 2 ceremony in the coming season. "So many great memories. My family basically grew up, my three children, they only had to move one time from the time they got into school and the time they went to college. That wouldn't happen with many football coaches."
When asked about his most memorable games as Broncos head coach, Reeves was quick to invoke the team's top football executive -- Elway.
"We talk so much about the Super Bowls and all, but you know we played probably one of the more exciting championship games in Cleveland," Reeves said. "Every year you get to see that because that was noted as "The Drive" and the next year was "The Fumble," but those were two great championship games. Probably one of the championship games we lost up in Buffalo was one we very easily could have won, but that was a great year for us, too. It's something where when you win that many games, there were so many phenomenal comebacks that we had. One that sticks out was when John was a rookie and we played Baltimore, the Colts you know, and it was such a big deal about John not going to play for the Colts and they came in there and had a big lead in the fourth quarter and we came from behind and I think that's when we all realized that as long as we had John Elway, we could have a chance in the fourth quarter if we just even kept it close. When you look back at all the many comebacks that we had in the fourth quarter, it gave me a lot of grey hairs, but it was exciting."
When the names go up on the stadium fašade in September, it will be a deserved honor for all three whose time had come. And those who don't remember their history are often doomed to not enjoying all of the good parts, too.

NFL SCOREBOARD
Thursday, 9/18
Sunday, 9/21
Monday, 9/22
WEEKLY LEADERS