January, 9, 2014
Jan 9
5:30
PM ET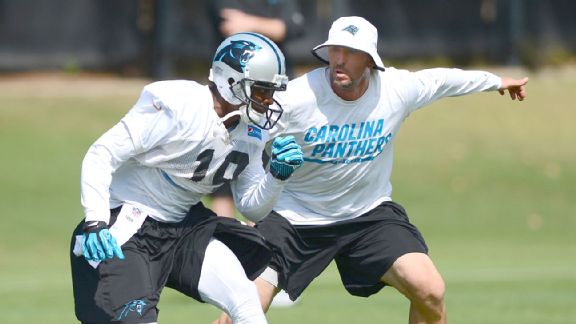 Jeff Siner/Getty ImagesRicky Proehl has shared his knowledge with Ted Ginn Jr. and the Panthers receivers.
CHARLOTTE, N.C. --
Ricky Proehl
wasn't having his best season in 1999, even though the
St. Louis Rams
and the "Greatest Show on Turf" were.
He had only 33 catches during the regular season with zero touchdowns. The postseason didn't begin much better with one catch for 10 yards in a 49-37 victory over Minnesota.
Then came the NFC Championship Game.
Tampa Bay clamped down on star receivers
Torry Holt
and
Isaac Bruce
. Proehl responded with six catches for 100 yards, including a 30-yard touchdown with 4:44 remaining to give the Rams an 11-6 victory that they followed up with a win in the Super Bowl.
Be ready. You never know when your number will be called.
Proehl, now in his first season as the wide receivers coach for
Carolina
, has preached that message to what, for the most part, is a group of role players as the Panthers prepare for Sunday's NFC playoff game against the
San Francisco 49ers
.
"To me, it's such a mental game as much as it is a physical game," Proehl said. "And if you're not ready mentally, if you're getting down and frustrated, it affects the way you play, the way you run a route and ultimately your production.
"That's the thing I try to teach these guys."
You might be wondering why Proehl is the focus here, heading into Carolina's first playoff game since 2008. The answer is simple.
What Proehl represents for a group of receivers that has struggled the past few weeks while star
Steve Smith
recovers from a left knee sprain, for a group that struggled in a 10-9 victory over San Francisco in November, is important.
It's not about who makes the play. It's about somebody making a play. It's about being ready. It's about doing little things, such as blocking and running precise routes, that make the rest of the offense work.
In some ways, Proehl is Carolina's secret weapon. He has a knack for teaching receivers, young and old, tricks that enable them to get separation and be in position to make plays.
Even on great teams like the Rams, stars such as Holt and Bruce came to him for advice. Smith noticed immediately when Proehl came to Carolina as a player in 2003 -- the year the Panthers went to the Super Bowl -- that he had a rare understanding of routes and coverages that made everybody better.
With Smith's knee not 100 percent, being precise in the things Proehl has taught him could be the difference Sunday.
"Not everybody can do some of the things Ricky can do and the way he can teach," Smith said. "It's hard to explain, but all I can say is that it's a gift. It's not forced. It's just natural. He does it in a unique and great way."
Proehl's 669 career catches for 8,878 yards in 17 seasons pale in comparison to Smith's 836 catches for 12,197 yards in 13 years. But to hear Smith, it's Proehl who had the Hall of Fame-worthy career.
"I don't care how old you are," Smith said. "The information Ricky has, you can use. I'll be able to use this when I'm at the rec league. It's football. It's using the advantage of what you have and using the disadvantages of the defense."
San Francisco doesn't have many weaknesses on defense, ranked seventh against the pass and fifth overall. So any weakness Proehl finds will be key.
[+] Enlarge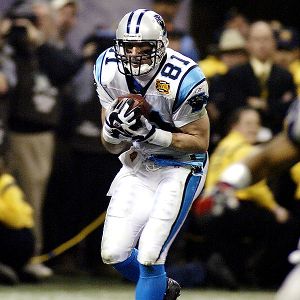 USA TODAY SportsProehl caught a touchdown pass for the Panthers in Super Bowl XXXVIII.
"He's good on game day with good suggestions," offensive coordinator Mike Shula said. "[And] not just on game day, but over the course of the week. Not just overall in the passing game, but individual routes versus individual backs."
In other words, Proehl is precise.
"Yeah, he's very precise," Shula said with a smile.
Proehl, 45, also is an example for a team that had three straight losing seasons before this one. He spent his first five NFL seasons with the Cardinals, with no record better than 8-8. His best record in two years at Seattle was 8-8. Next was a 4-12 year at Chicago. Proehl's first season in St. Louis, 1998, was another 4-12 nightmare.
Then came 1999, a 13-3 regular season that turned into a Super Bowl ring. From 1999 to 2005 -- the last three with the Panthers -- Proehl went to three Super Bowls and the NFC Championship Game four times.
He taught Smith and other veterans that good things can happen at the end of your career. He taught young players not to get impatient when things don't go right early.
That's why
Brandon LaFell
, the team's No. 2 receiver, hasn't gotten down after catching one pass in the last game and three quarters with Smith out. That's why
Ted Ginn Jr.
has been able to resurrect a career as a receiver when it looked like he was destined to be a return specialist.
That's why the Panthers aren't worried about their passing game as much as one might think they should be.
"Oh, man, he's meant a lot to me," Ginn said of Proehl. "A guy that's had faith in me, a guy that played the game, [who] wasn't caught up in who was in his [receivers] room.
"You can never tell who in our room is who," Ginn continued, explaining that Proehl doesn't differentiate between his starters and the reserves. "That's why we love our room. That's why Coach Proehl is who he is."
That's why Proehl is the topic here as the Panthers prepare for a game where most of the focus is on quarterback
Cam Newton
and Carolina's second-ranked defense.
He was a player who never quit on a team -- just as these Panthers didn't quit when they were 1-3.
"That's the biggest thing, being selfless," Proehl said. "That's what this team is all about. We don't care who gets the glory, who gets the paper clippings. It's all about winning, and at the end of the day, you win as a team."
May, 12, 2011
5/12/11
1:00
PM ET
The NFL draft is long over and all we have to look forward to now is free agency, though we don't know when or how it will come or exactly what it will look like.
But if there is a 2011 season, it will have to be preceded by some sort of free-agency period, one last window for teams to fine-tune their rosters with what they couldn't get in the draft.
We'll spare you most of the boring details of the labor negotiations, but we do have to point out that the rules for a potential free-agency period aren't set. They could be determined if a new labor agreement is reached and that probably would include some tweaks to past rules. It has long been assumed that if the lockout is lifted before an agreement that free agency rules will be the same as they were in 2010. But word has started to trickle out in the past few days that might not be the case.
At this point, we only can look at hypothetical situations -- all you can do is dream and you might as well dream big. With that in mind, let's take a look at one free-agency dream scenario for each NFC South franchise.

Atlanta Falcons
-- This is the easiest call in the division because you can see it coming like a slow-moving storm or Arthur Blank strolling to the sideline late in a game. Let's go ahead and make Atlanta's dream move signing Minnesota defensive end
Ray Edwards
.
Some of our coming moves are pie-in-the-sky scenarios that probably won't happen, but this one has serious potential. Edwards has five seasons in the league, which could make him a restricted or unrestricted free agent, depending on the rules of free agency. If at all possible, I think the Falcons will pursue a player who had eight sacks in 14 games last season and 8.5 the season before that.
Edwards is just hitting his prime and sure looks like the one missing link between the Falcons being a team that exits the playoffs early and one that can challenge for the Super Bowl. Blank and general manager Thomas Dimitroff already put most of their chips on the table when they traded up on draft night to get wide receiver
Julio Jones
. He's the explosive player they wanted on offense.
Edwards can be the explosive guy on defense. Carolina's
Charles Johnson
, a probable restricted free agent, and Green Bay's
Cullen Jenkins
could be fall-back options. But the Falcons already have shown strong signs this offseason they're not interested in falling back.

Carolina Panthers --
Let's imagine for a moment that Carolina owner Jerry Richardson opens his free-agent checkbook for the first time in several years to bring in cornerback
Johnathan Joseph
, who has been playing with Cincinnati and is another five-year player.
If Joseph is a free agent, this move would make all sorts of sense. He's a local product, from just over the border in Rock Hill, S.C. He also has nine interceptions the past two seasons. Carolina has
Richard Marshall
and
Chris Gamble
, but their futures are very uncertain.
Richardson has had some success in the past bringing local products home --
Stephen Davis
,
Kevin Donnalley
,
Ricky Proehl
-- and Carolina has invested a lot in its young defensive line and has a good group of linebackers. Joseph could solidify the secondary and new coach Ron Rivera suddenly could have a nice defense. By the way, I know there's speculation about defensive tackle
Tommie Harris
ending up with the Panthers because of his Chicago ties to Rivera. That could happen. But I don't view Harris as a dream scenario. I view him as a guy with questions about his knees, who could be a decent pickup if he can stay healthy.

New Orleans Saints
-- This one's tough because the Saints have a bunch of young and talented, but totally unproven players at outside linebacker. Plus, veteran outside linebacker
Scott Shanle
can become an unrestricted free agent. The list of players at outside linebacker who definitely will be unrestricted is pretty thin. You could take a veteran such as Detroit's
Julian Peterson
and gamble that he'll regain some of his early-career magic the way some other veterans have with the Saints in recent years. The Saints have shown willingness to gamble on injured guys in the past and Carolina's
Thomas Davis
has huge upside.
But Peterson's no long-term solution and Davis is a total unknown because he's had two major knee injuries. In a best-case scenario, the Saints will re-sign Shanle. Then, they'll go after Buffalo's
Paul Posluszny
. He's a four-year player and could end up being restricted. But hey, we can dream.
Put Posluszny with Shanle and
Jonathan Vilma
and the Saints would be better off at linebacker than they were in 2009, when Shanle and Vilma were joined by
Scott Fujita
.

Tampa Bay Buccaneers --
The Bucs spending big money in free agency? Well, they haven't done it in some time unless you count
Derrick Ward
, and that didn't work out. But there's one sure-fire move that could excite a fan base that wasn't buying tickets during a 10-6 season in 2010 and put this team over the top: sign cornerback
Nnamdi Asomugha
.
Asomugha's the one true gem we know will be in this free-agent class and his price tag is going to be astronomical. But if there is a salary cap, the Bucs will have more room under it than any team in the league. The Bucs showed a willingness to spend big money once before, offering more to defensive tackle
Albert Haynesworth
than the Redskins did before Haynesworth went to Washington. There are strong rumors Asomugha will end up in the NFC East, but Tampa Bay can use the lack of a state income tax in Florida, a great natural-grass field, the weather, a team on the rise and coach Raheem Morris (a former defensive backs coach) as selling points.
The future of
Aqib Talib
is unsure because of off-field problems. Sign Asomugha and the Bucs have a corner more talented than Talib who doesn't come with the headaches. Put him out there with veteran
Ronde Barber
, who still plays at a high level, and younger players such as
E.J. Biggers
and
Myron Lewis
. If the pass-rushers taken in the draft (
Adrian Clayborn
and
Da'Quan Bowers
) work out, Tampa Bay's corners suddenly could be dominant.
Remember, it's all hypothetical. But wouldn't the NFC South be a better and more exciting place if these dream scenarios actually came true?
June, 28, 2010
6/28/10
10:30
AM ET
Notable players:
RB
Stephen Davis
, QB
Jake Delhomme
, WR
Steve Smith
, WR
Muhsin Muhammad
, DE
Julius Peppers
, DT
Kris Jenkins
, LB
Dan Morgan
.
Analysis:
When owner Jerry Richardson talked about how the life had been drained from his franchise during a disastrous 1-15 season in 2001 under coach George Seifert, he couldn't have expected how dramatic the turnaround would be. Nobody saw the Panthers going to the Super Bowl within two years, but that's exactly what happened with first-time head coach John Fox.
[+] Enlarge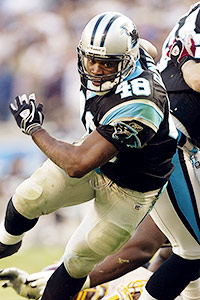 Craig Jones/Getty ImagesStephen Davis rushed for a career-high 1,444 yards in 2003.
In 2002, Fox's team showed some promise, but there was no real reason to think the Panthers were ready for an incredible run. They had the makings of a very good defensive line, but nobody really knew how much Davis had left when the Panthers brought him in and nobody had a clue what Delhomme, who had spent his career on the bench in New Orleans, might bring.
Rodney Peete
opened the season as the starting quarterback and that lasted all of two quarters before Delhomme came on to rally the Panthers and take over the job. With Davis carrying the offense and the defensive line dominating, Delhomme continued to show a knack for leading comebacks.
The Panthers caught lightning in a bottle and also rode the emotion of preseason news that linebackers coach and former team captain
Sam Mills
and starting linebacker
Mark Fields
each had cancer. Carolina finished the regular season 11-5 and won its first NFC South championship.
A playoff victory at home against Dallas wasn't a big surprise, but the Panthers stunned just about everyone by going on the road and winning at St. Louis (in double overtime) and completely dominating the Eagles on a frigid night in Philadelphia.
That put the Panthers into the Super Bowl against New England. A touchdown pass to
Ricky Proehl
with one minute, eight seconds remaining tied the score. But Carolina's chances of pulling the upset faded as
John Kasay
followed up by kicking the ball out of bounds to give New England good field position. The Patriots kicked the game-winning field goal with four seconds remaining.
Most impressive win:
It's tough to top the image of Steve Smith scoring a touchdown on the first play of the second overtime in St. Louis, but players and coaches will tell you the key moment of the season came in Week 2 at Tampa against the defending Super Bowl champions. The Bucs scored a late touchdown and needed only to kick the extra point to win the game. The Panthers blocked the kick, forced overtime and won 12-9.
Research room:
This team was known as the "Cardiac Cats." The reason was simple. The Panthers won seven games in the last two minutes or in overtime.
Honorable mention
1996
: In only the second year of the franchise's existence, coach Dom Capers, quarterback
Kerry Collins
and a great defense took the Panthers all the way to the NFC Championship Game in Green Bay. A home playoff victory against Dallas provided a truly monumental moment for an expansion team and the city of Charlotte.
2005
: Fox's 2004 team underachieved, but the 2005 team overachieved more than any in franchise history. Give the credit to Smith for carrying the Panthers all the way to the NFC Championship Game in Seattle. Injuries to the running backs kept the Panthers from running like Fox wanted to, but Smith and Delhomme had a special chemistry that year.
2008
: A 12-4 record, an NFC South crown and a first-round bye added up to absolutely nothing. In what easily is the most disappointing game in franchise history, Arizona came into Bank of America Stadium and routed the Panthers 33-13. Starting with that game, the normally reliable Delhomme began turning the ball over so frequently that he played his way out of Charlotte.
June, 24, 2010
6/24/10
9:15
AM ET
Notable players:
QB
Kurt Warner
, RB
Marshall Faulk
, WR
Isaac Bruce
, WR
Torry Holt
, LT
Orlando Pace
, WR/PR
Az-Zahir Hakim
, DE
Kevin Carter
, DE
Grant Wistrom
, DT
D'Marco Farr
, CB
Todd Lyght
.
[+] Enlarge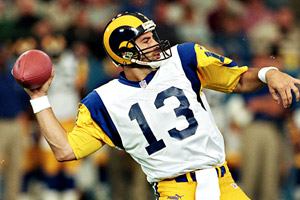 Tom Pidgeon/Getty ImagesKurt Warner threw for 4,353 yards and 41 touchdowns during the 1999 season.
Analysis:
The 1999
St. Louis Rams
were tied with the
Tennessee Titans
in the final minutes of the Super Bowl.
Conventional wisdom called for a clock-killing drive to the winning field goal, but convention didn't appeal to the 1999 Rams. They had shrugged off losing their starting quarterback during the preseason. They had knowingly backed Warner without much evidence to suggest he would succeed. They passed the ball first when tradition called for establishing the run. They pushed the ball downfield when West Coast schemes were favoring shorter timing throws.
And so with the 2-minute warning approaching in a 16-16 game, the Rams went deep to Bruce for a 73-yard touchdown. The aggressiveness came with a price when the Titans, armed with plenty of time, moved within a yard of the tying touchdown. But the Rams won their way -- defiantly and with an offense few teams in NFL history could challenge for pure multidimensional flair.
The only team in Rams history to win a Super Bowl gets my vote for best team in franchise history. The 1951 version also won an NFL title, but that team finished the regular season with an 8-4 record. It played only one postseason game. Chuck Knox's Rams of the early 1970s were very good. John Robinson had some solid Rams teams in the 1980s. The 2001 Rams had a chance to be the best in franchise history, but the 1999 team separated itself by becoming the only Rams team to win a Super Bowl.
Dick Vermeil was coach of the year. Warner was MVP and Super Bowl MVP. Faulk was offensive player of the year.
This was a team of signature players and also signature plays:
Ricky Proehl's dramatic juggling catch to beat the Tampa Bay Buccaneers in the NFC title game (he hadn't caught a touchdown pass all season);

Bruce's daring 73-yard touchdown grab in the Super Bowl;

Mike Jones' game-saving tackle of the Titans' Kevin Dyson at the 1-yard line as time ran out in the Super Bowl.
Most impressive win:
For years the Rams had watched the
San Francisco 49ers
dominate them and the NFC West. That's what made the Rams' Week 5 victory over the 49ers so meaningful that season. Bruce caught four touchdown passes during a 42-20 victory as the Rams improved to 4-0. Fans wanted to believe after a 38-10 victory over the
Cincinnati Bengals
a week earlier. The blowout against San Francisco provided validation (no one knew the 49ers would finish with a 4-12 record that season).
Return to sender:
Offense wasn't the only way the 1999 Rams found the end zone. Hakim averaged 10.5 yards per punt return with one touchdown.
Tony Horne
averaged 29.7 yards per kickoff return with two touchdowns. The Rams scored seven touchdowns on interception returns and one more on a fumble return.
Honorable mention
2001:
The Rams rebuilt their defense and made another run to the Super Bowl.
Tom Brady
and the
New England Patriots
kept St. Louis from winning another title and challenging for the title of best team in Rams history.
1973:
First-year head coach Chuck Knox turned around the Rams quickly, leading them to a 12-2 record with No. 1 rankings in total offense and total defense. John Hadl tossed 22 touchdown passes with 11 interceptions in his only full season as the Rams' starter.
1951:
The Rams won a championship for Los Angeles thanks to Bob Waterfield, Norm Van Brocklin and Elroy Hirsch. Four-time Pro Bowl fullback Dan Towler averaged 6.8 yards per attempt.
February, 5, 2010
2/05/10
11:54
AM ET
FORT LAUDERDALE, Fla. -- The Rams haven't won enough recently to let damaging perceptions linger.
It's not Billy Devaney's style, anyway.
Devaney, the Rams' general manager, has shown his pugnacious side a few times,
including last season
when ESPN analyst
Mark Schlereth
criticized the team's handling of 2009 first-round choice
Jason Smith
. Schlereth later
clarified his comments
.
Devaney sought to right another alleged wrong Friday while making the Super Bowl media rounds Friday. According to Devaney, the Rams have never taken down photos of all-time franchise greats, as
Marshall Faulk
suggested in
comments to Bernie Miklasz of the St. Louis Post-Dispatch
.
Every new leadership group tries to establish its own program, but Devaney and coach Steve Spagnuolo would never trample on the team's history so flagrantly, the GM said. Hall of Famer Jack Youngblood has also
been critical of the organization
lately, questioning the decision to fire long-time trainer Jim Anderson.
"It always matters what great players' opinions are as to what we are doing and how we are doing," Devaney said. " 'Spags 'and I have a ton of respect for what they have accomplished and what they have meant to the Rams. They are always welcome. I have talked to Marshall in the past. I talked to Jack Youngblood when he was visiting this year.
"The one thing I really want to clear up, I don't know how this notion got out of us taking pictures down. Steve came in and the only pictures Steve took down were of current Rams players and they were individual shots. He said, 'I want pictures up, but I want five or six players. I want team pictures up.' That is what we did. There are pictures throughout the building of Marshall Faulk,
Kurt Warner
,
Ricky Proehl
and the Hall of Fame Rams, all the great Rams. That is throughout the building."
The Rams might need to smooth over some of these relationships with their alumni. Mostly, they need to win.
February, 1, 2010
2/01/10
7:45
PM ET
MIAMI -- South Florida's all-day downpour forced a schedule shuffle that left me away from the blog when Chicago
announced the hiring
of Mike Martz as its new offensive coordinator. All was not lost, however; I got some good interviews done after New Orleans' practice for upcoming posts on former Green Bay/Minnesota safety Darren Sharper and Saints defensive tackle Anthony Hargrove (I'll explain later).
As for Martz, I laid out
my argument
last month for why I thought he was the best the Bears could do under their unique circumstances. To be clear, Martz's detractors make some legitimate points, and I thought former St. Louis receiver Ricky Proehl articulated one of them well in this interview over at
ESPN Chicago
.
Proehl said Martz's "ego got in the way" during the latter stages of his tenure as the Rams' head coach and said some of his game plans included 200-plus plays.
"Did we need all those plays?" Proehl said. "No. … I think we got too cute, too fancy and over time it ended up being our demise."
The good news is that Martz won't have time to install 200 plays during his first season with the Bears. That only happens after years of continuity. But I believe Martz has a much better chance of making an instant impact than a first-time NFL coordinator, one who would probably take a more deliberate approach to installing an offense.
Of everything Martz said during a teleconference Monday, here's what seemed most important to me (via
Sean Jensen of the Chicago Sun-Times
): "We will be hitting on all cylinders on opening day. I can promise you that."
Bears coach Lovie Smith can afford nothing short of that if he wants to continue in his job beyond the 2010 season, and I am certain that's the primary reason Martz was his choice. The Bears are in survival mode. They couldn't afford to take a risk with this hire. As contrary as it sounds given Martz's well-chronicled history of personal entanglements and overly sophisticated game plans, he was their safest choice.
March, 15, 2009
3/15/09
1:45
PM ET
Posted by ESPN.com's Mike Sando

Kevin Lynch of Niner Insider
says the 49ers could have interest in Torry Holt. Lynch: "But if Holt signs, does that mean [Isaac] Bruce will retire? And can Holt be as good as Bruce was last year? Holt and Bruce are friends, but those who know the Rams said Bruce wasn't thrilled when Holt surpassed him as the Rams' top option." Is Ricky Proehl in shape?
Matt Barrows of the Sacramento Bee says he hears the 49ers are "very wary" of Holt's knee issues.
Matt Maiocco of the Santa Rosa Press-Democrat says Jonas Jennings, Mark Roman and Bruce are not expected to attend the team's upcoming minicamp. Jennings could be released. Roman has been given permission to seek a trade. Bruce hasn't announced plans for 2009.

Bill Coats of the St. Louis Post-Dispatch sizes up the Rams' new-look secondary. The corner spot opposite Ron Bartell is "wide open" heading into the 2009 season, coach Steve Spagnuolo said. Coats: "Tye Hill, the Rams' first-round draft pick in 2006, probably is the top candidate among the incumbent corners. He started 10 games as a rookie but has played in just nine games over the past two seasons because of injuries."
VanRam of Turf Show Times says Holt's departure will hit Rams fans again once the receiver signs with another team. VanRam: "Where could Holt end up? Strangely enough more teams have declared that they're not interested in the former Ram. The Giants and Jets have both declared themselves not interested; Carolina and Minnesota, too. Potential landing spots include Baltimore, Chicago, Tennessee, San Fran and Jacksonville."

Darren Urban of azcardinals.com checks in with new passing game coordinator Mike Miller, who is mindful of the relationship Kurt Warner had with former coordinator Todd Haley. Miller: "I'm not trying to have a relationship that he and Todd had or that he and coach [Ken Whisenhunt] have. I am going to be myself, and I want to have the best relationship I can have with Kurt. That said, I think I have a good relationship with Kurt. With the way we do our pass game and how we install in the season, it was the three of us [with Haley], we all exchanged ideas."
Also from Urban: No, Miller wasn't playing video games when Urban snapped a photo of him.
Revenge of the Birds' Andrew602 looks at tight end Brandon Pettigrew as a potential draft choice for the Cardinals. The team could definitely use stability at tight end.

Aaron Weinberg of Next Season Sports explains why Michael Crabtree could be the choice for Seattle with the fourth overall choice. Weinberg: "Draft experts who don't follow the Seahawks might be perplexed by the selection after the Seahawks signed WR T.J. Houshmandzadeh as their new no. 1 receiver. But, at 32 this September, and an aging Deion Branch, 29, Crabtree should help the Seahawks build for the future at a position that hasn't made it to the Pro Bowl in nearly 20 years."
Steve Wyche of NFL.com examines how the Julian Peterson trade could affect the first round of the draft. He also thinks Seattle could consider Crabtree.
Danny O'Neil of the Seattle Times says the Peterson trade was all about the Seahawks gaining flexibility on the field and in the draft. O'Neil: "Redding can't compare to Peterson in terms of popularity around the league. He has never been chosen to a Pro Bowl. Redding doesn't measure up in terms of pass-rush production, either. ... But Redding's arrival adds depth to a defensive line that had become the shallow end of the pool on Seattle's defense. The Seahawks did not re-sign Rocky Bernard and Howard Green in free agency, and while they added nose tackle Colin Cole, he has started only eight games in his NFL career."
Jerry Brewer of the Seattle Times says the Seahawks' linebacking trio was never able to make Seattle's defense among the best in the league. Brewer: "No matter how many Pro Bowl berths Tatupu and Peterson earned, no matter how physically marvelous Hill was, the defense lacked the balance that great defenses possess. So, as is custom in professional sports, it's time to try something different. On Saturday, that meant saying goodbye to Peterson, a congenial, big-play presence for three seasons."
John Morgan of Field Gulls is giving the Peterson trade a chance even though Seattle lost a potentially "irreplaceable" player. Morgan: "Seattle is stockpiling a specific type of defensive tackle. Players that are quick off the snap, hybrid single-gap/two-gap, that are stout against the run and hustle pass rushers. That type can be as good as Brandon Mebane or as bad as Howard Green. In totality, it should be very good against the run. Seattle almost must be a top 10 rush defense to justify this move."
Chris Sullivan of Seahawk Addicts says Seattle quarterbacks coach Bill Lazor attended Josh Freeman's workout at Kansas State.
Michael Steffes of Seahawk Addicts isn't convinced Aaron Curry makes sense for Seattle in the first round of the draft. Steffes: "I think the Hawks probably would prefer not to take Curry with the No. 4 pick. That would immediately revive the problem of putting too much money into one position. Signing Derrick Brooks to a modest deal to help bridge the gap to Herring or another draft pick is a possibility. The team will probably re-sign D.D. Lewis ASAP to ensure that they can make due in case the draft doesn't shake out the way they want. They will then hope to find a good linebacker in the middle rounds. They didn't take one last year, so they may have been planning this move over a year in advance." Lewis has agreed on a new deal.
Posted by ESPN.com's Pat Yasinskas
Best match: LB Angelo Crowell
While letting linebackers Keith Brooking and Michael Boley and cornerback Domonique Foxworth walk, the Falcons have been the NFC South's quietest team in free agency. General manager Thomas Dimitroff cautioned that the Falcons won't be big players.
But Atlanta can't sit still forever. The big moves likely will come through the draft, but there are some guys out there who the Falcons could move on to start patching some holes. There are some fans calling out for Derrick Brooks. But that doesn't make a lot of sense in the plan of Dimitroff and coach Mike Smith. They just let a veteran linebacker (Brooking) go. It would make more sense to add a younger linebacker like Crowell.
Best match: WR Ike Hilliard
The saga of disgruntled franchise player Julius Peppers is the big story for Carolina, but it's likely to drag on. Peppers' $17 million franchise tender has the Panthers strapped for cap room. If Peppers gets traded, the Panthers probably will seek his replacement with the first-round pick they'd like to get in return.
But there is some other business the Panthers can take care of in free agency. They could use a little depth at wide receiver. They've got one of the best in Steve Smith, but Muhsin Muhammad is aging and Dwayne Jarrett remains an uncertainty. Again, the Panthers don't have a lot to spend, but a veteran receiver like Hilliard won't cost a lot. The Panthers had a great deal of success when they brought in Ricky Proehl a few years back. Hilliard is very similar to Proehl and could solidify the receiving corps nicely.
Best match: S Darren Sharper
Re-signing linebacker Jonathan Vilma was the first key move of free agency. But even though the Saints don't have a lot of cap room to work with, they're not sitting still. They know they still have big needs in the secondary and they're working hard in that area.
They've got an offer in to cornerback Ron Bartell and are courting Sharper and Gerald Sensabaugh, a pair of safeties. Something should play out with those players in the very near future and that could be a huge boost to a defense that's rebuilding with new coordinator Gregg Williams. Add Bartell and either of those safeties to the current roster and -- at least on paper -- the defense suddenly looks a lot better.
Best match: RB Derrick Ward
The free-agent frenzy so many expected hasn't materialized -- yet. The Bucs made a strong run at Albert Haynesworth before he landed with the Redskins and made an attempt to trade for quarterback Jay Cutler. They still may be in the market for Cutler or another quarterback.
But there are other big needs to be filled in the meantime. After trading for tight end Kellen Winslow and placing the franchise tag on receiver Joey Galloway, the Bucs still are looking to load up at the skill positions and it appears running back is the next target. The Bucs don't have much besides Earnest Graham and they know it. They've got Ward scheduled for a visit Tuesday and also are considering Kevin Jones. Look for the Bucs to make a big play for Ward. They've been cautious with the purse strings so far, but they have lots of cap room to work with. They can't afford to keep finishing second for prized fre
e agents.
February, 1, 2009
2/01/09
5:26
PM ET
Posted by ESPN.com's Pat Yasinskas
TAMPA, Fla. -- Had an interesting chat with former NFL receiver Ricky Proehl the other day about Kurt Warner.
The Arizona quarterback played with Proehl when the two were with the Rams. Proehl played with numerous quarterbacks throughout his career and said Warner is the best.
"Kurt throws such a nice ball,'' Proehl said. "It's easy to catch his passes. He always anticipates where to put the ball. Some guys throw a heavy ball. His is easy to catch. His knowledge of the game is incredible and he knows what defenses are trying to do and how to beat them. If you give him time, he'll pick you apart.''
But Proehl said what sets Warner apart more than anything comes off the field.
"Kurt is probably the most confident person I've ever met,'' Proehl said. "The more you get to know him, the more you realize it. Everybody knows the story about Kurt bagging groceries and then playing in Europe. But I'll bet you that, even when he was bagging groceries, Kurt was telling people he could play in the NFL.
"I think you can best summarize Kurt with a story I heard about (former baseball pitcher) John Wetteland. He gave up a grand slam once and his response was, 'Hey, the guy hit a great pitch.' Kurt's the same way. He'll throw an interception and he'll say the defender made a great play. He can throw 20 bad balls, but the next one is going to perfect.''
NFL SCOREBOARD
Sunday, 2/2
WEEKLY LEADERS