October, 5, 2013
10/05/13
2:20
PM ET
The Jets made four moves Saturday to set their roster before heading to Atlanta for a Monday night game against the Falcons.
Running back
Mike Goodson
, coming off a four-game suspension for violating the NFL's substance abuse policy, was added to the 53-man roster -- a confirmation that he will suit up for the game. There was some doubt Friday, when he missed some practice with a tight hamstring.
The Jets also added WR Michael Campbell, previously on the practice squad.
To make room for Campbell and Goodson, the Jets released rookie WR
Ryan Spadola
and LB
Ricky Sapp
. The Spadola move came as a surprise. The Jets are taking a calculated risk by putting him on waivers for 24 hours, as they'd like to bring him back if he clears waivers. Spadola, an undrafted free agent from Lehigh, made the team after an impressive preseason.
The Jets are down to four healthy-for-sure receivers --
Jeremy Kerley
,
Clyde Gates
,
David Nelson
(signed Tuesday) and Campbell.
Santonio Holmes
(hamstring) hasn't been officially ruled out, but he won't play. The big question surrounds
Stephen Hill
(concussion), who practice on a limited basis Friday in a red, non-contact jersey, as required by league rules.
The team has yet to release its final injury report.
August, 29, 2013
8/29/13
10:13
PM ET
EAST RUTHERFORD, N.J. -- The
New York Jets
' quarterback competition took a night off, as neither
Mark Sanchez
nor
Geno Smith
played Thursday night in the final preseason game.
Matt Simms
got the call and led the Jets to a
27-20 victory
over the
Philadelphia Eagles
at MetLife Stadium.

What it means:
The Jets finished the preseason at 3-1. Big deal. No one will remember their record in 24 hours. The focus shifts immediately to opening day and the Tampa Bay Buccaneers. There are a myriad questions for the Jets, starting with the quarterback position: Smith or Sanchez? Sanchez (shoulder) remains day-to-day and should know more about his status when he meets with the medical staff over the weekend.
No Geno:
That the Jets didn't play Smith suggests they believe there's a good chance he will be the opening-day starter. The rookie could've used the work -- his preseason consisted of 3½ quarters -- but it would've been too risky to expose him to potential injury. Coach Rex Ryan bubble-wrapped almost his entire starting lineup. The only projected starters/key reserves that saw action were
Vladimir Ducasse
(started at right guard), cornerback
Kyle Wilson
and safety
Antonio Allen
. Why play Wilson, a virtual starter? It was very curious and, no doubt, will fuel speculation about his future. Were the Jets showcasing him for a trade? Wilson has been a first-round disappointment, but he has value because of his versatility.
Tough dude, Simms:
Battling for the No. 3 QB job, Simms was absolutely terrific. Undaunted by a seven-sack first half, Son of Phil completed 33 of 44 passes for 285 yards and no turnovers, although there were a couple of near-interceptions. He went 25-for-27 in one stretch, shades of his dad in Super Bowl XXI. He showed toughness, poise and accuracy. How can he not make the team?
Greg McElroy
(knee), who didn't play, should be worried about his roster spot. Newly signed
Graham Harrell
didn't play, but could factor into the equation.
Porous pass protection:
The Jets had better hope their starting offensive linemen stay healthy, because the backups are shaky -- and that's being kind. They could be in the market for a backup swing tackle because veteran
Jason Smith
, who re-signed last week, played quite possibly one of the worst games ever by a lineman. Facing the Eagles' backups, Smith -- the No. 2 overall pick in 2009 -- allowed at least three sacks. He was pulled at halftime, the best thing to happen to Simms all night.
Defensive stand:
The Jets' No. 2 defense dominated Chip Kelly's No. 2 offense. LB
Ricky Sapp
, LB
Danny Lansanah
, DE
Leger Douzable
, LB
Nick Bellore
and S
Jaiquawn Jarrett
were among the standouts.
Kicking competition:
It was a draw between incumbent
Nick Folk
and challenger
Dan Carpenter
. Folk was good from 28 yards, Carpenter from 43. Each recorded a touchback on his only kickoff.
What's ahead:
Now comes the bloody part of the business. Teams must pare their rosters to 53 by 6 p.m. ET Saturday, meaning the Jets have to slice 22 players over the next 48 hours.
May, 3, 2010
5/03/10
12:33
PM ET
By
Matt Mosley
| ESPN.com
In addition to not having a suitable answer at safety, the situation at linebacker played a prominent role in the Eagles being overwhelmed by the Cowboys in back-to-back games at the end of last season. To be more specific, there was no one on the field capable of running with Pro Bowl tight end
Jason Witten
.
Now, the Eagles have gone a long way in addressing
their immense needs at linebacker
. The return of middle linebacker
Stewart Bradley
, who was emerging as a star in the league before tearing his ACL in last year's training camp, should have a huge impact. His ability to cover tight ends and running backs in space gives the Eagles a much better shot against talented players such as Witten and
Felix Jones
.
For now, former seventh-round draft pick
Moise Fokou
is the starter at strongside linebacker, and former Lions first-round pick
Ernie Sims
is penciled in on the weak side. Fokou has reportedly added several pounds to his frame in an attempt to hold up against the run. Sims received praise from second-year defensive coordinator Sean McDermott for his approach to the recent minicamp.
"There's a shark in the water right now, and that's Ernie Sims," McDermott told reporters over the weekend.
The Eagles will also work rookies
Ricky Sapp
and
Keenan Clayton
into the mix. But let's not confuse all these bodies with quality depth just yet. The only proven talent at linebacker is Bradley, and we still need to see how he responds to the knee injury once everyone is in pads. Fokou was a pleasant surprise last season, but we haven't seen him perform as a starter on a consistent basis.
And then there's Sims. I think he'll be a much better fit in McDermott's defense than Jim Schwartz's in Detroit. Schwartz prefers bigger linebackers who can shed blocks. The Eagles prefer smaller, quicker players who can avoid blockers and make tons of tackles (or at least it appears that way to the naked eye). Sims will have an opportunity to reclaim his promising career. The good thing is that he was considered an excellent leader for the Lions. He simply was a better fit in the previous regime's scheme.
If Bradley's 100 percent after the injury, which we believe he is, the Eagles automatically receive an enormous upgrade. But I'm still a little worried about Fokou and Sims as the other starters. Anyone else share that concern?
Please let me know in the "comments" section, where I spend "hours" each day.
April, 24, 2010
4/24/10
5:00
PM ET
By
Matt Mosley
| ESPN.com
»
NFC draft analysis
:
East
|
West
|
North
|
South
»
AFC
:
East
|
West
|
North
|
South
The
Washington Redskins
were the only team in the division to keep this draft from being all about defense. The Giants' once-vaunted defense was embarrassed in '09 and general manager
Jerry Reese
and coach Tom Coughlin spent three days trying to rectify the situation. Who will start at middle linebacker, though? It's a fair question.
It was a memorable three days in the Beast. Now, let's take a look back at what transpired. It's never too early for some knee-jerk reaction.
Best move
I think Cowboys owner Jerry Jones moving up three spots in the first round to select Oklahoma State wide receiver
Dez Bryant
may have been the best move in the division. He's a top-10 talent (No. 8 on the Boys' board) who comes with some baggage. Yes, there were teams scared of him. But I couldn't find a scout around the league who said he would've passed on Bryant at No. 24 overall. It was also a shrewd move because the Ravens were waiting for Bryant at No. 25. Patriots coach Bill Belichick blocked an AFC playoff team by making the trade with Jones.
Other teams were worried about Bryant's association with Dallas area businessman David Wells, who helped guide (his nephew)
Michael Crabtree
into a holdout last fall. I'm told by folks at Valley Ranch that Jones knows exactly how to deal with Wells and that it shouldn't be a problem. The unfair thing for Bryant was that some folks assumed he wasn't a good kid because his stock was falling. Of the eight or nine scouts I asked about Bryant during the buildup to the draft, every one of them said he was essentially a good kid. He was just extremely immature and had a problem showing up to places on time. He's hands down the best receiver in the draft and I think the potential reward far outweighs the risk -- especially where he was drafted. The
Tim Tebow
trade immediately trumped Bryant's selection in terms of excitement, but Bryant will be contributing a lot sooner than the former Florida quarterback.
Riskiest move
You'll think I'm crazy (as usual), but the Redskins choosing Oklahoma left tackle
Trent Williams
No. 4 overall is one of the riskiest moves of the draft. I agree that he has tremendous potential, but he's not a finished product at left tackle. Oklahoma State's
Russell Okung
would have been a no-brainer starter at left tackle from Day 1. Williams has more versatility and he's a better fit in the Redskins' zone-blocking scheme, but it's wrong to suggest that he's anywhere close to the "safest" pick in the top-10. If you want to know why I'm a little skeptical, go back and watch the OU-BYU game on tape.
Sam Bradford
remembers what I'm talking about.
[+] Enlarge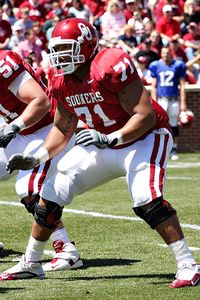 J.P. Wilson/Icon SMITrent Williams, the No. 4 overall selection, is far from a finished product.
On the positive side, Williams is an exceptional athlete and I love watching him finish off blocks. I think Mike Shanahan always has
Ryan Clady
on his mind these days. And Williams has that type of potential. But you're going to have to live with some mistakes. Don't be shocked if Williams has to begin his career at right tackle. I shudder to think what he'll look like in that first game against
DeMarcus Ware
. I flew back from Indianapolis with both of those players after the combine. Williams didn't recognize Ware on that flight. Something tells me he won't have a problem putting a face to a name Sept. 12.
Most surprising move
Maybe I haven't been fair enough to Eagles general manager Howie Roseman. On the second day of the draft, I was really impressed by the way he moved all over the board and kept acquiring extra picks. I'd heard from both Eagles and Cowboys sources that the fourth round was going to contain a ton of "value," and Roseman apparently took that to heart. By trading down twice in the 50s, he basically took over the fourth round. The Eagles had four picks in the fourth and then they found another pass-rusher in the fifth with Clemson defensive end
Ricky Sapp
. He's an undersized player who has exceptional quickness. I think he probably reminded Andy Reid of
Trent Cole
, a player who the Eagles landed in the fifth round a few years back. I guess the "surprising" aspect of all this is how comfortable Roseman looked while running his first draft. Even the stoic Andy Reid admitted that he was entertained by watching Roseman at work.
It was also bold to move from No. 24 to 13 in order to land Michigan defensive end
Brandon Graham
. ESPN's Sal Paolantonio has reported that Reid and Roseman may have wanted to preempt the Giants from taking Graham. Of course, general manager Jerry Reese will never acknowledge that he coveted Graham, but it's an interesting theory.
File it away
I could almost sense that Tom Coughlin and Jerry Reese were seething about the '09 season during this draft. Everyone wanted them to take a middle linebacker in the first round, but it didn't happen. The Giants made this draft about reclaiming the line of scrimmage. They started out with the immensely talented, but somewhat unproven, South Florida defensive end
Jason Pierre-Paul
and then selected an enormous defensive tackle from East Carolina named
Linval Joseph
in the second round. Even when you thought they might turn to offense in the sixth round, they went with a sleeper defensive end out of Williams & Mary named
Adrian Tracy
. This pick had Reese written all over it because he loves overachieving kids from small schools. Tracy's not a three-down lineman by any stretch of the imagination, but he gives the Giants more options. If the Giants are able to become an elite defense again, we'll point back to the 2010 draft as a major turning point. In terms of potential impact players, this reminds me of the '07 draft. And that's a great thing for Giants fans.
One other thing to file away
The Cowboys moved up to take Penn State linebacker
Sean Lee
in the second round. They see him as the eventual successor to
Keith Brooking
at inside linebacker. Other scouts around the league were very concerned about Lee's torn ACL that caused him to miss the '08 season. If he's healthy, the Cowboys will have a starter in the near future. And you can probably go ahead and say goodbye to the
Bobby Carpenter
era. I'll say one thing for Carpenter. I've never seen a guy respond to intense criticism with such extreme grace. Perhaps he'll find a team that will truly value his ability to cover running backs and tight ends in space.
April, 24, 2010
4/24/10
12:40
PM ET
By
Matt Mosley
| ESPN.com
Things are moving pretty quickly at this point, so we won't go pick by pick anymore. But the
Dallas Cowboys
have to feel really good to land Indiana (Pa.) cornerback
Akwasi Owusu-Ansah
late in the fourth round. He was getting a lot of buzz in the days leading up to the draft.
Here's what Tim MacMahon of ESPNDallas.com
had to say about Owusu-Ansah
. The Cowboys traded down seven spots to take him at No. 126 overall. His technique is raw and he's played inferior competition at the Division II. I don't even know what to make about his seven returns for touchdowns. I'm told by scouts that he looked really uncomfortable fielding punts, but if he caught them, he could take it to the house.
He may have more upside than any player in the fourth round. But secondary coach Dave Campo will have his work cut out for him. Owusu-Ansah has relied on his athleticism throughout college. He had shoulder surgery after the combine, so that's something that other teams thought about. But most teams don't think that's a concern.
Good pick late in the fourth. He was everyone's sleeper pick at cornerback. By the way, the
Philadelphia Eagles
took Clemson defensive end
Ricky Sapp
early in the fifth round. You think the Eagles and
New York Giants
might be interested in improving on defense? Sapp's an undersized defensive end, which is not a problem for Andy Reid and
Sean McDermott
. They'll hope they've found another
Trent Cole
. Sapp is extremely athletic and he should be able to add some bulk to his 250-pound frame. He doesn't play the run all that well, but he probably won't be asked to do that early in his career. Could be a good situational pass-rusher.
NFL SCOREBOARD
Thursday, 10/2
Sunday, 10/5
Monday, 10/6