NFL Nation:

Ricky Watters
March, 8, 2013
Mar 8
4:00
PM ET
Dan from Toledo, Ohio
, has a problem with
the implication
running back
Steven Jackson
would have a better shot at winning a championship by leaving the
St. Louis Rams
.
"Nobody knows who is going to the Super Bowl, so Steven better make a good choice," Dan writes. "Who says the Rams can't win the Super Bowl this year? Who thought the Rams were going to be that good in 1999?"
Sando:
The Rams are improving, but even they would likely acknowledge other teams are closer to championship form at this time. The bottom line is that Jackson would remain in St. Louis if the Rams were willing to pay him $7 million in salary. They weren't willing to pay him that much. That is why they gave him the ability to void his contract.
What Jackson thinks of the Rams is less interesting to me than what the market thinks of Jackson. Players seeking to discover their value sometimes do not like what they find.
Jackson is 29 years old and his production has slipped in recent seasons. He finished last season with numbers nearly identical to the ones he posted in 2008. The difference was that he played only 12 games in 2008 and 16 games last season.
However, some other accomplished backs such as
Curtis Martin
, Tony Dorsett,
Ricky Watters
and
Warrick Dunn
remained productive at that age. Each topped 1,000 yards rushing for the final two times at ages 30 and 31. Jackson might be able to do the same if given the opportunity. He'll need someone to give him that chance.
Back to the original comment from Dan regarding St. Louis possibly contending in 2013. There is every reason to expect continued improvement from St. Louis even though improving from 7-8-1 in the standings, where the Rams stood in 2012, is tougher than improving from 2-14 in the standings, where the Rams stood in 2011.
Would Jackson, uninterested in a reduced role with St. Louis, accept one for a team he perceives to as closer to contending for a title?
"I'm definitely going to have to [have] open ears and be open to all talks, but I don't know what teams want unless I made myself available," Jackson told SportsCenter on Friday. "Doing so, it was a very tough decision to leave St. Louis, but when we started talking about reduced roles and what they see me in the future with the organization, it has to fit and make sure that I could fit in the locker room as well as other players."
February, 26, 2013
Feb 26
10:13
AM ET
St. Louis Rams
'
Steven Jackson
.
That is both good and bad for the Rams' career rushing leader.
Jackson, who plans to void his contract to become a free agent March 12, has accomplished a great deal since entering the NFL as the 24th player chosen in the 2004 draft. He also has high miles as his 30th birthday approaches in July, raising questions about how much longer he can produce.
The two charts show where Jackson ranks in scrimmage yards and rushing yards over the course of his career. Note that NFC West rivals
Frank Gore
and
Larry Fitzgerald
also rank among the top five in scrimmage yards over the same period.
Separately, Jackson's rushing total (10,135) is easily best among players who also entered the NFL in 2004.
Michael Turner
(7,338),
Willie Parker
(5,378),
Julius Jones
(5,068) and
Kevin Jones
(3,176) trail him on that list.
Jackson ranks 26th on the NFL's all-time rushing list after posting his eighth consecutive season with at least 1,000 yards rushing. He needs 509 yards to overtake
Ricky Watters
for 20th. He needs 1,561 yards to overtake
Fred Taylor
for 15th. He needs 2,145 yards to overtake former teammate and Hall of Famer
Marshall Faulk
for 10th on the list.
Jackson would need 3,550 yards to overtake
LaDainian Tomlinson
for fifth.
No NFL player has more offensive touches or yards from scrimmage since 2004 than the
March, 8, 2011
3/08/11
4:59
PM ET
Tiki Barber
's
comeback hopes
at age 35 cannot touch the time Jim Brown threatened to come back in his late 40s, when an aging Franco Harris was challenging his rushing record.
Brown was 29 when he played his final snap, then retired while still dominant. He had the right idea.
Very few backs have remained productive into their 30s. The chart below shows running backs from current NFC West franchises who carried at least 50 times in a season past age 31, according to Pro Football Reference. I limited the search to the past 35 seasons (the newest current NFC West franchise, Seattle, entered the NFL in 1976).
It's a short list featuring seven players, including three legends finishing their careers wearing unfamiliar uniforms (
Emmitt Smith
in Arizona, O.J. Simpson in San Francisco and Franco Harris in Seattle).
None gained 1,000 yards in a season even though all played in the 16-game schedule era -- an era Brown ridiculed for this marvelous
1983 Sports Illustrated piece
discussing his comeback threat. In it, Brown said Harris might break his record if he kept running out of bounds frequently enough to prolong his career. The best quote from Brown, by far, makes me wonder what Brown must think of the current NFL game:
"Where has the danger in the game gone? I can't accept quarterbacks sliding and running backs running out of bounds. Ever since the merger in 1966 and the creation of the Super Bowl, the owners have been more concerned with ratings than the level of the game. Coaches put up with players waving into TV cameras, giving high fives and spiking the ball. That sells. The Monday Night Football broadcasters have become bigger than the game. Who is kidding whom? Who's to say a 47-year-old can't do it? I'm not talking about being Jim Brown of 1965. I'm talking about being Jim Brown of 1984. If Franco Harris is gonna creep to my record, I might as well come back and creep, too."
Barber, for the record, ranks 22nd on the NFL's all-time rushing list. He's within 200 yards of passing Watters for the 20th spot. Watters rushed for 1,242 yards at age 31 and still appeared to have quite a bit left, but the Seahawks had drafted
Shaun Alexander
and Watters wasn't interested in a situational role.
February, 8, 2011
2/08/11
1:46
PM ET
What started as a question about Pro Football Hall of Fame candidate
Charles Haley
turned into a conversation that dovetailed with
the Super Bowl-week piece
on what became of the flagship
San Francisco 49ers
.
[+] Enlarge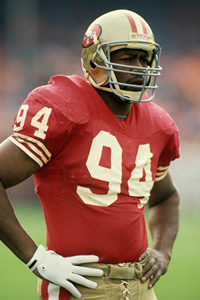 US PresswireCharles Haley collected 66.5 sacks during his eight seasons in San Francisco.
Basically, I had just finished speaking with
Steve Young
for
a series on NFC West quarterbacks
when I decided to ask him about Haley, his former teammate and a terrific pass-rusher. Haley played for the 49ers from 1986-91 before spending five seasons with the
Dallas Cowboys
. He closed his career with two years in San Francisco. Haley's teams won five Super Bowls.
Young's answer was something I wanted to pass along now that I've had a chance to review some notes:
"(Haley) was the tipping point in my mind for a number of Super Bowls. We let him go after the '91 season and in '92 and '93, we lost against him. I'm not saying that was all it was, but that was a significant shift for a guy wreaking havoc for us and then wreaking havoc on us. It's a painful reminder of some of the mistakes we made.

"There are two things in the '90s that cost us. That was one, and letting Ricky Watters go was two. We suffered running the football and having a threat out of the backfield for the second half of the '90s, where we got to championship games, we got deep in the playoffs every year and I think it really hurt us.

"Ricky was a very good player. People did not appreciate him as much as they should have. We won the Super Bowl (after the 1994 season) and whenever you win the Super Bowl, you get too smart for yourself. 'Oh, we don't really need him.' Well, you know what? We do. You say, 'We'll just plug some guys in and we'll be fine.' Big mistake.
That last thought from Young stands out. We've seen other teams pay for letting key players get away following Super Bowl appearances, including when Seattle did not use the franchise tag for guard
Steve Hutchinson
. The
Arizona Cardinals
also expected to maintain recent successes better amid personnel losses.
February, 4, 2011
2/04/11
5:54
PM ET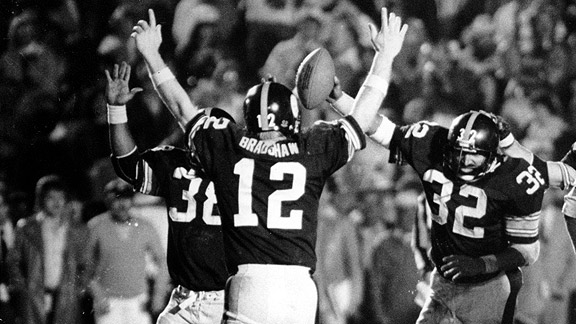 AP PhotoWill the current Pittsburgh team join the Steelers of the 1970s as an NFL dynasty?
FORT WORTH, Texas -- In his 50 years of experience with scouting, personnel and eventually media, Gil Brandt has seen all the football dynasties come and go in the NFL.
In Brandt's eyes, this current group of
Pittsburgh Steelers
can put its name into that elite category with a third championship in six seasons.
"You have to, yes," the former
Dallas Cowboys
player personnel executive said of considering Pittsburgh a dynasty. "We have some teams that have been in the NFL 45 years and haven't won a Super Bowl."
The Steelers have a lot on the line Sunday in Super Bowl XLV against the
Green Bay Packers
. Not only is Pittsburgh playing for another Lombardi Trophy, but the franchise can make a strong case to be the NFL's latest dynasty -- a term that applies only to teams winning multiple titles in a concentrated period of time.
Pittsburgh has all the ingredients for sustained success: good coaching, stellar defense, a franchise quarterback and future Hall of Famers. These are many of the same attributes of past dynasties, such as the old Steelers of the 1970s, the
San Francisco 49ers
of the 1980s, the Cowboys of the 1990s and, most recently, the
New England Patriots
of the past decade.
So where would Pittsburgh potentially fit?
"I think if we win this [Super Bowl], you have to put this organization down as being one of the dynasties of the 2000s," said Steelers 13-year receiver
Hines Ward
. "We know what's at stake. For us, it's another opportunity to win another Super Bowl. We're 2-0 in Super Bowls and we don't want to experience the other side."
What exactly counts as a dynasty in today's NFL, and how much has the definition changed?
Here is some food for thought: Since free agency began in the spring of 1993, only two teams (the
Denver Broncos
and Patriots) have won back-to-back Super Bowls. The Cowboys' Super Bowl titles bridged the start of modern free agency. They won Super Bowl XXVII to mark the end of the 1992 season. After the era began with
Reggie White
's departure from the
Philadelphia Eagles
to join the Packers in April 1993, the Cowboys still managed to win the Lombardi Trophy that season. Although the 49ers claimed the 1994 season's title, Dallas would later cement its dynasty status by winning a third championship in the modern free-agency era during the 1995 season.
The NFL landscape has changed dramatically in the past 15 or so years where players rarely play for one team. That makes it much harder to consistently stay on top.
"I think if you can get three in a decade, those teams are up for dynasties," Steelers safety
Ryan Clark
said. "So I think if you get three titles in six years, you have to be considered."
Even if Pittsburgh wins Sunday, the biggest knock on the Steelers would be this current group has never won back-to-back Super Bowls. But this is a league where parity rules. Eight different teams have represented the NFC in the Super Bowl in the past eight seasons.
"Back-to-back titles is obviously huge, because that to me is the hardest thing to do," said former tailback and Super Bowl champion
Ricky Watters
with the Niners. "But to stay up there is hard, too. We see teams that get there and then they're gone. Then they may get back up there, and they're gone again. So I think the staying power is important."
The Steelers have never won back-to-back titles the past six seasons, but they also never had a losing season. Including playoffs, Pittsburgh holds a 71-35 record over that span.
"Well, I don't know if it's necessary because it's really hard to win back-to-back," said Brandt explained. "The reason it's hard to win is because the competitive balance in this league is so good."
Now more than ever, the NFL has become a coaching and quarterback league. This is a major reason Pittsburgh has been able to sustain its success.
[+] Enlarge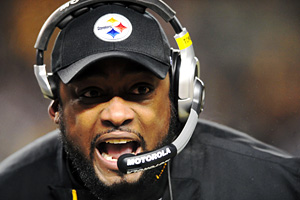 Andrew Weber/US PresswireMike Tomlin can win a second championship in just his fourth season as a head coach.
Quarterback
Ben Roethlisberger
doesn't put up gaudy numbers but is arguably the
most clutch quarterback
in the NFL. He is 10-2 in the playoffs and has a chance to improve to 3-0 in Super Bowls this Sunday. Earlier this week, the AFC North blog examined whether a third championship cements
his status as a future Hall of Famer.
Steelers head coach Mike Tomlin has a chance to win his second Super Bowl in just his fourth season. Tomlin could surpass his predecessor, Bill Cowher, who won one championship in Pittsburgh in 15 seasons.
Both are young for their respective positions. Roethlisberger, 28, and Tomlin, 38, will be stalwarts in Pittsburgh for a long time with a chance to win multiple championships together.
"We have a great relationship. He's a player's coach and I like playing for him," Roethlisberger said this week of Tomlin. "He's one of the reasons we want to win football games. We are blessed to have him as our coach."
The Steelers don't have to look far for motivation. Perhaps the greatest dynasty of all time was the dominant 1970s Pittsburgh teams that won four Super Bowls in a six-season span. That Steeler dynasty also had two back-to-back title runs.
This week several Pittsburgh veterans say they're trying to live up to that standard. On their way to meetings at Pittsburgh's complex, Steelers players and coaches must walk by their NFL-high six Lombardi Trophies, including those four won by Terry Bradshaw, Jack Lambert, Lynn Swann and Co.
"We have what you can't buy, which is legacy," Tomlin said. "[It's] an unbelievable standard and expectation and all those great things."
No dynasty lasts forever. That is why it's important for this proud, veteran group of Steelers to seize this moment.
There are aging veterans older than 30 such as Ward,
James Farrior
,
Casey Hampton
and
Brett Keisel
going for their third ring, and there are no guarantees any of these Steelers will get another chance to win another Super Bowl.
"We're not worrying about what happens afterwards. It's a whole bigger issue than us after this game," Ward said of potentially making history. "So is this the last run? Why would it be the last run? We have a huge opportunity to win our third Super Bowl, and we're trying to come down here and make the most of it and see if we can bring our seventh Super Bowl back to Pittsburgh."
When it comes to attaining dynasty status, consider Super Bowl XLV a "swing game" for the Steelers.
Beat the favored Packers at Cowboys Stadium and this Steelers group will forever be in the dynasty discussion. But lose to Green Bay, and that conversation abruptly ends.
July, 7, 2010
7/07/10
12:00
PM ET
A weeklong look at current or former players or coaches with Hall of Fame potential in the division.
Rams:
Orlando Pace
, LT
Claim to fame:
Seven Pro Bowl appearances and three first-team All-Pro selections affirm Pace's standing as one of the elite offensive linemen of his era. Pace started two Super Bowls for the
St. Louis Rams
, winning one, and he was one of the best players for the Greatest Show on Turf.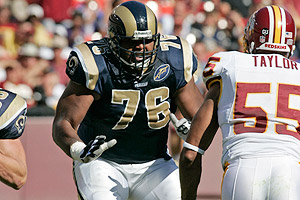 Jeff Fishbein/Icon SMIOrlando Pace was selected to the Pro Bowl seven times during his career.
Case for enshrinement:
At his best, Pace dominated in all aspects of the game and he did it while playing for some of the best offenses of any era. Any discussion of the great tackles since the mid-1990s must include Pace,
Walter Jones
and
Jonathan Ogden
. The Rams drafted Pace first overall in 1997 and he lived up to expectations. That's saying a lot.
"The thing Orlando does so well is that he can get caught off balance on the pass rush and recover and finish the block, which is very difficult to do," then-Rams coach Mike Martz told the St. Louis Post-Dispatch in 2002, when Pace was in his prime.
The Rams' offense put pressure on its tackles to hold up in protection. Receivers ran deeper routes, forcing quarterbacks to hold the ball longer. The Rams were willing to risk sacks for the big play. They gave up more than most teams by design, not because Pace had trouble protecting.
"Orlando is the cornerstone of everything we're trying to do on offense," teammate
Isaac Bruce
told the Post-Dispatch in 2004.
Case against enshrinement:
Pace's conditioning wasn't always the best and he battled injuries throughout his career, at the expense of consistency.
Pace managed to play through the injuries for most of his first nine seasons, but he missed 23 of 32 games over the 2006 and 2007 seasons. Pace was never the same thereafter and he was below average last season for the
Chicago Bears
.
Parting shot:
The final five or six seasons of Pace's career shouldn't overshadow what he accomplished in earning those seven trips to the Pro Bowl. Pace deserves strong consideration for the Hall of Fame even though he'll likely rank a couple notches below Jones and Ogden.
Cardinals:
Kurt Warner
, QB
Claim to fame:
Warner authored a legacy unique to the NFL in going from virtual anonymity to superstar status when the Rams lost
Trent Green
to injury before the 1999 season. He was a four-time Pro Bowl choice and two-time MVP. He was also Super Bowl MVP. Warner helped turn two floundering franchises into Super Bowl teams quickly.
Case for enshrinement:
None of the 14 quarterbacks enshrined in the Hall of Fame since 1985 can match Warner in completion percentage (65.5) or yards per game (260.8). Of the 14, only Steve Young had a higher passer rating and more yards per attempt. Only Dan Marino had more 300-yard games.
Warner reached 10,000 yards passing in fewer games than anyone in NFL history. Only Marino reached 20,000 and 30,000 yards as fast (they tied by reaching 30,000 yards in 114 games). Warner and
Peyton Manning
are the only players with a perfect passer rating in three games.
Warner was also about winning. He has a 9-4 starting record in the playoffs and has posted the three highest passing yardage totals in Super Bowl history. Only Bart Starr has a higher career postseason passer rating. Warner averaged 66.5 percent completions, 304 yards and 8.55 yards per attempt in the playoffs. Warner has 31 postseason touchdown passes in only 13 games (the three players ahead of him own between 18 and 24 playoff appearances).
Case against enshrinement:
Warner started more than 11 games in a season only four times. He started between nine and 11 games four times and didn't accomplish much for a five-season period beginning in 2002.
Any argument against enshrinement for Warner will focus on the disjointed nature of his career and the fact that he produced sporadically as a result. The consistency simply wasn't as good with Warner as it was with the typical Hall of Fame quarterback.
Parting shot:
Warner's candidacy improved significantly when he led the Cardinals to the Super Bowl following the 2008 season. I thought it was also important for his Hall credentials to follow up with another strong effort in 2009. Warner did that, leading the Cardinals to another division title. Tossing five touchdown passes with only four incompletions during a wild-card victory over the
Green Bay Packers
might have pushed him over the top.
[+] Enlarge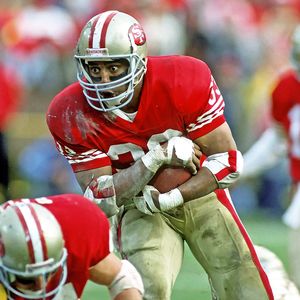 US PresswireRoger Craig was the first player in league history to post 1,000 yards rushing and receiving in the same season.
49ers:
Roger Craig
, RB
Claim to fame:
Craig was among the more versatile running backs in league history, earning Pro Bowl honors at running back and fullback. He was a three-time Super Bowl champion and four-time Pro Bowl choice.
Case for enshrinement:
Craig was the first player in NFL history to top 1,000 yards rushing and receiving in the same season. He led the NFL in receptions with 92 in 1985 and set the 49ers' season rushing record with 1,502 yards three years later.
It's tough to measure players across eras, but Craig ranked 13th on the all-time rushing list when he retired even though he did so much more than simply run the ball. His three touchdowns against the
Miami Dolphins
helped the 49ers win the Super Bowl after the 1984 season.
Craig was one of three players in NFL history with 8,000 yards rushing, 4,900 yards receiving, 70 total touchdowns and four Pro Bowls. Marcus Allen and Marshall Faulk are the others.
Case against enshrinement:
Craig's versatility meant he usually wasn't exceptional in any one category. He generally wasn't a threat to rank among the league rushing leaders. While he did play fullback, he wasn't a great one in the traditional sense.
Craig was a four-time Pro Bowl choice with 8,189 yards rushing, 4,911 yards receiving, 73 total touchdowns and a 4.1-yard rushing average. Ricky Watters was a five-time Pro Bowl choice with 10,643 yards rushing, 4,248 yards receiving, 91 total touchdowns and a 4.1-yard rushing average.
Parting shot:
Craig has good Hall of Fame credentials, not great ones, and he'll have a hard time breaking through given the quality of candidates and limited spaces.
Seahawks:
Kenny Easley, SS
Claim to fame:
Easley was a game-changing force while earning five Pro Bowl berths in seven seasons. He was the NFL's defensive player of the year in 1984.
Case for enshrinement:
All-time Seahawks sack leader Jacob Green called Easley the best athlete his Seattle teams ever had. Tight end Todd Christensen of the division-rival Los Angeles Raiders said Easley, at his best, was even better than Hall of Famer Ronnie Lott. Bill Walsh said Easley would be a Hall of Famer if Easley had played longer and, in his words, "maybe he still is -- he was that good." Lott said he knows the 49ers would have drafted Easley over himself if Seattle hadn't taken Easley first, and he blamed the Seahawks' failure to appear in a Super Bowl for keeping Easley out of Canton.
"Kenny could do what Jack Tatum could do, but he also could do what corners could do -- he could do what Mike Haynes could do," Lott said several years ago. "He was not only a great hitter and great intimidator on the field, but he was a great athlete. In that day, what made him so special -- him, Lawrence Taylor, those guys changed the game of football on the defensive side because they were not just guys that were big hitters. Now, all of sudden, you were seeing guys who were big hitters but also as athletic as anyone on offense."
Easley's outstanding ball skills helped him pick off 17 passes over a two-year period. He was indeed part of a trend toward greater athleticism on defense.
Case against enshrinement:
Even if Easley were, at his best, better than Lott, there was no comparison between each man's careers. Easley, forced into early retirement after suffering from kidney failure attributed to excessive use of ibuprofen, simply didn't play long enough to solidify his Hall of Fame credentials. That wasn't his fault, but it was reality and it's tough to judge candidates on what might have been.
Parting shot:
Easley becomes eligible for consideration by the Hall of Fame's Senior Selection Committee in 2012. His case deserves careful consideration and I think his chances for enshrinement will improve once the Senior Committee takes a harder look at his career. Easley was better than a lot of people realize. The respect he commands from all-time greats will help his cause.
April, 28, 2010
4/28/10
7:23
PM ET
NFC West teams must be hoping the 35 players they drafted last week aren't hooping it up before minicamps.
My thoughts Tuesday: "I'm always a little surprised to hear NFL players talk about getting out on the basketball court. The risk for a serious ankle or knee injury would seemingly be too great, particularly playing against lesser athletes. Sounds like the Rams don't have to worry about (Sam) Bradford tearing up his knee on the hardwood."

Appearing on ESPN.com Wednesday: "Denver Broncos All-Pro left tackle Ryan Clady tore his patella tendon playing basketball, two league sources told ESPN NFL Insider Adam Schefter. Clady has told people he will miss three months, according to the sources."
Seems like there's enough risk in football without taking chances playing another sport in the offseason. If you've played much basketball at any level, you've probably injured an ankle or knee, or had your teeth knocked out or a nose broken. It just happens. This is a tough break for Clady and the Broncos, but no surprise under the circumstances.
Former Bills and Seahawks cornerback Nate Odomes famously suffered a severe knee during a charity basketball game in 1994. He missed the next two seasons and played only seven more games the rest of his career. A Bengals player suffered a
torn Achilles' tendon
playing basketball this offseason.
As Ricky Watters once said, "For who? For what?"
May, 14, 2009
5/14/09
10:51
AM ET
Posted by ESPN.com's Mike Sando

Dave Boling of the Tacoma News Tribune says former Seahawks coach Mike Holmgren shouldn't be dropping hints about rejoining the organization. Boling: "[General manager Tim Ruskell] doesn't deserve the specter of Holmgren circling the headquarters in case of a bad season. And Holmgren should be above any appearance that he's lobbying for it. ... He is a fine and charitable man who has been a value to the region in so many ways. But as for openings with the Seahawks, it would be most appropriate to just silently watch that play out from a distance." Totally agree. It's bad form to fuel speculation about possibly rejoining the team when everyone knows a return would come at Ruskell's expense.
Greg Johns of seattlepi.com says there's enough credit to go around for Ruskell and Holmgren following the best run in Seahawks history.
John Morgan of Field Gulls revisits Leroy Hill's 2008 season. Morgan on Hill's outlook: "He has a handful of exceptional skills: He wrap-tackles. He's super-quick. He negotiates garbage. He's agile. He tracks running plays. He's a punishing hitter. [New defensive coordinator] Gus Bradley shouldn't have trouble finding uses for his skill-set, but then neither should have John Marshall."
Steve Kelley of the Seattle Times says Seahawks sixth-round choice Mike Teel showed resilience at Rutgers, one reason Seattle liked him. Kelley: "The Seahawks saw enough in Teel to make him the ninth quarterback chosen in last month's draft. In an intense predraft interview, he impressed new offensive coordinator Greg Knapp with how quickly he picked up the Hawks' offense."
Danny O'Neil of the Seattle Times says the Seahawks have reached a contract agreement with free-agent center David Washington.

Matt Barrows of the Sacramento Bee expects strong attendance for the 49ers' next organized team activities. Former Fresno State tight end Bear Pascoe graduated in December, allowing him to rejoin the team beginning May 16.
Matt Maiocco of the Santa Rosa Press-Democrat raises questions about the inaugural class for the 49ers' new Hall of Fame. I also wondered why the team wouldn't include Jerry Rice among its inaugural class. The guy was pretty good. As Maiocco notes, "The first class of enshrinees consists of those individuals who already have been inducted into the Pro Football Hall of Fame or whose jersey numbers have been retired by the 49ers."
The 49ers' Web site provides an interview transcript featuring tackle Alex Boone. How did the conditioning drills go at the post-draft camp? Boone: "Terrible, absolutely. [Laughs] That's why I need my hand right here [against the locker] to post me up. It's alright, though."
John Ryan of the San Jose Mercury News wonders whether Terrell Owens, Ricky Watters and Charles Haley will land in the 49ers' Hall of Fame. Ryan considers other potential candidates. This is a good read for any 49ers fan.
David Fucillo of Niners Nation sizes up the 49ers' situation at running back. Fucillo: "I think the biggest potential for controversy is probably listing Glen Coffee as a lock to make the 53-man roster. There are plenty of folks here who are probably still steaming over the Coffee selection. However, given that the team has invested a third round pick in Coffee, I really can't see him being held off the 53-man roster. Please feel free to correct me if you think I've erred." You have not erred, David. Third-round picks are virtual locks to earn roster spots. Only in very rare cases do they fail to earn spots as rookies.

Kent Somers of the Arizona Republic checks in with 2002 Cardinals first-round choice Wendell Bryant, who wants back into the NFL. Somers: "Bryant knows the odds are against him. He's a recovering addict who hasn't played a down of football in five years. Even when he did play, he was far from a Pro Bowler. He turns 29 this September and knows he spent his prime getting drunk and high." Great quote from Bryant's personal trainer: "He actually has a physique [again]. He's not going to be on the cover of Men's Fitness, but he's much better than he was."
Revenge of the Birds' Hawkwind caught up with Cardinals third-round choice Rashad Johnson. Johnson: "I think my biggest strength, as a safety, are my instincts. I understand the game pretty well and the coverages that we play, including the weaknesses in them, kind of like a quarterback who pre-reads the defense. Also, my range in the middle of the field as far as getting over the top and filling the run alleys. As far as my weaknesses, I'd say that in this league you just need to be bigger, stronger and faster. ... Another thing is bringing my legs with me when I tackle because I know when I was watching tape of last year I didn't do that as much as I would have liked."

Tim Klutsarits of examiner.com thinks the Rams need to sign a veteran receiver. He expects Steven Jackson to get lots of catches out of the backfield.
Seth Doria of bleacherreport.com thinks the Rams' receiver situation isn't reason for panic given the Eagles' receivers when Pat Shurmur was in Philadelphia. Doria: "Maybe I'm going out on a bit of a limb here, but it wouldn't surprise me in the least to see [Donnie] Avery make his first Pro Bowl in the next two or three years. As for the rest of the receiver corps, it's a list of maybes." Avery faces stiff competition even within his own division. Larry Fitzgerald and Anquan Boldin will make it tough for Avery to achieve that status. Terrell Owens has left the NFC, but T.J. Houshmandzadeh has joined it.

NFL SCOREBOARD
Sunday, 12/22
Monday, 12/23