NFL Nation:

Rishard Matthews
August, 1, 2014
Aug 1
1:00
PM ET
DAVIE, Fla. -- A daily review of the hot topics coming out of
Miami Dolphins
training camp:
It was a semi-light day at Dolphins camp. Miami has its annual team scrimmage at Sun Life Stadium on Saturday. Therefore, Dolphins head coach Joe Philbin gave many of his veterans a light day of work. Veterans such as defensive end Cameron Wake, cornerback Brent Grimes, left tackle Branden Albert, guard Daryn Colledge and safety Louis Delmas dressed but did not take part in team drills and most individual drills. Friday wrapped a physical week of practice where the Dolphins had three sessions in full pads.
Dolphins backup receiver Rishard Matthews continued his solid week with another strong practice on Friday. Matthews made a series of nice catches in team and one-on-one drills. Matthews received increased reps after Mike Wallace rested this week with a hamstring injury. Matthews is on the roster bubble this summer because the Dolphins are very deep at that position. Matthews is battling with veteran Brandon Gibson and rookie second-round pick Jarvis Landry for the slot-receiver position.
This was the first practice out of several where the Dolphins didn't have issues with the snap. Since Tuesday, Miami centers Nate Garner, David Arkin and Shelley Smith all had botched snaps throughout the week. Friday's practice was clean in that regard. Also, backup center Nate Garner returned to practice from an ankle injury. However, he did not participate in team drills.
More on the injury front, quarterback Matt Moore hurt his shoulder this week and will miss multiple practices. He will not play in Saturday's scrimmage. The same goes for rookie receiver Matt Hazel (concussion) and linebacker Tariq Edwards (knee).
Here is the Dolphins' weekend schedule: Miami will hold its annual scrimmage Saturday at 9:30 a.m. ET at Sun Life Stadium. Then, the Dolphins will take the day off Sunday. Their first preseason game is Aug. 8 against the Atlanta Falcons.
July, 31, 2014
Jul 31
1:00
PM ET
DAVIE, Fla. -- A daily review of the hot topics coming out of
Miami Dolphins
training camp:
After a poor practice on Wednesday, the Dolphins' offense responded Thursday with a better session. Miami's offense was crisper with fewer drops and no apparent sacks. Quarterbacks Ryan Tannehill and backup Pat Devlin both made several nice throws in the full-padded practice. Dolphins tight end Charles Clay and receiver Rishard Matthews were two who consistently made plays.
However, there was a recurring issue with poor snaps. On Thursday, centers Nate Garner and David Arkin combined for three bad snaps in team drills. The Dolphins have been plagued by bad snaps all camp with Pro Bowl center Mike Pouncey sidelined with a hip injury. Garner, Arkin and Shelley Smith have all experienced bad snaps in the first week of camp. "In football, you can't win with the ball on the ground," Dolphins head coach Joe Philbin said. "I'm confident we're going to get it fixed."
On the injury front, receiver Mike Wallace (hamstring), center Sam Brenner (ankle) and receiver Damian Williams (unknown) all sat out practice Thursday. Receiver Matt Hazel and defensive tackle Anthony Johnson were banged up in practice and did not finish.
Miami had a good session of one-on-ones between the offensive line and defensive line. The Dolphins' defensive line has mostly won in camp, but the offense showed well on Thursday. Among the one-on-one victories were left tackle Branden Albert over defensive ends Olivier Vernon and Dion Jordan, and first-round pick Ja'Wuan James over defensive end Terrence Fede.
The Dolphins will return to the practice field Friday at 8 a.m. ET for their final practice of the week. Miami will hold its annual team scrimmage at Sun Life Stadium on Saturday at 9:30 am.
June, 17, 2014
Jun 17
4:31
PM ET
DAVIE, Fla. --
Ryan Tannehill
was tested during his first two years with the
Miami Dolphins
. In 2012, he was a rookie starter surrounded by veterans. Last year, Tannehill gained some comfort but still wasn't a vocal leader the Dolphins desperately needed it.
[+] Enlarge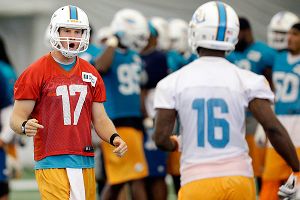 AP Photo/Wilfredo LeeMiami QB Ryan Tannehill doesn't hold back when criticizing a teammate during Tuesday's minicamp.
However, times appear to be changing for Tannehill in Year 3. In what is essentially a make-or-break year for Tannehill, who is 15-17 as a starter, he is already showing the kind of fiery leadership the Dolphins lacked from past quarterbacks.
Tannehill got into the face of two receivers and yelled at them for missed assignments Tuesday during the opening of mandatory minicamp. It was uncharacteristic to see the mild-mannered Tannehill chewing out teammates in public. But it could be another step in the right direction for Tannehill's overall development.
"I think now I'm more apt to step up and say something, make a statement," Tannehill explained after practice. "That's part of playing the QB position. Now I feel more comfortable. I have the respect of my teammates around me and I can do that."
Tannehill's increased vocal leadership didn't go unnoticed with Dolphins head coach Joe Philbin.
"It's just one of those things in a competitive situation, and Ryan is a competitive guy," Philbin said. "He wants to make sure everyone is on the same page. I think he's done a really good job."
Both of Tannehill's run-ins were due to receiver mistakes. First, slot receiver
Rishard Matthews
cut off his route early and appeared to give up on a broken play. That caused a would-be quarterback sack on Tannehill. After the play, Tannehill ran up to Matthews and screamed at the receiver to play through the whistle.
The second example came late in practice when Tannehill and the offense already had a frustrating day. Rookie receiver
Gerald Ford
didn't know his assignment, which upset Tannehill and caused a verbal tongue-lashing.
"I'm a rookie, so I kind of expected it," Ford said of getting yelled at by Tannehill for the mistake.
So what did the rookie receiver say to his starting quarterback afterwards?
"I'm sorry leader," Ford said, sparking laughter from the media. "It won't happen again."
Whether Tannehill's increased leadership translates well on the field remains to be seen. The Dolphins' offense as a whole struggled Tuesday. There were three interceptions (one by Tannehill and two by
Matt Moore
), four would-be sacks allowed, a few drops and overall sloppy play.
Miami is implementing a new offense under first-year assistant coach Bill Lazor and continues to experience growing pains. Right now, Miami's defense remains well ahead of its offense.
"Today wasn't our best day," Tannehill admitted Tuesday. "We've had much better days as an offense all around -- getting line up, playing fast, throwing the ball, protecting. We just didn't have our best day today. That's what this time is for."
May, 24, 2014
May 24
1:30
PM ET
DAVIE, Fla. – On the first day of rookie minicamp, new
Miami Dolphins
receiver
Jarvis Landry
worked on routes needed as a slot receiver, an outside receiver, played gunner on special teams and even discussed the possibility of returning kicks. It could be that kind of rookie year for Miami's second-round pick.
[+] Enlarge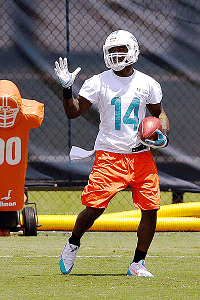 AP Photo/Wilfredo LeeReceiver Jarvis Landry could see immediate playing time as a rookie because of his versatility.
The Dolphins ignored bigger needs earlier this month and drafted Landry because he's a versatile and hard-nosed football player. He's a wide receiver with the toughness of a hard-hitting safety. In fact, Landry was among LSU's leaders in special-teams tackles during the early part of his collegiate career. That helped him earn the status of team captain last season.
But finding a role in Miami as a rookie will be one of the challenges for Landry and the Dolphins' coaching staff. The team already is deep at receiver with veteran starters
Mike Wallace
and
Brian Hartline
, in addition to quality backups
Brandon Gibson
,
Rishard Matthews
and
Damian Williams
. Landry could be as high as third on Miami's depth chart by the end of training camp or as far back as fifth or sixth.
Rookie minicamp and organized team activities are valuable for Landry to begin finding his niche.
"It's been a little bit of everything, just trying to learn the system as much as I can and trying not to be so one-dimensional," Landry said Friday after his first practice. "[Coaches] have been putting us in different positions, making us learn every position on the field. It increases our chances of having success no matter where we line up."
Special teams is a sure-fire way for Landry to get playing time in his rookie year. Landry was a strong gunner at LSU and also sure-handed enough to return kicks, despite the fact he doesn't have blazing speed.
If Landry or another rookie (
Matt Hazel
?) proves they can return kicks, it could put specialist
Marcus Thigpen
on the hot seat. The Dolphins like players with position flexibility and Thigpen hasn't provided much as a backup running back or wide receiver.
"There are a lot of guys that have those [return] skills, and that's what we're out here doing, just kind of further investigating," Dolphins general manager Dennis Hickey said. "It's one thing to do it at the college level. It's another thing to do it at the NFL level. That's what our coaches are working with these guys."
Learning multiple positions as a rookie is not easy. It is difficult enough making the physical transition from college to the pros. However, Landry must be on top of the playbook at multiple positions mentally, as well.
"It's very challenging, but the coaches, they give tasks and they expect them to be met," Landry said. "It's my job to study the way that I need to be on the field and have an effective offense."
October, 28, 2013
10/28/13
12:00
PM ET
A review of four hot issues from the
Miami Dolphins
' 27-17
loss
to the
New England Patriots
:
Slumping Fins:
The Dolphins lost their fourth game in a row and second straight to an AFC East opponent. All the good vibes from Miami's 3-0 start has been completely erased, and now you must question this team's confidence. The Dolphins continue to show good effort. But do they have enough talent and focus to overcome this slump? Or will this team go in the tank after such a bad losing streak? Miami hasn't won a game since Sept. 22.
[+] Enlarge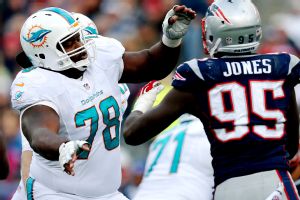 AP Photo/Michael Dwyer)Bryant McKinnie held Chandler Jones to zero sacks and helped the Dolphins to 156 rushing yards.
Revisiting McKinnie decision:
Miami made a risky decision to start new left tackle
Bryant McKinnie
after just three practices with the team. The Dolphins acquired McKinnie on Oct. 21 in a trade with the
Baltimore Ravens
. He got his first start Sunday and played relatively well. McKinnie held New England's best pass-rusher in
Chandler Jones
to six tackles and zero sacks. Miami also had its best running day of the season. The Dolphins gained 156 rushing yards and averaged 5.0 yards per carry. McKinnie should improve with more practice time. He was already an upgrade over former starting offensive tackle
Tyson Clabo
.
Replacing Gibson:
The Dolphins are expected to lose slot receiver
Brandon Gibson
for the season with a significant knee injury. Miami will have further tests on Gibson's knee this week. But the receiver was on crutches in the locker room and didn't sound like a player who was coming back anytime soon. Gibson was a favorite of Tannehill and will be hard to replace in the slot. Backup
Rishard Matthews
will take Gibson's place. But Miami only has three healthy receivers on its 53-man roster.
Trick or treat:
Things do not get easier for Miami. The Dolphins will face a first-place team for the second straight game when they host the
Cincinnati Bengals
(6-2) on Thursday, which is Halloween night. The Bengals are very talented and thrashed the
New York Jets
, 49-9, on Sunday. The Dolphins beat the Bengals last year in Cincinnati, which surely hasn't been forgotten. This will be a tough matchup to for the Dolphins to try to save their season.
October, 27, 2013
10/27/13
7:05
PM ET
FOXBOROUGH, Mass. -- The
Miami Dolphins
had a tough day with the officials. The biggest call came in the fourth quarter following a sack on
New England Patriots
quarterback
Tom Brady
.
Down three points, Dolphins defensive back
Jimmy Wilson
forced Brady to fumble with nine minutes left in the game. Miami defensive end
Olivier Vernon
was closing in on the recovery but could not corral the football.
The ball bounced 14 more yards and Patriots left tackle
Nate Solder
recovered at Miami's 45-yard line. However, the official threw the flag on Olivier for illegally batting the ball forward.
Instead of losing 22 total yards, New England gained 10 yards on the penalty. The 32-yard swing led to the Patriots scoring their final touchdown four plays later in a
27-17 victory against Miami
.
"You know, our stance was we thought he was trying to recover it," Dolphins head coach Joe Philbin said. "And they said he illegally batted it."
Here was referee Walt Anderson's explanation after the game via the pool report:
"The official on the field, what he ruled was that the player batted it forward, which is an intentional act. Players cannot bat the ball forward. With it being the defensive team they couldn't bat it in that direction. The offensive team likelwise could not have batted it forward from their side of the field."
Anderson further explained that the play was not reviewable.
Players in Miami's locker room would not elaborate much on the questionable officiating Sunday. That may have been an edict from Philbin. It also prevents players from getting fined.
There were a few other plays such as a defensive holding call on Miami cornerback
Dimitri Patterson
and a potential sideline catch by receiver
Rishard Matthews
that didn't go the Dolphins' way. But Vernon's call was clearly the most important.
"I was trying to make a play," Vernon said. "But the ref called it and that's what it is."
October, 27, 2013
10/27/13
5:48
PM ET
FOXBOROUGH, Mass. -- The crutches and a downtrodden look on
Brandon Gibson
's face told the story Sunday evening. Gibson is most likely done for the year with a significant knee injury.
Gibson
Gibson blew out his knee in the first quarter of Sunday's
27-17 loss
to the
New England Patriots
. Gibson jumped high for an errant
Ryan Tannehill
and landed awkwardly. He needed help off the field, was eventually carted back to the locker room and never return to the game.
There is a strong chance Gibson won't return this season. According to an NFL Network report, Gibson has a torn patella tendon in his left knee, and that injury usually takes at least six months to recover.
The Dolphins will have further tests on Gibson Monday once the team returns to South Florida. But the receiver didn't sound like a player who expects to return to the field any time soon.
"I think each and every game was a good experience for me," Gibson said in the locker room, while reflecting on his season. "I feel like I was getting better. ... But this kind of puts a damper on it now."
When asked about Gibson's status during his post-game press conference, Dolphins head coach Joe Philbin said "I hadn't really spoken to anybody about it." Miami probably won't confirm the severity of Gibson's injury until the team has to decide whether to place him on injured reserve.
The Dolphins (3-4) only have three healthy receivers on their 53-man roster. With nine games remaining, Miami must find some answers and depth at receiver with Gibson out.
Miami currently has
Mike Wallace
,
Brian Hartline
and second-year receiver
Rishard Matthews
on the 53-man roster.
Ryan Spadola
and
Nathan Palmer
also are on the practice squad.
For now the pressure is on Matthews to step up. The Dolphins like to run a lot of three-receiver sets, which would require Matthews to get a lot of playing time. Miami could also change its offense and go to more two tight-end sets.
Gibson was having a solid season. He recorded 30 receptions for 326 yards and three touchdowns. All three of his touchdowns were in the past two games.
Gibson was quietly on of this year's best free-agent pickups for Dolphins general manager Jeff Ireland. Now, Ireland must come up with another solution to keep Miami's passing offense going.
July, 29, 2013
7/29/13
10:00
AM ET
The
Miami Dolphins
suffered their first season-ending injury of training camp over weekend. Backup receiver
Armon Binns
landed awkwardly on his leg Sunday and
suffered a torn ACL
in his left knee.
Binns had a solid spring and made several plays during the first week of training camp. He was the early favorite for the No. 4 receiver job behind starters
Mike Wallace
,
Brian Hartline
and slot receiver
Brandon Gibson
. Binns caught 24 passes for 277 yards and a touchdown during his split time last season with Miami and the
Cincinnati Bengals
.

With Binns out, the backup receiver positions are wide open. The Dolphins are expected to keep five or six receivers on their 53-man roster. Wallace, Hartline and Gibson are the only locks, leaving as many as three spots remaining.
Here are the early candidates:
No. 1: Marvin McNutt
Skinny:
McNutt has made the most big plays of all the backup receivers in camp, including Binns. McNutt now has the inside track to become one of Miami's top reserves at receiver.
No. 2: Rishard Matthews
Skinny:
Matthews surprised Miami last year as a seventh-round draft pick. But a recent camp injury will result in missed time and put him behind the rest of the group.
No. 3: Jeff Fuller
Skinny:
Binns' injury opens up a golden opportunity for a player like Fuller. He has good size and is a former college teammate of Dolphins quarterback
Ryan Tannehill
. However, Fuller remains inconsistent in camp.
No. 4: Brian Tyms
Skinny:
He's a raw talent who flashed in the spring but has disappeared so far in training camp. Unless he produces big in preseason games, Tyms could be a practice-squad option.
No. 5: Jasper Collins
Skinny:
The Dolphins like his ability to return kicks. But Collins hasn't done much in training camp as a receiver. That's probably not enough to make the 53-man roster.
Other candidates:
Kenny Stafford
,
Chad Bumphis
,
Andrell Smith
.
July, 28, 2013
7/28/13
11:00
AM ET
DAVIE, Fla. -- The tough questions came at a furious pace in the first week of
Miami Dolphins
training camp.

Is this team a legitimate playoff contender?
When will we see big plays from free-agent signing Mike Wallace?
Can rookie and No. 3 overall pick Dion Jordan make a huge and immediate impact?
Welcome to the world of the 2013 Dolphins. This is not your typical, hapless South Florida football team with low expectations. This year's Dolphins are gunning for the postseason and have a roster good enough to do damage in the AFC.
The Dolphins have not been to the playoffs since 2008. But this year's Miami team is deeper and more talented than any in recent memory, which has raised the bar.
"You want to have great expectations for yourself, but at the same time you don't want to put too much on yourself," Dolphins second-year coach Joe Philbin said. "You just want to go in and work every single day to get better. We aren't predicting anything or say we are going to do this or that."
Are the Dolphins true contenders this season? Let's examine some key issues.
THREE HOT ISSUES
1. Can the Dolphins catch the Patriots?
Seemingly every move Miami made this offseason had something to do with closing the gap with the reigning AFC East champion
New England Patriots
.
The Dolphins had an inconsistent pass rush and needed more to rattle Patriots quarterback
Tom Brady
. As a result, Miami traded up eight spots to No. 3 and drafted the super-athletic Jordan to pair with Pro Bowl defensive end
Cameron Wake
.
Miami also had the 27th-ranked pass defense because of poor cornerback play and slow linebackers. The Dolphins fixed that by signing former Pro Bowl cornerback
Brent Grimes
and speedy linebackers
Dannell Ellerbe
and
Philip Wheeler
in free agency.
[+] Enlarge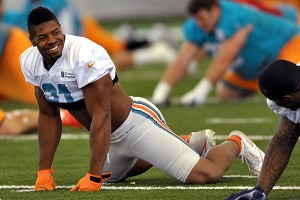 Steve Mitchell/USA TODAY SportsWith its pass rush lacking last season, Miami will need Pro Bowler Cameron Wake to be a force again in 2013.
The Dolphins' pass offense also wasn't up to par last season and had only one touchdown reception from the receiver position. As a result, Miami signed tight end
Dustin Keller
and receivers
Brandon Gibson
and Wallace in an effort to score points and keep up with New England, which led the NFL in total offense in 2012.
The Patriots have been on top of the division for the past dozen years. But considering New England's offseason troubles and Miami's upgrades, the Dolphins believe they have a shot to make a run in the division.
"Nobody stays on top forever, and the underdog will have his day," Ellerbe said this week. "And I feel like we're an underdog right now. It's a new season and only time will tell."
2. Will QB Ryan Tannehill thrive in Year 2?
The 2012 quarterback class exploded on the scene last season.
Andrew Luck
of the
Indianapolis Colts
,
Robert Griffin
III of the
Washington Redskins
and
Russell Wilson
of the
Seattle Seahawks
all led their teams to the playoffs. Tannehill, who won seven games in Miami, was a cut below. Now, he is expected to take the next step in Year 2.
Miami cannot afford a sophomore slump from Tannehill. The Dolphins built the offense around his strengths and put the right pieces in place for him to thrive. His presence and mentality as a leader are apparent.
"Last year, I didn't know what to expect coming in other than coming in and fighting for a job," Tannehill said. "This year I got to really use the offseason to grow my leadership, set things up, get with guys. Now coming in I can really focus on taking this team to the next level, doing everything I can to improve my game and to help improve the guys around me as well."
Tannehill got off to an uneven start in training camp. He had a particularly poor practice last Tuesday, when he threw a pair of pick-sixes to Ellerbe and safety
Chris Clemons
. Poor sessions like that are reminders that Tannehill has only 16 NFL starts and still has a lot to learn. However, Tannehill strung together better practices later in the week.
3. Can RB Lamar Miller carry the load?
The AFC East blog touched on this topic earlier in the week. Miller, a second-year tailback, is expected to replace former starter
Reggie Bush
this season. Keep in mind that Miami is putting a lot of stock in Miller after just 51 carries last season. To Miller's credit, he led the Dolphins with 4.9 yards per carry.
Durability will be the biggest question. Miller had injury issues in college, which is one of the reasons he fell to the fourth round of the 2012 draft. But Miller has looked healthy and effective so far in training camp.
"I feel very comfortable just getting used to running the ball, the offensive line scheme and just being [involved] more," Miller said last week. "I just know what I'm doing. I'm not second-guessing too much, and I'm just doing what the coaches are telling me to do. Last year, I was thinking about it too much."
One of the big things Miller must improve on is his pass protection. It was one of the reasons he failed to get consistent playing time last season. Miller spent a lot of time this offseason with
San Francisco 49ers
running back
Frank Gore
to work on becoming a complete tailback.
REASON FOR OPTIMISM
The Dolphins are a faster and more dynamic this year. Practices are faster and there's more talent flying around the football field.
One of the biggest complaints in Miami the past few years has been that the Dolphins didn't have enough playmakers. Players such as Wallace, Keller, Ellerbe, Grimes and Jordan were all added to change the makeup of the team. The added speed and athleticism are expected to add at least a couple wins to last year's total.
"I think we are faster as a football team," Philbin confirmed. "I think our play speed -- it's still a little bit early in camp to get a real good feel and to compare it to a year ago as to what it's going to be this year -- but I think it has the potential to be a very fast team."
REASON FOR PESSIMISM
I'm still not sold on Miami's offensive line. This is a group that was up and down last year, and the Dolphins lost their most proven player in former four-time Pro Bowl left tackle
Jake Long
.
[+] Enlarge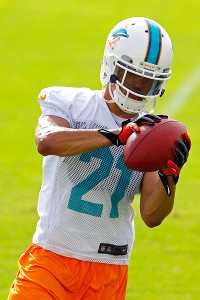 Robert Mayer/USA TODAY SportsComing off an Achilles injury, CB Brent Grimes has displayed his Pro Bowl form early in Dolphins camp.
Miami's offensive line is one of the thinnest groups on the team this year. As a result, the Dolphins have been doing a lot of experimenting to find the right combination of players in the first week of training camp.
The biggest question involves new left tackle and 2012 second-round pick
Jonathan Martin
. He will replace Long and plays an important role in protecting Tannehill's blind side. Martin was inconsistent at left tackle late last season while Long was injured. His performance in camp so far has been average. We've seen both good and bad from Martin.
Projected starting guard
John Jerry
suffered an injury in the first week, which has affected depth on the team. Miami is trying rookie
Dallas Thomas
as the starting guard and also exploring
Mike Pouncey
at guard. This is clearly not one of the team's strengths.
OBSERVATION DECK
Dolphins backup quarterback Matt Moore looks solid early in training camp. Moore has been mostly efficient and accurate playing with the backup units. Moore also has thrown the deep ball well. A case can be made that Moore has been the most consistent quarterback in the first week of training camp. This is a rare year in Miami where there is no quarterback competition or controversy. But Moore is proving to be one of the best veteran backup quarterbacks in the NFL and looks ready if Tannehill is injured.
Grimes has made several "wow" plays and looks 100 percent recovered from his Achilles injury. Grimes missed most of last season with the Atlanta Falcons, and the Dolphins signed the former Pro Bowl corner to a one-year contract because of durability concerns. Grimes is very athletic, which helps him overcome his lack of size. Grimes and Wallace have had some very good battles in camp, and it's making both players better.
Miami's kicking competition so far is going to the incumbent. Veteran Dan Carpenter has been more accurate in the first week of training camp. Rookie Caleb Sturgis, a fifth-round pick, came to the Dolphins with strong credentials. But Sturgis missed several kicks this week, and that's put him behind Carpenter early. Sturgis also injured his groin in the first week and missed some practice time. Financially, the Dolphins could save more than $2 million this year by going with Sturgis. But the company line is that the best player will win the job.
The deepest part of Miami's roster is its defensive line. The Dolphins have a very strong rotation of starters and backups at both defensive tackle and defensive end. Wake, a Pro Bowler last season, is joined by Jordan and young upstart Olivier Vernon, who has been very impressive in camps. Miami's defensive tackle rotation includes Pro Bowler Randy Starks, Paul Soliai and Jared Odrick, who has shifted to the position full time from defensive end. These players will be rotated to keep the defense fresh.
Miami's rookie cornerbacks are off to a slow start. The Dolphins invested second- and third-round picks in corners Jamar Taylor and Will Davis. Taylor missed all of OTAs and minicamps with a sports hernia injury and injured himself again in the second day of camp. Davis has stayed healthy but has allowed several big pass plays in the first week. Cornerback is a tough position to play in the NFL, and it will take time for Taylor and Davis to get up to speed.
The Dolphins' backup receiver positions are wide open. Miami is expected to keep at least five receivers on the 53-man roster this year, and only three spots (Wallace, Brian Hartline, Gibson) are locked up. Other receivers such as Armon Binns, Rishard Matthews and Marvin McNutt are battling for the final spots. They all occasionally show flashes, but consistency has been an issue.
Finally, the role of fullback appears to be reduced compared to last season. The Dolphins are using more three-receiver sets this year, and tight ends Keller and Charles Clay at times have been moved around and used as an H-back. Versatility will be important for this position. Fullback Evan Rodriguez has been getting more looks with the starters lately than last year's starting fullback, Jorvorskie Lane.
May, 29, 2013
5/29/13
2:05
PM ET
DAVIE, Fla. -- The new-look
Miami Dolphins
held another practice this week that was open to the media. The AFC East blog was live in attendance to catch all of the action.

Here are some notes and observations from Wednesday's practice:
August, 12, 2012
8/12/12
10:20
PM ET
The
Miami Dolphins
released the best receiver in their training camp
Sunday night, cutting six-time Pro Bowler
Chad Johnson
after he was charged with domestic abuse. He was on pace to be the No. 1 receiver in Miami's new West Coast offense.
So what's next for Miami's passing game? That is the big question facing first-year Dolphins head coach Joe Philbin.

Here is a look at Miami's remaining receivers:
It's not a star-studded group -- but it's what the Dolphins are left with after cutting Johnson. The Dolphins clearly didn't feel the 34-year-old veteran was worth the headache and distraction he brought to the locker room.
But someone from this group must step up. Hartline, Naanee and Bess are the most proven; they will get the first chance. After that, younger receivers like Wallace, Pruitt and Gates have a chance to finally live up to their potential.
The Dolphins set an example of character over talent by cutting Johnson. But it's a decision Miami also has to live with on the field.
April, 29, 2012
4/29/12
2:30
PM ET
The first-round pick was obvious. Everyone knew the
Miami Dolphins
loved former Texas A&M quarterback
Ryan Tannehill
with the No. 8 overall pick, which went according to form.
But after that, I was curious when Miami was going to take a wide receiver in the draft. It didn't happen in the second round. It didn't happen in the third, fourth or fifth rounds.
Miami finally drafted a pair of receivers in the sixth and seventh rounds. The Dolphins selected
B.J. Cunningham
of Michigan State and
Rishard Matthews
of Nevada.
"I think we drafted a couple good players that we think could ascend," Dolphins general manager Jeff Ireland said. "But weren't going to reach. That's not my philosophy."
Does Miami have enough to be effective at wide receiver next season? Here is a look at the players currently on the roster.
According to rookie head coach Joe Philbin, the West Coast offense doesn't need a star, No. 1 target. But projected starters Brian Hartline and Devone Bess and possibly Legadu Naanee could be put in roles bigger than what they are used to.
Miami traded Pro Bowl receiver
Brandon Marshall
to the
Chicago Bears
in the offseason. The Dolphins expect to throw the ball a lot with a new West Coast offense, probably more than last year, despite a group with a lot to prove.
"The more guys you can get into different spots to create mismatches for the defense, the better you're going to be," Philbin said. "I don't think we lock in."
With the draft complete and free agency all but done, this is probably the receiver group Miami rolls with next season. Is this group good enough to produce in 2012?

NFL SCOREBOARD
Thursday, 9/18
Sunday, 9/21
Monday, 9/22
WEEKLY LEADERS