November, 18, 2012
11/18/12
5:11
PM ET

All week, the
New York Jets
have
been a train wreck
.
It started last Sunday with an embarrassing loss to the
Seattle Seahawks
. Later in the week, anonymous
players ripped backup
quarterback
Tim Tebow
, who seemed like an odd target for the team's struggles.
Then, Jets owner Woody Johnson laid down the gauntlet by saying what the Jets are
doing is unacceptable
.
"I didn't sign up for a 3-6 season," the Jets boss said bluntly.
This all had the makings of another Jets implosion. Instead, New York set aside its various distractions and picked up a 27-13 victory over the
St. Louis Rams
.
Jets quarterback
Mark Sanchez
was an efficient 15-of-20 passing for 178 yards and a touchdown in the win. New York's defense forced three turnovers.
New York improved to 4-6 and ended a three-game losing streak that spanned 35 days thanks to a bye. More importantly, the Jets jumped from fourth place to second place in the AFC East via tiebreakers and kept their slim postseason hopes alive.
The Jets versus the
New England Patriots
is one of the NFL's great rivalries -- and it is much better when something is at stake for both teams.
Sunday's win by the Jets makes Thanksgiving's nationally televised home game against the rival Patriots more meaningful. For New England, it's a chance to put the final nail in the coffin on New York's season. That is something the Rams failed to do. For the hosting Jets, it's a chance to stay alive in the wild-card chase and perhaps close the gap with the Patriots in the AFC East.
A loss to the Rams this weekend would not have made that possible. The Jets would've been 3-7, floundering and with nothing to play for. New York's win at least gives the Jets some much-needed confidence and motivation. The Jets played the Patriots extremely tough at Gillette Stadium during a 29-26 loss in Week 7.
After Sunday's game, Johnson had nicer words for his team.
"Nice team win in St. Louis today,"
the Jets' owner tweeted
.
Here are some other AFC East notes from Week 11:
The Buffalo Bills and Miami Dolphins are also 4-6. Therefore, no team in the division is mathematically eliminated. But the Bills have the easiest schedule of the three teams. Only two of Buffalo's final six games are against teams currently with winning records. The Bills have a shot to win many of these games if they get hot at the right time. They have a huge game next week against the Colts, who currently hold a wild-card spot in the AFC.
The Dolphins' playoff hopes look all but over after their Thursday night loss to the Bills. They play three consecutive postseason contenders. Miami will host the Seahawks (6-4) next week, followed by the Patriots and San Francisco 49ers. I think, at best, Miami finishes 1-2 in this span and falls out of contention. But there is also a good chance the Dolphins drop all three games.
It was interesting to see former Miami quarterback Chad Henne light up the Houston Texans on Sunday for four touchdowns. Henne replaced starter Blaine Gabbert and threw for 354 yards in an 43-37 overtime loss. This game has dual meaning for the AFC East. First, the Dolphins gave up on Henne after four inconsistent years. They drafted rookie quarterback Ryan Tannehill and moved on. Second, Houston is one of the biggest threats to New England in the AFC. But the Texans showed a lot of holes in a pass defense that New England and quarterback Tom Brady could exploit. The Patriots will host the Texans on Dec. 10 on "Monday Night Football." There is also a good chance both teams will meet in the playoffs on the road to the Super Bowl.
December, 30, 2010
12/30/10
4:55
PM ET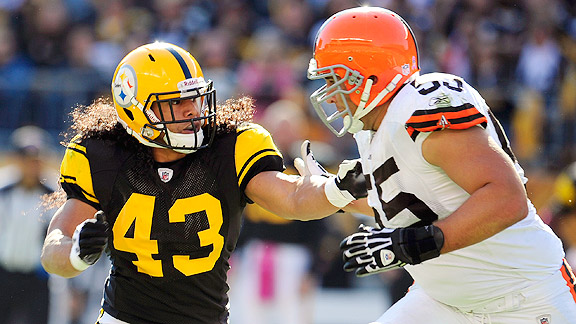 Icon SMITroy Polamalu, left, and the Steelers have dominated the Browns for the past 12 seasons.
BEREA, Ohio -- For more than a decade, it's been the same old story in Cleveland.
The
Steelers
come to town, the city gets hyped for the rivalry and then Browns fans are disappointed after another Pittsburgh win. Rewind. Recycle. Repeat.
Sure, the Browns split last season's series (including a rare win at home). But including playoffs, Pittsburgh has won an astounding 20 of the past 24 meetings with the Browns, including a 28-10 victory this year at Heinz Field. Cleveland (5-10) has a long way to go to close the gap as the playoff-bound Steelers (11-4) once again are heavily favored in Sunday's regular-season finale at Browns Stadium.
This once-intense rivalry has been surpassed in the division by Pittsburgh's heated battles with the
Baltimore Ravens
-- and it's not even close. But there is hope for the Browns.
The AFC North blog offers five ways Cleveland can help rekindle this rivalry that dates to 1950:
1. Browns must take the rivalry more seriously
Don't believe the spin coming out of Cleveland. The Browns have not taken this game as seriously as Pittsburgh has recently.
In Cleveland's first game back in its return to the NFL in 1999, the Steelers pounded the Browns in Cleveland, 43-0. That set the tone for this stellar run by the Steelers the past 12 seasons.
"Ah, man, [we take it] very serious," Steelers receiver
Mike Wallace
said of games against the Browns. "We know that they don't like us there in Cleveland, and we don't like them very much over here either. So it's a big-time game."
"I was just telling someone the other day, it's just such a unique game in a lot of aspects," Steelers coach Mike Tomlin said. " The close proximity -- I can't say I've been involved in a bus trip in any NFL city that I've been in. It's just not the nature of our business." (Pittsburgh and Cleveland are only 130 miles apart, roughly a 2 1/2-hour bus ride. Each team takes a bus to these games.)
Added Tomlin: "Of course, the history of the two organizations and the success that they've had in the history make it a unique matchup." (Pittsburgh leads the all-time series, 61-56, including two playoff wins.)
I've spent a lot of time in both locker rooms the past three years, and there is a significant difference in culture and expectation. Cleveland hopes to win this game, but Pittsburgh expects to win -- and win big.
The expectation level for both organizations is a world apart, and until that changes, the Browns will not close the gap on the Steelers. For example, Pittsburgh went 9-7 last year and you would think it was 0-16 by how upset the players were. Two assistant coaches also were let go after the Steelers' nine-win season.
How would the Browns react if they were 9-7? Think about that.
2. Cleveland must find a quarterback it can count on
Pittsburgh has an advantage over Cleveland in most personnel areas. But the most important position is quarterback, and that's been one of the biggest disparities the past several years.
On one side, the Steelers have two-time Super Bowl-winning quarterback
Ben Roethlisberger
. On the other, the Browns have had a revolving door that includes
Brady Quinn
,
Derek Anderson
,
Charlie Frye
, etc.
[+] Enlarge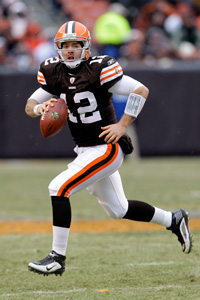 AP Photo/Tony DejakThe Browns hope rookie QB Colt McCoy develops into a worthy rival for Pittsburgh's Ben Roethlisberger.
Cleveland might have found its counter in rookie quarterback
Colt McCoy
. The 2010 third-round pick has had only one awful game in seven starts.
In the first meeting with Pittsburgh, many expected McCoy to fail in his first NFL game. But McCoy looked poised at Heinz Field, throwing for a season-high 281 yards, one touchdown and two interceptions. He also completed 69.7 percent of his passes against the NFL's No. 2 defense. Afterward, the Steelers said they were impressed with the rookie.
"I watched the tape when we played earlier in the season, [and] I watched myself and thought, 'Man, I've come a long ways from that. I'm playing a lot better.'" McCoy said this week.
3. Develop continuity
The Browns are expected
to get rid of another head coach
(Eric Mangini) and make their fifth head-coaching hire in 12 years. With a new coach usually comes different players, and there has been a lot of roster turnover in Cleveland.
With so many people coming in and out of the organization, the importance of beating Pittsburgh can get lost. Meanwhile, the Steelers are a model for consistency. Pittsburgh has
three
head coaches since 1969.
It makes good coaching and personnel decisions that provide stability, and it's understood that beating Cleveland is expected every year.
There are some career Browns such as kicker
Phil Dawson
, receiver
Josh Cribbs
and left tackle
Joe Thomas
who have a firm understanding of the rivalry. But too much turnover in Cleveland has made it difficult for that message to sink in with all 53 players.
4. Cleveland must win


A rivalry isn't strong unless both teams are winners. This has been one of the more lopsided division matchups in the league for the past decade.
The Browns have nine seasons with 10 or more losses and only two winning seasons since 1999. Mangini is 2-9 against AFC North opponents since joining the Browns in 2009. In their win against Pittsburgh last season, the Browns found a winning formula by making the game low-scoring and not making many mistakes. They likely will look to win that way Sunday. Cleveland isn't good enough now to sweep the Steelers, but winning more home games against Pittsburgh would start to develop confidence and momentum.
"We've had success against them a lot of different ways in the past. Some of it's scheme," Mangini explained. "Josh has done a good job against them in the past with some of the Wildcat stuff. ... Now being able to do it consistently, that's the important thing and that's the challenging thing."
5. The Browns must become a contender
This final step is perhaps the most difficult. Not only must the Browns beat Pittsburgh consistently to make it a rivalry, but Cleveland must win marquee games. This is what makes the Steelers-Ravens rivalry special. When those teams play, first place in the AFC North and playoff implications are in play. Ravens-Steelers games get national exposure because both organizations are consistently good.
The Browns have a long way to go for this final step, as evidenced by their one playoff appearance in the past 12 seasons. But if Cleveland is going to turn the franchise around, it must get by Pittsburgh -- and lately that's been nearly impossible.
September, 28, 2010
9/28/10
2:02
PM ET
Oh my!
That was my initial reaction when the AFC North reigned supreme at the top of
ESPN.com's latest Power Rankings
. The undefeated
Pittsburgh Steelers
, arguably the NFL's biggest surprise at 3-0, were voted by our panel as the league's best team, despite quarterback
Ben Roethlisberger
's four-game suspension.
Let's take a closer look at all the rankings in the division.

Pittsburgh Steelers (3-0)
Cumulative ranking:
No. 1
Walker's ranking:
No. 4
Analysis:
I don't want to sound like a broken record, but I've remained a couple of steps behind ESPN.com's panel on the Steelers' vote. I really like this team's toughness and character, and once Roethlisberger returns Oct. 17, the Steelers will be a complete team. But I don't agree that Pittsburgh, right now, is the best team in the NFL. I voted Pittsburgh No. 4 behind the
Indianapolis Colts
,
New Orleans Saints
and
Green Bay Packers
. I don't believe Pittsburgh can beat all of those clubs right now without Roethlisberger. But apparently I'm on my own Power Rankings island with that one. ESPN.com senior writer John Clayton and AFC South blogger Paul Kuharsky both voted the Steelers as the NFL's best team, while NFC West blogger Mike Sando voted Pittsburgh No. 2.

Baltimore Ravens (2-1)
Cumulative ranking:
No. 8
Walker's ranking
: No. 5
Analysis:
Baltimore,
ESPN.com's preseason pick
to win the Super Bowl, is not playing up to its potential through the first three games. But the Ravens remain in solid position, one game behind Pittsburgh leading into
this week's AFC North showdown
. The panel is all over the place with this team, which is indicative of Baltimore's inconsistent play. Clayton, who watched the Ravens in person against the Bengals, voted Baltimore the lowest at No. 12. Kuharsky had the Ravens the highest at No. 4. I rated the Ravens No. 5, one spot below Pittsburgh.

Cincinnati Bengals (2-1)
Cumulative ranking:
No. 12
Walker's ranking:
No. 12
Analysis:
Despite beating the
Carolina Panthers
, 20-7, the Bengals fell one spot to No. 12 in this week's Power Rankings. Cincinnati's offense -- and particularly quarterback
Carson Palmer
-- isn't playing well and
it's starting to become a concern
. The weapons are there this year at receiver and tight end. So it's natural for the quarterback to get most of the blame. But the defense looks like the top 4 unit it was in 2009, and that's been enough so far for Cincinnati to win games.

Cleveland Browns (0-3)
Cumulative ranking:
No. 30
Walker's ranking:
No. 29
Analysis:
The Browns stayed put at No. 30 for the second straight week. Cleveland isn't the worst team in the league, but it has a long way to go to turn its season around. The Browns have been in every game this year. But when it comes time to make a big play or get a big stop in the second half or fourth quarter, the Browns fail to do so every week. Cleveland has a rivalry game Sunday against Cincinnati at home, where the Browns have played the Bengals tough in recent years. Could this be Cleveland's first win?
September, 11, 2008
9/11/08
2:07
PM ET
Posted by ESPN.com's Tim Graham
Over the past seven years, two teams have won the AFC East. The New England Patriots won six of them. The New York Jets won the other in 2002.


When such dominance exists, on-field rivalries have a tendency to wither away. It takes extenuating circumstances such as Spygate or Bill Parcells' bluster to maintain intensity.
That's why it was so easy to pick Patriots-Jets as the best AFC East rivalry. Not only have they had the most success -- one far more than the other -- but they've also kept tensions high with their boardroom soap operas.
Nothing else in the division comes close because the Buffalo Bills haven't made the playoffs in eight years. The Dolphins haven't been there in seven years and haven't won a postseason game in eight.
Intensity Rating: 4. (All coaches and sideline personnel should be patted down for weapons before the national anthem.)
September, 11, 2008
9/11/08
2:06
PM ET
Posted by ESPN.com's Mike Sando
Let's face facts. Divisional rivalries are dead in the NFC West. The 49ers and Rams took part in a heated one back when both franchises were relevant, but our primary focus dates only to 2002. That was the year the NFL realigned into seven divisions, plus this one.


Problem is, only Seattle has managed a winning record over the last four seasons. The 49ers haven't had one since 2002. The Rams haven't had one since 2003. The Cardinals haven't had one since ... please hold ... 1998. Cardinals fans didn't know it at the time, but they would rue the day the franchise parted with Vince Tobin.
Against that sorry backdrop, we trot out the Seahawks-Rams rivalry as the greatest in the six-plus-season history of this reconfigured division. The Seahawks were gaining momentum under Mike Holmgren in the division's early years, but the Rams beat Seattle three times during the 2004 season alone, including the playoff game when Bobby Engram couldn't quite handle Matt Hasselbeck's end-zone pass in the closing seconds.
Seattle has won the last six meetings in the series, sweeping games in 2005, 2006 and 2007. The Rams countered by prying away Josh Brown, whose clutch kicking had doomed the Rams more than once. But with St. Louis coming off a 38-3 defeat in the opener, the Seahawks-Rams rivalry barely registers.
Intensity Rating: 0 (Sport the away team's colors at your leisure).
September, 11, 2008
9/11/08
2:03
PM ET
Posted by ESPN.com's Bill Williamson
This is a good time to talk division rivalries. The four teams in the AFC West are facing off this weekend. Oakland is at Kansas City in a battle of two old AFL teams, and San Diego visits Denver in a meeting of two teams have had solid success in recent seasons.
What is the best rivalry in the AFC West? Well, there are plenty of ways to answer this question. But the format here is on the field, over the course of the last five or six seasons.
In that


case, I have to go with San Diego and Denver. These have been the most consistent teams in the division during that time. If the format was longevity of the rival and what rivals affect the fans most, my answer would be different. I'd probably go with Denver and Oakland, but Oakland and Kansas City is also a good one. Both of those sets of rivalries had heated battles on the field in eras past.
But on the field, in recent years, it has to be the Broncos and Chargers.
This week's installment is going to be fairly juicy. The Chargers, who entered the season expected to walk away with the division, are 0-1 after being stunned by Carolina. Denver is the only 1-0 team in the division after smoking Oakland on Monday night. San Diego can't let the upstart Broncos take a two-game lead over them.
There is intriguing sidebars to add to the rivalry this week. Last Christmas Eve in San Diego, Chargers quarterback Philip Rivers taunted Broncos QB Jay Cutler during the game. The next week, Denver star cornerback Champ Bailey criticized Rivers for the action and said he never liked Rivers.
These have been the two best teams in the division in recent years, but San Diego crushed Denver by a combined score of 64-6 last season. The Broncos are looking for payback.
Just like in any good rivalry.
Intensity Rating: 4.
September, 11, 2008
9/11/08
2:01
PM ET
Posted by ESPN.com's James Walker
The rivalry between the Cleveland Browns and Pittsburgh Steelers is deep rooted and extremely intense. It has all the ingredients: history, proximity and a natural hatred.


The first game was played on Oct. 7, 1950, a 30-17 victory for the Browns. The two teams have played nearly every year since, with the exception of Cleveland losing its team from 1996-98.
The Browns have struggled since returning to the NFL in 1999 and the Steelers have taken advantage, winning nine straight and 15 of 16. A case can be made that the current one-sidedness has lessened this rivalry, but there's still legitimate heat between these two clubs. Plus, the overall series stands at 55-55 (not including postseason games), which shows an amazing amount of levelness over the past 58 years.
NFL fans will be treated to one of the league's best rivalries this Sunday.
Intensity Rating: 4 (Update friends and loved ones about your last will and testament)
September, 11, 2008
9/11/08
2:00
PM ET
Posted by ESPN.com's Paul Kuharsky
As with many things in the broad NFL picture, the AFC South's rivalries don't quite measure up. It's hard to have Bears-Packers, Redskins-Cowboys or Raiders-Chiefs when the 14-year old team in your division isn't even the baby of the family.
Our focus is supposed to be since realignment in 2002, so any mention of rivalries including the AFC South in that span has to start with the Colts and Patriots. They've played eight times since realignment, including three times in the playoffs, with Indy posting a 3-5 record. Five of those games were decided by seven points or less. And Peyton Manning's Colts vs. Tom Brady's Patriots definitely qualifies as the league's current marquee matchup. It's no coincidence the meeting this year in at Lucas Oil Stadium is on Nov. 2, during television's sweeps period.


In the division, I've got to go Jaguars-Titans as the current No. 1. Among the longer running series, it's the division's tightest with Tennessee holding a 15-12 edge after an opening day win over Jacksonville. And the two teams have twice peaked at the same time. In 1999, Jacksonville lost only three games, all of them to Tennessee, including the AFC Championship Game. Before Super Bowl XXXIV, Jeff Fisher joked that Alltel Stadium in Jacksonville counted as one of his team's many home fields. Last year they both went to the playoffs as wild cards. The two teams, which started their lives in SEC country within a year of each other, now have coaches in Fisher and Jack Del Rio who have what can only be classified as a "frosty" relationship.
Intensity Rating: 1 (Sport the away team's colors at your own risk).
Honorable mention: Colts-Jaguars is second, with Jacksonville finishing second three times in the Colts' current five-season run atop the division. But it's hard not to like Texans-Jaguars, too, as the upstart Texans actually own a 7-5 edge in the infant series.
All-Time Series Results
Colts 11, Texans 1
Titans 10, Texans 2
Colts 11, Jaguars 3
Colts 15, Titans 11
Texans 7, Jaguars 5
Titans 15, Jaguars 12
September, 11, 2008
9/11/08
1:59
PM ET
Posted by ESPN.com's Pat Yasinskas
It started as a verbal heavyweight bout with Warren Sapp, Kris Jenkins and Brentson Buckner arguing about who was the best defensive tackle in football. They're all gone, but that trio helped create the best rivalry in the NFC South.


Sure, everything's relative in a division where the four teams haven't been around forever and none of them have a very gaudy history, but the rivalry between the Carolina Panthers and Tampa Bay Buccaneers is very strong and very real.
It started with some training camp words from Buckner, who endorsed Jenkins as the best interior lineman in the league in 2003 and Sapp took exception. Things only escalated when the Panthers went down to Tampa and blocked three kicks in an overtime game that was one of the most physical contests in recent memory.
Through the years Carolina defensive lineman Kavika Pittman essentially had his career ended by what teammates said was a cheap block by Kenyatta Walker and Tampa Bay quarterback Chris Simms eventually lost his spleen after being hit front and back by Jenkins and linebacker Thomas Davis.
Oh, by the way, no account of this rivalry would be complete without mention of one of the more infamous stories of the last few seasons. Early on the morning before a 2005 meeting between these two teams, two members of Carolina's cheerleading squad were arrested after an incident in the restroom of a Tampa nightclub.
Intensity Rating: 2 (Have 911 on your cellular phone's speed dial).
September, 11, 2008
9/11/08
1:58
PM ET
Posted by ESPN.com's Kevin Seifert
This week, ESPN.com takes a look at the best rivalries in the NFL. Here in the NFC North, we might have seen the season highlight already: Green Bay Packers-Minnesota Vikings at Lambeau Field.


There have been some legendary games even in recent history. A 2002 game ended in an on-field brawl on the Vikings' sideline. In 2004, Vikings receiver Randy Moss performed his infamous Moon over Lambeau routine during a playoff victory. In 2006, the Packers held the Vikings offense to three first downs and 104 total offensive yards.
And who can forget this summer, when the teams' front offices tussled over the future of quarterback Brett Favre?
Since the birth of the NFC North in 2002, the Packers lead the series, 9-5.
Intensity Rating: 4 (Update friends and loved ones about your last will and testament).
Honorable mention: Green Bay-Chicago
September, 11, 2008
9/11/08
1:57
PM ET
Posted by ESPN.com's Matt Mosley
Partly because the NFC East has been together so long (forget the Cardinals), it has the best rivalries in the league. If you ask this question in Philly, you'll automatically hear Eagles-Cowboys, but the Redskins-Cowboys rivalry has deeper roots.


Cowboys coach Tom Landry and Redskins coach George Allen helped make this such a special game that the rivalry remained even when both teams went through rough periods. Former Cowboys quarterback Roger Staubach will still tell you that he hates the Redskins, and at the center of it all, was Allen. The Cowboys once rented out an entire floor of a hotel because it was next to their practice facility. Landry and GM Tex Schramm were convinced that Allen had placed spies in the building.
Former Cowboys Cliff Harris and Charlie Waters once told me that Landry asked players to stop practicing any time he saw helicopters flying above. Allen loved causing the paranoia. At one point, he claimed that he had seen a Cowboys scout hiding in a tree during practice.
On the field, the two teams played some unforgettable games. Perhaps the most famous was when a rookie named Clint Longley replaced an injured Roger Staubach on Thanksgiving Day 1974 and threw two touchdowns in the second half, the last with less than a minute left, to beat the Redskins, 24-23. It was less than two weeks after the Redskins had beaten the Cowboys, 28-21, at RFK and it only added to the rivalry's lore.
Now, I'm anxious to hear what you consider the biggest rivalry in the division. Do the Giants, Eagles and Redskins all view the Cowboys as their biggest rivals? Let me hear from you.
Intensity Index: 2 (It's not as heated as it was in the 1970s and 80s, but it still packs a punch).
NFL SCOREBOARD
Sunday, 2/2
WEEKLY LEADERS