NFL Nation:

Rob Bruggeman
July, 31, 2014
Jul 31
4:59
PM ET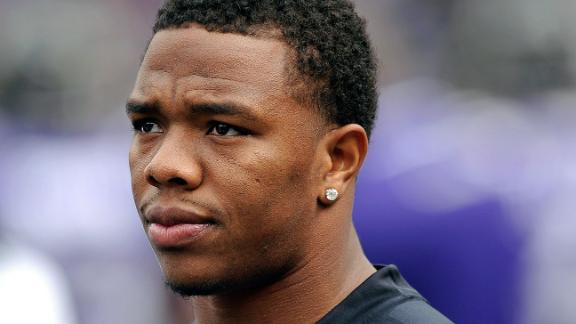 OWINGS MILLS, Md. -- In stark contrast to
Ray Rice
's awkward news conference in May, the
Baltimore Ravens
running back showed Thursday that he finally understood the weight of his actions from the alleged altercation with his then-fiancée in February.
He delivered the correct message, one the NFL failed to do last week with the two-game suspension, by not only apologizing to his wife, Janay Palmer, but also expressing a desire to become an advocate for domestic-violence causes.
Rice was compelling in his contrition, calling it the biggest mistake of his life. He stood in front of the microphone alone, without his wife standing by his side, and took full responsibility for the incident. Perhaps more importantly, Rice actually said the words "domestic violence," which weren't heard in his statement two months ago.
"My actions were inexcusable," Rice said. "That's something I have to live with the rest of my life."
Before anyone pats Rice on the back, this is what he should have said the first time when he broke his silence in May. Instead, Rice nervously fumbled through notes on his phone and apologized to team officials and his sponsors. That debacle of a news conference came across as damage control to his image.
His 17-minute news conference Thursday hit the right tones. He apologized to all women affected by domestic violence. He accepted the blame for losing the respect of fans. Rice came across as genuinely sorry.
"I let my wife down, I let my daughter down, I let my wife's parents down, I let the whole Baltimore community down," Rice said.
Rice's biggest misstep was not talking about what happened in the elevator. He was asked twice about it and declined to answer both times. His stance against domestic violence would have resonated stronger if he had explained his transgressions.
"I'll be honest: Like I said, I own my actions," Rice said. "I just don't want to keep reliving the incident. It doesn't bring any good to me. I'm just trying to move forward from it. I don't condone it. I take full responsibility for my actions. What happened that night is something that I'm going to pay for the rest of my life."
The only way Rice can move forward from this incident and show he's truly sincere is through his actions. It's not by his words. It's not by a hefty donation, which is merely a gesture. It's by proving this will remain a "one-time incident" and by supporting domestic-violence causes.
Thursday represented a small step forward for Rice. But it was an important one.
September, 6, 2010
9/06/10
12:57
PM ET
When I was on the phone with John Clayton on Sunday night working on our Great Debate for Wednesday, he threw out a great stat.
Clayton, who should have been a rocket scientist if he wasn't so great at what he does, was breaking down rosters in every way you could imagine. According to Clayton, and this is current as of late last night, the
Atlanta Falcons
were tied with Minnesota for the fewest new players.
They have only eight new players on their roster. The list includes free-agent pickup
Dunta Robinson
, undrafted tight end
Michael Palmer
and the draft class -- linebacker
Sean Weatherspoon
, defensive tackle
Corey Peters
, offensive linemen
Joe Hawley
and
Mike Johnson
, cornerback
Dominique Franks
and safety
Shann Schillinger
. Clayton's list doesn't include center
Rob Bruggeman
and running back
Antone Smith
because each of those guys spent time on Atlanta's practice squad last year.
What's this all mean? Coach Mike Smith and general manager Thomas Dimitroff really are sticking to what they like to call "the process,'' which basically means building through the draft, adding a free agent here and making sure you keep your core players.
It's a formula a lot of teams talk about but don't truly follow as they often get desperate and go outside for free agents. Entering their third season together, Smith and Dimitroff have stuck with the plan and it's been highlighted by the spectacular 2008 draft class.
The Falcons have had back-to-back winning seasons for the first time in franchise history, and their roster displays a lot of continuity. We'll see if that translates into them winning big, but I think they're headed in the right direction.
When you're able to cut a player like cornerback
Chevis Jackson
, it shows you've built a roster with pretty strong depth.