NFL Nation:

Rob Brzezinski
July, 28, 2014
Jul 28
4:00
PM ET
MANKATO, Minn. -- The process that led to
Kyle Rudolph
earning a new contract from the
Minnesota Vikings
, which culminated in a hug and words of congratulations from general manager Rick Spielman after Sunday's practice, seemed about as devoid of drama and tension as either side could have wanted.
Rudolph
Rudolph made it known at the end of last season he wanted to stay in Minnesota; the Vikings spoke highly of the big tight end and said they wanted the same thing. They hired an offensive coordinator with a history of featuring tight ends;
Rudolph responded by taking a more serious look at his offseason nutrition program
, dropping 15 pounds and sharpening his technique as a receiver. He said he hoped to get a contract done before the season; the Vikings met with his agents in the Twin Cities on July 15 to begin discussions on a deal.
There seemed to be little chance of the Vikings letting Rudolph get to free agency next spring, not when they had taken him in the second round of the 2011 draft, not when he was one of the only viable candidates for a contract extension before next season. But the toothy smile Rudolph flashed when talking about the contract on Monday let everyone know even an inevitable payoff was sweet.
"Being the organization that took a chance on me out of the draft, being hurt at the time and still drafting me when they did and now giving me this extension, it shows the faith that they have in me," Rudolph said. "Certain people have the opportunity to change your life, and I can't thank Rick and (assistant GM) Rob (Brzezinski) enough for that opportunity."
Now comes the hard part for Rudolph. He will have to play well enough to maximize the value of his contract, which pays him a $6.5 million signing bonus and effectively guarantees his $956,343 base salary in the final season of his rookie deal. The five-year, $36.5 million deal could be worth up to $40 million if Rudolph triggers incentives in the contract, and though another $12 million of the deal is currently guaranteed for injury only, that money will become fully guaranteed by the start of the 2016 league year, coming to Rudolph in separate chunks on the third day of the 2015 and 2016 league years.
But the tight end, as usual, seemed sensible about the contract on Monday. He said he didn't plan to buy himself anything special, adding his only plan was to fulfill a promise to his old strength coach and pay to remodel the weight room at his alma mater, Elder High School in Cincinnati.
As for the Vikings, Rudolph wants to make sure they get a good return on their investment.
"Essentially, if you look at this from a business side, I'm here for the next three years (anyway) because of the last year of my deal and opportunity to be franchised twice," he said. "So they felt like it was important to keep me here for a long time. It instills a responsibility to become one of the veteran leaders in the locker room. We have a lot of young guys on this team and it's weird for me to see that now, four years later I'm one of the veterans in the locker room who have to bring those guys along so we can win football games."
April, 18, 2014
Apr 18
11:45
AM ET
MINNEAPOLIS -- Since free agency began on March 11, the
Minnesota Vikings
have been busily working the free-agent market to upgrade their defense. Those efforts, according to ESPN Stats & Information, have landed the Vikings among the league leaders in guaranteed money spent since the start of the new league year.
The Vikings have given out $50.2 million in guaranteed money since March 11, which is the fifth-most in the NFL. Only the Buccaneers ($74.3 million), Broncos ($65.5 million), Browns ($63.8 million) and Raiders ($51.0 million) have included more guaranteed dollars in new contracts.
That sum is the cost of doing business for a team that ranked second-to-last in the league in defense last season, but even though the Vikings have spent a sizable amount of money to sign players from other teams, the number itself shouldn't necessarily signal a departure from the draft-and-develop philosophy the team has employed the past three years, largely because of how much of the guaranteed money was wrapped up in the Vikings' new deal for 2010 fourth-rounder
Everson Griffen
.
Griffen got $19.8 million guaranteed as part of his five-year, $42.5 million contract, and he'll have been paid all of that money by the end of next season. The only money that would accelerate onto the Vikings' salary cap if they cut Griffen after 2015 is the $3.6 million in signing bonus proration left on his deal. The deal that includes the second-most guaranteed money -- for defensive tackle
Linval Joseph
-- has a similar structure. In that case, the Vikings gave Joseph $7.1 million in base salary guarantees, and a $2.4 million roster bonus they paid him last month, so the only cap charge they'd face by cutting him after 2015 is the $1.8 million of bonus proration left on his deal.
In total, the deals the Vikings gave out this spring would only include $5.73 million of dead money after the 2015 season. The pay-as-you-go method employed by assistant general manager Rob Brzezinski has allowed the Vikings to give out big contracts and stay out of salary cap trouble. Even the $45 million deal the team gave wide receiver
Greg Jennings
a year ago will only carry a $6 million cap charge after this season; the Vikings gave Jennings $17.8 million in guaranteed money, in the form of a $10-million signing bonus and guaranteed base salaries in each of his first two seasons. That deal came with a bigger signing bonus than most of the contracts the Vikings have done lately, but on a $45 million total deal, the Vikings' cap burden in the final years of Jennings' contract is still relatively small.
That structure will also allow the Vikings to be aggressive next year, should they choose to do so; with the cap possibly rising as high as $140 million, the Vikings could already have $30 million in cap space for 2015, before restructuring any deals or releasing any players.
February, 13, 2013
2/13/13
1:15
PM ET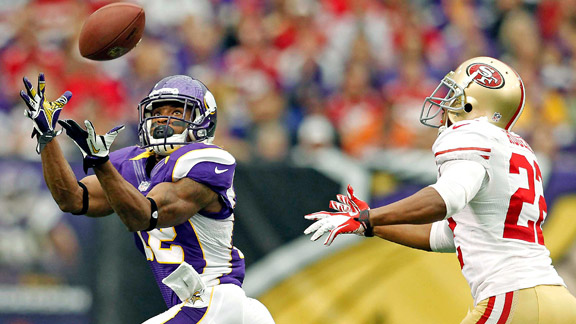 Bruce Kluckhohn/US PRESSWIREPercy Harvin caught 62 passes for 677 yards and three touchdowns before an ankle injury sidelined him for the season.
As news of
Percy Harvin
's potential availability ricochets through the NFL, we've seen widespread doubt about his value on the trade market.
Tom Pelissero of 1500ESPN.com
reports that the best the
Minnesota Vikings
could do is a second-round draft pick, while an NFL executive told
NFL.com's Ian Rapoport
that he would be shocked if the Vikings do better than a third-round pick.
I don't doubt those assessments. It's awfully difficult to get a first-round pick for a player who isn't a quarterback, a pass-rusher or a cornerback. General manager Rick Spielman has
proved he can create a trade market
, but he'll have a tough task in creating the bidding war necessary to push Harvin's value into the first round. The situation is further complicated by Harvin's contract situation, which almost certainly must be resolved before any trade occurs.
There is a difference, of course, between getting the best value you can for a player and receiving value that adequately compensates you for the loss. I have no doubt that Spielman and Rob Brzezinski, the Vikings' vice president of football operations, would get the best deal available for Harvin. But if that proves to be a second- or third-round draft pick? To me, that would be an irresponsible trade by the Vikings. They would have allowed eccentric behavior and a historically improbable stretch of games to cloud their team-building judgment.
As we've discussed before, Harvin has no doubt been a high-maintenance personality from the moment the Vikings drafted him in 2009. That's one of the reasons he was available to them at the No. 22 overall pick that year.
Like it or not, part of building a winning team is finding a balance between expectations for personal deportment and the reality that not everyone is a choir boy. We might think it is each player's responsibility to act the right way, but in truth, the best teams provide a padded buffer around a circumference of behavior, one that allows for unique people to be different within the confines of the team concept. Think of the gutter guard that children use in bowling. The ball might bounce from one side to the other, but the guard prevents it from going too far.
There have been murky reports about confrontations between Harvin and various authority figures behind the scenes, including a reported argument with coach Leslie Frazier -- a man who almost never loses his temper. Nothing I've heard to this point suggests Harvin has done enough to, in essence, get himself fired. If he has, the Vikings have kept that information well under wraps.
Based on what we know at this moment, it's the Vikings' responsibility to find a way to make it work. They are a team in need of more receiving firepower, not less. And let's not suggest the Vikings didn't miss a beat last season after Harvin's injury. To me that's a short-term, flawed and irresponsible judgment as well.
It's true that tailback
Adrian Peterson
rushed for 1,140 yards over the Vikings' final seven games, after Harvin's season-ending ankle injury. But I hope you realize that MVP performance is a clear outlier; the only running back in NFL history to gain more yards after Week 10 of a 16-game season was
Eric Dickerson
-- who had exactly
2 more yards (1,142) during his record-breaking 1984 season
.
We have learned not to doubt Peterson, who has said he thinks he can rush for 2,500 yards in 2013. But to count on it as part of a long-term strategy is foolish. I have to assume the Vikings know how much added value Harvin provides their offense. He is quite simply one of the NFL's best individual playmakers.
Let's also recognize that some of this issue has almost assuredly arisen from a difference in opinion on Harvin's financial value. If he is one of the NFL's best playmakers, Harvin could make an argument that he deserves elite money at his primary position. The Vikings might counter that he is more of a hybrid player who doesn't measure up financially to, say,
Arizona Cardinals
receiver
Larry Fitzgerald
.
That, however, is a traditional contract-leverage argument that usually gets resolved in the NFL. The vast majority of elite players are re-signed, even if that event is preceded by a holdout and extended acrimony. It's rare that you see a player of Harvin's stature traded purely because of a contract dispute when there are no underlying factors involved.
You might not consider it fair, but I'm putting the responsibility on the Vikings to smooth over those factors and accept that, in most cases, building good teams means navigating rough edges.
The only justifiable reason for giving away Percy Harvin, which is what the Vikings would be doing if they trade him for a second- or third-round draft choice, is the existence of previously unreported incidents so heinous that his continued employment would be a net negative on the team and franchise. Nothing we've heard to this point suggests that's the case. It's hard enough to win championships in the NFL. Doing so when you give away one of your best players? Good luck.
January, 3, 2012
1/03/12
11:34
AM ET
We've had two front office moves in the NFC North literally in a matter of minutes Tuesday. The
Chicago Bears
relieved general manager Jerry Angelo
of his duties
, throwing
the entire franchise into uncertainty,
and then the
Minnesota Vikings
named Rick Spielman their general manager.
I've already offered my first-blush thoughts on the Angelo move. The significance of the Vikings' announcement on Spielman rests in the details. Namely: Does Spielman truly have ultimate authority over all football-related aspects in the organization? Or is this just bureaucratic window dressing?
Spielman has spent nearly five years as the Vikings' vice president of player personnel, part of a three-man leadership committee we've sometimes referred to as the "Triangle of Authority." Spielman ran the personnel department and had final say over the draft. The coach -- Brad Childress and later Leslie Frazier -- presided over on-field operations. Rob Brzezinski, the longtime vice president of football operations, negotiated contracts and managed the salary cap.
All three corners of the Triangle reported directly to owner Zygi Wilf, meaning big-picture and long-term decisions were required to be made as a group. The checks-and-balance theory sounds good in principle but doesn't always work in practice. In football franchises stocked with Type A personalities, it helps to know who is in charge. During Wilf's ownership tenure, that basic question has always been unanswerable.
The title change implies that Spielman is now in charge, and the Vikings issued a press release that seems to confirm it. Wilf is quoted as saying the move "establishes the leadership structure that will lead to the long term success of the Vikings." If so, that means Frazier now works for Spielman. You can call an executive a general manager if you want, but if he doesn't have the power to hire and fire the coach, then it's window dressing. So if Spielman has that power, the Vikings would operate under a single voice and navigate a streamlined vision for the first time since Jim Finks left his job as general manager in 1974.
Reasonable people can debate whether or not the committee leadership style is truly at fault for two consecutive losing seasons in Minnesota. A traditional general manager is not an upgrade unless he is a good general manager, as the
Detroit Lions
found out after a decade under Matt Millen. Reasonable people can also debate whether Spielman's performance merits a promotion, given the obvious roster holes that exist on this team.
We'll address those issues in the coming days and months. But at the very least, a traditional power structure would give the Vikings a clearer sense of public accountability for wins and losses. It would eliminate the need to massage internal debate to accommodate personal viewpoints and presumably allow the franchise to move more decisively to address its shortcomings. It will also put Spielman in the potentially awkward position of employing a coach he didn't hire. Stay tuned on that one.
November, 22, 2010
11/22/10
3:15
PM ET
EDEN PRAIRIE, Minn. -- We've reviewed the
presumed thought process
of Zygi Wilf and
the tenure
of former
Minnesota Vikings
coach Brad Childress. We're going to shift gears to interim coach Leslie Frazier after his 4 p.m. ET news conference. In the meantime, here are some random thoughts pinging through my brain:
I'm stunned at how many people are hoping/believing that quarterback Brett Favre will follow Childress out the door. (Favre said Sunday that he would re-evaluate his future after a 31-3 loss to the Green Bay Packers). Many of you are clamoring for Frazier to bench Favre and give backup Tarvaris Jackson a chance. Come on. The only coach in the NFL who considered Jackson a viable long-term starter got fired Monday. Do you really think Frazier's first decision as a head coach will be to put his career in Jackson's hands?
As ESPN.com's John Clayton noted last week, the buyout on Childress' contract is relatively reasonable considering he signed an extension just over a year ago. The Vikings will owe Childress the remainder of his 2010 salary, plus $6.6 million to cover the 2011 and 2012 seasons.
Clayton is working on a speculative list of candidates to replace Childress on a permanent basis, of which Frazier is one. I'll say this off the top: Wilf will have to make substantive changes to his leadership structure if he wants to hire a veteran, accomplished coach. As of now, the Vikings' coach shares responsibility with vice president of player personnel (Rick Spielman) and vice president of football operations (Rob Brzezinski). It's doubtful that a Jon Gruden or Bill Cowher would agree to work under that structure.
While we're on that topic, here's another thing to consider about the attractiveness of the Vikings' head-coaching job: They have no long-term answer at quarterback. Quarterback issues is the No. 1 coach-killer in the NFL.
Atlanta Falcons coach Mike Smith might want to start looking for real estate agents. Surely he knows that his next opponent, the Packers, have now gotten two consecutive head coaches fired. First it was the Dallas Cowboys' Wade Phillips, then it was Childress. Now Smith is on the Packers' hot seat. After that, we'll have Mike Singletary of the San Francisco 49ers and Jim Schwartz of the Detroit Lions. Not saying anything. Just sayin.'
More in a bit.
November, 22, 2010
11/22/10
2:27
PM ET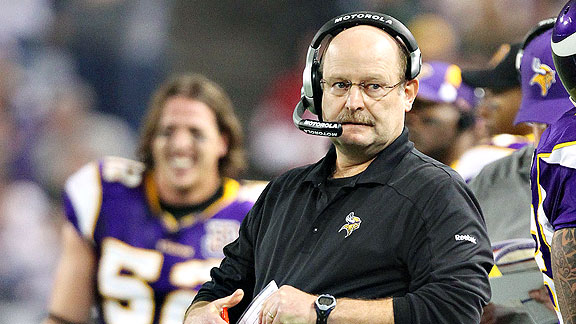 AP Photo/Andy KingBrad Childress had a cold and distant relationship with his players even when the team was winning.
EDEN PRAIRIE, Minn. -- Five years ago, the
Minnesota Vikings
swept up Brad Childress during what they believed was a frenzied, multi-team competition for the man they considered the hottest coaching candidate on the market. They flew him into town less than 24 hours after firing Mike Tice and kept him sequestered in a Twin Cities hotel while they half-heartedly interviewed the remaining candidates on their list.
Owner Zygi Wilf triumphantly lauded Childress as a disciplinarian who would restore order to the franchise on and off the field. "Brad Childress is a winner," Wilf famously said.
But Wilf could never answer the follow-up question: How do you know?
At 49, Childress had never been a head coach at any level. He had been the offensive coordinator of the highly successful
Philadelphia Eagles
, but coach Andy Reid called almost all of the plays over that period. Childress' ability to relate with players was also a debatable proposition; among other stories, it was public knowledge that mercurial receiver
Terrell Owens
had asked Childress to stop talking to him during the 2005 season.
If I had to sum up why Childress failed in Minnesota, my tight answer would include those two reasons. He had a distant relationship at best with players, feuding with most key veterans at one point or another. And his schemes were uninspiring and rigid, routinely minimizing the skills of talented players.
Few coaches bring both of those disparate skills to the table, but having one can usually minimize the need for the other. You can inspire players to excel by reaching them personally, or you can put them in position to play well with smart schemes that maximize their skills.
Childress, however, did neither consistently. It's true that his teams won consecutive NFC North titles, something that hadn't happened in Minnesota since 1977-78. But starting with his first season and continuing through those title years, we heard the same complaints about his program.
Veteran quarterbacks from
Brad Johnson
to
Kelly Holcomb
to
Gus Frerotte
chafed in an offense they believed could have been much better if allowed more in-game freedom. When
Brett Favre
brazenly freelanced last season, Childress angrily
considered benching him
.
That rigidity wasn't limited to quarterbacks, however. In 2006, Childress minimized receiver
Marcus Robinson
because his best route -- the fade in the end zone -- wasn't a part of his red zone offense. The offense provided no avenue to get tailbacks
Adrian Peterson
and
Chester Taylor
on the field at the same time.
If you searched hard enough, similar whispers could be heard before Childress' arrival. I doubt Wilf heard any of them. Why? His coaching search committee included no one with a football background. The primary interviewers were Wilf, his brother Mark, vice president of football operations Rob Brzezinski and vice president of operations Kevin Warren.
Brzezinski and Warren are experts in their fields, but neither was qualified to assess if Childress' football acumen was as good as advertised. It's almost as if they assumed it based on Childress' stature as a "hot" coaching candidate. I once asked a high-ranking team official this question: Whom did you use for the "football" portion of the interview, the part where Childress' schematic and actual coaching talents would be measured?
The answer?
Hall of Fame coach Bud Grant, who had been retired for 20 years. My understanding is that it was a cursory conversation, and it's interesting to note that Grant has always been silent about Childress and his performance.
Some successful coaches channel Bill Belichick, attempting to out-think and out-scheme opponents. Others emulate Bill Cowher, whose motivational skills kept his teams playing hard for more than a decade. Childress didn't fall in either category, and ultimately that's why his players turned on him this season. They felt neither inspired nor challenged.
Childress began clashing with players on a personal level early in his first season, starting with cornerback
Antoine Winfield
, and even in the best of times had what players described as a cold and distant relationship.
Without a foundation of trust and loyalty, Childress watched as his players reached near-mutinous levels at the first sign of adversity this season. It
led to a confrontation
with receiver
Percy Harvin
, among many other incidents. It all culminated Sunday when the Vikings sideline fell into chaos during a 31-3 loss to the
Green Bay Packers
. It's rare when you see a coach keep his job under those conditions.
Childress did make a positive impact in many areas of the organization, cleaning up his team's off-field behavior and professionalizing the team's organizational culture. But without a so-called hook to hang his hat on -- an attribute that could help him navigate tough waters -- he ultimately failed.
November, 2, 2010
11/02/10
1:16
PM ET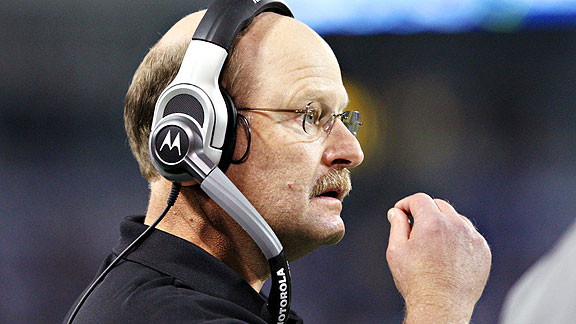 Brace Hemmelgarn/US PresswireBrad Childress reportedly has run afoul of the Vikings' management structure in unilaterally deciding to waive Randy Moss.
At the end of his first full year as the
Minnesota Vikings
owner, Zygi Wilf gave a number of interviews to local reporters. His team had just finished 6-10 amid a tumultuous first year under his handpicked coach, and Wilf wanted to make clear he supported Brad Childress on all levels.
Except for one.
Wilf said he disapproved of the way Childress handled the 2006 departure of receiver
Marcus Robinson
, the only critical sentiment Wilf has uttered publicly about any aspect of the franchise. Childress, incensed by critical comments published in a local newspaper from Robinson, abruptly and unilaterally released the player on Christmas Eve.
Wilf was in the process of building an organization to reflect his family real estate business in New Jersey, one based on internal communication and well-meshed personalities. He was horrified that Childress had acted with such vengeance and enraged he had done so without appropriate discussion among the team's football leadership. Shortly afterward, Wilf installed a system of checks and balances for all significant player moves to prevent another incident.
"In the future," Wilf said at the time, "I think that issues like this will be handled in a more consistent level and hopefully we will not let certain passions overcome us."
The episode remains relevant and instructive today as another impetuous Childress decision has again sent the franchise reeling. Wilf was reportedly angered by the decision to part ways with
Randy Moss
, in part because he and other members of the front office weren't consulted before Childress took action. Players are family members, not employees, in Wilf's world. And proper management follows a horizontal structure rather than emanating from a single entity.
It appears Wilf won't fire Childress for this incident, but Childress' future doesn't look promising. Independent of the Moss debacle, he has presided over one of the NFL's biggest disappointments this season. Wilf is paying out one of the league's highest payrolls and has two victories in seven games to show for it. So in an extended Free Head Exam format, let's look at three issues surrounding Childress that merit further examination:
1. Childress has demonstrated what we'll kindly call a unique relationship with the truth, at least when speaking publicly.
All NFL coaches protect information for competitive purposes, but increasingly over time, Childress has clumsily expressed falsehoods that call into question the credibility of most everything he says.
The pattern began in his first season, when Childress said on his radio show that he had not decided on a starting quarterback for a game at Lambeau Field. As reporters later discovered, Childress had long before told the team that
Tarvaris Jackson
would be the starter.
Such episodes have accelerated this year. On Aug. 17, Childress instructed two assistant coaches to misrepresent the whereabouts of three star players who missed practice while they were recruiting quarterback
Brett Favre
to return to the team.
On Monday, Childress told reporters that he had given Moss permission to skip the team's return flight Sunday night from New England to visit his family. Childress said he expected Moss to return Tuesday night or Wednesday morning.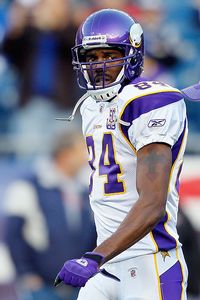 Jim Rogash/Getty ImagesMoss reportedly refused to return with the team from New England.
In fact, as the
Star Tribune
reported and I've also confirmed, Moss actually refused to return with the team. And Childress' description of Moss' timetable for returning came hours after he had already made the decision to waive him.
Again, half-truths and vague public answers are a part of coaching in the NFL. But Childress has been caught in so many misstatements that it's difficult to believe much of what he says. Players are well-aware of these incidents, and there is little doubt these episodes impact how they interpret Childress' words.
It's especially relevant in Childress' case because he went out of his way to portray himself as a truth-teller upon arriving in Minnesota. Here's what he said during an interview in July 2006:
Telling the truth "is the only way I know how to do it. I think people in the long run appreciate that. Just deal in the currency of truth. If I tell you a lie, the next time I can't remember what I told you the last time. If I tell you the truth, it's a lot easier to just keep telling the truth, over and over. Coaching these guys is no different than coaching anybody. As long as you're honest and direct, the guy knows where you stand, they appreciate it."
2. I have never been a fan of committee leadership structures in the NFL, but Wilf believes strongly in his and demands that his front office work together to make football decisions.
Childress is expected to work hand-in-hand with Rick Spielman, the vice president of player personnel, and Rob Brzezinski, the vice president of football operations. Wilf positions himself to settle any disagreements.
Childress has now run astray of that structure at least twice, and he has on multiple occasions noted that his contract calls for him to have final say over the 53-man roster. His personal relationship with Spielman and Brzezinski is probably irrelevant, but I would suggest that Childress has positioned himself on an island within the front office and would have few allies defending him internally if Wilf considered a coaching change.
3. Childress has done a fine job hiring defensive coordinators during his tenure, starting with Mike Tomlin and continuing with Leslie Frazier.
So we note with some irony that Frazier's presence provides Wilf a legitimate option for an in-season change, one that wouldn't be realistic with a less established or experienced coordinator.
If there were ever a coordinator capable of taking over a team in November, it's Frazier. He's among the NFL's most prepared men for the job, and Vikings players on both sides of the ball respect him. The potential for disruption would be minimal.
As recently as a couple of weeks ago, the idea of removing Childress seemed remote. He signed a three-year contract extension a year ago, and Wilf would have to eat a large chunk of its $15 million value if a change were made.
On its own, a 2-5 record wouldn't have been enough for Wilf to consider an in-season coaching swap. But Childress has recklessly given Wilf another reason. Wilf has proved to be a pretty patient employer, but you have to imagine he is reaching his tolerance limit. You never want to hand your boss extra fodder for an exit strategy.
November, 1, 2010
11/01/10
6:27
PM ET
ESPN's Adam Schefter has confirmed that receiver
Randy Moss
was not listed on the NFL's daily waiver wire Monday, meaning he technically remains property of the
Minnesota Vikings
.
I'm not sure there is much to read into that news. It's not uncommon for the official paperwork of a roster move to trail the news. I suppose it's possible that someone in the organization is trying to reverse what appears to be a decision by coach Brad Childress, but Moss' agent has already publicly acknowledged the move.
It's hard to imagine Moss 3.0 ever occurring. It's much more likely that Moss will appear on Tuesday's waiver wire, extending the drama into Wednesday afternoon.
That said, I think it's worth asking whether this move took place in an orderly and professional manner, or if it was actually as haphazard as it looks from the outside. Based on media reports, here's what we can piece together:
Agent Joel Segal told the Star Tribune that he and Moss learned of the move Monday morning.
During his early-afternoon news conference, coach Brad Childress told reporters that he had given Moss permission to remain in New England and visit family members. "I allowed him to stay back there and visit with his family, since he is from there and he will be back Wednesday morning [or] Tuesday night," Childress said.
Immediately after that news conference, Childress told Vikings players in a team meeting that Moss would be waived.
Linebacker Ben Leber confirmed that Childress broke the news to players.
Childress' latest failure on the truth-o-meter prompts a conspiratorial mind to imagine how chaotic the Vikings' internal communication might have been Monday. Is owner Zygi Wilf on board? What about the remainder of the team's leadership structure, which includes vice president of player personnel Rick Spielman and vice president of football operations Rob Brzezinski? Based on job descriptions, it is Brzezinski's role to submit the roster move to the NFL office.
You want to assume the team is on the same page internally, even if it has mismanaged the decision from a public perspective. But if it's not -- if Childress jumped the gun on this move -- then we could be in for an interesting 24-48 hours. Stay tuned.
November, 3, 2009
11/03/09
11:06
AM ET
»
NFC Stock Watch
:
East
|
West
|
North
|
South
»
AFC
:
East
|
West
|
North
|
South
Posted by ESPN.com's Kevin Seifert
Falling:

1. Ted Thompson, Green Bay general manager:
It wasn't a good week to be the Packers' official ultimately responsible for sending quarterback
Brett Favre
on his way. Favre has led an NFC North rival to a 7-1 start, and in the process he has nearly eliminated the Packers from contention for a division title. Thompson's own roster has proved dangerously thin at some positions, most notably offensive line and running back. The situation has prompted the midseason signings of veteran free agents
Mark Tauscher
and
Ahman Green
. For a personnel chief who prides himself on developing his own young depth, both were revealing moves. Thompson's narrow philosophy of team-building is being tested.
2. Dominic Raiola, Detroit center:
Usually a reliable veteran presence, Raiola doesn't seem to get the unfortunate reality of fan relations. In a nutshell, there's no arguing with them. No matter how nasty the criticism gets, it goes with the territory of being a professional athlete. (And trust me, Detroit fans are pretty average when it comes to nastiness.) After confronting some Lions fans Sunday, Raiola said he doesn't want them getting to rookie quarterback
Matthew Stafford
like they did to former Lions quarterback
Joey Harrington
. That's another misread by Raiola: It's up to Stafford to ignore the jeers, not for the fans to stop. If he's like Harrington, unable to block it out, then he wasn't destined to have a successful career in the first place.
3. Johnny Jolly, Packers defensive lineman:
His inexcusable head-butt of Minnesota tailback
Chester Taylor
in the first quarter Sunday helped Minnesota to an additional four points. It didn't cost the Packers the game, but it played a big role in the Vikings taking the Lambeau Field crowd out of the game early on. Worse, Jolly expressed no remorse immediately afterward. Jolly has been playing well this season, but I hope he realizes how loyal the Packers were following a 2008 arrest in Houston. (Felony drug issues were eventually dismissed.) Jolly needs to work harder at returning the favor.
Rising:

1. Minnesota's Triangle of Authority:
The "TOA" was once a sarcastic description for the Vikings' cumbersome leadership structure that included coach Brad Childress, vice president/football operations Rob Brzezinski and vice president/player personnel Fran Foley and later Rick Spielman. But with the support of owner Zygi Wilf, the TOA built a talent-studded team that has started 7-1 and is a legitimate Super Bowl contender. In Sunday's victory over Green Bay, the Vikings got key contributions from three players -- quarterback Brett Favre, receiver/kick returner
Percy Harvin
and defensive end
Jared Allen
-- who were all either drafted, signed, or traded for in the past two years.

2. Chicago's secondary:
We've questioned the Bears' defensive backs since training camp, but Sunday they fulfilled the mission of a Lovie Smith defense: Create havoc. Safety
Danieal Manning
forced two turnovers, including a diving interception and a strip/fumble recovery of Browns tight end
Steve Heiden
. Cornerback
Charles Tillman
also was in on two turnovers, recovering a fumble and returning an interception 21 yards for a touchdown. The Bears might continue to give up yards in the passing game this season, but they could certainly mitigate the damage by coming up with multiple turnovers in the secondary.
3. Cliff Avril, Detroit defensive end:
Yes, I'm fully aware the Lions absorbed an inglorious loss at home to previously winless St. Louis. But Avril should be recognized as the only Lions player who had field awareness on the Rams' fake field goal, which ultimately resulted in Josh Brown's 36-yard touchdown pass to
Daniel Fells
. Avril, a defensive end, chased Fells across the field. He was unable to make the tackle near the sideline, but give him some credit for recognizing the Rams made no attempt to actually kick what would have been a 54-yard field goal attempt.
Posted by ESPN.com's Kevin Seifert
Well now. Here's the best advice I can give you Tuesday night: Hold on. The Brett Favre-Minnesota story isn't going to be resolved anytime soon.
According to ESPN's Ed Werder, the Vikings have temporarily suspended their pursuit of Favre. The message was relayed between Vikings contract negotiator Rob Brzezinski and agent Bus Cook. At the same time, however, the Vikings are encouraging Favre to continue rehabilitation on his surgically-repaired right arm -- suggesting the possibility that they will revisit his status later this summer.
Werder and ESPN's Chris Mortensen reported Monday that the Vikings had asked Favre to make a decision about his future by the end of this week. From this vantage point, Tuesday's story simply means the deadline will pass with no significant meaning.
It remains hard to believe that the Vikings would go this far with Favre and then decide to move on. The fact that Tuesday's key conversation occurred between Brzezinski and Cook suggests the dividing point could be more financial than football- or health-related.
As always, stay tuned.
November, 19, 2008
11/19/08
8:06
AM ET
Posted by ESPN.com's Kevin Seifert
The St. Paul Pioneer Press is running a fan poll on its Web site this week as Minnesota prepares for its matchup Sunday at Jacksonville.
The question: "Whom would you rather have coaching the Vikings?" The choices are current coach Brad Childress and his predecessor, Mike Tice. As of Wednesday morning, Tice was leading the voting 85 percent to 15 percent.
(You have to vote to see the results. I voted once for each to maintain my perfect record of objectivity).
Unscientific as it might be, the poll suggests some fans have come around on Tice's tenure after applauding his firing in 2006. It also speaks to the backup quarterback syndrome, which dictates that fans crave whoever isn't playing quarterback, or coaching, at the time of the question.
Tice, now the Jaguars' assistant head coach/tight ends, had a 33-34 record in four seasons with the Vikings. Childress is 19-23 in Year 3. Speaking this week to the Star Tribune's Mark Craig, Tice said he was proud to have been "competitive each week" given the limitations of working for a franchise that was on the selling block for most of his time as coach.
Tice also said that his admission to scalping 12 Super Bowl tickets in 2006 has blocked his chances of getting another head coaching job.
"I'm absolutely sure the ticket thing will harm me because it harmed me last year with one particular team," Tice said. "The team came out and told my agent that they wouldn't consider me because of that. But you make your bed. You have to sleep in it."
Tice would not identify the team.
Continuing around the NFC North this morning:

NFL SCOREBOARD
Thursday, 8/21
Friday, 8/22
Saturday, 8/23
Sunday, 8/24