February, 22, 2013
2/22/13
2:31
PM ET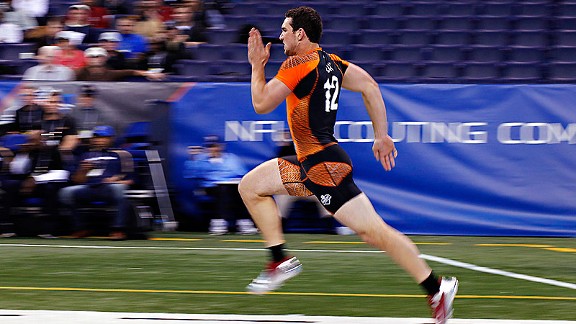 Brian Spurlock/US PresswireWould 40 times be more useful to talent evaluators if players had to run in pads?
INDIANAPOLIS -- Having flying cars chauffeur prospects from meetings with doctors to news conferences and back to their hotel rooms doesn't appear to be on the horizon at the NFL scouting combine.
But as the media's four days here got under way Thursday, I started thinking.
The league's made it clear it wants to continue to grow the event for TV purposes, to get more fans in Lucas Oil Stadium to watch workouts and to continue to take year-round ownership of the sports calendar.
Aside from that sort of growth, what would the talent evaluators want to see added to the combine that could assist them in their jobs?
I've annoyed as many people as I felt was reasonable with that question and got an array of answers.
Ruston Webster, Titans general manager:
"Maybe it'd be nice to see the receivers and the DBs have some one-on-one time or something like that. That won't happen, but some competition would probably be good to see."
Carl Peterson, former Chiefs GM, current chairman of USA Football:
Guys running in pads. Peterson said he would like to see the standard 40s continue to maintain an apples-to-apples comparison over the years, but he would add a second time for players to run in pads. It can be dramatically different and gives a much better indication of football speed. He said if it ever happened, there would be a big issue made of having all players in a common type of pads for their positions.
Rob Rang, analyst for NFL Draft Scout:
"One of the things I've always wished they'd do is take advantage of the technology that we have today and start using some electronic testing as the key way of being able to time not only the 40-yard dash but the three-cone drill, things of that nature. Have electronic testing for the bench press drills. You sometimes hear about when players are doing the bench press and some of the repetitions aren't allowed because he doesn't lock his arms out or whatever the case may be. If you had some laser sighting there, you would be able to know what is the range that a player has to lock his arms out to for that to be considered a repetition."
Bruce Arians, Cardinals coach:
"Pads. Let them play football. I don't think agents would go for that."
Rick Smith, Texans general manager:
"If anything, if you could have more time. I don't advocate that because I think it's set up the right way at this point. But in the grand scheme of things, I think as an evaluator if I had a little more time with a guy it'd probably be good."
Bill Polian, former GM of the Bills, Panthers and Colts, current ESPN analyst:
"I'd cut it back. It's too much now. It stresses these kids way too much." Prospects get wake-up calls as early as 5 a.m. They have days filled with medical appointments, meetings, press sessions and test-taking, and that doesn't even count the actual workouts.
Polian said he would consider cutting out a player's media obligations but that he would look for wherever something could be trimmed. He noted a new intelligence test added to the Wonderlic this year. The new test will take an hour, and he's not sure what he's getting as an evaluator in exchange for 333 hours of test-taking by this year's combine participants.
Mike Smith, Falcons coach:
"Fifteen minutes goes fast in the interviews. If we could have a little bit more time. Maybe cut the numbers down [from 60] and allow us more time to spend with each player."
Ryan Grigson, Colts general manager:
"Put them in pads; that's the only thing. The great thing about this is it's just one more reference point. If you think a guy's a great cover corner, a great athlete, has great speed on film, then if he runs 4.35 you say, 'OK, he's really that guy.' But the play speed and the actual game playing is so huge.
"I've gotten burned on it myself. A lot of times you can go out and watch a player in drills, a corner for instance, he's 6-foot-1, 200 pounds that's a low-rated guy. Then you go out to practice and his movement skills are off the charts. And you get bamboozled into thinking he's a player. Well there is something to be said for how you process information as a football player. That's why I like taking guys who are productive in the actual environment."
At least some drills in pads could make the workouts closer to football and further from something evaluators need to translate into football.
Gil Brandt, pioneering personnel man for the Dallas Cowboys, currently with NFL.com:
"The one thing you could do is put some sort of drill in every year that's foreign to everybody. Let's say the triple jump, for example. Everybody is practicing these things now so they get them down. Do something like the triple jump, which shows your explosion. Then next year come up with something else."
I love this idea.
One challenge would be keeping the secret, but if it were determined late and kept among very few people under lock and key, the element of surprise would be a great addition. Beyond providing more info about a guy's athleticism, personnel men could see how players react to something they have not rehearsed.
April, 10, 2009
4/10/09
9:20
AM ET
Posted by ESPN.com's Mike Sando

Eric D. Williams of the Tacoma News Tribune says Seahawks middle linebacker Lofa Tatupu can feel a difference in how the team is practicing under new coach Jim Mora. The team focused more on pursuit drills during its recent minicamp. Tatupu: "A little hard work never hurt anybody. Not to say we weren't working hard before, but I feel the difference in the practices. And I tell you one thing, we'll be one of the best conditioned teams in the league. So it won't be for a lack of effort if we suffer any losses."
Also from Williams: He checks in with new Seahawks defensive coordinator Gus Bradley.
John Morgan of Field Gulls thinks Arizona State tackle Eben Britton could help the Seahawks' offensive line, and that Seattle could have interest in him if Britton slips past the middle of the first round.
Jerry Brewer of the Seattle Times says Tatupu is seeking redemption following a 4-12 season in 2008. At least he no longer challenges opponents to fights following defeats.

VanRam of Turf Show Times looks at what might be one of the worst NFL drafts at the top, according to analysts. VanRam: "Trading down would be great, but it just doesn't seem like a very realistic possibility. That might depend on USC QB Mark Sanchez's draft stock, which seems to be rising based on comparison to [Matthew] Stafford. If conventional wisdom emerges that he's the better NFL QB, taking him at #2 isn't a stretch, which means the Rams could possibly lure a QB hungry team into a trade."

The 49ers' Web site provides a transcript of Damon Haurd's interview with reporters after the team signed the backup quarterback. Huard on head coach Mike Singletary: "I like him a lot. I think he's very honest, straight-forward. He tells it like it is and as a player, you appreciate that. Everyone respects him, not only as a coach, but for what he did as a player. I think when your head coach is a former player and has been through those battles that we've all been through, he understands the experience and knows how to treat the players. He knows how to relate to the players. I think at the end of the day that just makes you a better football team."
Matt Maiocco of the Santa Rosa Press-Democrat says pass-rusher could be the 49ers' biggest need heading into the draft. Draft analyst Rob Rang: "Cody Brown of Connecticut is getting a lot of attention in the third or maybe fourth round. If you want to go up a round, probably Clint Sintim of Virginia. He played on one of the very few teams that run a 3-4 defense in college. He was coached by Al Groh, so he's going to come in and be more pro-ready than a lot of guys. So he makes some sense."
Matt Barrows of the Sacramento Bee explains why he thinks the 49ers will not draft Aaron Maybin with the 10th overall choice. Barrows: "For one thing, he's an underclassman who started only one full season at Happy Valley. GM Scot McCloughan prefers seniors. More concerning, however, is Maybin's size. He weighed in at 249 pounds at the combine in February but played at Penn State at a much lower weight, about 235 pounds."

Kent Somers of the Arizona Republic says the Cardinals are visiting with college running backs, no surprise. Donald Brown, Knowshon Moreno, Shonn Greene and Chris Wells could interest them.
Revenge of the Birds' Andrew602 sizes up the Cardinals' all-time offensive line. Dan Dierdorf, Ernie McMillan, Conrad Dobler and Ken Gray make the cut. Still undecided: whether Bob DeMarco or Tom Banks will be the center. I never saw either man play. Hopefully I'll remember to ask someone who did.
April, 9, 2009
4/09/09
9:00
AM ET
Posted by ESPN.com's Mike Sando

Darren Urban of azcardinals.com describes Larry Fitzgerald as "totally recharged" following his adventure through Africa and the Middle East. Fitzgerald: "Best trip ever. I am totally recharged. It feels so good to get back in here. I'm so happy to see a good turnout and getting ready to get it again. I was itching to get back in the gym. It's home away from home." Fitzgerald has lots more planned for his offseason, starting with a trip to Minnesota for the annual golf tournament honoring his late mother, Carol.
Revenge of the Birds' Hawkwind says Karlos Dansby's unsettled contract situation could affect the Cardinals' draft plans. I think the team needed to address linebacker anyway. The need certainly grows if getting a deal with Dansby isn't likely.

Dave Mahler of Seattle's KJR radio checks in with Seahawks left tackle Walter Jones. This link goes directly to an audio file. Jones sounds relaxed and upbeat in discussing the change from Mike Holmgren to Jim Mora. Jones says he feels good, still loves competition and feels invigorated learning a new offense. Jones on the Cardinals: "They are a team that won the conference, they won the division, so they are the team to beat. That is your motivation."
Greg Johns of seattlepi.com found a grateful prospective Seahawk in former Western Washington linebacker Shane Simmons. Simmons has worked construction and as a personal trainer since the Raiders released him after the 2008 preseason. Simmons is participating in the Seahawks' minicamp on a tryout basis.
Dave Boling of the Tacoma News Tribune says Jim Mora appears comfortable in his new role as the Seahawks' head coach in the post-Mike Holmgren era. Boling: "Here's a difference that's fair to mention, although probably meaningless: Mora has a whistle. Holmgren let others blow the whistle. Draw your own conclusions."
Eric D. Williams of the Tacoma News Tribune checks in with Jones and Seahawks offensive line coach Mike Solari. Solari says the Seahawks installed zone concepts last season in anticipation of using them in 2009. The team did not use them in 2008.
Michael Steffes of Seahawk Addicts isn't buying talk that the Seahawks are seriously considering Matthew Stafford with the fourth overall choice. Steffes: "[Matt] Stafford maybe, but choosing Mark Sanchez would be counter to everything this team has done since 2005. Hopefully there is enough hype that someone wants to move up, but I wouldn't count on it."
Danny O'Neil of the Seattle Times says Seahawks quarterback Matt Hasselbeck expressed frustration over how his injury situation was handled last season. Hasselbeck put it this way: "Knowing that there's a high likelihood that I'm not going to play and not necessarily being able to come out and say."
Also from O'Neil: Seahawks long-snapper Tyler Schmitt says he's 100 percent after undergoing back surgery last season.
Don Ruiz of the Tacoma News Tribune says Holmgren watched practice at the University of Washington. Holmgren and new Huskies coach Steve Sarkisian have strong ties to USC.
Bob Condotta of the Seattle Times says Holmgren watched practice Wednesday at the University of Washington. Holmgren's son-in-law coordinates recruiting for the Huskies. Sarkisian: "It's an honor and hopefully our kids recognized that and hopefully he can continue to come out. It's fun. ... Hopefully we play a little better as a team the next time he comes out."

Matt Maiocco of the Santa Rosa Press-Democrat leans on draft analyst Rob Rang in assessing which running backs the 49ers might consider in the draft. Iowa's Shonn Greene is one candidate. Rang also thinks Chris Wells could go in the top 10. Rang: "I have a hard time thinking they would do that because I think they have too much respect for what Frank Gore brings. They don't want to [upset him]. But Beanie Wells is a spectacular talent. He's a Larry Johnson -- almost an Adrian Peterson -- kind of talent. But he needs to be coddled, and Mike Singletary's strength probably is not in coddling players."
Also from Maiocco: The 49ers are sprucing up their facilities while expanding square footage from 45,000 to 54,000.
Florida Danny of Niners Nation unveils a roughly 4,500-word dissertation on the 49ers' draft history since 1994. Lots of information in here. I checked some of it against my own information and it matched up. For example, the 49ers have indeed drafted 20 players from Pac-10 schools and 19 from SEC schools since 1994, more than they have drafted from other conferences.
Matt Barrows of the Sacramento Bee says Norfolk State cornerback Don Carey is visiting the 49ers and Seahawks, among other teams. Purdue running back Kory Sheets is also visiting the 49ers.

VanRam of Turf Show Times wonders how the Rams can upgrade at receiver, noting that Football Outsiders has suggested Eagles restricted free agent Hank Baskett. VanRam: "That seems unlikely until you consider that the Eagles are interested in some big names like [Chad] Ocho Cinco and earlier talk about being a player for Anquan Boldin. If that happens, they might be willing to let Baskett walk since they also have Kevin Curtis, DeSean Jackson and Reggie Brown on the roster, unless they see his productivity from last season as a sign of things to come."
Jim Thomas of the St. Louis Post-Dispatch says holding training camp away from their facility wasn
't practical for the Rams this year, in part because changes to the coaching staff and front office left little time to formulate plans.
April, 2, 2009
4/02/09
9:10
AM ET
Posted by ESPN.com's Mike Sando

Nick Wagoner of stlouisrams.com says Steve Spagnuolo is anxious for the Rams' to open their first minicamp under his leadership. They'll get going at 6:30 a.m. Thursday. Spagnuolo: "I was telling somebody the other day that when you finally get to this point, you finally feel like this is what you got hired to do. We're coaches, that's what we do, that's what we enjoy so now we get a chance to get out there and do exactly what we enjoy doing."
Adam Caplan of ScoutNFLNetwork.com says the Seahawks and Rams are among the teams expected to meet with Utah pass rusher Paul Kruger before the draft.
Jim Thomas of the St. Louis Post-Dispatch's report about Gus Frerotte's expected deal with the Rams drew a couple of wisecracks in the comments section. The first: "Great, when will Jamie Martin report for camp?" The second: "Re-sign Jeff Smoker too." Not bad, but in reality, who were the Rams supposed to sign as a reasonably priced backup?
Vaughn McClure of the Chicago Tribune says the Bears want to make Orlando Pace their starting left tackle. He also says the Bears' interest in former Panthers and Seahawks cornerback Ken Lucas is only "lukewarm" at this point. Don't be surprised if Lucas re-signs with Seattle.

Sonja Haller of the Arizona Republic provides details from Kurt Warner's appearance at Muhammad Ali's annual charity event. Ali's wife, Lonnie, honored Warner with a sports leadership award. Lonnie Ali on Warner: "If there ever was an athlete that I think epitomizes everything that this man sitting next to me [Ali] is, he's sitting right there."
Nakia Hogan of the New Orleans Times-Picayune says Phoenix, New Orleans and Miami have submitted bids to land the 2013 Super Bowl. Owners plan to make a decision during their May meetings.
Kent Somers of the Arizona Republic says the Cardinals invited a limited number of college prospects to their headquarters before the draft. The team didn't value such visits when Dennis Green was the head coach and it's tough to argue with some of the results. Ohio State running back Chris Wells is expected to visit soon.
Also from Somers: Cardinals president Michael Bidwill and general manager Rod Graves attended USC's pro day. Coach Ken Whisenhunt and owner Bill Bidwill did not.
CBSSports.com quotes Cardinals receiver Anquan Boldin as saying he wants to re-sign with the Cardinals. Boldin: "Hopefully, something gets done. We'll see what happens. At this point I'm leaving it up to everyone else and just trying to enjoy life."

Eric Williams of the Tacoma News Tribune checks in with draft analyst Rob Rang for a look at how the Seahawks might approach the draft. Rang says he would be surprised if the Seahawks passed on Aaron Curry if given a chance to draft the Wake Forest linebacker. Rang on Michael Crabtree: "He's a spectacular talent. I really think he's an Anquan Boldin type of player. He doesn't have that elite speed, but you know, for me the fact that he wasn't able to run for scouts matters very little. Even the [foot] surgery matters very little, because Jonathan Stewart had the same surgery and he was every bit the player his rookie season that I thought he would be. Michael Crabtree will be as well."
Michael Steffes of Seahawk Addicts looks at the Seahawks' offensive linemen and tight ends heading toward the draft. The team did not draft an offensive lineman in 2008. Expect that to change this year.
Aaron Weinberg of nextseasonsports.com looks at the six players Seattle has drafted among the top five overall picks. Steve Niehaus, Kenny Easley, Curt Warner, Cortez Kennedy, Rick Mirer and Shawn Springs were the players chosen.

Matt Barrows of the Sacramento Bee lists USC's Mark Sanchez among the college prospects expected to visit with the 49ers before the draft. Barrows: "The 49ers are wise to show interest. In Sanchez does fall to 10 on April 25, there will be plenty of teams clamoring to grab him, creating an opportunity to trade down. Who knows, maybe the Broncos will still be stuck with unhappy Jay Cutler on draft day and will be willing to make a deal."
Kevin Lynch of Niner Insider thinks the 49ers might have their best group of receivers since Terrell Owens departed. Lynch: "After a rocky start to the offseason, the 49ers have seemingly recovered. In the last week, they've signed a possible replacement to the departing Jonas Jennings at right tackle in Marvel Smith and now have an assurance [Isaac] Bruce will come back."

NFL SCOREBOARD
Thursday, 12/18
Saturday, 12/20
Sunday, 12/21
Monday, 12/22
WEEKLY LEADERS