NFL Nation:

Robbie Tobeck
July, 31, 2011
7/31/11
5:06
PM ET
Five notes before heading out to the
Seattle Seahawks
' lone practice Sunday:
OK, that's it for now. The Seahawks are practicing in pads at the moment. It's off to San Francisco 49ers camp Monday morning.
October, 14, 2010
10/14/10
9:33
PM ET
Thoughts after Seattle Seahawks coach Pete Carroll told his offensive linemen to end their media boycott:
Offensive linemen generally do not seek the spotlight, and vice versa, but their perspectives enrich our understanding of the game.
Anyone covering the
St. Louis Rams
can count on veterans
Jason Brown
,
Adam Goldberg
and
Jacob Bell
for insights on quarterback
Sam Bradford
, running back
Steven Jackson
or just about anything else.
Without Brown, for instance, we never would have known the story about
Bradford's memorable first practice
of training camp. Without Bell, we might not have known how Bradford compared to
Vince Young
in on-field demeanor. Goldberg can usually be counted upon for a grasp of the big picture.
Several years ago, when the
Seattle Seahawks
fielded the NFL's best line, no media session would have been complete without a stop at center
Robbie Tobeck
's locker. Perennial Pro Bowlers
Steve Hutchinson
and
Walter Jones
usually weren't as expansive, but anything coming from two of the all-time greats carried weight.
I remember speaking with Hutchinson after the 2001 season for a story about an emerging quarterback he knew from their days at the University of Michigan. Few gave New England's
Tom Brady
much of a chance against the Rams in the Super Bowl that year. Hutchinson knew better.
"My first year starting was '97 and I'd played with
Brian Griese
, and Tom really didn't have much playing experience," Hutchinson said. "From the moment he got in the huddle (in '98), it was like he'd been there four years. He takes control of the huddle, he's always in control, a great leader -- one of the best on-field leaders I've been around."
OK, I thought. Maybe this Brady guy is better than people think. But let's have some examples.
Hutchinson recounted Brady's gritty performance against Ohio State during the 1999 season. Nothing was going right for Michigan. The Buckeyes built a lead and were coming after Brady with blitzes.
"At some point in the game, Tom comes back to huddle and his mouth is just pouring blood and it didn't even phase him," Hutchinson said. "He just called the play. 'Damn, this kid is a cool kid from California. Some little surfer kid from California is playing with big boys and holding his own.' Just there, I respected him. Not only is he cool, but he's tough, too. A lot of guys are either/or. He's got both."
These and other stories came to mind Thursday when Seahawks coach Pete Carroll told his media-boycotting offensive linemen they would have to follow NFL rules designed to promote public access to its product. There was never any doubt how this one would end. The only question was whether Carroll would have to intervene. When he did, the issue largely went away.
Most of the Seahawks' linemen seemed conflicted on the matter. Their former line coach, Alex Gibbs, had encouraged their silence in developing camaraderie and an us-against-the-world mentality. Players naturally wanted to please their coach.
When Gibbs quit before the season, two of his longtime understudies,
Ben Hamilton
and
Chester Pitts
, enforced the old code. Both reportedly
conveyed their displeasure
Thursday while the Seahawks made available center
Chris Spencer
and tackle
Sean Locklear
for their first interviews of the season. Hamilton declined to answer questions. Pitts kept his distance.
According to ESPN Stats & Information, Pitts and Hamilton rank first and second, respectively, for the most holding calls against NFL offensive linemen since the 2002 season.
Pitts has 32. Hamilton has 29.
Hutchinson has five.
Following the rules is tougher for some than for others.
June, 24, 2010
6/24/10
10:00
AM ET
Notable players:
LT
Walter Jones
, LG
Steve Hutchinson
, C
Robbie Tobeck
, RB
Shaun Alexander
, QB
Matt Hasselbeck
, FB
Mack Strong
, MLB
Lofa Tatupu
, RCB
Marcus Trufant
, WR
Bobby Engram
, WR
Darrell Jackson
, WR
Joe Jurevicius
[+] Enlarge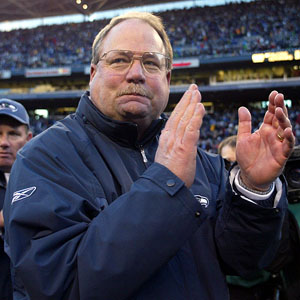 AP Photo/John FroschauerMike Holmgren's 2005 Seahawks were the only team in franchise history to make the Super Bowl.
Analysis:
The 2005
Seattle Seahawks
were the only team in franchise history to win more than 12 regular-season games. They were the only Seahawks team to appear in a Super Bowl, the only one to lead the NFL in points per game or to place more than two offensive linemen in a Pro Bowl.
This was the best team in franchise history by the critical measures. It had a Pro Bowl-caliber quarterback, the best offensive line in the NFL, the league MVP at running back and a defense that played its best where it mattered -- in the red zone. Rookie middle linebacker Lofa Tatupu brought direction to a defense lacking leadership.
Coach Mike Holmgren always said he needed his best players to be at their best for a team to approach its potential. This team had that, but clutch contributions from role players sent the 2005 squad on its way.
Receiver Joe Jurevicius added toughness at receiver while catching 10 touchdown passes, offsetting injuries to Darrell Jackson and Bobby Engram.
On defense, backup cornerback
Jordan Babineaux
made a season-altering play by picking off
Drew Bledsoe
with 14 seconds remaining during a 13-10 victory over the
Dallas Cowboys
in Week 7. Seattle had lost two of its first four games that season. Beating the Cowboys heading into the bye was important, but the matter in which Seattle won the game proved transforming.
"My hope is that every time you can win a game like this where it looked a little grim for a while but they you pull it out, it really helps you down the road," Holmgren said afterward. "It really helps your confidence. Organizations need to win games like this at some point."
The Seahawks had tied the score with 46 seconds remaining on Hasselbeck's 1-yard touchdown pass to backup tight end
Ryan Hannam
(after another backup, receiver
Jerheme Urban
, made a 22-yard reception at the 2-minute warning). Babineaux returned Bledsoe's pass 25 yards, getting out of bounds in time for
Josh Brown
to kick the winning field goal as time expired.
Most impressive win:
The 2005 team was at its dominant best during a 34-14 victory over the
Carolina Panthers
in the NFC title game.
Advanced chemistry:
Teams release injured backups regularly without repercussions, but veteran players protested when management released Urban instead of placing him on injured reserve following a foot injury in November. Urban had made an impression on teammates while catching seven passes for 151 yards. Management gave in to Seattle's veteran leadership, rescinding Urban's release and placing him on IR. The unusual move reflected the strength of the Seattle locker room during a special season.
Honorable mention
1984:
This was the only team in franchise history to rank among the NFL's top five in points scored and points allowed. Kenny Easley was the NFL's defensive player of the year. Steve Largent and Daryl Turner combined for 22 touchdown receptions. Defensive ends
Jeff Bryant
and Jacob Green combined for 27.5 sacks.
1983:
Other Seattle teams had better regular-season records, but the 1983 team recorded two playoff wins, including an upset shocker in Miami. The 2005 Seahawks were the only other Seattle team with more than one victory in the same postseason.
2007:
Losing Hutchinson during the previous offseason hurt, but Hasselbeck set a career high with 28 touchdown passes. Alexander topped 100 yards rushing in an overtime road defeat at eventual NFC champion Chicago in the divisional round.
April, 29, 2010
4/29/10
7:09
PM ET
The Seahawks' have put together
a video highlight package
commemorating
Walter Jones
' career as part of his official retirement announcement.

Jones
Some of the best highlights are near the end, including one featuring Jones driving his man 10-plus yards down the field, then driving him into the turf at Qwest Field.
The Seahawks have produced
another video
with comments from former teammates
Mack Strong
,
Steve Hutchinson
,
Robbie Tobeck
and others. Strong recalls the play against Carolina shown on the video.
"It was a sight to behold," Strong said.
The team is retiring his No. 71 jersey. Washington Gov. Christine Gregoire will declare Friday as "Walter Jones Day" in the state.
Earlier:
An appreciation
.
October, 14, 2009
10/14/09
1:00
PM ET
| | |
| --- | --- |
| | |
| | AP Photo/Steve Cannon; Steve Dykes-US PRESSWIRE |
| | Safety Adrian Wilson's physical play clearly made an impact in the Cardinals' win over Matt Hasselbeck's Seahawks last November. |

Posted by ESPN.com's Mike Sando
Arizona Cardinals
safety
Adrian Wilson
did his part in helping
Seattle Seahawks
quarterback
Matt Hasselbeck
forget a painful 2008 season.
The punishment Wilson delivered to Hasselbeck during the Cardinals' Nov. 16 victory at Qwest Field -- Hasselbeck's first game back from injury -- left the quarterback with a concussion and the Seahawks without hope.
Both players remain central figures in a rematch Sunday that could prove pivotal within a tightening NFC West race.
"I would compare playing an Adrian Wilson to when I was with the Packers and we would face John Lynch," Hasselbeck said Tuesday. "He's a perennial Pro Bowl kind of guy, a potential Hall of Famer and an amazing talent. ... Physically, he's got a presence about him. He has been disruptive for us in the past."
Two factors stand out to me above all others in assessing this matchup:
The Cardinals' offensive line and running backs must hold up against an improved Seahawks pass rush featuring rookie Aaron Curry, who seems to possess the violent tendencies that have made Wilson one of the NFL's most feared players.
The Seahawks must not let Wilson affect the game nearly to the degree he did in that Nov. 16 game last season.
Hasselbeck took only two sacks in that game, but I've seldom seen him take more hidden punishment.
| | |
| --- | --- |
| | |
| | Rich Kane/Icon SMI |
| | Adrian Wilson appeared to hit Matt Hasselbeck in the head during a sack in last November's game. |
Wilson's facemask appeared to strike Hasselbeck in the side of the helmet during a sack. Hasselbeck, perhaps sensing trouble, might have ducked into the contact. Hasselbeck seemed to survive that hit without much consequence, but his play suffered following a big hit from Wilson on a scramble near the goal line. Later, Wilson's hit on Hasselbeck's blind side sent the quarterback tumbling. Hasselbeck's jaw area struck the back of an offensive lineman's leg.
"I took two shots to the head," Hasselbeck said. "One rattled me a little, but not really. But the other, I got an Adrian Wilson forearm to the back of the head and I clearly had a concussion."
The Seahawks' official diagnosis differed -- coach Mike Holmgren said there was
no concussion
-- but Hasselbeck did seem woozy when accusing Wilson of dirty play immediately following the game. Cardinals coach Ken Whisenhunt
protested strongly
, Hasselbeck ultimately
apologized
and the Cardinals-Seahawks rivalry was officially a rivalry.
"That is last year," Wilson said Monday. "I ain't worried about that. Another year. Move on."
July, 8, 2009
7/08/09
2:30
PM ET
Posted by ESPN.com's Mike Sando
Former Rams receivers Torry Holt and Isaac Bruce commanded spots on my NFC West all-decade team after leading one of the most-dynamic offenses in NFL history.
Larry Fitzgerald also seemed worthy after posting three 1,400-yard seasons and staking the Cardinals into a late lead with a dramatic 64-yard touchdown reception in Super Bowl XLIII.
With at least three worthy candidates for two spots -- and with receivers Anquan Boldin, Bobby Engram and Terrell Owens more deserving than any of the available tight ends -- something had to give.
"I'm hard pressed to come up with [a tight end] better than Vernon Davis," wrote regular blog contributor Mind of no mind. "But if there is nobody better, then maybe we should drop the TE from the team and go with 3 WR with Bruce."
Done deal.
Holt, Bruce and Fitzgerald became the receivers. That made more sense than adding Davis, Eric Johnson, Jerramy Stevens, Itula Mili or some other relatively unaccomplished tight end to the squad.
Such was the give and take as I sifted through nominations left on the blog and on my Facebook page. One request I couldn't quite accommodate: finding a spot for the legendary Kim Il Zong, a ka The Zonger.
A position-by position look at my NFC West all-decade team follows. Thanks to Adam from Mesa, Ariz., for getting the conversation started (download his suggested team here).
April, 3, 2009
4/03/09
9:05
AM ET
Posted by ESPN.com's Mike Sando

Jim Thomas of the St. Louis Post-Dispatch says the Rams' expected agreement with Gus Frerotte fell through after the veteran quarterback expressed concerns about St. Louis possibly drafting a quarterback. The sides agreed to pick up discussions after the draft.

Bill Coats of the St. Louis Post-Dispatch checks in with Alex Barron regarding Barron's move to left tackle. The quotes from Barron do not make him sound enthusiastic about the move, which could be temporary if the Rams draft a left tackle early. Also, each of the Rams' players attended the first minicamp practice of the Steve Spagnuolo era.
More from Coats and his colleagues: Thoughts on what the Rams will get from this first camp under Spagnuolo.
Steve Korte of the Belleville News-Democrat details the Rams' media access policy for Spagnuolo's first minicamp. Future camps could be more accessible.

Niners general manager Scot McCloughan, writing in his mailbag, says he expects Patrick Willis to blitz more in the future, but not at the expense of what he does best. McCloughan: "His value sideline-to-sideline is so important to us that we keep him in coverage a lot of time on a running back, because there's a lot of check-downs nowadays with these offenses and we need a guy who can really cover some ground. It also frees our safety up so he can stay deep."
Kevin Lynch of Niner Insider says the 49ers will be "far better off" with Shaun Hill than Jay Cutler. Lynch: "Cutler's a sniveling prima donna with a big arm and a bigger attitude. One NFL expert I talked with called Cutler a 'thug' and said the Broncos would much rather have troubled wide receiver Brandon Marshall in their locker room than Cutler." Other than that ...
Matt Barrows of the Sacramento Bee says the 49ers' interest in Cutler was passing. They might have considered him if more aggressive teams had stumbled in their attempts to land him. That was Barrows' take before the Broncos traded Cutler to Chicago.

Kent Somers of the Arizona Republic says Dan Kreider's signing in Arizona means the Cardinals will be less likely to re-sign Terrelle Smith.
Also from Somers: About 55 of the 68 players on the Cardinals' roster have attended voluntary conditioning workouts. The number will rise once Kreider reports and once other players, including Larry Fitzgerald, return next week. Anquan Boldin, Darnell Dockett and Adrian Wilson have not shown. All want new contracts. Meanwhile, Karlos Dansby's agent was expected to arrive for contract talks.
More from Somers: He isn't reading much into the latest comments from Boldin.
Darren Urban of azcardinals.com says there's no way Smith will return now that Kreider is under contract. Urban: "Kreider, 5-foot-11 and 255 pounds, will have the edge to win such a job with the Cardinals. Both [Justin] Green and [Tim] Castille excel on special teams, but neither is proven as an offensive cog."
Also from Urban: He'll miss Smith, whose personal story about his ailing mother warmed hearts heading into the Super Bowl.
And this from Urban: A behind-the-scenes look at the Cardinals' trip to USC for the Trojans' pro day.
Revenge of the Birds' Hawkwind looks at the last 10 players drafted 31st overall. The Cardinals hold that pick this year. Good luck finding a dominant pass rusher.

Greg Johns of seattlepi.com says former Seahawks center Robbie Tobeck will co-host a radio show in Seattle each Saturday beginning April 11.
Danny O'Neil of the Seattle Times displays an image showing one of the new green jerseys available through the Seahawks' pro shop. Did I mention it's green?
John Morgan of Field Gulls looks at USC players other than Mark Sanchez who could be attracting the Seahawks' attention.
Michael Steffes of Seahawk Addicts wonders if the Broncos might want to trade into the top five choices after the Cutler trade. How might that affect the Seahawks? I'd be surprised if the Broncos made that type of move. They have too many needs and two picks arguably more attractive than if they were in the top five.
NFL SCOREBOARD
Thursday, 9/4
Sunday, 9/7
Monday, 9/8