NFL Nation:

Robert Blanton
December, 22, 2013
12/22/13
6:30
PM ET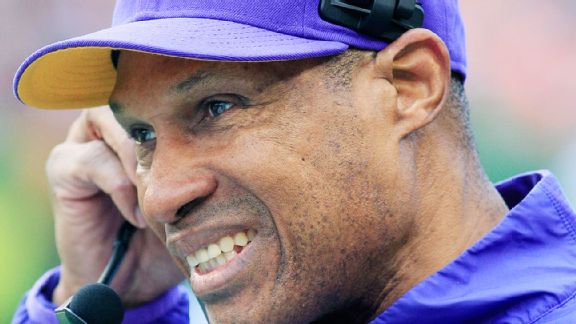 AP Photo/Tom UhlmanA 42-14 loss to the Bengals didn't help Leslie Frazier's case to remain the Vikings' head coach.
CINCINNATI -- The
Minnesota Vikings
had just finished their
10th and most lopsided loss of the season
, falling by four touchdowns to the
Cincinnati Bengals
at a time when such a shot could prove fatal to the chances of coach Leslie Frazier keeping his job. Running back
Adrian Peterson
-- who had said on Friday he looked forward to playing for Frazier "for the rest of my career," was even more pointed in his support of Frazier on Sunday.
After the season, Peterson said, he planned to communicate that support directly to ownership.
"I'm definitely not an individual that's looking for dramatic change. It would hurt if he leaves," Peterson said. "I try to say what I think, but there's a time and place for everything. With the season getting wrapped up, that time is coming. I'm going to give my input, see what they have to say and we'll go from there."
By that time, it might be too late for Peterson or anyone else looking to stump for Frazier. The Vikings need wins more than words to make that case, and instead of following up a blowout of the
Philadelphia Eagles
with another win over a playoff contender on Sunday, they got steamrolled, 42-14, by the Bengals in a game that guaranteed Frazier will have more seasons with double-digit losses (two) than double-digit wins (one) to his name as the Vikings' coach.
The loss, as much as anything, highlighted the glaring deficiencies on the Vikings' roster. Frazier can do little about his quarterback situation, where the inconsistent
Matt Cassel
has looked like the best of a weak bunch, and on Sunday, the coach's list of healthy cornerbacks included a converted safety (
Robert Blanton
), an undrafted free agent (
Marcus Sherels
), two practice-squad additions (
Shaun Prater
and
Robert Steeples
) and former second-round pick
Chris Cook
, who's been so unreliable that the Vikings were rotating him with Prater and Sherels on Sunday. That situation hangs more on general manager Rick Spielman than it does Frazier, but in light of how much the Vikings have apparently been doing their homework on coaching candidates, Frazier's fate might be sealed.
Citing multiple sources, ESPN NFL insider Adam Schefter reported on Sunday that Vikings ownership has told others around the league that it is planning to make a head coaching change after this season, though one team source was adamant that nothing has been decided yet. Vikings ownership has told others that it believes it presides over an attractive opportunity, one that will have another premium draft pick, along with the promise of a new stadium coming. The Vikings already have been doing their due diligence on potential replacements for Frazier, and their wish list is said to include Vanderbilt head coach James Franklin and Penn State head coach Bill O'Brien, among others.
I'd heard rumblings of candidates putting out feelers for the Vikings job as early as November, when the team was 1-7, and in reality, Frazier was in a tough spot last January, when ownership decided not to offer him a contract extension after a 10-6 season, choosing instead to pick up his 2014 option and effectively forcing him to repeat a season where the Vikings enjoyed a soft schedule, good fortune with injuries and the singular brilliance of Peterson during his 2,097-yard march on Eric Dickerson's record.
The odds of doing that were slim when the Vikings had so much uncertainty at possibly the two most important positions in the NFL -- quarterback and cornerback -- and while Peterson insisted after the loss that the Bengals weren't better than the Vikings, Frazier almost sounded at a loss for what he could do with his young secondary racked by injuries and not only Peterson, but backup
Toby Gerhart
trying to play through injuries.
"It's been tough, now. I'm not going to sit here and sugarcoat that," Frazier said. "Where we are in the secondary, and where we were today, having to get [running back]
Joe Banyard
up with Toby going down [after re-injuring his hamstring on the Vikings' first series], we tried our best to maximize the roster. ... The good thing about Joe Banyard, about Shaun, all those guys is, they're playing as hard as they can and giving you everything they have. But some of those matchups can be difficult, for sure."
Frazier said this week he was just making a "general comment" in a Sirius XM Radio interview when he praised the Rooney family for their patience with the
Pittsburgh Steelers
' coaches, but it's hard to believe he wasn't uttering the remarks without an eye toward his own situation. His status looked as bleak as ever on Sunday, when his players could only offer statements of support while the results pushed Frazier to the brink.
"We'll have some internal discussions, but I've got one more game in this season," Frazier said. "I'm looking forward to hopefully coaching that final game and getting us a win at Mall of America Field as we close out the [Metrodome]. That's where my focus will be."
December, 20, 2013
12/20/13
5:05
PM ET
EDEN PRAIRIE, Minn. -- The
Minnesota Vikings
won't have cornerback
Xavier Rhodes
on Sunday in Cincinnati; the rookie will miss his second straight game with a sprained ankle, meaning the Vikings' depleted secondary, which controlled Philadelphia's prolific offense last week, will have to try to do it again to Bengals receiver
A.J. Green
.
Cornerback
Chris Cook
should be back from a knee injury that kept him out last week, but Rhodes has been the Vikings' best cover corner in recent weeks, and Cook has struggled at times this season when put on an island against top receivers like Chicago's
Alshon Jeffery
.
Shaun Prater
and
Marcus Sherels
will likely be the corners the Vikings rely on most, other than Cook, and safety
Robert Blanton
could again see time at cornerback, though he got beat for two touchdowns last week against the Eagles.
Tight end
John Carlson
is doubtful to play after having recurring post-concussion symptoms this week; coach Leslie Frazier said he hasn't talked with Carlson yet about the possibility of finishing the season on injured reserve, but considering there is only a week left in the season and Carlson has sustained three concussions in the NFL, the Vikings could think about shutting him down for the season.
"We just have to decide what is better for him and what is best for the club and see where he is when we come back and talk again tomorrow and see if he is better," Frazier said.
Here is the Vikings' full injury report:

Out: Cornerback Xavier Rhodes (ankle).
Doubtful: Tight end John Carlson (concussion).
Questionable: Running back Adrian Peterson (groin/foot), running back Matt Asiata (ankle).
Probable: All others.
December, 13, 2013
12/13/13
1:17
PM ET
EDEN PRAIRIE, Minn. -- Both
Adrian Peterson
and
Toby Gerhart
were taking part in light drills in the portion of Friday's
Minnesota Vikings
practice open to the media, but it was too soon to tell if either would be able to play Sunday against the
Philadelphia Eagles
.
Peterson
Coach Leslie Frazier said this week that the Vikings wanted to see if Peterson, who suffered a mid-foot sprain on Sunday against the
Baltimore Ravens
, could run and cut effectively on his injured right foot. He was more optimistic about Gerhart being able to play with a strained hamstring, saying the Vikings just "need to see him burst a little bit." Depending on how they looked, Frazier said the Vikings could possibly wait until Sunday before declaring Peterson or Gerhart out.
It appears the Vikings won't have cornerback
Xavier Rhodes
, who wasn't practicing because of a sprained ankle on Friday. Nor will they have tight end
John Carlson
, who didn't have a helmet and hasn't been cleared to return from a concussion. That will mean the Vikings' only tight ends are
Rhett Ellison
and
Chase Ford
, and at cornerback, they'll be down to
Chris Cook
,
Marcus Sherels
and
Shaun Prater
, in addition to safety
Robert Blanton
, who could see some time at slot cornerback once again. Safety
Harrison Smith
looks on track to return from turf toe and be activated from injured reserve, but the Vikings aren't sure how many snaps they'll be able to give him after a two-month layoff.
We should know something more definitive on Peterson and Gerhart within the hour, when Frazier speaks to reporters.
December, 8, 2013
12/08/13
7:00
PM ET
BALTIMORE -- As the
Minnesota Vikings
stewed over their
29-26 loss
to the
Baltimore Ravens
on Sunday afternoon, with nowhere to go after a catering truck hit the plane that was scheduled to take them back to the Twin Cities, many players struggled to find the right emotions for the most dramatic loss in a season that's been full of eventful endings.
[+] Enlarge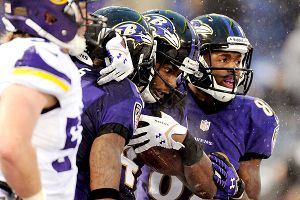 Evan Habeeb/USA TODAY SportsMarlon Brown's late touchdown won the game for the Ravens.
Were they to be upset with themselves about allowing a last-minute touchdown for the fourth time this year, or angry with officials for what they felt like were a series of short-sighted calls? Were they supposed to be grateful for the chance to participate in one of the wildest finishes in NFL history, or bitter that they had come out on the losing end of it?
The overriding emotion, after a game that featured a NFL-record six lead changes in the fourth quarter, seemed to be numbness.
"That was the first time I had ever been part of something like that," said wide receiver
Cordarrelle Patterson
, whose 79-yard touchdown in the final minute put the Vikings ahead by four. "I had always wanted to play in the snow, and I got my opportunity today. It was a tough game. The way we fought on offense, defense and special teams, the way we stepped up in this game, we expected to win. And, at the end, it wasn't what we expected it to be."
So many things happened on a snowy Sunday at M&T Bank Stadium that it was hard for the Vikings to process all of it. They had reason to be encouraged by how their offense responded after losing running back
Adrian Peterson
to a sprained foot, by Patterson's continued emergence as a game-breaking receiver and by their secondary's resoluteness through most of the second half. But for the seventh time this year, their fate hung in their inability to stop a team in the last minute. They are now 2-4-1 in those games, and on Sunday, they allowed not one, but two Ravens touchdown drives at the end of the game, with a
Jacoby Jones
kickoff return sandwiched between them.
Several players -- Peterson and fullback
Jerome Felton
among them -- aired their displeasure with referee Pete Morelli's officiating crew, while others bit their tongues. "I'm not going to say anything to get on Roger Goodell's list," defensive end
Brian Robison
said. Coach Leslie Frazier said he was "bewildered," in particular, by two late pass interference calls -- one on safety
Robert Blanton
, the other on linebacker
Chad Greenway
-- that gave the Ravens 55 yards on their final two offensive series and wiped out an
Andrew Sendejo
interception that would have ended the game.
But in the end, all the Vikings' two quick-strike touchdowns served to do was set up their defense for another collapse.
"It was really emotional," defensive end
Jared Allen
said. "You try not to get too high or too low. We thought the game was over four times. But, we have to play all four quarters. Three times in the last two minutes, we had to stop them, and we didn't."
November, 24, 2013
11/24/13
7:19
PM ET
GREEN BAY, Wis. -- For the first time since 2009, the
Minnesota Vikings
left Lambeau Field on Sunday evening with something other than a loss. But to get from where they were early in the fourth quarter -- sitting with a 23-7 lead, a running game that was battering the
Green Bay Packers
' defense and an opponent who gained just 40 yards in the third period -- to a
26-26 tie
, the Vikings had to face many of the same defensive issues they've had all season.
They let
Matt Flynn
throw for 119 yards in the fourth quarter after he replaced
Scott Tolzien
on Sunday, and gave up another 53 rushing yards as the Packers stormed back to score 16 points and force overtime. The Vikings allowed 13 first downs in the quarter -- even though the Packers went 1-of-5 on third downs -- and handed Green Bay another 43 yards in penalties. And on offense, the Vikings could manage just two first downs, once again failing to run the clock out on a trailing opponent
That meltdown didn't lead to the Vikings fourth come-from-ahead loss of the year, thanks to the Packers' failed two-point conversion in the fourth quarter and their inability to punch the ball in from the Vikings' 2 in overtime. But even if the final result wasn't the same as many of the Vikings' defeats, some of the symptoms were.
"It's a weird outcome," linebacker
Chad Greenway
said. "It feels more like a loss in this locker room. I feel like the way things went in that fourth quarter -- opportunity to get off the field, and we get a penalty -- it's kind of the same, shoot-yourself-in-the-foot things we've done all year."
Of chief concern was probably the 35-yard pass interference penalty
Marcus Sherels
committed on
James Jones
to set up the Packers' first touchdown, followed by defensive end
Jared Allen
's illegal-use-of-hands infraction on third-and-10 from the Vikings' 15. The Packers were a yard short of a first down before Allen's penalty, which gave Green Bay a new set of downs at Minnesota's three, and
Eddie Lacy
scored on the next play.
And then, on the Packers' final drive, defensive end
Everson Griffen
jumped offside, giving Flynn a free play and setting up the jump ball he threw to Jones, who beat Sherels for 28 yards. The issues continued in overtime, when
Robert Blanton
's holding penalty nullified Greenway's sack and extended a Packers drive that ended in
Mason Crosby
's field goal.
"It ends up obviously being a big play in the game," Greenway said. "You want to sit here and point blame at Blanton, it's just a tough situation. Those situations we were putting our DBs in today, it was a lot of man coverage, and challenging those guys. You're going to have some of that when you're doing that."
The offense wasn't without blame, either.
When the Vikings got the ball back after the Packers' second touchdown with 3:30 left, they had their fourth chance of the year to run the clock out and seal a victory. For the fourth time, they couldn't do it.
Ponder said a fumbled snap on 2nd-and-8 was due to a miscommunication in the exchange between him and center
John Sullivan
, adding, "It seems like late in games, we have these mess-ups that cost us games." Ponder lost three yards after recovering the ball, and was sacked on third-and-11 before the Vikings punted.
And with a chance to win the game in overtime,
Cordarrelle Patterson
couldn't corral Ponder's throw to the back of the end zone after
Davon House
tipped it slightly. Patterson said he lost focus on the ball for a second, and Ponder said, "That's something we've got to convert on to win a game."
If any one of several plays had gone differently, the Vikings might have put their division rivals' playoff chances to bed. As it was, they headed for home trying to process a strange result.
"At the end of the day, they made a few more plays than we did to get back in the game," defensive back
Chris Cook
said. "That's the way football goes sometimes."
October, 30, 2013
10/30/13
7:09
PM ET
EDEN PRAIRIE, Minn. -- For most of the season, the majority of the
Minnesota Vikings
' injuries have been on the defense. But three days after he was nearly shut out against his former team, wide receiver
Greg Jennings
was unable to get back on the practice field because of a knee injury.
Jennings
Jennings, who caught just one pass for 9 yards in a 44-31 loss to Green Bay on Sunday, was on the practice field without a helmet in the portion of Wednesday's practice open to the media. He was one of six players who did not participate for the Vikings, joining running back
Matt Asiata
(shoulder), cornerback
Chris Cook
(hip), safety
Jamarca Sanford
(groin), tight end
Rhett Ellison
(ankle) and defensive tackle
Fred Evans
(knee).
We'll learn more throughout the week about how severe Jennings' injury is, but the injuries to Cook and Sanford could be an even bigger problem for the Vikings on Sunday. The team is already without safety
Harrison Smith
, and missing both players would leave the Vikings with four healthy corners (
Josh Robinson
,
Marcus Sherels
.
A.J. Jefferson
and
Xavier Rhodes
) and three healthy safeties (
Andrew Sendejo
,
Robert Blanton
,
Mistral Raymond
).
For the league's 29th-ranked pass defense, facing the eighth-best pass offense in the league, that sounds like a recipe for disaster.
"With defensive backs when you have muscle issues it's always a concern because we need them," coach Leslie Frazier said. "I'm hoping they'll get through this, but muscles in defensive backs or receivers it's always a concern."
September, 18, 2013
9/18/13
7:30
PM ET
EDEN PRAIRIE, Minn. -- The
Minnesota Vikings
will play the
Cleveland Browns
at Mall of America Field on Sunday, and they spent the first two days of the week preparing for a team that likely would start
Jason Campbell
at quarterback and
Trent Richardson
at running back.
The team they face in actuality will use neither player.
The Browns announced Wednesday morning they would start third-stringer
Brian Hoyer
, not Campbell, in place of the injured
Brandon Weeden
, a move that had a grateful Leslie Frazier chuckling about how he'd rather find out now than at game time on Sunday. Then, on Wednesday evening, Cleveland traded Richardson to Indianapolis for a first-round pick, as ESPN NFL Insider Adam Schefter reported.
Not only does the latter move take the Browns' top playmaker off the field on Sunday, it adds another interesting wrinkle to one of Vikings general manager Rick Spielman's biggest trades.
It was Cleveland, you'll recall, that sent three additional picks to the Vikings last year to swap first-rounders with Minnesota, moving up one spot from No. 4 to No. 3 overall. The Browns drafted Richardson, and the Vikings got the player they were targeting anyway (USC offensive tackle
Matt Kalil
). The trade gave the Vikings an extra fourth-rounder, making it easier for them to part with their own fourth-round selection to move back into the first round and take Notre Dame safety
Harrison Smith
. Kalil reached the Pro Bowl last year, and Smith looks like he could be headed in that direction.
The Browns, meanwhile, gave up three picks for a running back they decided to deal 17 games into his career. Richardson scored 11 touchdowns as a rookie, and it's not the Vikings' business what the Browns did with him after they took him, but the Browns-Colts trade does speak again to Spielman's ability to create a market for his assets. The Browns likely believed they had to move up to No. 3 to take Richardson, and in return the Vikings got the flexibility to deal back into the first round and pick up a starting safety in addition to the tackle they wanted. It's similar to what Spielman did in March, landing three picks for
Percy Harvin
(a receiver it seemed obvious the Vikings would trade at some point) and moving back into the first round to draft
Cordarrelle Patterson
after taking
Sharrif Floyd
and
Xavier Rhodes
with Minnesota's other two first-rounders.
With Harvin out for at least the first six weeks of the season, and Richardson gone to Indianapolis, the ledger looks like this: From the Cleveland trade, the Vikings got picks to take receiver
Jarius Wright
and safety
Robert Blanton
(who are still on the team), and had an extra fourth-rounder to help them move up and get Smith. From the Seattle trade, they got Rhodes and offensive guard Travis Bond (who is currently on their practice squad). In exchange for all that, the Vikings gave up Harvin and the rights to two picks that became Ravens linebacker
Courtney Upshaw
and offensive guard
Gino Gradkowski
.
Again, Spielman couldn't control anything that happened to the pieces he parted with in trades, but the fragility of the NFL so often rewards teams that are more willing to assemble pieces than pay dearly for one player. The Richardson trade was a reminder of that, and the fact the Browns won't have him on Sunday probably shouldn't be the only reason for Spielman to smile today.
October, 7, 2012
10/07/12
7:45
PM ET
MINNEAPOLIS -- A few thoughts on a
dominating 30-7 performance
Sunday at the Metrodome:
What it means:
The
Minnesota Vikings
are 4-1 and tied for the NFC North lead with the
Chicago Bears
. The
Tennessee Titans
put on a listless and punchless performance, but the Vikings pounced and never let up in an impressive outing. Through five weeks, the Vikings have already exceeded their 2011 win total.


HarvinWatch:
We
discussed the MVP candidacy
of receiver/running back/return man
Percy Harvin
last week, and Harvin did nothing to remove himself from the conversation Sunday. He scored two touchdowns, one on a 4-yard dive at the goal line and the other on a 10-yard reception in which four Titans defenders missed opportunities to tackle him. You'll see the latter play on highlight videos all week. Overall, Harvin caught eight passes for 108 yards, including a 45-yarder that set up his first touchdown, and added 8 more yards on two carries.
PonderWatch:
Quarterback
Christian Ponder
threw his first two interceptions of the season, on his final pass of the second quarter and first pass of the third, but rebounded well from that point. After the second interception, Ponder completed 11 of 12 passes for 100 yards, including the score to Harvin and a 20-yard touchdown pass to tight end
Kyle Rudolph
.
Defensive dominance:
Through three quarters, the Vikings limited the Titans to 96 total yards and five first downs before the game turned into a hurry-up situation. Anyone who watched the Vikings slog through the 2010 and 2011 seasons can see this group is playing with more confidence and aggressiveness, especially in contesting passes. Unofficially, the Vikings batted down or tipped away nine of
Matt Hasselbeck
's 43 throws. They also sacked him twice and hit him five times, unofficially.
SmithWatch:
The defense hardly missed a beat after losing safety
Harrison Smith
to ejection in the second quarter. But will Smith incur an NFL suspension for shoving aside an official who was trying to back him away from a scrum? That has yet to be determined. It's difficult to know exactly how rookie
Robert Blanton
played in his place, but the Titans finished with seven points, so ...
What's next:
The Vikings will visit the
Washington Redskins
next Sunday. Redskins quarterback
Robert Griffin III
suffered a concussion today, calling into question whether he will be available to start against the Vikings. Griffin tweeted Sunday evening that he thinks he will be ready to play.
October, 7, 2012
10/07/12
5:43
PM ET
MINNEAPOLIS -- The
Minnesota Vikings
just suffered an unusual but significant blow early in the second quarter here at the Metrodome.
Rookie safety
Harrison Smith
, whose early success this season
was the subject of a post Friday morning
, was ejected for shoving aside an official who was trying to remove him from a scrum. The Vikings, who have two injured safeties on their inactive list --
Mistral Raymond
and
Andrew Sendejo
-- are now playing with rookie
Robert Blanton
alongside
Jamarca Sanford
.
I couldn't tell which official Smith was tangled up with on the only replay I saw. I'll pass the name along if and when I can confirm it. I don't think what Smith did was vicious or outrageous, but generally speaking, when an official puts his hands on you, you need to stand down. As for the Vikings' game next week against the
Washington Redskins
, we'll see if Smith is suspended by the NFL. There are no hard and fast rules there.
Already in this game, Smith has recovered a fumble and made a blistering hit on
Tennessee Titans
receiver
Kendall Wright
. The Vikings lead
13-0 near the end of the second quarter
, but they'll have to go the rest of the way without one of their top defensive players.
July, 2, 2012
7/02/12
2:01
PM ET
»
AFC camp battles
:
West
|
North
|
South
|
East
»
NFC
:
West
|
North
|
South
|
East
An early look at the biggest training camp position battles:

CHICAGO BEARS
Left tackle: J'Marcus Webb versus Chris Williams
It's a bit disconcerting to stage a competition at such an important position, especially when you consider how difficult it is to find a good left tackle at the NFL level.
Williams, a first-round draft pick in 2008, hasn't manned the position since early in the 2010 season. Left tackles who are moved away mid-career usually aren't brought back. He has also started games at right tackle and left guard in his career, making him a candidate to be a swing backup if Webb wins the job.
Webb was one of the Bears' few options last season at left tackle. But after absorbing 15 accepted penalties and allowing 12 sacks, based on tracking from
Pro Football Focus
, it's clear Webb did not establish himself as a long-term answer.
Offensive coordinator Mike Tice was the Bears' offensive line coach when Williams moved to left guard. Tice also installed Webb as his left tackle last season, so it's reasonable to guess Webb would get the benefit of the doubt. The Bears will cross their fingers and hope one of the two emerges as a competent option.

DETROIT LIONS
Cornerback: Aaron Berry versus Jacob Lacey
Lions training camp will include a number of competitive storylines, from whether rookie offensive lineman
Riley Reiff
can win a starting job (somewhere) to whether safety
Amari Spievey
can hold on to his role. But the most significant battle could be between Berry and Lacey for the chance to replace
Eric Wright
as a starting cornerback.
Berry was the Lions' Week 1 nickel back in each of the past two seasons, and it would be a natural progression for him to take over as a starter. Lacey started 27 games for the
Indianapolis Colts
over the past three seasons, but it's worth reiterating that the Colts did not issue him a qualifying tender as a restricted free agent. That decision wasn't exactly an endorsement of his career to this point.
For the moment, at least, Berry's recent arrest for suspicion of drunken driving hasn't threatened his roster spot. The bigger issue has been his inability to stay on the field, having missed 15 games in 2010-11 and five last season because of injury.
Given the number of three- and four-receiver sets the Lions likely will face in the NFC North this season, both Berry and Lacey should see plenty of action. But the Lions surely would like Berry to feed off the competition and solidify himself as a permanent starter.

GREEN BAY PACKERS
No. 3 receiver: James Jones versus Randall Cobb versus Donald Driver
The winner of this competition might be reflected in playing time rather than actual starts, and that, of course, is assuming
Greg Jennings
and
Jordy Nelson
receive the most snaps among the Packers' deep and talented group of receivers.
Driver started 15 games last season
even though he played fewer snaps than Jennings and Nelson.
Cobb's expected development adds another element to the question of who will play most often among this trio.
Some of the answer will depend upon matchups and scheme, but ultimately the most reliable playmaker will emerge and receive the most playing time.

MINNESOTA VIKINGS
Safety: Multiple players and positions
Given the miserable performance of their pass defense in 2011, it's safe to assume the Vikings will have a new starter at one safety position, and possibly both, in 2012. Veterans
Jamarca Sanford
and
Mistral Raymond
worked with the first team during most spring practices, but Sanford has proved a liability in pass coverage in the past, and a number of other players should get long looks during training camp.
That list is headed by first-round draft pick
Harrison Smith
, who eventually will be a starter, even if it isn't in Week 1. Fellow rookie
Robert Blanton
, who is making the transition from cornerback, is another candidate.
The Vikings also will have competition at right guard between second-year player
Brandon Fusco
and veteran newcomer
Geoff Schwartz
, but it's likely more fans will follow the progress of the safety positions.
May, 25, 2012
5/25/12
10:00
AM ET
Yes, the start of training camps is two months away, but it's never too early to consider the coming season. A look at the best-case and worst-case scenarios for the Minnesota Vikings in 2012.

Dream scenario (9-7)
: Quarterback
Christian Ponder
makes a big leap in his second season, spurred in part by confidence in his new offensive line. Ponder makes good use of his two pass-catching tight ends,
Kyle Rudolph
and
John Carlson
, and either
Jerome Simpson
or
Greg Childs
provides a legitimate downfield threat. Tailback
Adrian Peterson
(knee) is back to full strength early in the season, if not in Week 1. The Vikings get a big return on overhauling the middle of their defense and aren't hindered by starting one rookie safety (
Harrison Smith
) and perhaps two (with
Robert Blanton
). In a tough division, they're thrilled to finish with a winning record.
Nightmare scenario (3-13):
The Vikings show no improvement from 2011, giving them a three-year record of 12-36. Ponder's inconsistency raises questions about his future with the franchise. Peterson returns but isn't a dominant runner any longer. The defense implodes because of its inexperience and lack of playmakers in the back end. It's clear the franchise has another year or more to go before matching the rest of the division.
April, 28, 2012
4/28/12
2:45
PM ET
I'm not sure what it means, if anything, but the
Minnesota Vikings
have produced a unique draft quirk as we approach the final few rounds of the NFC North draft.
To this point, they have drafted three sets of college teammates among their first seven picks. Here's the rundown:
USC: Left tackle Matt Kalil (No. 4 overall) and tight end/fullback Rhett Ellison (No. 128). Ellison told Minnesota reporters that he was stunned to be drafted.
Notre Dame: Safety Harrison Smith (No. 29 overall) and cornerback Robert Blanton (No. 139).
Arkansas: Receivers Jarius Wright (No. 118 overall) and Greg Childs (No. 134). Wright, and Childs, in fact, were high school teammates and grew up together in Arkansas.
The Notre Dame connection is especially notable when you consider the Vikings already have three former Irish players on their roster: Tight ends
Kyle Rudolph
and
John Carlson
, along with center
John Sullivan
.
Tweeted quarterback
Christian Ponder
: "I'm going to have to figure out how to deal with all of these golden domers."
NFL SCOREBOARD
Sunday, 2/2
WEEKLY LEADERS