September, 9, 2014
Sep 9
10:00
AM ET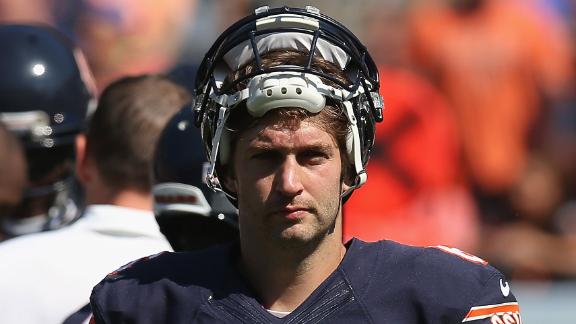 Sometimes the numbers speak for themselves. Most times, however, we need a deeper dive -- mixed with a bit of common sense -- to understand how an NFL quarterback performed in a given week.
The full answer can be elusive, but as in past years, we'll endeavor to get as close as possible in the weekly Quarterback Report. The vast trove of data produced by ESPN Stats & Information, much of which is used to calculate Total Quarterback Rating (QBR), will guide us. (Special thanks to analyst Jacob Nitzberg for his help in sifting through and translating the data for me.)
This season's edition will provide detailed analysis of five (or so) quarterbacks from Week 1 action. Feedback and suggestions are encouraged, either via the comments below or
through my mailbag
.
Quarterback: Jay Cutler
What you saw:
Thirty-four completions in 49 attempts for 349 yards, 2 touchdowns, 2 interceptions.
What you might have missed:
All but one of Cutler's passes against the
Buffalo Bills
came from inside the pocket, a notable departure when you consider how good he's been when on the run in his career. Last season, his 84.7 QBR outside the pocket for the
Chicago Bears
ranked second in the NFL.
As it turned out, Cutler's one foray outside the pocket Sunday led to a crushing interception by defensive tackle
Kyle Williams
, a play that dropped the Bears' win probability from 64.3 to 43.9.
A hamstring injury limited deep receiver
Alshon Jeffery
to 36 snaps, and the impact on Cutler was clear. Of his 49 attempts, 33 traveled 10 yards or fewer downfield. He completed only 1 of 8 passes of at least 15 yards downfield, including none of five after halftime, and he threw his average pass 2.43 seconds after the snap. (Last season: 2.63 seconds.)
Finally, Cutler completed 41.7 percent of passes thrown to players other than Jeffery,
Brandon Marshall
, tight end
Martellus Bennett
and running back
Matt Forte
.
Final analysis:
Cutler looked an awful lot like a West Coast system quarterback. Historically, he's been at his best when moving outside the pocket and creating chances for his downfield guys to break open.
Brady
Quarterback: Tom Brady
What you saw:
He was 29-for-56 for 249 yards, 1 TD, 0 INTs.
What you missed:
A struggle against the
Miami Dolphins
' standard pass rush, especially in a four-sack, two-fumble second half.
For the game, when the Dolphins sent four or fewer pass-rushers, Brady's QBR was its lowest (18.4) since 2010. He completed only 50 percent of his passes (20 of 40) and took three of his four sacks in those situations. Overall, Brady was under pressure on 16 dropbacks, his second-most in a game for the
New England Patriots
since ESPN Stats & Information began tracking it in 2006. His performance when under pressure in the second half: 0-for-6 with four sacks.
Not surprisingly, Brady didn't have much time to get off an accurate deep throw. He missed on 16 of 18 passes that traveled at least 15 yards downfield, over- or underthrowing 61 percent (11 of 18) of them. For context, in 2013 Brady missed on 41 percent of his deep passes.
Brady's performance on third down was equally weak, with three completions in 11 attempts, including none in four attempts to tight end
Rob Gronkowski
. Overall, eight of Brady's 12 throws to Gronkowski fell incomplete.
Final analysis
: The best quarterbacks are expected to excel regardless of pass rush, but the Patriots' pass protection didn't do Brady many favors. When you're under pressure more often than you have been in years, and it's typically via a standard rush, those around the quarterback deserve significant blame.
Griffin
Quarterback: Robert Griffin III
What you saw:
He was 29-for-37 for 267 yards, 0 TDs, 0 interceptions
What you might have missed:
One of the most conservative games of Griffin's career with the
Washington Redskins
. Documenting his approach leads to some staggering numbers.
Griffin's average pass against the
Houston Texans
traveled 5.89 yards in the air, the third-lowest total of his career. Of his 37 attempts, 25 traveled 5 yards or fewer downfield. About 60 percent of his yardage total (160 of 267) came after the catch, and while he completed all eight of his passes targeted at receiver
DeSean Jackson
, six of them traveled 5 yards or fewer downfield. Of Jackson's 62 yards, 43 were after the catch.
That 267-yard total is worth further inspection. Nearly three-quarters of it (193 of 267) came in the second half, which began with the Redskins having a win probability of 17 percent and never rose above 31.6 percent. In other words, it came when the Texans were more willing to allow yards in exchange for time off the clock.
Final analysis:
Robert Griffin III the pocket passer makes one yearn for Robert Griffin III the wild runner. Checking down all game only works if your team has a lockdown defense. The Redskins don't. They need more explosive plays from their quarterback, one way or the other.
Smith
Quarterback: Geno Smith
What you saw:
He was 23-for-28 for 221 yards, 1 TD, 1 INT.
What you might have missed:
A completion percentage aided by an excess of short passes, and a QBR (32.3) lowered by two significant turnovers.
More than half (12) of Smith's completions were caught either at or behind the line of scrimmage, including seven screen plays. Smith also completed 10 of 12 play-action attempts. His longest completion traveled 17 yards in the air. Meanwhile, his interception dropped the
New York Jets
' win probability by 11.5 points, and his fumble inside the
Oakland Raiders
' 5-yard line dropped it by 15.4 points.
He completed all five of his passes on third down, but only two were converted to first downs. He also took both of his sacks on third down.
One significant, positive development: Smith completed 8 of 9 passes against the Raiders' blitz after finishing 2013 as the NFL's second-lowest ranked quarterback against the blitz.
Final analysis:
The Jets' use of Smith suggests he hasn't fully earned their trust. It worked at home against the Raiders, and in general is a good formula for a young quarterback in development, but it will require top-end play from the Jets' defense to support victories against teams with higher-scoring offenses.
Locker
Quarterback: Jake Locker
What you saw:
He was 22-for-33 for 266 yards, 2 TDs, 0 INT
What you might have missed:
A notable adjustment in the way Locker was used by the
Tennessee Titans
' new coaching staff.
Locker didn't attempt a single pass from outside the pocket, something that never happened in 2013 and in general has been a rarity during his injury-riddled career. He acquitted himself well when asked to be a pure pocket passer, completing 7 of 11 passes on third down, converting six into first downs. His only miss? A third-and-19 in the first quarter. Overall, he converted a career-high 18 passing first downs.
Fantasy players and traditional fans alike would be interested to note that of Locker's seven passes to receiver
Kendall Wright
, five traveled 5 or fewer yards downfield. Receiver
Justin Hunter
, meanwhile, was targeted on five passes that traveled at least 15 yards downfield.
Final analysis
: We know Locker has the ability to scramble, but we also know he has had a tendency to get hurt. New coach Ken Whisenhunt's offense is safer for him if he can excel within its parameters. So far, so good.

NFL SCOREBOARD
Thursday, 9/18
Sunday, 9/21
Monday, 9/22
WEEKLY LEADERS