NFL Nation:

Robert Henson
August, 10, 2010
8/10/10
1:00
PM ET
By
Matt Mosley
| ESPN.com
ESPN.com NFL Power Ranking
(pre-camp): 20
ASHBURN, Va. -- It's 7:15 on a Friday evening at Redskins Park and coach Mike Shanahan has taken a short break from watching film of the morning's practice. The man who always appears to be five minutes removed from a tanning session is discussing a philosophy that's served him well over the years, but came into question when he was fired in Denver after 14 seasons and two Super Bowl titles.
Now Shanahan and his hand-picked quarterback,
Donovan McNabb
, want to prove that both of their previous employers made a mistake. We're talking about two of the most prideful men in the league, and in two separate conversations with the NFC East blog last Friday, they essentially said the same thing.
"Yeah, both of us are here to win a Super Bowl," Shanahan said. "If you're not in it to win a Super Bowl, then you need to find something else to do. I'm not ever going to comment on how things were done here before, but we had a philosophy that worked in Denver, and that's what we're going to follow."
It's worth noting that two years ago, players were hailing the unorthodox approach of Jim Zorn. He played music during practice and delivered lectures on designer jeans. He was sort of the lovable hippie -- right up until the team started losing. In '09, the Redskins became the most dysfunctional organization in professional sports. Zorn couldn't be shamed into resigning, so the Redskins simply stripped him of his dignity (and play-calling duties).
Dan Snyder hired Bruce Allen and Shanahan because he has lost so much credibility with Skins fans. Allen and Shanahan immediately began changing the culture at Redskins Park. This was a team crying out for some form of discipline, and Shanahan has delivered in spades. If a player doesn't hustle between drills in practice, Shanahan will call their names after practice and tell them to run extra sprints. He also makes sure that every player keeps his shirttail in during those sessions. Shanahan can get away with this because of those two rings.
With one hire, the Redskins are once again relevant in the NFC East. Now, let's take a closer look at their chances of making the playoffs:
THREE HOT ISSUES
[+] Enlarge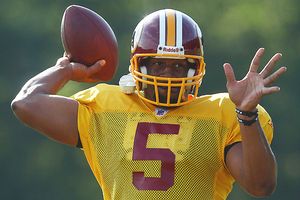 Win McNamee/Getty ImagesQuarterback Donovan McNabb is working on building a rapport with his new group of receivers.
1.
Can Donovan McNabb elevate this pedestrian group of receivers to new heights?
There's a reason that
Santana Moss
seems to have a perpetual smile on his face these days. He didn't even have time to complete routes last season because of the Redskins' woeful offensive line. Now, coaches are showing him film of the Texans'
Andre Johnson
and saying he could do similar things. McNabb invited Moss and the rest of the receivers to work out with him in Phoenix early last month, and you can already see the benefits on the playing field.
"I told them to bring their wives and girlfriends because I wanted it to be a family affair," McNabb told me. "When you're around the facility, you always feel like you're being watched. I thought it was a great opportunity for us to bond away from everyone else and start developing some chemistry."
But Moss is the only thing close to a sure thing. We're still waiting for former second-round draft picks
Devin Thomas
and
Malcolm Kelly
to show some consistency. For now, they're listed on Shanahan's depth chart as third-stringers. McNabb may have to rely on the 38-year-old
Joey Galloway
to play a significant role in the offense. The good news for Skins fans is that McNabb once took receivers such as
Freddie Mitchell
and
Todd Pinkston
to NFC title games on a regular basis.
2. When will Albert Haynesworth crack the starting lineup?
Shanahan bristled when I asked him if Haynesworth was causing a "circus," but the coach must realize that the defensive lineman has dominated the headlines. I think the players were watching closely to see how Shanahan dealt with the brooding star. Now that he's finally passed the infamous conditioning test, Haynesworth will work as a backup defensive tackle. He'll eventually start at right defensive end, but it's not going to happen overnight.
Haynesworth could be a huge part of Jim Haslett's defense if he buys into what the coach is doing. I am eager to see whether this knee issue goes away in the preseason. Haynesworth needs more game repetitions than usual because of all the time he missed. If the knee prevents him from getting on the field, it will become another distraction.
[+] Enlarge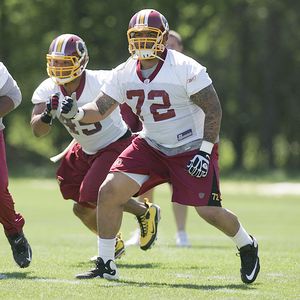 Jeff Fishbein/Icon SMIRookie tackle Trent Williams has drawn rave reviews from coaches and teammates.
3. Have the Redskins solved their issues on the offensive line?
I think a lot of this season hinges on whether three new additions to the line play well.
Jammal Brown
was a Pro Bowl player for the Saints at one point, but he hasn't played since '08. He'll have to knock off some rust while learning how to play right tackle. Rookie
Trent Williams
has a ton of ability, but he's working with a much thicker playbook now. There were questions about his work ethic at the University of Oklahoma. So far, he's said and done all the right things in Washington.
And we'll see how
Artis Hicks
performs at right guard. I always thought he was a better option than
Mike Williams
(out for the year), but this unit needs a lot of work in the preseason. McNabb will bring a lot to this team, but he can't win a lot of games if he's constantly on his back. Ask
Jason Campbell
about that.
BIGGEST SURPRISE
I was thoroughly impressed with free safety
Kareem Moore
. He was a sixth-round pick in '08 who didn't make much of an impact in his first two seasons. Now, it looks like he'll lock down a starting spot. He's had an excellent camp. He plays with a lot of confidence and he'll allow
LaRon Landry
to play closer to the line of scrimmage.
BIGGEST DISAPPOINTMENT
You knew that one of the veteran running backs would probably be out of the mix, but I didn't expect it to happen so early in the proceedings.
Willie Parker
is officially listed at the Skins' fourth-string running back. Hard to imagine him making the final roster unless there are injuries.
[+] Enlarge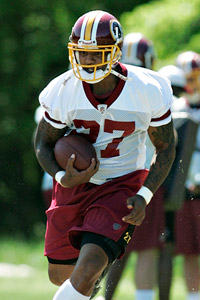 Jeff Fishbein/Icon SMIAfter recording 581 yards last season, Larry Johnson is turning in a solid camp in Washington.
OBSERVATION DECK
December, 23, 2009
12/23/09
3:00
PM ET
By
Matt Mosley
| ESPN.com
»
NFC Draft Rewind
:
East
|
West
|
North
|
South
»
AFC
:
East
|
West
|
North
|
South
»
Draft class lists
:
Dallas
|
N.Y. Giants
|
Philadelphia
|
Washington
Examining the draft classes of each division team:
Cowboys

Butler
Biggest surprise:
In what has been a largely disappointing class, kickoff specialist
David Buehler
has probably been the best find. He's a touchback machine and that's allowed the Cowboys' kick coverage unit to be among the best in the league.
Jury is still out:
This can be said about pretty much the entire class. It looks like outside linebacker
Victor Butler
has made the most immediate impact, but he certainly didn't hold up well against the Saints. I think everyone's anxious to see how
Michael Hamlin
progresses at safety. He definitely has some skill, but no one's been able to see it in a game. When he's healthy next season, I think former Texas Tech star
Brandon Williams
could be an effective pass-rushing specialist.
Bust alert:
We haven't seen enough of him to call him a bust, but there are certainly questions about third-round LB
Jason Williams
. We're told he's coming along in practice but he's a guy who should've broken through as a special-teams player by now. An injury held him up.
Eagles

Harris
Biggest surprise:
The Eagles may have found a player in seventh-round pick
Moise Fokou
out of Maryland. He's now cracked the starting lineup at linebacker and he's capable of being a beast on special teams.
Jury is still out:
We expected WR
Jeremy Maclin
and RB
LeSean McCoy
to make immediate impacts and they have not disappointed.
Macho Harris
cracked the starting lineup early in the season and he recorded 10 tackles against the Raiders. He's also helped out in the return game. I think the Eagles are still trying to determine whether he helps them more as a safety or as a cornerback.
Bust alert:
I hate to call him a bust, but let's watch tight end
Cornelius Ingram
's knee injury. He's a very talented player out of Florida, but folks are worried that the injuries could always follow him around. But the Eagles knew what the risks were when they took Ingram.
Giants

Nicks
Biggest surprise:
I don't think it's been a surprise to see
Hakeem Nicks
crack the starting lineup. He's a big-time receiver who had some injury setbacks in training camp. The play of rookie right tackle
Will Beatty
has been pretty impressive. He was taken No. 60 overall and I think he's poised to replace
Kareem McKenzie
next season.
Jury is still out:
I think we're still learning about
Clint Sintim
. He has long arms and he's shown flashes of being a pretty good pass-rusher. But he has to be more consistent on the field.
Bust alert:
I would by no means call
Ramses Barden
a bust at this point, but it's a concern that he can't play well enough on special teams to grab a weekly roster spot. I think Barden could help the Giants as a red zone receiver, but apparently he's not trustworthy on special teams.
Redskins

Orakpo
Biggest surprise:
I knew
Brian Orakpo
would be good, but I thought it would take him a little while. Playing out of position at linebacker, Orakpo has made a nice transition. Just keep the guy out of coverage and let him rush the passer.
Jury is still out:
I like cornerback
Kevin Barnes
' range and size, but we haven't seen enough to know if he'll be a longtime starter in this league. He needs to keep improving in terms of awareness.
Bust alert:
After his infamous Twitter debut, linebacker
Robert Henson
hasn't been heard from much. I thought he was an excellent player at TCU, but he hasn't brought a lot to the table in Washington.