NFL Nation:

Robert Holcombe
January, 31, 2011
1/31/11
5:21
PM ET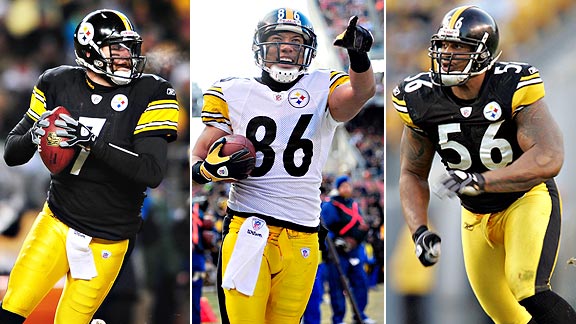 US PresswirePittsburgh's Ben Roethlisberger, Hines Ward and LaMarr Woodley are all playing in Super Bowl XLV, but could they have ended up in the NFC West coming out of college?
FORT WORTH, Texas -- The
Pittsburgh Steelers
appeared loose and comfortable during their first Super Bowl 45 media session.
They've been in big games before, and frequently, thanks largely to shrewd drafting.
This is the Steelers' third Super Bowl appearance in the last six seasons.
The team made available
James Farrior
,
Flozell Adams
,
Hines Ward
,
Brett Keisel
,
Ben Roethlisberger
and
LaMarr Woodley
during its initial media session Monday -- just the opportunity I needed to produce an item corresponding to the one titled, "
Draft hindsight: Aaron Rodgers and beyond
".
The idea: to examine a Super Bowl team's featured players -- in this case, the ones made available Monday -- with an emphasis on draft status and the decisions NFC West teams made in the same rounds. Not every team held a choice in every featured round.
The
Arizona Cardinals
had a shot at Steelers quarterback Ben Roethlisberger, but they came out OK.
Here goes ...
1997 Draft: James Farrior, LB, Virginia
Round:
First (eighth overall, by the
New York Jets
)
NFC West spin:
Farrior is a two-time Pro Bowl choice, but the NFC West offers no apologies for passing over him.
Orlando Pace
and
Walter Jones
became perennial Pro Bowl tackles. Jones became the best player in Seahawks history, in my view.
Shawn Springs
made one Pro Bowl trip and picked off 33 passes during a 13-year career. The Cardinals had no shot at Farrior. They chose Tommy Knight one pick later. He started 54 games in six NFL seasons. Rumor says the 49ers selected a quarterback in the first round of this draft.
First-round selections in the division:
1998 Draft: Flozell Adams, T, Michigan State
Round:
Second (38th overall, by Dallas)
NFC West spin:
Adams became a five-time Pro Bowl choice with Dallas. His career appeared finished, or close to it, until injuries led the Steelers to call on him this season. Arizona passed on Adams twice. Safety
Corey Chavous
, chosen five spots before Adams, went to a Pro Bowl with Minnesota. He was a productive player for roughly a decade. Tackle
Anthony Clement
, chosen two spots before Adams, started more than 100 games for three teams.
Second-round selections in the division:
1998 Draft: Hines Ward, WR, Georgia
Round:
Third (92nd overall, by Pittsburgh)
NFC West spin:
The Rams and Seahawks found Pro Bowl-caliber players when they passed over Ward in the third round. Seattle gave up on
Ahman Green
prematurely, however, after coach Mike Holmgren grew weary of early fumble problems. The 49ers missed on tackle
Chris Ruhman
three choices before Ward went to Pittsburgh. Ruhman played in six games with the 49ers, starting none. He played in 11 NFL games with two starts overall. The 49ers passed on Ward even though
Jerry Rice
had suffered a devastating knee injury in the 1997 opener.
Third-round selections in the division:
2002 Draft: Brett Keisel, DE, BYU
Round:
Seventh (242nd overall, by Pittsburgh)
NFC West spin:
The 49ers drafted longtime starting guard and center
Eric Heitmann
three spots before the Steelers found Keisel. Pittsburgh could use Heitmann this week after the Steelers' starting center,
Maurkice Pouncey
, suffered a severely sprained ankle during the AFC Championship Game. Keisel became a Pro Bowl choice for the first time this season, distinguishing him from 2002 NFC West seventh-rounders. The Rams found their mainstay snapper in this draft. Keisel was gone when the 49ers found guard
Kyle Kosier
, who started 29 games for them and remains a starter with Dallas.
Seventh-round selections in the division:
2004 Draft: Ben Roethlisberger, QB, Miami of Ohio
Round:
First (11th overall, by Pittsburgh)
NFC West spin:
The Cardinals passed over Roethlisberger and came away with a potential Hall of Fame receiver. No complaints there, even though quarterbacks are more valuable than receivers. None of the other NFC West teams had a shot at Roethlisberger. Seattle and St. Louis were set at quarterback, anyway.
First-round selections in the division:
2007 Draft: LaMarr Woodley, OLB, Michigan
Round:
Second (46th overall, by Pittsburgh)
NFC West spin:
The Cardinals could certainly use Woodley now, and badly, but they had already invested millions in the position heading into the 2007 draft. Free-agent additions
Chike Okeafor
and
Bertrand Berry
had combined for 14.5 sacks during the 2006 season. Unfortunately for the Cardinals, they haven't gotten enough from their second-round investment in
Alan Branch
.
Second-round selections in the division:
OK, all done, and just in time. ESPN.com teammates Mike Reiss, Kevin Seifert and I are heading out to the Packers' media session next. Seifert is driving and he doesn't wait for anyone. Gotta jam.
June, 17, 2010
6/17/10
1:02
PM ET
»
NFC On the Radar
:
East
|
West
|
North
|
South
»
AFC
:
East
|
West
|
North
|
South
A player, coach or issue that should be on your radar as training camp approaches.
AP Photo/Mark HumphreyLeGarrette Blount could be the back the Titans need for short-yardage situations and a change of pace.
Any talk of Titans running backs right now starts with
Chris Johnson
's absence. Without him at OTAs, the group has looked pedestrian at times.
The Titans love the versatility of their No. 2,
Javon Ringer
, and Jeff Fisher has compared him to a popular former running back in Nashville,
Robert Holcombe
. But Ringer has very little experience and is hard to get too excited about right now.
Presuming Johnson is back, how to lighten his workload will be a major issue for Tennessee and I fear doing so could mess with the Titans' rhythm and pacing.
While Ringer doesn't look to be much of a change-up, undrafted rookie
LeGarrette Blount
can be. He was smart to choose the Titans over the 49ers -- another team that pursued him heavily. In San Francisco, he'd look a lot like
Frank Gore
and
Glen Coffee
. In Tennessee, he stands out as different than anyone.
Blount missed May workouts because Oregon wasn't finished with classes, so he's heading into only his third practice with the team on Thursday.
It's too soon for Tennessee to have much of a feel for him. I saw him streak down a sideline to gather a deep ball in a rookie period. This team won't necessarily be looking to him for explosive plays like that. But he's going to get every chance to show he can reliably convert short-yardage and goal-line situations.
I don't expect the Titans to lean on a bigger back as much in those situations this season the way they did with
LenDale White
in 2008. But they need to do it some. And at 6-feet and 241 pounds, Blount is the biggest back on the team by an inch and 26 pounds.
If he's not the guy for that role, then the guy for that role isn't in Nashville yet.