September, 13, 2014
Sep 13
4:00
PM ET
TAMPA, Fla. -- Throughout the offseason and into training camp, the
St. Louis Rams
seemed to be in no hurry to sign defensive end
Robert Quinn
to a contract extension.
There were no hard deadlines to meet and Quinn was going to remain under team control for at least the next two seasons no matter what. The two sides were talking but there was no sense of urgency. None was needed.
A lack of urgency might have been the exact reason the two sides were able to come to terms on a new six-year contract Saturday afternoon, a deal that will keep Quinn in St. Louis through the 2019 season.
[+] Enlarge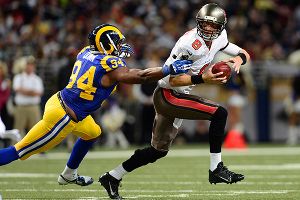 Jeff Curry/USA TODAY SportsThe Rams and Robert Quinn, who had 19 sacks last season, agreed to a four-year contract extension.
Without having to worry about holdouts or franchise tags, the Rams and Quinn's representatives were able to work toward a resolution that would allow the team to keep its best player in St. Louis.
Upon reaching an agreement Saturday, the deal looks to be good for both sides. The new deal is worth a total of $65.6 million with $41.2 million guaranteed.
It's important to note that the deal makes Quinn a Ram through the 2019 season, which means it includes the next two seasons as well. The distinction means the Rams could have a relative bargain on their hands should Quinn continue to ascend as one of the best pass-rushers in the league.
Assuming the numbers are correct, an annual average of about $11 million would be an absolute bargain for Quinn, considering he ranks second only to Houston's
J.J. Watt
in sacks with 29.5 since 2012.
After Watt agreed on Sept. 2 to a six-year, $100 million deal with $51.8 million guaranteed, making him the highest paid defensive player in the league, it was only logical Quinn would be next in line.
What wasn't clear was how fast the Rams would put a deal together. On one hand, Watt's deal offered a baseline for Quinn's, but on the other, Quinn doesn't have Watt's lengthy track record of success.
Getting a deal done now allows the Rams to sign Quinn for a number below what Watt received from the Texans, but offers a relative bargain should he continue to perform as he did in 2013 when he posted 19 sacks and seven forced fumbles on his way to first team All-Pro honors.
Had the Rams waited until after the season, they might have faced a price tag closer to Watt's if Quinn duplicates his 2013 success. In signing Quinn now, the Rams struck a good balance between paying him what he is currently worth, what he could be worth in the future and protecting themselves on the off chance he doesn't continue at his current trajectory.
For his part, Quinn landed a nice deal with a strong guarantee. That $41.2 million is really the only number that matters here, and it represents a smart play on his part, taking what he can get rather than worrying about it later should he suffer an injury or have a down season. In the process, Quinn gets the chance to set up his family, namely son Robert Jr. for life.
"You have got to take everything into account," Quinn said Saturday night. "Maybe I have another monstrous year, maybe I have a mediocre year. So like I said I am definitely blessed and honored for the Rams to even offer that to me, but I wanted to make sure my son was taken care of. I keep going back to my son because that's what I kind of play this game for, to make him happy. I, of course, enjoy and love the game but it's kind of just making sure he's got a sense of security."
Only time will tell whether this is the rare deal that works well for both sides, and we still need to see the exact breakdown of the financials. But at first blush, it certainly looks like a win-win.

NFL SCOREBOARD
Thursday, 9/25
Sunday, 9/28
Monday, 9/29
WEEKLY LEADERS