January, 30, 2013
1/30/13
11:00
AM ET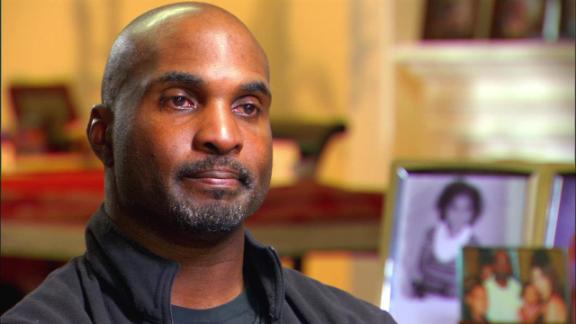 Over the past few years, we've seen countless stories of former NFL players suffering from debilitating pain and depression they attribute to the violence of their careers. So I appreciated the approach ESPN's Kelly Naqi took in this "Outside the Lines" profile of retired running back Leroy Hoard, who played the final four seasons of his 10-year career with the Minnesota Vikings.
The piece focuses more on how Hoard, 45, is living with his ailments. Hoard admits to memory loss and that he spends hours at a time in a dark bathroom, but he recognizes the events over the past decade that have prevented him from joining a growing list of former players who have committed suicide.
Hoard cites his recent marriage, along with his friendships with ex-teammates Robert Smith and Keith Byars for maintaining his quality of life. At the same time, he regularly writes down the names of three contemporaries -- Andre Waters, Dave Duerson and Junior Seau -- who have killed themselves. He doesn't want to forget what happened to them.
Check it out.
October, 14, 2011
10/14/11
1:30
PM ET
»
NFC Final Word
:
East
|
West
|
North
|
South
»
AFC
:
East
|
West
|
North
|
South
Five nuggets of knowledge about Week 6:
Blitzing Joe Flacco:
The Texans generally get good pass pressure without extra rushers. A lot of that has been because of end-turned-linebacker
Mario Williams
. According to ESPN Stats & Info, the Texans have 21 sacks when rushing four or fewer players since the start of 2010. Williams recorded 10 of them, and no other player has more than 4.5. Williams is out for the season with a torn pectoral muscle. Can Houston get to Flacco with a standard rush? If it can't, will defensive coordinator Wade Phillips call for more blitzing? How the Texans try to disrupt Baltimore's quarterback will be a big story line in Texans-Ravens.
[+] Enlarge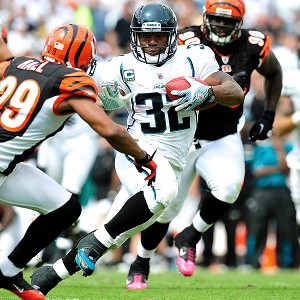 Grant Halverson/Getty ImagesThrough five weeks, Jaguars RB Maurice Jones-Drew has 476 rush yards and two touchdowns.
Get MJD cranking:
The Steelers have given up some big run yards this season, including 150 yards to Houston's
Arian Foster
. To win at Pittsburgh, the Jaguars will need
Maurice Jones-Drew
to carry a big share of the load. He's gained more than 80 yards in every game so far. That's a rare feat; only
Edgerrin James
(2005),
Priest Holmes
(2003) and
Robert Smith
(1996) have done it over the last 15 years, according to ESPN Stats & Info. Jacksonville's offensive line has been inconsistent and injuries have caused them to change things up. Tackles
Eugene Monroe
and
Guy Whimper
have been limited at practice this week.
Defensive backfield in doubt:
Cincinnati rookie quarterback
Andy Dalton
and rookie receiver
A.J. Green
have developed a pretty good connection so far. The Colts will have to rely on their pass rush to throw Dalton out of rhythm, because their struggling secondary is a mess. Their best cornerback,
Jerraud Powers
, is probably out with a hamstring injury. That means Green will be working against the likes of
Jacob Lacey
,
Terrence Johnson
and
Chris Rucker
. It's a group that did not have much success at all against
Dwayne Bowe
and the
Kansas City Chiefs
receivers a week ago.
Tight end- and running back-reliant:
Matt Schaub
threw for 416 yards in Sunday's loss to the Raiders, but only 99 of those yards went to wide receivers. Schaub is the only quarterback since 2001 to throw for 300 yards in a single game to just tight ends and running backs. Although the team added
Derrick Mason
, Gary Kubiak and Schaub probably will continue to lean on Arian Foster,
Owen Daniels
and
Joel Dreessen
. They can win featuring those guys in the passing game, provided they get plays after intermission as well as before. Houston has outscored the competition 90-25 in the first half and been outscored 70-37 in the second half. They have scored 6 points in the third quarter. It doesn't say much about their ability to make any adjustments.
Mindset:
While the Titans enjoy a weekend off, everyone involved in the run game should be preparing to return to action absolutely determined to get things cranking. They simply cannot be the worst run team in the league and remain an AFC playoff contender.
Chris Johnson
has to show far more determination and get back to running downhill. All his blockers and play-caller Chris Palmer have to get to the root of the issue and solve it. Five games is plenty for them to understand what is happening, what is not happening, and why.
August, 26, 2010
8/26/10
11:37
AM ET
A team-by-team look at the most indispensable players (non-quarterbacks) in the division.
No team can win consistently without a good quarterback. That's a given. So we remove that position from the equation for an exercise designed to identify other players whose play is inextricably linked to their team's success.
The way the 2010 season is shaping up, I don't see NFC North teams winning without elite efforts from the following:
CHICAGO BEARS: LANCE BRIGGS
National observers have hashed out the arrival of defensive end
Julius Peppers
, the return of middle linebacker
Brian Urlacher
and the installation of Mike Martz's offense. But let's be clear: Briggs plays the key playmaking role in the Bears' defensive scheme and has been their best player over the past several years. He's held together the injury-riddled and aging back seven of this once-proud defense, maintaining an elite level even as the play around him has deteriorated. While Peppers offers a new level of pass rush and Urlacher calls all of the defensive signals, the Bears' hopes for a defensive resurgence this season would be crushed if Briggs weren't on the field. That makes him indispensable in my book.
DETROIT LIONS: CALVIN JOHNSON
It's true. Two of Johnson's three seasons have been limited by injury. He's never made the Pro Bowl and is known more for his freakish athletic skills than elite production. But those skills are what scare opponents into making rare adjustments and innovating exotic coverages to defend him. Consistent double coverage, with the occasional triple-bracket, is something most offenses dream of. A good coach can find all sorts of ways to capitalize on the corresponding mismatches elsewhere on the field. Without Johnson, you could defend the Lions traditionally and with modest fear. With him on the field, everything changes.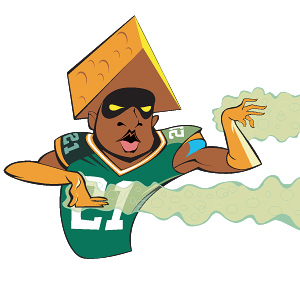 CAMORRIS.COMCharles Woodson's versatility has paid off for the Packers in their 3-4 scheme.
GREEN BAY PACKERS: CHARLES WOODSON
New York Jets
coach Rex Ryan, who championed cornerback
Darrelle Revis
' candidacy for the 2009 Defensive Player of the Year award that Woodson eventually won, put it best: "Woodson would be a better safety and a better linebacker, but he's not a better corner than Darrelle Revis." Indeed, the Packers revealed Woodson's full array of skills last season in Dom Capers' 3-4 scheme, using him just as effectively as a blitzer, a quasi-safety in run support and a cornerback they trusted in single coverage against an opponent's top receiver. Capers' scheme is based on putting the same players in different looks and sub packages, and no one does that better than Woodson. Without him, the Packers would have had to delete a substantial percentage of the schemes they used last season.
MINNESOTA VIKINGS: ADRIAN PETERSON
A summer of personnel uncertainty has given tailback
Adrian Peterson
renewed relevance in the team's offense. Receiver
Sidney Rice
(hip) could miss half of the season. Slot man
Percy Harvin
has been sidelined most of the summer by migraines. Quarterback
Brett Favre
didn't arrive until last week. Peterson himself missed more than a week of training camp practices because of a hamstring injury, but he will enter the regular season as the Vikings' top offensive threat. Favre still has targets in
Bernard Berrian
and tight end
Visanthe Shiancoe
, but it will be difficult for the Vikings to repeat their passing success of a year ago. That once again makes Peterson front and center in the team's offense.
December, 23, 2008
12/23/08
8:45
AM ET
Posted by ESPN.com's Kevin Seifert
We spent most of our postgame time in Chicago's locker room Monday night, but Tom Silverstein of the Milwaukee Journal Sentinel hit on a Green Bay point I was wondering about during the game.
Namely: Why, after attacking the Bears all evening with their passing game, did the Packers use three consecutive running plays prior to Mason Crosby's ill-fated 38-yard field goal in the fourth quarter?
The plays netted four yards, moving the ball from the Bears' 24-yard line to the 20. It was another example of late-game caution from the Packers' otherwise aggressive coach, Mike McCarthy. After watching Crosby botch a 46-yarder earlier in the game, how comfortable could McCarthy have been with a 38-yard attempt?
Silverstein questions whether McCarthy went conservative or lost faith in quarterback Aaron Rodgers. McCarthy responded that he has "full confidence" in Rodgers and added:
"I have no problem calling any pass play. I think it was evident from the way we threw the ball down the field. I thought we played aggressive. I thought we played to win."

If anything, I think McCarthy is guilty of underestimating the degree of difficulty on field goals. Last month, he played for a 52-yard attempt against Minnesota. Crosby missed that long-distance kick, which would have given the Packers a last-second victory. Monday night's conditions at Soldier Field, meanwhile, dictated that no distance was a sure bet.
We'll touch on this topic later Tuesday. For now, let's take a morning spin around the division:
December, 15, 2008
12/15/08
9:00
AM ET
Posted by ESPN.com's Kevin Seifert
PHOENIX -- With the dust settled Monday morning, we can now take a look at the playoff scenarios for the NFC North's two eligible teams.
At 9-5, Minnesota's situation is unchanged from what we discussed Sunday night:
The Vikings' magic number is one. That means they will clinch the NFC North with their next victory or the Chicago Bears' next loss.
In case you're wondering, I've talked to some people who crunched the numbers on the Vikings' wild-card possibilities should they lose their final two games and cede the division to the Bears. We'll spare you all the details, but suffice it to say, the Vikings would have no realistic shot of a wild-card berth at 9-7.
At 8-6, Chicago's playoff scenarios are more complicated. Brad Biggs of the Chicago Sun-Times lays out the Bears' situation here.
In order to win the NFC North, the Bears need to win their final two games while the Vikings lose their final two games. The Vikings win a tiebreaker at 10-6 or 9-7.
As for the wild card, it's difficult but not impossible. First, the Bears would need to win their final two games to finish 10-6. They would also need Tampa Bay, Dallas and Atlanta to lose their final two games. Philadelphia would have to lose once. There is a slight chance that the Bears could beat Dallas in a tiebreaker if both finish team finish 10-6, but that category -- strength of schedule -- can't be determined until the end of the regular season.
Whew. That's a lot of possibilities. But that's where things stand with two games remaining in the regular season.
We've got some traveling ahead of us later Monday morning, but for now let's take a spin around the division:
August, 21, 2008
8/21/08
6:20
PM ET
Posted by ESPN.com's Matt Mosley
In his Q&A on what's next for the NFLPA, John Clayton mentions several potential candidates to replace Gene Upshaw, including former NFLPA presidents Trace Armstong and Troy Vincent. He also brought up former Vikings running back Robert Smith and current union president Kevin Mawae.
Another name that has been mentioned today is former Cowboys fullback Daryl "Moose" Johnston, who has been very outspoken on behalf of retired players over the past couple of years.
And if you want another outside-the-box guy, I'm hearing some talk that super-agent Tom Condon could receive consideration. He's a former player (Chiefs) and he's worked with Upshaw in the past. He's obviously no stranger to players since he and his staff at CAA represent about 120 of them. And he's used to going toe-to-toe with owners. The more I think about this name, the more sense it makes.
The players should consider every option, and that includes someone from outside the football fraternity. If you were worried that Upshaw had been too close to the owners in the past, maybe you consider someone from Major League Baseball union chief Donald Fehr's staff (Michael Weiner). I know that sounds like an awful idea, but a lot of players have wanted the union chief to have a more adversarial relationship with the owners.
If that's truly what they want, now's the time to speak up.
NFL SCOREBOARD
Sunday, 2/2
WEEKLY LEADERS