NFL Nation:

Roberto Wallace
August, 31, 2012
8/31/12
11:21
PM ET
Click
here
for a complete list of
Miami Dolphins
' roster moves.

Most significant move:
Dolphins general manager Jeff Ireland, head coach Joe Philbin and the rest of his coaching staff warned their wide receivers that they needed to step up. This is Miami's weakest area, and week after week, receivers dropped balls and failed to make plays. Still, it was surprising that Miami cut two receivers of significance:
Clyde Gates
and
Roberto Wallace
. Both were on the bubble, but at least one was expected to make the cut -- especially on a receiver-deprived team. The Dolphins also released fellow receivers
Chris Hogan
,
B.J. Cunningham
and
Jeff Fuller
. The Dolphins said in the spring that they liked their receivers group; clearly, those opinions changed after training camp and the preseason.
Onward and upward:
Miami made two free-agent additions to help the team's depth at linebacker this offseason:
Jamaal Westerman
and
Gary Guyton
. Both players had starting experience and had played in the AFC East. But neither fit well with Miami's new 4-3 defense. The Dolphins decided to cut their losses and not take either on their 53-man roster. There's a good chance other teams will be looking for veteran linebackers, and due to their experience, both have a chance to land elsewhere.
What's next:
Miami should be one of the busiest teams in free agency and scanning waivers. The Dolphins are rebuilding and need a lot of upgrades and depth. Wide receiver and safety are two positions Miami certainly will have its eye on. The Dolphins have a long way to go to make their roster into a contender. Rookie quarterback
Ryan Tannehill
needs some assistance in his first season. So expect more changes in Miami before its Week 1 game against the
Houston Texans
.
August, 12, 2012
8/12/12
10:20
PM ET
The
Miami Dolphins
released the best receiver in their training camp
Sunday night, cutting six-time Pro Bowler
Chad Johnson
after he was charged with domestic abuse. He was on pace to be the No. 1 receiver in Miami's new West Coast offense.
So what's next for Miami's passing game? That is the big question facing first-year Dolphins head coach Joe Philbin.

Here is a look at Miami's remaining receivers:
It's not a star-studded group -- but it's what the Dolphins are left with after cutting Johnson. The Dolphins clearly didn't feel the 34-year-old veteran was worth the headache and distraction he brought to the locker room.
But someone from this group must step up. Hartline, Naanee and Bess are the most proven; they will get the first chance. After that, younger receivers like Wallace, Pruitt and Gates have a chance to finally live up to their potential.
The Dolphins set an example of character over talent by cutting Johnson. But it's a decision Miami also has to live with on the field.
July, 31, 2012
7/31/12
10:00
AM ET
DAVIE, Fla. -- Don't tell linebacker
Karlos Dansby
and defensive end
Cameron Wake
the
Miami Dolphins
aren't contenders in 2012.
"We can be great," Dansby said at the opening of training camp.
Added Wake, "We have the talent [to make a run]."

There is a feeling of newness in Miami. The Dolphins believe a revival is coming this year, sooner than most expect.
Dolphins rookie head coach Joe Philbin has instilled a calm, quiet confidence in this team, which finished 6-10 last season. The change also includes new offensive and defensive schemes. First-year defensive coordinator Kevin Coyle is switching Miami to a 4-3 defense, and new offensive coordinator Mike Sherman is implementing a West Coast offense.
Miami's practices are faster and better organized. Even owner Stephen Ross has been impressed with the way the new-look Dolphins have operated since the spring.
"[Changes] are pretty evident and you can feel it," Ross said. "People can talk the talk, but you can see that we're walking the walk, and I think that's what's important. If fans feel that and see that, I think they're going to be very excited about that."
There are plenty of new faces. With just three weeks of training camp, will Miami and its new coaching staff have enough time to sort everything out? It also adds an extra challenge that HBO's "Hard Knocks" is there to document Miami's every move until the start of the regular season.
Most outsiders project 2012 to be a rebuilding year for the Dolphins. But it's clear the Dolphins have higher expectations internally.
THREE HOT ISSUES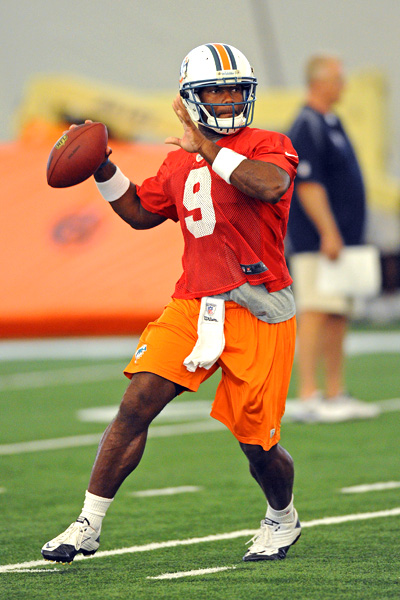 Steve Mitchell/US PresswireVeteran David Garrard looks to have the early lead to become the Dolphins' starting quarterback.
1. Which quarterback will prevail?
Miami's quarterback competition among
Matt Moore
,
David Garrard
and rookie
Ryan Tannehill
is in full swing. Every play is watched closely by Dolphins coaches and the media.
But who is Miami's best option? Grading the first several practices, I give the edge to Garrard.
The nine-year veteran, who missed all of 2011 with a back injury, looks the most poised and in control of the offense. Garrard played in a West Coast system before. He knows the reads, progressions and what's expected.
"I think my chances are pretty good," Garrard said of winning the starting job. "I don't think they would have me here or even say that it was open competition if my chances weren't good. I know I can still play. I've just got to continue to prove it on the field."
Moore is the incumbent, but you wouldn't know it from his early practices. Moore has not looked consistent dating to spring workouts. The tricky part is Moore has never been a great practice player. He performs best when the lights are on in an actual game. He proved that last year by going 6-3 in his final nine starts.
Moore's best chance to win this job is to outperform Garrard in preseason games. Tannehill arrived to camp two days late and is a long shot to get in the race.
2. What is the plan at receiver?
Miami has a hodgepodge group of mostly unproven receivers who need to settle in. Miami has 12 receivers on its roster and zero defined roles at the position. The Dolphins do not know their No. 1, No. 2 or No. 3 receiver after several practices.
Philbin, a former offensive coordinator of the
Green Bay Packers
, said he doesn't believe in putting numbers on his receivers. But Philbin does need receivers who can get open and make tough catches. There have been tons of drops dating to organized team activities. In the first two training camp practices alone, I counted five drops.
For what it's worth, Miami began camp with
Chad Johnson
and
Legedu Naanee
as its two starting receivers and
Davone Bess
in the slot.
Brian Hartline
,
Roberto Wallace
,
Julius Pruitt
and
Clyde Gates
also are in the mix.
But Johnson has been particularly impressive. This is the first time in a while that expectations are not high for the 34-year-old receiver. Johnson was a bust for the
New England Patriots
, catching just 15 passes last season. But he is making some eye-opening plays in Miami's training camp.
"He's very serious. I think he's very passionate about what he does," Philbin said. "He's been impressive. We like his work ethic, the energy, the enthusiasm that he brings. He wants to do well. He certainly wants to let the quarterback know when he's open."
If Johnson turns out to be a No. 1 receiver again -- or close to it -- that would take a lot of pressure off the rest of the group. It would at least give Miami's quarterback someone reliable to throw to.
3. Defense wants to be elite.
There has been so much talk about Miami's quarterbacks and offense during the offseason that it's easy to forget about the defense. This is a physical group that wants to be elite. Miami finished No. 15 in total defense last year, but its ranking was a bit skewed because of the Dolphins' 0-7 start. Miami's defense played like a top-10 unit in the second half of last season.
Miami's run defense is one of the best in the league, although you wonder if the adjustment to the 4-3 defense will hurt continuity. Miami returns many of the same players in the front seven, but switching from a 3-4 to a 4-3 will force some players into different roles.
Miami's secondary is the biggest question defensively. The team has a pair of young corners in
Vontae Davis
and
Sean Smith
looking to make a jump, while the safety position is in flux.
Reshad Jones
and
Chris Clemons
began camp as the starting safeties, but versatile defensive back
Jimmy Wilson
also worked with the first team.
REASON FOR OPTIMISM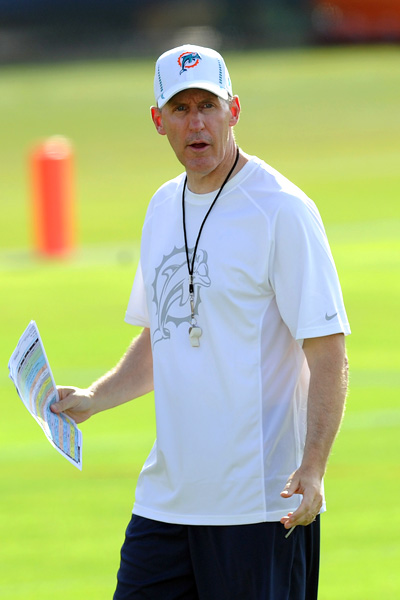 Steve Mitchell/US PresswireFirst-year coach Joe Philbin has seemed unfazed by several curveballs already thrown his way.
Philbin has his head on straight. He has a good demeanor for a rookie head coach, and you have the sense things won't be too big for him in his first year.
Philbin already faced several challenges. Miami agreed to do "Hard Knocks," which can be a coach's nightmare because it allows an outsider all-access. Philbin also has a three-way quarterback competition, and the front office added a colorful personality to the locker room in Johnson. But Philbin has taken each challenge in stride and even has a good sense of humor about things.
I have no idea if Philbin can match wits with Bill Belichick on Sundays or properly manage the final five minutes of a game. We will have those answers soon enough. But I like what I've seen from Philbin so far.
REASON FOR PESSIMISM
I don't see this team scoring a lot, a huge problem.
Miami's plan is to run an up-tempo passing offense with questions at quarterback and unproven receivers. In theory, this is a strategy that is doomed to fail.
The Dolphins' offensive strength is their running backs. But a West Coast offense is, by nature, pass-heavy. If Philbin thinks he can run his Green Bay-style offense in Miami with Garrard or Moore at quarterback instead of
Aaron Rodgers
, he is sadly mistaken.
I expect plenty of growing pains for Miami's offense and the team losing plenty of low-scoring games. The defense will keep the scoring down most weeks, which is good because Miami's offense won't be lighting it up.
OBSERVATION DECK
Speaking of Miami's running backs, the group looks solid. Starting tailback Reggie Bush looks in the best shape of his career and is coming off his first 1,000-yard rushing season. Bush said his goal is to lead the NFL in rushing. That seems like a long shot, but another 1,000-yard season would be great for Bush. Backups Daniel Thomas and rookie Lamar Miller also have run hard early in camp and have plenty of potential.

Dansby enters this season in tremendous shape. He checked in at a trim 247 pounds. Last year Dansby was a victim of the lockout. He began last season around 270 pounds and didn't get down to his usual playing weight until midseason. Not coincidentally, Dansby played his best football in the final eight games of 2011. "You live and you learn," Dansby said.

I like what I'm seeing in the daily corner-receiver battles between Smith and Johnson. Both are competitive and want to push each other. Smith, 25, has made it a point to line up against Johnson, a six-time Pro Bowler, every chance he gets. Sometimes Johnson wins and sometimes Smith wins, but both players are getting better.

I predict a breakout season for third-year defensive lineman Jared Odrick. He gathered some momentum at the end of last season and looks ready to put it all together this year. Odrick, a 2010 first-round pick, will be a full-time starter for the first time in his career. He has a good combination of size and quickness and has been tough to block in camp.

Miami's tight ends have yet to flash this offseason. The position was huge in Green Bay, where Jermichael Finley developed into a star under Philbin. Dolphins veteran Anthony Fasano and rookie third-round pick Michael Egnew are trying to fill that role. Fasano has the experience and Egnew has the edge in athleticism, but neither is making many plays.

It's early, but Hartline has fallen down the depth chart. Many projected Hartline to be the No. 1 receiver in Miami's offense, but he missed most of the spring with a leg injury and began training camp on the second team. The injury is not helping him.

The Dolphins have worked rookie right tackle and second-round pick Jonathan Martin exclusively with the first team in training camp. He's a virtual lock to start in Week 1. Martin played in a pro-style offense at Stanford and was Andrew Luck's left tackle. Martin is switching to the right side this year to pair with left tackle Jake Long.
April, 29, 2012
4/29/12
2:30
PM ET
The first-round pick was obvious. Everyone knew the
Miami Dolphins
loved former Texas A&M quarterback
Ryan Tannehill
with the No. 8 overall pick, which went according to form.
But after that, I was curious when Miami was going to take a wide receiver in the draft. It didn't happen in the second round. It didn't happen in the third, fourth or fifth rounds.
Miami finally drafted a pair of receivers in the sixth and seventh rounds. The Dolphins selected
B.J. Cunningham
of Michigan State and
Rishard Matthews
of Nevada.
"I think we drafted a couple good players that we think could ascend," Dolphins general manager Jeff Ireland said. "But weren't going to reach. That's not my philosophy."
Does Miami have enough to be effective at wide receiver next season? Here is a look at the players currently on the roster.
According to rookie head coach Joe Philbin, the West Coast offense doesn't need a star, No. 1 target. But projected starters Brian Hartline and Devone Bess and possibly Legadu Naanee could be put in roles bigger than what they are used to.
Miami traded Pro Bowl receiver
Brandon Marshall
to the
Chicago Bears
in the offseason. The Dolphins expect to throw the ball a lot with a new West Coast offense, probably more than last year, despite a group with a lot to prove.
"The more guys you can get into different spots to create mismatches for the defense, the better you're going to be," Philbin said. "I don't think we lock in."
With the draft complete and free agency all but done, this is probably the receiver group Miami rolls with next season. Is this group good enough to produce in 2012?
March, 26, 2011
3/26/11
4:17
PM ET
Brandon Marshall
and
Mike Sims-Walker
ran pass routes together at Central Florida. Now they're pushing a little Twitter movement to reunite with the
Miami Dolphins
.
[+] Enlarge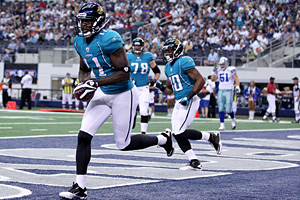 Matthew Emmons/US PresswireJacksonville's Mike Sims-Walker, 11, is a big receiver with skills similar to Miami's Brandon Marshall.
That might sound appealing to Dolfans, who crave a more dynamic offense than the deficient version they watched last year.
But Sims-Walker is not the way to do it. He certainly would upgrade most rosters, but not enough in Miami to warrant whatever he'll cost.
NFL buddies like to conjure scenarios during the offseason. The emergence of Twitter takes daydreaming public.
Sims-Walker tweeted in response to Marshall
: "I'm trying to pull a lebron *hint*"
Marshall came back with
: "I'm D-Wade and @MikeSimsWalker is Lebron."
Sims-Walker retweeted with the hash tag #makeithappen.
The problem for Sims-Walker is the Dolphins already have a player like him, only better.
His name is Brandon Marshall.
"Mike Sims-Walker is too much like Marshall -- big, physical, possession guy, kinda slow," Scouts Inc. analyst Matt Williamson said.
The Dolphins certainly need to improve their passing game, especially in the red zone. But they seem to have the pieces in place. Whether it was quarterback
Chad Henne
's inconsistencies, a lack of chemistry or flawed play-calling, the Dolphins struggled despite having adequate receivers already on the roster.
They have a prolific target in Marshall and a talented slot receiver in
Davone Bess
. The Dolphins like
Brian Hartline
and are excited about youngsters
Marlon Moore
and
Roberto Wallace
.
Where the Dolphins are most lacking at receiver is with a reliable speedster who can stretch the field. Hartline has handled that role, but they can do better.
"If Miami is going to add a wide receiver," Williamson said, "it has to be a pure speed guy, someone to really stretch the defense and open up room for the running game and the underneath stuff to Marshall and Bess.
"Speed is the key. Especially considering all the needs Miami has, if they go wide receiver, they've got to go with a home-run threat. And Henne, despite his faults, can sling the long ball."
Sims-Walker wouldn't help much in that area. He has averaged 13.5 yards per catch for his career. Sims-Walker had 11 plays that went at least 20 yards and none that went at least 40 yards last season for the
Jacksonville Jaguars
.
Hartline's downfield numbers were better than Sims-Walker's when you consider Hartline played only 12 games and Henne went deep far less frequently than Jaguars quarterback
David Garrard
. ESPN Stats & Information charted nine completions for Henne on passes that traveled at least 20 yards in the air, compared to 18 for Garrard.
Hartline averaged 16.3 yards per catch as a rookie and 14.3 yards last season. Hartline had 10 plays of 20-plus yards and one play of 40-plus yards last season.
September, 25, 2010
9/25/10
6:37
PM ET
Probably thanks to
Braylon Edwards
' recent arrest for drunken driving, wide receiver
Patrick Turner
will get a shot to play against the
Miami Dolphins
, the team that cut him three weeks ago.
The
New York Jets
on Saturday promoted Turner from their practice squad to the active roster in time for Sunday night's game against the Dolphins in Sun Life Stadium.

Turner
Jets coach Rex Ryan likes to make captains of his players that are going against their former teams. Expect to see Turner at midfield for the opening coin flip.
The Jets previously announced Edwards will dress but won't start. They haven't revealed how long Edwards will watch from the sidelines. The addition of Turner to the active roster could indicate Edwards won't play much.
I had a chance to catch up with Turner on Monday at the Jets' training facility in Florham Park, N.J.
"I'm just working, having fun and trying to get better," Turner said, not knowing Edwards would be under arrest about 12 hours later. "I want to get on the field.
"I love being a Jet. I want to go out there and play hard, make plays."
Just last year, the Dolphins drafted Turner in the third round with visions of an attractive target for
Chad Henne
on third downs and in the red zone.
Turner was the top receiver at USC
for Jets quarterback
Mark Sanchez
.
But
Turner barely could get on the field for Miami
. He was deactivated for all but two games. He caught zero passes.
"I guess you could say they gave me a shot because they drafted me," Turner said of his brief stay with the Dolphins. "They made a decision.
"It was frustrating that whole year. Coach [Tony] Sparano did allude to it one time that he didn't give me a shot to get on the field. I didn't get too much playing time. On game day, I couldn't show what I could do, but I've moved on. There's nothing I can do about that."
Turner couldn't beat out Ted Ginn,
Greg Camarillo
,
Davone Bess
or fellow rookie
Brian Hartline
last year. Over the offseason, the Dolphins dealt Ginn but picked up superstar
Brandon Marshall
.
After evaluating their roster through the preseason, the Dolphins decided to keep undrafted rookies
Marlon Moore
and
Roberto Wallace
, which had to be influenced at least partly by money.
The Dolphins cut Turner and 2009 second-round pick
Pat White
on the same day.
"It came down to numbers," Turner said.
On Sunday night, Turner finally could record his first NFL numbers.
"I'm excited about this and the opportunity it presents," he said Monday, with no clue how quickly the opportunity would unfold.
September, 12, 2010
9/12/10
12:18
PM ET
ORCHARD PARK, N.Y. -- Here are the inactives for Sunday's game between the
Miami Dolphins
and
Buffalo Bills
in Ralph Wilson Stadium.
Most notable is
Chad Pennington
officially assuming the No. 2 role ahead of
Tyler Thigpen
and the stand-down order to outside linebacker
Ikaika Alama-Francis
, who might have started but woke up sick in the morning.
Miami Dolphins
Buffalo Bills
September, 3, 2010
9/03/10
12:05
AM ET
With all 32 teams wrapping up their preseason schedules Thursday night, here are a few quick hits from each AFC East game:
Detroit Lions 28, Buffalo Bills 23
Trent Edwards was efficient in his one quarter, completing all four of his passes for 66 yards, including a 50-yard strike down the left sideline to Lee Evans.
But because Edwards is so inconsistent and injury-prone, backup quarterback remains a big question mark. Ryan Fitzpatrick had the night off. Brian Brohm played less than two quarters and completed 7 of 15 passes for 78 yards and an interception that was tight end J.P. Foschi's fault.
Bills kicker Rian Lindell is in midseason form. He nailed field goals from 47, 50 and 41 yards. Remember when former coach Dick Jauron shied from letting Lindell try long kicks?
The Bills still have a tough decision to make at receiver. Chad Jackson had a game-high five catches for 59 yards, but hobbled off the field late. James Hardy, a 2008 second-round pick, was targeted seven times but made three catches for 23 yards in the second half.
New York Giants 20, New England Patriots 17
Rookie tight end Rob Gronkowski is becoming a folk hero. He caught his fourth touchdown of the preseason, a 5-yard toss from Tom Brady on their first drive. The touchdown wasn't as eye-popping as Gronkowski's first two, but he did have a defender hanging on him.
New England's first-team defense looked shaky again. Eli Manning marched right through them, going 86 yards on nine plays for a touchdown to open the game. The Giants' starters picked up two more easy first downs on the second possession before punting.
Running back Laurence Maroney finally got some action after being a bystander the previous two games: nine carries for 32 yards. Uninspiring. For the record, Fred Taylor started the game.
Rookie Devin McCourty bounced back from an awful performance in the previous game, and that's a good sign with veteran Leigh Bodden sidelined for the season. McCourty played only two series but made three tackles and had a pass defensed.
New York Jets 21, Philadelphia Eagles 17
Rookie running back Joe McKnight had a rough preseason. He lost his third fumble, and this one was returned 64 yards for an Eagles touchdown. Rex Ryan said McKnight will make the roster and be deactivated until he proves himself in practice.
Had the Jets not used a fourth-round draft choice on McKnight, he'd be gone. He was outplayed by Chauncey Washington and Danny Woodhead. Washington ran 12 times for 56 yards, including a long of 22 yards. Woodhead had 12 carries for 45 yards and a 14-yard touchdown.
Mark Brunell had an efficient game: 11-of-17 for 118 yards and touchdown passes to Santonio Holmes and Jeff Cumberland.
Holmes had a busy night in what will be his last action for a month. He had four catches for 97 yards. His touchdown traveled 51 yards and came in the fourth quarter. Probably not fair to do to Philly reserves who won't be employed come Saturday. But Holmes will be out of commission while serving a four-game suspension.
Dallas Cowboys 27, Miami Dolphins 25
The Dolphins had a nerve-racking sequence in the second quarter. Franchise left tackle Jake Long, my pick as the club's most indispensable player, got shaken up on a play when Chad Henne absorbed a blindside sack and fumbled. Four plays later, Sam Hurd beat cornerback Sean Smith for a 43-yard touchdown.
Tyler Thigpen, not Pat White, received the prime mop-up duty after Henne and Chad Pennington took their turns. Thigpen did well. He was 10-of-18 for 160 yards and two touchdowns with one interception. He ran three times for 20 yards.
Only 12 rushing attempts for Dolphins running backs, but 39 passes. Not sure what it means. Maybe coach Tony Sparano just wanted to let Pennington and Thigpen air it out. Maybe the Dolphins didn't want to waste their backs. But I doubt that ratio is a blueprint for the regular season.
Tough decision coming at receiver, even after the Greg Camarillo trade. Patrick Turner (one catch for 29 yards) was a third-round pick last year, but hasn't produced as much as undrafted rookies Marlon Moore (4 catches, 31 yards and a touchdown) or Roberto Wallace (3 catches, 59 yards and a touchdown).

NFL SCOREBOARD
Thursday, 9/4
Sunday, 9/7
Monday, 9/8