NFL Nation:

Roethlisberger 102410
October, 24, 2010
10/24/10
8:55
PM ET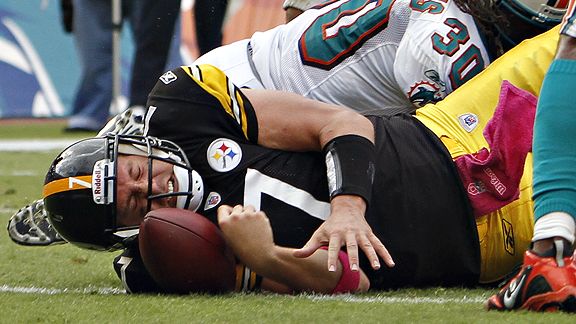 AP Photo/Alan DiazBen Roethlisberger's goal-line fumble may not have gone Miami's way, but it's not the reason the Dolphins lost the game, Tim Graham writes.
MIAMI -- The
Miami Dolphins
and their fans have every right to be upset over the late call that went against them Sunday afternoon.
To say that was the reason they couldn't close out the
Pittsburgh Steelers
, however, would be erroneous.
With the help of a fortuitous ruling on a
Ben Roethlisberger
fumble Miami appeared to recover, Pittsburgh escaped Sun Life Stadium with
a 23-22 victory
.
"We will take it and exit stage left," Steelers coach Mike Tomlin said.
The Dolphins seemed to snatch the game with 2:28 to play. They were clinging to a two-point lead against the driving Steelers when safety
Chris Clemons
knocked the ball from Roethlisberger's grasp at the goal line. Dolphins linebacker
Ikaika Alama-Francis
appeared to recover in the end zone, but video replays were inconclusive to referee Gene Steratore, and the Steelers retained possession.
Jeff Reed
kicked an 18-yard field goal to give the Steelers a one-point triumph.
A Dolphins win would have been gargantuan. Given the
Steelers' profile as one of the NFL's handful of elite teams
, the Dolphins would've been mentioned as legitimate contenders.
Instead, the Dolphins returned to .500 and remained winless through three home games.
But Steratore's ruling wasn't the reason.
"It was a big play in the game, but it shouldn't have come down to that play," Dolphins head coach Tony Sparano said. "We had plenty of opportunities to win, but we didn't."
Not awarding Miami the fumble recovery is a convenient way to overlook a few issues that allowed the game to be decided by one bad break:
Poor red zone offense.

Poor two-minute offense.

Poor third-down defense.
The Dolphins failed to score touchdowns despite starting their first possessions at the Steelers' 22- and 13-yard lines within the first 1:58 of the game.
Sparano bemoaned his offense's inability to get at least 10 points out of those glorious opportunities.
"We could be up 14-0 right off the bat," Dolphins left tackle
Jake Long
said. "But we didn't start fast enough. We've got to be better than that."
Each time, the Dolphins failed to convert a first down and didn't take any shots into the end zone.
Ronnie Brown
ran once for 1 yard.
Ricky Williams
ran three times for 0, 8 and 0 yards.
Chad Henne
threw two short incomplete passes.
"Field goals are great to have, but in this situation we needed touchdowns," Sparano said. "When you get down there with that many opportunities, you have to convert them into touchdowns. That's the bottom line."
Settling for a field goal would have been wonderful after Pittsburgh converted that controversial call into a late lead.
The Dolphins had 2:26 left to get Pro Bowl kicker
Dan Carpenter
within field-goal range, but gained 4 yards on four plays against an injury-ravaged defense.
Carpenter made five field goals in the game and has a robust leg. He has made field goals from 53 yards and 50 yards this year. The Dolphins' offense should have been able to move the ball, especially with outside linebacker
Lamarr Woodley
and defensive end
Aaron Smith
sidelined with injuries.
The Dolphins work on their two-minute offense every practice. Sparano usually puts them into situations with a minute less than they had Sunday.
The Dolphins were out of timeouts, but they had the two-minute warning, a strong-armed quarterback, star receiver
Brandon Marshall
and pair of quality running backs.
"We felt strongly in that situation we'd be able to get the ball down the field and have plenty of time on the clock," Sparano said.
In the rain, Brown ran up the middle for 2 yards on first down. Henne got off a snap right before the two-minute warning and threw a quick pass. But tight end
Anthony Fasano
dropped it to set up a tough third down while wasting a precious clock-stoppage.
On third-and-8, Henne tossed to fullback
Lousaka Polite
, who gained only 2 yards and was tackled inbounds. Amid a heavy Pittsburgh pass rush on fourth down, Henne frantically got the ball out of his hands, but the ugly pass hit the grass.
Miami's offense wasn't alone in its struggles.
Pittsburgh moved the chains on third-down plays of 16, 11 and 9 yards. On third-and-5 from Miami's 43-yard line on the decisive drive,
Mewelde Moore
gained 29 yards on a dump pass. One play later, Miami defensive lineman
Tony McDaniel
committed an unnecessary roughness penalty to give Pittsburgh first-and-goal from the 4.
Pittsburgh converted six of its 15 third downs.
Steratore had nothing to do with a lot of problems Miami had Sunday.
"If you lose, you lose," Dolphins inside linebacker
Channing Crowder
said. "You can make all the excuses, but our record's 3-3. There's not going to be an asterisk next to the third loss. Who cares? Good call, bad call, I don't know the rules. But we should've won. We never should have been in that situation. To put it in the ref's hands was our fault."
October, 24, 2010
10/24/10
6:21
PM ET
MIAMI -- In the
Miami Dolphins
' locker room, the measured reaction to not being awarded a fumble in the closing minutes of Sunday's heartbreaking
23-22
loss to the
Pittsburgh Steelers
was to emphasize the game never should have come down to that.
Still, some Dolphins seethed about the call.
"We hit them in the mouth on both sides of the ball," Dolphins linebacker
Karlos Dansby
said. "Y'all ain't never seen anybody handle Pittsburgh like we did today. They took that game from us. They took it from us, bottom line."
Miami defensive lineman
Tony McDaniel
said: "There should be a board that fines refs for making decisions like that."
Referee Gene Steratore won't be too popular in South Florida, but they're happy with him back home. Steratore is from Washington, Pa., about 30 miles southwest of Pittsburgh.
Dolphins safety
Chris Clemons
forced a
Ben Roethlisberger
fumble at the goal line with a little more than two minutes left in the game, but video replays weren't conclusive enough to confirm the Dolphins made an apparent recovery in the end zone. Dolphins outside linebacker
Ikaika Alama-Francis
emerged with the ball and handed it to an official.
"I got it," Alama-Francis said. "It was mine, no doubt. It was really unfortunate. We all worked so hard. Chris Clemons made a great play to get the ball out, and I just don't understand the ruling. I mean, it has to be either a fumble or a touchdown, but they decided to make the call they made, and that's what it is."
The Steelers maintained possession at the 1-yard line and kicked an 18-yard field goal for the deciding points.
"That ball didn't bounce our way today," Dansby said. "Sad. Very sad.
"Well, it did bounce our way. They took it from us. Put it like that. We had our way with them up and down the field."
October, 24, 2010
10/24/10
5:47
PM ET
MIAMI --
Ikaika Alama-Francis
thought he'd made the play of his life.
With 2:37 left in the game and the
Miami Dolphins
clinging to a two-point lead Sunday afternoon,
Pittsburgh Steelers
quarterback
Ben Roethlisberger
scrambled for the end zone on third-and-goal from the 2.
Roethlisberger was met at the goal line by diving Dolphins safety
Chris Clemons
, who jarred the ball loose. Alama-Francis, the Dolphins' run-stopping outside linebacker, appeared to pounce on the ball to preserve a colossal victory.
"I know I had possession of the ball," Alama-Francis said. "I'm thinking 'I just made the play that won us the game.' "
That, however, is not what happened.
Officials ruled Roethlisberger had broken the plane and scored a touchdown. That call would be overturned by video replay after the Dolphins threw their red challenge flag.
But the recovery was not definitive enough to give the Dolphins the ball.
One play later,
Jeff Reed
kicked an 18-yard field goal.
Pittsburgh won 23-22
in Sun Life Stadium.
"After review, it was confirmed in the replay the ball did come loose and it was a fumble prior to the ball breaking the goal line," referee Gene Steratore said. "That's where we go to the second aspect of that. In order to overturn this and give another team the football, I have to have clear video evidence of the team recovering the fumble. ... It is a pile of bodies in there, and you don't have a clear recovery."
Steratore went on to explain there was no need to make an on-the-field determination of which team recovered because the ruling on the field was a touchdown.
"When you have a challenge, naturally you are challenging the ruling on the field, which was a touchdown," Steratore said. "So when we go into replay, we find out, in fact, that it was, in fact, a fumble prior to the ball breaking the plane. But we have to continue with that aspect and find a clear recovery by the defense in order to reward them the ball."
Roethlisberger claimed he had the ball until the play was whistled dead. A pair of Steelers offensive linemen,
Doug Legursky
and
Jonathan Scott
, also claimed to have recovered the ball.
I asked Miami coach Tony Sparano if Steratore imparted any other information on the sideline.
"He told me that even though our guy came up with the football in the end zone and handed him the ball that he doesn't know who recovered it," Sparano said. "It was a scrum, and he couldn't see evidence of who recovered."