January, 18, 2014
Jan 18
11:20
AM ET
The
Detroit Lions
have made another hire, and this one was both anticipated and still unexpected.

How?
Well, the team is bringing Ron Prince, the former Kansas State head coach, in as the team's assistant head coach. That is the expected part, as John Wooten from the Fritz Pollard Alliance Foundation said Prince would likely be part of the staff from the outset.
Here's the unexpected part: Prince also will coach the tight ends. And that's the intrigue with this hire. Prince has never been a tight ends coach in his life. He's coached offensive line for years. He's been an offensive coordinator at Virginia from 2003-06 -- including Matt Schaub's senior season -- and was the Rutgers offensive coordinator last season.
His only NFL experience is as an assistant offensive line coach for two seasons under new head coach Jim Caldwell in 2010 and 2011 and then with Jacksonville in 2012.
Prince played his college ball as an offensive tackle at Dodge City Community College in 1988 and 1989 and then for two seasons at Appalachian State.
The 44-year-old then worked his way up the difficult way. He had stints as an offensive line coach at Alabama A&M, South Carolina State, James Madison and Cornell before landing as Virginia's offensive line coach under Al Groh in 2001.
Two seasons later, he was the offensive coordinator and then eventually the head coach at Kansas State from 2006-08, where he went 17-20 and was the middleman between Bill Snyder eras at the school.
When Prince was fired by Kansas State, he ended up in a lawsuit with the school over his termination fee and whether or not there was a secret agreement between him and the school. The case, which was eventually settled for $1.65 million in May 2011,
was written about by the National Sports Law Institute
at Marquette. As part of the settlement, Prince was
cleared of any wrongdoing in the case
.
The other interesting football part about this hire is that Prince has been an offensive line coach for so long. Perhaps -- and this might be reading too much into it -- Caldwell saw the blocking struggles of the team's current tight ends (specifically
Joseph Fauria
) and figured this might be the best way to turn him into a complete tight end.
Or, I'm reading way too much into that.
Coaching Staff to this point:
Head coach --
Jim Caldwell
Asssistant head coach
-- Ron Prince
Offensive coordinator --
TBD
Defensive coordinator --
Teryl Austin
Quarterbacks --
TBD
Running backs --
Curtis Modkins
Wide receivers --
TBD
Tight ends --
Ron Prince
Offensive line --
Jeremiah Washburn (asst. Bobby Johnson)
TBD --
Terry Heffernan
Defensive line --
Kris Kocurek (asst. Jim Washburn)
Linebackers --
Bill Sheridan
Secondary --
TBD
Special teams --
John Bonamego (asst. Evan Rothstein)
January, 15, 2014
Jan 15
8:25
PM ET
DETROIT --
Detroit Lions
president Tom Lewand said he would do something almost sacrilegious when it comes to someone who graduated from Michigan.
Tressel
If it meant the Lions would win, he would tattoo a "buckeye" on his forehead. As in an Ohio State Buckeye. The questions, of course, came in response to whether he would be fine with former Ohio State coach Jim Tressel on a potential Lions staff.
"If it helps us win, I will tattoo a Buckeye on my forehead," Lewand said.
New Lions coach Jim Caldwell had no staff announcements Wednesday afternoon during his introductory press conference and declined to speak about specific potential hires when meeting with the media afterward as well.
But Tressel's name has been linked to Caldwell since he became a plausible candidate for the Detroit job, especially since the two worked together during his time in Indianapolis when he was a replay-review consultant during Caldwell's final year with the team.
He didn't rule out hiring Tressel but didn't make it sound likely, either. Tressel is working as an executive vice president for student success at his alma mater, Akron.
"I'm not going to talk about staff, but I did say I think Tressel's perfectly happy doing what he's doing right now," Caldwell said. "Even though he worked with us in Indy, good friend as well, but I do think he's really pleased with where he is at this stage."
While Caldwell wouldn't discuss names of candidates or coordinators, Baltimore defensive backs coach Teryl Austin has been mentioned as a possible defensive coordinator and Rutgers offensive coordinator Ron Prince has been mentioned as an offensive assistant.
Lewand said Caldwell will meet with Detroit's current staff Thursday to discuss their futures. The goal is to have as many assistants in place as possible before next week's Senior Bowl in Mobile, Ala.
"It's an ongoing process right now," Caldwell said. "At this particular point in time, we're working and some things will start to take shape here shortly."
January, 14, 2014
Jan 14
4:30
PM ET
ALLEN PARK, Mich. -- Jim Caldwell has been the
Detroit Lions
coach for less than a few hours, but already a bunch of names have popped up as potential assistants and coordinators.
John Wooten, the chairman of the Fritz Pollard Alliance Foundation, told ESPN.com on Tuesday that Teryl Austin is a likely choice for Caldwell as his defensive coordinator. Austin was the secondary coach with the Ravens since 2011 and has been a defensive coordinator for just one season -- in 2010 at Florida.
Austin also has experience in Michigan, having been a defensive assistant with the University of Michigan from 1999 to 2002.
ESPN Insider Ed Werder is reporting that Bill Lazor, the quarterbacks coach with Philadelphia, will be a candidate for offensive coordinator. Wooten told ESPN.com that Ron Prince, currently the Rutgers offensive coordinator, is also a candidate to be on staff.
Dave Birkett from the Detroit Free Press is
reporting Caldwell might consider former Minnesota defensive coordinator Alan Williams
for his defensive backs coach and that Dwaine Board from Seattle or Ray Hamilton from Atlanta could be the team's defensive line coach.
June, 7, 2010
6/07/10
1:21
PM ET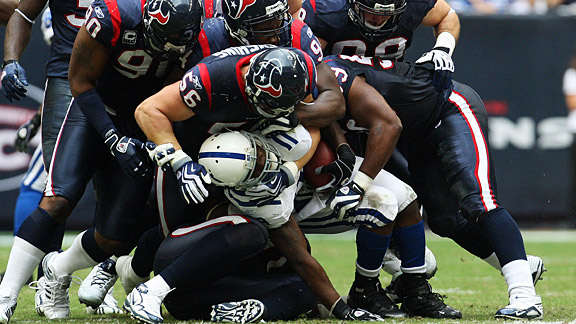 Matthew Emmons/US PresswireConverting more consistently on third-and-short is one area the Colts hope to improve upon in 2010.
INDIANAPOLIS -- We dig and scrap to find issues with a team that was a league best 14-2 and went to the Super Bowl a season ago.
And we often end up hitting on third-and-short offense.
It's not that the
Indianapolis Colts
were bad in such situations. They converted overall third downs at a league-best clip of 49.2 percent.
Still, in a couple of big situations in the past two postseasons -- the end of
a loss in San Diego
two seasons ago and the end of the first half of Super Bowl XLIV -- failures on third-and-short had a big bearing.
"You get that first down, it's probably never spoken about," center
Jeff Saturday
said. "… A lot of [third-and-one] is you've got nine and 10 guys in the box, you have a single safety back behind it, your corners are up either in press or man-to-man. You have a lot of players up in there filling gaps.
"We're a one-back offense so we don't have somebody really leading through. So if you don't get a clean block or they are blitzing and somebody steps in the gap, it's tough to always get it. It's a definite mindset. We actually did improve last year compared to the year before. But those are the things, when 10 guys are in the box, there are 2 minutes left on the clock and you can run it and eat up their last timeout, that's what you've got to get done.
"… Anytime you're extending drives with runs, you're solving a lot of people's problems."
Three factors are at play as the Colts look to improve at clutch conversions:
March, 15, 2010
3/15/10
9:25
AM ET
At 6-foot-8 and 335 pounds,
Adam Terry
is a giant.
The Colts'
new tackle
is two inches taller and 15 pounds heavier than any Colts offensive lineman from 2009.
At 6-4 and, 310,
Andy Alleman
qualifies as a big guard.
Clearly Indy's push to get bigger on the offensive line is underway. And adding two low-cost players when they cannot bring in any true unrestricted free agents because of the
final eight rule
is a good start.
But while they may be altering their philosophy on size, we don't yet know if they are changing their philosophy on value. These two acquisitions are underachieving players who were set to be restricted free agents and weren't rated as tender worthy by Baltimore or Kansas City, respectively.
Pete Metzelaars is expected to be promoted to take the place of the retired Howard Mudd, with Ron Prince added to the staff to also work with the offensive line.
Terry and Alleman have to rate as projects for them -- and this is a team with a good history of plugging in players like this and getting a lot more out of them than other teams could or would.
The Colts need a return man, though there is no assurance based on his history that Bill Polian will draft one. They need to replenish their depth at cornerback. But offensive line is their biggest need, as they look to replace the released left guard
Ryan Lilja
and upgrade from left tackle
Charlie Johnson
and right guard
Kyle DeVan
.
Terry and Alleman give the Colts some bigger options in the mix.
If they are going in that direction, I'd expect they'll be joined by a bigger draft pick or two.
NFL SCOREBOARD
Sunday, 2/2
WEEKLY LEADERS