NFL Nation:

Ronald Johnson
April, 3, 2013
4/03/13
5:10
PM ET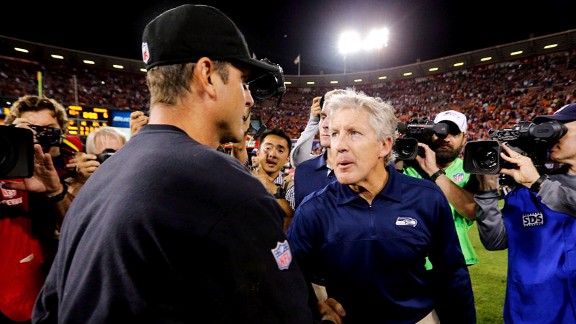 Ric Tapia/Icon SMIPete Carroll's Seahawks and Jim Harbaugh's 49ers have continued their rivalry into the offseason.
The
San Francisco 49ers
' and
Seattle Seahawks
' 2012 battle for NFC West supremacy has turned into
a perceived battle
this offseason.
"It just feels like the Seahawks make a move, then the Niners make a move," former NFL quarterback Damon Huard said Wednesday during
our conversation
on 710ESPN Seattle. "The Seahawks sign
Percy Harvin
, then the Niners go get
Anquan Boldin
. The Niners just signed
Nnamdi Asomugha
, they signed
Colt McCoy
, and now it's the Seahawks' turn to sign a quarterback. It really feels like this competition that was so fun to watch last fall has carried over into the offseason between the Niners and the Seahawks."
That's what it feels like from this angle, too. So, when ESPN's Bill Polian listed 49ers general manager Trent Baalke among his
top six executives


without a mention for Seattle counterpart John Schneider, I knew some Seahawks fans would take offense.
"Schneider should be on there," SamW9801 wrote in commenting on the Polian piece.
I'm going to ratchet up the discussion with
an assist
from Tony Villiotti of draftmetrics.com. Tony identified
ranges of picks
by how frequently teams have found five-year starters within those ranges.
Using those general ranges, displayed at right, I've put together a chart at the bottom of this item comparing the 49ers' and Seahawks' draft choices since 2010.
Baalke took over the 49ers' draft room roughly a month before the 2010 draft. Schneider became the Seahawks' GM that offseason. The 49ers then underwent a coaching change after the 2010 season, at which point Baalke assumed the GM title officially. We might cut Baalke some slack for selecting
Taylor Mays
, a player then-coach Mike Singletary valued. There were surely other times when both GMs followed their coaches' input, for better or worse.
Seattle has drafted 28 players over this period, three more than San Francisco has drafted. The Seahawks had more to work with from a qualitative point as well. Their median choice was No. 130 overall, compared to No. 165 for the 49ers.
It's pretty clear both teams know what they are doing in the draft.
Aldon Smith
,
Anthony Davis
,
Mike Iupati
and
NaVorro Bowman
have earned Pro Bowl and/or All-Pro honors for the 49ers.
Russell Okung
,
Earl Thomas
,
Russell Wilson
,
Kam Chancellor
and
Richard Sherman
have done so for the Seahawks.
Both teams have found franchise quarterbacks after the first round.
Colin Kaepernick
was chosen 36th overall in 2011. Wilson went to Seattle at No. 75 last year.
Neither team has missed in that first category, which includes players taken among the top 13 overall picks. Smith and Okung are elite players at premium positions.
Both teams have unanswered questions in that 14-40 range. The 49ers are waiting on
A.J. Jenkins
to produce. The Seahawks haven't gotten much from
James Carpenter
. But in Iupati and Thomas, the 49ers and Seahawks found players among the very best at their positions. Kaepernick's selection puts this group over the top for San Francisco. Seattle got eight sacks from
Bruce Irvin
as a rookie in 2012, so the Seahawks aren't far behind. It's just impossible to overlook the value a franchise quarterback provides.
Seattle has the edge in the 41-66 range. Mays is long gone from the 49ers. That leaves
LaMichael James
for the 49ers against
Bobby Wagner
and
Golden Tate
for Seattle. Wagner was an instant starter at middle linebacker and a three-down player who commanded consideration for defensive rookie of the year. Tate blossomed with Wilson at quarterback.
The Seahawks also have an edge in that 67-86 range, having selected Wilson.
Seattle holds a 7-3 lead in number of picks used between the 87th and 149th choices, a range producing five-year starters 16 percent of the time, according to Villiotti.
Both teams used picks in that range for players whose injury situations dragged down their draft status:
Joe Looney
in San Francisco,
Walter Thurmond
in Seattle. Both teams found starting linebackers in this range: Bowman to the 49ers,
K.J. Wright
to the Seahawks. Both teams found developmental running backs in that range:
Kendall Hunter
to the 49ers,
Robert Turbin
to the Seahawks. Both teams found Pro Bowl players: Bowman in San Francisco, Chancellor in Seattle.
Sherman, arguably the NFL's best cornerback, gives Seattle an edge in the 150 through 189 range of picks. Both teams found backup tight ends there.
Anthony Dixon
(49ers) and
Jeremy Lane
(Seahawks) have the potential to expand their roles.
The 49ers found starting fullback
Bruce Miller
in the final pick range, which runs from 190 to the end of the draft. Seattle found a projected starting guard there in
J.R. Sweezy
.
Malcolm Smith
is a candidate to start at linebacker for Seattle. Miller and Sweezy both played defense in college. Miller has already successfully transitioned to offense. Seattle thinks Sweezy will do the same.
Summing it up:
Both teams can feel good about their draft performance over the past three seasons. I doubt either team would trade its picks for the other team's picks. That makes sense. Teams draft the players they like best. The 49ers have six projected 2013 starters to show for their choices. The number is eight for the Seahawks, not counting Irvin or Tate. Seattle has had more choices and higher quality choices, and more openings in the lineup to accommodate those players. I think that shows in the results.
October, 20, 2011
10/20/11
11:21
AM ET
No team in the NFL thought
Doug Baldwin
would quickly emerge as one of the most productive young wide receivers in the league.
We know this because the 32 NFL teams drafted 28 wide receivers in 2011, but not Baldwin.
NFC West teams drafted five of them, but not Baldwin.
Austin Pettis
(third round, St. Louis),
Kris Durham
(fourth round, Seattle),
Greg Salas
(fourth round, St. Louis), Ronald Johnson (sixth round, San Francisco) and
DeMarco Sampson
(seventh round, Arizona) have combined for 22 receptions, 195 yards and no touchdowns.
Baldwin, signed as an undrafted free agent from Stanford, has 20 catches for 330 yards and two scores even though he played sparingly in the season opener.
How surprising is Baldwin's production? His college coach,
Jim Harbaugh
, surely did not see it coming. Harbaugh's 49ers were
seeking a slot receiver
in the draft. They went with Johnson in the sixth round partially because the 49ers' receivers coach, John Morton, coached Johnson at USC. There was no shame in the selection; the draft guides I saw rated Johnson over Baldwin.
Johnson failed to earn a roster spot. Baldwin is leading Seattle in targets, receptions and receiving yards. He caught eight passes for 136 yards and a touchdown during the Seahawks' 36-25 victory over the
New York Giants
in Week 5. His 55-yard touchdown reception against the 49ers in Week 1 helped Seattle erase most of a double-digit deficit in the fourth quarter.
Among Seattle rookies, only
Joey Galloway
, with 349 yards in 1995, has gained more receiving yards than Baldwin through five games, according to ESPN Stats & Information (Hall of Famer Steve Largent had been second with 313 yards through five games in 1976).
Baldwin was initially reluctant to bite when I asked him how much motivation he gets from knowing his own college coach could have drafted him or signed him, but did not.
"There is definitely motivation that comes out of that," Baldwin said. "Obviously, I went undrafted, so there is motivation from that as a whole, but definitely motivation."
Baldwin's college career was up and down. He became disillusioned with his diminished role as a junior, as the Pensacola News recounted in a story
available via PDF
.
"He is one of the most mentally strong people I have ever met," said 49ers tight end Konrad Reuland, a rookie who played with Baldwin at Stanford and lived with him for a time. "He had his ups and downs at Stanford. He always battled back from any kind of injury or setback that he had. He's just mentally tough. He went through a year where he didn't play very much and came back the next year and was our best receiver."
Baldwin appears ideally suited for the slot. The Seahawks, despite having already had their bye week, rank eighth in the league with 203 plays featuring at least three wide receivers. Baldwin's presence helps account for some of that.
The Seahawks want him on the field and value what he offers from the slot in particular. So far, Baldwin has nine receptions for 125 yards and a touchdown from the left slot, seven receptions for 114 yards from the right slot and four receptions for 91 yards when lining up outside, according to ESPN Stats & Information.
"In terms of physical ability, he is one of the quickest guys I have ever seen in and out of his breaks," Reuland said. "He's got those cat-like reflexes and just explodes in and out of his breaks."
Baldwin has also proved he can bounce back from big hits, whether from opposing defensive backs -- one such hit drew a $15,000 fine -- or from the NFL teams that decided he wasn't worth drafting.
September, 3, 2011
9/03/11
7:02
PM ET
Check
here
for a complete list of the San Francisco 49ers' roster moves.
Surprise move:
Releasing veteran backup quarterback
Josh McCown
was a mild surprise, not a shocking one. The team sought veteran depth behind
Alex Smith
and rookie
Colin Kaepernick
. McCown was on the roster for those purposes and could conceivably return if needed down the line, but the 49ers want to upgrade there if they can.
Keeping sixth-round safety
Colin Jones
seemed odd on the surface after Jones played sparingly on defense during preseason. He played extensively on special teams, however. Keeping Jones could qualify as a victory for assistant head coach/special teams Brad Seeley. Veteran guard
Tony Wragge
was let go after the team drafted interior linemen and developed
Adam Snyder
as an option at center. Keeping only two tight ends on this initial roster was a mild surprise but also a reflection of
Nate Byham
's season-ending injury. Rookie
Konrad Reuland
will presumably wind up on the practice squad.
No-brainers:
Rookie receiver
Ronald Johnson
was a draft choice with ties to the coaching staff from his days at USC, but he didn't do enough during preseason to warrant releasing a superior player. Johnson appears to be a candidate for the practice squad. Keeping safety
Reggie Smith
despite injury concerns also was a smart, predictable move. He was in line to start entering camp and should factor at the position eventually. Backup running backs
Anthony Dixon
and
Kendall Hunter
made it, with Hunter as the apparent favorite for the No. 2 role.
What's next:
The 49ers will want to add a veteran backup quarterback at some point in the near future. Smith has durability and performance-related concerns. Kaepernick, though talented, does not appear ready to step in as a starter in the near term. McCown knows enough of the offense at this point to come back in a pinch, but the team could sign another veteran for Week 1.
May, 11, 2011
5/11/11
12:30
PM ET
The
Seattle Seahawks
were on the clock with the 99th overall choice in the 2011 NFL draft when the
Minnesota Vikings
called to inquire about a trade.
Coach Pete Carroll and general manager John Schneider had a decision to make. The team wanted to add more picks, so sliding back into the Vikings' spot at No. 106 carried some appeal. But the Seahawks had not addressed defense to that point in the draft, and Mississippi State outside linebacker
K.J. Wright
was a player they had been targeting.
Seattle decided to
stand pat at No. 99
.
"It is rare that you would find a linebacker with that much length (6-foot-4) and 4.6 speed,"
Carroll said after the draft
. "We need that flexibility."
[+] Enlarge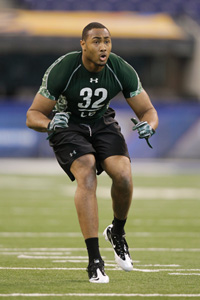 AP Photo/Michael ConroyK.J. Wright, who was drafted by the Seahawks with the No. 99 pick, was the last 4-3 strongside linebacker drafted.
This seemed a bit improbable. After all, teams selected 24 more linebackers over the remaining 155 selections. Surely one of them could have provided what the Seahawks wanted from Wright, right? Not necessarily. The more I studied those selections, the more I understood what Carroll was talking about. Wright was the fourth and final 4-3 strongside linebacker selected in the draft. All were gone among the top 100 selections.
The NFL has become so specialized, particularly on defense, that players are increasingly difficult to categorize. Seeking fresh perspective on the 2011 draft, I reclassified the 254 players chosen into 20 positional categories, based largely on how teams plan to use them. The process was imperfect because teams view players differently, and some players transcend easy categorization. But patterns that emerged were helpful in bringing the big picture into clearer focus.
Breaking down linebackers into five categories across 3-4 and 4-3 schemes was particularly helpful.
Teams selected one 4-3 strongside linebacker in each of the first four rounds, but none thereafter. They selected 12 4-3 weakside linebackers -- none in the first two rounds, five in the sixth and three in the seventh. That position carried less value relative to others based on when the players came off the board.
Nine of 11 4-3 defensive tackles went in the first three rounds, affirming how much teams value that position. Teams selected five 4-3 defensive ends in the first two rounds, then none until taking one in the fifth and four more in the seventh. Teams selected four five-technique defensive ends in the first round and one in the second, but none over the next four rounds.
I ultimately divided players into percentiles based on where they were selected in relation to other players from the same positional categories. Three NFC West players were the first players chosen at their specific positions. They were in the top percentile for their positions. Three, including Wright, were the last players chosen at their specific positions. They were in the bottom percentile.
The percentiles say nothing about whether individual players will succeed in the NFL. In some cases, players with lower percentiles probably carried more value at that moment in the draft based on how few prospects remained available at their positions.
Without categorizing players more specifically, we might not have any idea.
Overall, this draft featured 37 cornerbacks; 28 wide receivers; 24 running backs; 21 interior offensive linemen; 20 offensive tackles; 16 safeties; 13 tight ends; 12 quarterbacks; 12 4-3 weakside linebackers; 11 4-3 defensive tackles; 10 4-3 defensive ends; 10 3-4 outside linebackers; eight five-technique defensive ends; seven 3-4 inside linebackers; seven fullbacks; six 4-3 middle linebackers; four 4-3 strongside linebackers; four nose tackles; and two specialists. Two defensive linemen -- Kansas City's
Allen Bailey
and Baltimore's
Pernell McPhee
-- qualified as nickel pass-rushers.
And now, a look at all 35 NFC West draft choices, listed by how early they were drafted in relation to other players at their specific positions:
First quarter: 75th percentile and higher
Patrick Peterson
, CB,
Arizona Cardinals
: First of 37 cornerbacks selected
Aldon Smith
, OLB,
San Francisco 49ers
: First of 10 3-4 outside linebackers
Robert Quinn
, DE,
St. Louis Rams
: First of 10 4-3 defensive ends
Ryan Williams
, RB, Cardinals: Second of 24 running backs, putting him in the 91.7 percentile for the position (FBs excluded)
Lance Kendricks
, TE, Rams: Second of 13 tight ends (84.6)
James Carpenter
, T, Seattle Seahawks: Fourth of 20 offensive tackles (80.0)
Chris Culliver
, CB, 49ers: Eighth of 37 cornerbacks (78.4)
Rob Housler
, TE, Cardinals: Third of 13 tight ends (76.9)
John Moffitt
, G, Seahawks: Fifth of 21 interior offensive linemen (76.2)
Second quarter: 50th to 74th percentile
Anthony Sherman
, FB, Cardinals: Second of seven fullbacks (71.4)
Austin Pettis
, WR, Rams: Eighth of 28 wide receivers (71.4)
Kendall Hunter
, RB, 49ers: Tenth of 24 running backs (58.3)
Bruce Miller
, FB, 49ers: Third of seven fullbacks (57.1)
Kris Durham
, WR, Seahawks: 12th of 28 wide receivers (57.1)
Daniel Kilgore
, C, 49ers: 10th of 21 interior offensive linemen (52.4)
Sam Acho
, OLB, Cardinals: Fifth of 10 3-4 outside linebackers (50.0)
Colin Kaepernick
, QB, 49ers: Sixth of 12 quarterbacks (50.0)
Greg Salas
, WR, Rams: 14th of 28 wide receivers (50.0)
Third quarter: 25th to 49th percentile
Richard Sherman
, CB, Seahawks: 24th of 37 cornerbacks (35.1)
Mark LeGree
, S, Seahawks: 11th of 16 safeties (31.3)
Quan Sturdivant
, ILB, Cardinals: Fifth of seven 3-4 inside linebackers (28.6)
Byron Maxwell
, CB, Seahawks: 27th of 37 cornerbacks (27.0)
David Carter
, DE, Cardinals: Sixth of eight five-technique defensive ends (25.0)
Jermale Hines
, S, Rams: 12th of 16 safeties (25.0)
Fourth quarter: Zero to 24th percentile
Colin Jones
, S, 49ers: 13th of 16 safeties (18.8)
Jabara Williams
, LB, Rams: 10th of 12 4-3 weakside linebackers (16.7 )
Ronald Johnson
, WR, 49ers: 24th of 28 wide receivers (14.3)
Mikail Baker
, CB, Rams: 32nd of 37 cornerbacks (13.5)
Pep Levingston, DE, Seahawks: Seventh of eight five-technique defensive ends (12.5)
Mike Person
, C, 49ers: 19th of 21 interior offensive linemen (9.5)
Malcolm Smith
, LB, Seahawks. Eleventh of 12 4-3 weakside linebackers (8.3)
Jonathan Nelson
, S, Rams: 15th of 16 safeties (6.3)
K.J. Wright, LB, Seahawks: Fourth of four 4-3 strongside linebackers (0.0)
DeMarco Sampson
, WR, Cardinals: 28th of 28 wide receivers(0.0)
Curtis Holcomb
, CB, 49ers: 37th of 37 cornerbacks (0.0)
February, 25, 2011
2/25/11
12:21
PM ET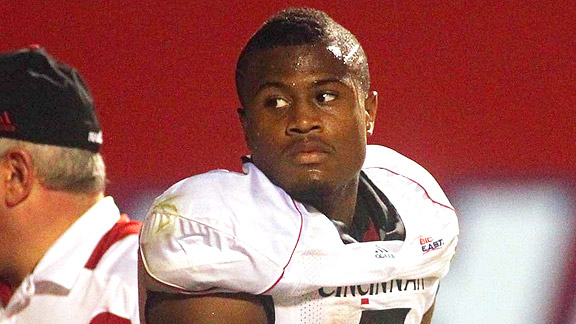 Cary Edmondson/US PresswireVidal Hazelton's college career didn't go as planned, but he thinks he has a bright future in the NFL.
If it hasn't happened already, Atlanta general manager Thomas Dimitroff is going to hear
Vidal Hazelton
's name at the scouting combine at some point this weekend.
Hazelton, perhaps the biggest draft-eligible name not at the combine, has given his agent, Kelli Masters, some very specific orders.
"Get my name in front of the Falcons," Hazleton said. "Remind them that I'm out there. That would be a dream scenario to end up with the Falcons. They're the team I always rooted for growing up."
The fact Hazelton has spent much of his life living in Georgia also is a factor. And Hazelton's biggest fan (more on that in a bit) lives in Alpharetta, Ga., a suburb of Atlanta.
But Hazelton realizes he's no longer in a position where dream scenarios are likely. That's why Masters' job is to also remind 31 other general managers that Hazelton is out there. Hazelton is proof that the NFL and college football are games that move quickly and even the brightest of stars can be forgotten.
"I have no question that, if things had gone a little differently for Vidal, you'd be hearing all about him as a first-round pick during the combine," said University of Cincinnati receivers coach T.J. Weist, who has coached 14 future NFL receivers during a lengthy career in the college ranks. "He's got the size, he's got the physical tools, he's a great competitor and he's mentally tough and a great worker."
So why wasn't Hazelton even invited to the combine?
This is where the story veers way off that dream scenario and takes twists and turns that lead back and forth across the country. It could be a tragic story, but it's not. At least not at this point because Hazelton is adamant that this story is far from over and he's in charge of writing the ending. Before we get to that, though, let's go back to the beginning.
Let's go back to 2006, when Hazelton was one of the top college receiver prospects in the nation. He signed with a football factory, the University of Southern California, which has produced plenty of NFL receivers through the years.
[+] Enlarge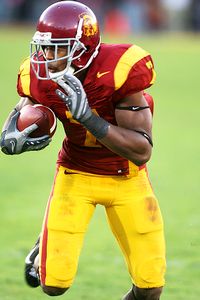 Kevin Reece/Icon SMIVidal Hazelton's best season came in 2007, when he had 50 receptions for 540 yards at USC.
The plan was to go slowly and let Hazelton spend his freshman season playing behind Dwayne Jarrett and Steve Smith before making him the main target in the passing game. He led the Trojans with 50 receptions the next year, but things took a strange turn the following season. In the 2008 opener, Hazelton suffered a high-ankle sprain. By the time he returned, Damian Williams, Patrick Turner and
Ronald Johnson
had emerged and there wasn't a lot of playing time.
While this was going on, Hazelton's grandfather, James Hazelton, was diagnosed with cancer. Hazelton wanted to be closer geographically to his grandfather. He transferred to Cincinnati and sat out the 2009 season. In a pass-happy offense, huge things were expected of Hazelton in 2010.
"In camp last summer, he was looking better than ever,'' Weist said. "He was just exploding off the ball and [NFL] scouts were getting all excited.''
The buzz lasted for a little over half a game. In the season opener, Hazelton fielded a kickoff return and tore his anterior cruciate ligament.
"It happened on a Saturday," Hazelton said. "I cried on Sunday. On Monday, I woke up in good spirits and I haven't looked back since. My father and my grandfather raised me to never look back and to only worry about the things you can control."
What Hazelton has controlled in the months in between is his knee. He made what doctors have jokingly told him was the quickest recovery ever from an ACL injury. He was even cleared for Cincinnati's last two games, but didn't play because there still was the possibility of him being granted an extra year of eligibility by the NCAA. That didn't happen and Hazelton has moved on quickly.
He's spent the last few months working out at Athletic Performance Institute in the Los Angeles area, along with many other prospects who are at the combine, and he's actually happy he wasn't invited.
"I look at it as a blessing," Hazelton said. "I'm almost 100 percent, but this gives me more time to get ready."
The target date is March 28, when Cincinnati holds its pro day workouts.
"I need to prove everything," Hazelton said. "I need to show my knee is back. I love days like that. I'm more anxious than nervous. This whole thing has humbled me and made me more motivated."
It's Masters' job to make sure NFL teams show up for Hazelton's workout, and Weist said he's been getting a lot of calls from NFL scouts recently. Weist is happy to share here the same scouting report he's been giving to the NFL people.
"Look at how quickly he's come back from the injury," Weist said. "That says a lot about his work ethic. You just don't come back from an ACL in a few months. He showed he's going to put in the work and he showed he's got good genetics to be able to recover like he did. People ask me which NFL receiver I'd compare him to and I say T.O. [Terrell Owens]. He's a thick, powerful and explosive player. He's right up there with any receiver in this draft in terms of physical ability. But what sets this kid apart is his maturity. He's been through adversity and he's very hungry. A lot of guys going in aren't as hungry. He's not going to take anything for granted."
Now, let's go back to the Falcons. Like every other team, they're not giving away any draft plans right now. It's obvious Hazelton's circumstances will push him down into the later rounds or perhaps make him a potential undrafted free agent.
Any chance with the Falcons would be a dream come true for Hazelton and for someone else. James Hazelton lives in Alpharetta and is a lifelong Falcons fan. James Hazelton is still battling cancer, his grandson said.
"He's doing all right and he's fighting," Hazelton said. "He keeps telling me he's not going anywhere until he sees me play in the NFL."
The Falcons have needs at wide receiver, where not much is certain after starters Roddy White and Michael Jenkins. Two other NFC South teams, Carolina and New Orleans, could be in the market for a developmental receiver in the later rounds. Even if it's not in Atlanta or anywhere in the NFC South, Hazelton believes he'll be in the NFL soon. He's not showcasing his talent at the combine, but he's hoping to, once again, grab the attention that slipped away from him when he works out in Cincinnati.
"I'm totally confident I have the ability to play in the pros," Hazelton said. "But next month my job is to go out and show the pros that I can play. I have to make sure they haven't forgotten about me."