December, 24, 2012
12/24/12
10:17
AM ET

The future looks bright for
Miami Dolphins
rookie quarterback
Ryan Tannehill
. The rookie first-round pick got off to a solid start this season, and now he's finishing strong.
Tannehill picked up his seventh victory of the season in a 24-10 win over the
Buffalo Bills
. The Dolphins are 7-8 and surpassed most people's expectations due to the rapid development of Tannehill. He threw for 130 yards, two touchdowns and added 44 rushing yards on Sunday.
Here is a look at the QBRs for the AFC East:
Brady wasn't his dominant self in a 23-16 win over the
Jacksonville Jaguars
. He threw for 267 yards, two touchdowns and two interceptions. But Brady and New England pulled out the win and
remain in the hunt
for one of the top two seeds in the AFC.
Fitzpatrick struggled with accuracy and turnovers in a loss to Miami. Fitzpatrick threw for 240 yards, one touchdown and had a lost fumble and late interception. McElroy was sacked 11 times and didn't have much of a chance. He threw for 185 yards and an interception.
November, 16, 2012
11/16/12
11:00
AM ET

The
Miami Dolphins
were a nice story early in the season. They got off to a 4-3 start with a rookie quarterback (
Ryan Tannehill
) and rookie head coach (Joe Philbin). The beginning had Miami thinking playoffs.
But that all feels like months ago with the way Miami has played as of late. Three weeks later, the Dolphins are 4-6 and
playing awful football
. Miami suffered a 19-14 loss to the
Buffalo Bills
(4-6) and could be headed for a downward spiral.
Here is a look at Miami's next three games:
Nov. 25: vs. Seattle (6-4)
Dec. 2: vs. New England (6-3)
Dec. 9: at San Francisco (6-2-1)
The Dolphins will be underdogs in all of these games and look likely to finish that stretch at 4-9.
Philbin has a huge challenge ahead of him. Miami's mental and physical toughness will be tested. Making the playoffs is no longer a realistically attainable goal. Therefore, it's Philbin's job to keep the young Dolphins motivated and playing well.
Miami showed earlier this season that it could be a tough out. But the Dolphins proved during this three-game losing streak that they lack the talent to compete over a 16-game season.
There is still plenty of football left to play. The Dolphins have to decide whether they will be playoff spoilers or spoil the rest of their season.
Based on their sloppy play Thursday night against the Bills, it doesn't appear the Dolphins have much fight left.
November, 11, 2012
11/11/12
7:17
PM ET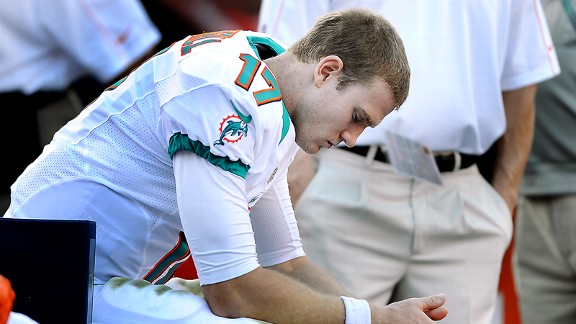 Robert Duyos/Getty ImagesDolphins QB Ryan Tannehill had his worst game since Week 1, throwing three interceptions against the Titans.
MIAMI -- One of the hardest things to do in the NFL is maintain success. Some teams can do it over the course of a full season, while the truly great teams can put it all together for multiple years.
The
Miami Dolphins
learned the hard way that sustaining excellence over the long haul is much harder than initially achieving it. Miami, after going undefeated in October, dropped its second straight November game --
an ugly, 37-3 loss
to the
Tennessee Titans
.
There is no other way to explain this type of blowout other than to blame it on Miami's youth, lack of maturity and perhaps overconfidence.
The young Dolphins entered this game as one of the darlings of the AFC after winning three of their past four. People were starting to mention "playoffs" and "Dolphins" in the same sentence for the first time in years. In addition, the lowly Titans (4-6) were coming to town after getting embarrassed by the
Chicago Bears
last week.
All of these factors set the Dolphins up for a very winnable game if they just remained focused and level-headed. Instead, it was the Dolphins who were shocked and embarrassed in front of their home fans.
This was the kind of baffling performance Miami players and coaches had no answers for after the game. Miami (4-5) had been in every game except one this year and laid an egg when you least expected it.
"That team I watched for 30 minutes wasn't the same team I was used to watching for eight games," Dolphins head coach Joe Philbin said.
You saw things from the Dolphins on Sunday that were out of character.
Dolphins tailback and team leader
Reggie Bush
was benched in the first half after fumbling. Guard
Richie Incognito
was pulled for losing his cool and getting a costly penalty. Miami's usually stout run defense was leaky and porous.
[+] Enlarge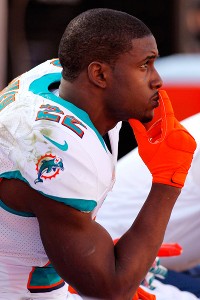 Robert Mayer/US PresswireReggie Bush was benched in the first half after he lost a fumble.
Also, quarterback
Ryan Tannehill
had one of those "rookie games." After weeks of playing above expectations, Tannehill looked confused and out of sync. He threw for 217 yards and had three interceptions, including a pick-six.
Once the Dolphins fell behind, Tannehill forced the action, and that was too much to ask of the rookie. Miami is not a team built for coming from behind. He threw 39 times, which is the second-highest total of his career.
Tannehill's accuracy and timing were off. He could have had four or five interceptions if the Titans didn't drop a couple of extra opportunities. He was due for a bad game.
"I'm embarrassed by the way we played," said Tannehill, who showed some frustration after the game. "Myself, I didn't play well and we didn't play well as a team. But at the end of the day, a loss is a loss and we have to move on."
Tennessee is not an offensive juggernaut. But the Titans had few problems racking up yards and points against the Dolphins.
Titans quarterback
Jake Locker
returned from a shoulder injury and had an efficient game. He threw for 122 yards and two touchdowns. Locker also kept plays alive with his legs and rushed for 36 yards on four carries. With the Dolphins shooting themselves in the foot, that was all Tennessee needed from its quarterback.
Tennessee tailback
Chris Johnson
found the creases in the defense and rushed for 126 yards and a touchdown. He broke Miami's 22-game streak of not allowing a 100-yard rusher.
"This is the worst game, by far, we have ever played as a defense and as a team," Dolphins linebacker
Karlos Dansby
said.
Let's be honest: Miami overachieved in the first half of the season.
The Dolphins entered the year with too many holes on their roster to be a legitimate contender in the AFC. This is a rebuilding year, and Miami's solid start was the result of good health and a rookie quarterback who was developing faster than expected.
Miami's best players are young, and eventually its youth was going to show. That day finally came Sunday.
This loss to Tennessee is another tough lesson for the Dolphins. The NFL is too competitive for a rebuilding team such as Miami to have major lapses in focus and concentration.
"We have to accept responsibility for the performance today," Philbin said. "It's not one person's fault. It's a team loss. ... It's not a finger-pointing game, but we obviously need to do better."
We've already seen the best (October) and the worst (November) of Miami this season. The Dolphins have a quick turnaround Thursday with a road game against the
Buffalo Bills
. You now have to consider Buffalo, which nearly upset the
New England Patriots
on Sunday, the favorite.
It was a fun and interesting first half of the season for Miami. But if the team can't stem this tide, it could be a long November and December for these young Dolphins.
September, 16, 2012
9/16/12
4:22
PM ET
MIAMI -- A few thoughts on the
Dolphins' 35-13 blowout victory
over the Oakland Raiders on Sunday at Sun Life Stadium.
What it means:
Miami won the first game of the Joe Philbin era in convincing fashion and got back to .500. These are the games Miami must win this season. The Dolphins were at home against an awful Oakland team coming off a short week, and Miami took care of business. The Dolphins are trying to re-establish a home-field advantage after a long stretch of struggling at Sun Life Stadium. They did a good job of jumping on the Raiders on Sunday.


Bush plays big:
Miami's
Reggie Bush
continues to prove he can be an every-down back. Bush worked hard in the offseason to improve his durability and had one of the best games of his career. Bush rushed for 172 yards and two touchdowns on 26 carries. Bush took a lot of pressure off rookie quarterback
Ryan Tannehill
, who played his most consistent game of the season. Tannehill threw for 200 yards and scored two touchdowns (one rushing, one passing).
Hartline reliable:
Miami found a reliable weapon in the passing game in
Brian Hartline
, who got his first start of the season. Hartline ran crisp routes and caught the ball well. He finished with nine receptions for 111 yards.
Pass defense needs work:
Miami's secondary has played shaky the first two weeks. Oakland lost the game big but had a lot of explosive passing plays against Miami's defensive backs. Raiders quarterback
Carson Palmer
threw for 373 yards, one touchdown and one interception.
What's next
: The Dolphins have a big division game next week against the
New York Jets
at Sun Life Stadium. This will be the first meeting since last year's implosion by the Jets in Week 17. It will also be the first division game for Miami this season.
April, 28, 2012
4/28/12
11:02
AM ET
DAVIE, Fla. -- Rookie quarterback
Ryan Tannehill
just wrapped up his first news conference with the
Miami Dolphins
. He is the new face of the Dolphins' franchise and a player they think can turn the team around.
Here are some notes from Tannehill's news conference at Dolphins headquarters:
The major question is how long will it take for Tannehill to see the field as a top-10 quarterback. Tannehill is not expected to play this season. But he's taking the right approach by not resigning himself to backup status behind Matt Moore and David Garrard. "I'm a football player and I'm a competitor," Tannehill said. "I want to be on the field and I want to compete. But I also realize that I'm coming in and there's veteran quarterbacks on this team that I can learn from."
Tannehill has good measurables. He's big and rangy. He looks the part of an NFL quarterback in person, which is important. Tannehill will take the field for the first time in rookie mini-camp next week.
I asked Tannehill about his leadership ability, because I think that's so important for the quarterback position. I was particularly curious about how he plans to lead despite being a rookie and working his way up the depth chart. "First of all, you got to get the respect of your teammates," Tannehill explained. "I've done it in a lot of different ways. But I want to get to know the guys. This is a new locker room and I have to get to know everyone. ... And your performance on the field is a big part of that. You have to be able to make plays on the field to get that respect."
Tannehill was happy to get his hands on Miami's playbook. He said many things looked familiar from the one he had in college. Tannehill played under Dolphins offensive coordinator Mike Sherman at Texas A&M. Sherman played a major role in bringing Tannehill to Miami.

NFL SCOREBOARD
Thursday, 12/18
Saturday, 12/20
Sunday, 12/21
Monday, 12/22