November, 22, 2013
11/22/13
11:00
AM ET
EARTH CITY, Mo. -- If you haven't already, it's worth taking some time today, on the 50th anniversary of the assassination of President John F. Kennedy, to read through the
remembrances and recollections
of some of the NFL's greatest players, coaches and personnel types.
Not least of those offering their memories was former Rams defensive tackle Rosey Grier. I had the good fortune to get Mr. Grier to agree
to chat
about a topic near and dear to him and the pain in his voice was audible even now 50 years later.
[+] Enlarge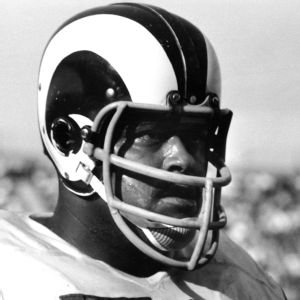 AP Photo/NFL PhotosThe Rams' Rosey Grier went on to work on Robert Kennedy's security detail.
As you can see in the piece, Grier has a vivid memory of the day it all happened. He remembered going to an end of the field and weeping not only for the country but for the Kennedy family. He recalled going home and watching the coverage and holding out hope that the President would pull through. And he remembers the pain when he passed away.
At the time, Grier didn't have any connection to the Kennedy family deeper than the average voter. He said he came around to Kennedy as a candidate when he heard that he had reached out to Martin Luther King Jr. to help further King's efforts in creating racial equality.
When Grier retired from football in 1966, he had many opportunities thrown his way. He took advantage of plenty of them, appearing on television and in films, writing books and working on a seemingly endless array of community service projects.
But one of the first things Grier did when his football days came to a close was take advantage of the chance he was given to play a role in the presidential candidacy of Robert F. Kennedy.
"I empathized with them but I didn't know them and then sometime later Bobby Mitchell had given Ethel Kennedy my agent's telephone number and she called and asked me to come to Washington D.C. to do an event that they were raising money to send kids from the inner city out into the country for the summer and I went," Grier said. "I went, though I was reluctant to fly and I have never in all my life met a family that was so blind to color and so open for love. I hit it off right away with Senator Kennedy, Bobby, and that night I got there, he and I stayed together. Everywhere he went, I went. I met from Whizzer White to Lauren Bacall and all of the people that were there because I was with him the whole time. We just walked around and he said this is my friend, this is my friend, this is my friend. They just were so nice and from that moment on they were my key people."
Grier became fast friends with Kennedy and stuck around to serve on his security detail as Kennedy began his run for the Oval Office. Grier was protecting Ethel Kennedy, Robert's wife, the night Robert was assassinated in Los Angeles in 1968.
Fifty years after the assassination of John F. Kennedy, Grier still ponders what could have been.
"We as a nation, we had high expectations for us," Grier said. "To me, they were instrumental in helping Martin Luther King and trying to accomplish the goal of every man represents all of us and there was no difference in our color yet we had divided ourselves into races and had divided ourselves into schools and yet here was a man, here was people who were not concerned about that. They were concerned about the welfare of the nation and that made me feel very good. I felt I was safe. Anytime I would go to Washington, I would call them. If they were out in this area they would call me. I loved them."
November, 21, 2013
11/21/13
7:02
PM ET
By
ESPN.com staff
| ESPN.com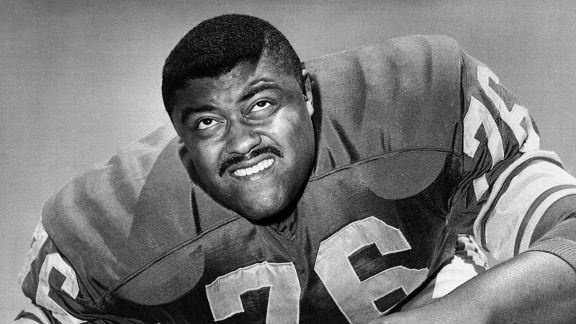 AP PhotoFormer Rams defensive tackle Roosevelt Grier remembers how he felt the day President Kennedy died.
The former Los Angeles Rams defensive tackle and bodyguard for Robert F. Kennedy reflects on the 50-year anniversary of the assassination of President John Fitzgerald Kennedy:
"I was in San Fernando Valley with the Rams. We were at practice running around and [coach] Harland Svare came out and blew the whistle. We all ran over thinking we were going to get our assigned area to work. We go out there and he says, 'I've got some bad news.' He said, 'Our president has been shot.'
"It was like dead silence fell over the field. Everyone was thinking. And we had one guy who always said something. He said, 'They got another one.' I look at him and I thought he didn't understand the seriousness of our president being shot because there was such joy in our country and there was such hope in our country. We had a man who could take us to new heights in terms of the nation. I went down to the other end of the field and I cried. I cried for his family. I cried because of him being a father and brother and a leader of our nation. I cried. And I thought, 'How could this be?'
"Yet, here we were. We were facing one of the most devastating things that I've ever been a part of and there we were. It was a tremendously difficult time for all of us. All the media was talking about this assassination. I sat and I watched and I watched the family and I didn't see anyone crying. I saw everyone standing up and being a Kennedy. I thought it represented something for all of us that when tragedy comes -- and it does come -- you can't stop. You have to keep going because the race is still going and there's work to be done to make us better, to open our eyes to see that there is danger and each person is responsible to respond to that danger and sometimes it costs you the very life that you live.
"When practice was over, I went home and just sat. You go to practice and you listen to the radio and you read the newspapers and everyone is talking about it. It was a constant, constant dialogue on how it happened, who did it and why and all of that. My feeling was for the family and what it meant for the family.
"There was absolutely nothing I could do but think about the family. At that particular time, I wasn't the minister that I am [now] but I was a believer but I didn't know the power of prayer. I learned about prayer later that these are areas of our lives that we need to know the power of prayer and how to comfort the family through prayer and even though you don't really know them, you admire them.
"The thing that goes through my mind [thinking about it today] is how did we miss this? We all thought everyone was happy and everyone was enjoying it. But we never realized that there are people that hate us. Suddenly, you wake up and realize that regardless of what you do good, people still don't like you for it. I became aware and I began to be very watchful of people. I would no longer allow people to say derogatory remarks about other people when I was around them. I was very cognizant of the way athletes behaved themselves when they were in the public eye when other people were measuring their actions. I began to speak up. Quietly, I would say to that person or that group that we have a responsibility to be better representatives of the light.
"I just would like to say to the Kennedys that they gave a lot for this country and this country owes them a lot, not because of what they did, but because they stood and they represented what was good about our country and they got involved in issues that sometimes were controversial but they got involved to make our nation better."
-- Grier, 81, as told to ESPN.com Rams reporter Nick Wagoner
August, 7, 2013
8/07/13
4:00
PM ET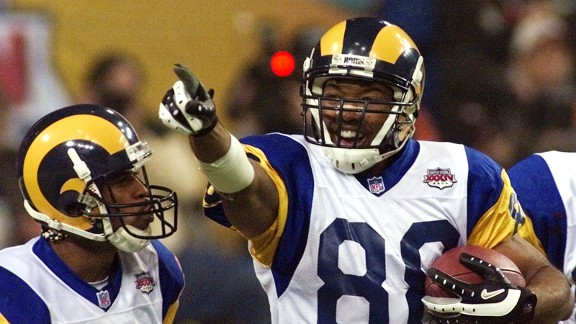 AP Photo/Chuck BurtonAfter years of feeling unwelcome by their old franchise, former Rams greats such as Torry Holt are making their way back to Rams Park at the invitation of St. Louis coach Jeff Fisher.
EARTH CITY, Mo. -- Standing between two fields at Rams Park watching practice on Monday afternoon was a group that might as well have been a part of a reunion for Super Bowl XXXIV.
Former Rams receivers
Torry Holt
and
Isaac Bruce
chatted it up with former Tennessee cornerback
Samari Rolle
, who is working in the team's coaching internship program. That trio was joined at various times by
Lance Schulters
, another former Titans defensive back in the internship program,
La'Roi Glover
, a former Rams defensive tackle and now the team's director of player programs, and former Rams tackle
Grant Williams
.
The sight of former Rams is nothing new around the team's training facility these days. Since Jeff Fisher took over as coach in Jan. 2012, he's made it abundantly clear that he's happy to welcome back former players who might want to offer some advice to his young team or who might just want to watch practice.
In the two weeks since camp started, other former Rams such as defensive back
Aeneas Williams
, safety
Keith Lyle
and linebacker
Chris Draft
have stopped by. It's not limited to Rams alumni, either. In addition to Schulters and Rolle, former Titans linebacker
Keith Bulluck
was also in town for a couple of days.
While it might be nothing new for Fisher to open the doors to past Rams, it does represent something of a departure from how things were in the not-too-distant past.
"This is home," Holt said. "I should feel comfortable and good when I come here. Myself and others, we did a lot for this organization. So it feels good to be able to step back out on this field and not be looking over your shoulder or feel like you're stepping on anybody's toes and then to be able to provide information for guys to improve their game. It's not about us, it's just about sharing what we've learned to make this organization better and try to bring back championships to this organization."
That's a feeling that Holt shared with plenty of other former Rams who didn't feel welcome or comfortable about being at Rams Park on a regular basis.
In 2011, Rams Hall of Famer Jack Youngblood told ESPN's Arash Markazi that he didn't feel like he had any connection to the team he once played Super Bowl XIV with while nursing a broken leg.
"We are their legacy but they forgot us," Youngblood said then. "They don't have anything to do with us, really. I find that unfortunate because you look at other franchises, even those that have moved, and they use their alumni in their marketing and in their organization. They use their Hall of Famers as an example for the players who are there today. They use their alumni, but the Rams have cut us out of the picture."
At the time, the Rams had begun to make inroads in their alumni program, which has taken off in recent years. As part of those efforts, the Rams signed Holt and Bruce to one-day contracts so each could retire as Rams. Most notably they welcomed back 20 prominent players from their past to celebrate the team's 75th anniversary last December.
Included in that group were a number of Los Angeles Rams, including Rosey Grier, Vince Ferragamo, Dennis Harrah,
Jackie Slater
, LeRoy Irvin and Youngblood.
That's just the tip of iceberg. Holt is back in St. Louis this week in preparation for his work as a color analyst on the team's preseason broadcasts. He joins another former Ram, Hall of Fame running back
Marshall Faulk
, in the booth for those duties.
Fisher's open-door policy should come as no surprise given his experience in the league. He's entering his 28th year coaching in the NFL and his 18th as a head coach.
Surrounded by a veteran staff with plenty of experience of its own, Fisher is undeniably comfortable in his own skin. The paranoia that can sometimes accompany first-time head coaches has long since evaporated and Fisher clearly views the opportunity to bring in any former player with wisdom to share as a positive for a team that again figures to be one of the youngest in the league.
"It feels good to be back, it feels good to be welcome and Coach Fisher gets it," Holt said. "He welcomes us. He knows the value and the importance of the guys talking to veteran guys who have been there, done it and done it at a high level because you can gain so much from that as a player. I'm thankful that I'm able to come back and coach Fisher is an excellent coach who understands the game, understands what it takes to improve his roster and he's allowing us to help out."
June, 4, 2013
6/04/13
2:14
AM ET
Fearsome Foursome legend Deacon Jones' passing Monday at age 74 provides an opportunity to reflect upon one of the greatest defensive ends in NFL history.
We'll do that beginning Tuesday.
Jones, inducted into the Pro Football Hall of Fame in 1980 after spending most of his 14-year career with the Los Angeles Rams, epitomized violent play in the NFL before the league made efforts to protect quarterbacks and everyone else. He remained unapologetic and defiant to the end, including during
a 2011 interview
with XTRA910 AM radio in Phoenix:
"If you ain't sent but one man, there's going to be a casualty that day. No, I'm not a guy you send one man against. I'm a hitman. I come to hurt people. I wouldn't advise that. I come to hurt you. Me and the commissioner would talk the same language, man. I come to take you out. OK, now, I don't know what the other guys tell you. I come to take you out. Hospital. And if you go the next step, it doesn't' bother me -- not one bit. That was my approach to the game. I am not going to lie to you about it. I could not play now. Are you kidding me? I wouldn't be making no money. I would owe the league money.
Jones' passing leaves Rosey Grier as the last living member of the Rams' Fearsome Foursome line also featuring Lamar Lundy and Merlin Olsen.

NFL SCOREBOARD
Thursday, 9/4
Sunday, 9/7
Monday, 9/8