January, 31, 2013
1/31/13
3:40
PM ET
NEW ORLEANS -- The Super Bowl isn't the only draw in New Orleans this week.
Pro Football Hall of Fame voting takes place Saturday. Ross Tucker and I took an insider's look at the voting process during a special edition of the
Football Today podcast

from New Orleans.
It was great getting together with Ross to tape the podcast from Radio Row. Thanks to Jay Soderberg for the production work.
Ross and I covered the game in detail and debated which team was most likely to win. He's leaning toward the Ravens and buying into the "team of destiny" idea. I feel as though the Ravens are the best story, but the 49ers have the better team.
We're hearing a lot about
Ray Lewis
, and rightfully so, but I think that's distracting us from things that matter more. The two best inside linebackers in this game play for the 49ers --
NaVorro Bowman
and
Patrick Willis
-- but Lewis gets more attention than either combined. Likewise, there's much talk about how well Ravens quarterback
Joe Flacco
is playing, and rightfully so, but
Colin Kaepernick
has been as good or better by important measures.
October, 2, 2012
10/02/12
4:34
PM ET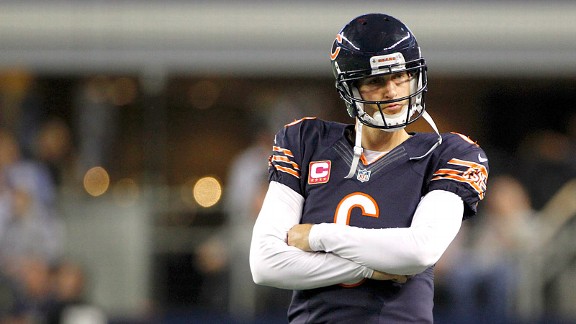 AP Photo/LM OteroIt's becoming clear that Bears fans are willing to put up with Jay Cutler's pouting if he performs.
Here's what I've learned during the 18-odd hours since
Chicago Bears
quarterback
Jay Cutler
twice walked away from offensive coordinator Mike Tice during a second-quarter sideline scene: You're over it.
You're bored with the subject, suspicious of the motives for its continued revival and no longer feel illuminated by the discussions. You're not necessarily defending Cutler's virtues, but you believe the point was made long ago and now we're all just piling on.
Via Twitter,
@bearsoline
wrote: "What cares what happens at insignificant moments?" Noting Cutler's stellar performance in the Bears' 34-18 victory over the
Dallas Cowboys
,
@J3reinhold
wants the media to "get over it. He can't win with you guys."
In our
Tuesday SportsNation chat,
Doc of Chicago
wrote: "People are really making too much out of Jay's sideline antics. Jerk? Probably. How many players have gone to the sideline and yell at coaches, players, smash equipment, etc.?"
And Cutler himself, speaking Tuesday afternoon on
his ESPN 1000 radio show

, said: "If I yell on the sideline, I get killed. If I don't say anything I get killed. If I walk away, I get killed. It's a no-win situation."
I've been wrong before, but my sense on Tuesday is that we've reached a tipping point in how we view the Bears quarterback. Cutler's career of pouty moments, emotional outbursts and questionable decisions has lowered the standard for what is acceptable behavior from him. (As long as he plays as well as he did Monday night, of course.)
Let's be clear. I'm not ready to concede that it's tolerable to be disrespectful of a coach, which is absolutely what Cutler was when he twice ignored Tice's attempt to discuss a failed third-and-1 play. Cutler said Tuesday that "it wasn't anything about Mike" and that the two eventually talked through the play, but to me that doesn't erase his initial reaction.
Several retired players, who presumably know the difference between what is normal and not on an NFL sideline, agreed. Former Bears tight end
Desmond Clark
tweeted
: "Jay has to stop with his antics. Leadership leadership leadership leadership." Former
NFL lineman
Ross Tucker
tweeted
: "Must be so hard for Mike Tice to not just choke slam Jay Cutler. I bet 20 years ago he would've smoked him."
Regardless, the bigger picture is that most people are tired of seeing Cutler held to a standard he clearly isn't interested in meeting. You've found other ways to view his leadership abilities, and I'm willing to acknowledge that he did plenty on and off the field over the past few days to make Monday night's victory possible.
In addition to playing one of the most efficient games of his career, as the chart shows, Cutler also has taken on an important role in managing volatile receiver
Brandon Marshall
. Last week, Cutler apparently talked Marshall out of some frustration that built over the past few weeks as the Bears' offense struggled.
"I just wanted him to play within the system and play a full game," Cutler said. "Not worry about the plays being called, not worry about the balls coming to him or where they're going. Play Bears football. Play like he did in Denver with us and let it come to him.
"I'm probably more level-headed on the field, believe it or not, than Brandon. Lot of highs and lows. But when he's playing well, he's hard to stop. We've just got to keep him [on that] even level and playing within the system and try to get him the ball as much as possible. That's my job."
Marshall caught seven of the eight passes Cutler threw his way for a season-high 138 yards. I'm perfectly willing to connect Marshall's performance with Cutler's leadership over the past week. He helped make a teammate better, and that's absolutely part of leadership.
Cutler isn't a perfect person or player. None of us are. Perhaps more of you would have turned on him had the Bears lost Monday night, but it sure seems like you're willing to acknowledge -- now more than ever -- that he is what he is. And you prefer that over Cutler making some kind of cosmetic personality change that pleases the media police.
"I'm not an actor," Cutler said. "I don't now where the cameras are at all times. I'm playing football."
Monday night, he played it quite well. His greatest achievement, however, might have been rendering moot the ongoing discussion about his personality. It's not that it doesn't matter. It just appears to be old news for everyone. The "Jay Cutler is not nice" news cycle is over. You get it. You've adjusted your sights accordingly and you're ready to move on. Fine with me. I can't say I'll never mention this topic again, but I'm now fully aware that it's going to take quite an incident to move the dial again. Onward and upward. ...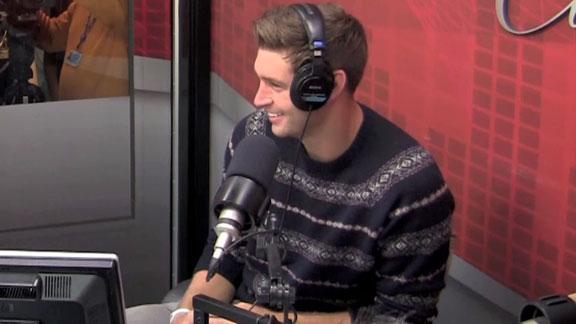 December, 7, 2011
12/07/11
10:25
AM ET
By all accounts,
Chicago Bears
tailback
Matt Forte
is working hard to return to the field after suffering a second-degree sprain of the medial collateral ligament in his right knee. He
received a platelet-rich plasma (PRP) injection
Tuesday morning and, speaking to reporters Tuesday night, he said: "I want to hurry up and get back and hopefully I'm 100 percent when I get back."
I'd like for our Have at It debate this week to center around that final sentiment. We all know that Forte is playing out the final year of his rookie contract, one that is paying him $600,000 this season. The Bears appear intent on using their franchise tag on him this winter, one that would pay him about $7.7 million in 2012 but limit his access to a market-level multiyear contract. And we all know that NFL players are expected to return from injuries long before they are fully 100 percent. As the saying goes, you can't make the club in a tub.
[+] Enlarge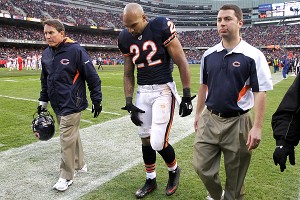 AP Photo/Nam Y. HuhMatt Forte left in the first quarter of Sunday's loss to the Kansas City Chiefs with a sprained medial collateral ligament.
So my question is this: To what extent, if any, should Forte protect himself from returning in a vulnerable position, one that could presumably put his long-term health (or value) at risk for the benefit of a team that he believes has undervalued him in contract negotiations? Would a slow or delayed return serve as a nuanced reminder to the Bears of his value to their offense?
I'm sure many fans want to see Forte back as soon as possible, and they won't spend much time worrying about the millions of dollars he might sacrifice if he re-injures the knee or lowers his value with sub-par injury-related performances. But you might also want to consider how a few former players, now ESPN analysts, think on this subject.
Ross Tucker, an NFL offensive linemen for five years, wrote that Forte shouldn't step back on the field
until he is "completely healthy."
Tucker added: "Yes, football is a team sport and Forte probably wants to be out there battling for a playoff berth with his teammates. However, it is an individual profession, and every player needs to realize he is essentially an independent contractor and his corporation is himself. That's especially true for someone playing a fungible position like running back on a rookie contract the way Forte is."
Meanwhile, ex-receiver Cris Carter
said this week on ESPN Radio
that "all reality" should have set in for Forte when he took a helmet to his knee. Added Carter: "All we can take from the NFL is money and memories, the two M's. I tell the kids, get as much of them as you can get."
Putting himself in Forte's shoes, Carter said: "He's already got a torn MCL. Now what else do I need to do, coach? What else do I need to do, franchise? Now I have to look out for me. Every player is in business for himself. It's Cris Carter, Inc. I'm going to try to help the [team], but at the end of the day, it's about me and my family and being able to provide for them, not today, but until they die."
So what should Forte do? A sprained MCL can take anywhere from two to six weeks to heal. Should he hurry back as soon as possible to help a franchise that would discard him the moment an injury left him unproductive? Or should he protect his future, allow the knee to heal fully and then regroup this winter?
Let me know your thoughts in the comment section below. As always, I'll publish a representative sample, along with my own thoughts, by the end of the week. Have at It.
May, 17, 2011
5/17/11
11:05
AM ET
The most recent
Football Today podcast
with Ross Tucker and Matt Williamson takes an in-depth, balanced look at the
Seattle Seahawks
' thinking in the 2011 NFL draft.
Tucker and Williamson offer points and counterpoints as to the Seahawks' decision to select Alabama tackle
James Carpenter
with the 25th overall choice. I'll provide a transcript covering this portion of the discussion, followed by some thoughts in conclusion.
[+] Enlarge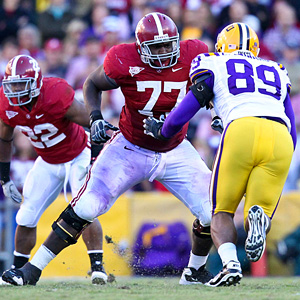 Derick E. Hingle/US PresswireJames Carpenter gives the Seahawks another physical lineman to use in their offensive scheme.
The conversation began with Tucker noting that he had
predicted Carpenter
as a first-round selection based on
what he was hearing
from offensive line coaches.
Ross Tucker: "I talked to two teams that both really, really liked him and both said they would be surprised if he didn't go late first round. ... A lot of people really like him. He is very physical. They think he can play four different positions. Both guards and both tackles. Played at Alabama. High level of competition. Played for Joe Pendry, who was, ironically enough, my offensive line coach my rookie year with the Washington Redskins. And evidently, Joe Pendry really talked him up to people.

"This may surprise you, but I'm not typically a big fan of drafting offensive linemen high. So, I don't love the pick because I think you can get a guy in the third, fourth round that maybe you train him for a year or maybe even not and maybe he goes in there and plays well. Like what Marshal Yanda did with the Ravens when they took him in the third round. I think you can get good offensive linemen in the third and fourth round. And so I'm not enamored with what they did with Carpenter and I'm really not enamored with what they did getting John Moffitt in the third round. I think Moffitt is a tough guy. He looks like he is guy was willing to be physical. But I think they could get comparable players lower."

Matt Williamson: "I am a believer that you can get by with mediocre offensive line talent. They don't have to be Orlando Pace in terms of physical abilities if you are tough and you are smart. You have to have those two attributes. A lot of those guys in turn can play multiple positions. But I can't be real, real critical of this pick, either, because their line was so bad. They used a first-round pick on Russell Okung, who I love, at left tackle last year. Now they have a set of bookends.

"They had so many needs, they could have went in a lot of directions. A guy like Jimmy Smith would have been a really good pick. They need a lot of things in Seattle, but right tackle was certainly one of them. I don't think it was a reach. Obviously, they are trying to get to be very, very physical. Their two offensive line selections suggest they want to run the football, they want to be a more physical football team than who they go up against. I can't be real critical of it, although I think their draft in general was pretty blah."

Ross Tucker: "And that is the one thing I always say about the draft: Why do you think people were appalled by that pick? I'll tell you why. Because none of them had ever seen any mock draft, James Carpenter going in the first round. If they had taken Gabe Carimi, I don't think people would have been that appalled by it. They would go, 'OK, Gabe Carimi from Wisconsin, good player, first-round pick, I'm glad we got him.' Or if James Carpenter had been listed in a bunch of mock drafts as going at going 17 and 19. So much of what people think of your draft is based on their perceptions before the draft, which might be completely wrong."
This conversation captures the debate perfectly. Drafting two offensive linemen made great sense for the Seahawks based on their priorities and needs, but it's fair to ask whether they overvalued right tackle and guard, which qualify as non-premium positions.
The same questions apply to the
San Francisco 49ers
, who used 2010 first-round choices for a right tackle (
Anthony Davis
) and left guard (
Mike Iupati
), and also to the
St. Louis Rams
, who used the second overall choice of the 2009 draft for a right tackle (
Jason Smith
). The
Arizona Cardinals
'
Levi Brown
, chosen fifth overall in 2007, played right tackle until last season.
In the end, teams have no reason to regret selecting such players early if their offensive lines perform at a high level for an extended period.
January, 26, 2011
1/26/11
1:18
PM ET
Based on reading your comments, some of you are outraged that members of the
Green Bay Packers
' injured reserve list won't be in the team's official Super Bowl XLV photograph.
Some of you are upset that two of the affected players, linebacker
Nick Barnett
and tight end
Jermichael Finley
, have expressed their disappointment publicly.
And many of you think this issue is inconsequential and thus not worth discussing in a national forum, regardless of whose feelings might or might not be hurt.
I can honestly see each point and don't feel compelled to join any particular side.
As
Rob Demovsky of the Green Bay Press-Gazette
points out, the Packers feel logistically hamstrung by the prospects of conducting off-site rehabilitation for 15 players who won't be part of the game. As a result, the team's injured players won't join their teammates in North Texas until next Thursday -- two days after the photograph is scheduled to be taken.
On the other hand, it's clear we have at least two prominent players who are bummed out during what should be the best two weeks of their year. But is this an injustice? Or just an unfortunate consequence magnified by the Super Bowl microscope? To answer that question, I reached out to ESPN.com contributor Ross Tucker, who played seven years in the NFL and also addressed the issue in Wednesday's
Football Today podcast
.
The Super Bowl photograph, Tucker said, is the manifestation of the most basic element of the game. It's the
team
. Eliminating a segment of players from the group erodes the team-first idea.
"Everything you preach about getting to the Super Bowl," Tucker said, "everything you talk about is team, team, team. 'We're in this together.' You should 'sacrifice your individual goals and do what's best for the team.' These guys on IR, they've kind of made the ultimate sacrifice. ... These guys have kind of given themselves up for the team and they want to feel like they're a part of it. All those guys were a part of it in a major way, especially for a team that barely got in the playoffs. Those guys were all a part of it."
Indeed, speaking to
Michael Silver of Yahoo! Sports
, Barnett said there is tremendous symbolism and importance to a Super Bowl photograph.
"In our team meeting room, there are pictures of past championship teams that line the wall, and we stare at them every day," Barnett told Silver. "There's a spot there that's empty -- that was for us, this year. We'd go in there and visualize being on that wall, and think about the effort it would take to get there. You'd see guys like Ray Nitschke up there, and that's motivation. So, now that we've gotten to the Super Bowl, to not be on that wall ... well, it's disheartening."
The Packers' football operations are run by two no-nonsense men in general manager Ted Thompson and coach Mike McCarthy. They could change course on this issue if they think it's important enough, perhaps by scheduling the photograph to be taken in Green Bay before the team departs. Tucker suggested, and I agree, that neither man probably spent much time worrying about the team picture one way or the other while making logistical preparations for the Super Bowl.
It's a fact of NFL life that that players on injured reserve tend to feel isolated and disconnected from the team. The Super Bowl magnifies everything, and this episode is no different. As we prepare for a wild and mostly celebratory week, consider it a reminder that single-minded focus on a championship can sometimes leave hurt feelings in its wake. It's a fact of NFL life.
Earlier:
Barnett set off the story with a
series of tweets Tuesday
. Tight end Jermichael Finley
weighed in Tuesday night
on ESPN's SportsCenter.
January, 14, 2011
1/14/11
10:12
AM ET
How much will the loss of right tackle
Damien Woody
impact the
New York Jets
?
Experience is the most obvious subtraction. Woody just finished his 12th NFL season. He has two Super Bowl rings.
His replacement, seventh-year pro
Wayne Hunter
, had two career starts before December.
[+] Enlarge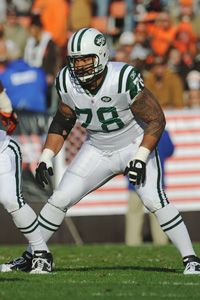 AP Photo/David DrapkinWith Wayne Hunter stepping into the starting lineup, the Jets' depth on the O-line is getting thin.
Hunter started the Jets' final three games while Woody rested a right knee injury for the playoffs. Woody started Saturday's first-round victory over the
Indianapolis Colts
, but he couldn't finish because of an
Achilles injury that required surgery this week
.
But Woody's season-ending injury might not be as troubling as the next one that befalls their offensive line.
I reached out to ESPN contributor and former NFL offensive lineman
Ross Tucker
for his thoughts on how problematic Woody's absence will be for the Jets in Sunday's game against the
New England Patriots
.
"In and of itself, Wayne Hunter probably will do fine," said Tucker, who played for the Patriots and
Buffalo Bills
during his seven-year career. "But my biggest concern is their depth."
The Jets' depth chart doesn't list anybody at tackle aside from Woody and Hunter. Backup guard
Robert Turner
played right tackle at New Mexico. Rookie backup guard
Vladimir Ducasse
was a tackle at Boston College, but he has been a disappointment at guard.
"What if somebody else gets hurt?" Tucker said. "Nobody thinks about that, but let me tell you, if Wayne Hunter goes down or [left tackle]
D'Brickashaw Ferguson
goes down in the first or second quarter, then that becomes a real issue and a real problem."
Hunter is a capable lineman. Jets head coach Rex Ryan called him "the best backup tackle in the league," a remark Tucker deemed "hyperbole on Rex's part." But Tucker did rate Hunter among the NFL's top 10 swing tackles.
"From a natural ability standpoint Wayne Hunter is off the charts," Tucker said.
Hunter has seen a lot of action in the Jets' jumbo and goal-line packages, frequently reporting as an eligible receiver because he's lined up on the outside of another tackle.
Tucker liked what he saw from Hunter against some solid defenses. Hunter started against the
Pittsburgh Steelers
,
Chicago Bears
and Buffalo Bills last month.
But expect the Patriots to dial up some special plays to see if they can exploit Hunter's inexperience and get to quarterback
Mark Sanchez
. Hunter also might find himself lined up against Patriots defensive tackle
Vince Wilfork
, who migrates along the line.
"The Patriots may try to test his football acumen, his football intelligence," Tucker said. "I would imagine Bill Belichick will test his faculties pretty early. There are things you can do, whether it's a stunt or a blitz, to see how comfortable he is picking up the right guy.
"Ninety-five percent of the time he'll be blocking either the defensive end or outside linebacker, although most teams with their pass protections tend to slide the protection to the left to protect the backside of the quarterback. Usually, the other team's best pass-rusher is on that side. So Wayne Hunter will have that guy one-on-one more often than the left tackle will. He'll be isolated."
December, 16, 2010
12/16/10
1:34
PM ET
Tom Brady
has gotten the lion's share of the credit for the
New England Patriots
' success and rightly is considered the leading candidate for league MVP.
ESPN analyst Tim Hasselbeck and columnist Ross Tucker want to spread the credit around a little.
Hasselbeck recently shined a spotlight on how well the Patriots' offensive line has been performing lately.
"The most important thing is they're a group of guys that, for the most part, is a group of overachievers -- not a ton of guys that are big, physical specimens," Hasselbeck said. "They're kind of technicians at their positions. A perfect example of that would be
Matt Light
at left tackle. Not the biggest guy, not necessarily the strongest or even most athletic, but very sound in his technique and very productive.
"They're extremely well-coached. Dante Scarnecchia, their offensive line coach, has been with that group for a while and has done a very good job coaching that unit.
"But I don't think we can talk about that Patriots offensive line without mentioning
Logan Mankins
. When he came back to that football team, there was an attitude, a physical presence that came back to that group. You're starting to see the result of that, the run game really taking off for the New England Patriots. You're seeing
BenJarvus Green-Ellis
really have a couple very productive games since Logan Mankins has been back in the lineup."
Tucker provided insight as to why
Scarnecchia has been so integral to the Patriots' success
. Tucker is a former NFL offensive lineman who played under Scarnecchia in 2005.
September, 29, 2010
9/29/10
4:47
PM ET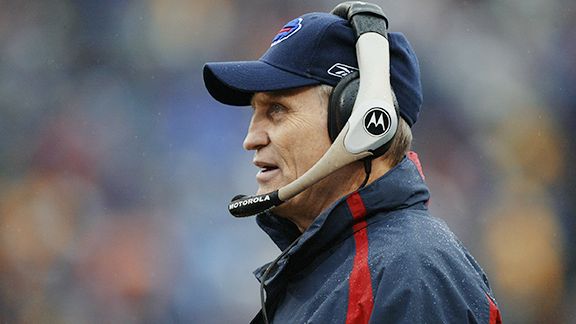 George Gojkovich/Getty ImagesJim McNally coached offensive lines for 28 years -- including four years with the Bills -- but now he's a consultant for the Jets, and he's helping them prepare for Sunday's game against Buffalo.
From his home in Orchard Park, N.Y., not far from Ralph Wilson Stadium, home of the
Buffalo Bills
, the Mouse quietly has been working for the
New York Jets
.
Jim "Mouse" McNally, one of the NFL's most respected assistant coaches, did not completely retire when he left the Bills in 2008. McNally surreptitiously has been helping to coach the Jets' offensive line from 300 miles away.
"Cat's out of the bag now, huh?" Jets offensive line coach Bill Callahan said with a chuckle. "God dang it."
Callahan mixed his metaphor, but there's no mistaking his respect for McNally, who coached NFL offensive lines for 28 years.
Callahan, a respected O-line coach himself, described McNally as being "like a golf pro" in his ability to scrutinize technique subtleties, labeled him "an encyclopedia of line play" and said McNally is "certainly one of the best coaches in modern football."
McNally, 66, technically is considered a Jets consultant. But the players call him "Coach." He breaks down Jets game and practice footage on his computer with
Hudl software, which allows him to download video
and playbook information through a secure Internet connection.
He's helping the Jets prepare for Sunday afternoon against the Bills in his backyard. The game will give McNally rare personal contact with the team he has been monitoring from afar since last summer.
"I look at practice every day," McNally said. "I look at the games. Then I talk to Coach Callahan about what I saw and the game plan and stuff like that."
McNally is in the Greater Buffalo Sports Hall of Fame. He grew up in suburban Kenmore, where he first was tagged "Mouse" in neighborhood pickup games. The nickname stuck when he stopped growing at 5-foot-8.
McNally's tenacity was evident by his compulsion to walk on as an offensive lineman for the University at Buffalo. He eventually played both offense and defense. On the coaching staff was a young Buddy Ryan, father of Jets head coach Rex Ryan. That link and a long relationship with Callahan are why McNally is helping a hometown rival.
McNally attended training camp at SUNY-Cortland last year as a guest. Callahan asked McNally to speak to his linemen. Eventually, McNally was breaking down film.
"I didn't purposely try to work for the Jets," McNally said. "Just my relationship with Callahan -- he's such a great friend of mine. It's something that keeps me busy. I don't do it full time.
"I'm kind of under the radar here in Buffalo. It was a convenient way to stay involved in pro football."
McNally rose to coaching prominence for his innovative methods. He spent 15 seasons with the
Cincinnati Bengals
, mentoring future Hall of Fame left tackle Anthony Munoz and four-time Pro Bowl guard
Max Montoya
. McNally also established his annual coaching clinic there, turning Cincinnati into what Callahan called "the Mecca" for O-line instruction.
McNally worked with the
Carolina Panthers
for four years, the
New York Giants
for five years and the Bills for four years.
"Technique was his greatest strength," said
Ross Tucker
, who started at left guard for McNally with the Bills in 2006. Tucker spent six seasons in the NFL and now is an ESPN analyst. "He had some technique things I never heard of that were effective and helpful."
One of McNally's inventive concepts was the "lazy forearm," an effective way to fend off a double team while keeping separation. Tucker explained it as a violent upward motion that pries a defender's shoulder back.
[+] Enlarge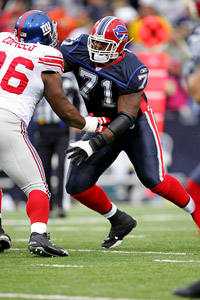 Paul Jasienski/Getty ImagesJason Peters, who came into the league as an undrafted tight end, became a Pro Bowl tackle under McNally's tutelage.
"He was innovative," Tucker said, "and he was creative from an X's and O's standpoint."
McNally's prized pupil in Buffalo was undrafted tight end
Jason Peters
. The Bills converted him to tackle, and McNally turned the raw specimen into a star. Although Peters became a contractual headache and forced the Bills to trade him, he has been selected to the past three Pro Bowls.
McNally was supposed to be on scene for "Hard Knocks" training camp this summer at SUNY-Cortland, but health issues prevented it. He underwent an emergency appendectomy and a serious follow-up surgery and myriad tests that sent him in and out of the hospital in June and July.
He has been getting out a little more now. He has been working with local high school teams such as St. Francis, Canisius and Kenmore West. He works as a fundraiser for his alma mater. He also has a website, where you can locate one of his upcoming clinics, learn about his annual camp and find instructional DVDs at
CoachMcNally.com
.
"I went from doing things all day long to sitting around the house and maybe taking a walk around the neighborhood," McNally said. "I've learned how to calm down a little bit. I don't have to leave the house at 6:30 in the morning. It's given me a perspective of that football life I had of 43 years of 'Go! Go! Go! Go! Go! Go!' "
The Jets are thrilled he hasn't stopped completely. He doesn't need to zoom around the practice field like he did when he wore a whistle around his neck.
A steady bit rate from his telecomm provider will do just fine.
"He's been tremendous for me," Callahan said. "He's a wealth of information and knowledge and experience. That's invaluable in so many ways. You're talking about one of the greatest line coaches of all-time.
"He easily could have faded away, but it's great he's still a part of the game. He has so much to give. He's unselfish that way in terms of sharing information and trying to get players better and coaches better, whether it's working with his youth leagues or the New York Jets."
February, 10, 2010
2/10/10
4:21
PM ET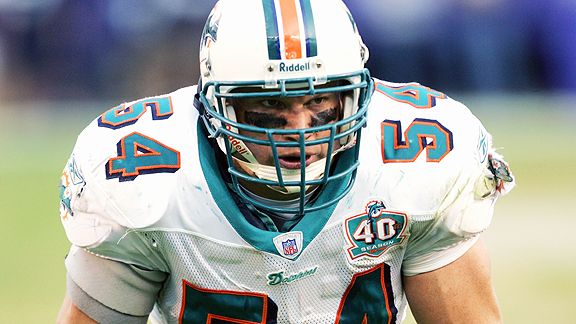 Stephen Dunn/Getty Images
Former Dolphins linebacker Zach Thomas is one of a growing number of NFL players vowing to donate their brains to research.
At least 20 times, the memory came crashing back for Don Hasselbeck.
In a flash, he was a teenager again, a star tight end for La Salle High in Cincinnati. His quarterback had thrown an interception against Purcell. Hasselbeck went into hot pursuit. The rumbling ball carrier veered toward him, driving a knee into Hasselbeck's head.
A few moments later, Hasselbeck regained his senses and sat upright and surveyed the La Salle teammates and coaches that had gathered around him on Purcell's field.
Only he wasn't a teenager anymore. He was a New England Patriot in Schaefer Stadium. Or a Los Angeles Raider in the Coliseum. Or a New York Giant at the Meadowlands.
"Every time I was knocked out -- bang! -- I thought it was the first one in high school," Hasselbeck said. "I can be in the ninth year of the pros, and think I was on that high school field. What is that in my brain that gets triggered to make me think I'm 18 years old?"
Hasselbeck estimated his number of concussions "on the 20-plus side" before his nine-year NFL career was over in 1985. He traveled back in his cranial time machine on every nasty headshot.
He's worried those repeated brain injuries will impact his life.
"I get concerned when I read articles of guys killing themselves or being depressed or dementia or Alzheimer's," said Hasselbeck, a mostly healthy 54-year-old and a longtime Reebok executive. "That scares you. You don't want to see these guys falling apart in front of you."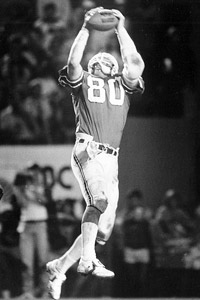 Al Messerschmidt/NFLOver the span of his nine-year career, tight end Don Hasselbeck estimates he suffered more than 20 concussions.
Hasselbeck is among a growing crowd of retired and active
NFL players who have pledged to donate their brains
to the Center for the Study of Traumatic Encephalopathy at Boston University School of Medicine to research the long-term impact of football-related head trauma.
The registry for what's known as "the brain bank" -- housed at the New England Veterans Administration in Bedford, Mass. -- is up to 250 players who want to further a cause that began when Chris Nowinski, a Harvard alum and former pro wrestler, got inquisitive about his future after suffering six concussions.
Nowinski and Dr. Ann McKee founded the center. Their findings from CSTE research -- that players are highly prone to clinical depression and early onset of Alzheimer's -- has triggered sweeping changes in the way the NFL views head trauma and could transform the way the game is played both on the practice field and on Sunday afternoons.
"We've made remarkable headway," Nowinski said. "I don't think I ever dreamed the NFL would agree there was a problem. For legal reasons, I just didn't think they'd admit it. It was the pathological research, the brains of the deceased players, pressure from the active and retired players who were courageous enough to stand up."
Nowinski's passion is collecting autographs and game-used equipment.
The autographs are signatures of players such as
Baltimore Ravens
center
Matt Birk
,
Arizona Cardinals
receiver
Sean Morey
, former
Miami Dolphins
linebacker
Zach Thomas
and Hall of Fame cornerback Mike Haynes; the game-used equipment he gets them to consign are their brains.
"Once I'm dead, I'm not going to need it anymore," said former
Buffalo Bills
guard Conrad Dobler. "I plan on being cremated. I always wonder what they do with all those parts.
"But if I'm going to be cremated anyway because I don't feel like laying in a casket and having worms eat my body for eternity. My brain will live forever to help some others, and to let the world know that I actually had one."
Nowinksi wrote the 2006 book "Head Games: Football's Concussion Crisis from the NFL to Youth Leagues." About a month after the book was released, former
Philadelphia Eagles
safety Andre Waters committed suicide. Nowinski convinced Waters' family to donate his brain for research, a seminal moment for the brain bank.
Waters' brain was examined by Dr. Bennett Omalu in Pittsburgh, and it resembled those of Mike Webster and Terry Long, former
Pittsburgh Steelers
who died young after bouts with depression and dementia.
"We started with guys who were disasters," Nowinski said. "Now we're moving on to guys who might or might not be impacted in varying degrees. But these are people who are committed and recognize the problem and want to be a part of the solution."
Nowinski's cause has reached a level of consciousness where players are approaching him to will their brains without him needing to deliver a sales pitch.
"I told him I would donate my brain," former Bills offensive lineman and SI.com columnist
Ross Tucker
said. "I was never diagnosed with a concussion, but I can remember at least four plays during my career where the collision was just different. When you play football for 18 years, you can tell when something's different.
"For 10 to 15 seconds after, I was thinking 'Wow. That was crazy. I don't know what happened there, but I don't like it.' "
The CSTE scored a major victory in December, when the league announced it would impose stricter guidelines on players returning from concussions and teamed up with the Center for Disease Control to produce a public-service announcement that urges youth coaches, players and parents to be educated on the dangers of head injuries.
"That showed me there was no going back," Nowinski said.
The next step is enacting rules that protect players from Pop Warner and up.
Nowinski referred to testimony
Houston Texans
guard
Chester Pitts
gave before Congress. Pitts declared he would forbid his son from playing football because it was too dangerous.
"That's kind of creepy that he's exposing himself to a violent game he wouldn't let his own son play in," Nowinski said. "That's a sign we need to change things."
NFL commissioner Roger Goodell appeared Sunday on "Face the Nation" and told host Bob Schieffer the league would consider eliminating the three-point stance. Nowinski, citing research that shows 75 percent of head shots occur in practice, raised the possibility of no-contact, helmet-less workouts.
"There always will be four downs," Nowinski said. "A touchdown will be worth six points, a field goal worth three points. But how we hit each other, how we collide has to change."
While Tucker dismissed abolishing the three-point stance as meaningful (linemen don't build up enough momentum in such a short space to make that type of contact significant), he lauded the NFL's decision last spring to eliminate the wedge on kickoff returns as a step in the right direction.
Players on return and coverage teams generally are the last 10 players who dress on game day, the most easily replaceable parts.
"How hard they run down there and how hard they hit that wedge is the difference between 650 grand and going back to Columbus, Georgia, to find a job for 12 bucks an hour," Tucker said. "If those were your options, you'd hit that wedge pretty damn hard, too."
Tucker also would like to see certain drills outlawed. He described what he and his
Washington Redskins
teammates called "the headache drill" in 2007. Offensive linemen would take on a linebacker at full speed, the frequent result being a helmet-on-helmet collision.
"We hated it," said Tucker, a Princeton alum who retired that year because of herniated discs in his neck and back. "I remember feeling my brain rattling around.
"I don't think it has truly impacted me, but there are times when I forget stuff that I shouldn't. I've always been known for having an amazing memory, but it just seems there's short-term stuff I don't remember sometimes.
"I'm not concerned about it, but there's probably something going on, and if I can help in any small way, I'm willing to do that. Guys are only going to get bigger, only going to get faster. Unless we do something, it's only going to get worse and worse."
February, 3, 2010
2/03/10
1:40
PM ET
FORT LAUDERDALE, Fla. -- A quick vignette from the NFL media center.

McMahon
Chris Nowinski, the former Harvard player who now runs the brain bank at the Center for the Study of Traumatic Encephalopathy, was talking with former Miami Dolphins quarterback Jay Fiedler and former Buffalo Bills lineman Ross Tucker.
That's a Harvard guy, a Dartmouth guy and a Princeton guy, talking about medical research. Tucker handed Nowinski his card and volunteered to donate his brain to the center.
Then legendary party boy Jim McMahon came strolling by.
Tucker stopped McMahon to introduce him to Nowinski.
"I would like to see this brain," Tucker said, pointing to McMahon's shaved head.
After a bit of salesmanship from Nowinski, McMahon reluctantly took his business card and walked away shaking his head.

NFL SCOREBOARD
Sunday, 2/2
WEEKLY LEADERS