NFL Nation:

Roy E. Williams
March, 15, 2012
3/15/12
11:48
PM ET
Wide receivers
Vincent Jackson
,
Pierre Garcon
,
Reggie Wayne
,
Robert Meachem
,
Eddie Royal
,
Laurent Robinson
,
Josh Morgan
,
Eric Weems
and
Harry Douglas
have found new homes after hitting the NFL's free-agent market.
Franchise tags essentially removed from consideration
Dwayne Bowe
,
Wes Welker
and
DeSean Jackson
.
Others, such as
Marques Colston
, re-signed before free agency.
Teams still searching for help at the position -- that would be pretty much everyone but Seattle in the NFC West -- are left with a picked-over group of free agents.
Jerome Simpson
, Burress,
Brandon Lloyd
,
Legedu Naanee
,
Devin Aromashodu
,
Roy Williams
,
Mario Manningham
and
Early Doucet
are the only ones remaining to have played at least half of their team's offensive snaps during the 2011 season.
As the chart shows, Burress was particularly effective in the red zone for the
New York Jets
. He converted first downs 38 times in 45 receptions for the third-highest percentage among wide receivers with at least 40 receptions, according to ESPN Stats & Information.
Burress is also up there in age. He's among 12 available wideouts already in their 30s:
Hines Ward
(36), Burress (34),
T.J. Houshmandzadeh
(34),
Kevin Curtis
(33),
Patrick Crayton
(32),
Deion Branch
(32),
Rashied Davis
(32), Donte Stallworth (31),
Jerheme Urban
(31),
Bryant Johnson
(31), Lloyd (30) and Williams (30).
Of them, Lloyd has visited the
San Francisco 49ers
.
Nine more are 29 years old:
Greg Camarillo
,
Keary Colbert
,
Mark Clayton
,
Jerricho Cotchery
,
Roscoe Parrish
,
Michael Clayton
,
Courtney Roby
, Michael Spurlock and
Braylon Edwards
.
Still interested?
OK, let's check out 18 others, all younger than 29:
David Anderson
, Legedu Naanee, Devin Aroshamodu,
Donnie Avery
,
Anthony Gonzalez
,
Maurice Stovall
,
Derek Hagan
,
Mike Sims-Walker
,
Ted Ginn
Jr.,
Andre Caldwell
,
Steve Smith
, Doucet,
Brett Swain
,
Chaz Schilens
, Simpson, Manningham,
Devin Thomas
and
Kevin Ogletree
.
Schilens visited Arizona and San Francisco. Manningham visited the 49ers and the
St. Louis Rams
.
I've also broken down the available wideouts by drafted round:
First: Williams, Burress, Ginn, Stallworth, both Claytons, Johnson, Gonzalez and Edwards
Second: Avery, Thomas, Simpson, Smith, Parrish, Branch, Colbert
Third: Roby, Doucet, Hagan, Stovall, Manningham, Caldwell, Curtis, Sims-Walker, Ward
Fourth: Cotchery, Lloyd
Fifth: Legedu Naanee
Sixth: none
Seventh: Houshmandzadeh, Crayton, Schilens, Aromashodu, Anderson, Swain
Undrafted: Davis, Urban, Camarillo, Spurlock, Ogletree
Only a handful of the available receivers project as starters. None would qualify as an outright game-breaker.
The Rams in particular need playmakers, but in looking at what is available, how many would qualify as dramatically better than what they already have?
Austin Pettis
,
Brandon Gibson
,
Danario Alexander
,
Dominique Curry
,
Greg Salas
and restricted free agent Danny Amendola are their current wideouts.
December, 17, 2010
12/17/10
1:21
PM ET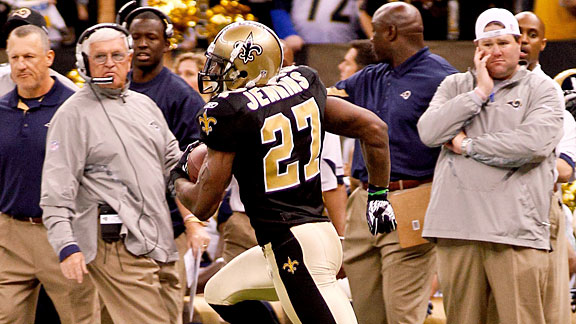 Derick E. Hingle/US PresswireSaints safety Malcolm Jenkins returns an interception for a touchdown against the Rams on Sunday.
Ever since he intercepted a pass and returned it 96 yards for a touchdown Sunday against St. Louis, New Orleans safety
Malcolm Jenkins
has been drawing even more comparisons to
Darren Sharper
.
That's pretty logical, because the play looked almost like a copy of the one Sharper made against the
New York Jets
early last season. Both plays came near the same end zone, went down the same sideline and resulted in touchdowns.
But let's not act like this is a case of Jenkins coming out of nowhere and making Sharper pretty much a non-factor. What you are seeing is Jenkins emerging as one of the best, or at least hottest, safeties in the league.
This was all part of a master plan by the Saints. Although fans didn't want to believe it for most of the offseason, the decision for Jenkins to take Sharper's place was made almost an entire calendar year ago. Sharper is a charismatic veteran beloved by fans and a player who made very big plays during last season's Super Bowl run.
But it also was becoming very obvious during that run that Sharper's time as an elite player was running out quickly. By the time the Saints won the Super Bowl, there was a pretty strong hunch within the coaching staff and management that Sharper no longer was the best safety on the roster.
In their eyes, the best safety on the roster was Jenkins, who played cornerback a year ago. That's why as soon as he showed up to start working out after the Super Bowl celebrations, the Saints sat Jenkins down and told him he was moving to free safety. It turns out that foresight was spot on.
"I don't know if Malcolm is the second coming of Darren Sharper, but he's going to be the first coming of Malcolm Jenkins,'' Sharper told the New Orleans media this week.
Jenkins has become a play-making safety and a legitimate Pro Bowl candidate. When the Saints play the Ravens on Sunday, Baltimore linebacker
Ray Lewis
and safety
Ed Reed
will be the biggest-name defensive players on the field. But they might not be, at this moment, the best defensive players on the field.
That title might belong to Jenkins, who over the past month or so has played as well as any defensive player in the league. Jenkins' two interceptions against the Rams earned him a second NFC Defensive Player of the Week Award. He also won the award in Week 12, after stripping Dallas'
Roy E. Williams
of the ball, recovering the fumble and helping the Saints to a victory on Thanksgiving. It's rare for anyone to get an honor twice in a few weeks. The fact that Jenkins did is a sign that this guy can't be stopped right now.
"The ball seems to find him,'' New Orleans coach Sean Payton said Sunday.
There is something to be said for instincts or having a nose for the ball. Those are the traits of great safeties, but Payton was quick to add that there are a lot of other reasons why Jenkins has become a magnet for the football.
"He's tough,'' Payton said. "He's intelligent. He's a guy who has good instincts. That mental makeup, along with his skill set, serves him well.''
The physical skills were always there. Everybody knew that when Jenkins was a first-round pick out of Ohio State last year. But what you're seeing now is intelligence catching up to, maybe even surpassing, physical ability.
From the moment he was told he was moving to safety, Jenkins became a regular in the film room. He got tips from Sharper, who eventually re-signed with the Saints after testing free agency. But teammates and coaches will tell you Jenkins is the guy who is making it all happen because he has worked so hard to prepare.
"I don't think it's anything special," Jenkins said. "I think (defensive coordinator) Gregg Williams puts us in position to make plays -- and, at the end of the day, talk about the mentality of making plays.''
Jenkins has turned Sharper, a possible Hall of Famer, into a role player. Although the Saints worked Jenkins exclusively at safety in the offseason, they were forced to return him to cornerback briefly when starters
Jabari Greer
and
Tracy Porter
and nickel back
Randall Gay
suffered injuries. When Sharper came off the physically unable to perform list at midseason, Jenkins remained the starter at free safety. He occasionally has played nickel corner when Sharper gets on the field.
Some players might have gotten confused by all the shuffling. Not Jenkins. He has thrived and is talked about as a perennial Pro Bowler by Sharper.
"There's something about a guy who can play both positions, corner and safety in the game, and make plays at both positions,'' Sharper said. "I can say he's going to be a multi-Pro Bowler because that's what a Pro Bowler does: He makes plays. You want to see the safety make those plays. That's what a safety is supposed to do, and he's taking off and running with it.''
December, 1, 2010
12/01/10
11:28
AM ET
»
NFC Stock Watch
:
East
|
West
|
North
|
South
»
AFC
:
East
|
West
|
North
|
South
FALLING
1. Roddy White, Falcons wide receiver.
Keep in mind, the stock price on White was at an all-time high a few weeks ago. It hasn't fallen through the floor and probably isn't going to. But there has been a minor dip. White was held to five catches for 49 yards Sunday and he hasn't had a touchdown catch in the past two games. White was being mentioned as a candidate for Most Valuable Player a few weeks ago. That's not going to happen unless his numbers jump back up the rest of the way.
2. Josh Freeman, Buccaneers quarterback
. Much like White, this is not an all-out alert to sell Freeman's stock. The price is still pretty high. But Sunday's loss in Baltimore was a reminder that Freeman is not a finished product. He completed less than 50 percent of his passes, although that happened against a very good defense. Freeman can carry the Bucs against average or below average teams. But he needs some help to really shine against good teams.
3. Aqib Talib, Buccaneers cornerback.
No matter how bad a call was by the officials, you don't go chasing them down after a game to argue the point. If you're a cornerback, you have to have a short memory and, when things go wrong, you have to use that to motivate you in a positive way.
RISING
[+] Enlarge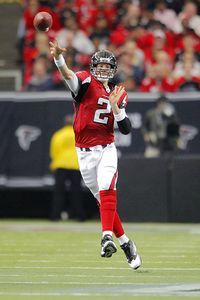 Todd Kirkland/Icon SMIFalcons quarterback Matt Ryan has lead his team to five straight wins.
1. Matt Ryan, Falcons quarterback
. His numbers are not going to be like
Peyton Manning
's because the Falcons never will throw the ball around like the Colts. But Ryan has reached another level this season. He has led the Falcons to five straight wins and they haven't had a turnover in four games. Ryan's game-winning drive against the Packers was a model of efficiency.
2. Drew Brees, Saints quarterback.
The offensive "slump'' the Saints and Brees were in early in the season is over. The Saints have scored 30 or more points in their past three games, all victories. Brees' final drive against Dallas on Thanksgiving was reminiscent of the quarterback who won the Super Bowl last season.
3. Malcolm Jenkins, Saints safety.
The fumble he caused by Dallas receiver
Roy Williams
in the final minutes of the Thanksgiving game is going to be remembered as one of the biggest plays of the season. Only a second-year pro in his first year of playing safety, Jenkins is playing with uncommon intangibles. Veteran
Darren Sharper
is still hanging around, but Jenkins is firmly entrenched as the starter at free safety for the long term.
November, 30, 2010
11/30/10
1:00
PM ET
»
NFC Decisive Moments
:
East
|
West
|
North
|
South
»
AFC
:
East
|
West
|
North
|
South
If the season ended today, what New Orleans safety
Malcolm Jenkins
did in the final minutes of the Thanksgiving game at Dallas would have to be considered one of the top plays in the NFC South this year.
No matter how the rest of the season plays out, Jenkins' play is going to end up very near the top. He prevented the Saints from enduring what would have been an embarrassing and disastrous loss and kept their hopes of winning the NFC South and repeating as Super Bowl champions very much alive.

It was a play that coach Sean Payton used the terms "heart'' and "effort'' to describe. No argument on those descriptions, but let's add "smart,'' maybe even "brilliant."
As Jenkins chased down Cowboys receiver
Roy Williams
in the waning minutes, the second-year safety knew he needed more than a tackle. Simply bringing down Williams after a long reception would have just allowed the Cowboys to run out the clock. Jenkins needed a turnover.
He got it. After taking a bad angle on coverage to help allow Williams to catch a slant pass, Jenkins was left to try to run down the Dallas receiver as he went deep into New Orleans territory. With Williams trying to protect the ball, Jenkins still managed to pop it loose as he caught the receiver at the 11-yard line. The ball fell right into Jenkins' stomach.
Trailing 27-23, the Saints were given new life. Thanks to Jenkins,
Drew Brees
and the offense came onto the field. They moved the ball quickly downfield and Brees hit
Lance Moore
with a touchdown pass that gave the Saints a 30-27 victory.
November, 25, 2010
11/25/10
8:31
PM ET
ARLINGTON -- One of the best Thanksgiving Day games in Cowboys history ended when kicker
David Buehler
was wide left on a 59-yard field goal try with 25 seconds left. The Cowboys' two-game win streak ended with a
30-27
loss to the
New Orleans Saints
on Thursday evening. It was the first loss of the Jason Garrett era.


What it means:
The Cowboys are playing hard for the interim coach. With this team playing well, it gives owner Jerry Jones more confidence to give Garrett the job full time in 2011.
Roy E. Williams' fumble sets up wining score:
The Cowboys had taken a 27-23 lead in the fourth quarter and were on the verge of trying to close out the game. On a third and six from the 42,
Jon Kitna
found Williams with a long pass play and Williams fumbled as he was tackled.
Malcolm Jenkins
forced the fumble at the Saints' 11 with 3:03 left. The Saints used the turnover to score.
Drew Brees
connected on a 12-yard touchdown pass to
Lance Moore
to push the score to 30-27.
Dez Bryant has issues:
The rookie receiver finished with zero catches. But it was his inability to know what to do several times down the stretch that gives the Cowboys pause. At least twice, Kinta yelled at Bryant after there appeared to be miscommunication on pass plays. The Cowboys have to fix this quick.
Cowboys defense plays well in second half:
After giving up 20 first-half points, the Dallas defense shut the Saints down in the second half, with the exception of the frantic final drive of the game for the visitors.
Gerald Sensabaugh
had a interception,
Jay Ratliff
a key third-down sack,
Terence Newman
had some pass breakups. The Cowboys don't blitz much, and play more zone than before, but it's been effective the past three weeks.
What's next:
The Cowboys will take the weekend off. They visit the Colts next Sunday.
July, 20, 2010
7/20/10
12:59
PM ET
ESPN fantasy guru Matthew Berry is all over
Frank Gore
specifically and the 2010
San Francisco 49ers
in general.
"Gore, (Michael) Crabtree, (Vernon) Davis,
Josh Morgan
and (Alex) Smith are all on my love list this year,"
Berry proclaims
. "I think Davis might regress a little bit, but he'll still be an elite tight end."
Berry ranks Gore fourth overall among all NFL fantasy prospects. He likes the other San Francisco players largely in relation to where he thinks others will value them in fantasy drafts. Berry likes the
Seattle Seahawks
'
Justin Forsett
in the later rounds, but he doesn't like the team in general from a fantasy standpoint because too much remains unknown.
One thing I'm not sure about regarding the 49ers is to what degree Crabtree will get into the touchdown mix. Gore and Davis were the primary scorers for San Francisco last season. Crabtree scored only two receiving touchdowns. That number should climb, but by how much?
I'll be organizing a fantasy league on the blog again this season. It'll likely be a
Gridiron Challenge
league again. We'll have a hard salary cap and the ability to change rosters from week to week, with players' prices changing based on how they perform.
Back to Gore. He was a solid producer last season in terms of final numbers, but his week-to-week production was sporadic. The chart shows the top 30 touchdown scorers in the NFL last season. Three of the top four were in the
mighty NFC West
.
December, 31, 2009
12/31/09
4:16
PM ET
By
Matt Mosley
| ESPN.com
Speaking to reporters at Valley Ranch on Thursday, Cowboys quarterback
Tony Romo
lent
his support
to wide receiver
Roy Williams
, saying that he would not stop throwing in his direction. Of course, recent numbers suggest that Romo has already decided to lean on other receivers, which is quite understandable given Williams' penchant for dropping balls this season.

Romo

Williams
"No one has lost any confidence in Roy," Romo said Thursday. "Roy is going to be a huge part of this going forward. He knows that. Hopefully, we're all going to have some good football ahead of us."
Meanwhile, ESPN's Ed Werder
has delivered a strong piece on Williams this week
. He thinks Jerry Jones' refusal to admit his mistake with Williams and Wade Phillips' belief that the wide receiver should receiver an "E" for effort could undermine the Cowboys in the playoffs. And Werder brings up another strong point. Here, I'll let him say it:
"Not only has Williams' ineptitude provided Austin the opportunity to become the Cowboys' most feared offensive player, but Jones is already confronting the reality that Austin is seeking $10 million a season to sign a long-term contract extension, according to league sources," writes Werder. "Unless the Cowboys remove Williams and his guaranteed money from the roster, they are going to be taking an indefensible position on negotiations with Austin.
"Austin is the player Roy Williams was supposed to be. Meanwhile, Williams is trying to avoid becoming the next
Sam Hurd
, a wide receiver whose career is devoted to covering kickoffs."
Hey, let's not drag poor Sam into this. He's an undrafted player who's doing a superb job on special teams. I don't think Williams can fill that role, either. But strong work by Mr. Werder, as always.
December, 20, 2009
12/20/09
1:21
AM ET
By
Matt Mosley
| ESPN.com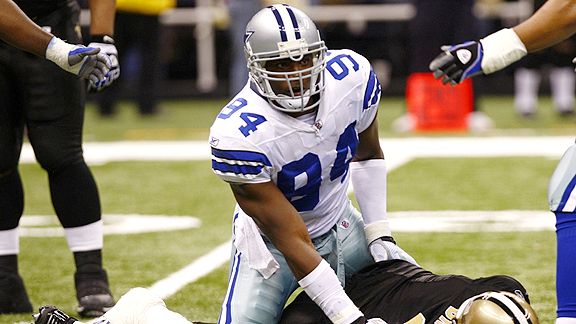 Scott Halleran/Getty Images DeMarcus Ware's return to the lineup had a huge impact on the Cowboys and Drew Brees.
Just when you thought Wade Phillips and the Cowboys were pretty much done, they go out and hand the Saints their first loss of the season. And as much as we've bragged about
Drew Brees
this season,
Tony Romo
was the best quarterback on the field in the
Cowboys' 24-17
win. Romo was 22-of-34 for 312 yards and a touchdown. And he used his legs to extend important drives. He has been heavily criticized for his record in December, but this was the signature win that a lot of folks have been waiting on. Here are a few quick-hitting observations on the Cowboys' win in the Big Easy:
Having DeMarcus Ware on the field gave the Cowboys a huge lift. Phillips wisely limited him to passing downs and he had a ton of energy. That made a big difference on the final drive. It was Ware who caused the Brees fumble that clinched the win for the Cowboys. And right up until that moment, I thought Brees might have a legitimate shot of leading the Saints back. Here's what Ware told the NFL Network moments after the game: "When I told the team I was playing tonight, everybody's eyes lit up. And as you can see, the scoreboard lit up too." Most people didn't believe Phillips on Monday when he said that Ware could possibly play against the Saints. But the All-Pro outside linebacker made steady progress with the team's medical staff and was finally cleared after going through a series of tests a couple hours before the game.
Miles Austin is obviously the Cowboys' No. 1 wide receiver at this point. He had the big touchdown early in the game, but it was his catch and run on a third-and-long with 6:28 left in the game that held the Saints' comeback at bay. You can tell Romo has so much faith in Austin. Conversely, why would anyone have faith in Roy Williams at this point? His drop on a quick slant in the fourth quarter allowed the Saints to continue their comeback. I'd bench the guy. He really has no business being on the field -- especially with players such as Kevin Ogletree and Patrick Crayton making clutch catches.
Surely the Cowboys will go ahead and cut kicker Nick Folk now. The NFL Network showed footage of him shanking field goals before the game and sure enough he hit the right upright on a short attempt with 2:14 left in the game. I can't imagine him being on the roster when the Cowboys make the trip to Washington next Sunday night. Winning has a way of covering up warts, but Folk can't hide after that miss.
Mike Jenkins is about to become a perennial Pro Bowl player if he keeps this up. The Cowboys' second-year cornerback went toe-to-toe with perhaps the deepest group of receivers in the league. His interception in the second quarter ended a Saints scoring threat and he made plays throughout the game. He's playing with a swagger right now that's pretty impressive. And he's getting good jams at the line of scrimmage. Jenkins told me Wednesday he's a huge fan of Charles Woodson's game. And on Saturday night, he sort of reminded me of Woodson. He's by far the best cornerback the Cowboys have right now and he'll be in the Pro Bowl mix next season.
It's a joke that Jay Ratliff isn't in the top five in the Pro Bowl fan voting. Ratliff can take over a game from his defensive tackle spot. He controlled Saints center Jonathan Goodwin and caused a lot of trouble in the middle. Ratliff didn't really show up on the stat sheet other than his fumble recovery, but he caused a lot of trouble for the Saints.
This had to be outside linebacker Anthony Spencer's best game as a Cowboy. With Ware resting quite a bit on first and second down, Spencer turned up the pressure. For some reason, the Saints kept forgetting to block him and Spencer took advantage. Spencer and Ware combined for four sacks, two forced fumbles and a fumble recovery. This is what the Cowboys had in mind when they drafted Spencer in the first round.
Let's revisit the Austin note: Austin completely embarrassed Saints first-rounder Malcolm Jenkins on a double move on the touchdown. Jenkins just bit all the way, allowing Austin to get over him for the easy touchdown. Perfect throw by Romo. And then the heralded Darren Sharper had trouble keeping track of Austin. Austin ran through Sharper's arm tackle on one long play in the first half. On that huge play with 6:28 left in the game, tight end Jason Witten did a nice job of clearing things out for Austin.
Tony Romo said on TV after the game that the Cowboys used a Tony Dungy video clip as a source of motivation. Romo revealed special teams coach Joe DeCamillis showed a video of Dungy saying on NBC last Sunday night the Cowboys had "no chance" against the Saints.
The Cowboys' reward: One whole week with no one talking about how awful they've been in December. Impressive win. If they follow it up with a win in Washington, we're looking at a huge showdown between the Cowboys and Eagles to end the regular season.
March, 5, 2009
3/05/09
11:15
AM ET
Posted by Scouts Inc.'s Matt Williamson
Where have you gone T.O.?
Terrell Owens has been fading out of the Cowboys offense over the past three seasons:
'06
'07
'08
Thrown to
147
132
131
Receptions
85
81
69
Comp pct
58%
61%
53%
Pct of Offense*
29.1
24.9
23.9
*Percent of passes attempted to Owens
The Dallas Cowboys finally decided Terrell Owens was too expensive and controversial to keep, so they released him Wednesday. Where does this leave Dallas' attack, in particular the receiving corps?
The good news is Dallas did plan for this day. Owens, who will be 36 in December, is not the elite threat he once was. In October 2008, the Cowboys traded a 2009 first-, third- and sixth-round selection to the Detroit Lions for wideout Roy E. Williams. They did not get immediate great returns on the deal -- Williams caught just 19 passes in 10 games with the Cowboys. But he is an immense talent. It certainly could be argued that Williams is a far superior player to any wideout that Dallas could have selected with the 20th overall selection -- the pick Detroit got from Dallas -- in April's draft. Still, much more is required from this rare specimen.
Williams has everything you look for in a No. 1 wideout. His short stint in Dallas has been underwhelming. But consider the circumstances Williams faced when he became a Cowboy: He appeared to be battling injury and was thrown into a new offense without the benefit of a training camp with the Cowboys. Then, Tony Romo's injured finger obviously affected how he threw the football down the stretch last season.
It is not a coincidence the Cowboys acquired Jon Kitna, Williams' former Lions' teammate, to provide a backup for Romo. Williams will play the role of Owens and he has all the physical abilities to do it admirably. Now it is on Williams to step up and no more excuses should be tolerated. Much of the fate of this offense is in Williams' hands.
Patrick Crayton isn't a dynamic wideout, but he is steady and tough. He is a stretch as a No. 2 receiver, but the reality is that Crayton will be at best a No. 3 option in this offense. Tight end Jason Witten very well could end up leading the team in receptions. Few tight ends are as valuable and Romo loves getting him the ball. Witten rarely lets his quarterback down.
Keep your eyes on two other Cowboys' weapons as they enter their second seasons. Backup tight end Marcellus Bennett and running back Felix Jones are up-and-comers whose roles should expand in Dallas' passing attack. Expect to see far more double-tight end sets in 2009 to get the incredibly talented Bennett on the field with more regularity. Meanwhile, Jones will often detach from the formation with intentions of exploiting linebacker coverage.
It should also be noted that Dallas' massive offensive line is more adept at run blocking than in protection. With running backs Marion Barber, Tashard Choice and Jones in the fold, Dallas would be wise to increase the percentage of times they run the football. Jones is on the verge of becoming an excellent player who can contribute in a lot of different ways.
As backup wide receivers go, you could do worse than Miles Austin and Sam Hurd. Both have size, upside and youth on their side. While the Cowboys lack a first-round pick in the 2009 draft, they still could add wide receiver help in a very deep draft at that position. They potentially could sign a proven veteran at this position to challenge Crayton. The Cowboys' quarterback situation is stable now and Dallas will not have to force feed Owens to keep the peace.
If Williams steps up his game, the Cowboys' passing attack very well could be more potent this season than it was in 2008, but it rests on Williams' shoulders more than anyone else.
Scouts Inc. watches games, breaks down film and studies football from all angles for ESPN.com.